Zach Smith from the Minor Chord guitar shop in Littleton, Massachusetts, shares a rare mint specimen of the same vintage model that was the bedrock of SRV's "Texas Flood" tone.
Blues-rock guitarists have squabbled over the last quarter century about what contributed most to Stevie Ray Vaughan's colossal tone. Some believe it was his heavy-handed attack or the beaten-with-love Strat with an alchemy all its own from a '63 body, '62 neck, and '59 pickups. Perhaps that's true, but the bedrock of his signature "Texas Flood" firepower was his two 1964 Fender Vibroverb amplifiers.
Introduced in February 1963, the 40-watt Vibroverb was Fender's first amplifier to feature both onboard tremolo and reverb effects. The first iteration of the 2-channel amp was built with the 6G16 circuit (based on the Vibrolux), two 10" Oxford speakers, and an output transformer from Fender's Super. It used two 6L6GC power tubes, three 7025s for its preamp and phase inverter, a GZ34 rectifier, and two 12AX7s—each controlling reverb and tremolo. The normal and bright channels both had two inputs and controls for volume, treble, and bass. The bright channel had additional knobs for reverb, and speed and intensity dedicated to the tremolo. Cosmetically, the seminal Vibroverb was covered from head to toe in brown.
The following year, Fender overhauled most of their amp models, including the Super, Twin, and Vibroverb. (The Super was given two more 10" speakers, the Twin was given two 12" speakers, and both were outfitted with reverb.) The second version of the combo saw several modifications, like swapping the two 10" Oxford speakers for a single 15" speaker from either JBL or Jensen. Power-wise, the '64 Vibro was constructed with an AA763 circuit, 12AT7 tubes for the phase inverter and reverb, and the optical-coupler tremolo that replaced the tweed-style effect. This also marked the first year Fender's amps were decked out in the now-classic blackface design that incorporates black tolex, a black control panel, and skirted black knobs. In addition, each channel had its own bright switch and the second channel was now labeled vibrato instead of bright.
While SRV's tech, César Diaz, heavily modded his Vibroverbs—swapping input resistors, coupling capacitors, and countless tubes—the '64 blackface shown here is nearly mint. "I have seen some nice vintage amps come through the shop, but the rarity and condition of this one is unmatched," says Zach Smith, store manager of The Minor Chord. "There's not one crackle to any knob, switch, or jack. We even had a copy of the original bill of sale, all the original paperwork, and the original dust cover is still in great condition."
Smith and his colleague Gary Supernor test-drove the cherry Vibroverb with three era-correct guitars—a Rickenbacker 330, a '66 Fender Mustang, and an original mid-'50s Fender Stratocaster. They weren't surprised when each guitar sounded outstanding. "The Ricky had a nice warm meaty tone," remembers Smith. "For the Mustang, we cranked the reverb and it was surfing time. And the each pickup position of the '50s Strat was its own little slice of heaven [laughs]." Smith believes the amp's original 15" CTS speaker is what makes the '64 so special. The amp easily handled anything they threw at it and has a nice low-end oomph, he says, but it can maintain a brighter, clearer crispness as you turn up the treble.
The original Vibroverb lacked in sales compared to other Fender amps and was made only two years, with under 1,500 produced. The '63 model was reissued from 1990–1995 and the '64 Custom reissue—designed with César Diaz—ran from 2003–2008.
A special thanks to Carl Strathmeyer and Zach Smith of The Minor Chord in Littleton, Massachusetts, for allowing us to feature this fine piece of gear and its story.
Got some gear that would make a great Gear of the Month? Then email pics and its story to us at gotm@premierguitar.com.
Canadian luthier Jay Duncan makes the world a better place by helping others build sustainable communities, one guitar at a time.
Canadian master luthier Jay Duncan is emphatic about the ability of guitars to change the world—but not just in the hands of heroes who create timeless music. In fact, his own guitars are hard at work, impacting lives at this very moment in ways that are arguably more important and far-reaching than, say, hearing the music of a master player from any genre. His will to empower those in poverty and desire to share his acoustic guitars with the world led him to open DuncanAfrica, a registered charity and trade school in Uganda where, for nearly a decade now, he's been teaching locals everything there is to know about guitar making.
In a 1,000-square-foot cement shack in the tiny village of Mpigi, Duncan's students learn about every step of the process—from bending sides to bracing soundboards and handcarving beautiful mahogany necks. And they're not just learning a trade, either. Duncan's acolytes are also paid to be there five days a week, nine hours a day, creating the gorgeous, classically inspired guitars sold on the company's website—and all the profits go back to the community. Just as at many larger operations in the States and abroad, most students work on an assembly line, perfecting a specific job, such as rim or body assembly. But some of the better woodworkers graduate from working the line to becoming the sole luthier for one of the handcrafted instruments in DuncanAfrica's higher-end Artisan series.
In addition to helping the people of Mpigi make a living while learning the art of guitar building, Duncan is also providing a sort of Business 101 class. He teaches his students/employees about writing emails, using Microsoft applications, and hiring student managers. Once enough villagers have been trained, they'll be able to run the business themselves. "The idea is that they'll be able to start their own manufacturing company, independent of us," says Duncan. "They'll actually own it and export the guitars, and we'll distribute and sell them for them."
Roots in the '80s
So how exactly did Duncan's involvement with a remote African village come about? It all goes back to his youth. In 1983, at the age of 13, Duncan watched millions dying on television as the worst famine in a century hit the country of Ethiopia, eventually claiming more than 400,000 lives and inspiring relief efforts like the 1985 Live Aid concerts. "It struck me as something that was just incredibly wrong. How could civilized human beings sit by and watch?" Duncan recalls wondering. "Now, it's a very complicated problem, but to a 13-year-old boy it just didn't make sense. And so Africa has always played on my heart."
Duncan felt he could be of most help by educating villagers and empowering them to become self-sufficient. "Teaching a skill that they can use to support their families for the rest of their lives is much better than some kind of welfare handout," he says. So in 2005, he made a decision to take his eponymous Jay Duncan guitars to Uganda.
It took two years of planning to get the school off the ground. During this time, Duncan spent five months building seven prototype guitars, selling them off for $2,500 each to raise the needed funds. "That was less than half of what they're worth," he says, noting that, at the time, his Jay Duncan guitars were selling for $5,000 each despite having a value closer to $7,500. "But that was our seed money for the trade school, and we've really leveraged it." After three research trips to the village, Duncan and two colleagues rented the tiny cement house that would become their workspace and set up shop. It was a simple dwelling, but it had electricity and plenty of natural light. "For houses there," Duncan says, "it was pretty nice."
DuncanAfrica guitars are made largely with primitive hand tools. Recently, the school received a table saw, but prior to that the most advanced pieces of equipment in the shop were an edge sander and a bandsaw.
Jay Duncan says that DuncanAfrica instruments' tonal qualities come from a unique "double-X" bracing system that allows the tone from the back and sides of the guitars to really resonate.
They met with the local elders in the village and organized an information night for prospective students, who filled out applications to enroll in Duncan's guitar-making trade school. After choosing and training about a dozen villagers for this pilot project, Duncan returned to his home in Canada in 2007, leaving the students to make their first trial run of guitars without his supervision. Four months later, four finished guitars arrived on his doorstep. "Seeing those guitars meant, basically, that it was a success," he recalls. "They made them without any help. Behind getting married and having my kids, that was one of the best days of my life."
Best Laid Plans ...
It hasn't exactly been easy going for Duncan and his upstart. Although this year they were finally able to move into a larger, 2,400-square-foot building, it's taken longer than anticipated to find the right individuals and get them trained to Duncan's exceptionally high standards ("I'll saw a guitar in half mid-production if it isn't coming out right," he says). Commodities like computers are alien to most Ugandans, and there are obvious barriers in verbal communication, as well. "Technically, English is the first language of Uganda," Duncan says, "but not everyone speaks it, so it's very difficult to teach."
As could be expected, progress is slow but steady. "We're about a quarter of the way there," he says, noting that they need to convert 30 students into experts in order for the business to run smoothly without him. Although they've trained close to 15 thus far, results vary and retention has been relatively low. "We've had four or five students come through who were just stellar," he says. "And we've had two or three who were just terrible. The rest are somewhere in between." Currently, the school has eight student employees making guitars under the guidance of "master student" Simon Adyaka, who apprenticed under Duncan's first protégé, Mwesige David. David was Duncan's go-to man from the beginning and manager of the school in its early years up until last February, when he succumbed to cancer. Losing David—Africa's best guitar maker thus far, according to Duncan—was tragic. "He was the kind of guy who could do everything, and those people are really rare," Duncan says. "He was amazing, not just as a woodworker but in the community."
Broken Road


Student Isaac Mukaasa shows off a DuncanAfrica model with a Broken Road inlay.
Luthier Jay Duncan came up with his "Broken Road" inlay design during the formative years of his charity, DuncanAfrica. He was living in Africa, bored and sick with the flu at the time, when inspiration hit. "I thought to myself, 'I'm going to make a fancy guitar.'" He used koa, mugavu, maple, cow bone, and ebony to create the inlay pattern that lines the headstock, rosewood neck, and fretboard of this Selah OM-CR from the Suubi series.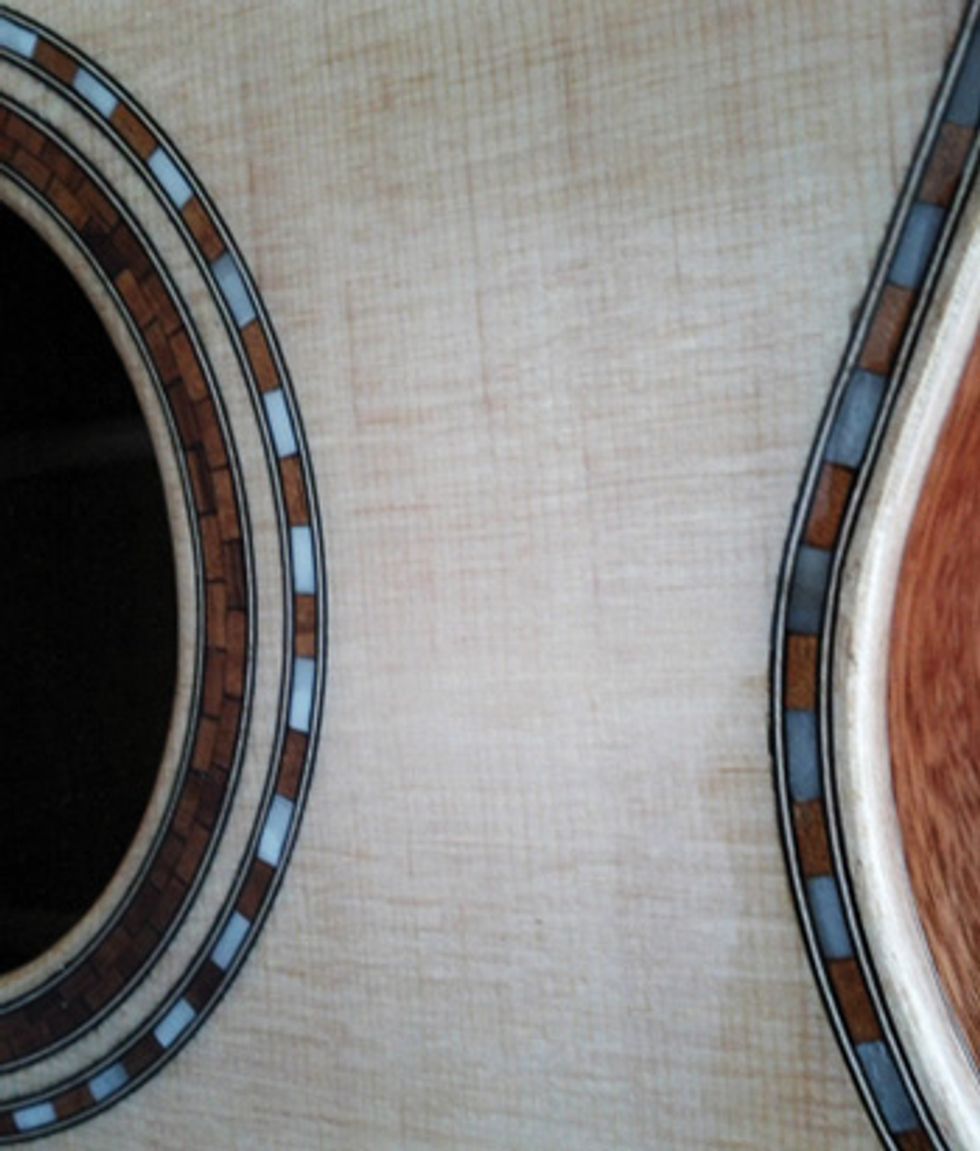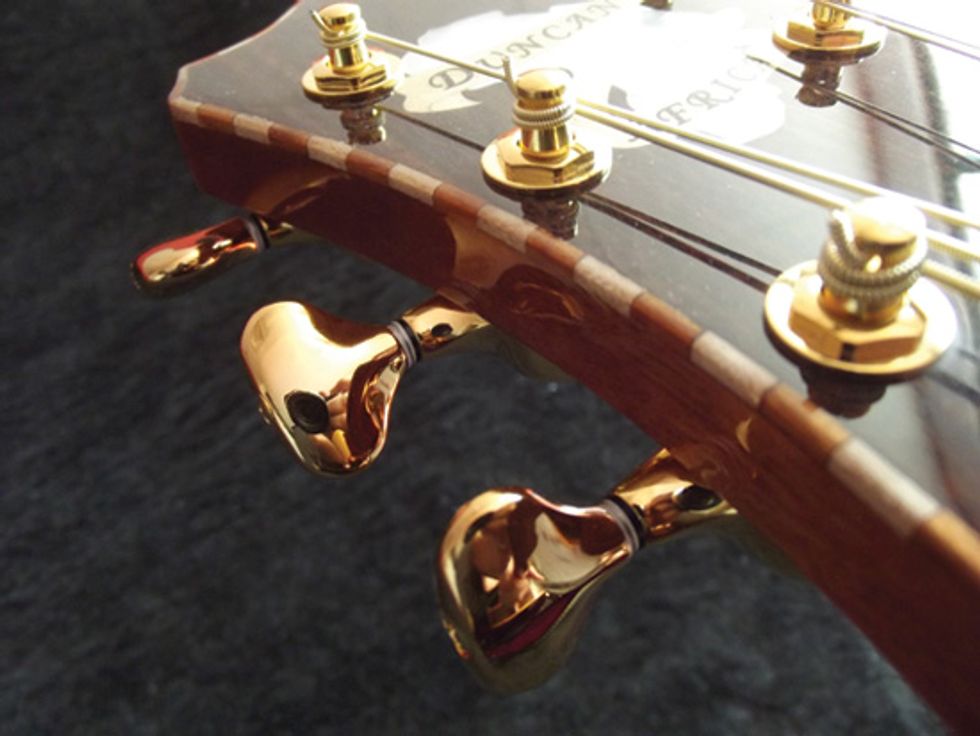 But students of David, including Adyaka, have stepped up and assumed more responsibility in order for the guitar making to continue. David's widow, Olive, is still very involved with the charity, overseeing the business side, accounting, and other administrative duties.
Asked how one teaches luthiery nuances such as strutting and fret positioning to someone who's never seen a standard firstworld guitar before, Duncan admits it's difficult to show the craftspeople of Mpigi the sorts of bar-setting reference points that we take for granted. "The learning curve is really steep. There are no Taylors for sale in Uganda," says Duncan of the U.S. flattop brand famous for its immaculate fretting and finish work. And, naturally, there are no CNC machines to provide the kind of automated accuracy and repeatability found at so many other shops, both large and small. Instead, students use hand tools to carve out the necks, braces, fretboards, and other delicate pieces that make up each instrument. Until the spring of this year, when Duncan sent over a table saw, the two fanciest pieces of equipment in the shop were an edge sander and a bandsaw.
"Rumor has it, the guys threw a little party and invited the landlord over to celebrate last year when we sent the edge sander," says Duncan. "It's funny what gets woodworkers excited, eh?"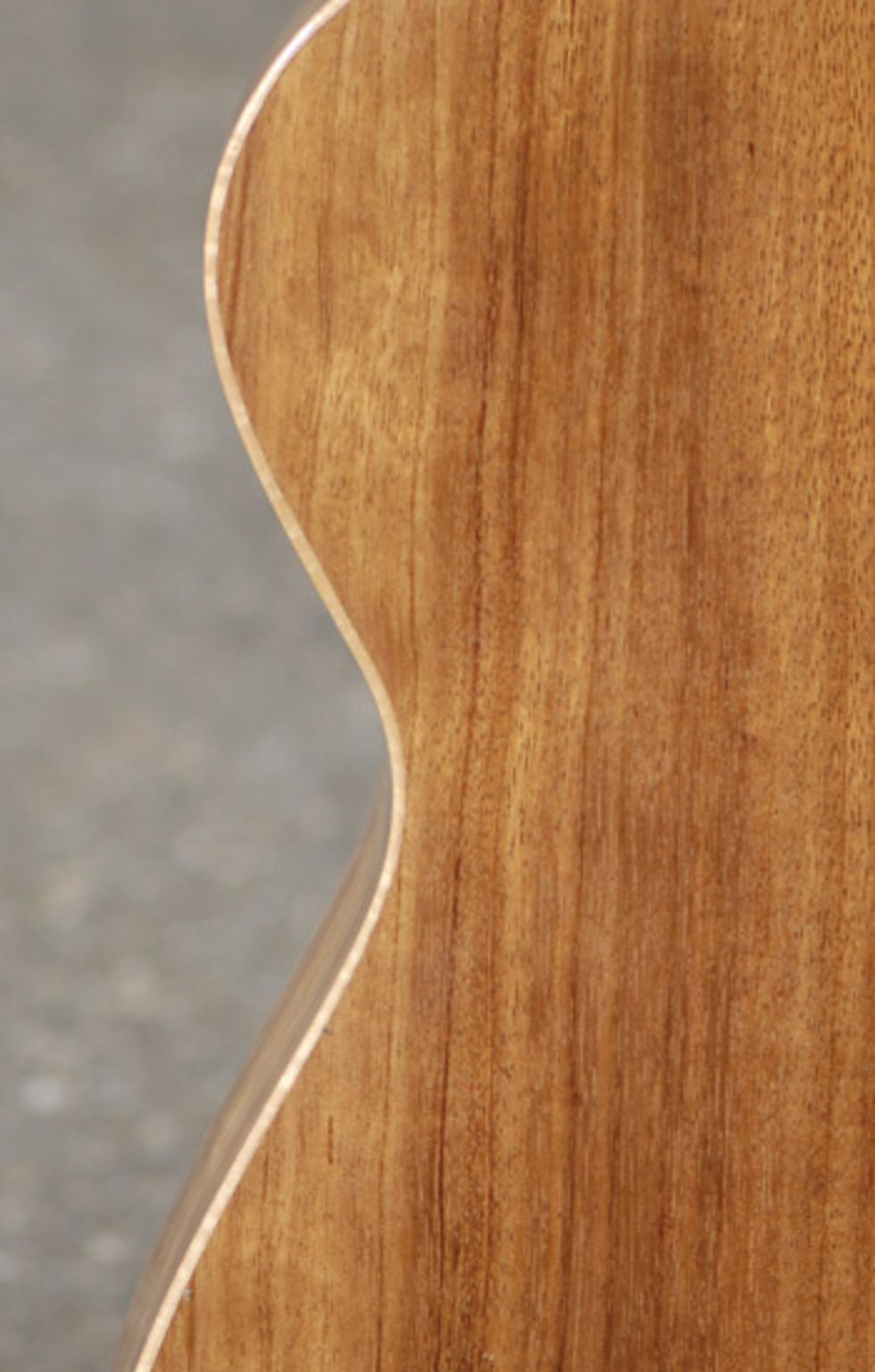 Locally sourced near the DuncanAfrica school, this beautifully grained mugavu wood sounds like a cross between mahogany and koa. It has a golden, luminous appearance and yields complex midrange tones.
The Goods
Duncan was in love with guitars long before he fell in love with Africa. The 43-year-old started playing at age 8 and taught himself lutherie when he was in his 20s. He got his official start working for Canadian guitar maker Larrivée in the late '90s and into the early 2000s, during which time he started his own Jay Duncan guitars, specializing in OMs and dreadnaughts. For DuncanAfrica, though, he's expanded his product line to also include a jumbo, and he has plans to add a parlor model later this year. "I think for most guitar players, there's just something sexy about a big ol' jumbo," says Duncan, adding that he anticipates the parlor will be "super popular" as well.
Apart from the four different guitars available—the Selah (OM), the Jubilee (dreadnaught), the 1962 (jumbo), and the Pearl (parlor)—players have a choice of three different series at varying price points. The newest and most wallet-friendly line is the Jericho, which features dreadnaught and OM models in local woods like mahogany or mugavu. (Sourced near the school, African mugavu has been described as a cross between mahogany and koa.) Starting at $779, guitars in the Jericho line come with a passive pickup and gigbag, as opposed to the deluxe hard case, which comes standard with the two other lines.
The middle-of-the-road Suubi series starts around $1,400 and offers chrome Gotoh 16:1 tuners, a one-piece mahogany neck, and a bridge, bridge pins, and fretboard of ebony. "That's your standard, great guitar," Duncan says.
"Rumor has it, the guys threw a little party and invited the landlord over to celebrate last year when we sent the edge sander," says Duncan. "It's funny what gets woodworkers excited, eh?"
The third and priciest series, the Artisan, is special in more ways than one. Beginning at $2,400, these instruments aren't built on the assembly line but entirely crafted by master student Adyaka. Artisan guitars incorporate gold Gotoh 510 Series tuners and feature attractive mother-of-pearl inlays. Wood choices for the Suubi and Artisan lines vary from model to model and are slightly customizable, but expect the highest quality Indian rosewood and local woods like ebony, spruce, mahogany, mugavu, and maple.

DuncanAfrica headstocks, like the one on this Suubi series model, are more evocative of an archtop than a traditional acoustic.

The mid-priced instruments in DuncanAfrica's three guitar lines are found in the Suubi series. "Suubi means 'hope' in Uganda," luthier Jay Duncan says.
The Tones
Singer/songwriter Dave Siverns has played a fair share of DuncanAfrica guitars, and he says the quality of their dark woods makes for a unique, resonating sound. In the past few years, he's owned both rosewood and mugavu OMs, and recorded in Nashville with a friend's mugavu dreadnaught.
"None of them were overly bright or Taylor-ish," he says of the tone, but he noted that the DuncanAfrica mugavu guitars he's played sat beautifully in band mixes. "Think vintage Martin or Gibsons," he says. "I actually restrung a '60s Gibson—the model eludes me—when tracking in Nashville, and I compared it to the mugavu 'Jubilee' dread. There was no comparison—the DuncanAfrica sounded better in every way." When prodded, Siverns has trouble comparing his DAs to any modern guitars. "They're a bit louder and richer in general, and feel more broken in on the first play. I'd probably compare them most to some of the smaller, handbuilt guys like Collings, but with a bit more of a rustic feel and sound."
When asked what's different about his 6-strings, Duncan prefaces the explanation with, "I am a tone freak," before going on to explain that many of the instruments' tonal qualities are due to a unique "double-X" bracing system that he says allows the tone from the back and sides to really shine. East Indian rosewood gives a wide tonal range with strong highs and lows, while Western flamed maple lends a gorgeous aesthetic and a warmer tone that Duncan says is "almost vintage-sounding, right out of the box. We also use Ugandan mahogany and sapele, which makes for a nice, warm body with a bit of tinkle in the high mids, and the local mugavu has a powerful midrange."
The Future
Duncan says his school in Mpigi has averaged 25 guitars annually, but he's seen a significant increase in demand over the last year or so, with 35 guitars being completed in 2012, and 20 orders in a twomonth span this year. He has high hopes for an eventual output of 200 instruments per month and enough profits for the Mpigi community to put toward things like health care, education, and entrepreneurial initiatives.
With his distinctive-sounding guitars, and inspiringly selfless attitude, Duncan can't be surprised that word of mouth has carried the DuncanAfrica story across the globe. "We're asked all the time to take our project to different parts of the world—North Korea, Guatemala, India, and, last week, it was Russia." But while Duncan loves the idea of expanding his reach to other countries or continents, he says he's got some caveats before taking his shop/school model somewhere else. "The money would have to be there," he says. "We set up DuncanAfrica with absolutely no money, and it's been an incredibly hard seven years because of that. But if the financial backing were in place, we would gladly go somewhere else and do something similar."
Designed to address the age-old issues of feedback, noise, and hum without losing the sweet, syrupy chime that defines a great single-coil.
Having worked at Suhr Guitars and Azola Basses, in addition to gigs as a recording engineer, Carey Nordstrand is one of those guitar builders who's seen a bit of everything. And in 2004, after developing pickups for both his own custom basses and other luthiers, word of his pickups' excellence spread so much that he expanded the pickup side of his bass company into a full-fledged operation. Today, his pickup line includes designs for both bass and guitar, and his recently released Shush Puppy single-coils are designed to address the age-old issues of feedback, noise, and hum without losing the sweet, syrupy chime that defines a great single-coil.
Twist on a Classic
The Shush Puppies' compact design and modern appearance make them stand out visually next to conventional single-coils. Though they can have the effect of seeming a little bigger than standard single-coils when you take them out of the box, they will fit in a Stratocaster without any additional routing or pickguard replacement.
Each alnico 5 pickup houses two thin bobbins containing 12 tiny pole pieces each. Twelve of these 24 are visible through the plastic cover. Nordstrand's copper wire is carefully handwound around each custom-formed bobbin to prevent feedback, and it's optimized for 250k potentiometers. Each pickup's bobbins are wired in series to prevent hum. Neck and middle pickups each have outputs of 6.9k , and the bridge pickup reads a bit hotter at 7.4k. The Shush Puppies also use insulated plastic wire and are offered with pickup covers in classic shades of black and ivory. Unfortunately, the covers don't completely cover the bobbins, leaving a gap of about 1/6" where you can clearly see the copper windings, so it's important to clean out any debris in and around the pickup cavities before installing the Shush Puppies.
Ratings
Pros:
Noiseless, exceptionally detailed tones. Responsive highs and drum-tight low end. Balanced volume across the strings, and as a set.
Cons:
Lows can sometimes feel stiff. Pickup covers don't completely cover the bobbins.
Tones:


Playability/Ease of Use:


Build/Design:


Value:


Street:
$119 (each)
Company
nordstrandpickups.com
Puppy Love
With their super-quiet performance, crisp tone, and pristine highs, the Shush Puppies accomplish nearly every one of Nordstrand's intended goals. It's surprising how little the hum-cancelling design affects the single-coil tones—if it even does at all. A lot of hum-canceling single-coils compress and dampen the response in the pursuit of low noise, and the objective is usually met at the expense of springy lows and syrupy quack. This is most definitely not the case with the Shush Puppies.
Dropped into a Fender Stratocaster and running into a Fender Twin Reverb's second channel, the slightly hotter bridge Shush Puppy sang beautifully when playing slowly swept chords and gingerly picked alternating melodies. The highs have a quick attack, as you might expect, but the lows also have a faster response than most Strat-style pickups. Playing with a softer approach doesn't diminish the attack much, and you hear a lot of rising bottom end no matter how lightly you pick. The bridge pickup's output is remarkably strong and piano-like—qualities that aren't easy to find in aftermarket bridge single-coils.
The highs and lows of the neck and middle pickups are also powerful and crystal clear, though they speak with a wide, low midrange. They also breathe a bit more thanks to their slightly lower output. Pick the strings with a soft touch, and the highs open up with a hi-fi kind of clarity. The treble response of the neck pickup in particular is very responsive, but it can also amplify small quirks and rough edges in your playing. If you keep an extra keen eye and ear on your technique, this is a boon, though.
The Verdict
Nordstrand has successfully melded the sound and feel of a great single-coil with the low noise of a humbucker—all without sacrificing the bright tonality, response, and chime of a great traditional single-coil. Each pickup has ample volume and punch, and the set balances wonderfully together, too. The lightning-quick response might cause some vintage purists to raise an eyebrow, but the impressive harmonic complexity, glorious detail, and whisper-quiet noise level qualify them for a spot in the upper ranks of boutique contemporary single-coils.