Four new Universal Audio effects distill greatest hits from larger UAFX devices, emulating the 1176 compressor, EMT 140 plate reverb, Lexicon 224 digital reverb, and Maestro Echoplex EP-3 at more accessible prices.
Authentic smooth-to-nasty drive tones. Adds beautiful body and sustain in clean settings. Intuitive controls.
Highest gain tones exhibit some sizzle.
4.5
4.5
4.5
4.5
It's been just a few years since Universal Audio unleashed the first UAFX effects. These ARM-processor-driven stompboxes borrowed algorithms from powerful plugins designed for Universal Audio's Apollo interfaces. The authenticity and functionality of the UAFX pedals is impressive. But as potent and brimming with tone-shaping options as they are, they are also a significant investment—clocking in at just under $400 for a single pedal.
Enter the 1176, Evermore, Heavenly, and Orion. These more compact and specialized UAFX stomps are based on the same algorithms that drive effects in their bigger cousins. But by using roughly half the processing power and focusing on emulation of a single effect, UA achieved more digestible prices ranging from $199 to $219. The 1776, Evermore, Heavenly, and Orion model the Universal Audio 1176 compressor, Lexicon 224 digital delay, EMT-140 plate reverb, and Maestro Echoplex EP-3, respectively. Practicality dictates that most of those effects will rarely see use outside of studio environments. So, it can be thrilling to experiment with these emulations in a guitar effects chain. They are captivating pedals capable of deep, rich, authentic sounds, and, in many cases, delightfully unexpected results.
1176 Compressor
The simple, elegant, and timeless 1176 FET compressor is a pillar of Universal Audio's success, past and present. In the studio, many engineers tend to use a few go-to 1176 settings that they tweak slightly depending on the context. But the 1176 is also an awesome blank slate for more creative use and abuse. That capacity is showcased especially well in the 1176 pedal.
Though the 1176 pedal includes a few bonus concessions to modern guitarists, like the useful parallel wet/dry mix switch, the control set effectively replicates the features on the hardware version. There are knobs for input and output level, attack and release controls, and a fifth knob that replicates the original's push-button ratio presets, including the much-loved all-buttons-in setting. The last of these can be used to generate overdriven textures that often sound and feel different from amplifier or stompbox distortion, and the 1176's knack for this kind of sweet-to-confrontational overdrive is among the reasons it works so well as a guitar effect. This design strength is highlighted by way of the pedal's 3-way toggle switch. It moves between emulation of a single 1176, or two settings that emulate two 1176s in series. The dual mode models the 1176-in-series technique used by Jimmy Page and engineer Andy Johns—most famously on Led Zeppelin IV. The sustain mode, meanwhile, emulates the double-1176 method practiced by Little Feat's Lowell George.

"The 1176's knack for sweet-to-confrontational overdrive is among the reasons it works so well as a guitar effect."
Of the two, the dual mode is the most aggressive, effectively turning the input level control into a gain factory that spans thick overdrive and fuzzy direct-to-desk tones. It's an awesome alternative to fuzz pedals because it sounds so nasty at civilized output gain levels, lending flexibility in stage and studio settings. But it's also a beautiful thickening agent at lower input gain levels, adding grit and body while retaining dynamic response. The sustain mode is even lovelier in these low-gain signal-thickening applications. It doesn't have nearly as much fuzzy gain to give, but the overdrive is complex and lends a fluid cohesiveness to lead lines.
The 1176 also excels in the more conventional single mode, adding body, sparkle, and volume without obscuring a guitar's essence. It works wonders with thin single-coils. In fact, I would venture that the 1176 does the job of a clean boost better than any clean boost ever could. That said, the single mode still delivers yummy overdrive tones when you switch to all-buttons-in mode and lean on the input gain.
If you suffer from lifeless amp tones at low stage volumes, the 1176 could be indispensable. Some players will balk at using a digital gain source in front of an amplifier. But open-minded players will be surprised at just how organic this pedal sounds. Just like the hardware version, the 1176 pedal is capable of minor acts of magic.
Evermore Reverb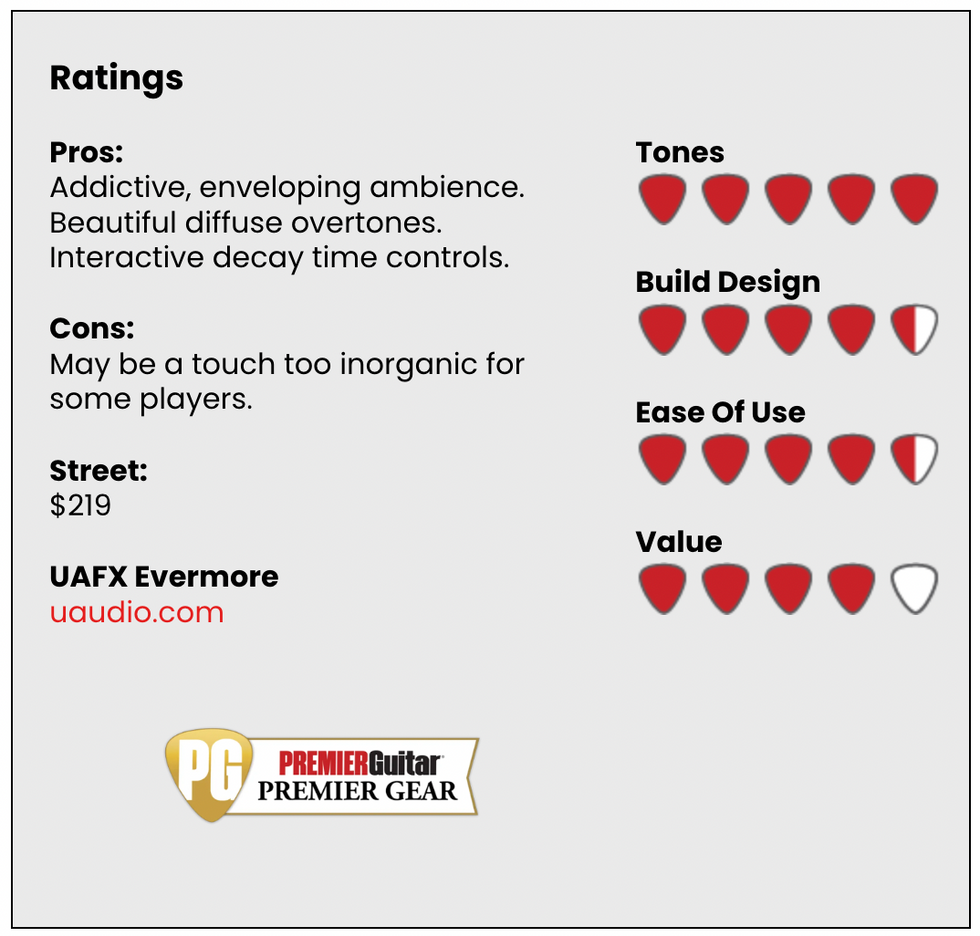 The Lexicon 224 had a profound effect on music in the 1980s. For many of us, its tones are burrowed in our subconscious. As much a mood as a tonality, the 224's odd combination of icy, diffuse overtones and enveloping space was instrumental in shaping the atmospheres around Vangelis' soundtrack for Blade Runner. And in the hands of production visionaries Brian Eno and Daniel Lanois, who helmed U2's The Unforgettable Fire, it could sound both unsettling and deeply peaceful. The Lexicon's ability to span so much emotional range and sound so alive is a feat, and the Evermore captures these elusive qualities masterfully.
Chances are good that if you're curious about the Evermore, it's because of the 224's reputation as a primo ambiance machine. But the Evermore sounds great in down-to-Earth applications. Trebly room settings, for example, convincingly approximate spring reverb and bathroom-tile slapback. The small hall setting, too, is capable of modest-but-rich reverbs that sit nicely with distortion effects and add thickness and lively overtones to clean sounds.

"The Evermore sounds great in down-to-Earth applications."
The Evermore's most compelling effects, however, come via the pedal's large hall setting. And it's here that you grasp the vast potential of the pedal's frequency-specific decay time controls. At a glance, you could mistake the bass, mid, and treble knobs on the Evermore for a simple EQ section. In reality, each of these controls governs the decay time for a given frequency range. This capability is a powerful and brilliant facet of the 224s design, and it shines in the Evermore, enabling painterly approaches to soundscaping that shake up preconceptions and stretch your imagination. One could spend days exploring the intricate ways the decay time controls interact with each other and with different instruments. But the way long bass and midrange decay times at high mix levels can generate haunting resonances, feedback, and airy, grainy harmonics within massive spaces is super-compelling, and hearty food for the ear and mind's eye.
Heavenly Reverb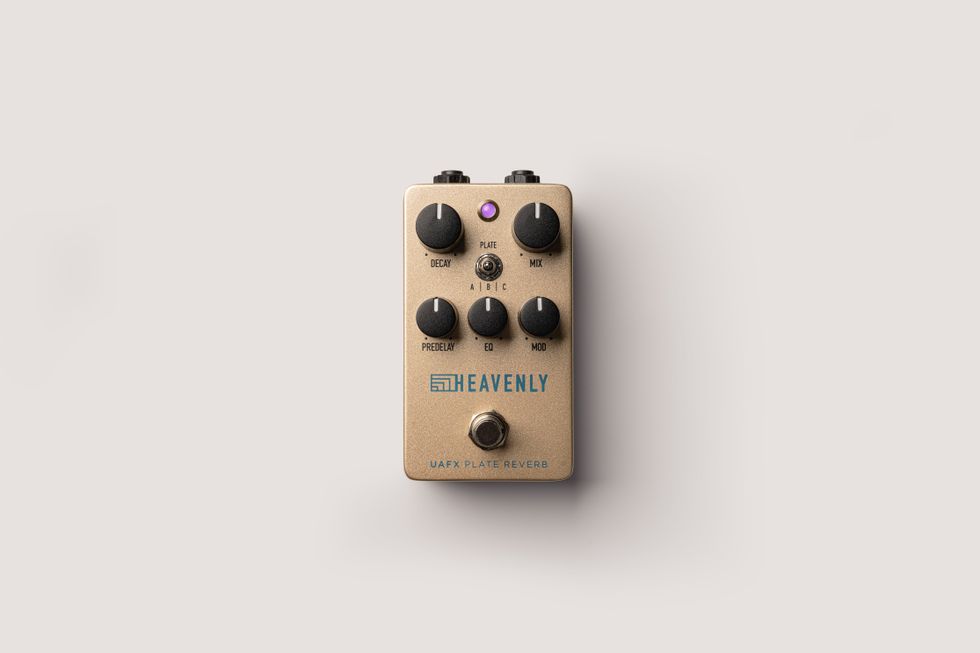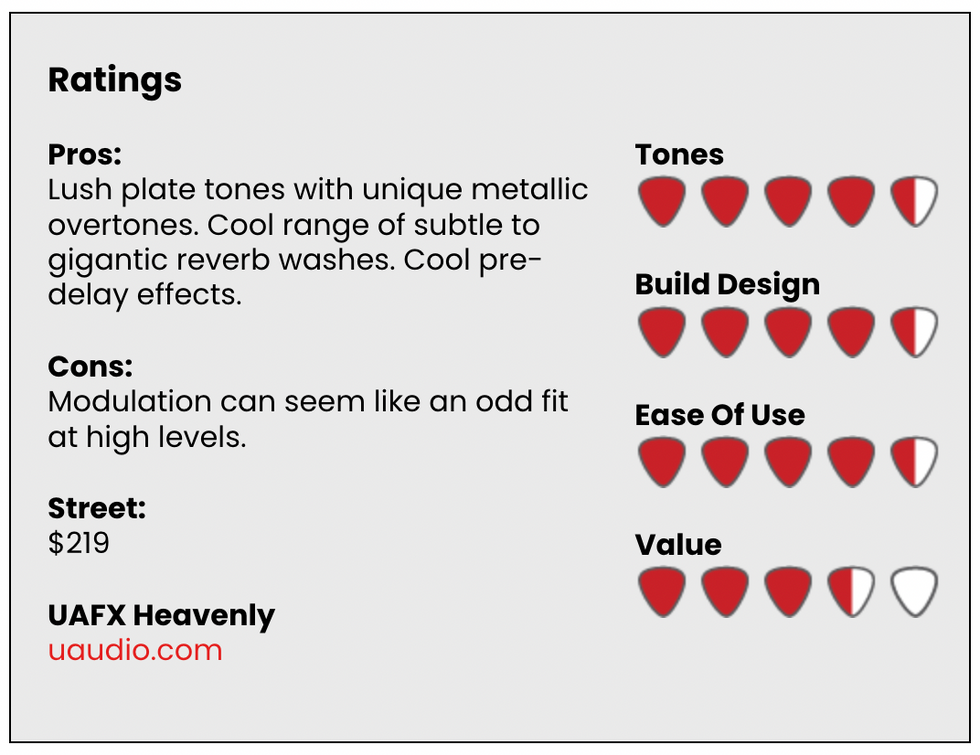 One of the great privileges of my musical life is having had the chance to record with an EMT 140 plate reverb and bathe in its transformative ambience. Capable of ranging from metallic and clanging to soft and ethereal, the wall-sized EMT 140 plate is unlike any other reverb. And though my favorite applications for the EMT 140 are recording vocals, piano, and acoustic guitar, there is no denying the wonders it works with electric guitar. The Heavenly, which has the good fortune to be derived from one of the finest Apollo plugins, makes it easy to experiment with marriages of electric guitar and EMT textures.
Of the four pedals reviewed here, the Heavenly is arguably the most straightforward, and just about anyone that has worked with a stompbox reverb before will be at ease after a quick peek at the instruction card. Ease of operation does not mean, however, that the Heavenly is less capable of complex reverb colors or interesting interrelationships between the controls. Heavenly features three basic reverb voices, selectable from the 3-position toggle. Position A is a vintage bright mode, B is a vintage dark voice, and C is the modern full position. The three voices can be further shaped by the simple EQ control. The pre-delay control, which governs the time that lapses before the onset of the reverb effect, opens up some of the most intriguing possibilities. Setting the reverb for a long decay, the mix just on the dry side of noon, and the pre-delay for a long lag creates a mysterious blend of strong fundamental note and a hazy reverb tail that hits with the percussive impact of a short delay. It sounds fantastic on spare, fingerpicked parts, arpeggios, and sharp staccato chords. While less conventional uses of EMT-style textures are intriguing, most players will probably be content to wade in the wash of traditional plate tones. Heavenly sounds beautiful in these environs. And even modest mix levels reveal a pretty, blooming decay that can sound both subdued and outside the familiar realm of less authentic plate-inspired reverbs.
"The pre-delay control opens up some of the most intriguing possibilities."
The Heavenly's EMT 140 simulation sometimes seems like an odd match for a guitar pedal, and not just because you've never seen anyone stick an 8-foot-long EMT 140 on a pedalboard. Perhaps because they sound as accurate as they do, there is a sort of post-production quality to the tones that can sound a bit out of place coming from an amplifier. And the chorus-y modulation, though lovely in some settings, can sound grafted on at times. For players unconditioned to hearing the sound of an EMT 140 blasting through studio monitors in the thick of a mix, however, the potential in these big, luxurious textures will feel considerable.
Orion Tape Echo
If I could only take one effect with me to space, or on some forced exile, it would almost certainly be my Maestro Echoplex EP-3. Like most of the great tape echoes, it is, by virtue of its quirky controls, an instrument all by itself. But above all things, the EP-3 is just plain fun. From the tape head slider to the smartly arranged echo level and sustain controls that facilitate oscillation effects, it is a box of pure musical joy. And just like any analog effect with such bountiful quirks and electro-mechanical idiosyncrasies, it can be a bear to reproduce in the digital stompbox realm. The Orion, however, does a more than admirable job of emulating the beautiful bits and the oddities that make up the EP-3's weird and wonderful personality.
Four of Orion's knobs—delay, mix, feedback, and control level—replicate those on an EP-3. Three additional controls help further shape the Orion's performance envelope in subtle and more overt ways. The wonk knob controls virtual wow and flutter, and its intensity is regulated in large part by the tape age toggle, which selects from emulations of a very old, weathered tape, a less worn but well-used tape, and a fresh tape cartridge that Universal Audio designer James Santiago used for the first time to create the new tape setting. Additionally, a preamp switch on the pedal's crown enables you to select whether the onboard preamp emulation remains on when the pedal is on in bypass mode or removed from the dry signal entirely. When it is on, it adds a mildly colorful boost that fattens the pedal's output and blurs the space between repeats ever so slightly.
"The Orion's mellowing haze between repeats sounds very authentic."
The Orion comes pretty close to sounding like a real EP-3. It's quieter, less dirty at high record levels, and the wow and flutter are less irregular. But the Orion's mellowing haze between repeats sounds very authentic. It is also very discernibly not a bucket brigade or digital delay. The pedal sounds exceedingly pretty at high mix and feedback levels, especially when you use a light, feathered touch on chords or volume swells (which sound wonderfully spooky). Working the mix, feedback, and delay time controls at the threshold of oscillation is also a delight, made even more satisfying for the just-right resistance in the knobs. These out-there effects also yield some of the Orion's more buried treats, like the simulated tape splice and a slight lag that you hear as you work the delay time control. At $219, the Orion has few peers, and most, save for Catalinbread's Belle Epoch, are significantly more expensive. All told, it's a relatively affordable path to approximating one of the most beloved and distinctive effects of all time.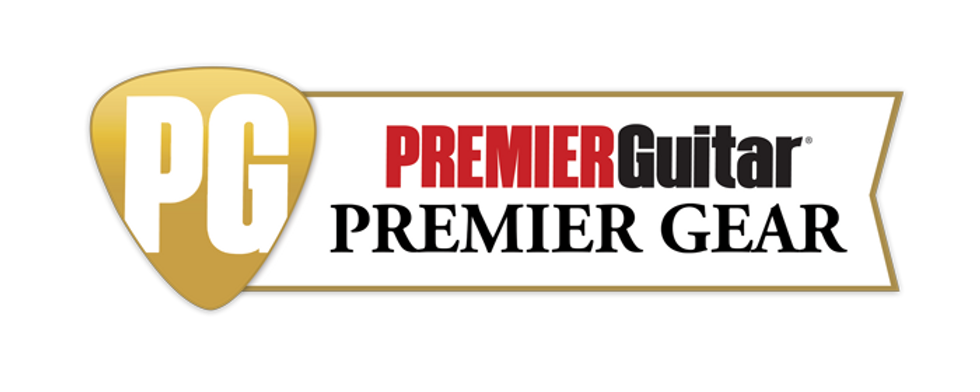 Every detail that makes up a guitar contributes to its unique personality. Just like your friends.
One of the best things about being a guitarist is the people you meet and the friends you make along the way. Whether you're a pro or a weekender, making music attracts a wide variety of people who share your passion for guitar and aren't afraid to tell you about it. I've always been a fan of the swath of characters that wash up on the shores of guitardom, and to say that they can be interesting and entertaining is putting it mildly. It's pretty certain that when you stop to think of the people you call friends, you'll find that many are in your orbit because of the guitar. Maybe it's because the guitar has so many facets and can slot into so many genres of music. It's a bond that can last a lifetime.
Oddly enough, the instrument itself is a lot like your friends—they all have a personality, and probably no two are exactly the same. Some are old friends that are always there for you. They're comfortable to be around, and the conversation can make any number of turns without judgment. Those are the ones who will catch you when you fall, as well as bring out the best in you. Other guitars piss you off, but you love them just the same. Sometimes, I wonder why I hold on to certain guitars that I've had for a long, long time. Maybe it's a weird kind of loyalty, or hanging on to memories of good times gone by—like your high-school-locker neighbor.
We all know that a guitar is a pretty simple piece of kit made of wood with steel strings on it. So, what makes them all so different? You can point to the pickups on an electric, but in the scheme of things I contend that's way down the list. I'd compare pickup choice to choosing the right microphone for a vocalist. In that case, you'd go for the one that brings out the personality of the singer. It's that very personality that I bond with in any guitar. But where does that personality, or character, come from?
Oddly enough, the instrument itself is a lot like your friends—they all have a personality, and probably no two are exactly the same.
When you break down the guitar form, it actually becomes more complex than you might imagine. Builders juggle a huge number of elements that go beyond the shape of the body or the feel of the neck, although those are important. In some ways, it's like being a chef with a long list of ingredients and 10 thousand ways to combine and cook them. How thick is the body? What is it made of? Is it hollow or solid? Even how the mass of the instrument is distributed can make a difference—especially when the volume goes up. The surface area of the neck joint and if it is glued, screwed, sloppy, or tight all make a small difference. The truss rod can be a factor by weight and placement. Is it pre-loaded, and by how much? Believe it or not, the volume of space around and under the pickups can affect the sound.
Hardware choice is also a major ingredient, but not in a vacuum, which is how these things are often discussed. The weight of a particular bridge, for instance, might be an improvement on one instrument, but a tone-suck on another. I've found that there is a difference between tuning machines that utilize a push-in bushing and an identical tuner that has a screw-down bushing. Headstock angle and size is an influence on resonance, especially when loaded up with weighty tuners. Fret material and dimension can change not only the feel, but the sound of an instrument. Different bridge and tailpiece combinations may require changes in neck-pitch angles, which in turn affects the physics of the string-pull direction and forces on the neck joint and bridge. The list goes on and on.
As much as I'd like to think I understand a lot of what goes on in the construction of my guitars, I also realize that I'm creating an instrument that will be born with an intrinsic amount of variation in character. When viewed as a mechanical ecosystem, it becomes clear that there are an almost endless number of facets that make up the personality of a guitar. Each change may be almost imperceptible on its own, but small changes have a way of adding up to big results. No wonder the aftermarket is thriving, as DIY guitar owners mix and match ingredients to fine-tune their guitar gumbo. It's gratifying when a brand-new guitar leaves the nest and the new owner doesn't want to change a thing, but I also understand that sometimes people try to change their friends. My advice is to bring out their best, try not to piss them off, and they'll be your friends for life.
Faced with the early 20th-century economic crash, the major manufacturer innovated their way out of folding by introducing low-budget guitars like this Recording King.
You get good at letting go when you work in a guitar store. Special guitars come through the doors every day at Fanny's House of Music. Customers come in and bond with them just as much as we have. And sometimes, old guitars find new homes. New strings touch old frets, new picks fall into old soundholes, and new songs float on old air. Knowing the joy these instruments bring in their next life makes it a little easier to let go.
At the beginning of the Great Depression, the Gibson Guitar Corp. was on the brink of letting go of everything. With so many folks out of work, no one was buying guitars. It was during this period that A.W. Grover—president and treasurer of the company that later became Grover Musical Products—wrote a letter to Martin Guitars recounting a recent trip to Kalamazoo, noting that Gibson general manager Guy Hart "had a nervous breakdown and left for Arizona for a rest."
Perhaps in a rest-induced burst of inspiration—or desperation—Hart decided Gibson needed to make something less expensive. As described in John Thomas' excellent book Kalamazoo Gals, "The wood that would have been crafted into guitars, had the public been able to afford them, instead morphed into the Kroydon Rocket motorboat [and] the Running Rabbit pull toy." (During World War II, Hart would famously lament that the "plant is now being run almost entirely by women," although that is a story for another time!)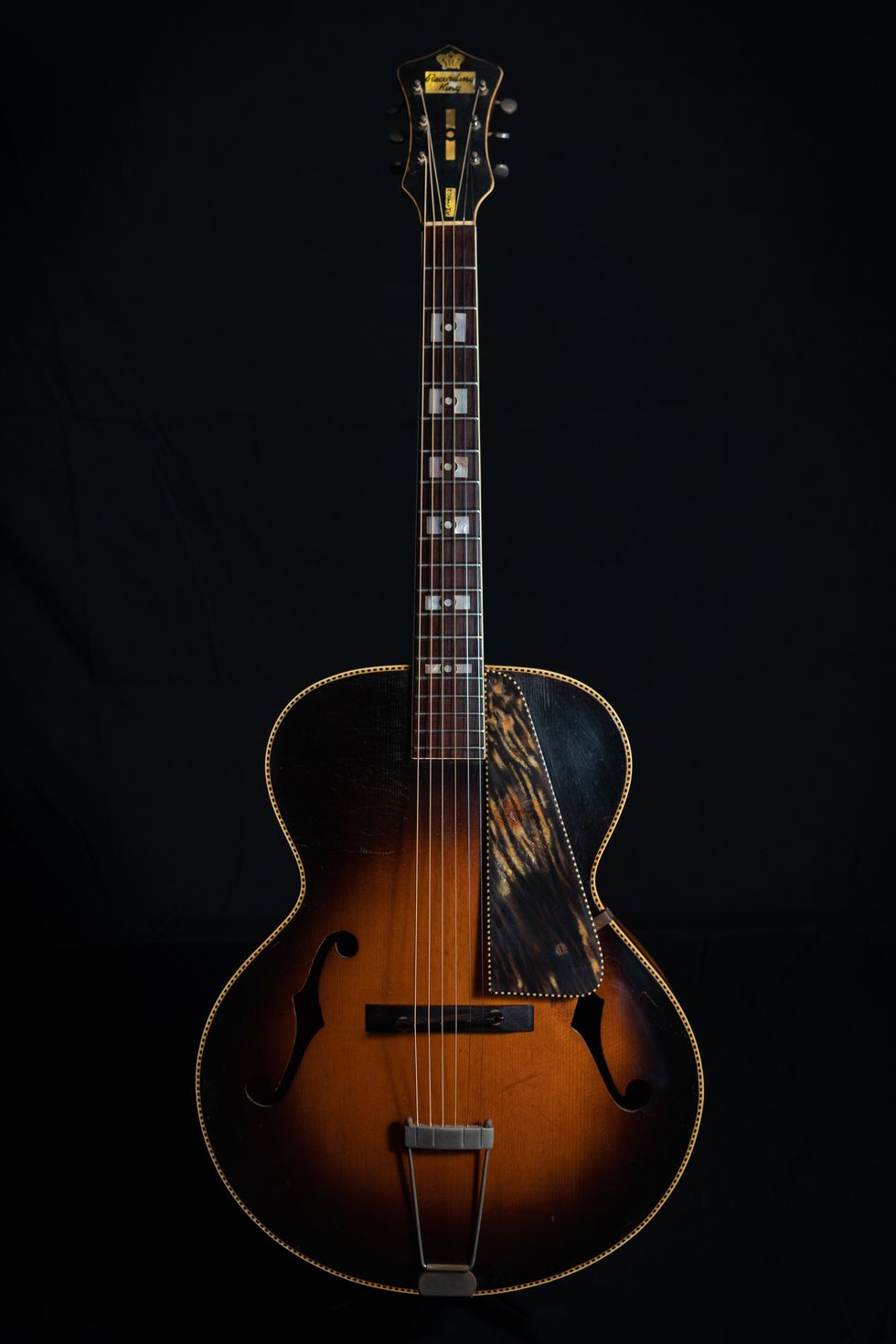 Despite its clandestine manufacturing, the M-5, which was the top model in the Recording King line, looked awfully similar to Gibson's L-5.
Photo by Madison Thorn
In addition to toys, Hart knew Gibson would need to make some budget-priced instruments in order to survive. With less fancy trim and no adjustable truss rods, they could market instruments at a lower price point. To retain the brand identity of Gibson in more upscale markets, these instruments got new names on the headstock. One of these names, Recording King, was just barely concealed by dealer Montgomery Ward, who said in catalogs, "The world's largest and finest manufacturer of fretted instruments makes Recording Kings … made identical in quality and performance with instruments selling for $100."
"Knowing the joy these instruments bring in their next life makes it a little easier to let go."
This Recording King M-5 archtop guitar bears an awful lot of resemblance to Gibson's L-5 with its 16" body, carved spruce top, and curly maple back and sides. In the late 1930s, the M-5 was the top of the line for Recording King, selling for $39.95 or $4 down and $3 a month. Ours is showing its age, with the celluloid pickguard degrading and off-gassing, but you wouldn't believe how good this guitar plays. With no truss rod, the necks of these guitars were extra chunky, and this one is straight as an arrow. We were able to lower the action to a remarkable 1/16" on the bass side with no fret buzz. It practically plays itself.
Fanny's acquired this outstanding instrument from a prominent guitarist in nearby Chattanooga, Tennessee. As he moves on to the next phase of his storied playing career, he is letting go of a few instruments from his collection. His guitars are most certainly not "closet queens"; they were played often and well-loved. We carefully scraped years of gunk from the fretboard, and the frets and inlays now shine like the day they left Kalamazoo. A little cleaning on the tuners and adjustable bridge and everything was turning freely and holding tight. Good as new!
Gibson removed their name from the headstocks of their Depression-era budget guitars to retain their upscale image.
Photo by Madison Thorn
Montgomery Ward abruptly stopped selling Gibson-made instruments in 1941. The 1940 Spring-Summer catalog had seven Gibson-made instruments and the 1941-1942 Fall-Winter catalog had none. It's not clear why this happened, although it's possible Gibson's wartime production of radar boards and airplane runners took precedence over inexpensive guitars. We may never know for sure.
What courage it must have taken for our friend in Chattanooga to let this one go. It's not always easy when a beautiful old instrument is full of rich history. Hidden in the cracks in the pickguard and under the gunk on the fretboard was the story of pre-war Gibson and the Great Depression, and, as usual, we count ourselves lucky to have been able to hear the story this guitar told. Who knows where it is headed next? We can't wait to let it go.