With such a flashy flame top, the Silvertone 1445 was built to catch the eyes of department store shoppers.
I don't know what's going on lately, but I'm breaking down all over and my shoulder is the latest to crumble. When I was a kid I would practice guitar in my bedroom near a radiator with an ungrounded amp plug and I'd get a zap right through my guitar and into my hands. Well, my shoulder pain is like that now, only without the cool story of rock 'n' roll survival. I simply woke up one day like this. After a few weeks of discomfort, I figured I'd try out a new pillow, since mine are flattened like a wafer. I ventured out to the mall and, much to my sadness, saw the local Sears store shuttered, with weeds growing up from the sidewalks and concrete barriers blocking the large glass doors. I know I don't get out much, but, man, was I sad to see the Sears store I'd known since childhood closed-up like that. My wife was laughing at me because apparently it had been closed for some time. But since I seem to exist on a separate timeline than most folks, it was all news to me.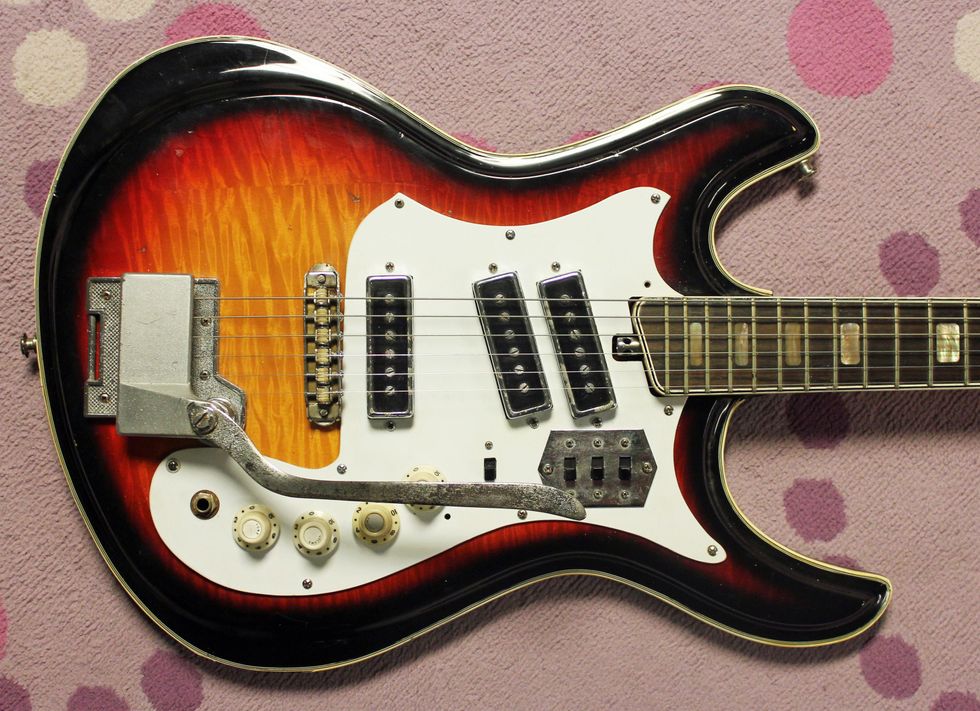 The 1445 combines an elegant sunburst top with surfy accoutrements and makes a few noticeable nods toward both Fender Jaguar and Mosrite styles.
In the parking lot, I stretched my shoulder and gave some thought to Sears and department stores in general. Back in the day, I would see stacks of new vinyl records in the store, alongside the classic, huge hi-fi stereo systems. I feel like I grew up during a great time, where I had one foot in a bygone era and the other foot pointed towards gigantic technological breakthroughs like computers. But I also feel kind of bummed about missing out on the whole electric guitar/department store connection. My good buddy Mike Dugan recalls those times, and while most kids were charging towards the toy section, he was checking out the electric guitars and amps. Can you imagine?
"I feel kind of bummed about missing out on the whole electric guitar/department store connection."
For those of you who also missed the Sears guitars, here's a quick primer: They were almost all branded Silvertone and, in the late '50s and early to mid '60s, were manufactured by either Danelectro, Harmony, or Kay. By the tail end of the '60s, a lot of Silvertone guitars were Japanese imports that were priced and aimed at beginners. I've always felt that the Silvertone guitars were a bit on the conservative side of the spectrum, and there weren't many crazy designs or finishes.
The headstock on this 1445 , with binding and its sloped shape, is an elegant touch for a beginner's guitar.
This Silvertone 1445 model hails from around 1969. It's a cool 3-pickup model that features an offset shape with some exaggerated lines. Built at the Kawai factory, the guitar has an ebony fretboard and some standard Kawai appointments, like the in-house vibrato, electronics, and pickups. There is an on/off mini switch and volume knob for each pickup as well as a single tone knob. Around this time, Kawai was starting to cut corners in subtle ways, one of which included underwinding the pickups, which, in most cases, resulted in a thinner sound. Luckily, the series wiring in these guitars can produce quite the powerful sound. The finish is a nice-but-kinda-blah sunburst with some flamed wood. The flame veneer was a new thing for the Japanese guitar makers at the time, and I think there was some elegance attached—especially for a guitar targeted toward beginning players.
Strapping on one of these late-'60s 1445s is a familiar-feeling experience, offering up a cross between a Fender Jaguar and a Mosrite vibe. Often, Kawai electrics of this era were neck-heavy and the headstock would take a dive on you when slung around your shoulder. But the 1445 features a thicker body with a thin laminated neck. Kawai had basically perfected that laminate-neck-making technique, mostly to prevent warping, and these guitars usually hold up very well, even though the necks on are quite slender and narrow.
The Silvertone triple-pickup 1445 cost $78.95 in the 1969 Sears winter catalog and only lasted for a few years. I've seen all sorts of variations on this model, like bound bodies and necks, different colored pickguards, and different knobs. I suspect a lot of you out there started on a Silvertone. One has to marvel at the sizable influence Sears stores had on generations of folks. I'm really going to miss that local Sears and the feeling of nostalgia it evoked. Not quite like the electric zaps flowing into my shoulder right now, but still powerful!
The Jazzmaster finally gets an upscale modern facelift—with enhanced playability and expressive potential as the payoff.
Ratings

Pros:

Improved, more-stable vibrato system. Vast tone shaping possibilities. Noiseless pickups. Bend-conducive, super-playable, compound radius neck. Tuning stable.

Cons:

Noiseless pickups sound less characterful than vintage-style units.

Street:

$1,999

Fender American Ultra Jazzmaster fender.com

Tones: Playability: Build/Design: Value:
Though the Jazzmaster ceased to be perceived as a cellar-dwelling freak of the Fender family decades ago, it's never really received the fancifying treatment so often given to its more famous Fender brothers. To date, variations and mutations of the model tend to be scattered and obscure—occurring primarily in the instrument's more affordable ranges and within the output of the Custom Shop.
The Jazzmaster Ultra is an overdue reimagining of the model. And with its compound-radius neck, noiseless pickups, phase- and parallel-switching options, and new body carves, the Ultra might soon be as revered as the Plus, Deluxe, and Elite models that marked important evolutions of the Tele and Strat.
Luminously Luxe
To Fender's credit, many Stratocaster and Telecaster re-designs helped pave new expressive avenues. And the extent to which inventive players like Jeff Beck (with his Strat Plus-like signature model) and Jonny Greenwood (Telecaster Plus) made next-generation Fenders cornerstones of their art attests to the enduring, practical, and creatively enabling upside of these evolutions.
Just as those guitars estranged some Tele and Strat originalists, the Jazzmaster Ultra's new features will engender skepticism from some vintage heads. But many of these refinements are unquestionably useful and inspiring. Cosmetically, the Ultra deftly walks a line between Fender classicism and new-world bling. The body profile and hardware (save for the knobs) deviate little from tradition. And if you opted for the pretty ultraburst finish (which adds metallic flake to a classic 3-color sunburst), you might even mistake it for an American Original edition at a glance.
Our two review guitars were more extroverted. The cobra blue finish is deep, shapeshifting, and subtly pearlescent, evoking the competition burgundy of the 1969 Mustang. The striking mocha burst specimen that appears in the First Look video flashes between copper and root beer hues. Both finishes morph beautifully in sunlight and under stage illumination.
On the cobra blue version, the neck and fretboard are black-bound maple. They recall the unusual maple-and-black-block-inlay Jazzmasters and Jaguars of the 1970s. But to my eye they look a little monochrome and plain against the complex, mutable blue finish. A rosewood neck option would be nice.
Cosmetically, the Ultra deftly walks a line between Fender classicism and new-world bling.
Tone Tourism
The other overt deviation from trad' style is the chrome 3-knob array, and the new control configuration opens up tone possibilities no standard Jazzmaster is capable of. Though the Ultra's switching and tone circuit deviate significantly from the original Jazzmaster system, they adhere to the notion that more is more when it comes to tone shaping. Rather than activating a filtered rhythm circuit, the upper bout slider switches the pickups in and out of phase. The two attendant roller knobs are dedicated volume controls for the bridge and neck pickups in the latter mode. The volume knob is also an S1 switch that selects series or parallel pickup configurations. The Stratocaster-like tone controls, meanwhile, enable super-dissimilar tone shades between pickups and super-specific blends. At first, the myriad tone options can feel labyrinthine. But as the controls become more intuitive, tone shaping on the fly starts to feel as much like painting as playing. It's a blast.
What else is fun? For starters, the neck feels great. The 10"-14" compound radius fretboard feels fleet under the fingers, and the medium-jumbo frets and flat radius conspire to make the simplest string bend feel full of expressive potential. If you have a preference for vintage neck profiles and more curvaceous fretboards, the "Modern D" shape will probably feel pretty thin. But there's little arguing how slinky the neck feels, and players with modern neck preferences—and maybe even a few SG loyalists—will find a lot to love here. What's more, the carve on the back of the treble-side cutaway and the slimmed, sculpted heel make access to the highest frets super easy. Between the high-fret access, the flat radius, and the fat frets, you can achieve otherworldly bends.
The improved vibrato is a tactile joy, too. Mechanically, it's identical to a vintage unit. But unlike vintage snap-in arms, which can wear out, the Ultra's vibrato arm screws into the post and can be set to swing freely or tightened to remain relatively stationary. Better still (at least for my preferences), the bend in the arm sits higher in relation to the post and strings, nestling the arm more deeply but comfortably into your palm as you pick and strum. If you use the tension screw to dial in a more elastic feel, the unit becomes ideal for Kevin Shields' glide techniques and nuanced vibrato accents.
Free From Horrible Hiss
The "Noiseless Vintage" pickups are among the Ultra's main attractions. And any player that has endured the hiss, buzz, and hum of vintage Jazzy pickups in bridge and neck positions can understand the potential appeal. In general, they have less output than vintage Jazzmaster units. And each of the individual pickups, as well as the combined middle position, are mellower and less bright. These differences are super apparent with a pre-CBS Jazzmaster and the Ultra side by side. In isolation, you primarily notice that the Ultra pickups are light years quieter.
The Verdict
It's nice to see the Jazzmaster in a more evolutionary guise. But the real joy is in playing it. The copious tone shaping control, noiseless pickups, improved vibrato, and shreddily delicious neck all extend and enhance the Jazzmaster's already ample expressive potential. The quality is superb. And while you could argue that the noiseless pickups lack the open and wild character of vintage units, the seemingly endless and lively tones you can extract from the guitar are a tradeoff well worth considering.
Watch the First Look:

Racing stripes match a wicked-fast neck, while short-scale goodness and an MFD humbucker gas the machine.
Recorded direct using PreSonus FireStudio and PreSonus Studio One 3.
Clip 1: Tone dial dimed. Volume dial dimed.
0:00-0:14 - First toggle position (parallel)
0:15-0:28 - Second toggle position (single-coil)
0:29-0:45 - Third toggle position ("OMG" bass boost)
 

Ratings

Pros:

Great feel. Fast neck. Nice array of tones.

Cons:

On the pricey side.

Street:

$1,699

G&L Fallout glguitars.com

Tones: Playability: Build/Design: Value:
For a storied company like G&L, it takes a big leap of faith to venture into new territory. There is a huge short-scale-bass movement afoot, and when a builder that typically doesn't engineer such a beast introduces that type of instrument as a new product, eyes may roll.
A short-scale bass has a few great attributes. First, it makes life a whole lot easier for guitarists when crossing over. Second, short-scale basses have a sweet, distinct tonal vibe that really sets them apart and makes them secret weapons in the studio as well as onstage. And third, because they are considered a vintage callback, today's crop of short scales have style all their own. We recently looked at the Fallout Bass from G&L and had the chance to see how many boxes this new bass could tick.
Fall In, Fallout
Out of the gig bag, the Fallout has all the feel of a time-portal instrument with its aggressive yet elegant lines, competition racing stripes, and a bold Miami blue color that says, "I'm here to party." (The bass is also available in racing green and racing yellow.) The 30"-scale Fallout is not a heavy instrument at 10.2 pounds, and it sits comfortably on one's lap or strapped up thanks to great balance and a deep belly scoop.
The engine on the Fallout bass is a G&L Magnetic Field Design humbucking pickup with three toggle modes: parallel, split, and "OMG." This pickup is not new, but it represents a big boost (every pun intended) for bass tone and output by creating a wider frequency range in a passive setting. Needless to say, I was excited about the notion of this storied pickup in a short-scale bass.
Don't Call Me Short!
Plugging into an Eden Terra Nova head and matching Eden 2x10 cabinet, I rolled the volume and tone controls all the way up and set the mini toggle to parallel mode. Wow! I could have stayed here all day. Deep and wonderful, the sound was big yet pointed. And the tone control provides a nice sweet touch to the overall voice without being harsh or gritty. The real treat is that the bass doesn't necessarily sound "short-scale-y," but rather very much like a traditional-scale instrument, and I could have used this setting for just about any genre thrown my way.
Next, I toggled to the split (single-coil) setting. To my ears, this setting was a little flat and noisy, and not as exciting. I immediately found myself looking for a way to improve on this with the tone control, hand position, etc. Whereas the tone was completely passable, I just felt the bass sounded a bit ordinary and without its own identity in this setting.
… and I could have used this setting for just about any genre thrown my way.
Then I switched to OMG. This setting is essentially a bass boost (by cutting some high frequencies), which brings might to the game. And what a game it is. The Fallout will move some earth with this setting, and it would be right at home for rock, reggae, and funk, as much as it loves some compression with a plectrum.
As I found myself playing way too many notes (a great way to lose a gig), I was impressed with the overall feel of the Fallout. The sustain from the alder body of the bass and the Leo Fender-designed Saddle Lock bridge is notable. The hard rock maple neck is very fast, and the Caribbean rosewood fretboard felt stone solid while also looking great, with its oversized dot markers. Our test bass was well assembled with a tight neck joint and no rough edges or fret issues whatsoever.
To explore the other side of the tone knob, I again began in parallel mode, but with the tone pulled down to nil. The voice was choked, but that's to be expected. I think this setting would be enhanced with flatwound strings, which would get the Fallout closer to that vintage target. When I eased the tone control up to about 25 percent, the sparkle really happened as the bass provided warmth, depth, and that '60s feel.
Moving on to the series setting, I again turned the tone control all the way off. The sound was flat and basic here, and not something I would use. But when I twisted the tone control to about 25 percent again, the series setting sounded much better than it did dimed by giving me a nice balance of punch and articulation.
On to the OMG. If you want a nice, deep, and thuddy (not muddy) bass tone, this is your go-to. Add some effects and you have a great sub drop. When I turned the tone dial to the magic 25 percent zone, the sound was deep and balanced. While this setting in particular provided a bit more low end than I would normally play with, it also sounded really nice and inspiring.
The Verdict
G&L's Fallout bass is lightning fast, will appeal to guitarists, speaks a tonal vibe all its own, and has a vintage feel with modern appointments—making it an all-around winner. What I really liked about the vibe of the Fallout is that it's bigger than its scale tonally—with big-boy sounds in a diminutive package—and it's comfy enough to play three or four sets and not be miserable the next day. A lot of studio players have a short-scale bass in their arsenal for good reason, but this bass could easily fill the role as your only instrument with all the tones it has at hand. If this is your first instrument, lucky you. The Fallout could last you a very long time.