Platypus Meets 'Bird with This Reverse Gibson Rarity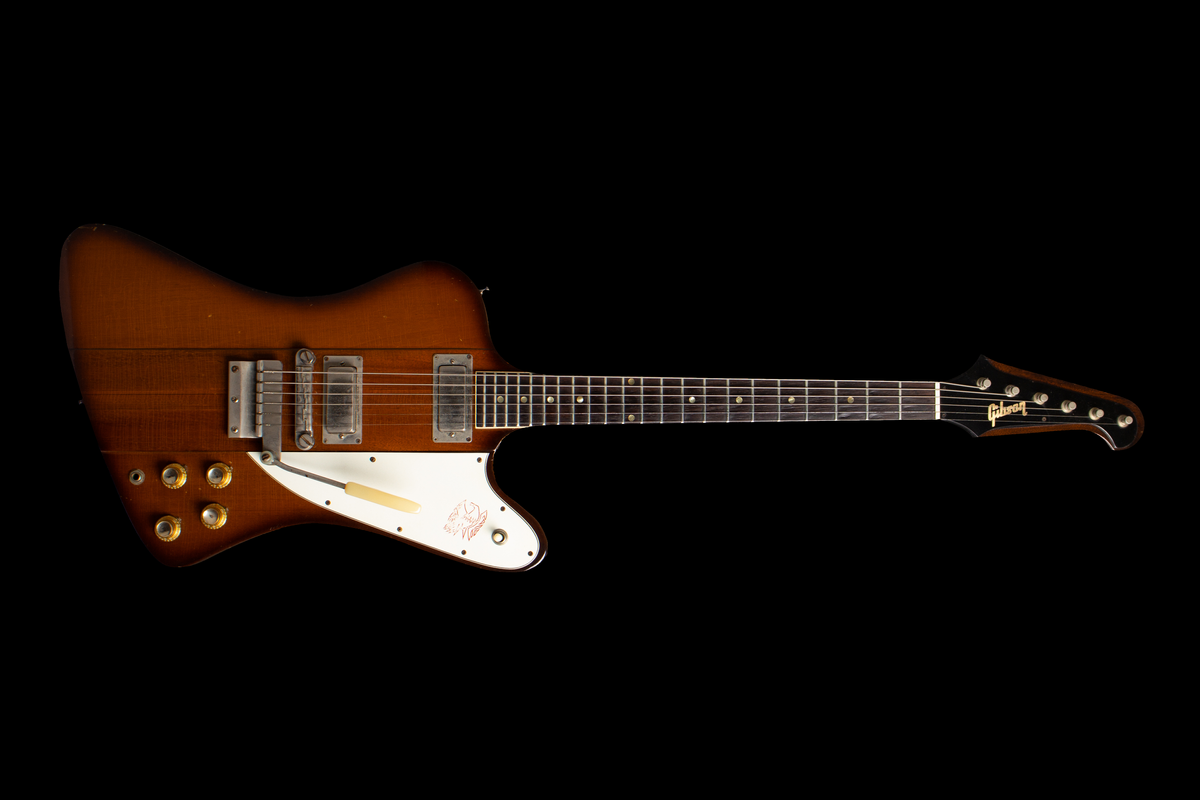 Photo by George Aslaender
This month's guitar is a variation on the Firebird III, so rare that its production number is likely in the dozens.
As Gibson was about to launch its new, simplified "non-reverse" Firebird line in 1965, they shipped a small number of "reverse" I and III models that spring and summer with some eccentric features. In his encyclopedic 1982 book, American Guitars: An Illustrated History, Tom Wheeler whimsically labeled these as "Platypus" Firebirds, due to their oddity and rarity: Some had conventional guitar tuners, rather than the banjo tuners on standard 'Birds, and tubular plastic-tipped vibrato arms, rather than so-called "spoon handle" vibratos. So, naturally, I was intrigued. The subject of this month's column is one of those rare 'Birds that I scored at the 1993 Great American Guitar Show in Philadelphia.
---
Being experienced with Gibson's Thunderbird basses, this Firebird III felt like the right fit immediately and became an instant go-to recording and stage guitar for me. The wide-but-fast neck is superb, the neck-through construction feels more solid than any SG I've played, and the pickups nail the perfect blend of Fender bite and Gibson warmth. As a bonus, switching between this Firebird III and a Fender feels more natural than with other-numbered 'Birds.
The Firebird was conceived in 1962–'63, when Gibson president Ted McCarty hired automotive designer Ray Dietrich to come up with a concept to compete with Fender. Nearly everything about this model was new for Gibson: neck-through-body construction, fluid sculpture lines, a single-sided headstock, and special small humbucking pickups. Like the earlier Explorer, Firebirds "reverse" the Fender-style solidbody, with an extended bout below the neck intended more for visual flash than ergonomics. Dietrich even designed a nifty Firebird logo for the pickguard. This distinctive but unconventional instrument required extra factory effort, and quickly proved difficult to build cost-effectively, so Firebirds had to be priced above the SG series, and, more crucially, the Fenders they were intended to compete with.
"The neck-through construction feels more solid than any SG I've played, and the pickups nail the perfect blend of Fender bite and Gibson warmth."
Like Les Pauls and SGs, there were four models of Firebirds, designated by Roman numerals I, III, V, and VII. (Thunderbirds were given numerals II and IV.) Each had a unique neck trim and/or pickup array. Gibson expected the cheapest model to be the best seller, but the Firebird I's (priced at $215) single pickup and lack of a vibrato arm looked barren by early '60s aesthetics, while the Firebird III (priced at $280), with two pickups and a vibrato, racked up the strongest sales. The flashier V, with trapezoid inlays and a Tune-o-matic bridge, cost $360, while the gold-plated, 3-pickup VII, priced at $500, was beyond any garage-band budget. Gibson's oblong, yellow-lined case added another $42.
By late 1964, not only were Firebirds not selling as expected, but warranty repair was another problem. The heavy banjo tuners made their angled headstocks prone to breakage. Gibson decided to revamp the line with a more conventional design, later dubbed "non-reverse," for the mid-1965 NAMM show. In the meantime, some I and III models were put together with evolved features to clear inventory of neck-body sections (the non-reverse line would have a glued-in neck). My III is one of those instruments. There was also a Firebird I with twin P-90 pickups, a flat headstock, and conventional tuners.
This single-sided headstock design was new to Gibson in the early '60s.
Photo by George Aslaender
This Firebird III's headstock has a carved ledge on the face and banjo tuners like earlier 'Birds, but is reversed, with the low E closest to the nut. (The original design made the high E closest to the nut.) Theories on why this was done range from addressing customer or dealer complaints to using up left-handed neck blanks that were prepared but never ordered. Whatever the reason, it resulted in what some find the most player-friendly of the reverse Firebirds, given the familiar string positioning. Another small oddity is the fancier, plastic-tipped, flat vibrato arm, usually found on higher-end guitars instead of the "spoon handles" used on earlier IIIs.
The other features remain unchanged: a multi-laminate, neck-through center section with mahogany wings glued to the sides, a bound, dot-inlaid neck with a 1 11/16" nut, and two mini-humbuckers mounted in metal surrounds with 4-knob, single-switch wiring. There are two forward strap buttons, one on the neck heel and a second on the upper bout, perfectly placed for the strap to slip off and send the guitar floorward. The laminated white pickguard bears the spiffy bird emblem.
It's estimated that just over 1,000 Firebird III's were shipped in 1965, but the proportion of reverse, non-reverse, and "Platypus" is unknown, as all were logged identically. While the exact number is lost, the number of Platypuses produced is in the dozens rather than hundreds, and today, they're worth $15,000 to $20,000. From 1965 to '66, Brian Jones was the most visible Firebird user, and Johnny Winter, Stephen Stills, Allen Collins, and Phil Manzanera all rocked them in the '70s. "Reverse" Firebirds did end up returning to Gibson's line in the '70s, but this oddity has never been reissued.