A Depression-Era Gibson Fit for a King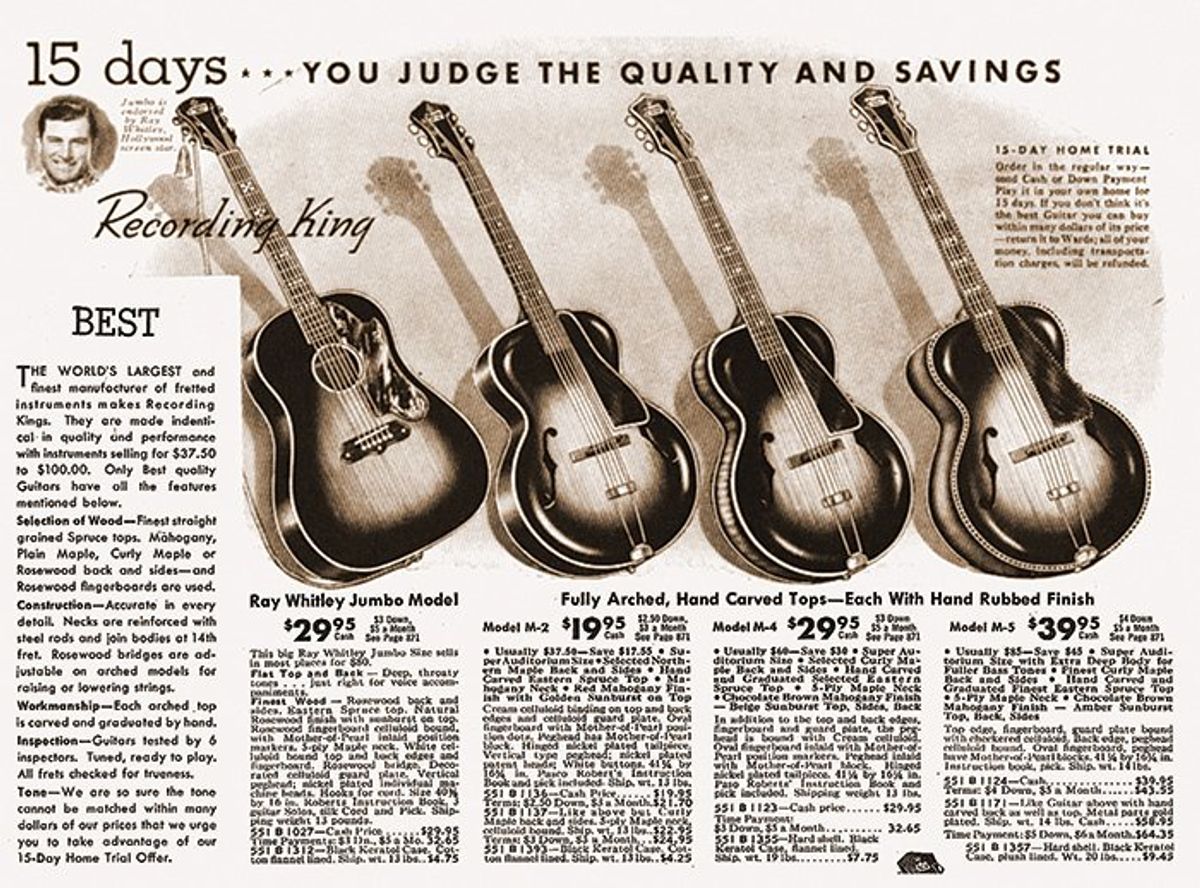 Faced with the early 20th-century economic crash, the major manufacturer innovated their way out of folding by introducing low-budget guitars like this Recording King.
You get good at letting go when you work in a guitar store. Special guitars come through the doors every day at Fanny's House of Music. Customers come in and bond with them just as much as we have. And sometimes, old guitars find new homes. New strings touch old frets, new picks fall into old soundholes, and new songs float on old air. Knowing the joy these instruments bring in their next life makes it a little easier to let go.
At the beginning of the Great Depression, the Gibson Guitar Corp. was on the brink of letting go of everything. With so many folks out of work, no one was buying guitars. It was during this period that A.W. Grover—president and treasurer of the company that later became Grover Musical Products—wrote a letter to Martin Guitars recounting a recent trip to Kalamazoo, noting that Gibson general manager Guy Hart "had a nervous breakdown and left for Arizona for a rest."
Perhaps in a rest-induced burst of inspiration—or desperation—Hart decided Gibson needed to make something less expensive. As described in John Thomas' excellent book Kalamazoo Gals, "The wood that would have been crafted into guitars, had the public been able to afford them, instead morphed into the Kroydon Rocket motorboat [and] the Running Rabbit pull toy." (During World War II, Hart would famously lament that the "plant is now being run almost entirely by women," although that is a story for another time!)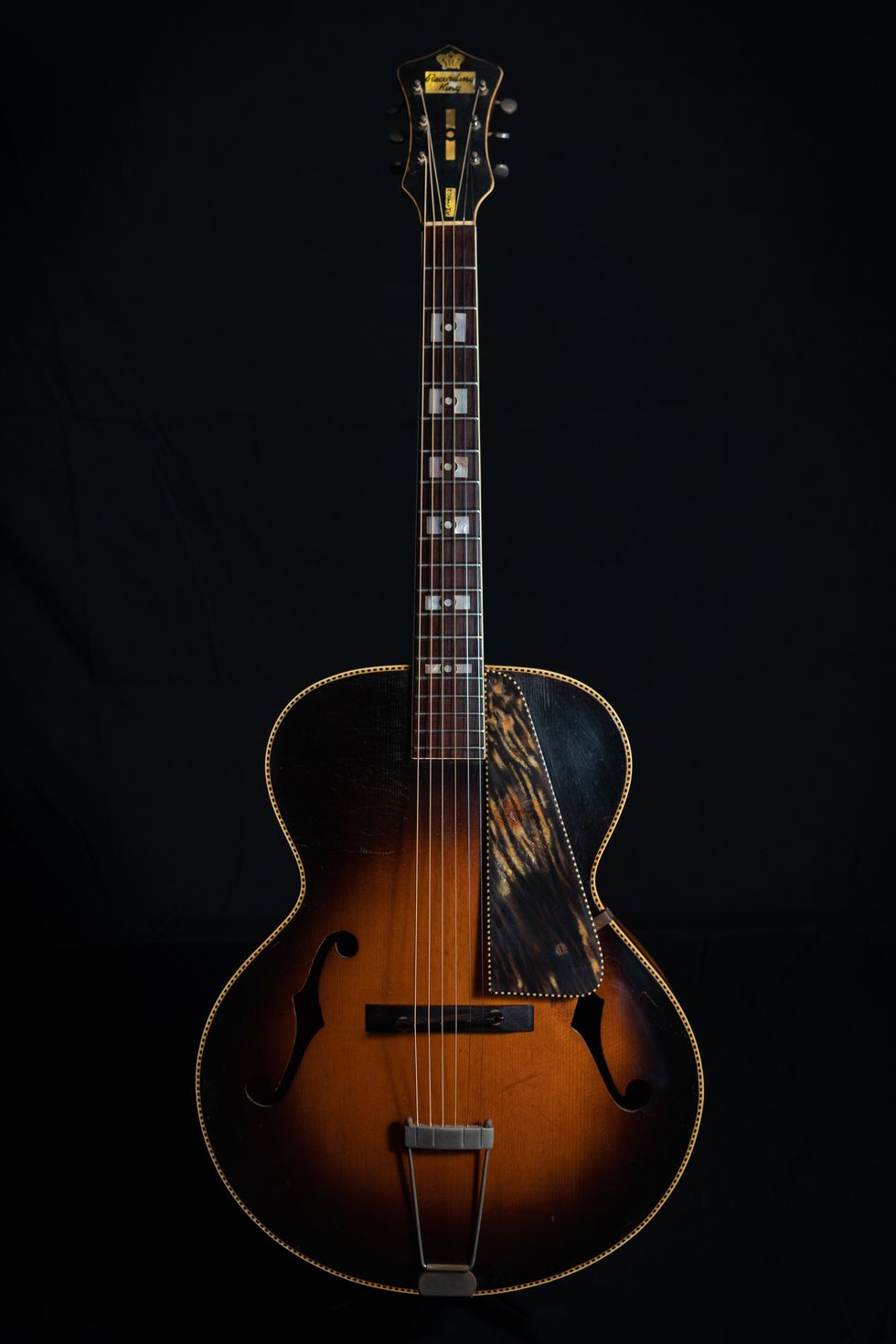 Despite its clandestine manufacturing, the M-5, which was the top model in the Recording King line, looked awfully similar to Gibson's L-5.
Photo by Madison Thorn
In addition to toys, Hart knew Gibson would need to make some budget-priced instruments in order to survive. With less fancy trim and no adjustable truss rods, they could market instruments at a lower price point. To retain the brand identity of Gibson in more upscale markets, these instruments got new names on the headstock. One of these names, Recording King, was just barely concealed by dealer Montgomery Ward, who said in catalogs, "The world's largest and finest manufacturer of fretted instruments makes Recording Kings … made identical in quality and performance with instruments selling for $100."
"Knowing the joy these instruments bring in their next life makes it a little easier to let go."
This Recording King M-5 archtop guitar bears an awful lot of resemblance to Gibson's L-5 with its 16" body, carved spruce top, and curly maple back and sides. In the late 1930s, the M-5 was the top of the line for Recording King, selling for $39.95 or $4 down and $3 a month. Ours is showing its age, with the celluloid pickguard degrading and off-gassing, but you wouldn't believe how good this guitar plays. With no truss rod, the necks of these guitars were extra chunky, and this one is straight as an arrow. We were able to lower the action to a remarkable 1/16" on the bass side with no fret buzz. It practically plays itself.
Fanny's acquired this outstanding instrument from a prominent guitarist in nearby Chattanooga, Tennessee. As he moves on to the next phase of his storied playing career, he is letting go of a few instruments from his collection. His guitars are most certainly not "closet queens"; they were played often and well-loved. We carefully scraped years of gunk from the fretboard, and the frets and inlays now shine like the day they left Kalamazoo. A little cleaning on the tuners and adjustable bridge and everything was turning freely and holding tight. Good as new!
Gibson removed their name from the headstocks of their Depression-era budget guitars to retain their upscale image.
Photo by Madison Thorn
Montgomery Ward abruptly stopped selling Gibson-made instruments in 1941. The 1940 Spring-Summer catalog had seven Gibson-made instruments and the 1941-1942 Fall-Winter catalog had none. It's not clear why this happened, although it's possible Gibson's wartime production of radar boards and airplane runners took precedence over inexpensive guitars. We may never know for sure.
What courage it must have taken for our friend in Chattanooga to let this one go. It's not always easy when a beautiful old instrument is full of rich history. Hidden in the cracks in the pickguard and under the gunk on the fretboard was the story of pre-war Gibson and the Great Depression, and, as usual, we count ourselves lucky to have been able to hear the story this guitar told. Who knows where it is headed next? We can't wait to let it go.