Photo by Madison Thorn
If you were interested in playing guitar in the 1930s and 1940s, you were probably a fan of singing cowboys. The old Western teleplays on the radio were vehicles for marketing all kinds of products, like toys, costumes, and, of course, guitars!
Today, we're familiar with the names Gene Autry and Roy Rogers, but back then, any cowboy fan would have also known Carson Robison. Robison was born in 1890 to a champion-fiddler father and a dance-caller mother. In the 1920s, he was one of the first cowboy singers to become a radio performer, famous for his virtuosic whistling ability. He wrote over 300 songs in his career, including his 1948 hit, "Life Gets Tee-Jus, Don't It," featured in episode 123 of the original Muppet Show, which is how I first heard of him.
The Montgomery Ward catalog offered Carson Robison-model guitars from 1930 through 1941. The 6-string changed a little every couple of years, ultimately ending up with eight different variations. The subject of this month's column is the rare eighth variation, also called Model 964, made only for a short time in the fall of 1941 by the Kay Musical Instrument Company. According to the original catalog, it has a "Selected Spruce Top" and mahogany back and sides, and the top is solid wood as far as we can tell. The back and sides, however, are made of a few disparate pieces. The body on this guitar was shrunk from the previous grand auditorium size (41 1/4 x 16 1/4) to a smaller grand concert size (39 1/2 x 14), and it has a distinctive oval-shaped soundhole. Like the other Carson Robison guitars, it has his signature painted on the body, below the bridge.
Also known as Model 964, this version of the Carson Robison is the eighth variation on the original.
Photo by Madison Thorn
This particular example has had a number of repairs over the years. The tuners are newer, and it's had a bone saddle installed. Its amber sunburst finish has some overspray, likely covering a past repair. It's also had a refret and a neck reset, and it's playing better than ever. The neck has a chunky V-shape, which is typical for these early-20th century guitars that were made before truss rods. It's got a bunch of dings, finish-checking, and evidence of past repairs, which I think adds character. I like to imagine this guitar had a dynamic early life, being played and loved by some rowdy siblings.
While researching this model, we at Fanny's House of Music in Nashville came across a clipping of the 1941 Montgomery Ward catalog this guitar was listed in and found something curious cut off on the left side of the page. Featured right next to the Carson Robison guitar was a 6-string bearing the name of Louise Massey. Could it be that not all singing cowboys were boys? I found myself in the throes of a deep Google search when our old friend Frank Hall came to the rescue.
"I like to imagine this guitar had a dynamic early life, being played and loved by some rowdy siblings."
Frank Hall was a fixture here in Nashville. He was a member of the Serendipity Singers, a folk group that performed at Woodstock. He was also a lifelong guitar collector and one of the world's preeminent "catalog guitar" experts. He came into Fanny's often to tell us stories about these old guitars, and when we were lucky, he'd play us a song. Frank passed away in early 2021, but he left us with a wealth of knowledge, and importantly, for our purposes today, a tome called Cowboy Guitars by Steve Evans and Ron Middlebrook.
Time and wear have given this guitar a character as craggy as the old West.
Photo by Madison Thorn
The owners of Fanny's, Pamela Cole and Leigh Maples, plopped it open on our front desk to page 106, where I read the history of Louise Massey and the Kay-made Montgomery Ward guitar that bears her name. Louise was known for her hit song "My Adobe Hacienda," a beautiful tune calling back to the real heroes of cowboy culture, Mexican vaqueros. Her signature guitar was only made for a few short months in the fall of 1941, at the same time as our Carson Robison. As far as we know, it is the only cowboy guitar to feature a woman artist. Not even the Queen of the West, Dale Evans, had that honor!
This wonderful Kay acoustic took us on quite a journey. We love the stories in these old guitars, and we especially love seeing them write new stories with new owners. Sometimes all it takes is a neck set, and a little flattop like this one is all ready to inspire a new generation. Now, if you'll excuse me, I must go scour eBay for a Louise Massey guitar.
This 1968 Gibson signature-model hollowbody has kept its glow—and nearly all its components—through the decades.
From the sparse, smoky ballads of Julie London to the hard bop of Sonny Rollins, Barney Kessel could back up just about anybody. The bandleader, session great, Wrecking Crew member, and sideman was one of the most accomplished guitarists of his era. His chordal complexity not only got him steady work and accolades, but also a collection of signature guitar models bearing his name.
This 1968 Gibson Barney Kessel Custom is a top-of-the-line example. It's the higher-end counterpart to the Barney Kessel Regular, both built from 1961 until 1974. They followed a trio of Barney Kessel signatures that Kay sold between 1957 and 1960.
Barney Kessels often became parts donors, with their hardware, tuners, and pickups (original PAFs, Pat. No., and T-Tops, depending on the year) being stripped and sold separately.
Each Gibson model has a hulking 17"-wide and nearly 3"-deep body, with two humbuckers, a Tune-o-matic bridge, and a bound rosewood fretboard. The attractive Barney Kessel tailpiece is also common to both, while the controls will be familiar to any Gibson player: two volume pots, two tone knobs, and a 3-way selector switch. The dual Florentine cutaways—a design first seen in these Barney Kessels and later used in Gibson's Trini Lopez signature—cut a striking silhouette.
Of the two Gibson Kessels, the Custom alone is dressed to the nines, swapping in gold-plated hardware for the Regular's nickel, and bowtie inlays for the Regular's fretboard parallelograms. There's also a 3-piece maple neck with two pinstripe-thin mahogany strips taking over for the Regular's solid mahogany. And the Custom tops off its outfit with a pearl headstock inlay in the shape of a musical note.
Such features were a huge upgrade to the art-deco stylings and Kleenex-box pickups of Kay's Kessel signatures, which Kessel snubbed, reportedly saying, "I don't play that Kay. It's a terrible guitar!" Interestingly, he often chose not to play these Gibson signatures, either, instead typically using his favorite 1940s ES-350.
When they were introduced, Gibson's Barney Kessel Custom model had a list price of $599, while the Regular's was $399. Both sold in respectable if not incredible numbers, with sales peaking in 1968. However, the following decades were not particularly kind to the guitars. As the vintage market took off for Les Pauls, SGs, and other classic Gibsons, Barney Kessels often became parts donors, with their hardware, tuners, and pickups (original PAFs, Pat. No., and T-Tops, depending on the year) being stripped and sold separately. You can still find Barney Kessel husks on the market—project guitars looking for a new owner to rebuild them. And many of the complete Barney Kessels you'll find for sale have been rebuilt.
A rear view indicates this Kessel was not heavily played. There's no belt rash, finish wear, or other marks, and the new-guitar tags typically indicate that the previous owner or owners had a collector's sensibility.
That's what makes the particular Barney Kessel Custom featured here so special. It's nearly all original, with Patent pickups intact and even its Custom-stamped hang tags. The only modification is one replaced tuner (along with a couple patched screw holes from a previous replacement). The cherry in its cherry sunburst finish is one of the most vibrant we've ever seen, and the condition of the finish overall is in impeccable vintage shape.
This Custom model is classic Gibson, with its 4-knob control array, 3-way toggle, and Pat. No. pickups. Unique flourishes include the special Barney Kessel tailpiece and bow-tie fretboard inlays.
Because of the wide array of Barney Kessel Customs on the used market—many with non-original parts—you can find them across the price spectrum, from about $3,000 on the low-end to $12,000 or more on the high. This Custom, listed on Reverb now by Nationwide Guitars, fittingly lands on the higher end, with an asking price of $8,999.
Sources for this article include Gruhn's Guide to Vintage Guitars by George Gruhn and Walter Carter, American Guitars: An Illustrated History by Tom Wheeler, Reverb's "Player Profile: The Hard-Swinging Barney Kessel" by Greg Cooper, Premier Guitar's "Gibson and Barney Kessel" by Jim Bastian, and Reverb listings from Retrofret Vintage Guitars and Vintage Correct Parts.
The story of 1960 Gibson Les Paul 0 8145—a 'burst with a nameplate and, now, a reputation.
These days it's difficult to imagine any vintage Gibson Les Paul being a tough sell, but there was a time when 1960 'bursts were considered less desirable than the '58s and '59s of legend—even though Clapton played a '60 cherry sunburst in his Bluesbreakers days. Such was the case in the mid 1990s, when the family of a local musician who was the original owner of one of these guitars walked into Rumble Seat Music's original Ithaca, New York, store with this column's featured instrument.
Les Paul 0 8145 is a typical 1960 'burst in most ways. A vibrant cherry color is prominent in the finish—which is a result of a change in dyes Gibson made when owners complained of their new '58 and '59 model guitars fading in ultraviolet light—and the neck is thinner than the late-'50s models, similar to what you'd find on the SG-body-style guitars that debuted not long after this 6-string left Kalamazoo.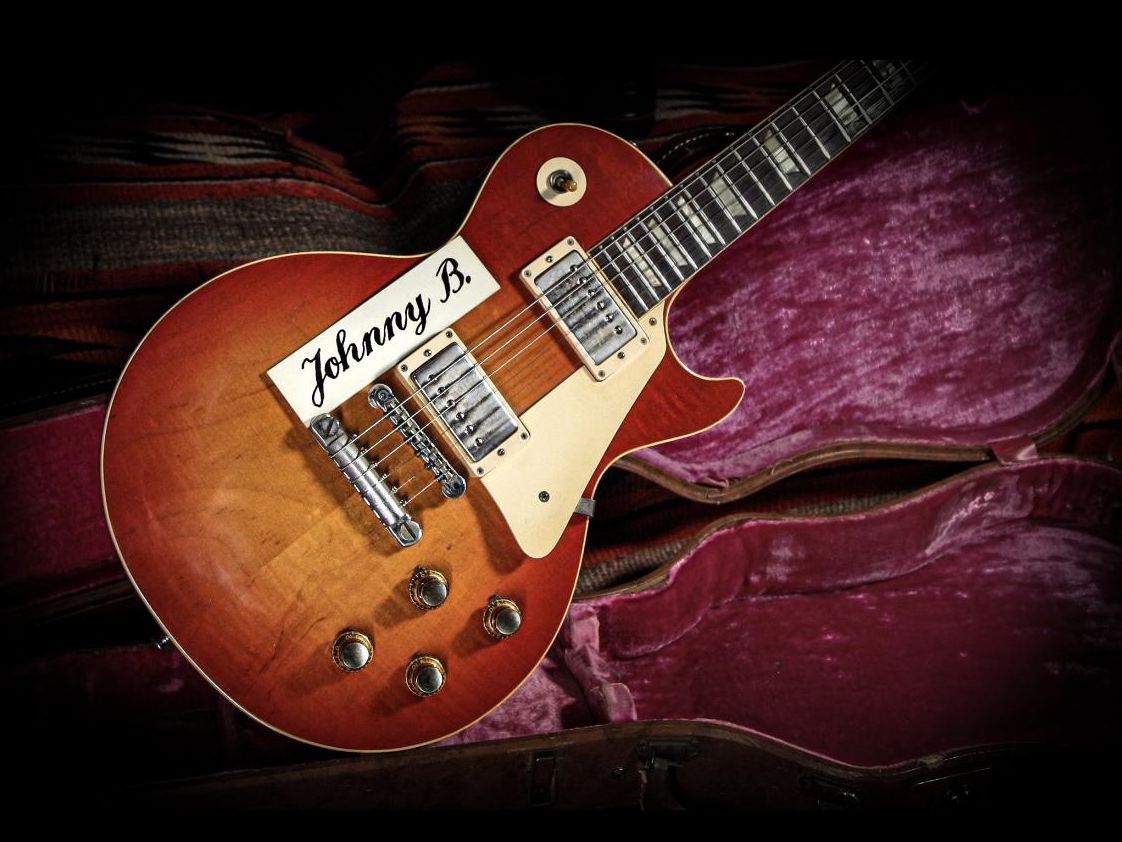 This close-up of the guitar's body shows it in excellent condition, and the sound generated by its humbuckers is terrific.
The maple top is hardly the most figured, yet neither is it plain. But one thing certainly jumps out on this guitar: The original owner applied a name plate on the top for all the world to know it belonged to "Johnny B"! Perhaps for this reason, or perhaps because Rumble Seat was never short on amazing guitars on display to compete for attention, the guitar we named Johnny B. hung on the wall for close to eight months.
Eliot Michael, Rumble Seat's owner, insisted that what Johnny B. lacked in flame was made up for in spades via its monstrous sound. The two original PAF humbuckers are incredible. It's now common knowledge that many of the best sounding 'bursts do come from the later run in 1960, but it took some convincing for one of my friends and good customers to finally plug Johnny B. in to hear it for himself. Upon doing so, he immediately declared it "the best sounding guitar I've ever heard." And Johnny B. left the shop for a new home.
The back of the guitar also shows TLC—as well as its classic mahogany wood grain.
As tends to happen, the guitar eventually found its way back to Rumble Seat Music, after we moved the store to Nashville, Tennessee. Another friend and customer agreed with that assessment of its sound. His name is Joe Bonamassa. Johnny B. went to live with Joe B., where it took on a new chapter of life on the road and in the studio for several years.
Joe wielded this truly exceptional-sounding guitar in many shows across the U.S. You may have seen it onstage. While some Les Pauls are known for their sweet sound, Johnny B. wants to rock. This is one of the most aggressive, raunchy, and downright rude-sounding Les Paul Standards out there, which seems appropriate for an instrument sharing a name with a Chuck Berry song. It doesn't get much more rock 'n' roll than that!
As I mentioned earlier, guitars we sell have a habit of finding their way back to our store, and so it goes with Johnny B.–now returned to our walls after some serious adventures. Typically, good condition 1960 Les Pauls carry tags in six figures, and this one is no exception at $278,000. That's within the same current range for '58s and '59s, since players and collectors have gotten hip to the virtues of 1960 models. And although it was initially overlooked, Johnny B. has earned its place as one of the most recognizable 'bursts around.