Billy Bought a Guitar ... Company
This is what happened when Nashville hit-maker Billy Grammer decided to fund his own "perfect" flattop.
Billy Grammer was a very successful country singer and instrumentalist who had a million-selling single, "Gotta Travel On," in 1959 that made him a popular member of the Grand Ole Opry. His success led to playing sessions and making TV appearances with other artists, and his love for guitar led him to want to build what he thought would be the best acoustic ever made.
By the mid '60s, he believed the time was right for bringing his own line of guitars to market. Grammer's vision of the perfect instrument brought together his perception of the finest appointments, specifications, and materials, to create an affordable, high-quality acoustic made right in Music City. He felt that American acoustic guitar brands, like Gibson and Martin, were becoming too expensive for most people, and import guitars at the time were not typically well made.
After extensive research—and dissecting J-45s and D-18s to create an interior bracing that was a hybrid of both, he developed the first Grammer prototype in March 1965, and the company started on an $18,000 stake and was shipping soon after that. The price for the early Grammers was $395. They measured 15 1/2" at the lower bout and 5" deep, and the scale of the compensated neck was 24 1/2".

Before Ampeg purchased the company, Grammer was struggling and often used any good quality wood available for its guitars, so rather than ribbon mahogany, this instrument's back and sides are made of flame maple.
Billy Grammer valued quality and eye-appeal over profits. During the middle of his first run of guitars, he decided to redesign his instrument's headstock, bridge, and pickguard. The new bridge had a crown shape to match the top of the headstock. Another unique detail was the inlay that ran the length of the fretboard and matched the body binding. Large and small pearl dots alternated down the ebony or rosewood fretboards, with two small dots at the 3rd, 7th, and 15th frets, and three at the 12th fret. Brazilian rosewood, flamed maple, and bird's-eye maple were all used for the tops, with, typically, ribbon mahogany for the back and sides.
Grammer guitars—and I've seen many in circulation in Nashville over the years—came in amazing colors, besides the basic natural finish with an aged tint that our example wears. These include red, purple wine, blue burst, and a green burst that is highly sought in the vintage market. Those finishes, along with a unique batwing-style pickguard, defined these guitars as instruments for the stage, and they were popular with such country stars as Porter Wagoner, Dolly Parton, Loretta Lynn, the Wilburn Brothers, Hank Locklin, and Johnny Cash. Hotshot guitarists including Merle Travis, Leon Rhodes, and the Rolling Stones' Mick Taylor also played Grammers.

The original Grammer guitar had a crown-shaped headstock with single binding and an uppercase G with solid underlining in the company's logo. In the Ampeg years, the 'stock's shape remained the same, but the logo became all lowercase, the binding was doubled, and the right-angled underlining ornament had an open interior.
The Grammer we're looking at here was built just before the company was acquired by Ampeg. Its Schaller tuners indicate it hails from late 1967 or early '68, when the company temporarily switched from Grovers. The instrument has a natural blonde Sitka spruce top that has aged well, with a flame maple—rather than mahogany—back and sides. It's gorgeous and sounds amazing, with classic Grammer appointments. After eyeballing this guitar up close and hearing its ringing, clean, rich voice, it's easy to see why so many artists played these instruments. And it's well worth its current value of $3,000 to $3,500.
By 1968, the rising cost of materials was causing the company to sputter. Luckily, that's when Ampeg approached Billy Grammer to buy the rights to manufacture his 6-strings. He took the deal and received royalties for each guitar sold. Ampeg pushed hard into the market, and Grammer opened up a showroom on Nashville's lower Broadway—a stone's throw from the Ryman Auditorium and Tootsie's.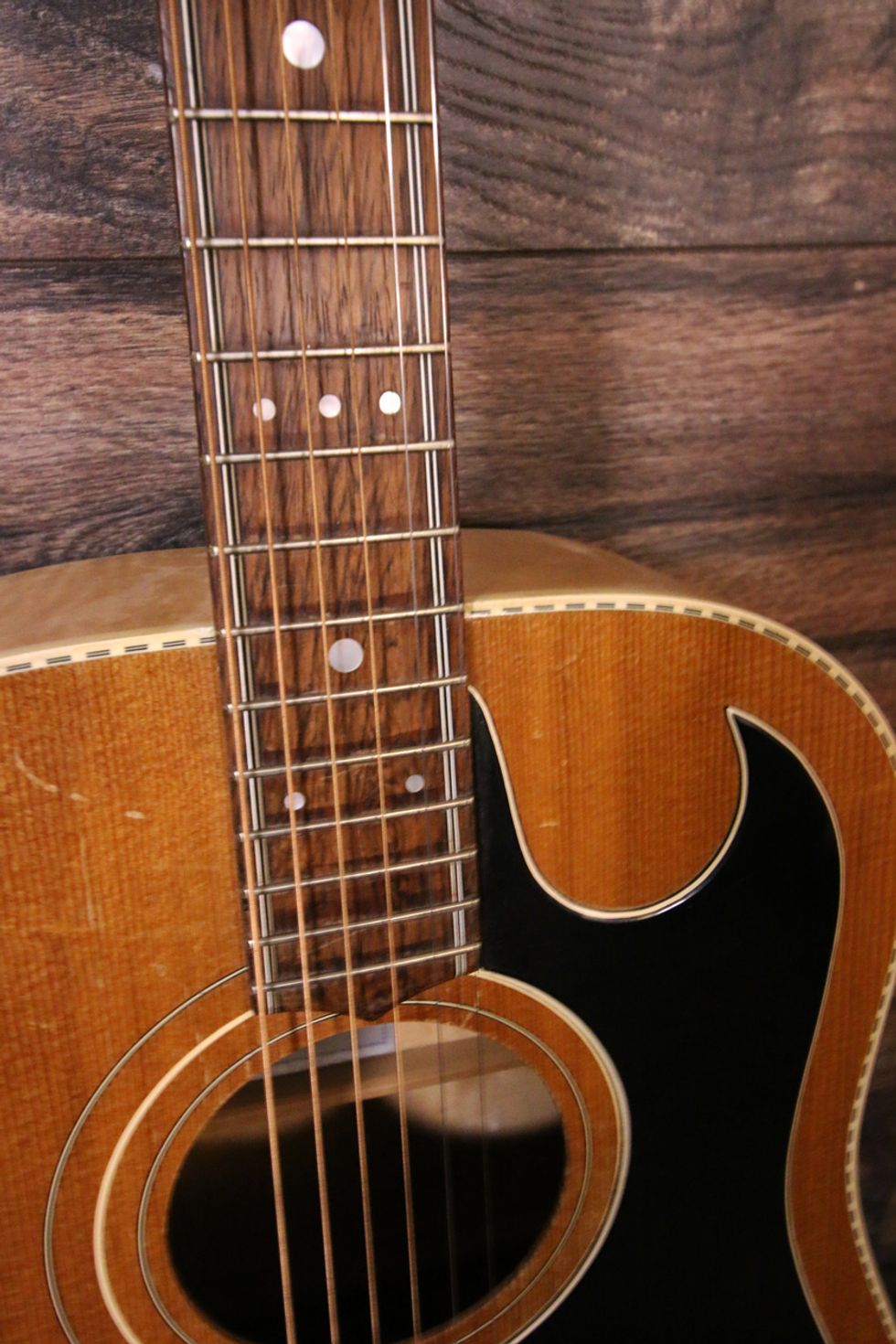 Among this model's signature appointment are a batwing pickguard and fretboard dots that alternate between large and small, with three dots at the 12th fret.
In April '68, shortly after Ampeg took over, the Grammer factory burned and all the tools and records were lost. Ampeg rebuilt the shop and continued the brand, but the year after Ampeg was acquired by Magnavox-Selmer in 1971, the Grammer line was retired.
Under Ampeg, the brand branched out from a single guitar style to G-10, G-20, G-30, and G-40 models, with prices rising alongside those numbers. But the biggest immediately discernable change that came with Ampeg's ownership was the transition from a capital G to a lowercase G on the headstocks. Regardless of the size of their G's, every Grammer guitar I've come across has been magical.
The late Billy Grammer talks about his former guitar company, the instruments it manufactured, and some of his famed customers.
---