The Soviet-era Jolana Star X does not have a built-in gamma-ray phaser, but the otherworldly solidbody makes up for that with built-in fuzz.
Every month when I prepare to write this column, I struggle with deciding which piece of gear to highlight. Every guitar has a bit of a story, I have a lot of stories to tell, and, well, a lot of guitars. Secretly, I have a top-10 list in my head of my favorites, and the Jolana Star X (Photo 1) lives comfortably towards the apex of that list. Just about every aspect of this guitar is unique and radical in all the right places. I always imagine David Bowie playing this axe during the Ziggy Stardust era. After all, it is called the Star, and its design would have made it a fitting signature 6-string for the Spiders from Mars!
It's why he's often referred to as the Czech Leo Fender.
The Jolana electric guitar story begins with a fellow named Josef Ruzicka and the Rezonet factory in Czechoslovakia, where he was a manager and designer. I've mentioned this before, but the former "Bloc" countries frowned upon Western music and, in particular, rock 'n' roll. As a result, the guitars made in the region during this era were more than a little rough. Heck, there were often radio engineers designing pickups and furniture workers building electric guitars—based simply on photos! In contrast, Jolana guitars were firmly way ahead of the local competition, since the company had roots that predated the isolation of the Soviet era. Even George Harrison was playing a Jolana Futurama back in the early days of the Beatles. I suppose proper credit needs to be given to Mr. Ruzicka, who carried on through the restrictive Soviet period and managed to make some rather fine guitars. It's why he's often referred to as the "Czech Leo Fender."

Photo 2
Probably most impressive is how Jolana guitars were exported and distributed across Europe by the Selmer Company during the '50s and early '60s. That was before the company became nationalized under Soviet rule, but, fortunately, Jolana electric guitars continued to evolve. They featured some really nice tremolo systems, excellent woodwork, and great-sounding pickups. I don't want to gush too much about Jolana instruments, because they certainly don't sound as good as the finest American guitars from the era, but they do compare very well to other European and Japanese guitars—especially considering how the austerity of Soviet control affected most aspects of manufacturing.
Jolana produced some legendary models including the Big Beat, which was a triangular-shaped guitar featuring a rigid frame and a removable amp with a speaker. There was the Tornado, which has become the guitar of choice in Azerbaijani folk music. Seriously. And we also had the Star IX model, which looks like you could turn screws with its butt end. Our featured Star X is actually among the rarest and most desirable of all the old Jolanas.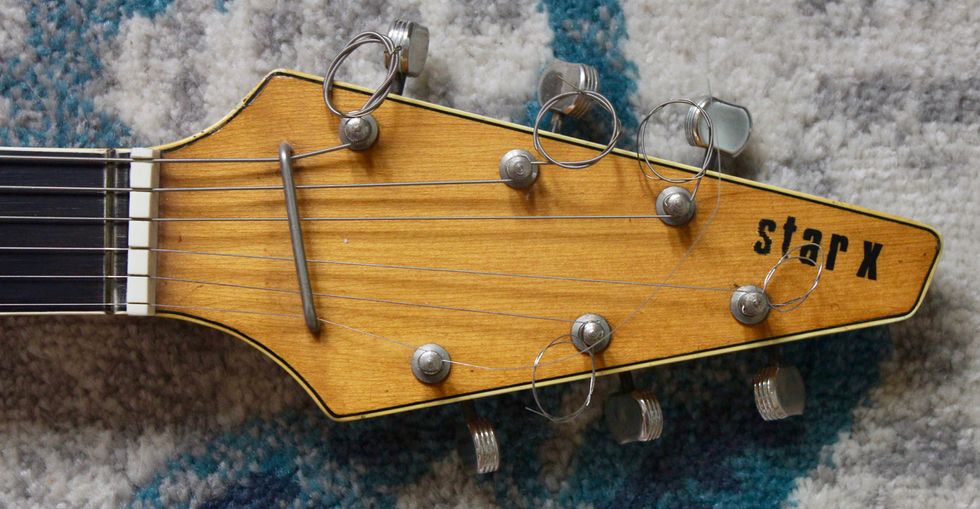 Photo 3
The Star X model started to appear in the late 1960s. Curiously, I don't often see two that are the same. I rarely see them at all, but among the survivors are some incredible colors, like our lime-green example. Typical of the era, the Star X guitars were way over-engineered with a few pickup selectors, pre-set tone selectors, and, most incredibly, a built-in fuzz! Combined with its aggressively responsive pickups, the Star X has a tone I've never found in another electric, which is really saying something since I've pretty much heard it all.
The offset body design (Photo 2) and triangular headstock (Photo 3) are something straight out of rocket science class. Even the pickup covers appear well thought out, and I appreciate that level of detail. This model must have been a total trip for the aspiring Soviet guitarist, though I imagine the Star X was out of reach for little cosmonauts. But the Spiders from Mars? That's a different story.
See and hear this 1971 Jolana Star X demoed by Mike Dugan.
A bold, comfortable design meets state-of-the-art bracing to create a jangle box for the ages. The PG Taylor Builder's Edition 652ce review.
All examples were recorded with a Scarlett 2i4 interface into Logic Pro X with no post-processing added.
Clip 1: Mic'd up with a Rode NT-1A.
Clip 2: Recorded direct into the Scarlett 2i4.
 

Ratings

Pros:

Comfortable as hell. Beautiful low end and midrange.

Cons:

Pricey.

Street:

$4,199

Taylor 652ce Builder's Edition 12-stringtaylorguitars.com

Tones:Playability:Build/Design:Value:
The Builder's Edition 652ce is the first 12-string in the Builder's Edition to feature the incredible V-Class bracing system that Taylor master luthier Andy Powers announced back in 2018. Powers has been slowly revamping the company's lineup over the last few years, with the new bracing system. Built around Taylor's Cutaway Grand Concert body shape, the 652ce feels substantial and well-built. (At this price point, I would expect nothing less.) The added beveled cutaway and armrest—both only available on the Builder's Edition—lend an impressive level of comfort and warmth to the feel.
After closer inspection I realized Powers had pulled a fast one and reverse-strung the octave strings. Pretty smart.
Naturally, I didn't take out the manual or look up the specs before I started strumming. Once tuned up, I noticed a more present low end and midrange. At first, I chalked it up to the bracing and carried on. However, after closer inspection I realized Powers had pulled a fast one and reverse-strung the octave strings. Pretty smart. The jangle of the high end was clear and full, and it didn't take long to try to hit a few CSNY jams. Overall, the 652ce is an immaculately built pro-level instrument that feels as smooth as nearly anything I've played to come out of El Cajon. As Ferris Bueller said, "If you have the means, I highly recommend picking one up."
Black Pumas' guitarist Adrian Quesada, PG editors, and our reader of the month discuss their guitar prized possessions.
Q: What piece of gear have you had the longest? Why? How'd you get it?