Vintage Vault: 1967 Gibson ES-335TD Pelham Blue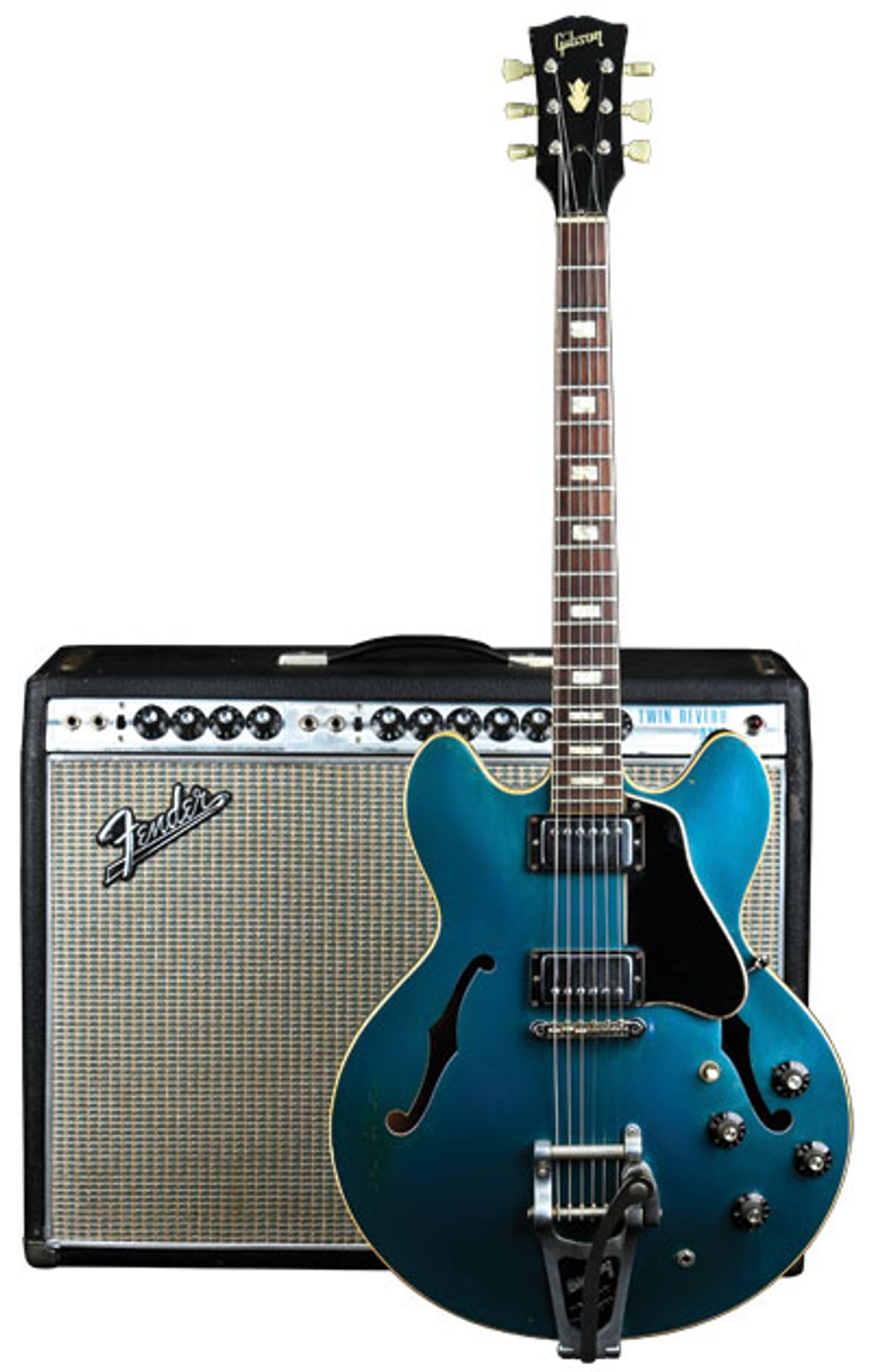 The classic double-cutaway thinline in glorious Pelham Blue.
Gibson's legendary double-cutaway thinline, the ES-335, was introduced in 1958. Its elegant design remains a classic, one that has often been imitated. Ted McCarty, head of Gibson at the time, designed the guitar to combine the best qualities of solidbody and hollowbody guitars. The resulting instrument was built using a solid center block of maple with hollow arched "wings" attached. This provided the attack and sustain of a solidbody, combined with some of the rich, sonorous properties of an acoustic archtop—without the annoying feedback howling.
By the time the guitar pictured here was made in 1967, the ES-335 had undergone several changes. Block fretboard inlays replaced the original dots in 1962. In 1965 the nut width decreased from 1 and 11/16" to 1 and 9/16", nickel hardware was phased out in favor of chrome, and stop tailpieces were discontinued in favor of traditional-looking trapeze versions. (The pictured guitar has a non-original Bigsby Vibrato).

The year before this guitar was made, Gibson replaced the original smooth, short "bonnet" knobs with these taller,
ridged "witch hats."
By 1966 the headstock angle had changed from 17 degrees to a shallower 14 degrees in hopes of decreasing the number of guitars requiring headstock repairs. Taller, ridged "witch hat" control knobs replaced the smoother, shorter "bonnet" knobs previously used.
Before 1967, the standard finishes were natural (1958-1960), sunburst, and cherry (after 1960). But after '67, two new finishes were introduced: sparkling burgundy and Pelham Blue. Besides being attractive, these new opaque finishes effectively hid any defects or blemishes in the wood underneath.
The 1967 list price for an ES-335TD was $395. The current value for a Pelham Blue model in excellent all-original condition is $10,000.

Gibson introduced Pelham Blue finishes in 1967. By that time, 335s featured chrome hardware and block-style inlays.
During the 1960s, the ideal go-to combo amp was the Fender Twin Reverb, which had enough clean power to cover any venue without being miked through a P.A. The Twin Reverb pictured is from 1968, the year Fender amps transitioned from blackface to silverface. This amp's tube chart is still stamped as model AB763 (the same as blackface). This would change later that year to model AC568 following modifications to the amp's bias section. Its 1968 list price was $549.50. The current value is $1,500.
Sources for this article include Gibson Electrics: The Classic Years by A.R.
Duchossoir, Fender Amps: The First Fifty Years by John Teagle and John Sprung, and The Gibson 335: Its History and Its Players by Adrian Ingram.