The Gibson acoustic division's head dreamer studied with Christopher Parkening, toured, played, taught, and has collaborated with many artists on signature models in his three-decade career.
Bozeman is known as the Sweet Pea City, a reference to the prolific flower that put this colorful Montana burgh on the map in the early 1900s. But most of us know it as the home of the Gibson Acoustic Craftory, where the brand makes guitars ranging from historic models like the L-00, J-45, Hummingbird, Dove, and J-200 to signature guitars for Jerry Cantrell, Orianthi, and Keb' Mo' to the company's budget-priced Generation Collection, which offers updates on Gibson's slope-, broad-shouldered, and cutaway models, all with sound ports. Turns out the region's stable, dry climate is good for building guitars as well as raising blossoms.
When Robi Johns arrived at Gibson's Bozeman location in 1990, "it was a small cinder block building. It was relatively crowded, dusty, and noisy, but safe, and we had this little office area with one fax machine—the key communication tool back in the day. Now, I'm sitting in an office that's quiet, clean, and well-lit. We have meeting areas and beautiful showroom and event areas. And the plant is spacious and quiet in most areas, and certainly very clean and very modern."
How modern and spacious? Gibson unveiled an expansion at the facility in November, more than doubling its size from 21,000 to 48,000 square feet, updating and enlarging the machine shop, the Custom Shop, and overall guitar-building space. It's a testament to both the durability of Gibson's long-established models as well as the success of new instruments like the Generation Collection.
"We put the very lightest, thinnest neck on it possible—we couldn't go any thinner, quite frankly. It's thin as a Les Paul from the 1960s."
Johns' title is senior product development manager, Gibson acoustics, but he's also one of the Craftory's key guitar designers and an accomplished player. As a young man, he studied with classical-guitar virtuoso Christopher Parkening and became an adjunct professor in classical guitar at Montana State University, also in Bozeman. In addition to the aforementioned guitarists, he's designed instruments for Sheryl Crow (a signature Southern Jumbo Supreme), Jackson Brown (a 10-year process that culminated in the Model 1 that bears Brown's name), Slash, and Eric Church, among many others.
"If I had to summarize the qualities that each player desires," he says of the artists he's created instruments for, "number one is tone of the acoustic guitar, because that reflects the sound of the music that artist makes, and inspires them. They are looking for a response from the instrument—response and tone affects how you're playing and causes a different emotional state. They are also searching for a certain look or design that reflects their persona and helps define how they look on stage. It's a symbiotic relationship between the artist and model."
A J-45 Deluxe Rosewood guitar gets its neck set with one of the company's trademark dovetail neck-to-body joints.
Johns' latest signature project is a collaboration for Americana/country darling Brandi Carlile, for release this year. "Brandi loves 1940s small-body LG-2s, so about three years ago she came to us and said, 'Would you build me one of these ... like the one I use normally, but, you know, new?' So, I had the honor of designing a historic-based LG-2 for her that she fell in love with. Recently, she asked us to do a model for her, so I was able to take the qualities of her LG-2 and put them into a guitar that would be suitable for consumers. In other words, we made it so it wasn't so expensive to build, like her original, but I was able to include the sound and the feel of what she loved. I had to please the artist and people who love our guitars with the new Brandi Carlile LG-2 Custom."
Johns was also involved in the creation of the Generation Collection, a new line of five acoustics—the G-Writer, the G-Bird, the G-45, G-200, and G-00—inspired by legacy designs but updated with sound ports and alternative neck woods, like utile (an African hardwood), and slim neck profiles, among other features. The idea was to create a fleet priced between $999 and $1,999 street—more easily affordable instruments targeted at less experienced players. For Johns, the project was both a strategic and a design challenge.
"The acoustic guitar is more introverted, and the electric guitar is more for an extroverted experience."
"We thought about this for a couple years," says Johns. "'What do new guitarists, that aren't necessarily Gibson fans, want?' So, we gave them a guitar at a lower price point, relative to our other guitars, that is really easy to play. We put the very lightest, thinnest neck on it possible—we couldn't go any thinner, quite frankly. It's thin as a Les Paul from the 1960s. And we flattened out the fretboards so you can bend notes really easily. We also include all of the benefits of how we build guitars: a dovetail neck-to-body joint, a radius top or curved top with curved bracing, and a very light lacquer finish. We took the best of Gibson construction features and put them in this lower-price-point instrument."
The Generation Collection are also the first Gibsons to feature a sound port, which the company calls a "Player Port," following boutique builders and Taylor, Breedlove, and other well-respected acoustic guitar makers into this terrain.
"Response and tone affects how you're playing and causes a different emotional state."
"Other builders have done that over the years, but Gibson was actually looking at this concept in the mid-'60s," Johns says. "There is a blueprint of a J-45-style guitar with a Player-type port on the side. We took that concept and modified it, so not only does it sound wonderful out front, but it sounds wonderful to the player. The player can hear very clearly with this Player Port, so it's an overall experience. I say that the acoustic guitar is more introverted, and the electric guitar is more for an extroverted experience, because it blasts out forwards and you're usually with a band, and so on. But that internal experience for acoustic players is very important. You create a protective … I'm going to use my own terminology … bubble, where you live in this beautiful fantasy world of your acoustic sound."
Here's an upper-deck view of the finishing area in Gibson's Acoustic Craftory.
Besides its lovely climbing flowers and the Gibson Craftory, Bozeman is also known as a railroad town. A modest freight yard is nestled in its center, and there's even an old beanery where railroad workers for the Northern Pacific grabbed a bite during that line's heyday. Johns also comes from a place famous for the rails—Altoona, Pennsylvania. "It's a very blue-collar coal mining and railroad town, so that kind of forced me into loving the expressive arts, in contrast. I became a lover of painting and music, so that led me into going to music school. I got a couple of degrees in guitar performance, and later became a recording artist, and I had interest in many diverse musical styles. I practiced, practiced, practiced the guitar, every day, to the Nth degree. So, I've spent all my life on a guitar."
Johns was teaching and running a music store in Bozeman when he was invited to Gibson. "The president of this division called me up and said, 'We need an artist here. We have everything but a real musician.' So, I became the sales and marketing director for acoustic guitars in 1990 and have been here ever since. I had a lot to learn. Gibson was such a big brand, and initially, I was going all over the world promoting the guitars and helping with the marketing and sales of them. And then, I started working here with the best luthiers in the music industry, so that's how it morphed into my work with designing guitars."
An SJ-200 reaches the final stage of its building process—a meticulous setup.
Johns' creative patch was interrupted, gravely, in 2012, when he suffered a hemorrhagic stroke. "I was told I was not going to live, I was not going to walk again, I was not going to use my arm again," he recounts. "That is not what I decided was my fate. I had this strong wish to continue to use all that I've learned in my life's experience—to contribute to what I love in music and arts and particularly the guitar. That kept me going and drove me to take on all these therapies. I still do therapy every day, because I want that quality of life back, and I'm enjoying doing what I'm doing with Gibson. It's stopped me from being a player for a period of time, but it did not stop me from being a dreamer, or that I get to dream these guitars up with the artists and the great builders here." Johns is working to reclaim his former playing prowess with the help of his current favorite guitars: a Gibson ES-175, which he praises for its acoustic-like tone—"I was a fan of Steve Howe in the '70s"—and an acoustic Gibson Songwriter, along with a nylon-string instrument custom-built in Madrid.
If fate hadn't lured Johns into the guitar life, he thinks that perhaps he might have chased his creative pursuits into film. "Sometimes I feel like a movie director," he says. "I work with an artist and he or she creates a plot, and I get to direct the movie—analogous to designing the guitar, the most joyous part of my work. This is not just patronizing my own company, but I love Gibson. I get to work with the most absolutely brilliant people, highly skilled and inspiring, which nurtures me as a human being. I'm not playing guitar and being a performer anymore, but, metaphorically, I'm still reaching people all over the world—not with my music, but with the guitars that we build. And that fulfills me. That really is true."
A pop idol's signature edition shines a light on an underrated and intriguing Martin body style.
Easy playability. Great harmonic balance between high and low strings. High-quality build. Crafted from sustainable woods.
Electronics don't entirely capture guitar's balance.
4
5
4.5
4
There's not a lot of reason for Martin to mess with new body styles. Just about every standard shape in their line—from the 0, 00, 000, up through their dreadnoughts—are inarguably stone-cold classics and foundational works from which much of the rest of the acoustic-guitar industry takes their inspiration and cues.
The release of the $799, Mexico-made 000JR-10E Shawn Mendes, however, turns a spotlight on a Martin body style that, to date, could qualify as underappreciated. It also finds the company toying with construction based completely on Forest Stewardship Council (FSC)-rated sustainable tonewoods and, in turn, addressing the reality of shrinking and endangered traditional tonewood supplies that faces the whole guitar industry. The results of this effort are a comfortable, affordable, high-quality, and inviting flattop that says a lot about where the industry can still go in terms of design and materials.
A Body in Between
If you don't play a lot of different acoustic guitars, you could conceivably pick up the Mendes (which is based on the existing standard 000JR-10) and notice little more than the fact that it's smaller than a dreadnought and bigger than a parlor guitar. If you've got a little more experience with the breadth of acoustic body shapes and neck sizes out there, though, you'll notice that the Mendes is indeed a unique and unusual amalgam of design elements.
"Junior" designation aside, Martin's decision to call the Mendes and its 000JR-10 and 000JR-10E stablemates "000s" is a curious one. The Mendes is actually closest in dimensions to a 00, though the body is shorter and the profile is a bit more pinched at the waist than on that venerable Martin shape. The neck, too, may feel unusual to a seasoned acoustic player. It's built around a short 24" scale, where most Martins are a 24.9" or 25.4" scale. The short scale feels even more unique for the presence of the 000JR-10E's most 000-like element, a 1 3/4" nut width.
Combined with the relatively substantial neck profile, the wider nut width makes the Mendes feel very easy to play.
Together, the Mendes' most vital dimensions and design elements add up to an interesting whole. It's small enough to feel a little like an instrument from the larger "travel" guitar category populated by guitars like Taylor's GS Mini. But few guitars in that loose categorization feature a neck as expansive feeling as that on the Mendes, which benefits immensely from the wider nut width. Combined with the relatively substantial neck profile, the wider nut width makes the Mendes feel very easy to play. The wider spacing facilitates alternate thumb picking, while the shorter scale makes extended chords easier. For players used to classic formulas, the mix could feel strange. For less biased players and many novice players who aren't attuned to such nuances, the blend could be ideal.
Construction quality, by the way, is excellent. The woods used here are all FSC certified, right down to the bracing—which means they are sourced from responsibly managed forests. But they will be familiar tonewoods to Martin enthusiasts and acoustic players in general. The back and sides are layered sapele, while the top is Sitka spruce. The grain on the latter is rather plain, but the top is no less lovely for it, and an informal tap test reveals it to be a very resonant, lively section of lumber. The 2-piece neck is made from sipo, an African hardwood quite like mahogany. The fretboard, meanwhile, is surprisingly made from ebony. Responsible sourcing of the ebony on the fretboard means that the wood used here isn't the uniform, ultra-dark type you see on top-shelf acoustics. But the grain variation is lovely and works well with the Mendes-specific design touches like the signature at the third fret and diamond-pattern, mother-of-pearl inlay. Inside and out, fit and finish are perfect. And we can't say that about every $800 flattop we see.
 Easy Equilibrium
Like most small-body guitars, the Mendes won't bowl you over with low end. But the projection from the 000JR body is still impressive. You hear very, very little of the messy, compressed, blur you typically hear from guitars of this size when you strum vigorously. In fact, the guitar feels very punchy and exceptionally balanced across the whole frequency spectrum when you hit it hard.
That balance is just as evident in fingerstyle situations. The first and second strings ring with a particularly sweet and crystalline clarity that chimes beautifully against the round, concise resonance of the third and fourth strings. And again, while the low end won't dislodge any pictures from the wall, the output from lower strings creates a very cohesive and rich, if compact, harmonic whole.
The Verdict
While there aren't a ton of structural details to differentiate the Shawn Mendes signature edition from its less expensive 000JR-10 and 000JR-10E stablemates, the little differences add up to an interesting guitar. The honey-hued finish on the top and the inlay both add an upmarket aura to the instrument. And construction from 100 percent FSC tonewoods is no small or inconsequential distinction. We love to see guitar companies follow this path and execute the instruments made with these woods with such care. Materials and ethics aside, however, it's cool to see this signature release shine a light on a Martin model family that, to this point, may have received less than its due respect. Like the 000JR-10 and 000JR-10E, it's an exceptionally comfortable and sweetly ringing instrument that fits many styles.
Martin 000JR-10E Shawn Mendes Demo | First Look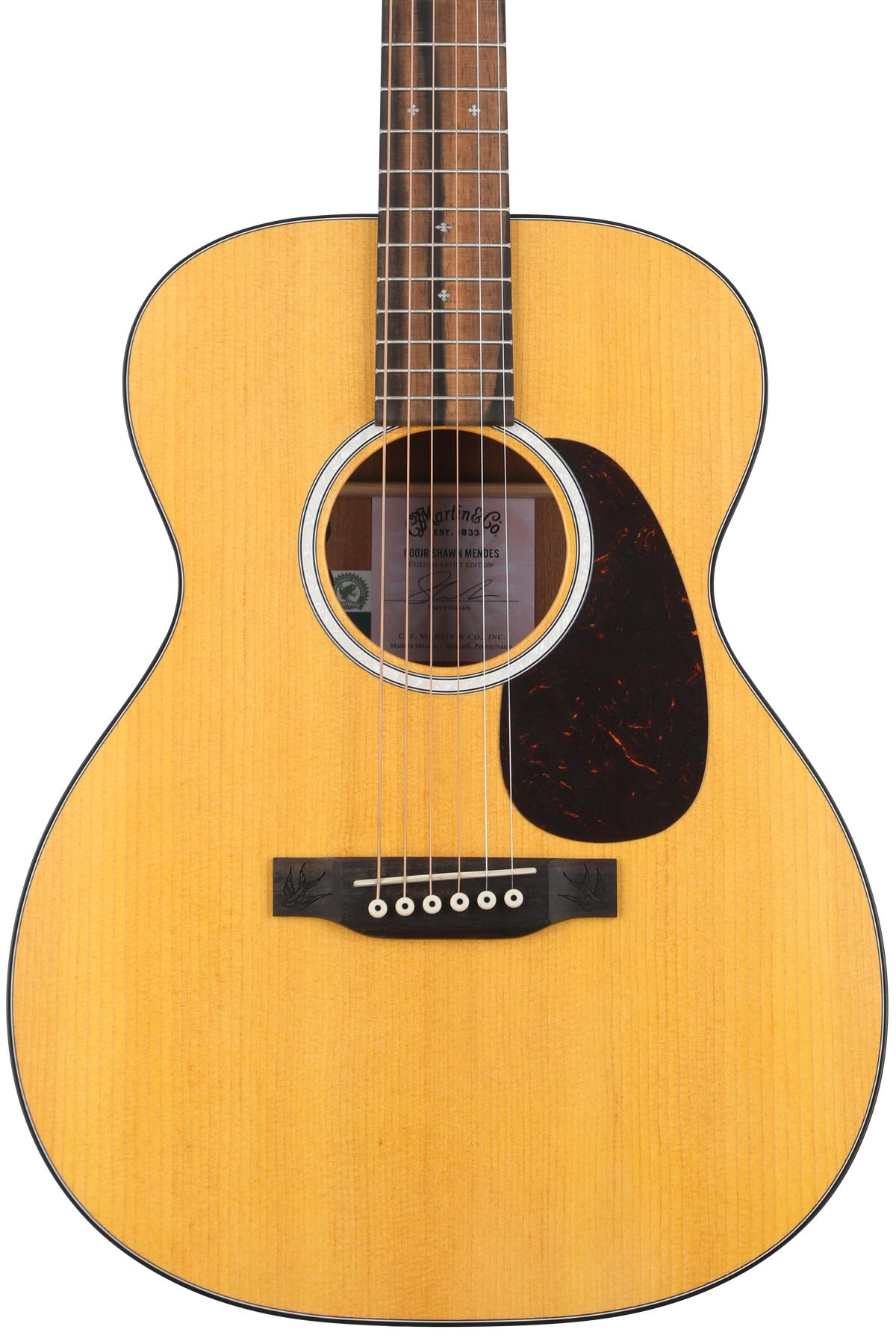 Shawn Mendes signature embellished with swallow design that recalls his hand tattoo symbolizing home as a place filled with family, friends, and loved ones
Spruce top and sapele back and sides offer strong, bright fundamentals with balanced tone
Scaled-down Auditorium body shape sits easily in the hands of any player
Martin
Tips and tools you need to change strings on a classical guitar.
Changing strings on a nylon-strung instrument is much different than wrestling with the buttons and wire on a steel-string acoustic. PG's Nikos Arvantis offers an in-depth tutorial on changing nylon strings, and specifically on a classical instrument—where the number of string holes on the tie block (six, nine, or 12) vary model-to-model. His tools: a normal tension D'Addario string set, a string winder, wire clippers and a headstand. Nikos walks us though one string at a time, from bridge to tuners. He starts by running the bass string through the bridge to the tie block—in this case a 6-hole variant—and displays proper string tying technique. Thinks loops and remain patient. This can be challenging the first few times, and especially so for those with large fingers. Next we move to the headstock. The lowest bass string also needs to be tied securely, and then wound to pitch in such a way that the windings run on the outside of the string roller. For the next two low strings, the windings go to the inside. This avoids string overlap. Next he moves to the highest string, where the light gauge can be especially hard to knot, and also keeps the string on the outside of the roller while winding up to pitch. The next two highest strings go on the inner part of the roller, as with the bass strings. Finally, the loose ends sticking out beyond the knots on the tie block and rollers are trimmed with the wire cutter. And violá! If your nylon-string guitar has a nine- or 12-hole block, consult the manual or other sources.