Vintage Vault: 1961 Martin F-55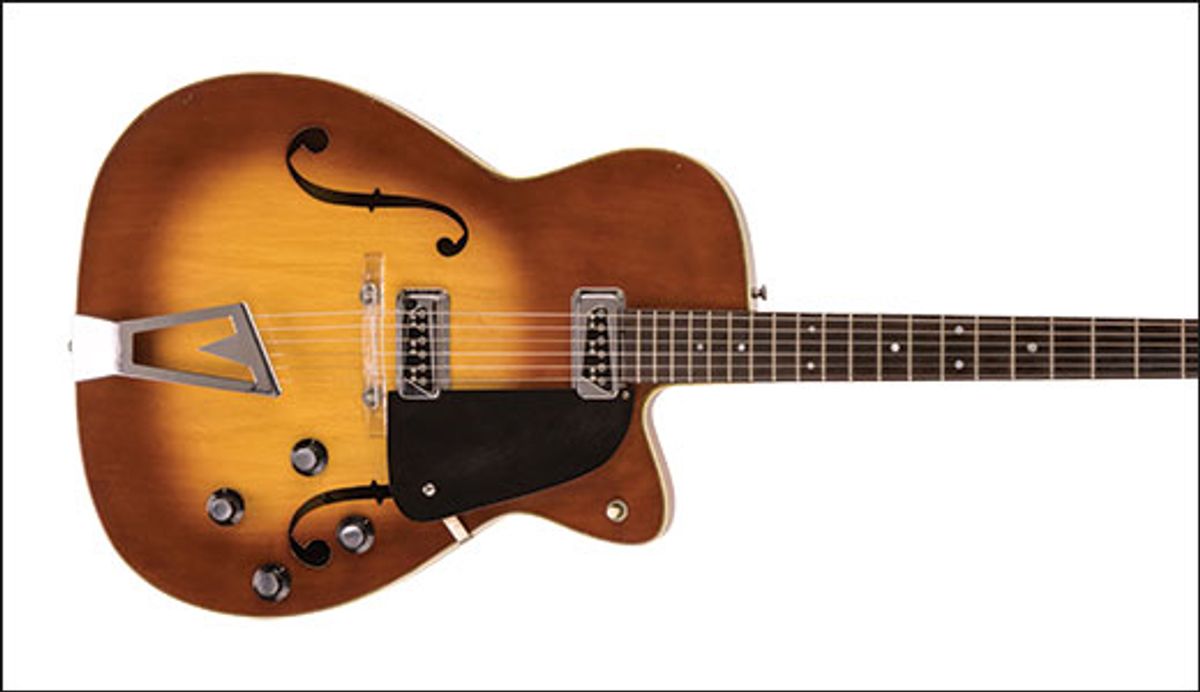 A rare electric that's just finding its place on the collectability scale.
The early 1960s must've been an exciting time to work for C.F. Martin & Company. Folk music was hitting a peak in the popular consciousness and Martin guitars—like the stalwart D-18 and D-28 dreadnoughts—claimed a reputation as the essential tools of the genre. A simple glance at the Martin serial number chart shows that 4,642 guitars were built in 1960, with the total reaching 12,880 in 1967. Demand was on the rise, and so was Martin's business.
Despite this success in the acoustic market, the leadership of Martin decided in 1961 that it was the right time to get into the electric market and compete with the likes of Fender and Gibson for the attention of rock, country, and, eventually, folk-rock players. For Martin, this ambition manifested in a new series of archtop electric guitars: the F-50, F-55, and F-65.

This side view displays the guitar's dimensions—a 2" depth that made the F-55 comparable to thinline Guild and Gibson electric semi-hollow models.
These guitars were not the first f-holed archtops built by Martin. In the 1930s—the same decade that saw the unveiling of Martin's classic dreadnought models—the company launched the C series and the R series, as well as a very limited crop of F-series archtop acoustics. These models didn't compete especially well with their Gibson counterparts, and their production ended in the early '40s along with the changes in American manufacturing brought about by World War II.
These arched antecedents aside, the F-series of the '60s was an entirely new initiative for Martin. All three featured triple-bound arched tops and flat maple backs, with elegant DeArmond pickups similar to what you'd find on Gretsch and Guild electrics of the same era. Their bodies came in at a little under 2" in depth, making them more similar to Gibson thinlines than to Martin's early archtop efforts.
These guitars were not the first f-holed archtops built by Martin.
The F-50 and F-55 had single-cutaways, with one or two pickups, respectively, while the F-65 sported two pickups and two cutaways in its shape. Most recounting substantiates that between 500 and 700 of each F-series model were built from 1961 to 1965, though some sources place the total much higher than that. Today, interested buyers can usually find at least a few intact specimens floating around, with the F-55 coming to market most commonly.
Historically, these guitars have never ranked especially high on the overall collectability scale—especially when compared to both contemporary Martin flattops and hollowbody electrics from Gibson and other makers. Interest and prices do seem to be inching upward lately, though, with several examples cresting the $2,000 mark over the past year on Reverb. Average prices were closer to $1,500 earlier this decade.

This model came equipped with a pair of single-coil DeArmond Dynasonic pickups in a plywood body. The neck is mahogany with a rosewood fretboard.
Today's featured F-55, currently residing at 31st Street Vintage Guitars in New Braunfels, Texas, was made in 1961, which would make it one of the very first examples to roll off of the Martin line. Cosmetically, this guitar is in fine condition and showcases a particularly bright burst in its finish. Unfortunately, there is some bowing on the body and a neck reset that will likely be in order for the new owner, but that's a job any experienced acoustic luthier should be able to handle.
Books consulted for this article include The Martin Book: A Complete History of Martin Guitars by Walter Carter; Martin Guitars: A History by Richard Johnston and Dick Boak, revised and updated by Mike Longworth; and Electric Guitars and Basses: A Photographic History by George Gruhn and Walter Carter.