Uncle Ed makes a meaningful guitar for his nephew, Rog, incorporating special woods from local trees and buildings in their Irish community.
Woodie was born during lockdown when my Uncle Ed combined a number of very special woods into one guitar. I'd never thought about how a guitar was made before, so it was a real combination of my "guitarist ideas," and Ed's ingenuity and patience. That, combined with a worldwide pandemic and time to try something new.
Ed gave me free rein to choose any design I wanted. This is a daunting proposition, so I did my research and decided on the "tone" that Ed kept talking about. All my other electric guitars have a whammy bar, so I thought it might be interesting to not have one. I knew I'd miss the dive bends and the portamento, but I'd been reading about Vivian Campbell's vibrato, and I'd tried a Malmsteen Strat in a guitar shop. So, I asked Ed if he would go down the thicker tone route and scallop all the frets so I could still get lots of bend out of any note. I asked for a kill switch so I could try out some rhythmic things.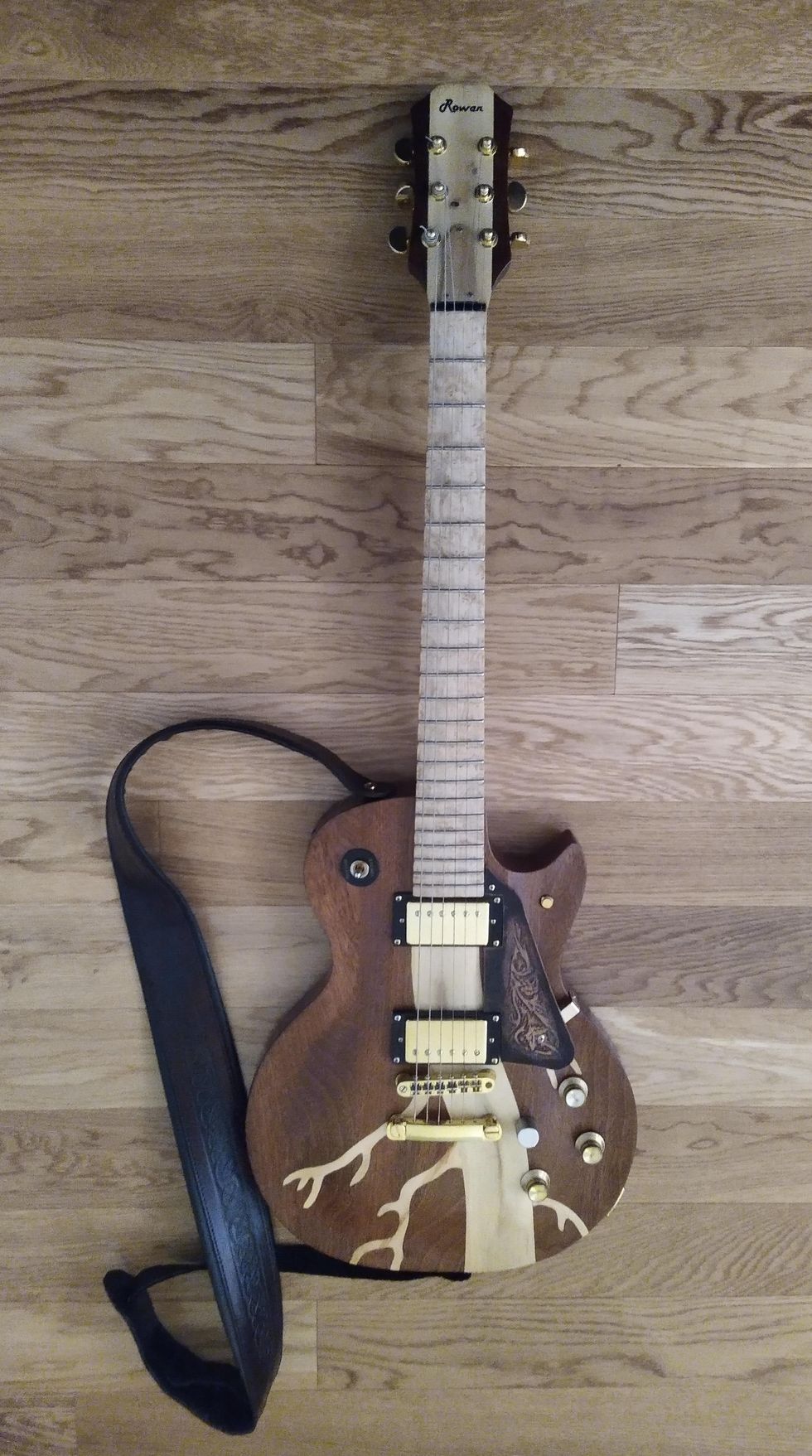 The woods used in this build are a mixture of reclaimed tropical and locally sourced hardwoods. The most personal wood is from a chestnut tree that my father planted when I was born (it is full-size now). The neck is made from a holly tree from where I grew up in Ireland. Irish guitarist Pat McManus was an early inspiration as he lived close by. Ed made the body from a piece of mahogany that a friend gave him about 10 years ago. He knew it was from a significant building in Belfast but couldn't remember where. Turns out, the mahogany came from the old reception desk in Belfast City Hospital ... this was the hospital I was born in! There is also a little bit of rowan wood on the back: Rowan is Ed's surname. Obviously, I named this guitar "Woodie."
The scalloped frets took a little time to get used to, especially when keeping barre chords in tune—you've got to keep a light touch. I've settled on Ernie Ball .010s and use thick picks made of wood or bone. My other guitars are D- and C-shaped necks, but Woodie could be described as a U-shaped neck—it's seriously thick. It took some time, but my fingers became much stronger and there is so much tone.
Rog Rowan's uncle, Ed, contemplates the task at hand.
The hardware switches and electrical components were procured from various U.K. and Irish suppliers:
• Tune-o-matic bridge and tailpiece
• Kluson machine heads
• Japanese nickel alloy fret wire
• Double humbucker pickups
• Logarithmic potentiometers (500k log pots)
• Orange drop capacitors (.022 µF)
• Tesi gold kill switch
• 3-way pickup selector switch
• Jack plug socket and cover
• Double-action truss rod
• Oversized brass strap buttons
• Australian abalone shell fretboard side markers
• Vintage braided cloth 22awg wiring
To thank him for his beautiful work, I bought Uncle Ed an Appalachian dulcimer and posh whiskey! PG

Send your guitar story to submissions@premierguitar.com.