The hype around vintage guitars has made them more expensive than ever before—but arguably, you can find all that you need in "cheaper" gear.
It's official: We are living in the most expensive time ever. According to the United Texas Credit Union, "Since 1970, the Consumer Price Index saw a 500-percent-plus increase." Even after adjusting for inflation, the numbers prove that 2023 dollars buy a whole lot less than they did 25 or 50 years ago.
Go grocery shopping, or look at real estate. It's shocking and frankly depressing how expensive it is just to live today. Along with all that madness, there's a weird paradox in the guitar world: Old guitars have never been more expensive—but there has never been a better selection of affordable brand new guitars and amps.
When I was a kid during the late '70s and early '80s, most cheap guitars were, well, cheap. They played rough, sounded bad, looked odd, and pretty much disintegrated quickly. They were at times built by children in sweatshops with inferior materials, so you got what you paid for. Brand-new, well-built guitars were expensive, but you could find pawnshop or yard-sale bargains on used Gibson, Fender, Martin, Gretsch, or other popular models in "Anytown, USA."
But we are in a different world today. Firstly, builders today are expanding on the work of all the golden-age builders from the past, constantly tweaking and often improving on old designs. A few trained employees working with the now omnipresent CNC machines can flawlessly cut bodies and necks day and night, bringing the price point way down. I have played new guitars for under $200 that were shockingly good. If a fire destroyed everything I own and I needed to gig that night, I would be totally fine gigging with any of the guitars mentioned in this PG column: "10 Rock-Solid Guitars Under $600."
I could plug one into a $250 dollar Boss Katana amp and pretty much sound like me for as little as $600, all in. If I looked for used or Black Friday sale items, I could probably cobble together a complete gig rig for as little as $400. And yet in spite of the many solid options for affordable, great new gear, vintage gear has never been more overpriced. I recently considered buying a 1962 patent sticker Gibson humbucker for a staggering $1,450. For the record, I bought my first PAF pickups in 1988 for $400 and they came attached to an all-stock 1961 Les Paul with the original hardshell case. (Sadly, those days and that guitar are gone.)
I considered this overpriced pickup because I was seduced by the hype. Logical me knows that there are way better options. I've conducted private shootouts comparing original PAFs to new Burstbuckers, DiMarzio's PAF Masters, and pickups from Stocktone Custom Shop, OX4, Pete A. Flynn, and others, and honestly, they are all so close that I'm not sure which is better, or if "better" is even a thing. They all have their own personal magic. But when you are chasing vintage gear, it's not really about the sound; it's about desire and the seduction of consumerism. The stupid heart wants what it wants.
"But when you are chasing vintage gear, it's not really about the sound; it's about desire and the seduction of consumerism."
I have a Ross Gray Compressor that I purchased for $50 in junior high (a king's ransom at the time). Now they sell for $600 and up. I like the old Gray, partly for sentimental reasons, but honestly, I have four compressors that are just as good if not better. (Keeley Compressor Plus, Homebrew Electronics CPR, Origin Effects Cali76, and a Boss CS-1 that I bought for $35 in a pawnshop 15 years ago.)

I recently hung out with Richie Faulkner, the incredible guitarist in Judas Priest and Elegant Weapons. We were talking about the insanity of the vintage market when Richie told me that he is not swayed by the vintage guitar hype. He maintains that modern builds are mostly better. Granted, Richie still tours with his old friend, a 1974 Gibson LP Custom 20th Anniversary model, but in designing his signature guitars with Gibson and Epiphone, he was able to create a modern guitar that does everything he needs that vintage guitars don't do. I've played his Epiphone sig, listed for $999, and it is an inspiring rock 'n' roll tone machine.
For me, the biggest problem with expensive gear is that it's a lot of pressure to live up to the hype. Personal experience has proven that I can sound just as bad on a '59 Les Paul as I can on a cheap guitar…. I may sound even worse on the '59 because I get psyched out.
Maybe the vintage market dies with my generation as kids learn that an SE plugged into a Line 6 Helix does everything they need without the hassle, expense, and cartage. Maybe my generation is drawn to vintage gear because we are sentimental. That's why we stage elaborate gear photoshoots and love the scratches and dings on old guitars. That being said, when that market crashes, I'm buying a 1957 goldtop, hopefully with a 5-speed.
A slab rosewood fretboard, binding, and a sunburst finish made the 1960 Custom model a classic alternative template for Leo's senior solidbody.
In 1959, Alaska and Hawaii became the 49th and 50th states in the U.S. But guitar fans know '59 as a legendary year for both Les Pauls and Telecasters—two favorite flavors among meat-and-potatoes 6-string aficionados. On the Fender side of the menu, that's the year the Telecaster and Esquire Custom models debuted, at the NAMM show in June.
Honestly, there wasn't much that was different about the 1960 Tele, exemplified by this month's instrument. The biggest change was a shift from all-maple necks to slab rosewood fretboards mounted on maple. This was also done for Stratocasters and other models at the time.
With its pick area, upper bout, and back wear, this guitar has been used hard—which is often a sign that it's a great-sounding and playing instrument.
The 1960 Tele Custom also has what the 1960 Fender catalog rather obviously called a "custom treatment of the body." What exactly does that mean? The catalog notes that "a beautiful highly polished sunburst finish is used, and the top and bottom edges of the solid body are trimmed with contrasting white binding." Fender initially had trouble keeping that binding glued in place and had to consult the Martin Guitar company to learn the proper technique.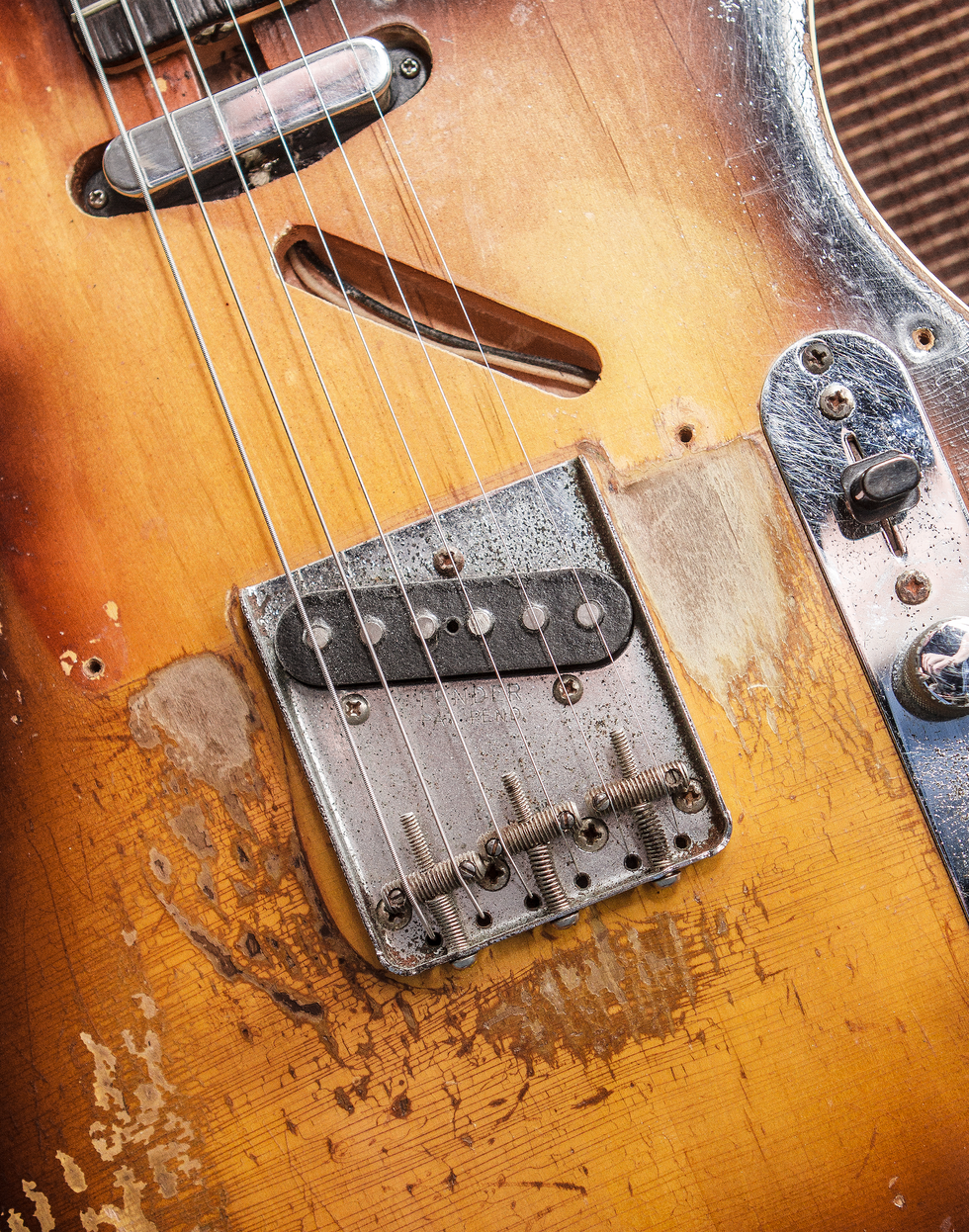 Sans the original 3-ply pickguard, this Tele gets right to the guts of its core electronics. Note the red paint left from its original tri-color sunburst finish.
Our well-worn 1960 Telecaster Custom appears to be finished in a 2-color sunburst (as used on Strats from 1954 to 1958). After removing the pickguard, the original unfaded red from a 3-color sunburst can be seen. A.R. Duchossoir, in his book The Fender Telecaster, quotes Fender designer Bill Carson about this red pigment: "We had to search and so we sprayed many blocks of alder and put them on the top of the building to see which ones would fade and which ones wouldn't. The red just simply got gobbled up in this chemical interaction." Perhaps this guitar was part of that colorful experiment? For the record, Fender did manage to find a consistent red by 1961.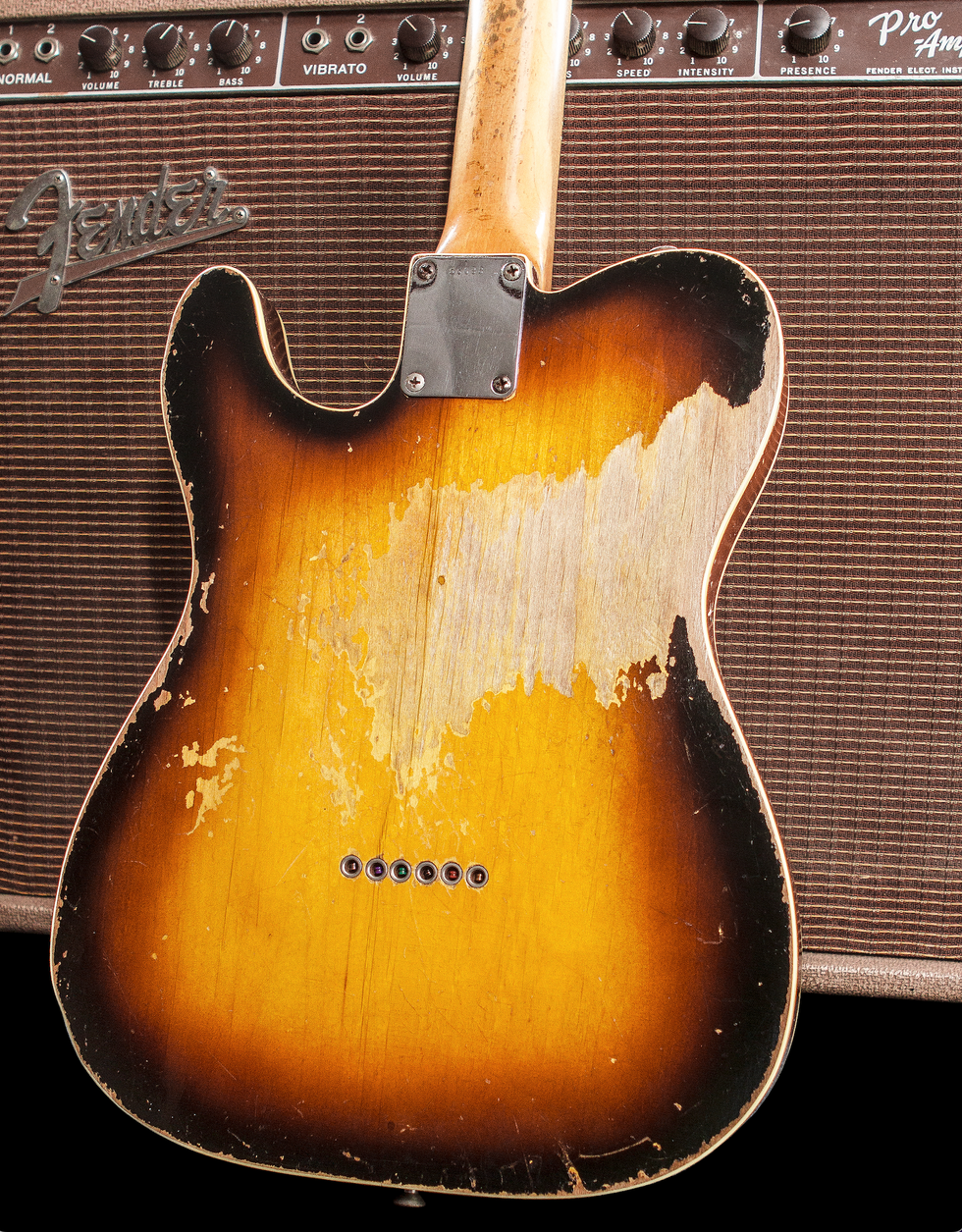 Severe belt rash shows this 1960 Tele Custom has seen a significant amount of playing time.
This guitar, and all other Tele Customs from 1960, have an alder body with a 3-ply pickguard. Standard, non-custom-color Teles retained a single-ply white pickguard for a couple more years.The control set is the usual T-style 3-way pickup selector with volume and tone dials. In 1972, the Fender Telecaster Custom first appeared with a Seth Lover-designed humbucker in the neck slot, and that's the configuration made famous by Keith Richards—perhaps the most notable Telecaster Custom player.
With its picking area, upper bout, and back wear, this guitar has been used hard—which is often a sign that it's a great-sounding and playing instrument. This model's original list price was $239.50. The current value for one in this condition is $20,000.
Note the distinctive upper-and-lower-case model name on the headstock, versus Fender's customary all-caps versions.
Behind the Tele is a Fender Pro-Amp from April 1960. From its introduction in 1946 as The Professional, this amp utilized a 15" speaker. It evolved from the '40s "woodie" version to various tweed looks, including a TV front, a wide panel, and a narrow panel. In 1960, the Pro and the rest of the line transitioned to brown Tolex covering. The 1960 Pro pictured has two 6L6 power tubes pushing 40 watts through a Jensen P15N. The normal channel has volume, treble, and bass controls, while the vibrato channel has volume, treble, bass, speed, intensity, and presence controls. The original price was $289.50. The current value is $2,500.
Sources for this article include The Fender Telecaster: The Detailed Story of America's Senior Solid Body Electric Guitar by A.R. Duchossoir and Fender Amps: The First Fifty Years by John Teagle and John Sprung.
H. Noble's Univox guitars were funky and forward-thinking, and they remain so today.
I never seem to get rid of anything, including clothes. I have Vans from the '80s that my son swears are worth a "ton of money," and I have t-shirts dating way back. Since I never embraced fads, most of my old clothes are retro cool—according to my daughter, at least. The other day she was going through some aged t-shirts of mine and managed to claim a whole pile as her own. I looked through the shirts she liked, and among them I saw a Univox shirt, which I had totally forgotten about, but I quickly recalled that angular logo. (Man, the Univox Super-Fuzz is still my favorite all-time fuzz pedal.)
Here's some backstory on the brand. The Unicord Corporation in New York started to import various Japanese models under the Univox name in the early 1960s. Those instruments were made at the rather famous Matsumoku guitar factory in Matsumoto City. Unicord and Univox had a pretty good run and lasted until the mid-'80s, when the Univox brand was phased out and Matsumoku burned down. To be honest, I never really dug most Univox guitars, because I mainly remembered them as '70s-era copies of other brands. But being the nut that I am, I was able to track down some of the earliest Univox models, which were the brainchildren of a rather creative dude.
At that time, Matsumoku had two employees who played guitar and really dove into the factory's new endeavor.
Let's take a trip back to 1964. Matsumoku was ending business with the Singer sewing machine company. Basically, Matsumoku was a wood-crafting facility that made the cabinets for Singer. (I even have a Matsumoku-made cabinet and sewing machine in my house.) Also in Matsumoto, Fujigen was starting its guitar line and soon had instruments made at Matsumoku. By all accounts, Matsumoku, which had plenty of old, properly dried wood, had an easy transition from manufacturing cabinets to making some good-looking guitars. Not always super playable—but cool nonetheless.
Matsumoku had two employees who played guitar and really dove into the factory's new endeavor. An older designer named Noritkatsu Harayama created parts such as the infamous tremolo/bridge unit found on many Matsumoku-made axes. Harayama later went on to become a master guitar-neck maker, and his work was featured on many ESP, Kramer, Schechter, and Moon models. The other employee at Matsumoku was Nobuaki Hayashi. Let me tell you, H. Noble (as he calls himself) is a mad genius. His current company is Atlansia Guitars. If you want your mind blown, check out his creations. Back in 1964, H. Noble was filling notepads with guitar-design ideas. Tragically, most of his coolest never saw life. But the two early Univox electrics in this column's photos offer some insight into the man's vision.

The headstock on the UC 6-string sports some subtle flair at the end, but the entire body shape and split pickguard reveal an eye for the original.
Now, I don't know the exact model names, but many of the Univox guitars were called UC-2 or UC-1. Check out the design on these. I don't even know how to describe them. The headstock shape with the little stack on the end, the double cutaways like two big horns, the sweeping lower bout.… Those pickups were in-house jobbies and always play with sizzle. The controls were totally simple volume/tone knobs with a 3-way switch.
Every time I've visited Japan, I met with H. Noble, which is not an easy task. He's a great person with a superb mind. He's very thoughtful and soft-spoken, and he values his time. I also visited the site of the Matsumoku factory, which is now a lovely park. There's so much history to cover with Matsumoku, Univox, and H. Noble that I could probably fill a good-sized book with what I know. But for today, let's give a nod to all these fine people, and to my daughter who gave me another idea for another column.