A one-man operation building approximately 10 guitars per year and winding his own pickups.
Knowing that her father dug artwork and crafts, making furniture, playing guitar, and had a keen interest in electronics, Michael De Luca's eldest daughter thought a book on building electric guitars would make a great gift for his 50th birthday. A great gift indeed—De Luca read the book from front to back several times that same week. "Each time I read it, I understood more and more, and I remember being totally magnetized by the prospect of actually making a guitar from scratch," says De Luca.
Hooked and "totally possessed" by the idea of building a guitar, De Luca further researched the craft through various internet sites and many other books. "I spent at least eight to nine hours per day from the moment I was home from work until the early hours of the morning, seven days a week, over a period of about six months researching and honing my skills," he says. In this ramp-up time, he made guitar bodies and necks from scrap wood until he felt he was ready to take on building a guitar from "proper wood."
Today, six years later, De Luca builds both custom and standard-model guitars as a one-man operation under the moniker DELM Guitars. The company name was derived from the first letter of the first name of his two daughters, his wife, and himself. In fact, all his model names have reference to someone of great meaning in his life. "If it weren't for my eldest daughter giving me a book on guitar making and my youngest daughter later enrolling me in the Guild of American Luthiers, I would never have discovered the immense passion and satisfaction that creating musical instruments would bring into my life," shares the now-established builder.
When it comes to wood choices for his instruments, De Luca chooses what's appropriate case by case, but it must be stable, fit for the purpose, properly seasoned, and free of any structural defects. He usually goes with mahogany for the bodies, but has utilized Huon pine, Tasmanian and Australian blackwoods, and New Zealand rimu with "great results," as well some of the other traditional body woods. For fretboards, De Luca favors ebony by far over most rosewoods because of ebony's durability, density, and the rigidity it can add to the neck.
Certainly not a defining trait of most luthiers, De Luca winds his own pickups. "When I built the first guitar for my eldest daughter, I purchased a set of humbuckers for the guitar, and after a few weeks, I couldn't resist the temptation of taking one of them out of the guitar and dissembling it to see how it was made, and how it works," De Luca recalls. Again coupling his curiosity with research (and his background in electrical engineering), he built his own coil-winding machine. Though the first few months of tweaks and experimenting were difficult, De Luca eventually ended up with a machine he was happy with. He then started documenting his tone tests with a guitar he says has now been re-wired hundreds of times. "I am fortunate to have had many musicians test and critique my pickups, and with their suggestions, I've been able to finally produce pickups and wiring configurations for a diverse range of tone options," he says. "Tone is a subjective topic, because what sounds great to one person may not be quite the same for another."
De Luca doesn't have a model that he considers his signature, but notes that his chambered-body PCP model was the very first guitar he designed from scratch. It's the guitar that gained popularity almost immediately amongst players—becoming the workhorse for the development of proceeding designs. As for what continually drives his work, De Luca conveys that it's actually the process itself. "Boutique builders put their heart and soul in each instrument they build. For me to create a guitar that inspires people to strive for perfection in expressing their passion and soul through music is my inspiration."
LD-56
De Luca's standard 17.5" LD-56 archtop with a venetian cutaway features AAA-rated European curly maple for the back and sides, and AAA-rated European spruce for its top. De Luca also uses European curly maple for the set neck, which is capped with a Madagascar ebony fretboard and a bone nut. This 25"-scale jazz box is outfitted with a Benedetto mini humbucker in the neck position, and other appointments include a handcarved ebony tailpiece and mother-of-pearl and abalone inlay.
ED-87
The ED-87 is a 16.5" double-cutaway hollowbody that gives a nod to Gibson's ES-335. Mahogany is the predominant wood on the ED-87, used for the neck, top, body core, and full-length center block. Lacquer finished in a gorgeously deep black, other appointments of the ED-87 include a Bigsby B70, Grover Super Rotomatic tuners, and mother-of-pearl and abalone inlay work. For electronics, this black beauty is loaded up with a pair of De Luca's DELM D50J humbuckers.
PCP-R
The double-cutaway, chambered-body PCP-R has a body core and set neck constructed of mahogany, with New Zealand rimu serving as the topwood and Madagascar rosewood for the fretboard. The 24.75"-scale PCP is the first guitar design/style De Luca conceived and built from scratch. This particular version is outfitted with Gotoh keystone tuners, a Gotoh aluminum stop tailpiece, and a set of De Luca's DELM D50B humbuckers.
NC-11A
Highly figured, flame maple finished in Atlantis-blend tops the chambered, mahogany body of this 24.75"-scale double-cutaway. It's outfitted with a solid-walnut set neck that's crowned with a headstock dressed in blackwood, and the fretboard is carved from Madagascar rosewood and has a bone nut. The gold hardware appointments include a Bigsby B50 and Gotoh keystone tuners, and to deliver its sound, the NC-11A is loaded with a pair of DELM D90 single-coils that are topped with curly maple covers.
DD-89
The DD-89 is De Luca's take on a Les Paul-style axe, with its body, top, and set neck all fashioned from mahogany. Going with rosewood for the fretboard, this classic-looking guitar's chrome hardware appointments include a Schaller bridge and tailpiece, and Gotoh keystone tuners. And for pickups, the DD-89 rocks a pair of De Luca's D50B humbuckers.
NC11-TD
This solidbody finished in rapid yellow would look fast even without the pinstripes. The 25.5"-scale NC11-TD has a 3-piece, laminated-maple set neck that's topped with an ebony fretboard and black-horn nut, and the mahogany, double-cutaway body houses a trio of De Luca's DELM 100S single-coils. Other appointments for this Strat-style include the Gotoh traditional tremolo, Gotoh mini tuning machines, and pearloid pickguard.
Pricing and Availability
DELM is currently a one-man operation that builds approximately 10 guitars per year; however, De Luca says demand is increasing so he may expand his workshop. The wait time for standard models is approximately three months, while the wait for a custom build falls between four and six months. De Luca's guitars range from $3,300 to $8,100 (U.S.), depending on model, custom design, materials, and inlay work. De Luca accepts direct orders for both custom and standard models, but encourages players outside Australia and New Zealand to make initial contact through his dealer, destroyallguitars. com. Players in Australia or New Zealand can place orders through his dealer in Melbourne at ghmusic.com.au.
Shrewd bargaining, a little white lie, and a series of serendipitous connections paved the way for Vinny Fodera to rub shoulders with some of the most esteemed bass builders in the business. When he'd learned all he could from his mentors, he set out on his own and ended up being the luthier of choice for iconic players like Victor Wooten, Oteil Burbridge, and Anthony Jackson.
Just across the water from the Statue of Liberty and the picturesque Manhattan skyline sits an anonymous-looking warehouse where some of the most prestigious basses in the world are crafted by hand. At 6,000 square feet, it's a massive step up from the 1,000-square-foot shop on Avenue O where Fodera Guitars was born way back in 1983, but it does have its drawbacks.
"[Super storm] Sandy hit us hard up here, but luckily everyone in our factory and their families are okay," says Fodera partner Jason DeSalvo. "We just started production again after a week without power. Now we have power, but no heat—it's 36 degrees outside, 38 degrees inside!"
But neither temperatures nor economic worries have seemed to slow Fodera. Here, the priority is art over money, craftsmanship over numbers, and tone before anything else. Founders Vinny Fodera and Joey Lauricella have approached things that way since they met. Although they've been building custom guitars and basses for 30 years now (they also do small production batches), they're primarily known for their rumble machines. And for many iconic bassists—including Victor Wooten, Anthony Jackson, Janek Gwizdala, and Oteil Burbridge—Fodera 4-, 5-, and 6-strings are the bass to own.
Bright Lights, Big City
"My life has been a series of these flash moments," says Fodera. "[When I was a kid], the Beatles on Ed Sullivan hit me like a ton of bricks and introduced me to rock 'n' roll. A couple of years later, I saw a neighborhood kid sitting on his front stoop, strumming a red electric guitar. This thing was so cool. When I held it, something clicked, and I had to have it. Even though he just bought it for $15, I convinced him to sell it to me for $20."
Fast-forward to 1975, when Fodera took a part-time job as a stock runner back in the days when physical stock-market tickets were delivered around lower Manhattan. While on one of those stocks runs, Fodera noticed a flier for a 12-week class on classical-guitar construction. It was another light switch moment. Not long after walking into the class, he knew crafting guitars was what he wanted to do.
"I think I was the only student who really took the class seriously," he says. Instructor Thomas Humphrey—who later built the Millennium guitar that's now licensed to C.F. Martin & Co. — could tell the young Fodera showed genuine interest, because he was the one who stayed after class and asked a hundred questions. Humphrey quickly took a liking to the aspiring craftsman, who would come to his shop after hours and on the weekends, becoming more and more enthralled in the guitar-making process.
In yet another twist of fate, one of Fodera's school classmates had a friend who'd just opened a small guitar shop in Brooklyn. Knowing of Fodera's new-found passion, the classmate introduced him to the owner—who happened to be the innovative and highly influential bass builder Stuart Spector. After taking a tour of the shop, the young (and very nervous) Fodera humbly asked Spector for a job doing anything—sweeping, toilet cleaning … whatever. Two weeks later, Spector called and asked if he knew how to cut mother-of-pearl for headstock logos. Though he had no experience with it, Fodera didn't hesitate. "Absolutely," he replied. He then asked Spector to cut one so he could observe the process. The astute future luthier landed the gig, and the part-time work soon moved into full-time production. Thus began his bass-building career.
Spector's shop was part of a woodworking co-op made up of fledgling furniture designers and craftsmen. Astonishingly, under one single roof were such bass luminaries as Spector, Ken Smith, Fodera, and a young furniture designer named Ned Steinberger, who eventually designed one of the most unique basses of the last 40 years. In a short time, Fodera became the primary builder at Spector, making basses for the likes of Jack Bruce and Gene Simmons. Eventually, Spector had an offer to work for Ken Smith, and though it was a difficult decision he did make the move. He crafted about 100 basses for Smith.
At the same time, Joey Lauricella, a professional local bassist and sales rep, saw someone come out of the anonymous shop with a gig bag. Out of curiosity, Varicella popped in, introduced himself, and became friends with Fodera. In the process, he discovered that the Ken Smith basses he'd been selling were made in that very neighborhood. Lauricella convinced his new friend to partner up, and before long they made a deal with Smith to build basses in exchange for eventual ownership of the tiny Avenue O shop. Fodera Guitars had spread its wings.
The Buckeye Burl Monarch 4 Deluxe
The Lowdown
Today, Fodera is known worldwide as a premier builder of fine basses considered Holy Grails to a lot of discerning players. Although the prices—$4,750–$20,000—may initially raise eyebrows, many happily pony up the cash for what they consider to be the best basses they've ever held. Each custom instrument is handmade and tailored to the customer in every way, down to playing style and technique. The intense building process assures that the bass is as individual as the player, and as masterful as a piece of rare art. There's no secret formula to building the basses, but Fodera says every nuance—from wood to electronics and hardware—is pored over.
Naturally, the luthier's products have evolved over the years. In fact, Fodera's first project was a 6-string guitar. He and Lauricella built Fodera #1 as a custom order for a friend. It was loaded with intricate inlays and featured a body with flamed and bird's-eye maple. In retrospect, Fodera says he would use different woods if he were to build that guitar again today, but experimentation and evolution have helped define his instruments over the years. Besides, that first guitar was more of a showpiece to drum up orders for the fledgling company. It turns out that lots of orders came in—but for basses, not guitars. There wasn't much of a boutique-guitar market then, so Fodera became known as a premier bass builder. Today, roughly five percent of guitars made by Fodera are 6-strings, but they're hoping to change that with the introduction of a guitar line at winter NAMM 2013.
Although Fodera has crafted more than 3,000 instruments, his most popular bass is the Monarch, which is based on Fodera #2—the bass that launched the company into folklore. Fodera recalls that the instrument was made of bird's-eye maple with an ebony fingerboard, and that it served as the basis for the Yin Yang bass (see the sidebar "The Yin and Yang of It All"). He now offers an extensive line of basses, split into the Standard and Custom series. Some feature more traditional lines like the Monarch and Emperor, and others resemble works of fine art, like the Imperial and Matt Garrison Signature, which feature a unique single-cut design that was originally intended to stabilize the neck on a 36"-scale bass. But though its origins were in function, not form, the modern appearance of that single-cut has attracted even more fans.
As far as electronics, pickups are chosen according to what will sound best for each instrument. For example, the Yin Yang Standard uses EMGs, while the Emperor and Monarch Standards use locally wound pickups. Custom Fodera basses use 99 percent EMG or Seymour Duncan pickups, as well as some Kent Armstrong and Nordstrand units. The preamp used in the Standard basses is a Mike Pope design that's based on his Flex Core technology. Hours of collaboration based on player feedback went into the Fodera-requested tweaks of the preamp.
Whether it's the Custom or Standard Series, the build process begins with wood selection. Every shipment brought in to Fodera is tap tested and kept in stock based on weight, look, grain pattern, and, most importantly, sound. Between 20 to 30 percent of wood is sent back, and the rest is stored for up to two years (depending on build orders) in the Brooklyn warehouse. From there, the mosaic composite is carefully constructed.
Necks, bodies, and fretboards are all tone drivers and are therefore carefully matched for tonal characteristics and aesthetics. Brighter woods are matched with warmer necks, and vice versa, to create tonally balanced basses. Although Fodera says they try to find the nicest pieces of wood for every build, once again, tone trumps all. In working with exotic materials, there is always the ethical question about its origin. The CITES (Convention on International Trade in Endangered Species of Wild Fauna and Flora) agreement ensures that materials come from sustainable sources. While there will always be unscrupulous wood dealers who don't provide proper CITES credentials, Fodera is adamant about using sustainable resources and non-endangered hardwoods. But DeSalvo says the process of verifying this isn't always easy.
"The last batch of Brazilian rosewood that came in was a 19-month process from the first phone call to the actual shipment," he says.
Due Process
When someone places an order with Fodera, they call the shots from start to finish. An outline of the bass build is established. After choosing a body style comes wood selection, and the options are virtually limitless. You can even come in to select your own wood—some Fodera customers have spent as much as 20 hours picking through materials to find the perfect foundation for their dream build.

LEFT: Anthony Jackson setting up a customer's AJ Presentation.
RIGHT: Jackson's personal Anthony Jackson Presentation.
Though spending an entire day sifting through the wood selection may seem excessive to some, it's not even close to the amount of time invested in the development of the Anthony Jackson Presentation, a $20,000 5-string contrabass dreamed of by the great jazz bassist when he was only 13. Fodera says this was the most involved bass build in the company's 29-year history, by far. Jackson spent literally hundreds of hours at the shop, refining and sculpting what would become his signature model. But he's not picky just about the actual instruments he uses himself: Whenever Jackson is available—and without compensation from Fodera—he comes in to personally set up each of the signature model basses being sold to clients.
But just how do you sell a $20,000 instrument? According to DeSalvo, it's not as hard as you may think. "Remember this is not a production instrument situation," he explains. More than 30 hours can go into a single bass, with some requiring 80-plus hours of labor. So despite selling basses that are as much as a decent car, Fodera isn't flush with cash. In fact, the business ethos at Fodera is not entirely intuitive—but that's because it's about the art and craft of luthiery, not business efficiency. The company could raise its profit margins and cut corners on construction to get more basses in the hands of more players, but Fodera refuses to sacrifice quality for profit. DeSalvo says the "wow" factor a customer gets when he/she plays a Fodera bass is more important than bottom line.
"We figured out that we were actually losing money on some of our models," DeSalvo says. "With materials and build times, it really was a difficult road in that we had these amazing instruments, and the business side of the operation was falling short. It's no secret that our customer service was not the best. Our build times were at the 39-month mark for a custom bass. That was tough. We had to get that number down to a reasonable amount of time and heal the reputation of the company." Since then the company has delegated office and customer-service duties away from the shop floor, and build time for a custom bass now hovers around 14 to 15 months.
Part of this move toward efficiency and sustainability the introduction of the Standard line, which consists of handbuilt instruments that are made in small batches with standard features and options. Fodera says this approach is a nice way to close the divide between mass production and custom builds. The several hundred instruments they produce a year positions them closer to "boutique" than "mass-produced." Of course, they would like to see sustained growth, but in a way where they can have enough skilled artisans coming up through the ranks to continue the rich building tradition. "It's funny, we don't worry about things like product mix or pushing demand or sales forces," says DeSalvo. "A lot of our time is spent assuring that our products can be made at this level after Vinny and Joey have stopped building."
The NYC Pipeline
Vinny Fodera's Brooklyn connection aside, keeping the Fodera factory in NYC has been vital to the company's growth, progress, and development. There is obvious sentiment attached to having always been based there, but the real value is that New York is a massive touring and entertainment hub. "Not a week goes by where we don't have a pro player come by," DeSalvo says. "When they play in town or close to us, they pop in and try some things, and we listen to their feedback." Players have been known to sit for hours in the shop, and everyone at the factory welcomes it. Factory tours aren't available, but with enough notice, a bass player can come by the shop to test new offerings.
It is this constant evolution that fuels Fodera's success. When it comes to ideas on design or build techniques, DeSalvo says every one of the 17 employees has a voice. Feedback from the aforementioned visitors isn't taken for granted, either. Luminaries such as Marcus Miller, Reggie Young, and Victor Wooten have given input that altered new models. "That's why we'll never move," says DeSalvo. "Sure, we could be in Pennsylvania for a lot less money, but we wouldn't have these crossroads that are invaluable to us."
Fodera prides itself on following instinct, not trends. The company has never been fashion conscious—it's more about making a difference than making a lot of instruments. Building a bass that helps bring out the best in a player is the primary focus. "People have asked us why we haven't built a factory and started making 50,000 basses a year," says Fodera. "But that's already being done. It's relatively easy to make tons of anything. Small batches are the hard part."
In all, it's a soul-stirring process for the luthier. "It's a full-circle type of thing for me, knowing that I've created something that will, in turn, inspire someone to create their art," he says. "That's extremely satisfying— that's why I do it."
Building a Fodera Bass

LEFT: Joey Lauricella handles the installation of all electronics in Fodera basses. RIGHT: Vinny Fodera carefully carves a bass body.

LEFT: (top) Vinny handcarving, (bottom) Working on a Standard neck. RIGHT: A quick check on the tuning.

TOP LEFT & RIGHT: Sanding a bass body and neck. BOTTOM LEFT: Prepping a bass body for the glue press.

LEFT: Using a pin router in preparation for inlaying the Fodera Butterfly logo.
RIGHT: Reviewing bass necks in their early stages.

LEFT: Spraying a Yin Yang Deluxe. RIGHT: Every inside cavity is handlined with copper foil in preparation for the electronics.

LEFT: Vinny Fodera tightening clamps on a newly glued headstock. MIDDLE: Vinny doing some fine detail carving. RIGHT: Joey Lauricella sanding a bass.

TOP: A Fodera employee assesses his workbench as he prepares to wind strings. BOTTOM LEFT: Every Fodera string is handwound. BOTTOM RIGHT: Fodera opened a small operation in a rural Pennsylvania barn where all of its strings are made.
No Strings Attached
Fodera has painstakingly crafted basses with every nuance in mind, and it makes sense that eventually they would get to winding strings as well. Although they were previously wound at the Fodera factory in New York City, each set of strings is now handwound by three talented string winders working in a discreet barn in rural Pennsylvania.
Rather than have a big factory make strings and put the Fodera label on them, the concept behind Fodera strings is congruent with everything they do: The goal is to make the best-sounding bass possible, regardless of the steps needed. Winding strings is just another piece of that puzzle. "If you look at our string business as a whole, as a separate economic entity, it makes no sense from a business standpoint to keep making our own strings," says Fodera partner Jason DeSalvo. "But until we can find other strings that we think complement our basses as well as ours, we'll keep doing it."
The roundcore strings are nickel-plated steel, but Fodera winders take the extra step of wrapping the entire string—not just the outermost wrap. But are they really that unique? "Other than attention to detail, using the finest materials, controlling the process ourselves, and making them by hand, no, there's nothing really unique," jokes DeSalvo.

1. Victor Wooten's original Monarch from 1983, nearly 30 years later. 2. Even the Standards have the trademark inlayed Butterfly in the headstock. 3. The Yin Yang Standard. 4. The very first Yin Yang Standard, first announced at the 2011 Winter NAMM Show.
The Yin and Yang of It All
The Wooten Connection
Arguably one of the most famous bass players associated with Fodera is Victor Wooten. His Monarch bass has become as popular in bass folklore as James Jamerson's Funk Machine or Marcus Miller's Jazz bass. It's Wooten's Monarch that's heard on the groundbreaking A Show of Hands, and he's rarely seen without a Fodera-crafted bass in his hands. His relationship with Fodera, however, started off as simply and serendipitously as the company's beginnings.
In 1983, a 19-year-old Wooten found himself in Bloomfield, New Jersey, at a recording session. The producer didn't like the sound of Wooten's bass, and, through another musician on the session, the upstart bass builder Vinny Fodera was contacted to bring in a new bass. Fodera showed up with two Monarchs, and after playing Fodera #37, Wooten was instantly attached.
It's a common misconception that Wooten has been on some sort of endorsement payroll ever since. But according to Fodera, Wooten never received any compensation from Fodera up until the introduction of the Yin Yang Standard. The relationship between player and builder goes much deeper. Some of the modifications to the bass—such as a lower string action and thinner neck—evolved directly from Wooten's techniques, and conversely, his style evolved around the instrument. This symbiosis has pushed both parties to do things that they might not have on their own. Wooten's Fodera #37 served as the inspiration for the 30th Anniversary Monarch— of which only five will be made. However, eventually the model will be the basis for the new Monarch Standard.
Wooten's jaw-dropping Yin Yang was born when the chops master simply asked for a yin-yang inlay on a bass. Fedora and Lauricella took the concept a step further and came up with a design that spread the symbol across the whole face of the instrument. When finally completed in 1995 and presented to Wooten, he (along with legions of his fans) was floored.
The Yin Yang features an alder Monarch body with two contrasting, seamlessly joined pieces of wood for the top, with the graceful curves flowing over onto the fingerboard. The initial Yin Yang was a fretless bass constructed of holly and ebony, which made for a striking contrast. Subsequent custom versions have been made with exotic woods such as purpleheart and pau amarillo.
Since its introduction, the Yin Yang has been Fodera's most-requested bass—which is sometimes a double-edged sword. Because it requires twice the labor of other basses, the Deluxe model is now limited to only six a year. But demand from Wooten fans remained, so he approached Fodera about making a more affordable production model Yin Yang. The Yin Yang Standard—which is part of the new small-batch production approach and features a catalyzed-paint yin-yang design rather than a sculpted wood top—offers the same handcrafted care as the custom models.
As far as bright colors and fancy appointments, the Fred Gretsch Company led the way. Gretsch achieved the pinnacle of luxury and style with its pièce de résistance, the White Falcon.

A stunning 1958 Gretsch 6136 White Falcon, serial #26356.
The exciting changes in the popular music of the 1950s also called for electrifying transformations in musical instruments. As the electric guitar became increasingly prominent, the top guitar companies battled to come up with the most innovative and attractive designs.
As far as bright colors and fancy appointments, the Fred Gretsch Company led the way. Gretsch achieved the pinnacle of luxury and style with its pièce de résistance, the White Falcon. The 1955 Gretsch catalog announced that "Cost was never considered in the planning of this guitar. We were building an instrument for the artist-player whose caliber justifies and demands the utmost in striking beauty, luxurious styling, and peak tonal performance and who is willing to pay the price."
Gretsch's special representative—the guitar promoter and demonstrator Jimmie Webster—designed the White Falcon. Webster drew ideas from a variety of sources including the gaudy Bacon and Day banjos of the Jazz Age. The 17"-wide body was finished in luminous white with gold sparkle binding. The gold-plated hardware included fancy jeweled knobs, Grover Imperial tuners, and a striking new tailpiece with a V-shape similar to the one used in the '50s Cadillac logo. The gold pickguard was engraved with a flying Falcon.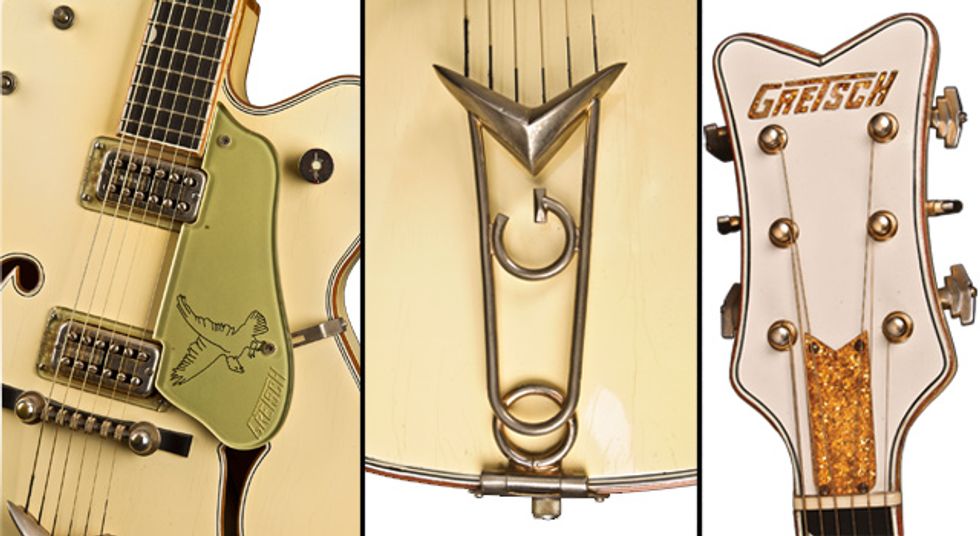 LEFT: Designed by Jimmie Webster, the White Falcon represented the apex of the Gretsch line. With its six wheel saddles and threaded mounting bar, Webster's Space Control bridge allowed a player to adjust string-to-string spacing to accommodate fingerstyle or plectrum technique. MIDDLE: The White Falcon's tailpiece bore more than a passing resemblance to a '50s Cadillac logo. RIGHT: In 1958, a horizontal Gretsch logo replaced the original vertical one.
This 1958 White Falcon has features typical of that year's model—a gold sparkle horizontal headstock logo inlaid in the white Nitron plastic veneer (changed from the original vertical logo in '58), Neo Classic thumbprint inlays in an ebony fretboard (changed from the original feather engraved hump-block inlays in '58), Patent Applied For Filter'Tron humbucking pickups (replacing DeArmond single-coils), and a gold Space Control bridge (replacing the original Melita).
A new White Falcon sold for $675 in 1958. This guitar's current value is about $20,000.
You'll find lots of compelling photos and lore in 50 Years of Gretsch Electrics: Half a Century of White Falcons, Gents, Jets, and Other Great Guitars by Tony Bacon, The Guitars of the Fred Gretsch Company by Jay Scott, and The Gretsch Book—A Complete History of Gretsch Electric Guitars by Tony Bacon and Paul Day.
Original price: $675 in 1958
Current estimated market value: $20,000
Dave 's Guitar Shop
Dave Rogers' collection is tended by Laun Braithwaite and Tim Mullally and is on display at:
Dave's Guitar Shop
1227 Third Street South
La Crosse, WI 54601
davesguitar.com
Photos by Mullally and text by Braithwaite.