We live in a blessed age for lovers of boutique pedals. Every other day a company shows up online with a bucket (brigade?) of analog effects claiming to be the
We live in a blessed age for lovers of boutique pedals. Every other day a company shows up online with a bucket (brigade?) of analog effects claiming to be the new paragons of tone. Brad Jeter's story is typical: a guitarist begins tinkering with pedals seeking a sound he can't find in the existing models. (The extra "t" in the company name is so people don't mispronounce it "jeeter"). Thousands of hours later, he reproduces the elusive tone in his head. Unleashing it on the guitar world, he finds that many agree with his definition of sonic excellence—success! Customers express wants and needs of their own, leading him to other models and other effects. Jetter now offers six overdrive pedals, catering to a wide variety of distortion tastes. Here we look at two of his grit monsters, as well as his unique entry into the Uni-Vibe sweepstakes.

I tested the pedals with a Fernandes Strat fitted with DiMarzio Virtual Vintage pickups, a Burns Steer, a Hanson Chicagoan with mini-humbuckers, and a Danelectro Pro-1, into an Orange Tiny Terror head and a ZT Lunchbox amp.

Gain Stage Green



Download Example 1


Green Clean: First you hear the pedal off through the Orange Tiny Terror. From the second time through the lick the pedal is on.
Download Example 2
Green Grit: The pedal on with the gain at about 1 o'clock and the tone at 11 o'clock
The Gain Stage Green is one color in a Crayola box of overdrive pedals offered by Jetter that also includes: Red, listed as offering "OD tone in the style of Ford/Carlton" (read: Dumble); Purple, with its "50 watt Plexi-style tones"; and Blue, with its "Fuzz into cranked Plexi tone." The reference to green might hint at the ubiquitous Tube Screamer sound, available from Ibanez and various clone manufacturers, but Jetter's Gain Stage Green sounds nothing like those popular pedals—Jetter literature urges you to "Think Hot Rodded Plexi."
Given the wide range of sound that hotrodded Plexi implies, let me just start by saying that the Gain Stage Green does lean toward the British side of the tonal spectrum, instantly separating it from the more American-toned Screamer crowd. Though endowed with the same three controls—Volume, Gain and Tone—the Jetter pedal dishes out a much wider range of sounds than the Ibanez or its imitators. It is also notably less compressed than that category of pedals.
With the gain set between off and 9 o'clock, the Green operates almost as a clean boost, with just a hint of "give" responding to the pick attack. At 10 o'clock a little dirt kicks in, but it remains extremely responsive to picking dynamics and cleans up nicely with reduced instrument volume level. Above noon the Gain Stage Green moves from major crunch to sustaining gain, especially with humbuckers.
The best thing about the Gain Stage Green is that regardless of the gain level, I never felt like I was playing through a pedal. This overdrive sounds and feels like a high-quality amplifier. Going Green will definitely improve your sonic environment.
Buy if...
you're looking for an overdrive pedal with a small footprint that ranges from mild to wild.
Skip if...
you prefer your drive All-American.
Rating...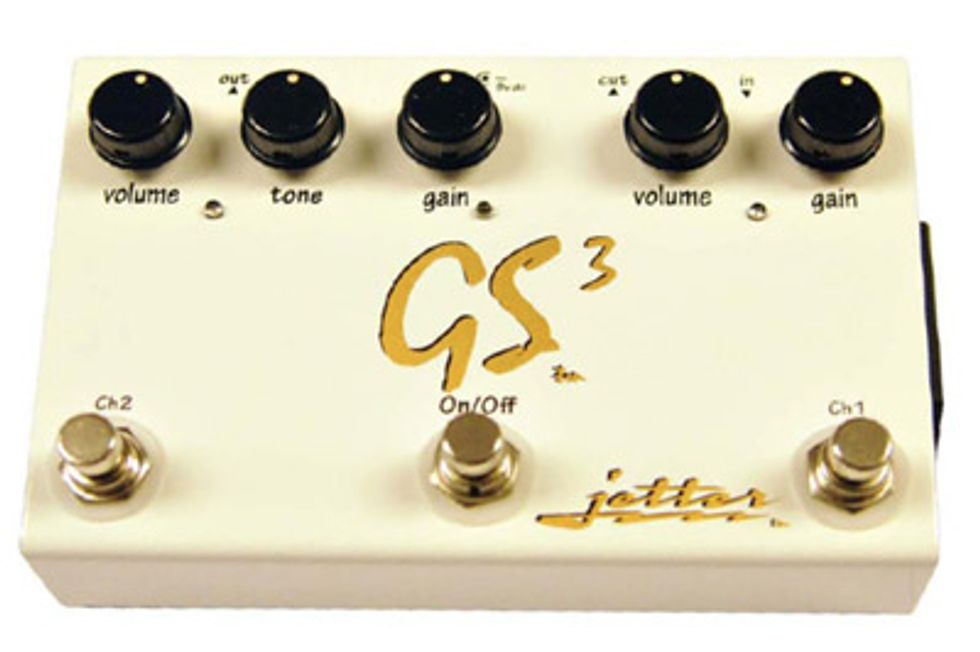 Download Example 1


GS3 Channel 1: First time around is the clean amp, then Channel 1 engaged with the gain up full but still picking lightly. Without changing any of the settings I add the crunch chords by just playing harder.



Download Example 2


GS3 Channel 2 and both: The solo starts with just Channel 2. On the eighth bar I add Channel 1.



GS3 Dual Overdrive
Many tone experts cascade one overdrive pedal into another rather than use a single high-gain model to achieve maximum distortion. This also gives them three distinct levels of dirt: pedal one, pedal two, and both—in addition to any grit emanating from their amplifiers. The Jetter GS3 makes these three stages of gain available in a single pedal.
The GS3 sports three switches, one for each channel and a master On/Off. This last switch is a great idea as it allows you to choose whether you want Channel 1, 2, or both before you engage the distorted sound, as well as letting you quickly clean up your signal with one stomp of your foot—even if bothchannels are engaged. Channel 1 offers Volume and Gain knobs on top of the pedal, as well as a treble roll-off on the side. Channel 2 features Volume, Tone and Gain controls, all on the top face of the unit. An easy-access battery compartment adorns the right side.
Plugging the Fernandes Strat into Channel 1 and the GS3 into the Tiny Terror set clean, I was immediately blown away by how well that channel emulates the give of a tube amp on the edge of breakup—a sound that eludes most pedals. With the treble roll-off set at full treble, backing off the gain gave a clean boost that was virtually indistinguishable from the original British sound of the Orange head. Rolling the treble off a bit turned it into a lush, more American, clean tone.
Cranking Channel 1's gain up full provided excellent dynamic breakup that responded to every variation of guitar volume knob or pick pressure like a $3000 boutique amp. My tiny ZT Lunchbox sounds very warm—for a digital amp. Putting the GS3 in front of it removed the last traces of solid-state sterility, and turned it more tube-like.
Moving over to Channel 2, I found a wide range of gain and tone available from the three simple controls. The voicing is more aggressive than Channel 1, and the amount of gain available is considerably more substantial, though not into serious metal territory. Combining the two channels offers an almost infinite variety of distortion sounds from Dumble to Plexi. At every stage of gain from the slightest boost to near the highest grind, the GS3 remains dynamic.
Most distortions color your sound, but the GS3 offers a choice of transparency or many colors, and is one of the most versatile, natural, and flat-out terrific sounding overdrive devices I have ever heard.
Buy if...
you're looking for two incredibly dynamic overdrive pedals in one box.
Skip if...
your distortion tastes tend toward scooped metal.
Rating...
 


Download Example 1


Gear Vibe: The left channel part has a slow mild vibe setting, while the right channel fills have a deeper faster setting.



Gear Vibe

The original Uni-Vibe was devised to provide guitarists with the sound of a rotating speaker in a small box, replacing the massive Leslie cabinet used by organists. While much smaller, in pedal terms the Uni-Vibe and most subsequent emulations remain fairly large. Jetter's Gear Vibe offers this sound in the smallest package currently available.
Jeter has not reduced the size by skimping on anything that might affect the sound. Present is the classic four-stage, lightdriven circuit that is essential for accurate tone. High input impedance ensures that it will not load down your guitar signal, and unity gain output negates the need for a volume control. This true-bypass unit operates on any high-quality 9V power supply. In a pinch it will work with a battery for up to an hour. The cryptically labeled knobs are for speed and depth, while a single pulsing status LED glows brighter for intensity and faster for rate.
The tone of the Gear Vibe is, in a word, vibe-o-licious. Most of the Hendrix and Trower sounds we associate with the Uni- Vibe fall within a rather narrow range of speed and depth and those tones are amply covered here. As with the original, a little grit post-Vibe helped to bring out the sound, which was lush and warm.
Of course, something has got to give in such a small package. What you won't get is stereo, and there are no real-time ramping or speed control options. Still, given you love the warble of a Uni-Vibe but can't afford an original or fit a larger clone on your pedalboard.
Buy if...
you love the warble of a Uni-Vibe but can't afford an original or fit a larger clone on your pedalboard.
Skip if...
you can afford an original or need more sounds and control.
Rating...