One of the most influential country pickers of all time sits down to discuss his new-found teaching career, his unique picking style, and his forthcoming—hopefully—solo album.
One of the most influential country pickers of all time sits down to discuss his new-found teaching career, his unique picking style, and his forthcoming—hopefully—solo album.
10 stomp stations from PG's hottest Rig Rundowns.
Admit it—you're addicted to stomps. Not just your own. Not just the ones you're saving up for. And not just the ones you wish your local shop stocked so you knew whether to keep lusting after them or direct your drool elsewhere.
We know you have an insatiable need to ogle pedals because, frankly, we do, too. Basically we're sick. But hey, at least we can admit it, right? That's the first step toward recovery … if we actually cared to be cured. But the numbers just don't bear that out.
How do we know? Easy. Our YouTube channel (youtube.com/premierguitar)—where we post our weekly Rig Rundown videos after debuting them on premierguitar.com—has 72 million views. If we had a Mickey D's-style sign over PG headquarters, we'd have to update it almost as often as Ronald does—"Over XX million served." Of course, you click to see all of the gear. But of all the cool stuff there, the stomps are the easiest for the average gear junky to scrimp and save for.
In years past, we've talked to everyone from Steve Vai to Joe Satriani, Josh Klinghoffer, Dan Auerbach, Nick Zinner, the dudes from Mastodon, Kenny Wayne Shepherd, John Scofield, Zach Myers, and hundreds more. But enough about those. We're here to talk about the latest batch o' boards. So dig in, lust away, and then go watch the vids to figure out how these great players make these boxes earn their keep.
The War on Drugs' Adam Granduciel
A longtime lover of the stomp, Adam Granduciel of psych-rock outfit the War on Drugs recently took his board to the next level and employed Bob Bradshaw to bring his pedal visions to life with a loop-based setup. The command center of the rig is a Custom Audio Electronics RS-T MIDI Foot Controller that configures selections from his other pedalboard. Next to the RS-T is a Custom Audio Electronics Line Driver (which feeds his Fender '65 Princeton Reverb reissue), a Boss TU-3 tuner, and an Ernie Ball volume pedal.
The pedalboard with all the gear being controlled by MIDI includes a JHS Bun Runner, a Wren and Cuff Tall Font Russian, a Mountainking Electronics Loud Box, a Blackstone Appliances MOSFET Overdrive, a vintage MXR Flanger, a Moog Minifooger Tremolo, a vintage Electra Phase Shifter, a Wren and Cuff Phat Phuk, a Hardwire DL-8 Delay/Looper, a Hardwire RV-7 Stereo Reverb, an Auralux King Trem, an Ibanez Echo Shifter, and two vintage Electro-Harmonix Memory Man Delays—one of which sits on the floor next to the board, while the other resides under a CAE Boost/Overdrive.
Bring Me the Horizon's Lee Malia
Lee Malia from British metalcore quintet Bring Me the Horizon routes his Gibson and Epiphone guitars into a Bedford Audio JB1 Junction Box/Line Receiver (lower right), a Boss NS-2 Noise Suppressor, and a Free the Tone ARC-03 Audio Controller loop switcher that lets him bring desired effects in and out of his signal chain. His stompboxes include a J Rockett Audio Designs Chicken Soup Overdrive, a Fulltone OCD, a Boss DD-20 Giga Delay, a Boss DD-7 Digital Delay (paired with a Boss FS-5U tap-tempo footswitch), a Boss RV-5 Digital Reverb, and an Electro-Harmonix Cathedral Stereo Reverb. He checks his tuning with a TC Electronic PolyTune, and all the pedalboard gear is powered by an MXR Custom Audio Electronics MC403 Power System.
Brent Mason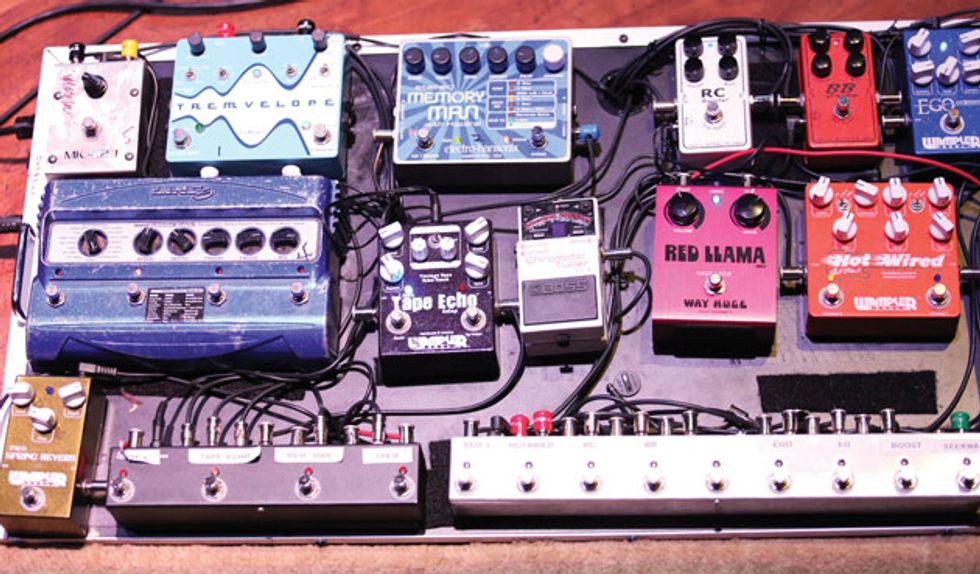 Over the years, Nashville session ace Brent Mason has gone through countless combinations of pedals. Currently, he's using a simpler system mounted to a large Trailer Trash pedalboard. The signal chain starts with a Dunlop MC404 CAE wah going into an Ernie Ball 6166 volume pedal. Next is a Wampler Ego Compressor, a Boss GE-7 Equalizer customized by Analog Man, a Visual Sound V2 Truetone Clean Boost, an Xotic Effects RC Booster, an Xotic Effects BB Preamp, and a Creation Audio Labs MK 4.23 Clean Boost. For dirt, there's a Way Huge Red Llama Overdrive followed by Mason's signature Wampler Hot Wired V2 Overdrive. All of Mason's clean-boost and dirt pedals are accessed via a no-name loop switcher that Mason bought "from a dude on eBay." A separate loop switcher controls Mason's trippier effects—specifically, an Electro-Harmonix Stereo Memory Man and a Pigtronix Tremvelope. Next in line are Wampler Faux Tape Echo and Faux Spring Reverb stompboxes, and the final effect is an old, tried-and-true Line 6 MM4 Modulation Modeler. Mason uses a Boss TU-2 tuner and powers the whole shebang with several Voodoo Lab Pedal Power 2 units.
Death from Above 1979's Jesse Keeler
Death from Above 1979 bassist/synth player Jesse Keeler gets the dirty portion of his infamously aggressive bass tones from two solid-state amps, so his pedalboard is relatively straightforward. (Interestingly, when Keeler switches to synth during a show, he routes his Roland Juno-60 through many of the same pedals and into his bass amps.) The bass signal hits the pedalboard via a Dunlop wah, then goes into an MXR M80 Bass D.I.+ that sends only sub frequencies to the venue's front-of-house engineer. From there, the signal goes to an MXR 10-Band EQ (to add guitar-like midrange), an MXR Carbon Copy Analog Delay, and then a Morley A/B switcher that selects between the bass signal coming from the Carbon Copy or direct feed from the Juno-60 synth inputs. Whichever instrument is being fed into the Morley is then sent to an Ibanez CS9 Stereo Chorus, which sends a feed to each of Keeler's amps. The CS9's left (mono) output feeds an old Peavey Super Festival 800B, while the right output sends the signal to an Electro-Harmonix Micro POG, a Dunlop Kerry King KFK Q Zone, and finally an Acoustic 450B head.
Larry Carlton
Jazz-fusion legend Larry Carlton—aka Mr. 335—has two main pedalboards, both built by his longtime friend and guitar tech, Rick Wheeler. Carlton's fly-date board starts with a Korg Pitchblack tuner. The signal then travels to a modified Sho-Bud volume pedal, followed by a Dunlop 95Q Cry Baby Wah. Next the signal goes to a Tanabe Zenkudo Overdrive, a Visual Sound Liquid Chorus, a TC Electronic Hall of Fame Reverb, and a Providence Chrono Delay.
Carlton's larger pedalboard works in conjunction with three rack units (not shown)—a Roland SDE-1000 digital delay, a TC Electronic TC 1210, and a Lexicon MX400 that Carlton uses for reverb. The board starts with two Hilton volume pedals—one for electric and one for acoustic—each of which has an output to send a signal to the Korg DTR-2000 tuner (top). The lead from the electric volume pedal then runs into a Dunlop 95Q Cry Baby Wah and to Carlton's amp. The pedalboard also has a chorus on/off switch (for the TC 1210), a tap-tempo trigger (for the Roland), an A/B switch to select electric or acoustic guitar, and a channel switcher for Carlton's Bludotone amp.
Pixies' Charles Thompson and Joey Santiago
Pixies frontman Charles Thompson (aka Frank Black, aka Black Francis) keeps his pedalboard fairly spare. He stays in tune with a Boss TU-2, uses a Klon Centaur for overdrive, and gets some silicon-fuzz action with a 1-knob Duh pedal built by none other than Premier Guitar senior editor Joe Gore. A Boss FS-5L activates the tremolo circuit from Thompson's Vox AC30. A Voodoo Lab Pedal Power 2 Plus powers his board, and a Lehle Dual SGoS switches between his tuner and his electric and acoustic signal paths—the latter of which uses a Radial J48 active direct box.
Joey Santiago controls his pedals primarily through his GigRig G2 switcher, which enables him to engage various combinations of pedals while keeping those that aren't being used out of the signal path. His stompboxes include a Boss LS-2 Line Selector, Keeley Compressor (2-knob), Swart Atomic Boost OC44, Boss FZ-2 Hyper Fuzz, Fulltone OCD, Maxon AD9Pro analog delay, Empress Tremolo, a trusty and crusty old DOD FX-17 wah-volume, an Electro-Harmonix Holy Grail Nano, a TC Electronic PolyTune, and a Lehle Dual SGoS for amp switching. Hidden under the top portion of Santiago's pedalboard are three Moog Moogerfooger pedals—an MF-104M analog delay, an MF-108M Cluster Flux, and an MF-105 MIDI MuRF—all of which are switched by a GigRig QuarterMaster. A Roland EV-5 expression pedal controls different Moog parameters, depending on which is engaged. A Boss FS-6 footswitch controls the Vibrolux's tremolo. All pedals are powered by a GigRig Modular Power Supply setup.
Third Eye Blind's Kryz Reid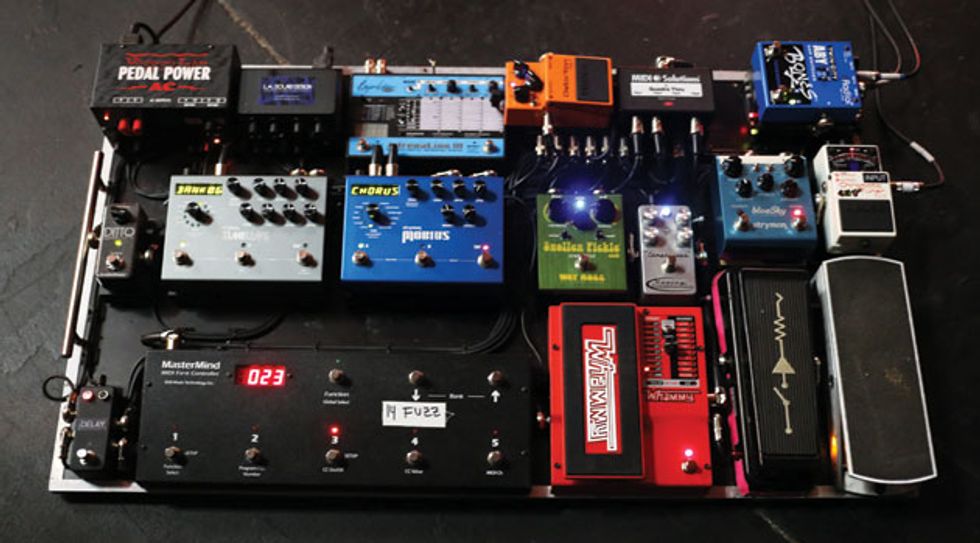 Dave Phillips at L.A. Sound Design built two rigs for Third Eye Blind's Kryz Reid—a main, rack-based pedal rig, and a backup pedalboard (shown) with the same pedals but simplified switching and parameter control. The main setup uses a rackmounted RJM Effect Gizmo programmable loop switcher (not shown) controlled by an RJM Mastermind GT MIDI foot controller, an A/B box, two custom Mission Engineering expression pedals, a modified Ernie Ball volume pedal, a Boss TU-2 tuner, and a TC Electronic Ditto Looper. Reid's signal feeds a Dunlop Cry Baby Rack Wah (controlled by the white Mission pedal), then hits the RJM Effect Gizmo en route to a DigiTech Whammy DT (controlled by the red Mission pedal), a Keeley-modded Boss DS-1, a Way Huge Swollen Pickle, a Keeley 4-Knob Compressor, the Cry Baby Rack Wah's volume feature (controlled by the modded Ernie Ball volume pedal), a Strymon Mobius (whose parameters can be controlled via the red Mission pedal), a Roger Linn Adrenalinn III, a Strymon TimeLine (also controlled by the red Mission pedal), and a Strymon blueSky Reverberator.
Brand New's Jesse Lacey and Vincent Accardi
Jesse Lacey, vocalist/guitarist for alt-rock outfit Brand New, did all the wiring and soldering on his pedalboard. When his signal first hits the board, an L.R. Baggs Para Acoustic DI sends a signal to the front of house. Another line runs into a GigRig Pro-14 switching system, which routes the signal to a Crowther Audio Hotcake overdrive, a modded MXR Blue Box, a Fuzzrocious Zuul, a BYOC Large Beaver, a Walrus Audio Voyager, an Old Blood Noise Endeavors Black Fountain, a TC Electronic Corona, a Mr. Black DeluxePlus, a Dr. Scientist Radical Red Reverberator, a Smallsound/Bigsound Buzzz, a Boss DD-6 Digital Delay, and a Boss TU-2 tuner.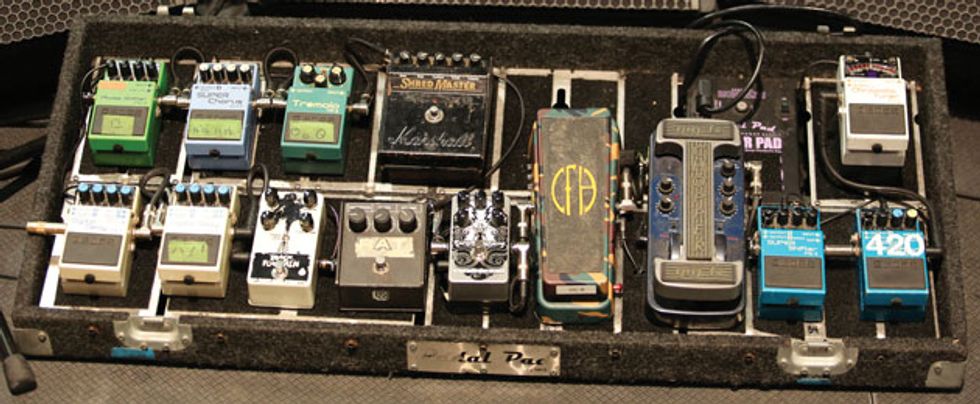 Vincent Accardi's MKS Pedal Pad uses both built-in MKS and Walrus Audio Aetos power supplies to juice a Boss TU-2 tuner, two Boss PS-5 Super Shifters, a Gig-Fx Chopper, a Dunlop Cry Baby from Hell wah, a Catalinbread Dirty Little Secret, a Pro Co RAT, a Marshall ShredMaster, a Boss TR-2 Tremolo, a Boss CH-1 Super Chorus, a Boss PH-3 Phase Shifter, and three delays—an Old Blood Noise Endeavors Black Fountain, a Boss DD-6, and a Boss DD-7.
Jonny Lang
Bluesman Jonny Lang's Trailer Trash pedalboard is all about dirt, gain, and wah. A Monster Cable runs into a Dunlop Joe Bonamassa Cry Baby Wah, a Boss TU-2 tuner, and a custom switcher that can divert the signal to an Analog Man King of Tone, a Whirlwind The Bomb boost, a Visual Sound V2 Route 808, a Fulltone Ultimate Octave, a JAM Pedals Tube Dreamer, and a Boss AW-3 Dynamic Wah. A 3 Monkeys switcher selects between amp channels.
The Gaslight Anthem's Alex Rosamilia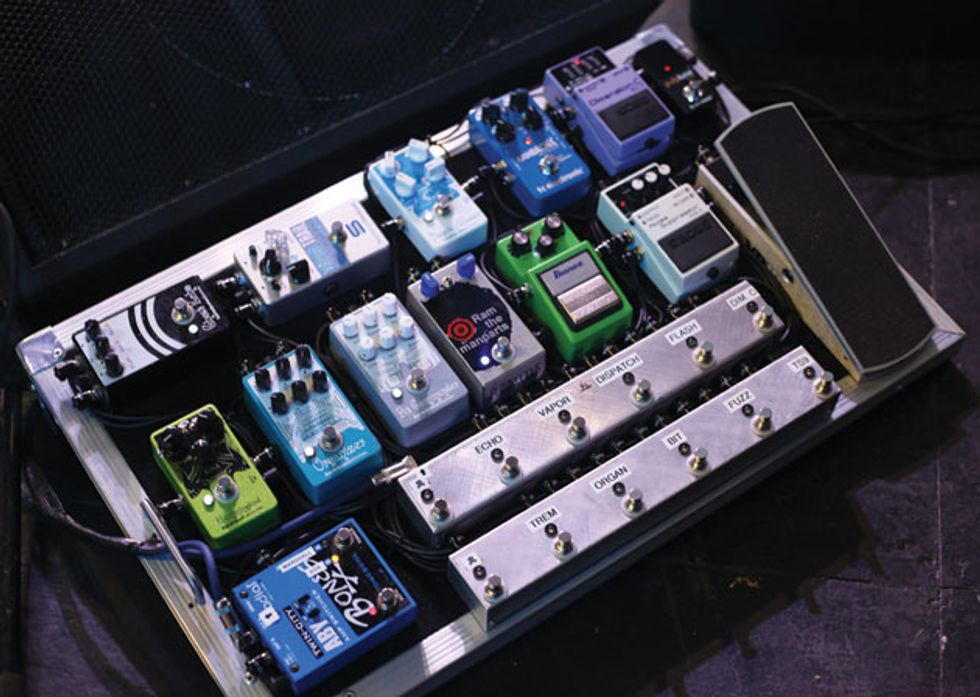 The board that guitar-tech Brad Clifford assembled for the Gaslight Anthem's Alex Rosamilia starts with the guitar running into an Ernie Ball VP JR volume pedal with a tuner output driving a TC Electronic PolyTune Mini Noir. From there, the signal enters the first of two Loop-Master pedal switchers, which controls a Boss NS-2 Noise Suppressor, an Ibanez TS9, a Fuzzrocious Ram the Manparts, and three EarthQuaker Devices pedals: the Bit Commander, Organizer, and Hummingbird. A second Loop-Master governs a Boss Dimension C, a TC Electronic Flashback, an EarthQuaker Devices Dispatch Master, a Seymour Duncan Vapor Trail, and an EarthQuaker Ghost Echo. Two T-Rex Fuel Tank Chameleons power the board, and a Radial Twin-City ABY splits the signal to two amps.