In an effort to create the most unique music instruction and vacation experience around, guitar phenom Andy Wood is back for the third year of his Woodshed Guitar Experience. The Woodshed Guitar Experience will take place at Lake Francis in Crossville, Tennessee from August 25th – August 28th.
The four-day, three-night all-inclusive experience gives players the luxury of time, space, and access to world-class guitarists who are there to help them make breakthroughs in craft and creativity. Joining the already impressive lineup of instructors and performers is Tosin Abasi from Animals As Leaders and country-guitar icon Guthrie Trapp. More information on the Woodshed Guitar Experience can be found at: https://www.woodshedguitarexperience.com.
"The Woodshed Guitar Experience is a real passion project for me and one of my favorite things I get to do as a guitar player," explains Andy Wood. "Getting together with some of the best players in the business to teach a group of dedicated attendees of all skill levels brings me more joy than I ever thought imaginable. I am so excited to get together with everyone this year for what I am sure will be the best camp yet."
Now in its third year, the Woodshed Guitar Experience is organized by guitarist Andy Wood, who has toured professionally with Rascal Flatts, LoCash, Scott Stapp and others and just recently announced as part of the 2023 Shiprocked cruise. During the day, attendees enjoy small-group lessons, gear talks, jam sessions, and more. Players can bring their own gear or try out demo units from sponsors like Suhr, PRS Guitars, REVV Amplification, Wampler Pedals, and Open Chord Music, including some items that can be hard to find in local music stores. Guests are also treated to three nights of full-length concerts by the artists, showcasing world-class talent with top-tier production values in intimate venues.
The 2022 event features an international line-up. This year's featured artists include Brent Mason, Mark Lettieri, Greg Koch, Nick Johnston, Martin Miller, and Tom Quayle. House band members Jim Riley, Daniel Kimbro, and Eli Bishop will also lead sessions. Attendance is limited to 125 people to ensure a VIP experience, and schedules are balanced so everyone can spend time with all the instructors. The result is a unique opportunity to learn from and jam with world- class players.
Experience options begin at $2,799 and include housing, all activities, meals, and an open bar, plus shuttle service for attendees in off-site accommodations. The camp stresses an all-inclusive philosophy, welcoming everyone from beginners and enthusiasts to veteran performers. Couples' add-ons are available, and accommodations are made for special dietary requirements. Details and registration options are available at https://www.woodshedguitarexperience.com.
PG gets personal with Larry Carlton's famous ES-335, Brendan Benson's closet full of stomps and amps, Russian Circles' Custom Shop First Act axes, Brent Mason's Valley Arts T-style, and Vai's unreal guitar collection.
Sure, most of the magic conjured by the world's best players is in their hands, but obviously their gear is a huge deal, too—because they're still pretty particular about what they play. So take a break from honing your own chops for a bit, and check out what your heroes use to conjure their amazing tones. Who knows, maybe it'll help you rethink how you approach your music and give you some ideas for how to improve your own rig. Or just sit there and lust after all the cool stuff. Either way works.
5. Brendan Benson
Brendan Benson took a break from recording and touring with The Raconteurs and his solo project to show Premier Guitar around his studio in the heart of Nashville's music row. Although Brendan's live rig is about as simple as it gets, (Vox AC30HW2, Guild M-75 Aristocrat, and a Spontaneous Audio Devices Son of Kong pedal) in the studio he employs a bevy of oddball pedals, guitars, and amps.
To see more photos and learn about Benson's complete studio setup, visit here.
4. Russian Circles
PG's Jordan Wagner is on location at Electrical Audio Studios in Chicago, where catches up with Russian Circles' Mike Sullivan and Brian Cook during the recording of their fifth album, Memorial. The duo reveals a close-up look at their studio guitar and bass rigs, which combine the gear they use live with numerous other pieces from their own personal collections and Electrical Audio's gear coffers.
To see more photos and learn about their complete studio setup, visit here.
3. Brent Mason
Premier Guitar's John Bohlinger met with Brent Mason after a session at Nashville's celebrated Blackbird Studio. Mason, one of the most recorded guitarists in history, talked guitars, pedals, and amps ... and played his ass off.
To see more photos and learn about Mason's complete studio setup, visit here.
2. Larry Carlton
When Larry Carlton graciously invited Premier Guitar to visit his Nashville studio, we jumped at the chance. He played guitar, told stories, and pretty much proved he's the coolest person any of us will ever meet.
To see more photos and learn about Carlton's complete studio setup, visit here.
1. Steve Vai
PG is on location at Steve Vai's Harmony Hut studio in Los Angeles. In this video, Steve shows you which of his signature Ibanez guitars he's taking out on tour and which made an appearance on his latest album, how he uses his signature Carvin Legacy Amps, and why the Axe-FX II has replaced most effects in his rig.
To see more photos and learn about Vai's complete studio setup, visit here.
Tasty stomp stations from top players.
Third Eye Blind's Kryz Reid
Dave Phillips at L.A. Sound Design built both Reid's "A" and "B" effects rigs. Phillips wires everything with Mogami 2524 cable, except for the Divine Noise 50/50 (half curly, half straight) cable that connects Reid's guitar to the pedalboard. The A rig consists of a RJM Effect Gizmo, a programmable true-bypass loop switcher run by an RJM Mastermind GT MIDI foot controller. The Effect Gizmo sits next to all the effects in a rack unit alongside his amps and cabs. The Mastermind GT lives in Reid's pedalboard with a custom A/B Box interface for the rack, two custom-made Mission Engineering expression pedals, an Ernie Ball 25k Ohm Volume Pedal, a Boss TU-2 tuner, and a TC Electronics Ditto Looper. Reid's guitar runs into a custom Phillips A/B box. The A signal goes to the rack and the B signal runs to his redundant pedalboard and amps. The signal then feeds a Jim Dunlop Rack Wah controlled by a custom Mission Engineering expression pedal.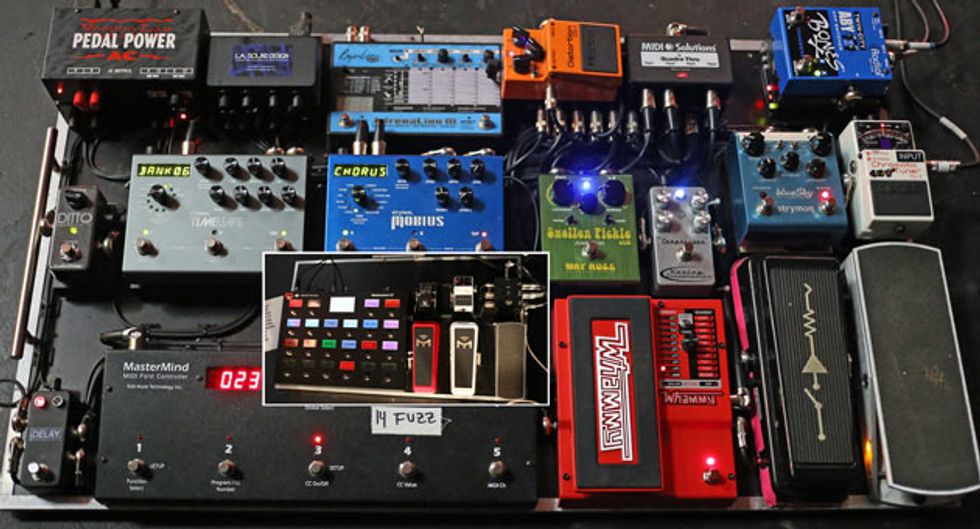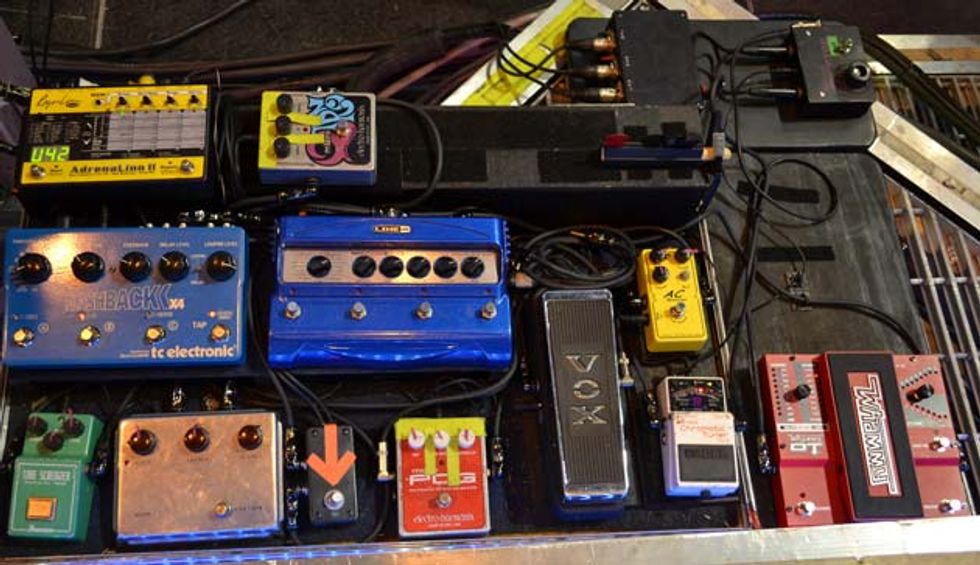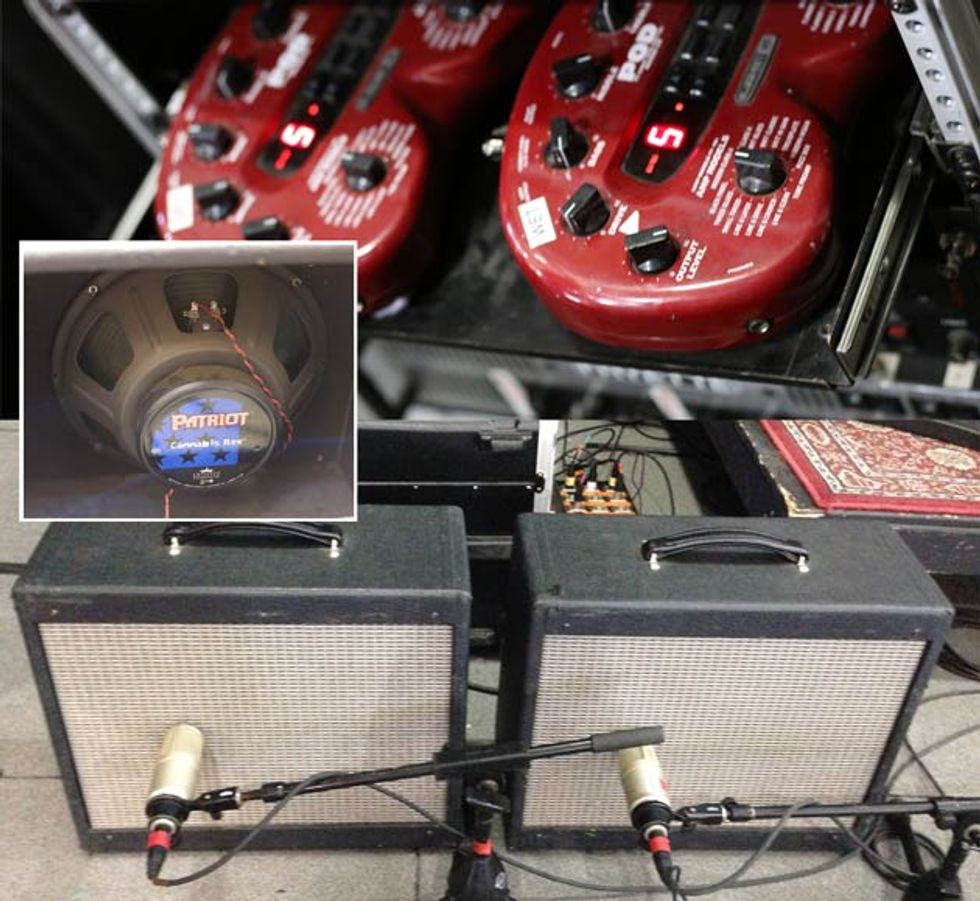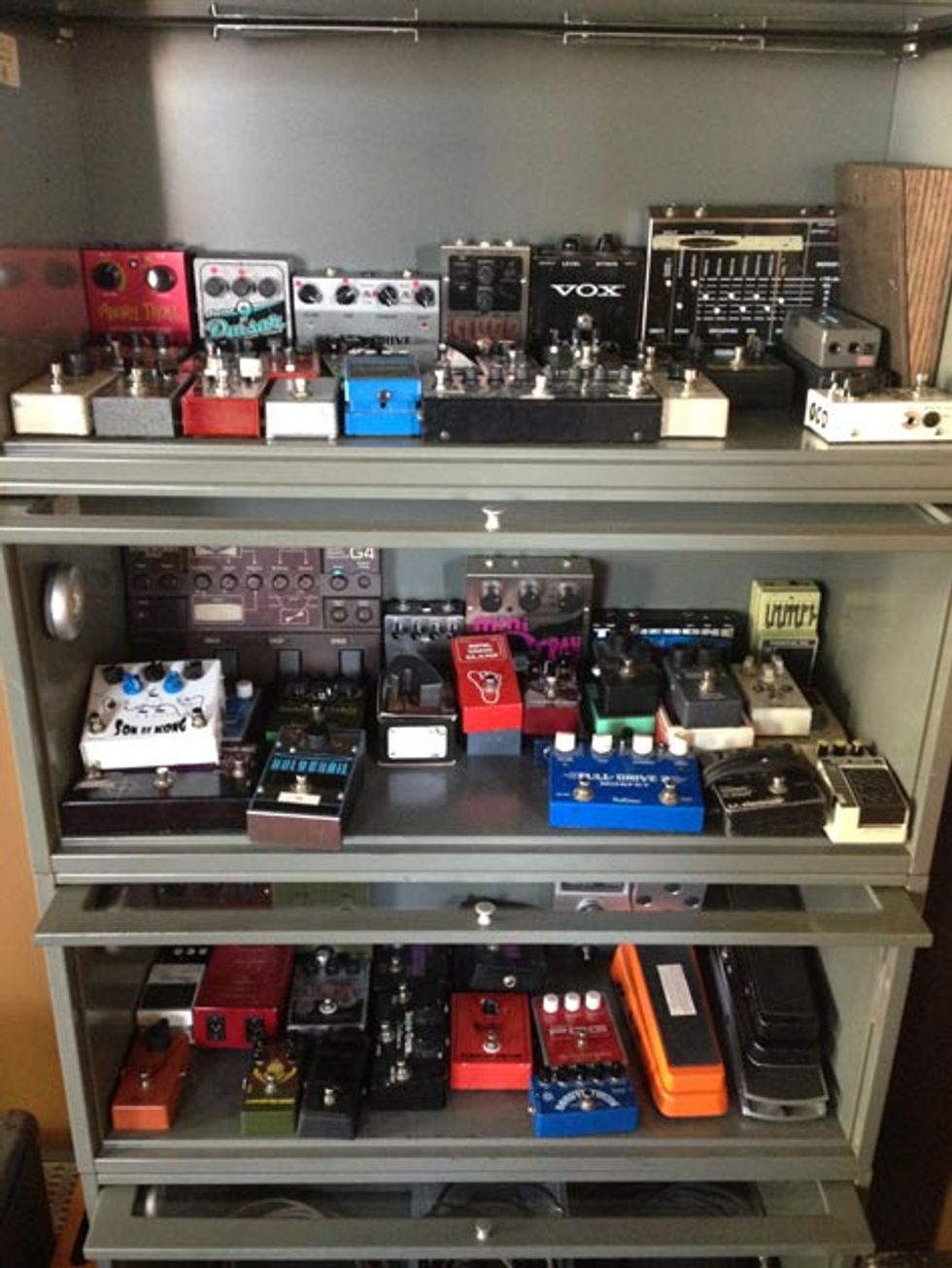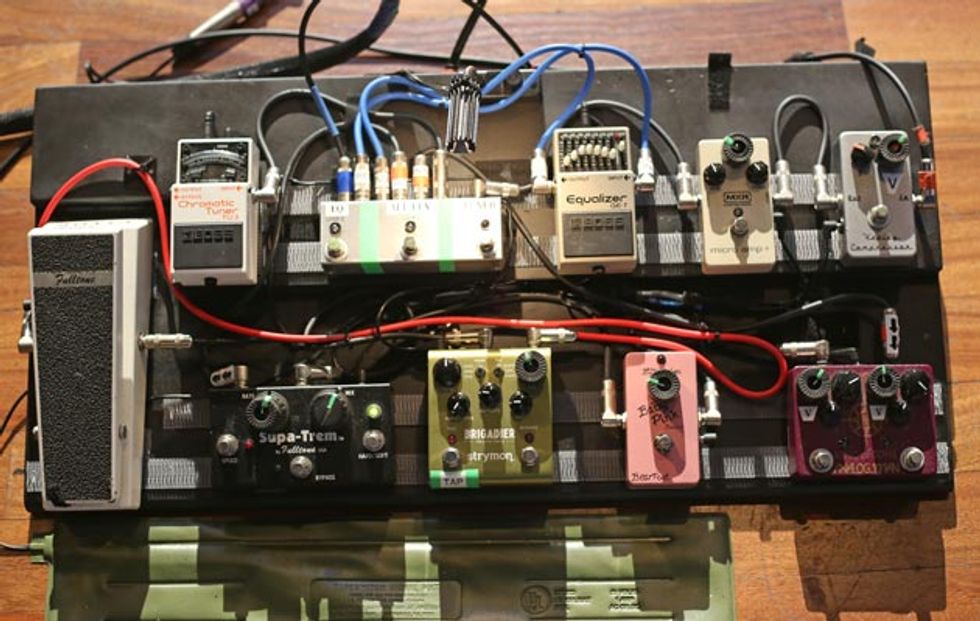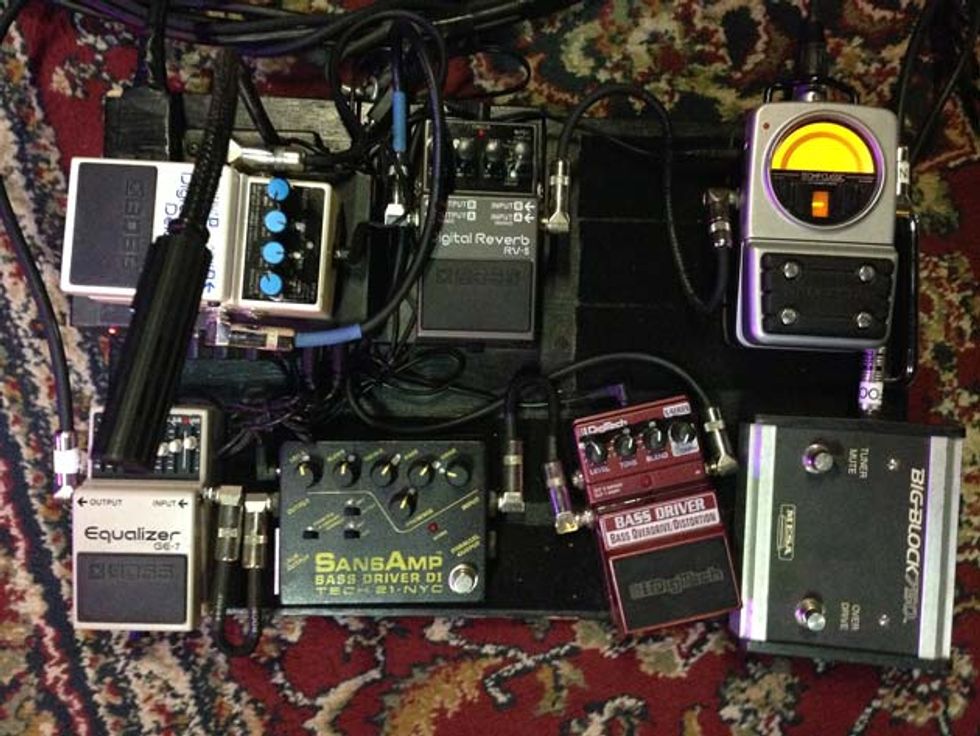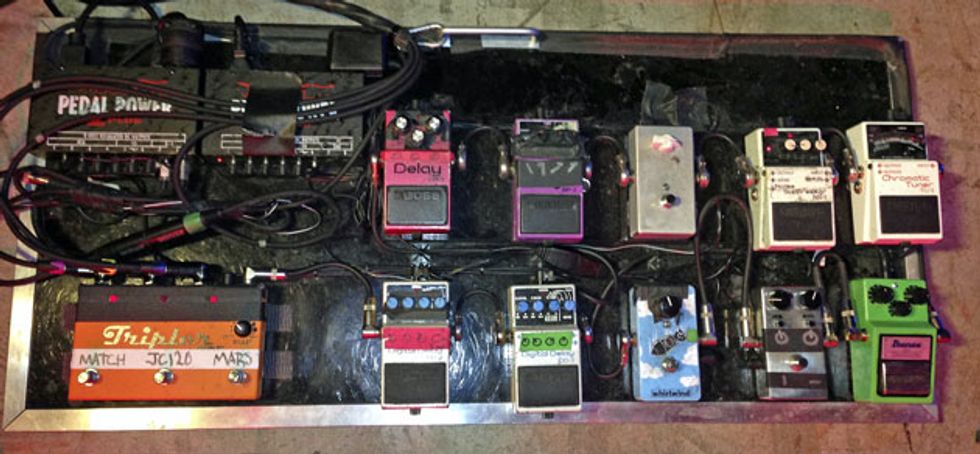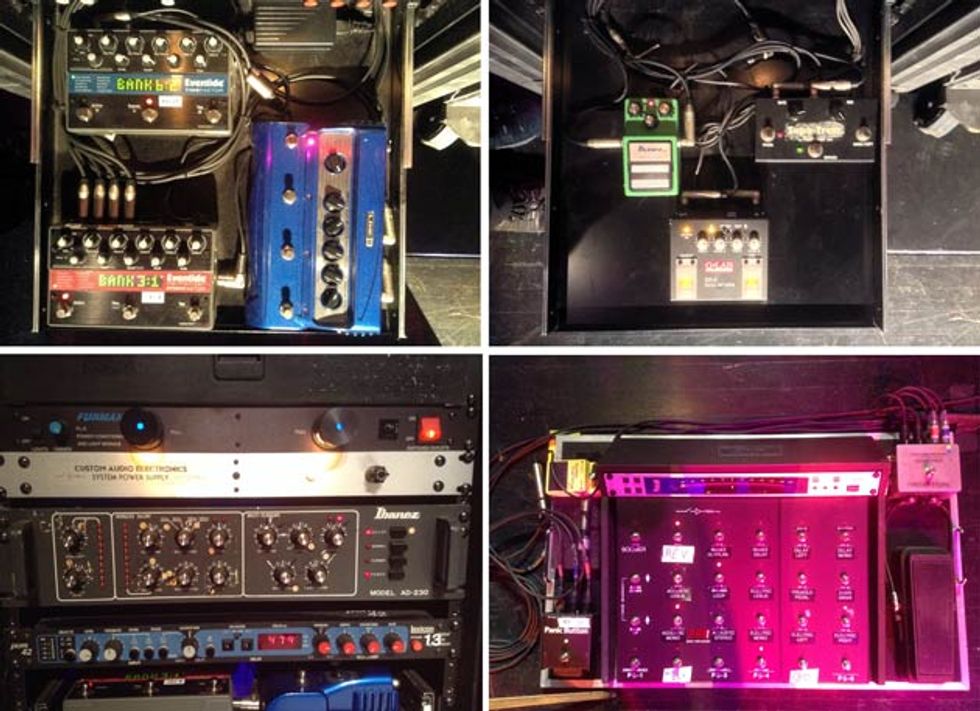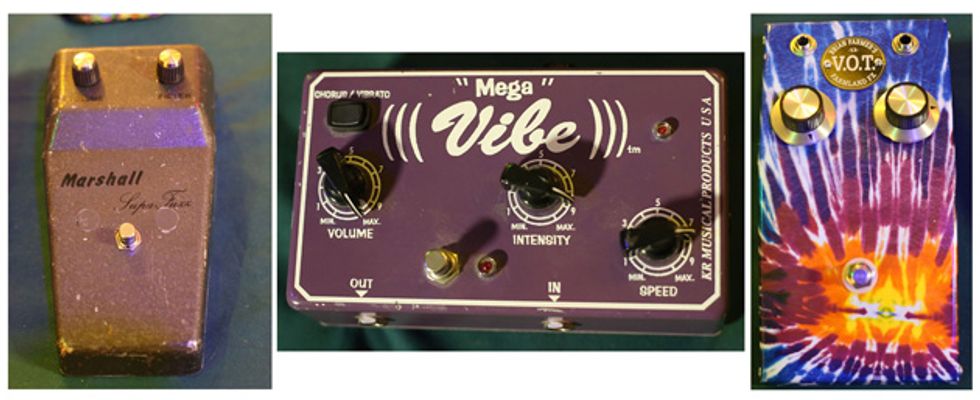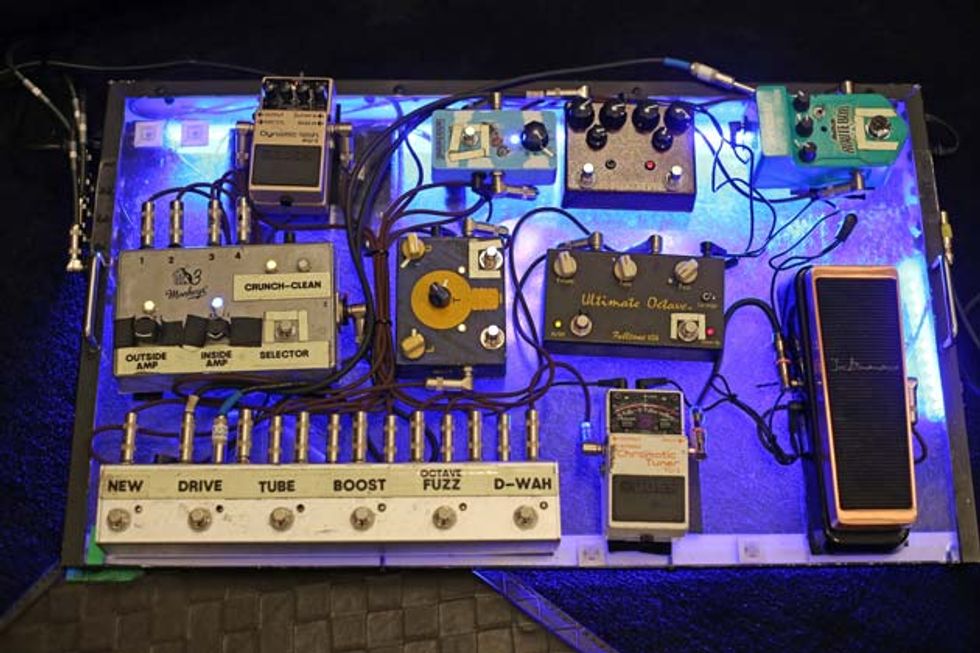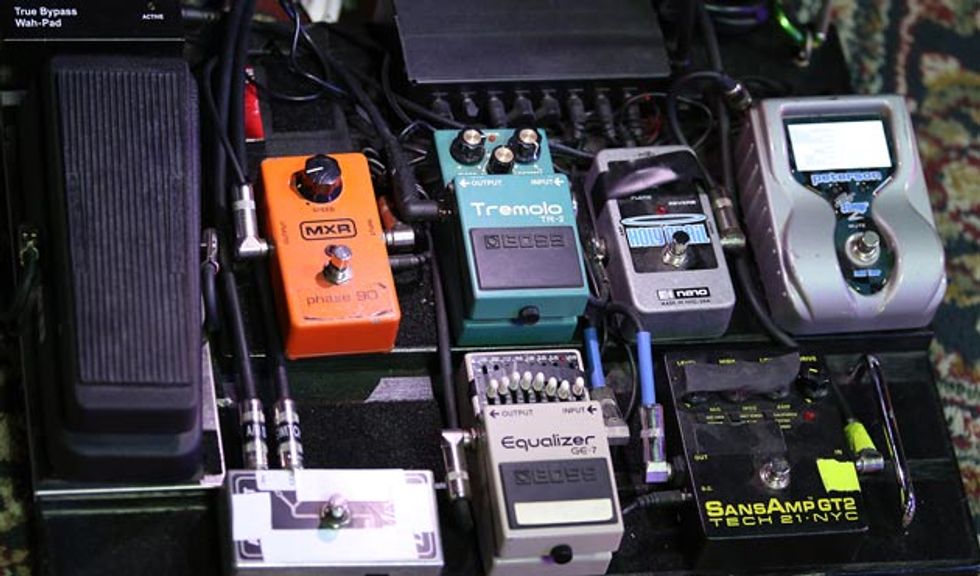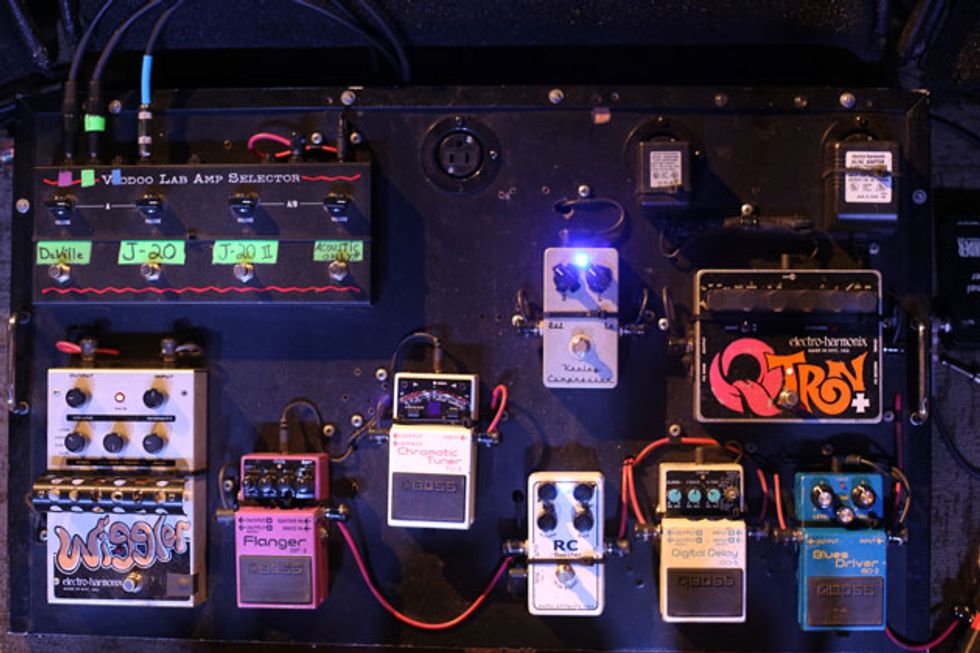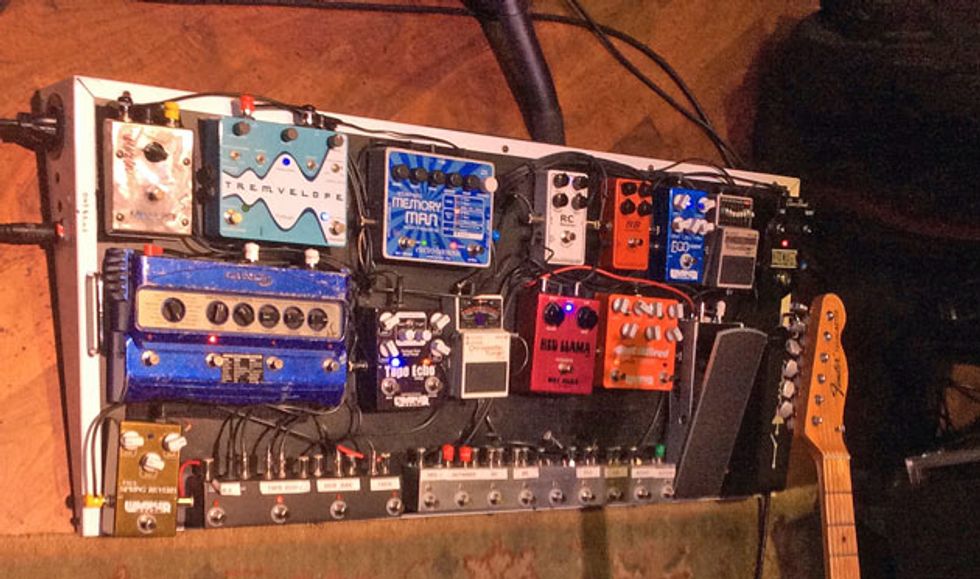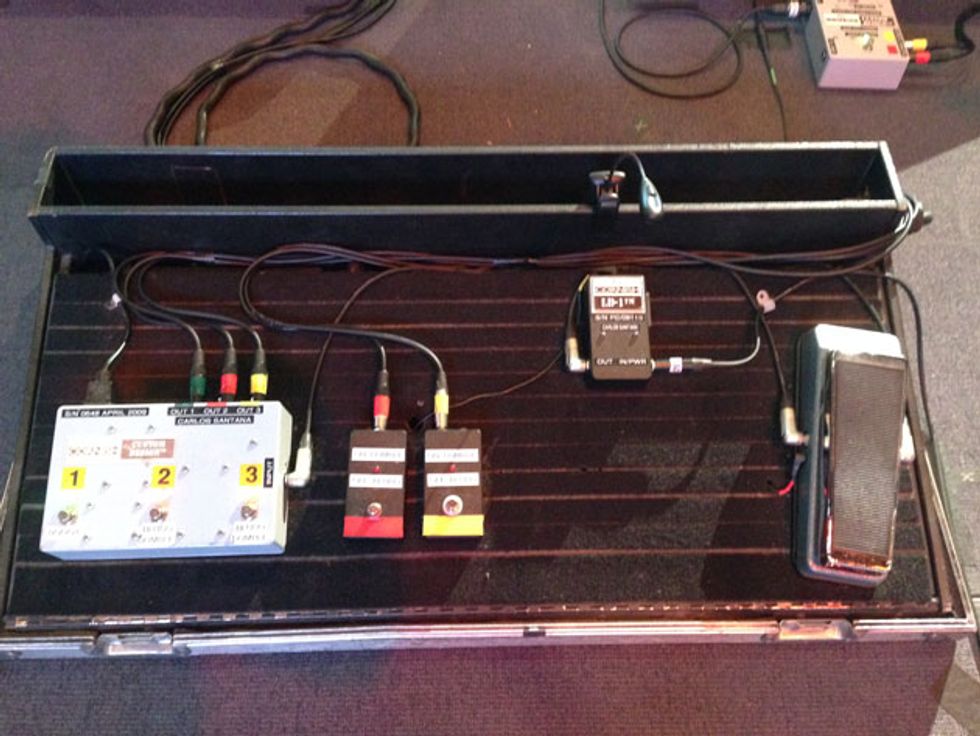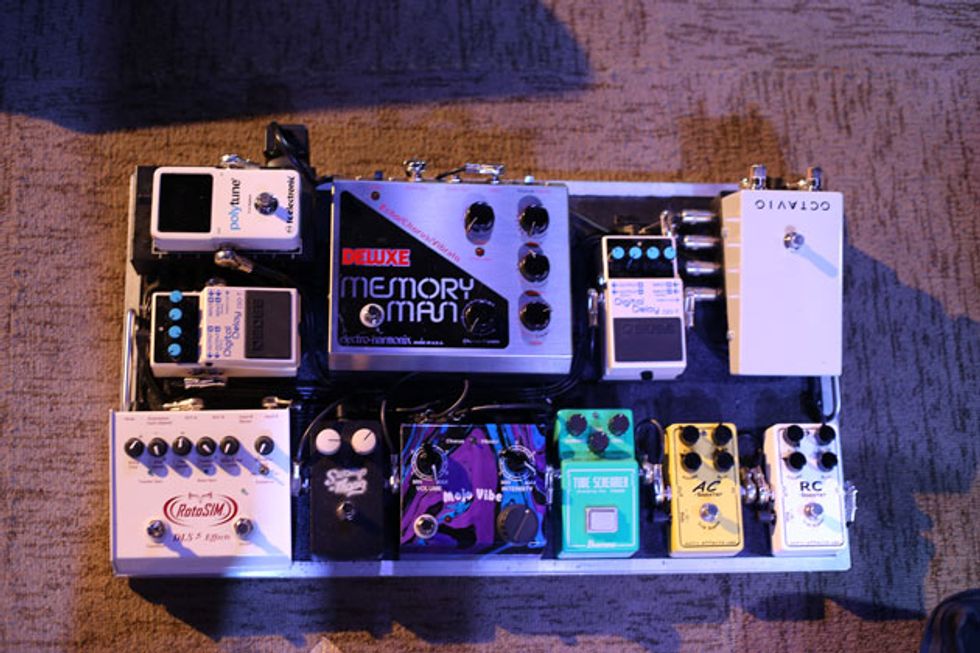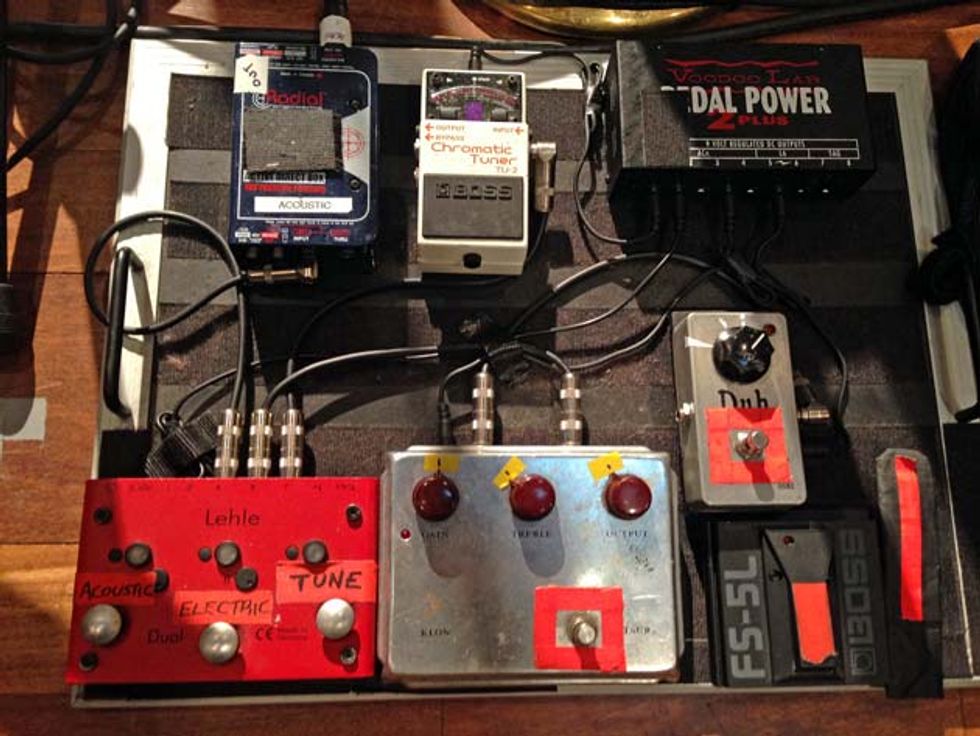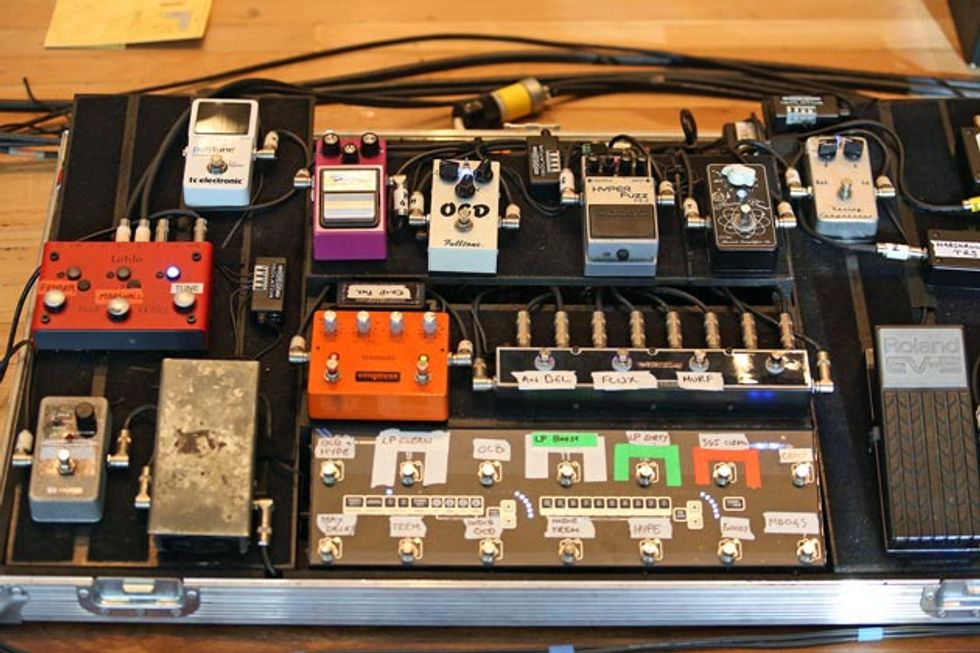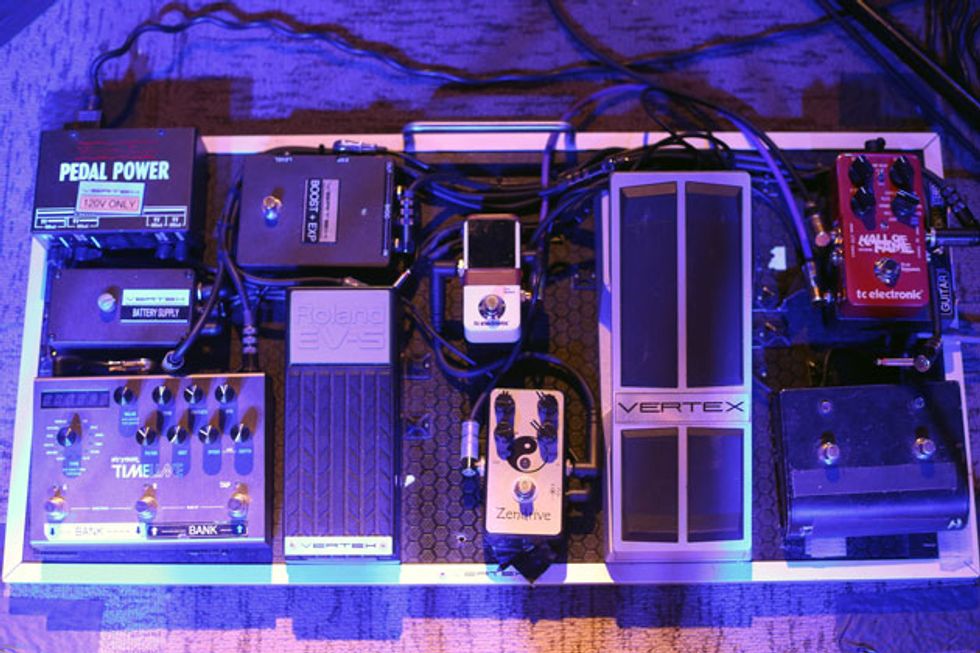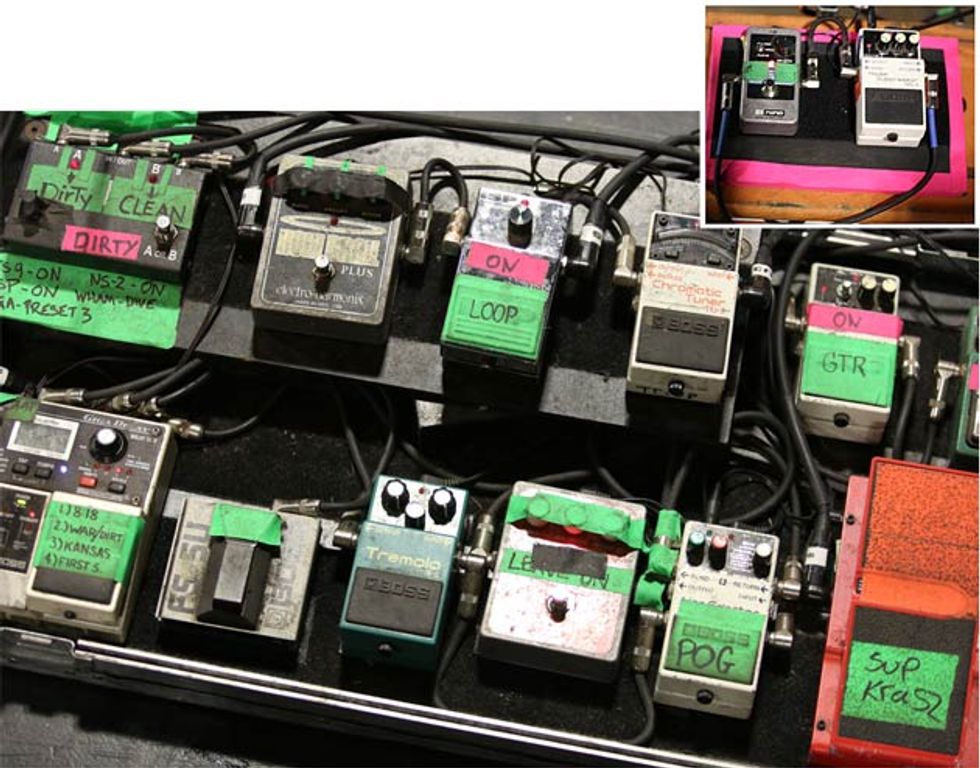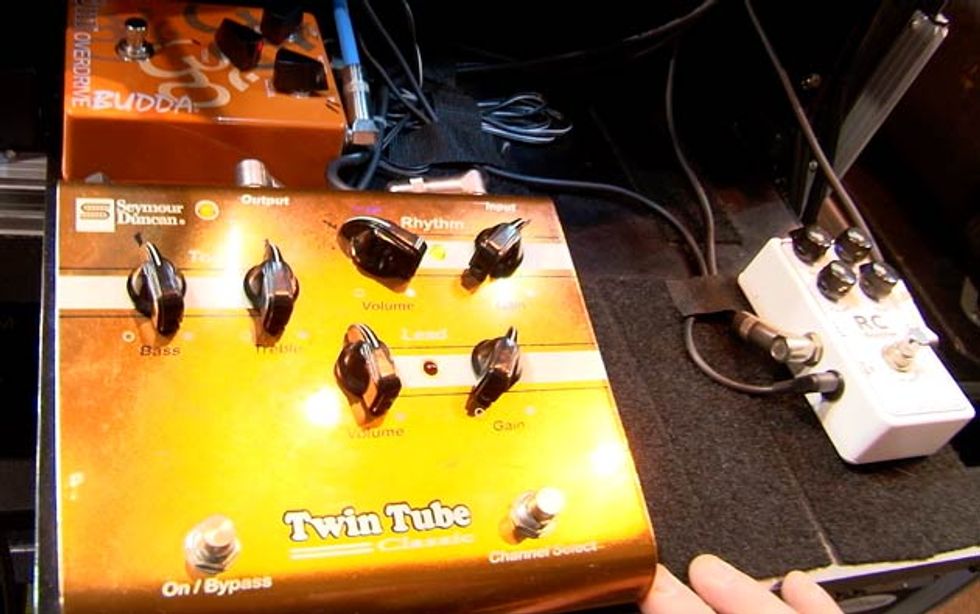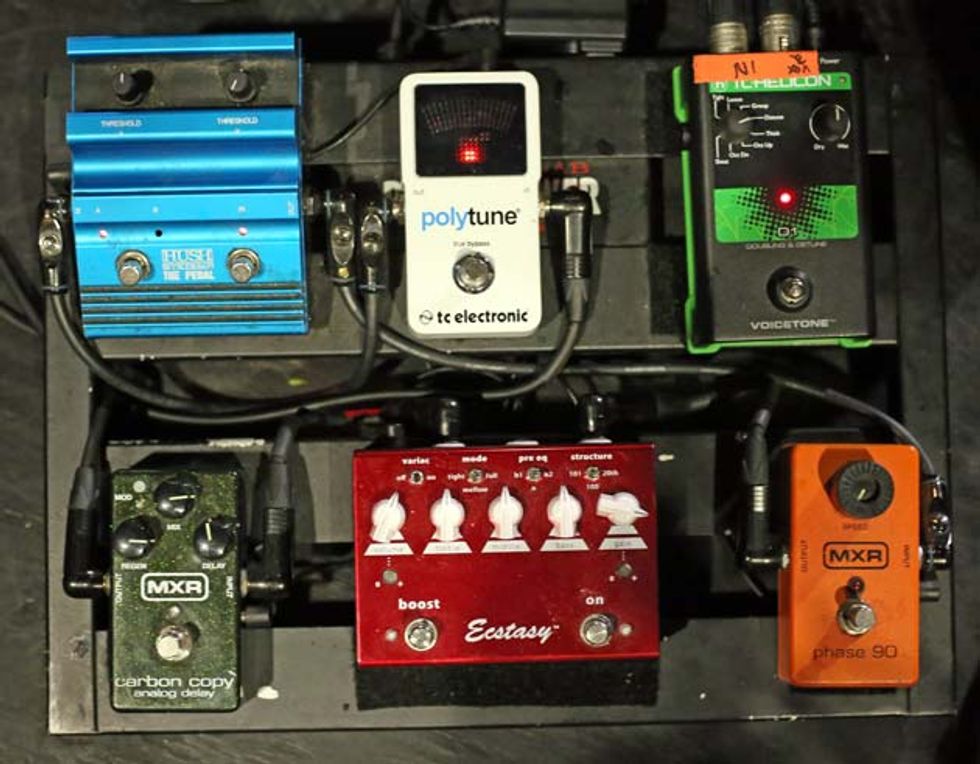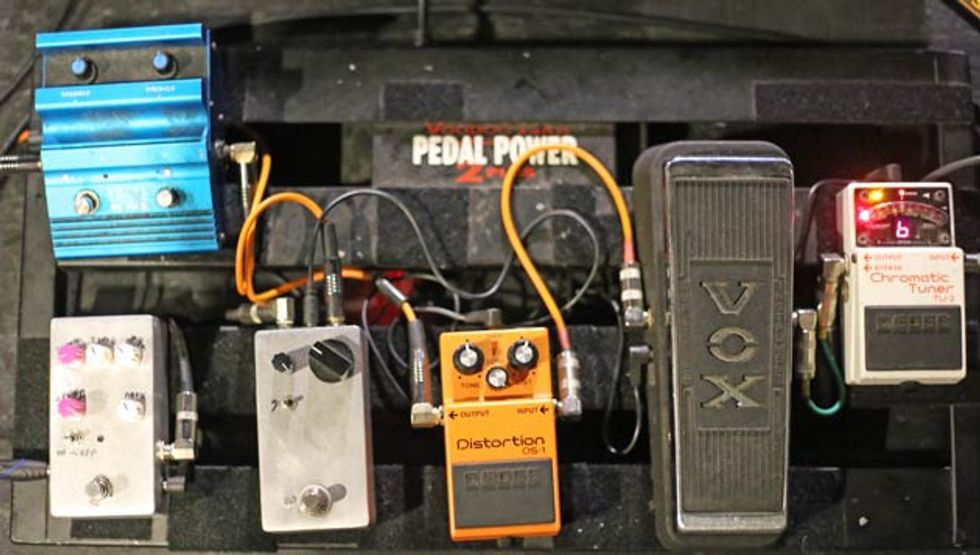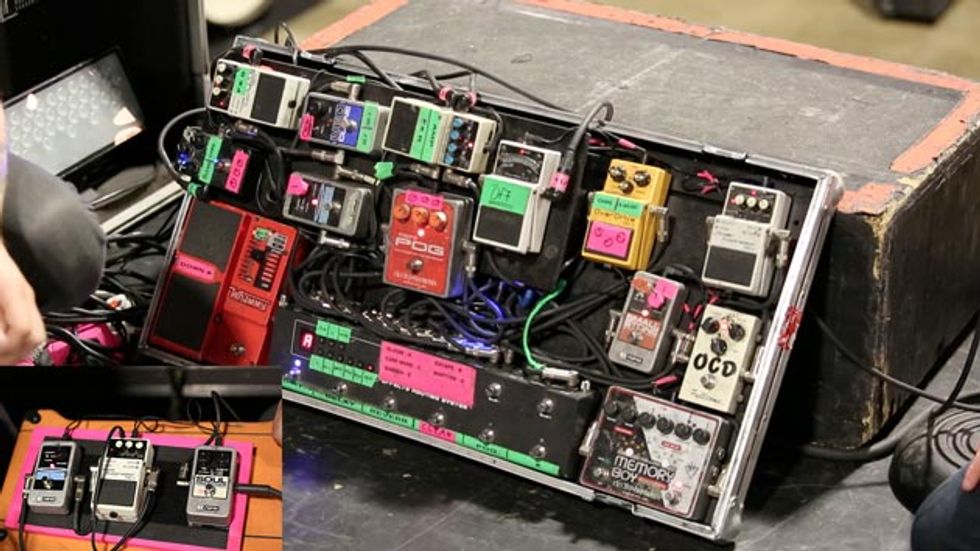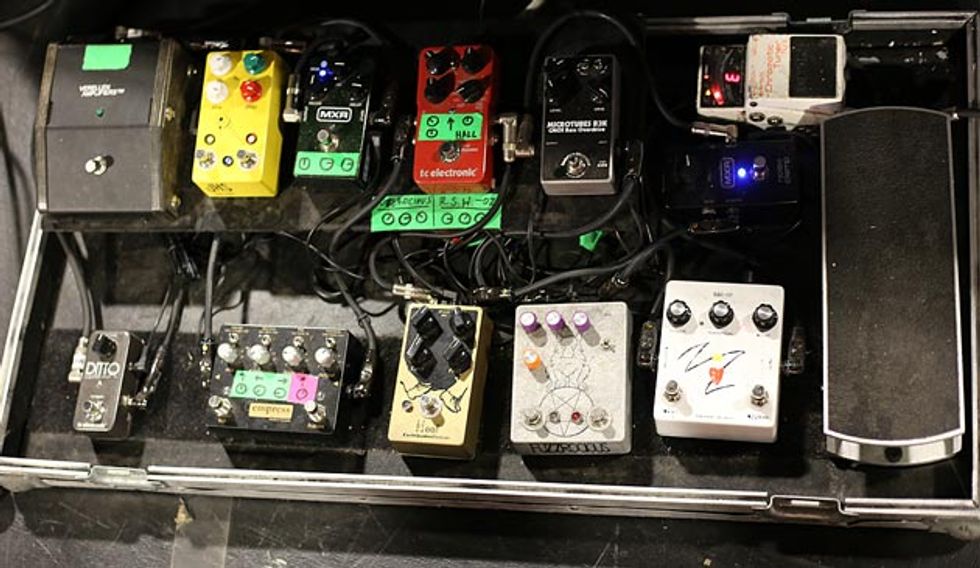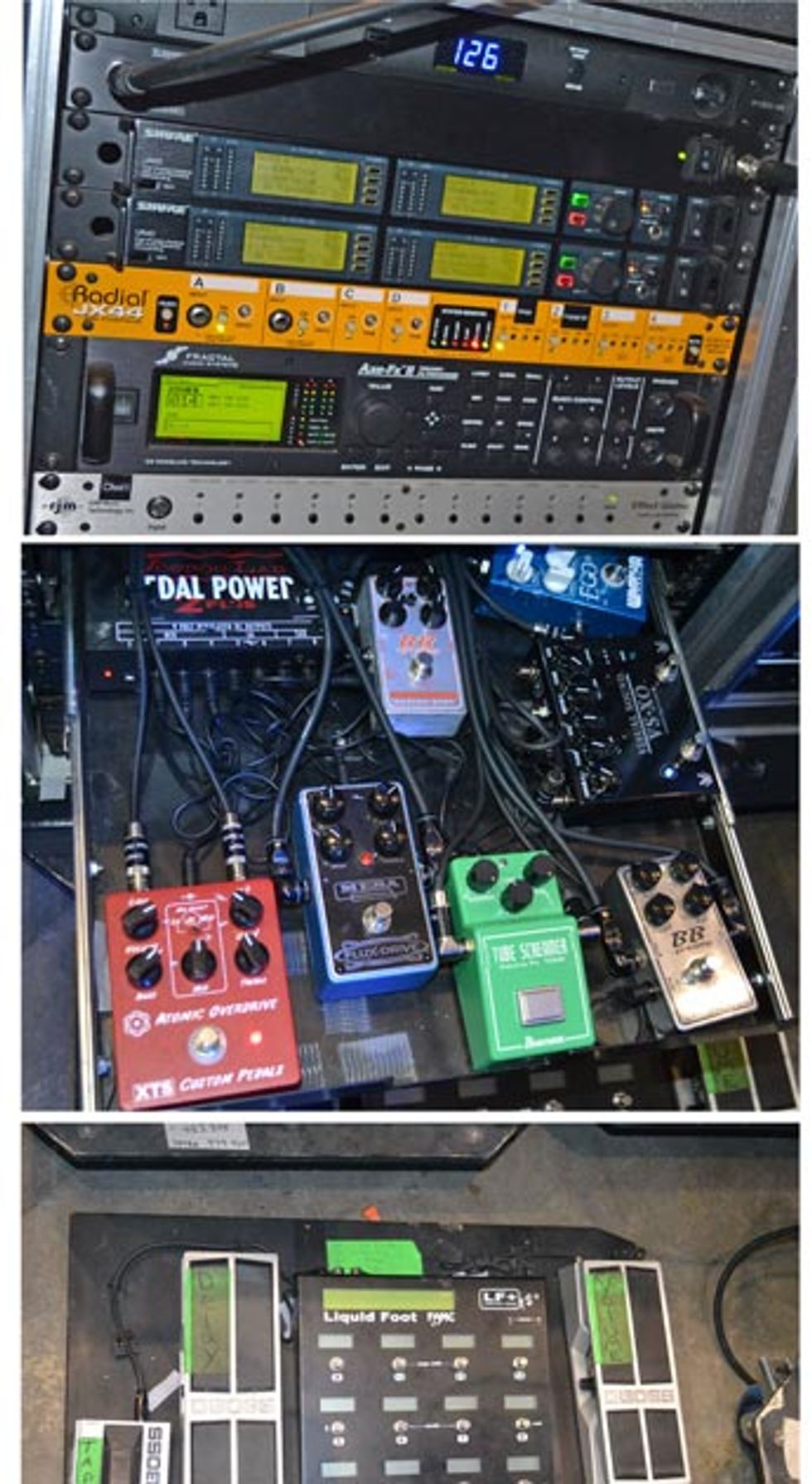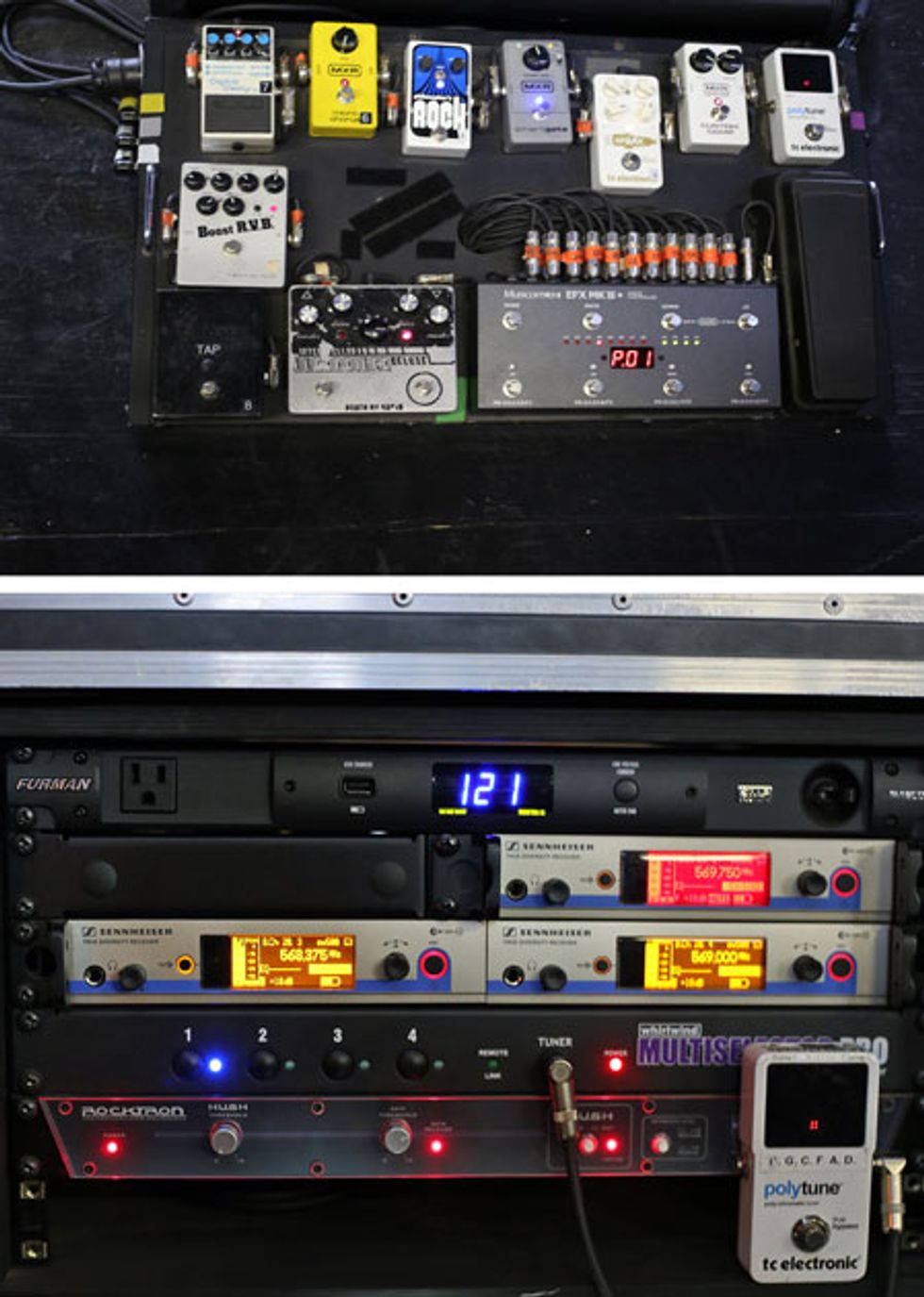 We rummaged through our entire backlog of Rig Rundown footage and photos to compile a guide to some of 2014's tastiest, most elaborate stomp stations, including boards from the Cult's Billy Duffy, Keith Urban, the Pixies, the Sword, Carlos Santana, Brent Mason, and more.