Fiery Hiwatts (literally), an aluminum bari, and a common drive forge the tonal backbone for the Norwegian Grammy-winning metal mystic brewing sounds somewhere between Melvins' metallic chug, Neurosis' pulsing grind, and Swans' celestial moods.
In this episode, founding Norwegian metal visionary Kjetil Nernes details why he switched to a tuned-up, Electrical Guitar Company baritone, why he runs more Hiwatts than Pete at Leeds (and how they've caught fire … multiple times), and explains how a big-box-store drive sharpens his massive tone.
[Brought to you by D'Addario XL Strings: http://ddar.io/XL.RR]
Custom Electrical Guitar Company Baritone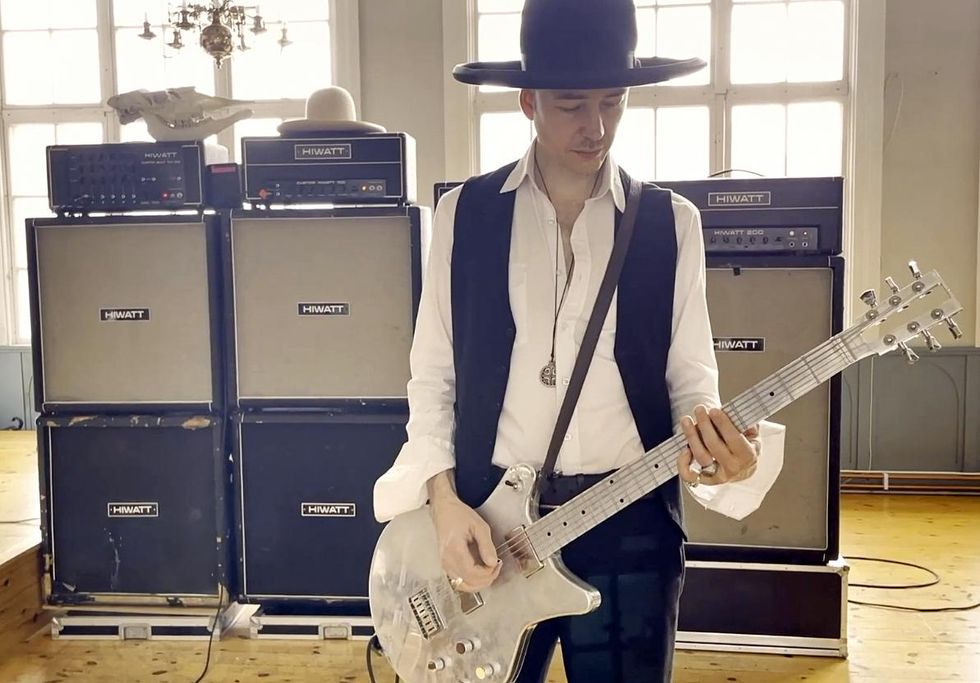 Årabrot artistic leader Kjetil Nernes owns several custom Electrical Guitar Company instruments, but the one he's been using the most currently is EGC's baritone model. He tunes it to drop C and says the bari mixes well with bandmate Karin Park's Moog bass analog synth. He employs a custom set of Black Harbor strings (.012–.060).
Kjetil Nernes' Pedalboard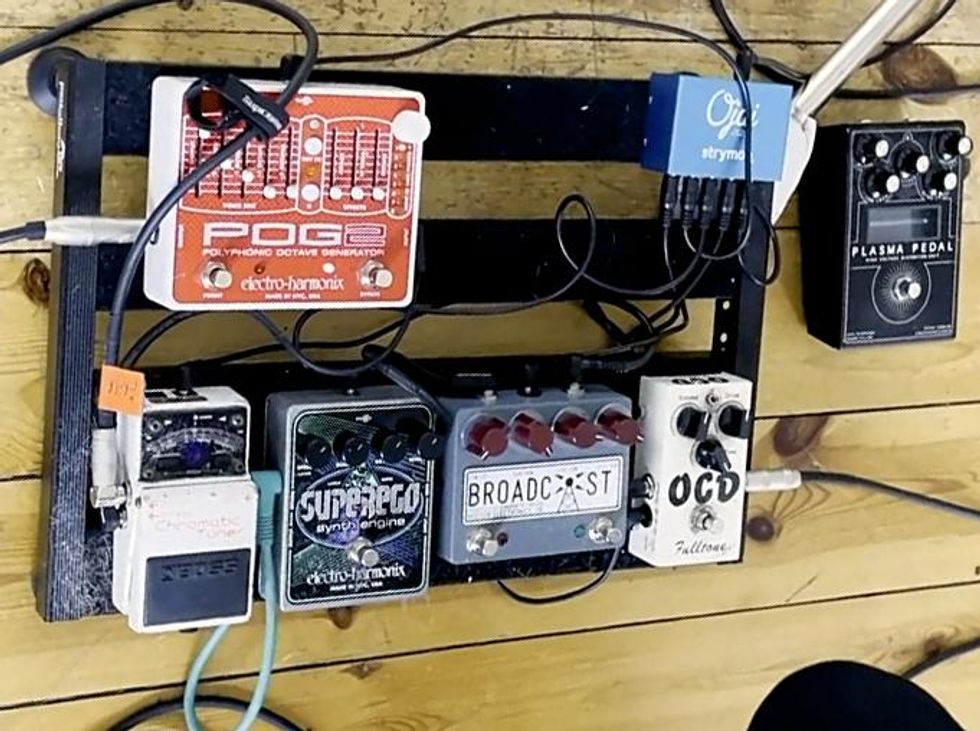 "I actually have a pedalboard these days, which is remarkable for a guitar player like me," says Nernes. "For years, I was only using the Fulltone OCD and it's became the backbone of Årabrot's sound."
He still prefers the OCD for its "sharpening" touch to his metallic EGC tones. The Electro-Harmonix POG2 hits his Hiwatt (Custom 200 DR201 bass amps) for an added signal boost. (As you can see, he's dialed out most of the octave effect.) His second Electro-Harmonix stomp is the Superego, but it's used simply as a glorified synth-y reverb to cover material on 2021's Norwegian Gothic. Heavier, chunkier, repulsive gain happens when the Hudson Electronics Broadcast runs into the Fulltone OCD. And while it wasn't plugged in for the Rundown, Nernes enjoys getting filthy with the Gamechanger Audio Plasma Pedal. Everything is powered by the Strymon Ojai.
Hiwatts Galore!
Using more Hiwatts than Pete at Leeds, Nernes blends vintage guitar heads with modern bass pillars. The guitar stacks on the left are comprised of two 1970s Hiwatt models—a DR112 Custom Built PA 100 head (left) and a venerable Custom 100 DR103. Both heads run through their own pair of Hiwatt 4x12 cabinets: one is loaded with Celestions and the other with Fanes. Nernes likes the blend of speakers with the guitar heads because he feels the Celestions add a current complement to his monstrous roar. The right half of the British-voiced battalion features Hiwatt Custom 200 DR201 (KT88) heads matched with Hiwatt SE115410F cabinets loaded with four 10" and one 15" Fane Sovereign speakers.
Built with KT77s, this living-room-worthy, stage-ready combo rocks out in 40W/20W modes and comes stock with a 12" Celestion alnico Cream speaker.
Based in the Flemish region of Belgium, Da Capo manufactures totally hand-built, valve-driven guitar combination amplifiers of the highest quality.
With switchable 20watt Studio and 40watt Stage outputs, the Da Capo GT Deluxe Series 1x12 class a/b amplifier, features circuitry designed in-house by respected engineer Guy Tiels, delivering sweet, hot-valve musical cleans, with an abundance of harmonic induced sustain when pushed to its natural overdriven voice.
"The Da Capo GT Deluxe Series brings a fresh new approach to tube amp design," says Da Capo owner and founder Nicolas Acou. "There's a noticeable increase in clarity and separation within chords and lead lines, what you hear from the speaker is an open and direct, unimpaired translation of the guitar, with exceptional focus and definition.
A Fresh New Sound
Controls:
Pré Gain
Treble
Mid
Bass
Gain
Reverb
Headroom
Studio / Live switch
Dimensions:
W540xH430x245
15kg
20w/40w
240v / 110V

Ins and outs:
High / Low input
Power inlet
8ohm extension
Effects loop
Mic out
Hardware:
1X Ecc 83 Tung-Sol- 2x ECC83 JJ's
2X KT77 JJ's- Custom wired toroidal power traffo
Van der Veen toroidal output trafo
12" Celestion alnico Cream speaker
Beech cabinet
Leather handle
Top Design
We also worked with renowned contemporary designer Joeri Claeys, whose emphasis is on form and vision, for a striking cabinet design, featuring well-balanced, fluid curves, creating a minimalist contemporary guitar combo that suits every interior.
Modern Ergonomics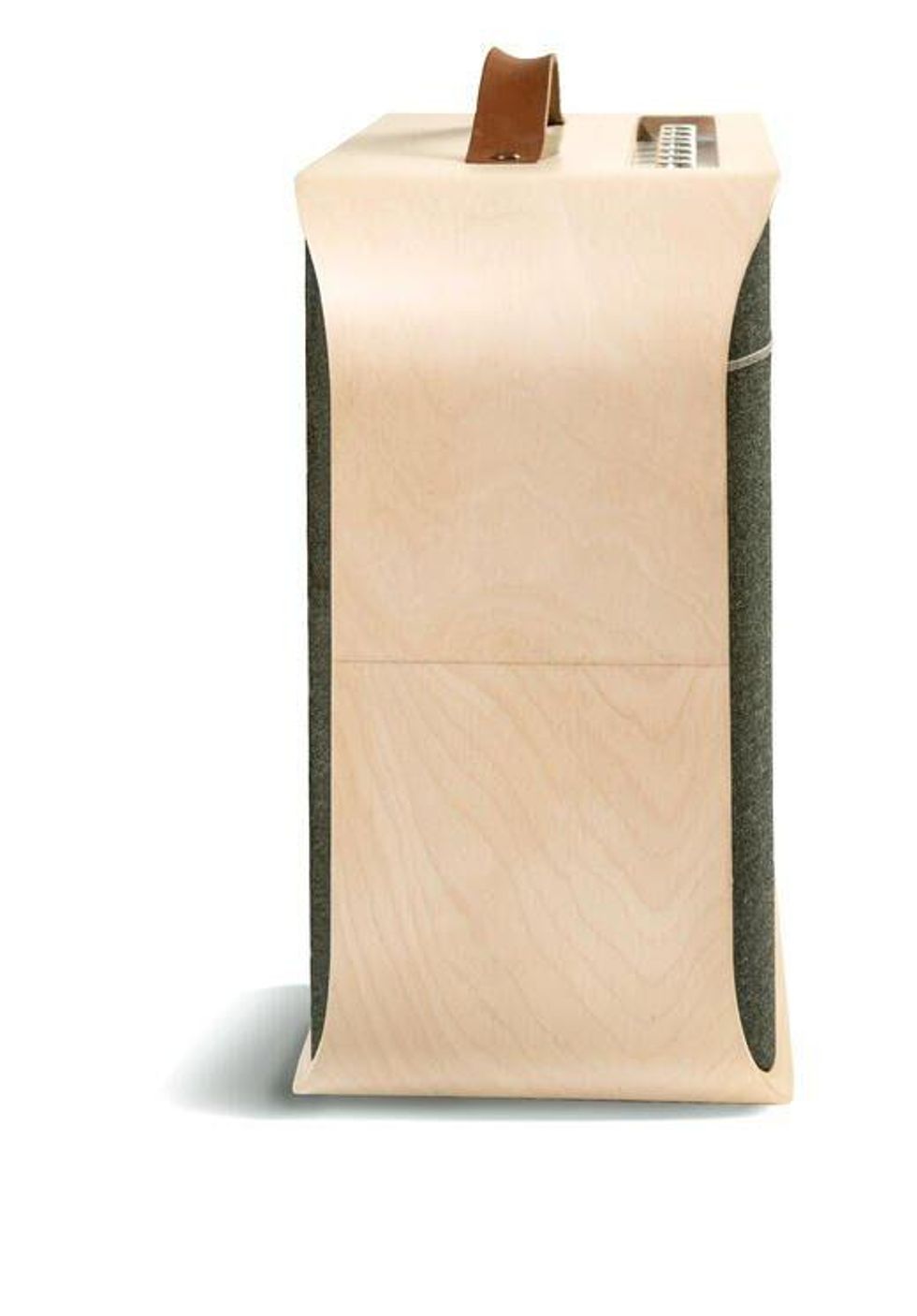 No more heavy lifting with oversized and heavy amplifiers. The GT deluxe is easy to carry and will fit in any car. It is designed to make traveling and setting up a breeze.
GT Deluxe amplifier
€ 3.630,00 incl.tax

Optional Integral mic'ing system
€ 150,00 incl.tax

Extension Cabinet
€ 965,00 incl. tax

Padded cover
€ 230,00 incl. tax
Da Capo GT Deluxe Demo