Photo by Scott Friedlander
As duo Naya Baaz, veteran guitarist Rez Abbasi and sitarist Josh Feinberg bridge the voices of Indian classical music and jazz on Charm.
For Manhattan-based jazz guitarist and composer Rez Abbasi, much of his output, starting with his first release as a bandleader in 1993, lives at the intersection of Indian classical music and post-bop (a synthesis of bebop, modal jazz, free jazz, and fusion). And while that eclectic mix of sound naturally lends itself to a transcendence of genre, Abbasi has remained connected to the various musical traditions he's explored over the years. But his having that connection doesn't necessarily mean he has "respect" for tradition.
"Not 'respect,'" he says. "I don't like that word. The connotations of that are religious, in a way. You have to have a sincere love and understanding for the music, but you can get someone who has a 'respect' for it who can't play anything.
"Yet, anybody I work with comes from the tradition that they've established themselves in," he continues. "Whether it's jazz, Indian classical music, Brazilian samba, it doesn't matter. I just want some authenticity in the music before we start venturing off, because that's where I come from. It makes for a strong art form when you're trying different things."
In collaboration with sitarist Josh Feinberg and under the moniker Naya Baaz, Abbasi actualizes that symbiosis of creative adventure and a loyalty to one's roots while taking an Indian-classical-influenced, hybrid approach to jazz on his 16th album,
Charm
. The album, however, is a lot bigger than just a mashup of those two genres.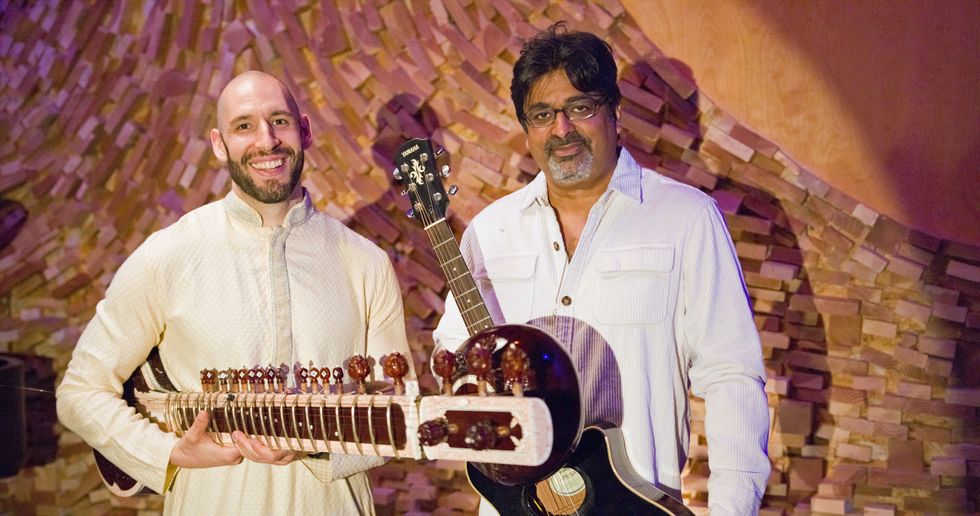 Rez Abbasi and Josh Feinberg both take complementary hybrid approaches to their musical focuses. Abbasi specializes in jazz, but grew up on Indian-classical music, and Feinberg, who works in Indian classical, is also a student of jazz.
Photo by David Stoller
There's the track, "Bekhayal (Without a Thought)," which burns with a repetitive, Discipline-era King Crimson intensity, and "Bhairavi," which feels more open-ended and spacey. The title track is built around a recurring, descending line, and sounds downright bluesy. The album features some lush acoustic guitar, too, although Abbasi primarily plays electric, and sometimes even adds a little hair, like on the otherwise Pat Metheny-esque "Reaching." Given the project's nature, sitar drones ring throughout, although they sound surprisingly organic and never gimmicky, and provide a wonderful juxtaposition to Abbasi's generally darker tone and lightning-quick leads.
"The only reason I did it, quite honestly, is that sitarist Josh Feinberg—he's obviously an American—actually knows a lot about jazz," Abbasi shares. "He's studied with Dave Holland, Paul Bley, and some really incredible jazz stalwarts, and knowing that, I thought, 'Okay, here's an opportunity that hasn't been tackled in music history. It's not going to be a band that has five Indian classical musicians and one jazz artist; it's going to be both of us, who can sort of tangle with both sides of the spectrum.' Josh is more on the Indian classical side and I am more on the jazz side, which is a bit of the irony of this whole project. I knew it could be a really interesting project. He understands chromaticism and harmonic modulation, which are some of the key points of jazz. You don't really have jazz unless you have harmony. Because of that, I knew something could happen."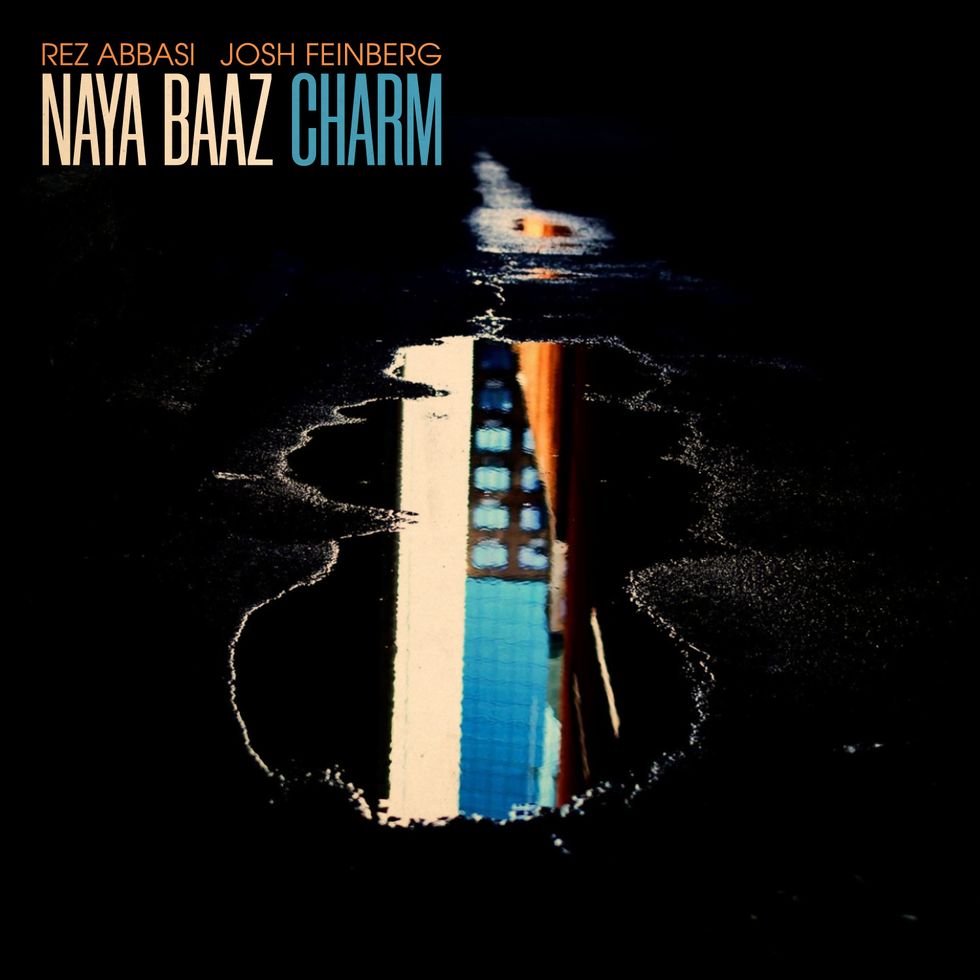 Charm, the first record from Rez Abbasi's new project Naya Baaz, is a jazz-meets-Indian-classical collaboration with American sitarist Josh Feinberg.
It doesn't hurt that Abbasi also has impeccable chops to add to that synthesis of their respective educations. Abbasi, who emigrated with his family to the U.S. from Pakistan at the age of 4, has been honing his technique since at least the 1980s, when he was a student at the University of Southern California (USC) and studied under the tutelage of masters like Paul LaRose, Peter Sprague, and Joe Diorio. After USC, he moved to New York City and finished up his degree at the Manhattan School of Music. "Joe Diorio said to me, 'Rez, you should move to New York City. You have the New York sound,'" he laughs. "Whatever that was, at 20 years old. I don't know, but I took it as a compliment."
In New York, he studied with guitarists like Rodney Jones and Jack Wilkins, although he describes his lessons as more of a "study/hang situation." His teachers turned him on to the music and history of jazz, giving him records to listen to, and having him transcribe chords from orchestral arrangements. That somewhat informal vibe continued when he traveled to India after graduation and met up with some of the masters there. "Ustad Alla Rakha is one of the preeminent tabla players in the world," he says. "It was a loose hang with him, too. I don't know if I'd call it studying, but it was an adventure to be in his classroom several times. That, along with listening to music all over the place, and buying—it was cassette tapes back then—and immersing myself in that music, and the culture, too—that was the lesson itself."
"Whether it's jazz, Indian-classical music, Brazilian samba, it doesn't matter. I just want some authenticity in the music before we start venturing off, because that's where I come from."
Those years of immersion and woodshedding are obvious in his voice as an improviser, although Abbasi says that being in that role can be limiting, too. "If I wasn't improvising, I could probably pull off everything a lot more effortlessly," he says. "But I am in the heat of the moment. I am playing with the drummer a lot and we're exchanging ideas—and I don't know what's going to come up."
In a sense, not knowing what's going to come up—being in an almost constant state of experimentation and discovery—is indicative of Abbasi's overall approach as well, especially as that relates to incorporating Indian-classical concepts into a jazz context. "I wrote a book for Hal Leonard, New Dimensions in Jazz Guitar: Expand Your Improvisatory Consciousness, and I am continually working on the stuff that I wrote because I didn't master it," he says. "These are concepts that contain a larger picture of music that takes a lot of evolution to get through. That book talks specifically, among other things, about how Indian music has influenced me on a street level. I didn't study Indian music, but I've heard it so much—I've played with so many musicians—that I am allowing my intuition to speak through that."
Rez Abbasi and Josh Feinberg lead a Naya Baaz performance, including Jennifer Vincent on cello and drummer Ernie Adams, showcasing their unique blend of the unmistakably Indian-classical voice of Feinberg's sitar, and Abbasi's distinctive jazz tones.
Despite his in-depth osmosis of Indian music, Abbasi faced some challenges with working with Feinberg on Charm, due to some of the sitar's constraints when brought into a Western context. "You only play on one or two strings, and the leaps that we do as 6-string guitar players are very different," Abbasi says about the sitar. "You can play all the notes on there, but there are some limitations to doing that. There are specific keys that you are working with, and everything for Josh is in D, which is weird. For this project, I tuned the lowest string on my guitar to D [drop D] and I kept the rest in standard. I had more of a bass-heavy thing going on with this band, and the texture with the cellist was at times very thick and beautiful."
Charm, like so much of Abbasi's catalog, includes a "street level" approach to music in general. As he tells it, jazz was not a conservatory music; its development was more informal, with musicians exchanging ideas and working them out on their own. That, in a sense, is also how he accesses Indian music. He's studied and knows what he's doing, although in essence, he's primarily relying on intuition.
"If I hear music—any music in fact—I let it filter through my body and hopefully, intuitively, something will come out because I love it so much," he says. "But it's not fully that either, because I have looked into it specifically. There are specific things you have to learn. A raga is a raga; it's not a scale. There's a reason it's a raga and not a scale. I know those things, but to actually play a raga in concert, no, I can't do that."
Rez Abbasi's Gear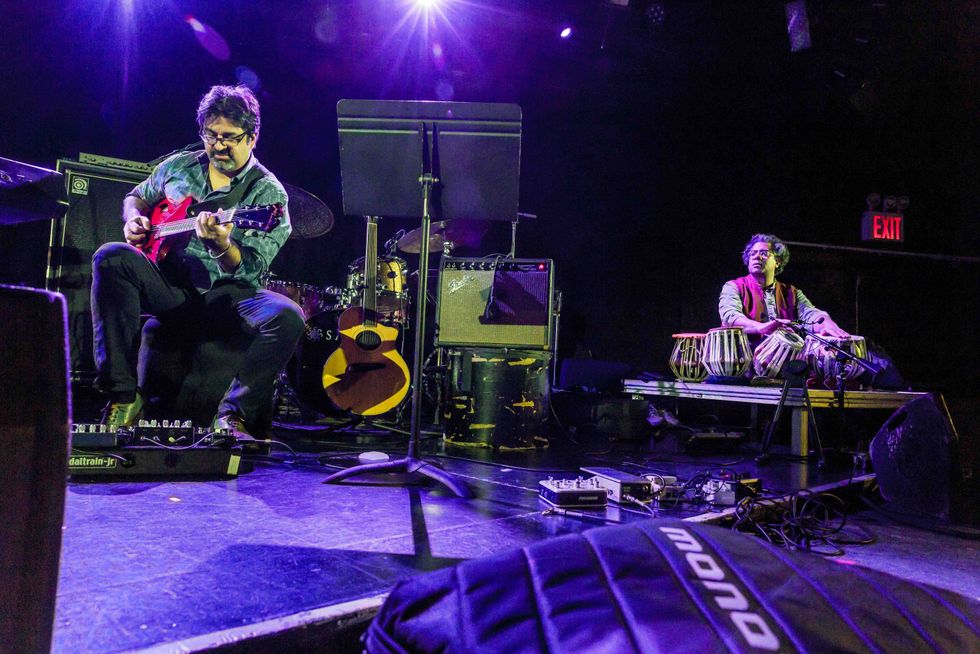 For Abbasi, pictured here with tabla player Sameer Gupta, it's important not to imitate certain sounds or styles of playing. He prefers to create intuitively, letting music flow through his body.
Photo by Scott Friedlander
Guitars
Sadowsky semi-hollow
Homer T Guitar Co. T-style
Yamaha APX-5A acoustic/electric
Guild Songbird
Michael Kelly Guitars acoustic
Washburn Custom Shop steel-string acoustic, modded to be fretless
Amps
Headstrong Lil' King-S combo
Tech 21 Trademark 60
Effects
Strymon Cloudburst
Eventide H9 MAX
Empress Superdelay
Empress ParaEq MKII Deluxe
Source Audio Nemesis Delay
Landgraff Dynamic Overdrive
Roland EV-5 Expression Pedal
J. Rockett Audio Designs Blue Note Overdrive
Electro-Harmonix Superego Plus
Dunlop DVP4 Volume (X) Mini
Strings & Picks
D'Addario custom set (.013–.050)
Dunlop Jazztone 208 2 mm picks
Dunlop Primetone on acoustic
It also means that while he's blending Indian ideas into jazz, he's still playing jazz—specifically, jazz guitar. "I won't be imitating a sitar player—I won't be studying sitar for that matter, either—because I don't want my guitar playing to sound like I am imitating that," he says. "It is really important to allow my intuition to take what I've heard and come up with the goods."
When it comes to the delivery of those goods, Abbasi isn't using an arsenal of expensive, boutique gear. He's got a handful of workhorses, including two modestly priced acoustics and one semi-hollow electric from Roger Sadowsky, which has replaced the D'Angelico he used for years. But "a guitar is only a tool," he says. "It just has to hum."
And when the instrument is humming, it allows the musician to reach for something transcendent, which for Abbasi, at this mature stage in his career, is where the true freedom lies. "The filter I'm working with now is how
not
to impose my conditioning and thinking onto the music, but to let the music serve me," he says. "Before I used to think that I had to serve the music, and that I was going to bring my personality into the music. Now it's reversed and it's become less controlling, and through that comes freedom."