Photo by Jim McGuire.
A flatpicking Americana forefather looks back on 50 years in the biz—with music still flowing and a smile on his face.
Pyromaniacs are notorious for returning to the scenes of their crimes, but fretboard burner David Bromberg has always been content to start musical conflagrations and move along — from country to bluegrass to jazz to folk to rock and to blues, sometimes all on the same album.
"I've always played whatever I've wanted to play," says the 68-year-old éminence grise of Americana. "The difference is, me and my bands always dug a little deeper with all the stuff we approached. We didn't want to play the obvious. We wanted to play the music that spoke to us."
If that's the case, the ghosts of Blind Willie Johnson, Pops Staples, and Brendan Behan may have been whispering to Bromberg as he recorded his new album Only Slightly Mad . It ranges from Johnson's country blues "Nobody's Fault But Mine" to Bromberg's original preaching gospel tune "I'll Rise Again," to his first crack at an a cappella British Isles music hall sing-along in "The Strongest Man Alive."
Bromberg has operated this way since his 1972 debut David Bromberg , which featured a duet with George Harrison. In the subsequent decades he recorded roughly 20 more discs with his own bands and played with an enviable list of artists that includes Bob Dylan, Jerry Garcia, the Eagles, Jerry Jeff Walker, Tom Rush, Carly Simon, John Prine, Willie Nelson, Kris Kristofferson, Link Wray, and Ringo Starr. And while Bromberg's never been a household name—unless it's in the households of the many musicians who've studied his picking technique and admired his taste, tone, and seemingly infallible precision blended with an unflagging and gentle sense of humor—he's continued to grow as an artist and a man, even during the 22-year hiatus he took to escape the rat race of touring.
"These days they have a category for roots music or Americana, but back then they didn't have those terms."

"At one point I was on the road for two years straight without being home two weeks," he explains. "Things were going very, very well business-wise, except I didn't ever want to tour again."
During that break he became an expert in violin building and settled into living a good, relaxed life with his wife, the occasional vocal accompanist and sculptor Nancy Josephson. Bromberg continued to voraciously absorb any music that crossed his ears, keeping his chops alight, maintaining his incendiary flat-picking technique and slide approach on guitar, and re-embracing the mandolin. Although Bromberg plays fiddle and pedal steel, too, Only Slightly Mad 's producer, fellow roots guitar MVP Larry Campbell, handles the latter on the new disc.
Reflecting on his five-decade career, which began in earnest as a student of the Piedmont style blues guitar giant Rev. Gary Davis, Bromberg says, "doing this music thing … you never reach nirvana.
Photo by Jim McGuire.
"Well," he elaborates, "you may, because part of making music is reaching that place where you feel it flowing through you. But you don't reach perfection. You don't reach a point where you say, 'I'm done now.'"
So as of 2007's Grammy-nominated Try Me One More Time , he's a recording and touring musician again. "I've learned I can control touring," he explains. "I can be selective and choose to have time off."
When we caught up with Bromberg by phone at his Wilmington, Delaware, violin shop, where Texas singer-songwriter Sarah Jarosz had just paid a visit, we found him sounding chipper and energized—a man on top of his game, but not consumed by it.
How do you feel your playing has evolved in the 42 years since your first album?
I'm aware my playing has had to adapt to physical changes. I can't play as fast as I used to, so I place greater emphasis on rests, which are very important musical notes that are ignored a lot, and on leaving space.
I've learned to sing a whole lot better than I used to. I really enjoy singing; it's no longer something I do between guitar solos. The vocals on this album were the easiest part of it. Way back in the day, they were the hardest part.

You're a living compendium of American roots styles. What do you see as the connective tissue of the music you play?
It's pretty subjective. I'm a lucky human being, in many ways. Back in the day I didn't realize I could control how much I worked or where I worked, but I was always in control of what I was going to play, and I played only what I liked and everything that I liked. Which, of course, made it very difficult in the days that record stores existed, because they didn't know what bin to put me in. These days they have a category for roots music or Americana, but back then they didn't have those terms. And if they did and had a bin for it, I don't know who else would have been in it.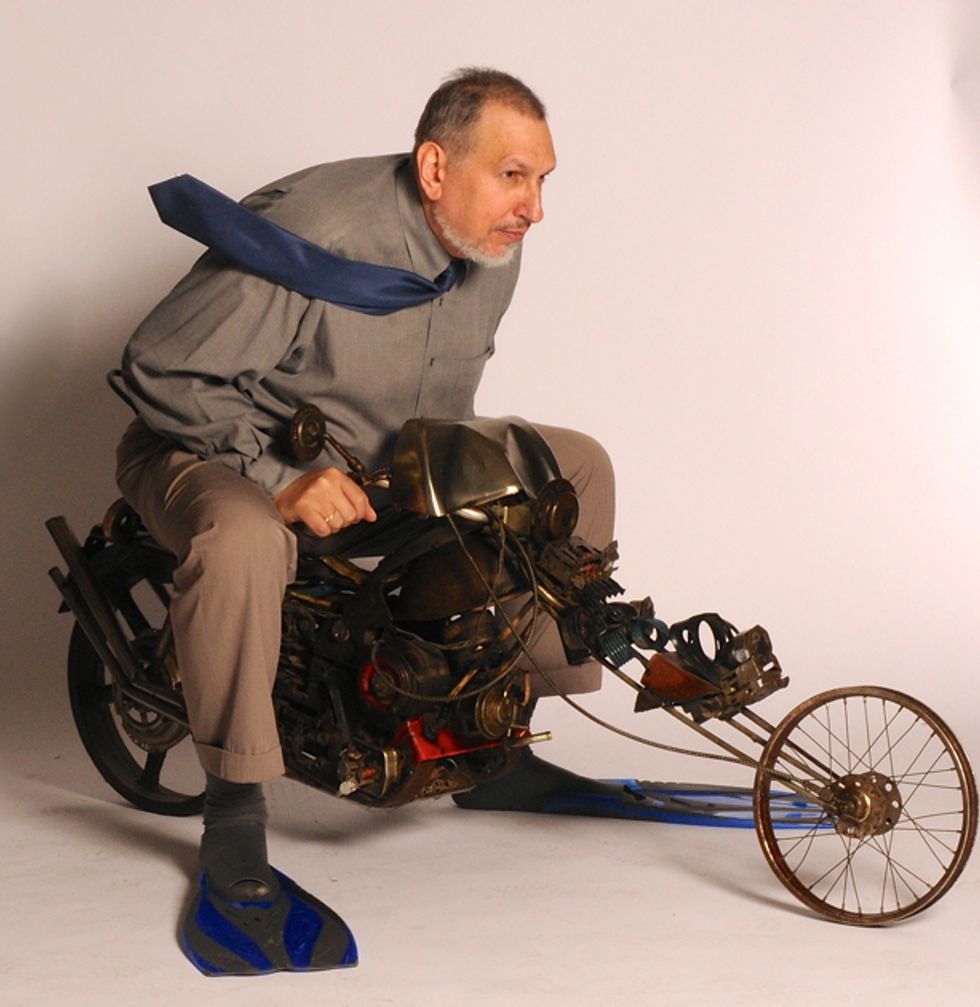 What's the most important thing you learned from Rev. Gary Davis?
I learned a lot of important things, and there was a lot of stuff I should have gotten that I didn't. I learned how he formed his chords and would play those syncopated rolls, and I learned the idea of contrary motion of the bass against the treble. I went to him for guitar lessons, but I also learned what a moving singer he was. And from going to churches with him and hearing preachers, I learned about phrasing.
In some interviews B.B. King says that he tried to get his tone from Lonnie Johnson, and I can hear that. He says he got the vibrato from his cousin Bukka White, who played slide. But the phrasing of his guitar playing … that's church. That's straight from the preachers. The same with Albert King and all of my favorite black blues guitar players. You can hear the church in their phrasing.
For me, one of the big distinctions between the really fine white blues guitar players and the African-American blues guitar players is that African-American guitar players know how to use rests. That's the church.
The slide tone on "Nobody's Fault But Mine," which begins the new album, is outstandingly gritty and deep. What are you playing?
I'm in standard tuning, using a straight pick and playing my '58 Esquire with a Red Rhodes Velvet Hammer pickup in the bridge position and a PAF humbucker in the neck position. I'll be buried with that guitar. When I bought it, it was used—now it's vintage. At one point I sold off many of my guitars. I had a fantastic collection. But I couldn't bear to part with that. And I'm playing it through one of my favorite amps, an Electar from the '40s, plus one of Larry Campbell's amps—I'm not sure what it was. That Electar can fit in the overhead compartment on an airplane.
What led you to violin making and dealing, rather then guitars?
Gear

Guitars
1958 Fender Esquire with a Red Rhodes Velvet Hammer pickup in the bridge position and a PAF humbucker in the neck
Vintage 1930s Gibson parlor model acoustic
Martin D-45
Martin M-42 David Bromberg signature model
Gibson mandolin
Amps
1940s Epiphone Electar Zephyr
Effects
TubeWorks Bleu Tube Overdrive
Various Boss pedals including a chorus, octaver, compressor, and tuner.
Strings and Picks
Ernie Ball Super Slinky electric string sets (.011-.052)
Martin Lifespan Coated Light (.012-.054) and medium (.013-.056) sets
D'Addario mandolin strings (.011-.040)
Blue Chip picks: triangle-shaped .60 mm (mandolin), teardrop-shaped .50 mm or .60 mm (guitar)
Guitars, especially flattop guitars, are relatively simple compared to violins. Archtops are a little more complex, but with violins you have things that were designed centuries ago with very, very little change occurring over those centuries. But the variations are innumerable. If you get a guitar that says "Martin" on it, the odds are good it was made by the Martin Company in Nazareth. If you get a violin and it says "Stradivarius," the odds are pretty good it was made long after he died. So it fascinates me to be able to look at instruments to tell when and where they were made, and perhaps by whom. And that's what I'm studying.
What does Only Slightly Mad say about you as an artist, or as a person, today?
The first song—"Nobody's Fault But Mine"—I believe that, and I feel it when I'm singing it. The last tune is, "You've Got to Mean It Too," which is about that idea that you can't just say things in life … you've got to mean them. And I believe that, too. Also there's a song I wrote on there called "I'll Rise Again," which was of a little concern to me when I finished, because there's a part in that song where I spoke, and I said some things that, when I listened back, seemed very revealing. I wasn't sure I wanted that to go out. But then I thought about it and decided that when, as an artist, you reveal a part of yourself, that's the best thing you can do.
YouTube It
Among the many things David Bromberg learned from blues legend Rev. Gary Davis is the song "Cocaine Blues." Watch Bromberg deliver a perfect display of Davis' distinctive bass and treble countermelody and rhythm lines, plus the Rev.'s rolling fills, during the solo at around 1:33.