Jared James Nichols joins us in setting goals for our guitar playing in 2023. Plus, current obsessions!
Q: What is your New Year's guitar resolution for 2023?
Jared James Nichols—Guest Picker
Photo by David McClister
A: I have one! It's something I've been thinking about a ton. I want to slow down and be more in the moment with my playing. Now, don't take me wrong, I don't mean "slow down" in terms of speed or my career. I wanna live in my performances, treating every single note with focus, power, and intent. 2023 will be the year for me to sing through my guitar.
Jared James Nichols' Current Obsession:
My current obsession is listening and jamming along with bootlegs from my favorite band, Mountain. I recently unearthed a treasure trove of bootleg concerts from 1969-1974. SO KILLER. I've been into Leslie West's playing forever, but these shows have literally blown my mind. His playing, tone, and attitude are on a different level in this era. So inspiring!
Dominic De La Cerda—Reader of the Month
A: One of my guitar New Year's resolutions for 2023 is finally being able to start recording my guitar tracks on a new laptop. I bought a Scarlett Solo 3rd Gen interface in January this year and used it once. I also want to get into the 8-string world. I just found out that Harley Benton finally has a warehouse in the U.S. I watched a video about how you can order Harley Benton guitars from Reverb, to get them from the U.S. warehouse. If anyone has ever played the R-458, how comfortable is it?
Dominic De La Cerda's Current Obsession: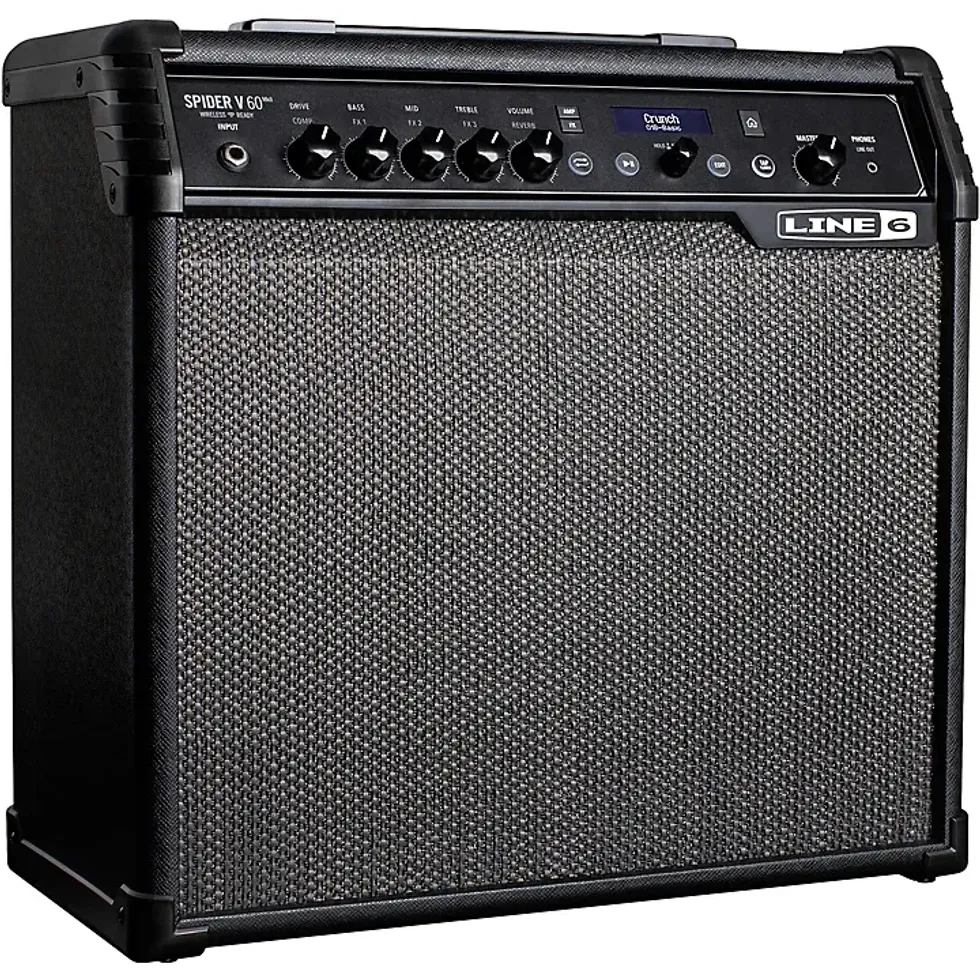 I bought a new rig back in July: a Line 6 Spider V 60 MkII. Almost bought the Catalyst 60, but wanted the Spider V 60 MkII, due to its built-in looper, drum loops, 128 presets, and more than 200 cab and amp models.
Kate Koenig—Associate Editor
Photo by Seva Jagat
A: It's my goal for 2023 (or, as soon as possible) to become comfortable with playing more elaborate fingerpicking songs onstage, which basically means getting over some fingerpicking-specific stage fright. I've been a lifelong fingerpicker, but don't normally feature fast-paced, thoroughly picked songs in my performances, so I'll be onstage and get so in my head that it's like I've never done it before. That would be a nice thing to get over … but I think I'm making progress!
Kate Koenig's Current Obsession:
My current obsession is a perennial one for me: Nick Drake's C–G–C–F–C–E tuning. It's been my ambition recently to write enough songs in this tuning that it would justify preparing a second guitar to be used in a set. I've also been trying to implement the fingerpicking pattern Drake uses on his cover of Bob Dylan's "Don't Think Twice, It's Alright"—just a simple, handy picking template. However, I want to avoid overusing it, so I've been trying to research and possibly invent alternatives!
Jason Shadrick—Associate Editor
A: Around this time each year I really try and recommit myself to the fundamentals: tone, time, taste, and touch. Those are the common threads that connect our favorite guitarists. I spend time quietly relaxing as much as I can while playing simple phrases where I can really connect with the notes. Maybe it's more of a musical meditation, but it works for me.
Jason Shadrick's Current Obsession:
While preparing to teach at Joe Satriani's guitar camp, I went back through his catalog and rediscovered his self-titled album, which is about as close to a blues album as Satch has ever made. For years I would watch the documentary about this album before school. The band was incredible: Nathan East, Andy Fairweather Low, Manu Katché, and Glyn Johns producing. I learned a lot and still hear little nuggets that inspire me.
The new model launches the company's Stories Collection.
Hollywood, CA (February 11, 2020) -- Fender Musical Instruments Corporation (FMIC) today released the Eric Johnson "Virginia" Stratocaster guitar with the Grammy award winning artist Eric Johnson. As part of this unique collaboration with the singer, songwriter and guitarist, Fender has recreated Johnson's 1954 "Virginia" Stratocaster in the Fender Custom Shop in limited quantity and on the Fender Corona production line for one year only. Available now at local musical instruments dealers worldwide and on Fender.com and fendercustomshop.com, the model is a reproduction of Johnson's prized 1954 "Virginia" Stratocaster with personal touches, celebrating his unique playing style and desire to inspire new musical journeys for guitar players everywhere. Johnson's "Virginia" Stratocaster will be the first model in Fender's all-new Stories Collection: a celebration of modified Fender guitars that shaped history's most iconic music and the details that made them unique.
"Fender and I talked about doing a reissue of my '54 "Virginia" for the Stories Collection and I wanted to try it in Sassafras, like my original," said guitarist Eric Johnson. "When I got the prototype from Fender, it had the tone I had been looking for since my original guitar. It has a particular smooth sustained tone but as you turn it up, it has gain like a little violin."
For the first time, Fender has replicated and released Eric Johnson's beloved '54 "Virginia" Stratocaster, the instrument he used to record the Tones record (1987 Grammy® nomination for Best Rock Instrumental Performance) and the Platinum Ah Via Musicom (1991 Grammy® for Best Rock Instrumental Performance) albums that made him a hero to music fans and guitarists alike. Built in Corona, Calif., these "Virginia" Stratocaster guitars combine extraordinary history and exceptional tone. The rare sassafras body, custom switching and special set-up will thrill players and collectors by showcasing the guitar's unique silky tone and distinct fine grain appearance.
Models include the Eric Johnson "Virginia" Stratocaster ($2,499.99) and Fender Custom Shop Eric Johnson "Virginia" Stratocaster ($9,000.00). In the same spirit as the production line version, the Fender Custom Shop masterbuilt "Virginia" will take on the same aesthetic and tone as the original guitar, but in exacting detail with handwound pickups and a flamed maple neck – available in an extremely limited quantity. "When I first took on this project, I was a bit intimidated because of all the intricate specs involved with this guitar," said Carlos Lopez, Fender Custom Shop Master Builder. "From the Sassafras and flamed neck to the pickups - the challenge was to make sure Eric was happy with it and loved it the first time."
The Fender Custom Shop version is complete with the same specifications and features as his original, including a 6-saddle American vintage synchronized tremolo bridge with a 2-piece offset seam sassafras body, lacquer finish and custom wiring. Additionally, Eric added a number of personal touches to facilitate his distinctive technique and sound like a GraphTech® high E saddle, flattened 12" fingerboard radius and jumbo frets for optimal playability.
"To this day, Eric continues to release brilliant music, tours constantly and is, to the electric guitar community, a guitar wizard and widely-followed tastemaker," said Justin Norvell, EVP Fender Products. "It was a perfect fit having Eric Johnson as the first artist in this Stories Collection celebrating modified instruments played by important guitarists that created music for the ages."
In true tradition, the Fender's Artist Signature Series honors iconic musicians through product progression and storytelling, creating instruments inspired by the unique specifications of the world's greatest guitarists and bassists. In that spirit, the Stories Collection celebrates modified Fender guitars that shaped history's most iconic music.
Watch the company's video demo:

For more information:
Fender
Not only does EJ have a new album, but he also has a new signature guitar and a 55-date tour.
Austin, TX (January 8, 2020) -- As another decade turns, the Austin, TX based prolific guitarist, vocalist, composer, and multi-instrumentalist – Eric Johnson - will release a new studio offering titled EJ Vol II, on February 28, 2020. To celebrate this 11th studio album, Johnson has a 55-date tour, spanning nearly 3-months. The tour will hit every major city across the U.S. and will also enter into Canada, for one show in Toronto as well.
EJ Vol II follows its predecessor from 2016 which was simply EJ, an all-acoustic collection of songs which showcased nine original compositions and four covers. Johnson's approach was deeply honest, intimate, personal and delivered with organic emotion. With EJ Vol II, he presents new repertoire that combines electric and acoustic arrangements and once again represents a collection of originals with a couple of select covers.
Among the new songs, there is deep meaning and messaging with each track, sometimes figurative while at times literal. On "Waterwheel," he captures personal feelings about the gift of the flow of the spirit and synchronicity of all things under the universe in creation, utilizing the water wheel or an old paddle wheel that turns in water as the metaphorical symbolism. The song "Golden Way," approaches finding the true higher path in life, while the poignant "For the Stars," captures his introspection surrounding the loss of his mother as he looks up towards the sky at night wondering where she is now. Along with the 11 original songs there are two covers on the album; The Beatles "Hide Your Love Away" and Eric's arrangement of Bert Jansch's take on the traditional "Black Waterside." The latter was first recorded in 1966, but became infamous through Jimmy Page performing a similar riff on Led Zeppelin's 1969 debut without acknowledging the credit (on "Black Mountain Side").
The new 2020 tour titled "Classics: Present and Past" will feature EJ Vol II alongside selections from his prolific career. The EJ touring band will feature Roscoe Beck on bass (Leonard Cohen, Robben Ford, Dixie Chicks), Tom Brechtlein on drums (Kenny Loggins, Chick Corea, Wayne Shorter, Robben Ford), and on keyboards + second guitar, Dave Scher (a rising star from the Austin music scene).
The new year will also see the release of a new Fender Stratocaster as a part of their "Stories Collection" (modeled after an instrument Johnson frequently used early in his career). This model will be his fourth in the Fender collection of signature Johnson guitars.
Over the course of more than four decades, Eric Johnson has been traveling on a prolific odyssey. Along the way, his creations have cross pollinated the various musical genres which include rock, blues, jazz, fusion, soul, folk, new-age, classical and even country. Inevitably E.J. says it best himself in sharing that regardless of the genre "It really boils down to the music and the song at the end of the day," he explains. "If it doesn't have that it gets boring for me. The most important thing for me is to grow musically and make a more expansive and meaningful artistic statement with every new project."
Among Johnson's many accolades are a Grammy award for "Cliffs of Dover " (a track from his Platinum certified Ah Via Musicom), lifetime induction into the Guitar Player Gallery of Greats, his listing among the "100 Greatest Guitarists of the 20th Century" by Musician. In his hometown of Austin TX, a city full of guitarists, the readers of the Austin Chronicle have voted Eric Johnson the city's "Best Electric Guitarist" and "Best Acoustic Guitarist" in their yearly poll year after year. They also named him "Electric Guitarist of the Decade" and one of the top five "Musicians of the Decade".
Throughout his career, Johnson has approached music as a healing force, a way to enhance a listener's consciousness and conjure joy and inspiration. "That's what I've always appreciated most about other artists," he says. "Some artists inspire us to wake up and get back to the clarity of consciousness. With this record, I'm trying to do that too, because I appreciate it so much in other people."
EJ Vol II Track Listing:
Waterwheel
Gift of love
Hide Your Love Away
Charldron's Boat
Over The Moon
Divanae
Let A Friend Find You
Lake Travis
Hotel Ole
Different Folks
Golden Way
Black Waterside
For The Stars
For more information:
Eric Johnson