Great tones in all settings. Practical design, High quality.
Recombined tones may not be better than the originals to some ears.
4.5
5
5
4.5
Robert Keeley marries the best of two beloved green machines in one smart box.
The Keeley Noble Screamer handsomely combines many attributes of Ibanez Tube Screamer- and Nobels ODR-1-style circuits. Neither of those iconic green machines need much introduction. Both aesthetically and sonically, the Tube Screamer is one of the most recognizable pedals in the effects pantheon, and the ODR-1's anecdotal honorifics ("The secret weapon of Nashville session players!") and concretized list of evangelists (Guthrie Trapp! Tom Bukovac!) are practically part of the pedal's name. But through the use of switchable clipping and tone control profiles, the compact, clever Noble Screamer makes it possible to blend and switch between flavors from both green giants.
Greening Out
The Noble Screamer's style is minimalist and striking. It marks the debut of Keeley's new sloped aluminum housing, which looks great and feels sturdy. The Grinch-green brushed aluminum knobs look bold and easy to read against the black enclosure too. Like the TS and ODR-1, the all-analog Noble Screamer features knobs for volume, gain, and tone. But the Noble Screamer has toggles under the latter two pots that alter their respective functions considerably. Flipping the switch under the gain knob to TS mode engages soft-clipping diodes. Switching the toggle below the tone knob to TS-mode gives the user control of a low-pass filter. In OD modes, the circuit switches to hard-clipping diodes, and the tone controls sweeps from flat EQ to boosted bass and treble in the fashion of the ODR-1's "spectrum" control. This simple switching scheme yields a lot of different flavors. The pedal can also move between buffered and true bypass switching by pressing and holding the footswitch. It's a smart, flexible, and practical feature.
Mix and Match
The Noble Screamer sounds delightful across the board. With both toggles in TS mode and all knobs at noon, you get soft grit with great note definition and a tight midrange focus. And while TS pedals are famous for sweet low-gain tones, all-Screamer settings beckon you to max the drive control and unlock the circuit's smooth, singing distortion. Adding output volume at these settings brings a touch more width, and the low-pass filter moves easily between spiky and silky.
Flicking the switches to OD mode with identical settings brings a very noticeable volume boost and more pronounced bass response and fullness. Compared to the TS settings, you'll either find it a touch dark, or pleasantly alive, depending on your taste. The hard-clipping diodes make OD mode a much nastier proposition, and you can easily push the pedal to thick distortion. I preferred keeping the tone and gain around 1 o'clock, and the volume between noon and 3 o'clock, depending on how loud and rude I wanted to get. The tone control's sweep is impressively useful in its OD "spectrum" guise as well. You can access a lot of high-end clarity, and it doesn't overdo the ODR-1's signature low-end thunder. In low-gain settings, the OD mode is predictably large sounding. But the best low-gain/boost sounds might be those that blend the soft clipping of TS mode with the OD tone section. These tones are especially smooth, broad, and clear.
I don't know that mixing and matching the circuits is necessarily
better
than each on its own, but it certainly offers a different palate of sounds. With the tone set for OD and the drive in TS you can stretch the bass and treble capabilities of the TS's gentler, more targeted overdrive bite. Reverse the switches and you'll get the TS's more focused mid-range punch with harsher, heavier distortion. For my tastes, the OD tone/TS drive combo was the most pleasing. It's big and punchy without ever getting harsh, and the boost from the OD tone circuit makes the TS drive a bit more commanding.
The Verdict
While you could conceivably get a Tube Screamer and ODR-1 for the same price as the Noble Screamer, the high-quality, USA-built Keeley is a more flexible solution that takes up half the space. True, the overdrive sounds here are largely familiar. But the Noble Screamer is a smarter, cooler, and more versatile way to access and reshape those bedrock tones.
The Best 2-in-1 Overdrive? Keeley Noble Screamer Demo | First Look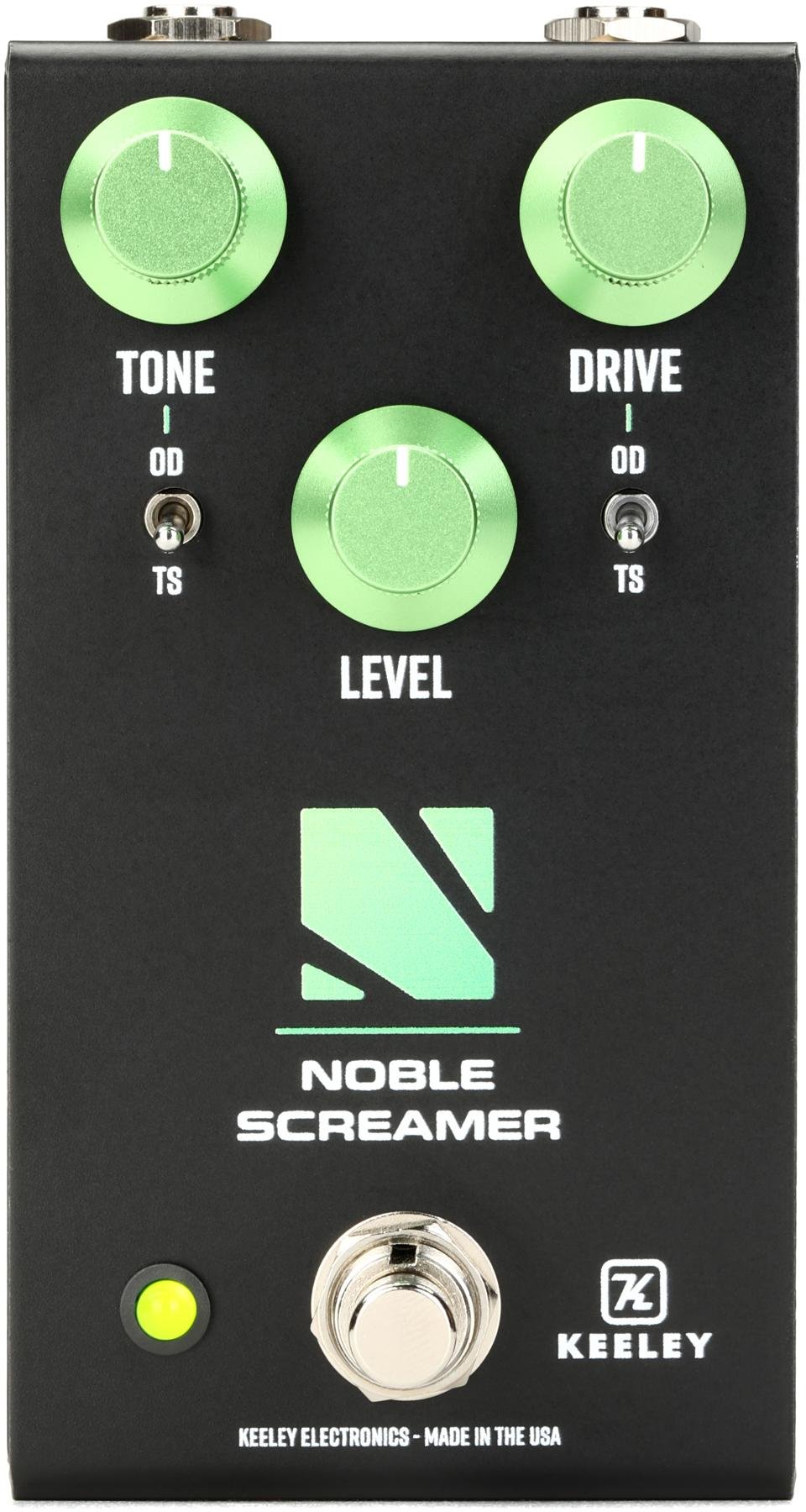 Keeley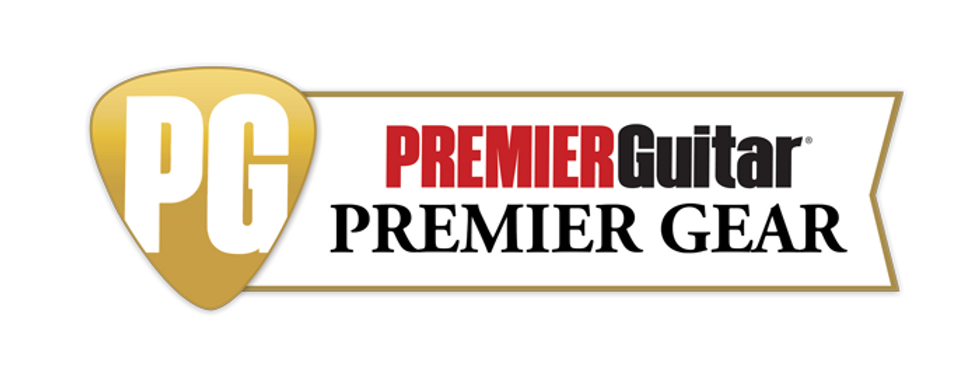 Phase and envelope filter swirl as their own flavors and in many shades of a fascinating, functional whole.
Many cohesive mashups of modulation and filter. Forgiving envelope filter. Cool, compact size. Easy to operate.
Phase voice may be too flat for some.
4.5
4
4
4
A lot of players perceive phasers and envelope filters as one-trick ponies—good for a hook once in a blue moon or suited to very specific styles: prog, psychedelia,
Bootsy Collins
funk, or playing in your local Grateful Dead cover band.
Way Huge's
Attack Vector, which combines an envelope filter and a phaser, and lets you operate them independently, sounds cool in both modes. What's especially cool is how often the two effects can multiply each other's strengths used in tandem. This extra functionality and palette of sounds means a range that can span utility, tradition, and the bizarre.
No Marriage of the Meek
I'd love to know what kind of records are on the turntable at the home of Way Huge designer Jeorge Tripps. I might even like to know what he's eating for breakfast, because, between the recent excellent Atreides Weirding Module and the Attack Vector, he seems extra focused on the interrelationship between envelope and phase. Yet, the way those two effects are used on the two pedals yields very different results, and we should not assume that the phase and filter effects on the Atreides, which also offers fantastic, hair-singeing fuzz, can be used interchangeably. In fact, the two devices behave and create sound in wildly different ways. Given the range in color of the phase and envelope effects that reveals itself, it's easy to hear how Tripps became intrigued with such possibilities.
"Of the two effects, the Phaser strays most clearly from familiar analog templates."
Depending on your perspective and tasks at hand, you can argue the Attack Vector is a much more practical and flexible application of the two effects. On the Atreides, the strong personality of the fuzz and EQ effects (and the inability to remove them entirely) makes more familiar applications of phaser and filter harder to achieve. The Attack Vector, however, will willingly play the part of circa-'77 Jerry Garcia or a trippy Phase 90 in ways the Atreides cannot.
Of the two effects, the Attack Vector phaser strays most clearly from familiar analog templates. It's not as classically chewy as a Small Stone, an Ibanez PT9, or an MXR Phase 90, which is, of course, a cousin within the Jim Dunlop family. There's a possible reason for this: The Attack Vector's envelope filter can generate intense peaks, and pairing those spikes with a phaser that modulates with its own intense resonant peaks can create ugly volume irregularities and odd, hiccup-y, phase cancellations, which happened when I mated the Attack Vector filter to a particularly resonant vintage Phase 90 clone. The Attack Vector's phase cycle seems competitively flatter and a little less elastic. In isolation, this quality can be very practical. For instance, you can tailor more phase textures that leave more room for picking dynamics or especially abrasive fuzz. Some players might miss the extra rubbery qualities of more classic phasers. Others with less dogmatic views of what proper phaser vintage tone is could find a lot of utility in its voice. The modulation frequency, by the way, ranges to hyper-fluttery extremes, which can work to bizarre ends with the filter in the mix.
The Quack in the Room
In pure envelope-filter mode, the Attack Vector is forgiving, agreeable, and easy to work with—even if the effect is an unfamiliar language. I particularly love it with single-coils, where it can sound extra snappy and nasty with a range setting that favors higher-mid peaks and a full-clockwise sensitivity setting. But its also very happy with the rounder edges from PAF-style humbuckers.
In tandem, the filter and phaser potentially yield much weirder fare. And if you're the kind of player that bores fast with well-worn tone templates, there's a lot of ways to get in trouble here. Using those same clockwise sensitivity and high-mid resonance settings on the filter with full-clockwise peak settings and a slow-to-medium rate from the phaser creates mutant electric sitar sounds that could underpin a memorable solo or work to double a less interesting one. Slowing the phase rate, backing off the phase resonance, and pairing with smoother, more vocal filter settings creates a composite that showcases the most classic version of each effect in a beautifully dovetailed whole.
The Verdict
Individually, the envelope filter and phaser on the Attack Vector are cool. And I could see many players picking the unit up primarily for the easy-to-use envelope filter. It's a bummer that you have to reach down to toggle between the three modes, because I could imagine many applications where switching between effect combinations would add effective and distinctive drama to song sections and solos. But maybe that's a small price to pay for more compact dimensions on what, for many, will still be a niche effect. That said, the beauty of the Attack Vector is that it probably won't seem niche-y to the open-minded. There are many conventional phase and filter tones that make this pedal practical and full of possibilities—and a ton more that are guaranteed to make a very profound impression.
Way Huge Attack Vector Phaser & Envelope Filter Demo | First Look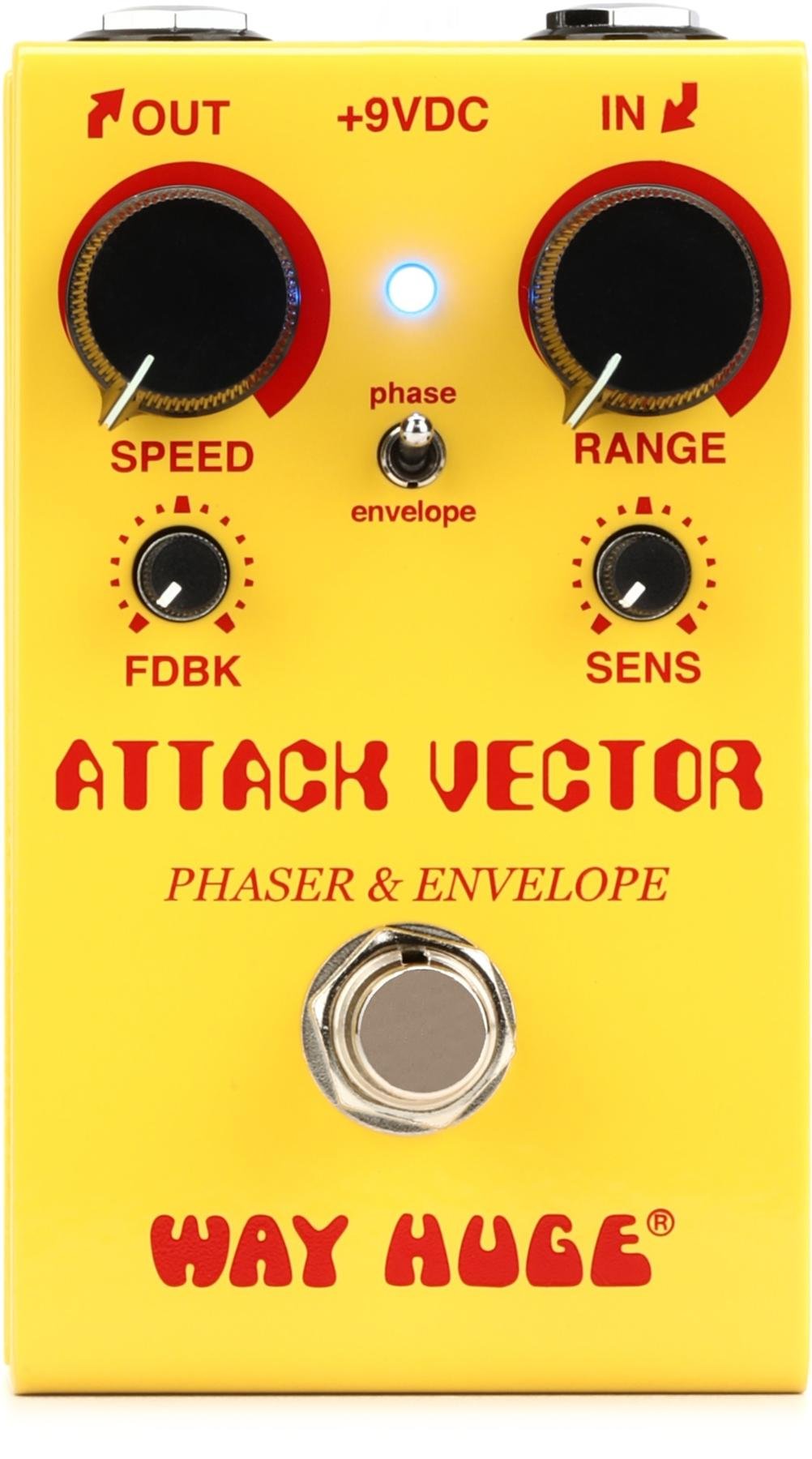 Way Huge
Subdued style takes nothing away from the feel and function of this future-leaning, performance-oriented flattop.
Excellent build quality. Player port provides an intimate playing experience. Super-smooth and inviting playability.
Some traditionalists may find the midrange-forward voice brash. Player port will be one style compromise too many for some.
4
4.5
4.5
4
Gibson's reputation as a builder of iconic electric guitars sometimes obscures its reputation as a builder of iconic flattops. But even among an acoustic lineup stacked with legends, including the J-45, L-00, and J-200, Gibson's Hummingbird is an instrument with pop-culture star power. And even music fans that don't know a Gibson from a Goya recognize and are attracted to its extroverted beauty.
Lacking the Hummingbird's striking cherry sunburst finish and pickguard etched with flora and namesake avian adornment, the G-Bird, from Gibson's Generation Series, is unlikely to spur the same sense of recognition among more casual guitar spotters. But it's a well-made, walnut-and-spruce-bodied guitar made entirely in the company's Bozeman, Montana, facility. It's the first dreadnought from the Generation line I've played. (I didn't get to play the G-45 or G-Writer cutaway when I reviewed the smaller G-00 and larger G-200.) But it is certainly the most balanced and satisfying of the Generation series I've encountered.
Mr. Fancy Sheds Its Frills
Gibson's introduction of the Hummingbird in 1960 was almost certainly a response by Gibson to Martin's reliably successful dreadnoughts. And though the round-shouldered J-45 dreadnought that preceded it was an unqualified success, Gibson must have felt the square-shoulder profile was a key to chipping away at Nazareth's domination of the dread market. Clearly, Gibson also felt that a little flash would go a long way in distinguishing their own square shoulder, and the Hummingbird was born.
If you've spent years longing to cradle the Hummingbird in its showiest guise, I suppose the G-Bird could be something of a letdown. But if you're into the purely functional end of guitar design, the G-Bird's virtues are apparent from the start. The satin finish feels inviting rather than a concession to a more accessible price. The neck, which is fashioned from utile, an African mahogany alternative, is textured in a very noticeable way. It's not rough exactly, but it's not satin-smooth either. It can take a minute to get used to, but in the end it tends to feel welcomely worn-in rather than unfinished. All the same, curious shoppers used to flawlessly smooth necks should spend some time with the guitar to see if it is a bother. Texture preferences aside, the advanced profile neck feels great in hand. It's thicker than Gibson's slim-taper profile—most noticeably toward the nut. But it is hardly chunky, and the soft U shape of the profile feels like a great compromise between some of Gibson's fatter vintage shapes and the slim profile, which can feel a little slender.
The fretboard, with its comfortably rounded edges, uses a flatter 16" radius rather than Gibson's standard 12" radius. I suppose the flatter radius leaves room for lower action, which will be nice for players more inclined to a softer touch. The action felt great as it came from the shop floor, however, and it left a lot of room for digging in and strumming with a vengeance without inducing fret buzz. The striped ebony fretboard also looks great, and the Generation Collection's signature single-bar inlays are a cool touch of modernity that zest up the instrument's otherwise austere aura. Construction details, by the way, reveal close attention to detail. And where I saw less-than-perfect kerfing and glue work on the earlier Generation Collection guitars I reviewed (bracing, kerfing, and other internal construction are easy to see through the player port), the build quality is close to immaculate here.
A Provocative Port Promotes Play
Gibson could have made the Generation Collection of guitars satin-finished, no-frills takes on their classic shapes and been assured of some degree of marketplace success. But the design and marketing of the G-Collection, as it also known, focused to a significant extent on the player port, a bass-side, player-facing second soundhole that Gibson says was considered as far back as 1964. Upper-bout soundholes are common in small-batch, high-end acoustic circles. They are less common among large-scale production acoustics. In pure style terms, they are a polarizing element. And I'm inclined to agree with those purists that like to look down and see a pretty expanse of uninterrupted wood grain on the upper bout. But while the rubber-ringed port (and the constant peek at the guitar's innards that it affords) can be jarring, there is no doubt that it makes for a more immersive playing experience.
If you're strictly old-school and accustomed to a single soundhole, the effects of a first, forceful strum can be a touch disorienting. The G-Bird, by virtue of its spruce top and walnut back and sides, already has a midrange-leaning voice that can, at times, sound almost brash compared to the combatively mellow, strong-in-the-fundamentals sound of a mahogany-backed Hummingbird or J-45. The player port emphasizes that mid-forward tone signature, and if it's not your cup of tea, you could end up put off in the space of a few strums. But time spent with the G-Bird reveals much about the player port's upside. Light, even tentative play—the kind that often goes with the songwriting process—feels more immediate and alive. And in a related way, fingerstyle dynamics are enhanced in a manner that encourages focus on technique and harmonic nuance. Interestingly, the player port can also teach a performer a lot about what an engineer hears and what might sound good in front of a microphone. And the way the port gives immediate feedback about your dynamic touch reinforces lessons about how to approach a recording situation.
The Verdict
At nearly $1,800, the G-Bird is not a bad deal for a U.S.-made flattop that reveals a careful eye for quality and detail. It's a super-smooth player. The L.R. Baggs Element Bronze electronics are simple and elegant in sound and function. The walnut-and-spruce tonewood recipe is balanced, but very midrange heavy. This makes the guitar a nice fit for many contemporary recording settings and methodologies, but it might sound a bit bright for those who associate the Hummingbird with earthier mahogany tones. Finding out how the G-Bird fits into your musical universe really demands a trip to a shop where you can play one. But players less bound by tradition—on both the sound and style front—may well revel in the tone alternatives the G-Bird puts at one's fingertips.
Gibson G-Bird Demo | First Look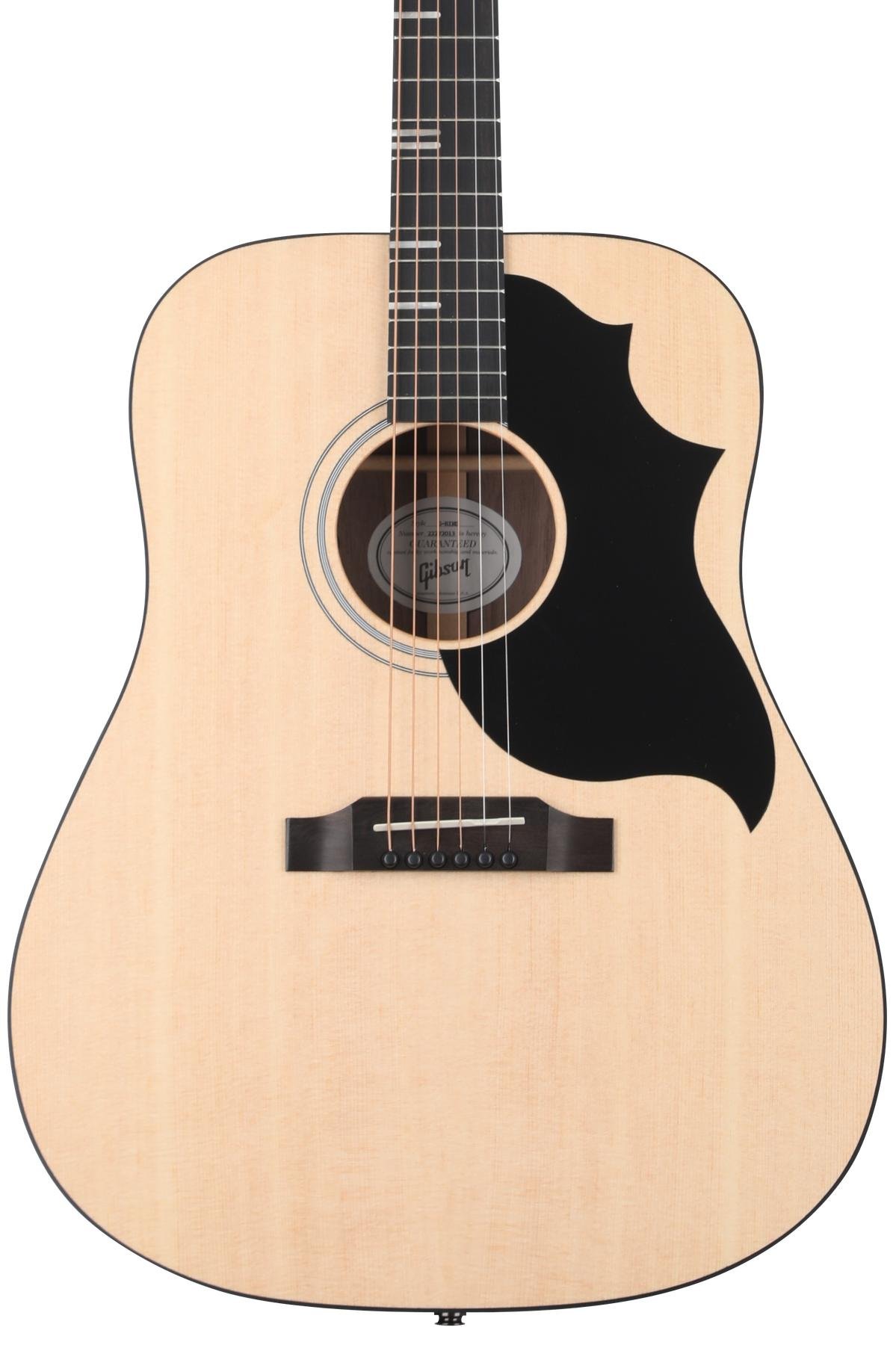 Gibson