Six decades ago, George Porter Jr. invented Crescent City groove music with the Meters. On his new album, Crying for Hope, he's still carrying the grease.
Every morning at 6:45, bass luminary George Porter Jr.'s late wife's dog, Ms. Vicki, tugs at him to feed her and take her out. That's early as hell for most musicians, but perfectly fine for Porter, because when Ms. Vicki is busy doing number two, Porter is busy getting into his creative zone. In 2020, Porter used that small daily window of time to craft the bass lines for the songs on Crying for Hope, his latest release with his band the Runnin' Pardners.
"While I'm waiting for her to return, I'm tinkering with the bass. I have a pretty big folder of ideas," says Porter, who recorded his sketches straight to Voice Memos using his phone's built-in mic, rather than any sort of interface. "I have that new iPhone 12, so the recording is pretty decent. We actually used the bass lines from the phone recording. Michael [Lemmler, keyboards and vocals in Runnin' Pardners] cleaned it up."
Crying For Hope
Crying for Hope features a mix of songs that were written in Porter's recent morning meditations and others that were written in 2017. During that earlier period, the band recorded 27 songs with guitarist Brint Anderson, who was a member of Runnin' Pardners for 25 years. Shortly after the recording, Anderson parted ways with Runnin' Pardners and Porter shelved the sessions. Those tracks were seemingly lost in the ether and only resurfaced in May 2020 via a computer foible.
"I started getting messages a few months ago saying that my hard drive was full," recalls Porter. "The computer was new so I was saying, 'It can't be full, that's a 2TB drive. It's not supposed to be full.'" In the middle of doing some detective work, Porter peeked into some folders and happened upon a gold mine of tracks. "I said, 'Oh man, some of this stuff is good. Then I contacted Michael and said, 'Man, you know, I listened to these Runnin' Pardners tracks that we did with Brint, and I think we should bring them back to the table and add Chris Adkins [current Runnin' Pardners guitarist] to the tracks.'"
"I have that new iPhone 12, so the recording is pretty decent. We actually used the bass lines from the phone recording."
The numbers "Porter 13A," "I'm Barely," "Just Start Groovin'," "You Just Got Tired," and "Too Hot Too Cold" were recorded live during the original 2017 sessions. The tracks from the 2020 session were cut separately because of the COVID-19 lockdown, but still have a remarkably live feel. "We were using FaceTime for communication between the musicians, and the sessions were actually recorded up in the cloud using Pro Tools. We would load the tracks up into the cloud and then we were able to record in our individual studios. What pleased me the most about this record is that it doesn't sound like we're all in different studios. It sounds very live. Terrence Houston [drummer] got the tracks after we had totally completed all our parts."
No matter how the tracks were cut, they all have that deep Porter pocket. For decades Porter has been considered the quintessential groove bassist. Interestingly, his first instrument was a classical guitar his mother gave him on Christmas Day as both a Christmas present and an early birthday gift (he was born on December 26). Porter took lessons for two years, working on songs like "Home on the Range" or "Red River Valley." Then one day on the way to a lesson, he came across bassist Benjamin "Poppi" Francis on Robinson Street in his native New Orleans, playing the blues with his grandfather on guitar. That moment changed everything, as Porter got hit with the bug. At a guitar recital, Porter was slated to play a "cowboy" piece but pulled a switcheroo and instead played the bluesy "St. Louis Woman." Infuriated by this, his teacher gave him the boot. This turned out to be a blessing for Porter, as he devoted his time to picking things up from local musicians who would jam all night on the street, around the corner from his home.
George Porter Jr.'s Gear
Photo by Josh Hitchens
Basses & Guitars
Fender P Bass (1970 body with a 1973 neck)
Fender Telecaster bass (one of the first 100 made)
D. Lakin bass refretted by New Orleans' Strange Guitarworks
Lakland Bob Glaub U.S. Series Custom Shop 44-64 Classic Precision (modeled after the P bass)
Lakland Bob Glaub Skyline 44-64
Takamine electric/acoustic guitar
Alvarez acoustic guitar
Strings
D'Addario (.055–.065–.085–.105)
Amps & Cabinets
Two Aguilar Tone Hammer 700 heads

Aguilar DB 410 cabinet
Aguilar DB 212 cabinet
Effects
EBS OctaBass

EBS UniChorus Studio Edition
EBS BassIQ Blue Label
TC Helicon VoiceLive Play
When he was 10, Porter connected with drummer Joseph "Zigaboo" Modeliste and the pair became a fixture on the New Orleans scene. After sitting in with bluesman Earl King, Porter was introduced to vocalist/keyboardist Art Neville by guitarist Herbert Wayne, who sent Porter out as a sub for him one night. Initially, Neville was unimpressed by Porter, calling him "the worst guitar player he ever heard." Neville had sought a lead guitarist and Porter was strictly a rhythm player. Later, Porter switched to bass and Neville caught him on a gig with Irma Thomas, the "Soul Queen of New Orleans." This time, Neville liked what he heard and pegged Porter to form a band. In 1965, with guitarist Leo Nocentelli added to the mix, the Meters were born.
The Meters were among the originators of funk, but offered their own unique New Orleans twist to the sound. They played four-hour gigs for six nights a week at the Ivanhoe Club on Bourbon Street and developed a telepathic musical bond. Later, the Meters became the house band for pianist/songwriter/producer Allen Toussaint and his label, Sansu Enterprises. That glory, however, came with a price in terms of creative freedom. Toussaint dictated the music with a heavy hand, and Porter's bass lines were relegated to mimicking Toussaint's left hand.
Porter suggests the Meters could have possibly been the first jam band, and he might very well be right.
Creative license to roam was the secret to the Meters' success. Porter suggests the Meters could've possibly been the first jam band, and he might very well be right. While the songs on the Meters' albums weren't much longer than three minutes, the band took that material and transformed them into simmering, transcendental marathon shows. It's no wonder their 1969 hit "Cissy Strut," a song that was finally inducted into the Grammy Hall of Fame in 2011, is considered by many to be the ultimate jam tune. The simple opening riff has served as a catalyst for countless epic and endless improv sessions. Now, there are even videos on YouTube where Porter finally puts his foot down and teaches everyone how to actually play the opening riff correctly.
Throughout the '70s, the Meters recorded eight albums and were held in high esteem by music royalty. Paul McCartney invited them to play at his Venus and Mars release party in 1975, on the Queen Mary, in Long Beach, California, and Mick Jagger was in attendance. This led to the Meters being asked to open for the Rolling Stones for both their 1975 American and 1976 European tours. However, this opening slot was not quite the dream gig you might expect. Hardcore Stones fans typically hate any opening act, and at a 1976 gig in Europe, the Meters had stuff thrown at them. During this incident, Jagger and Keith Richards had to come out and quiet the crowd. One positive highlight about the Rolling Stones saga for Porter was that, at one show, Eric Clapton urged the Stones to do an encore, which they usually didn't do. The Stones' bassist, Bill Wyman, had already left, so Porter got to sit in.
With their emergence in 1965, the Meters simultaneously began a course that would influence the history of New Orleans' music, soul, pop, and rock 'n' roll. The Meters on Saturday Night Live in New York City in 1977. Left to right: David Batiste Sr., George Porter Jr., Zigaboo Modeliste, and Leo Nocentelli.
Photo by Ebet Roberts
In 1977, the Meters disbanded after conflicts over ownership of the band's name (although the original members reunited for sporadic events from 2000 on). Years later, after a jam session at the New Orleans Jazz & Heritage Festival, the Funky Meters were formed, and that band saw Porter, Neville, drummer Russell Batiste Jr., and Brian Stoltz (who replaced Nocentelli) taking more of a funk-rock approach, with Hendrix tunes being part of the repertoire.
Porter also formed Joyride, a band that he played with through most of the 1980s, and Runnin' Pardners, in 1990. By this time, Porter had developed a massive reputation in the music world and was called to collaborate and record by the likes of Tori Amos, David Byrne, Albert King, Robert Palmer, and Patti LaBelle. Porter's iconic P bass can be heard on classic albums like Palmer's Sneakin' Sally Through the Alley (1974) and classic songs like LaBelle's "Lady Marmalade." In addition to his main bands, Porter is also a prominent figure in the jam-band scene and has played with John Scofield, Eric Krasno, and the Tedeschi Trucks Band. He and the Meters received the Grammys' Lifetime Achievement Award in 2018.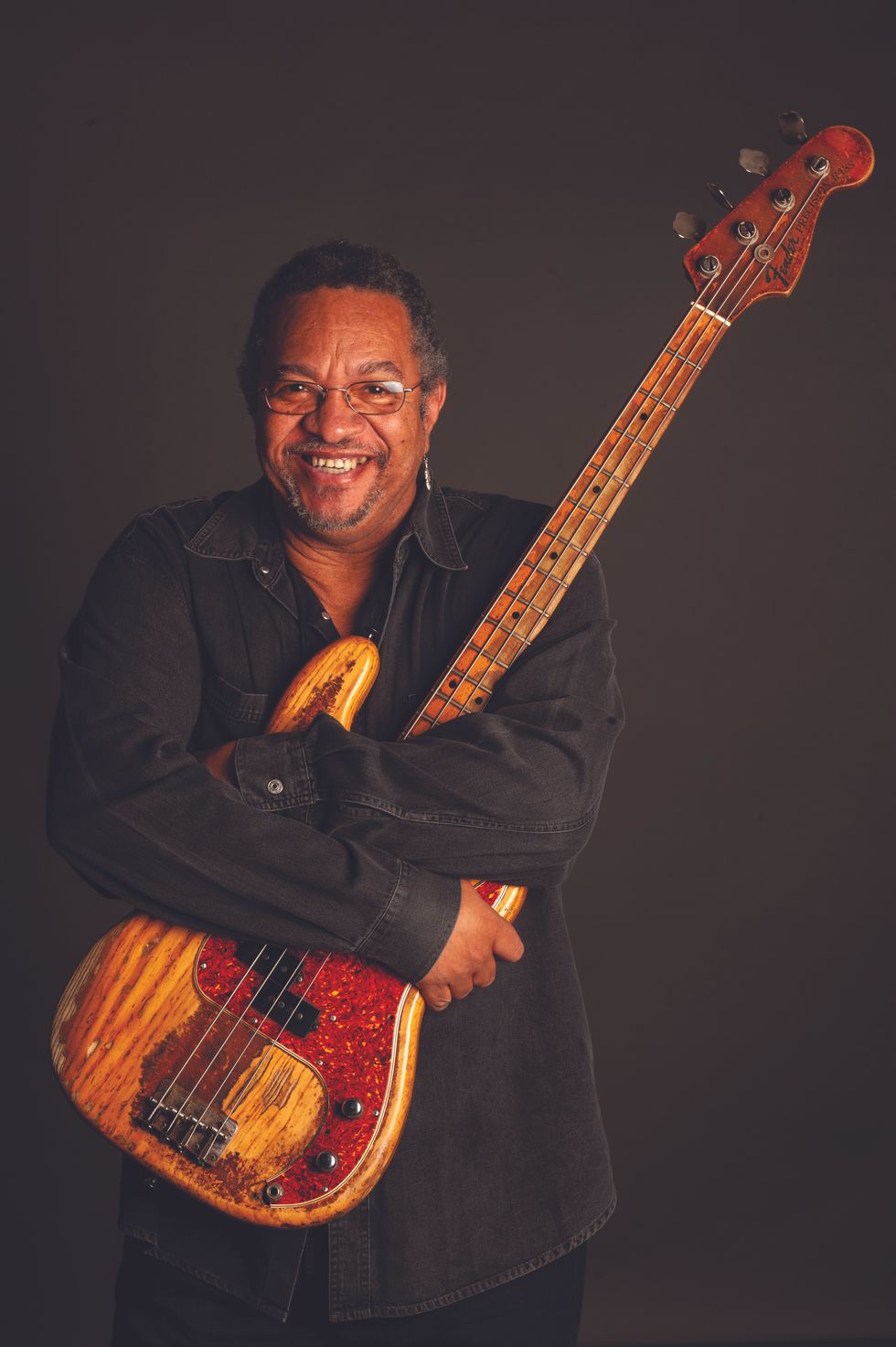 Although he started on guitar, George Porter Jr.'s shift to bass proved to be a historic decision, defining the bottom end of New Orleans groove music and shaping the character of funk bass.
Photo by Michael Weintrob, Instrumenthead.com
Even though Porter has reached immortal status in the bass world, he's still relentless in his pursuit of the musical truth. He religiously documents every performance he can. "I have a little Zoom H4n, and I record, like, 100 percent of the shows that I'm in control of. It has four inputs, so I take two channels from the desk and the two ambient mics that's on the front of the H4, and every night I record four tracks. I have three 2TB hard drives that are full, and I'm working on trying to categorize the different gigs to a 4TB drive. I'm trying to gather all the Funky Meters shows that I have, all of the Runnin' Pardners shows that I have, all of the Porter trio shows that I have, and all the jam bands that I played in, and I'm putting them in. I've got that drive divided into four pieces."
Porter's archive is a constant source of study for him. "When I get off the gig and something happened that night, more than likely the next morning that gig is on the computer behind me, and I'm finding what that thing was." And if something really magical occurred, Porter might not even wait until the sun rises. "Before my wife [Aralean] passed away, I actually used to come home from the gig and sit down in the driveway and listen to the last set in the car. I usually would get to the house about 2:30 a.m. and I would sit out there for 45 minutes and, you know, usually my wife might call up and say, 'Hey, the music's too loud!'"

George Porter & The Runnin' Pardners "Cryin' For Hope" 4.16.21 Suwannee Surprise