Foo Fighters are set to play the inaugural show on May 30, 2023.
Foo Fighters will headline the new Washington D.C. venue, a 450-capacity room, built as a replica of the original 9:30 club. Tickets for these inaugural run of shows will be priced at $44 each and sold via a lottery-style process.
From The Atlantis site:
In an effort to deter scalping and to make sure tickets get into the hands of legitimate fans, The Atlantis is utilizing Ticketmaster Request powered by Ticketstoday for ticketing the inaugural run of shows. This is similar to the ticketing model recently used by Pearl Jam and Jack White for their lottery-style artist presales. Submitting a ticket request allows fans the opportunity to purchase tickets without competing in a first-come, first-served ticket on-sale.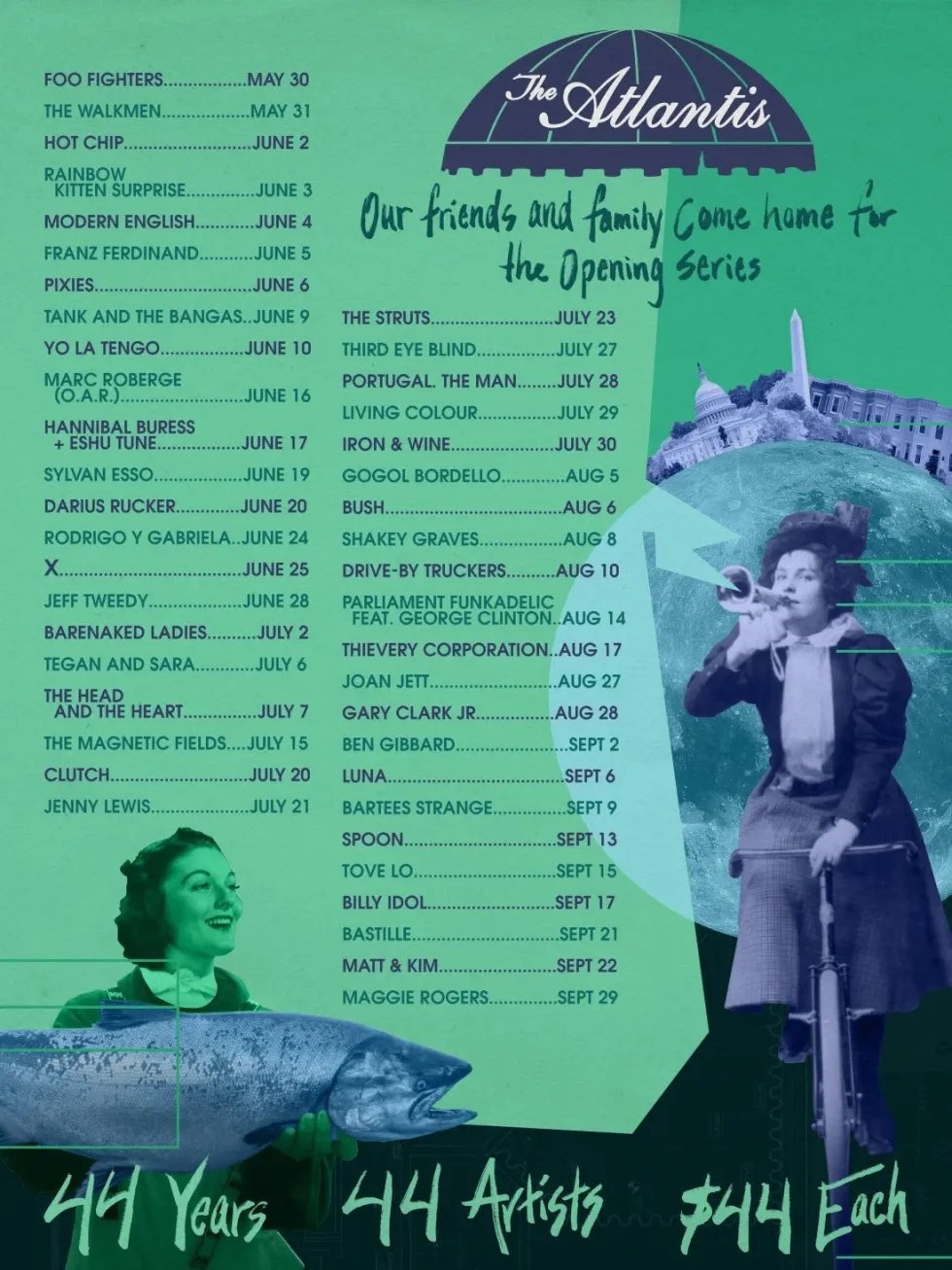 The upright bassist, whose credits read like a who's who of jazz greats, shares on his early musical career, which began when he was just 13 years old.
Recently, I was lucky enough to speak with the great Scott Colley—who's worked with a host of jazz masters, including Herbie Hancock, Pat Metheny, Jim Hall, and Julian Lage—about bass, music, life, and more. I'll be presenting this interview in two parts: the first dealing with how Scott came to be a bass player and his early experiences, and the second dealing with his specific areas of advice for all bassists. In this column, I'm sharing Part 1.
Colley was presented with a daunting decision at age 11: bass or trumpet? There were only two openings available in his elementary school orchestra. Honestly, it could've gone either way, and today, you could be reading my interview with an accomplished jazz trumpeter. Alas, his older brother, Jim—a drummer—said, "I want a rhythm section player in the family. You should play bass!" And so began the successful bass career of one of the soon-to-be-better-known acoustic bassists on the international jazz scene.
"I was learning a lot from these experiences, where older musicians would say, 'Learn these tunes by Friday—and you'd better learn them!'"
Born and raised in Los Angeles, Colley's brother exposed him to jazz at a young age. By 13, he was playing biweekly as the resident bassist at a jam session in Pasadena, was fortunate enough to work alongside many much older and more experienced jazz musicians, including Chuck Manning, Larry Koonse, Serge Kasimoff, Teddy Edwards, and Albert "Tootie" Heath. Some would give him advice or stacks of records and help him figure out what to listen to—or listen for. Like many successful musicians, Colley also had an amazing and influential music teacher at Eagle Rock Jr./Sr. High School. Band Director John Rinaldo managed to keep his program going, even when Los Angeles city schools had no funds, by throwing fundraisers.
Today, looking back, Colley describes himself during this early period as "more of a jazz purist," who learned mostly by ear as he studied some of greats like Paul Chambers and Charles Mingus. He also took regular lessons with bass veteran Monty Budwig (a local legend). Read on to learn more about his musical journey.
PG: So, you grew as a musician that quickly, in just a few years?
Scott Colley: Yeah! In hindsight, I can't imagine how that all happened in three years! I was learning a lot from these experiences, where older musicians would say, "Learn these tunes by Friday—and you'd better learn them!" That was the vibe! Another significant moment was when my brother offered to take me to see Weather Report in 1978. I didn't want to go because I thought it was fusion [laughs].
PG: Wow! The era of some of my favorite Weather Report! Black Market, Mr. Gone, Heavy Weather…. You saw them live?!
Colley: Yeah. This was right after Heavy Weather came out. Seeing Jaco at that moment, hearing Wayne [Shorter] and Joe [Zawinul], their amazing orchestration, and the amount of sounds and grooves that could come out of that band—Peter Erskine, whew…. I thought, this is some shit that I've never heard! I don't know where this all comes from, but I want to know! So, that kind of opened the door for me to think, "Oh, there's a lot of stuff out here that I haven't been experiencing." From there, very shortly afterwards, I discovered—or rather, I realized—the amazing music of Ornette Coleman, beginning with Old and New Dreams [a quartet of Coleman's former side musicians Dewey Redman, Don Cherry, Charlie Haden, and Ed Blackwell] and then going back to all the amazing classic quartet stuff.
PG: How old were you then?
Colley: About 14 or 15. It was a really great way of discovering music by listening, rather than from the page. But then I realized that there's certain music that I want to be involved in that does require me to learn to read, understand harmony, the functions of melody, the functions of the bass within music, etc.
Then, I finished high school and floated for a year playing around Los Angeles. I was just gonna move to New York but heard that Charlie Haden was teaching at CalArts. So, I auditioned just so I could meet him. I figured he'd give me some pointers or something, and then I'd head off to New York [laughs]. Charlie said, "We're getting ready to start a jazz program. Do you want to go to school here?"
So, I went to CalArts! Because of Charlie and David Roitstein, the pianist and heart of the Cal Arts jazz program, I got an amazing education.
They had an incredible program with teachers in jazz, world music, modern classical music, composition…. They'd have visiting artists like John Cage, Morton Feldman, Don Cherry, Pat Metheny, Dave Holland, and artists on faculty from North and South India, Balinese and Javanese gamelan, Nigerian and Ghanaian traditional music, and then Charlie. So, I did four years of CalArts, sold all my stuff, got my bass in a suitcase, and then moved to New York.
Mammoth II arrives on August 4th. Watch the music video for single "Another Celebration at the End of the World" now.
On the heels of a whirlwind debut that included a Grammy-award nomination for his first-ever single, #1 debuts on multiple charts, television performances, and sold out shows over a two-year span, Mammoth WVH is back with its sophomore album Mammoth II. The 10-track record will be available worldwide on August 4th via the band's new label, BMG. Recorded at the legendary 5150 studio, the album was produced by friend and collaborator Michael "Elvis" Baskette. Mammoth II is available for pre-order in multiple configurations here: https://MammothWVH.lnk.to/MammothIIPR.
Continuing the tradition of writing all of the songs and performing all of the instrumentation and vocals himself, Wolfgang Van Halen set out to challenge himself to expand his sound beyond what people had already come to know him for. From the rocking opener "Right?" to Beatles-esque fade on closer "Better Than You" Mammoth II showcases the growth of Wolfgang as a songwriter, musician and especially vocalist. Songs like "Like A Pastime," "Take A Bow" and "Waiting" are all sonically different from each other but unique to what mastermind Wolfgang Van Halen and Mammoth WVH is. The debut single from Mammoth II is the upbeat rocker "Another Celebration At The End Of The World." The single is currently impacting radio and the music video for "Another Celebration At The End Of The World" is an 8:25 introduction to the Mammoth WVH live band. Picking up where the #1 single "Don't Back Down" music video left off, the new video showcases a frustrated Wolfgang firing the other Wolfgang's from that video and replacing them with his now notorious live band featuring Frank Sidoris (guitars), Jon Jourdan (guitars), Ronnie Ficarro (Bass) and Garrett Whitlock (drums).
Mammoth WVH - Another Celebration at the End of the World (Official Music Video)
"I knew that I wanted the new album to contain elements of what people heard on the debut, but also giving me a chance to branch out a bit. 'Another Celebration At The End Of the World' is definitely a song that showcases what people can expect from the new album. It is a high-energy rocker with some fun guitar moments on it. I also pushed myself vocally and it is a song I can't wait to get out and play live. I can see it being a fixture in our live set moving forward," explains Wolfgang Van Halen
Track Listing
1. Right?
2. Like A Pastime
3. Another Celebration At The End Of The World
4. Miles Above Me
5. Take A Bow
6. Optimist
7. I'm Alright
8. Erase Me
9. Waiting
10. Better Than You
Photo by Travis
Mammoth WVH is planning to tour around the globe in support of Mammoth II. The live band – comprised of Wolfgang Van Halen, Frank Sidoris, Jon Jourdan, Ronnie Ficarro and Garrett Whitlock - is currently on the second leg of the US tour supporting Alter Bridge before moving to another massive tour playing alongside Metallica. Mammoth WVH will also be making various festival appearances around the globe as well as headline stops going in to 2024. More dates will be announced in the near future tickets for all Mammoth WVH appearances can be found here: https://www.mammothwvh.com.
Tour Dates 2023
Mar 23 – Seattle, WA – Paramount Theatre *
Mar 25 – Airway Heights, WA - Northern Quest Resort & Casino *
Mar 26 – Airway Heights, WA - Northern Quest Resort & Casino *
Mar 28 – Anaheim, CA – House Of Blues *
Mar 29 – Tempe, AZ – Marquee Theatre *
Mar 31 – Reno, NV – Silver Legacy Resort Casino *
Apr 1 – Highland, CA – Yaamava Theater *
Apr 27 – Amsterdam, NL – Johan Cruijff ArenA #
May 19 – Paris, FR – Stade de France #
May 26 – Hamburg, DE – Volksparkstadion #
May 29 – Berlin, DE – Hole44
May 30 – Frankfurt, DE – Das Bett
Jun 1 – Köln, DE – Gebäude 9
Jun 3 – Tilburg, NL - Poppodium 013 *
Jun 6 – Edinburgh, UK – O2 Academy Edinburgh *
Jun 8 – Castle Donington, Derby, UK – Download Festival
Jun 10 – Sölvesborg, SE – Sweden Rock Festival
Jun 13 – Stockholm, SE – Gröna Lund *
Jun 15 – Dessel, BE – Graspop Metal Meeting
Jun 16 – Göteborg, SE – Ullevi #
Jun 17 – Copenhagen, DK – Copenhell Festival 2023
Jun 20 – Ludwigsburg, DE – Mhp Arena
Tour Dates 2024
May 24 - München, DE - Olympiastadion München #
Jun 7 – Helsinki, FI – Helsinki Olympic Stadium #
Jun 14 - Copenhagen, DK – Telia Parken #
Jul 5 - Warszawa, PL - PGE Narodowy #
Jul 12 – Madrid, ES - Cívitas Metropolitano #
Aug 2 – Foxborough, MA – Gillette Stadium #
Aug 9 – Chicago, IL – Soldier Field #
Aug 16 – Minneapolis, MN – US Bank Stadium #
Aug 23 – Edmonton, CA- Commonwealth Stadium #
Aug 30 – Seattle, WA – Lumen Field Event Center #
Sep 20 – Mexico – Foro Sol #
Sep 27 – Mexico – Foro Sol #
# Supporting Metallica