Ten modern-day pickups aimed at delivering the classic Filter'Tron sound.
More than 60 years after Ray Butts' design was dreamt up, Filter'Tron-style pickups continue to draw devotees and converts. Whether you're after the tone of Malcolm Young or Chet Atkins, in standard or humbucker mounting, the 10 modern-day options we've rounded up here will get you started on your search.
MOJO PICKUPS
Mojotron Vintage
Handmade and designed to be bright and twangy like the originals, these pickups feature historically correct covers that, also like vintage Filter'Trons, are not soldered to the base plate.
$119 street
mojopickups.co.uk
LOLLAR GUITARS
Lollartron Traditional
Offered with three different mounting options, these pickups were designed with a '63 Country Gentleman as their tonal reference to achieve the clarity and punch of a classic 'Tron.
$185 street
lollarguitars.com
THE CREAMERY
Classic Black Cat
These pickups are jangly, bright, and designed to break up an amp at gain for a biting attack. They have a custom baseplate that allows both 2-hole (Gibson) and 3-hole (Fender/Gretsch) mounting.
$99 street
creamery-pickups.co.uk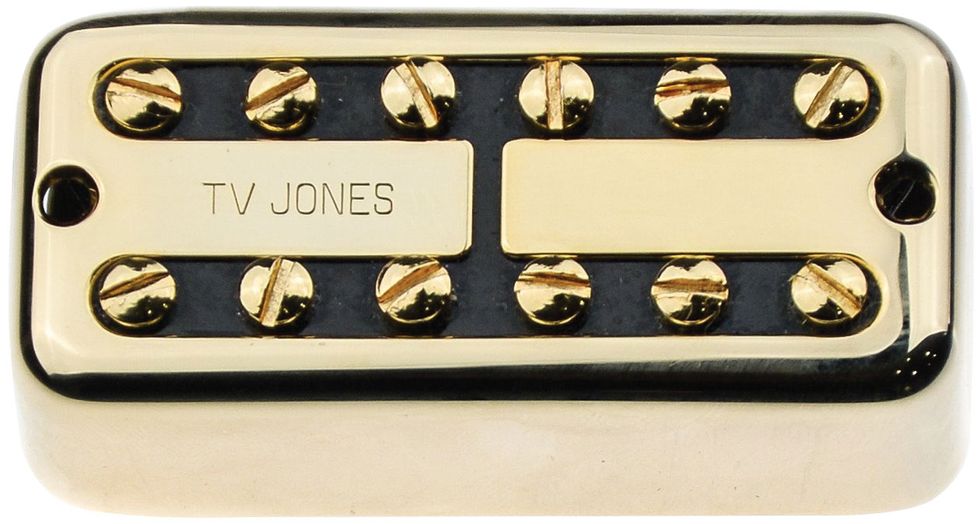 TV JONES
TV Classic
Created with the vintage twang and growl of a late-'50s/early '60s Filter'Tron in mind, this versatile pickup is meant to be right at home for rock, blues, rockabilly, or country.
$132 street
tvjones.com
GFS
Retrotron Nashville Vintage Humbucker
These easy-on-the-wallet pickups will fit almost any guitar that accepts standard-sized humbuckers, bringing vintage warmth with a crisp and clear high end.
$38 street
guitarfetish.com
KENT ARMSTRONG
Kentron
These low-output humbuckers are reminiscent of early Gretsch Filter'Trons and bring bright and detailed sounds with single-coil twang—perfect for rockabilly and country pickers.
$87 street
kentarmstrong.com
GRETSCH
Filter'Tron
The Filter'Tron's dual-coil design "filters" out the hum often associated with single-coils, while at the same time adding a warmer tone and an increase in output and sustain.
$89 street
gretschguitars.com
PROTO GUITARS
Wide'Tron HB
This mashup of a Filter'Tron, a Wide Range, and the company's PAF-style humbucker brings the best elements of each to create a twangy, punchy, full-sounding pickup.
$160 street
protoguitars.com
MOJOTONE
Fat Mojo'Tron
Featuring covers and magnets reverse-engineered from a vintage Filter'Tron, these pickups provide a fatter F'T tone with heightened midrange and sustain for a punchy low-end response.
$119 street
mojotone.com
SEYMOUR DUNCAN
Psyclone Vintage
This take on the Filter'Tron sound was designed to bring snappy highs, clear mids, and warm lows befitting a number of genres ranging from country, rock, blues, and more.
$145 street
seymourduncan.com