Jazz guitarist Adam Levy joins Dipped In Tone for a philosophical talk about playing voices, the dangers of overanalyzing your set, and why going on a "guitar fast" can help your playing.
On this week's Dipped In Tone, Rhett and Zack are joined by contemporary jazz guitar legend Adam Levy, the thoughtful, soft-spoken accompanist known for his work with Norah Jones and his own jazz trios. Levy's new book, String Theories, which he co-authored with fellow sideman-to-the-stars Ethan Sherman, collects a series of tips, challenges, and reflections for guitarists to deepen their playing.
"I need it to sound like Solomon Burke is singing," Levy says of his style and philosophy, centered on leads and mid-register tones. His formative playing experiences were on a Gibson ES-335, and Zack and Rhett wonder why the semi-hollow remains Levy's go-to over, say, a Les Paul or T-style guitar. "[We] kind of put guitars in buckets: 'This guitar does this, this guitar does that,'" says Levy. "But a lot of it is just what you do with your hands anyway. I feel like the instrument itself is maybe just a third of all that stuff."

Thanks to Sweetwater for sponsoring this episode! Head to sweetwater.com for your musical gear needs.
Levy says that as the years go on, he gets "more like myself" when playing. A piece of that, he says, is stepping back from guitar music altogether. "Go on a guitar fast for a month," he says. Levy says that removing the distractions of analyzing for specific tones and gear can create a clearer relationship to music. "All you can really notice is, 'What's the mood? How does it make me feel?'" Similarly, Levy warns of the dangers of overanalyzing your playing: "A little bit of reflection can go a long way," he says, but "you don't want to get so reflective that you shut yourself down."
Finally, the trio dips a high-class vintage rig complete with a Gibson ES-125 with a floating wooden bridge—which shocks a sense-memory out of Levy. "It's beyond, 'I can hear that guitar,'" laughs Levy. "I can smell that guitar."
After a hiatus, the rootsy rock heroes reconvene with new guitars—including James' signature Gibson ES-335—to deliver a self-titled album of big beats and powerhouse jams.
My Morning Jacket guitarists Jim James and Carl Broemel both play amazing, beautiful, high-end guitars. But during sessions for their latest album, My Morning Jacket, they spent some time gripping a pair of unusual, less-than-fancy instruments that probably wouldn't need to be kept behind the glass case in your local guitar store.
It all started when James received an off-beat custom 6-string from the proprietor of L.A.'s Old Style Guitar Shop. "My friend Reuben Cox made me a Tele out of plywood from Home Depot," James says about his unique high-end/low-end hybrid. "It weighs about 2 pounds and has a Fender neck on it, but the body is plywood. It has one humbucker at the bridge and no knobs or anything. That thing just snarls."
Not to be outdone, Broemel opted for something vintage with plenty of quirk. "My new fave for the studio is a Silvertone U1," he says. "It's cool, light, plucky, and I used it on probably half of the new record. It's very clean and very low output, so the amps always sound friendly. It was a guitar you bought at Sears for $20. It has a lipstick pickup, a volume and tone knob, and a 3-position switch that in the middle position doesn't do anything, but one way is a low roll-off and the other way is a high roll-off. For a pickup that's that close to the neck, to be able to roll-off some lows makes it more useful to me."
My Morning Jacket - Love Love Love (Official Video)
James and Broemel often both play Gibson or Gibson-style instruments—at least during live shows—but it's pretty easy to distinguish between the two of them. James' lines have a feeling of longing or searching to them, as if he's reaching beyond himself for that perfect note that's just past his grasp. Although not after he kicks on his gated Devi Ever USA Fuzz Monster, at which point it just gets nasty (his lead on "Love Love Love" is a great example). Broemel is more subtle. He's often resting his hand on his Bigsby, which gives his playing a faux-slide feel, although at times he'll use a real slide, like on "Regularly Scheduled Programing," for colors and textures. Those differences are most pronounced when they're both soloing at the same time, as they are during the climax of "In Color," off the new album.
But My Morning Jacket isn't Aerosmith, and they're not purposely choosing their guitars to distinguish their tones. "I think those guys know more about guitar tones than what you should and shouldn't do," Broemel laughs. "I think we're more like kids. We're just bumbling through it."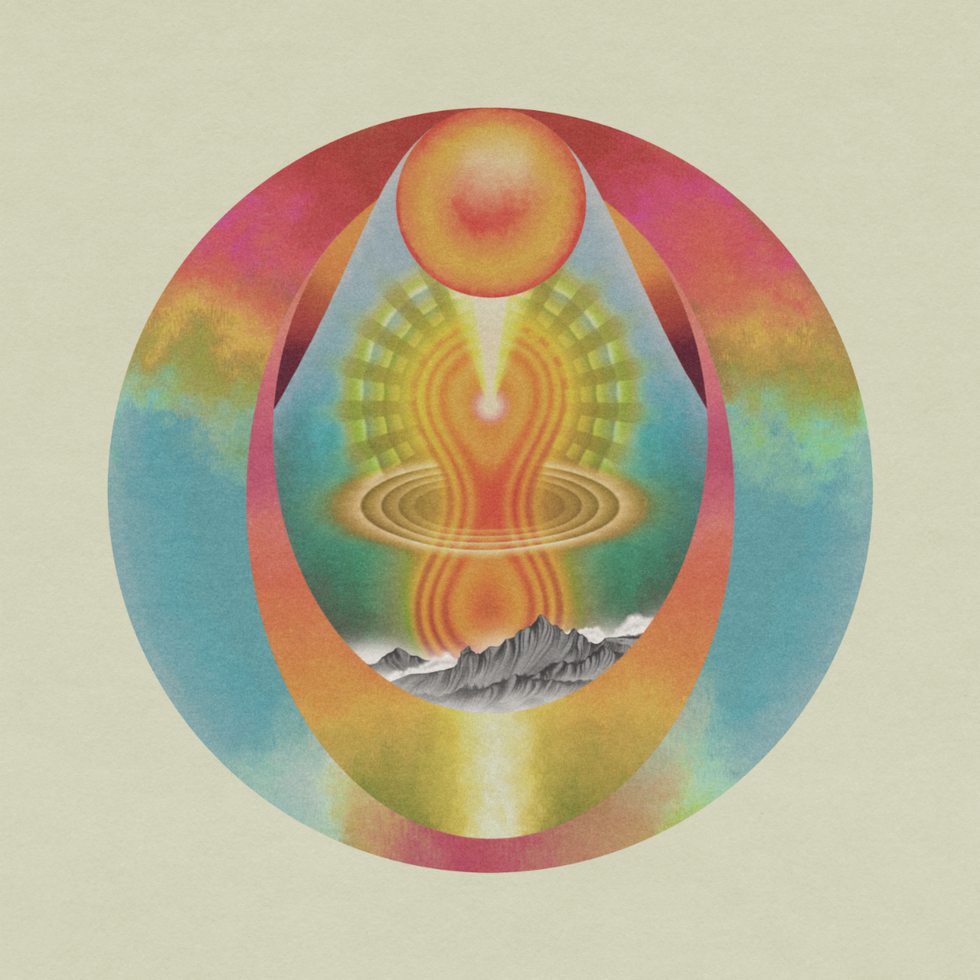 TIDBIT: Even though he has a new signature model ES-335, Jim James chose to use a guitar made from Home Depot plywood on some of My Morning Jacket.
Nonetheless, rich tones abound on My Morning Jacket, whichoozes the band's signature blend of rootsy, '70s countrified rock; tight, cogent songwriting; and space to stretch out and jam. Songs like "Penny For Your Thoughts" and "In Color" are fine examples of that ethos. But as the band headed to L.A.'s 64Sound to begin the album's initial sessions in late 2019, they had no idea what they were walking into—and not just because of their guitars.
Low Pressure and Loose Jams
My Morning Jacket went on hiatus after wrapping up their tour in support of 2015's The Waterfall. After reconvening for four shows in summer 2019—including two epic nights at Colorado's Red Rocks Amphitheater—they decided to head back into the studio that fall to feel things out.
"We didn't really know what the future of the band held, so we just wanted to come in and play together." —Jim James
"That session was interesting because we didn't know if we were going to make a record or not," says James, who also fronts the band. "We didn't really know what the future of the band held, so we just wanted to come in and play together." That set the tone for the sessions and the way the band approached them. "We came in with low expectations and low pressure and started knocking around ideas in an almost jazz-like way, where you just play the idea around and around and let it speak. It turned out we started doing song after song after song. It just flowed naturally."
The jams from those sessions plus another round in March 2020 form the nucleus of My Morning Jacket. Many of the songs were cobbled together from multiple takes, which meant some have detectable tempo changes and even include instrument changes mid-solo. That lends a feeling of raw energy to the album. "I don't really care if they're not exact," James says about the hazards of compiling various takes. "If it feels good, I don't mind that stuff."
Carl Broemel and Jim James, live and in color, doin' the double guitar thing they're known for. "We work together really harmoniously," says James.
Photo by Joshua Brasted
This loose approach also created the ideal conditions for some inadvertent dueling leads, like during the climax of "In Color." "It is very open-ended in terms of who's going to do what," Broemel says. "It's almost to the point where it's like, 'Why doesn't everyone just go for it?' Similar to a New Orleans band where it's like a fanfare and everyone is playing. We haven't perfected that, but that is our idea."
Papa's Got a Brand New Gibson
The sessions for My Morning Jacket were done with limited gear, since James insisted everyone bring only essentials. For Broemel, that meant the Silvertone U1, two Les Pauls, and two Duesenbergs, and for James, it was the plywood Tele, one acoustic, and a prototype Gibson Jim James ES-335.
Jim James' Gear
Jim James poses with his new Gibson ES-335 and one of his favorite guitar tools—his trusty capo. His signature model spots a thin neck profile that, in part, provides relief for his carpal tunnel syndrome.
Photo by Ken Settle
Guitars
Gibson Jim James ES-335
Reuben Cox Custom Plywood T-Style
Chris Fleming-Designed Fender Strat
Scott Baxendale Custom "Jimmy"
Gibson ES-335
Gibson Barney Kessel
Gibson Hummingbird
Gibson J-45
Strings & Picks

D'Addario Nickel Wound (.009–.042)
D'Addario Phosphor Bronze Acoustic Extra Light (.010–.047)
Dunlop .88 mm
Effects
Devi Ever USA Fuzz Monster

Boss Waza Craft BD-2W Blues Driver
Boss OC-2 Octave
Electro-Harmonix POG
Malekko Spring Chicken Reverb
EarthQuaker Devices Ghost Echo
Universal Audio Golden Reverberator
Universal Audio Astra Modulation Machine
Universal Audio Starlight Echo Station
Spaceman Orion
SoloDallas The Schaffer Boost
Amps
3 Monkeys Orangutan
3 Monkeys cab
Mesa/Boogie cab
James' new signature model is the result of a collaboration that took place over about five years. The guitarist explains that his goal was to create a guitar that didn't have fancy appointments—to make something that seemed "almost invisible," as if it were a part of the Gibson line for decades. To accomplish this, James chose to outfit his signature model with a '70s walnut finish, calibrated T-Type humbuckers, and Kluson Waffleback tuners. "I hope people who like me or like my music like the guitar," he shares. "I like the thought of somebody just seeing it in a guitar store and going, 'Whoa, that's really beautiful.' I wanted it to feel like a classic instrument that doesn't have a bunch of weird things on it. I think we've created a classic feeling instrument that plays really well. I've been playing it on these tour dates and I really love it."
One difference that players will find unique about the Jim James ES-335 is its slim neck profile. "I wanted it to have a thin neck, because I've got pretty bad carpal tunnel," he reveals. "During shows, my hands would go completely numb. They would turn into hamburger, and by the end of a tough song, I didn't know if I was going to make it through the next song."
"I like having an amp in a closet, and when you open the closet, it's hot and it smells like wax or whatever toxic shit is in these old amps." —Carl Broemel
Opting for a slim neck is just one of the ways James has adapted his rig to his carpal tunnel issues. He's also switched to lighter string gauges. "It's helped a lot," he says. "I broke strings a lot in the old days. Before I had a guitar tech, I had to use .011s so I would make it through the show. I went down to .010s for a long time. This tour, we went down to .009s, and it's been incredible—the ease of playing. I went to extra-light gauge on the acoustic, too. I also try to limber up and do stretches. I hope I don't have to have surgery. And I have braces I wear when I sleep."
Captains of the Capo
James often plays with a capo, which helps him reimagine the fretboard. He's a visual player who thinks in terms of shapes. In that regard, the capo is a powerful tool that enables him to find new sounds from familiar fingerings. But more than that, his visualizations impact the way he interprets a song.
Carl Broemel's Gear
Carl Broemel wields his Bigsby-equipped '88 Les Paul Standard.
Photo by Ken Settle
Guitars
1988 Gibson Les Paul Standard with Bigsby
Gibson Les Paul Junior
Duesenberg Starplayer TV
Duesenberg Caribou
Silvertone U1
GFI Ultra Pedal Steel
Scott Baxendale Conversion Harmony Roy Smeck Model
Strings & Picks

D'Addario Nickel Wound (.011–.049)
Dunlop .73 mm
Amps
1967 Fender Princeton Reverb

1950s Fender Tweed Deluxe
1968 Fender Vibrolux
Effects
Hudson Electronics Blackbird octave fuzz
Hudson Electronics Sidecar overdrive
Keeley Tone Workstation
Fulltone Tube Tape Echo
Empress Tape Delay
Moog MF Delay
EBow
"I think in terms of shapes and colors," he says, "and each fret represents a different color. When I put a capo on a different fret, it makes the song a different color for me. No capo, or open, I see as a white or clear color. First [fret] capo is yellow. Second capo is blue. Third capo is red. Fourth capo is orange. Fifth capo is purple. Sixth capo is pink. And I think that's as high as I got."
For Broemel, using a capo helps him take advantage of some of the instrument's characteristics—like open strings, unisons, and harmonics—especially in keys not generally considered open-string "guitar keys."
Rig Rundown - My Morning Jacket's Carl Broemel
Article and photos: https://bit.ly/MMJBroemelRRPremier Guitar's Perry Bean met with Carl Broemel when My Morning Jacket stopped in Nashville on their summer t...

"Our song 'Circuital,' for example, is in Bb," he says about the title track of their 2011 release. "You get no benefit from a standard-tuned guitar when the song is in Bb—you get nothing open. But that's what's so good about the guitar. You have all these bonus things that are special about the instrument. You have access to two or three versions of the same note. I like to use unisons, an open string with a fretted note, or an open string with a harmony, and play with that—play high on the neck but also use an open string. That stuff is interesting to me about the guitar. It has limitations, which I like, and if you use a capo, you can scoot those limitations to whatever key you want."
The Path of Least Resistance
When it comes to capturing their sounds, it's no surprise that Broemel preaches his love for old-school tones. "I like having an amp in a closet, and when you open the closet, it's hot and it smells like wax or whatever toxic shit is in these old amps," he says. "That's what I want. I need that. You pick up an acoustic guitar and it is this beautiful thing and it smells like wood." This provides Broemel with a more-visceral sonic experience. He adds, "I always feel like I need the sensation of touching the music. It's been hard with digital. When you were working with analog all the time, it really felt like every sound had a tactile feel. I am over that, but as far as guitar sounds, you've got to have a speaker. You have to have an amp. Maybe the tube is a little wonky. Maybe the fuzz pedal you found in a dusty box isn't working right, but it's the best."
"There are no rules or distinctions between who's doing lead or who's doing rhythm. It's like we both float in and out of all the different spaces." —Jim James
James and Broemel are no purists, and both embrace digital gear when it helps get the job done. Broemel concedes that, sometimes, it's just a more reliable method. "I took my Fulltone [Tube] Tape Echoes on the road for a while," he says. "But there was one Bonnaroo we were playing, and I pulled the top off and the tape had melted. It was too hot, and there was dust and moisture in the air. You can do it, but if you want your tape echo to work the entire show, maybe it has to live in an air-conditioned box." Broemel uses a tape-free Empress Tape Delay on tour these days.
When it comes to the band's gear, how they record, or how they divvy up their parts as a two-guitar outfit, My Morning Jacket embraces the path of least resistance and keep things loose and natural. It just seems to work. And keeps working. "It's pretty organic," James says. "Sometimes I'll have a thing that'll need to happen and I'll ask Carl to do a certain thing. But a lot of times we'll just play and let it speak. We work together really harmoniously. There are no rules or distinctions between who's doing lead or who's doing rhythm. It's like we both float in and out of all the different spaces. We have our own way of doing things."
My Morning Jacket – Regularly Scheduled Programming
Witness how the self-proclaimed World's Best American Band values pragmatic workhorses over rock 'n' roll excess.
Tired of pretentious music? Are you looking to just have fun and rock out? The good-time, make-you-move-and-groove medicine you're after is what White Reaper dispenses.
The band's core was formed in 2012 when Louisville high schoolers Tony Esposito (guitar/vocals) and Nick Wilkerson (drums) started jamming as a duo. Then Nick recruited his twin brother Sam (bass) and Esposito added friend Ryan Hater (keys). And the fearsome foursome released their rowdy, ripping 2015 debut, White Reaper Does It Again, on Polyvinyl Records.
Carrying forward their blend of lo-fi garage rock and pop-punk hooks, the quartet added second guitarist Hunter Thompson in 2016, before recording 2017's (tongue-in-cheek) The World's Best American Band. The glee blossomed with shinier, poppier melodies that soared over harmonized guitars—think crossing Cheap Trick with Thin Lizzy.
The World's Best American Band graduated them to major label Elektra, where they earned studio time with producer Jay Joyce (Cage the Elephant, Halestorm, Eric Church, Carrie Underwood, Emmylou Harris). With Joyce providing a slicker, tighter sound, the quintet unveiled an even catchier package that employs the sheen of peak Cars and early Maroon 5 in danceable tracks like "Might Be Right" and "Eggplant." (The former earned them a No. 1 slot on the Billboard Alternative Songs chart.) But rock purists still got to stomp and howl with the hard drivin' "Headwind" and redlining "Raw."
Hours before their headlining gig at Nashville's Exit/In, White Reaper's Esposito and Thompson checked in with
PG
to talk tone. The guitar duo showed us how the rigors of the road have impacted their touring gear decisions and why COVID-19 handcuffed one of them to the digital life.
[Brought to you by D'Addario XPND Pedalboard: https://www.daddario.com/XPNDRR]
Come Fly With V
It's said rock 'n' roll is a young person's game. And while the garage-rocking gentleman of White Reaper have no plans of slowing down any time soon, guitarist/vocalist Tony Esposito already knows the importance of a strong back. The combination of lumbar-compressing Les Pauls and thin leather straps resulted in soreness and welts that have forced Tony to keep his Lesters at home.
Above is the first of his lighter Gibsons: a 2000 Flying V he bought on his birthday in 2015. During the Rundown, he refers to it as the School of Rock guitar, since fictional student Zack Mooneyham played one in the film. Aside from Esposito's sweat, skin, and some dust, this guitar is completely stock.
This V stays in E-flat-standard tuning and rides the stage with either a custom set of Augustine Spectras (.011–.052) or Ernie Ball 2226 Burly Slinkys (same gauge).
Light as a Feather and Ready To Rock
Not wanting to show favoritism, Esposito is quick to note that this 2000s Gibson ES-335 isn't a backup. He's actually used it the most since playing live shows again, because the fly-date-heavy schedule worried him about the angular fragility of the V. He even revamped his amp and pedalboard setup to mesh better with the 335 (more on that in a minute).
Who You Calling Runt?!
Vox have been a big part of White Reaper's DNA, and both Esposito and guitarist Hunter Thompson (not from Louisville and no relation to Dr. Gonzo) have used them live and in the studio for years. "I loved the reliability of the AC30s, but I was using more pedals (than now) to essentially turn it into a plexi," says Esposito. "I had a compressor, Tube Screamer, and EQ pedal that were always on, but when I switched to the Friedman Runt 50 it was already that thing."
While touring with the Struts he noticed how much
guitarist (and Rig Rundown alumnus) Adam Slack
loved his Friedman Small Box 50, so he did some research and landed on the 50W, EL34-glowing Runt. The Runt 50 hits a stock Fender Super-Sonic 60 2x12 extension cab that has its original Celestion Vintage 30s.
Dials for Dimebag
Passing time in the van by listening to Pantera's Cowboys from Hell, Esposito wondered how Darrell "Dimebag" Abbott set his Randall for the nasty breakdown during "Domination." He lucked out and found an old '90s Guitar Magazine article displaying Dimebag's Randall settings. He's since loosely adopted those for his own live tone, as seen here.
Simplifying Esposito's Stomp Station
With less purposes for pedals, Tony Esposito's pedalboard has shrunk. Basically, he has the Way Huge Green Rhino MkIV for additional drive, and a Boss DD-5 Digital Delay and Jacques Meistersinger chorus for spacier sounds and occasional leads. The pair of Boss pedals—an NS-2 Noise Suppressor and GE-7 Equalizer—are in place to squelch any unwanted feedback from the 335 and to supplement any anemic backline amps he encounters on fly dates. Everything comes to life via a Voodoo Lab Pedal Power 2 Plus.
This Baldwin Baby Bison Burns
When White Reaper started, guitarist Hunter Thompson toured the world with this 1965 Baldwin Baby Bison. He stumbled across the guitar on Reverb.com and, after some homework revealed it was a choice instrument for Jeff "Skunk" Baxter when recording with Steely Dan, pulled the trigger.
His favorite part of this peculiar 6-string is its Burns Tri-Sonic pickups (
similar to the ones in Brian May's Red Special
). They're stacked single-coils. Additionally, Thompson enjoys how the "tone" knob acts more like a presence control that "blends in the bottom pickup, allowing you to make the guitar's sound really gain-y or really clean." To take things to another level of weird, Thompson added a Roland GK-2A Divided Guitar MIDI pickup to have fun at home.
Can I Interest You in a Strat, Sir?
Aside from the aforementioned Bison, Thompson normally rocks Les Pauls or Teles. However, he recently scored this lightly worn Nash S-63. For its speaking voice, he opted for the Lollar Sixty-Four single-coils. And you'd think the tonal differences would throw off Thompson a bit, but he said the biggest transition to a 3-pickup guitar is being careful to not rake the middle single-coil with his hand and/or pick. This S-63 stays in E-flat-standard tuning, but Thompson goes with a lighter set of D'Addario NYXLs (.010–.046) and hits the strings with Dunlop Tortex Flow .73 mm picks.
Ready for Your Profiler?
White Reaper was in the middle of a U.S. tour supporting 2019's You Deserve Love when COVID-19 struck and the world shut down. The band's gear went with the Kentuckians back to Louisville, but Thompson retreated to his home in Austin. For the first few months, he hunkered down in the Lone Star State with his one electric and some crappy desktop sims. Longing to play proper electric and be creative, he ordered a Kemper Profiler. Its diverse sounds and intuitive interface prompted Hunter to play guitar more than ever. Everything he needs is backed up on a thumb drive and his entire rig fits in a laptop bag.
"When it came to touring again, the use of the Profiler was a practical decision," admits Thompson. "It's not the coolest rock 'n' roll decision [laughs], but until someone else is setting up my gear, I'll probably be taking the Profiler." And most of his profiles are built off a Divided by 13 model that's brighter than Tony's and sits a bit higher in the mix.
Caution: Cab at Work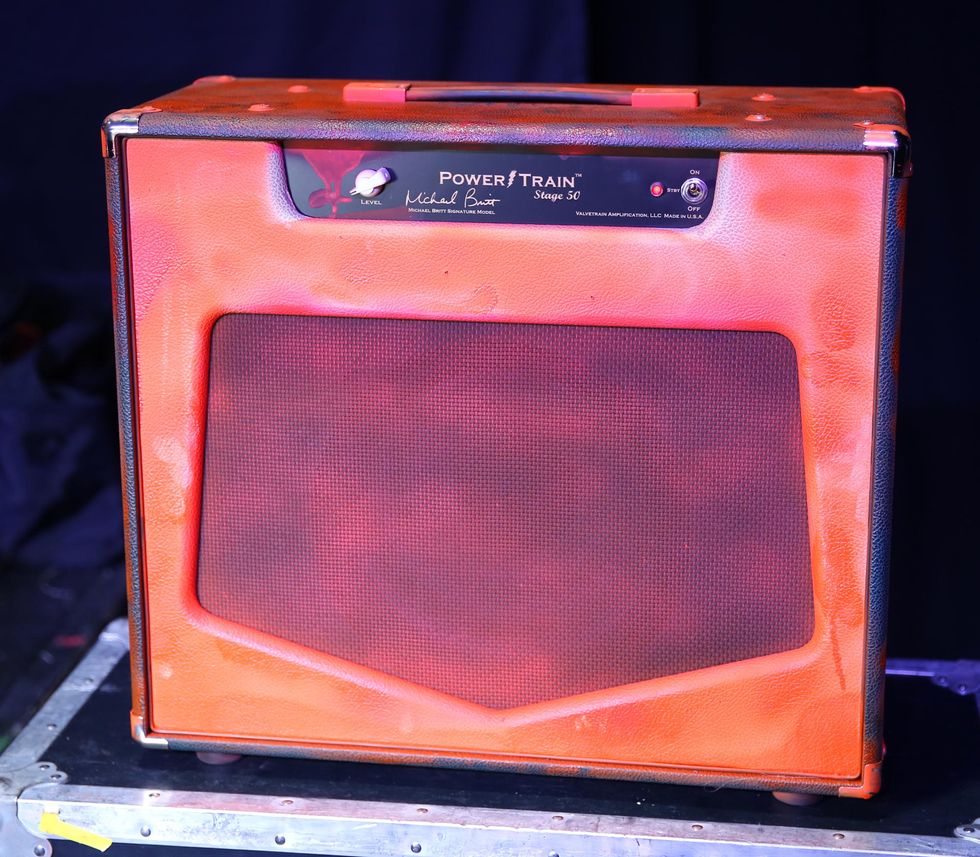 Thompson does run a direct line to FOH, but he also craves stage volume, so he splits the Profiler into this ValveTrain PowerTrain Stage 50—an all-tube (6L6GC) powered monitor designed to work with digital modelers. It has a flat EQ, a single level knob, and comes stock with an Eminence Legend EM12.