My Morning Jacket's Jim James and Carl Broemel Are Back in the Flow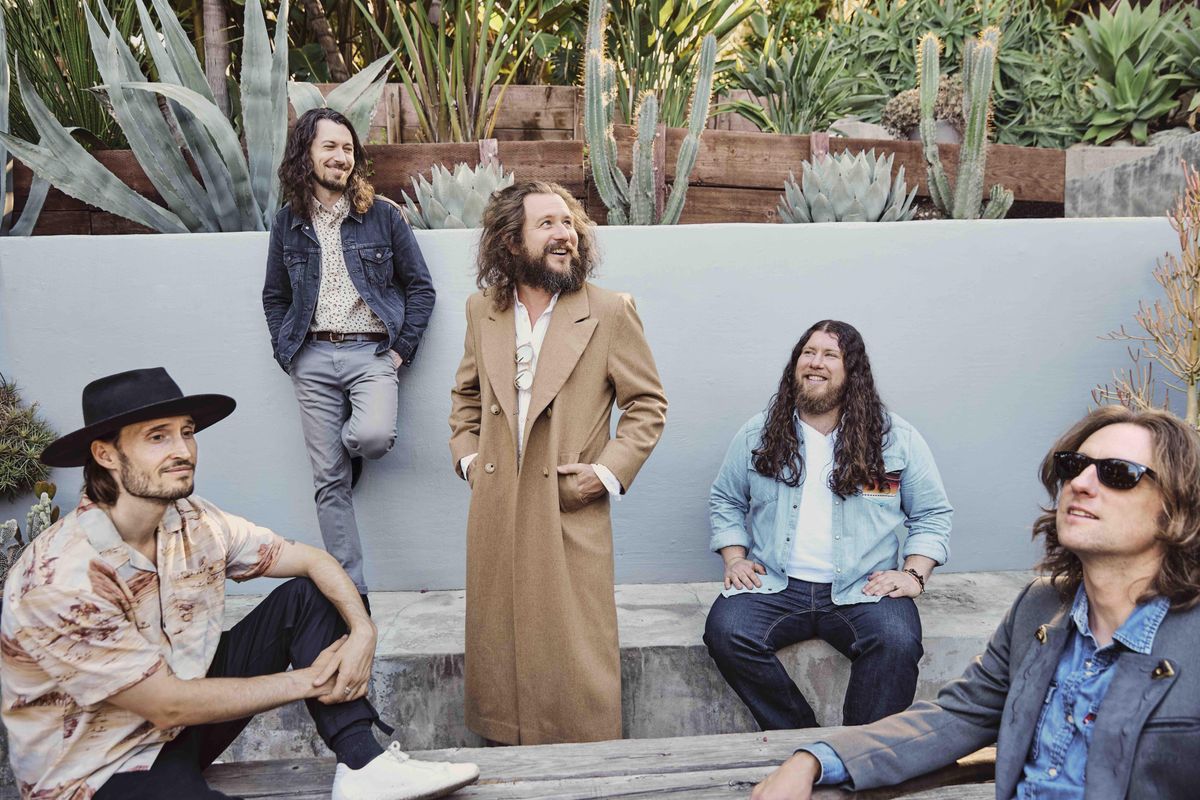 After a hiatus, the rootsy rock heroes reconvene with new guitars—including James' signature Gibson ES-335—to deliver a self-titled album of big beats and powerhouse jams.
My Morning Jacket guitarists Jim James and Carl Broemel both play amazing, beautiful, high-end guitars. But during sessions for their latest album, My Morning Jacket, they spent some time gripping a pair of unusual, less-than-fancy instruments that probably wouldn't need to be kept behind the glass case in your local guitar store.
---
It all started when James received an off-beat custom 6-string from the proprietor of L.A.'s Old Style Guitar Shop. "My friend Reuben Cox made me a Tele out of plywood from Home Depot," James says about his unique high-end/low-end hybrid. "It weighs about 2 pounds and has a Fender neck on it, but the body is plywood. It has one humbucker at the bridge and no knobs or anything. That thing just snarls."
Not to be outdone, Broemel opted for something vintage with plenty of quirk. "My new fave for the studio is a Silvertone U1," he says. "It's cool, light, plucky, and I used it on probably half of the new record. It's very clean and very low output, so the amps always sound friendly. It was a guitar you bought at Sears for $20. It has a lipstick pickup, a volume and tone knob, and a 3-position switch that in the middle position doesn't do anything, but one way is a low roll-off and the other way is a high roll-off. For a pickup that's that close to the neck, to be able to roll-off some lows makes it more useful to me."
My Morning Jacket - Love Love Love (Official Video)
James and Broemel often both play Gibson or Gibson-style instruments—at least during live shows—but it's pretty easy to distinguish between the two of them. James' lines have a feeling of longing or searching to them, as if he's reaching beyond himself for that perfect note that's just past his grasp. Although not after he kicks on his gated Devi Ever USA Fuzz Monster, at which point it just gets nasty (his lead on "Love Love Love" is a great example). Broemel is more subtle. He's often resting his hand on his Bigsby, which gives his playing a faux-slide feel, although at times he'll use a real slide, like on "Regularly Scheduled Programing," for colors and textures. Those differences are most pronounced when they're both soloing at the same time, as they are during the climax of "In Color," off the new album.
But My Morning Jacket isn't Aerosmith, and they're not purposely choosing their guitars to distinguish their tones. "I think those guys know more about guitar tones than what you should and shouldn't do," Broemel laughs. "I think we're more like kids. We're just bumbling through it."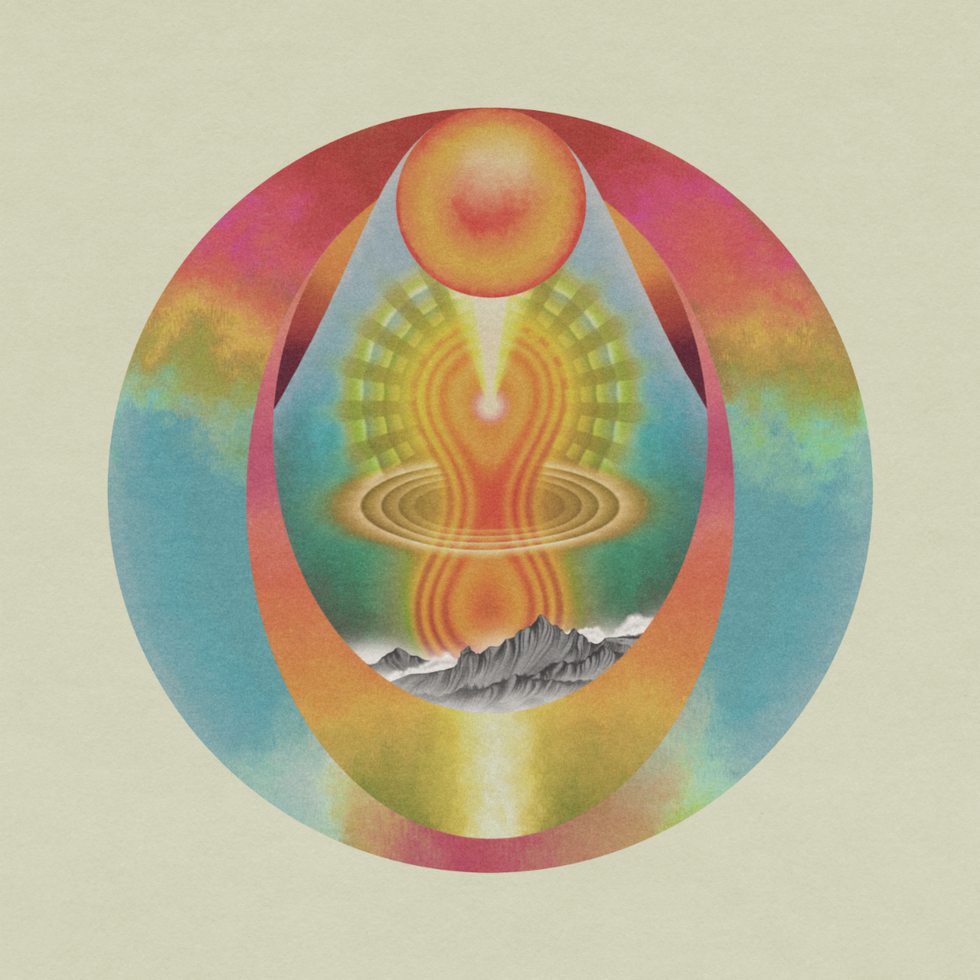 TIDBIT: Even though he has a new signature model ES-335, Jim James chose to use a guitar made from Home Depot plywood on some of My Morning Jacket.
Nonetheless, rich tones abound on My Morning Jacket, whichoozes the band's signature blend of rootsy, '70s countrified rock; tight, cogent songwriting; and space to stretch out and jam. Songs like "Penny For Your Thoughts" and "In Color" are fine examples of that ethos. But as the band headed to L.A.'s 64Sound to begin the album's initial sessions in late 2019, they had no idea what they were walking into—and not just because of their guitars.
Low Pressure and Loose Jams
My Morning Jacket went on hiatus after wrapping up their tour in support of 2015's The Waterfall. After reconvening for four shows in summer 2019—including two epic nights at Colorado's Red Rocks Amphitheater—they decided to head back into the studio that fall to feel things out.
"We didn't really know what the future of the band held, so we just wanted to come in and play together." —Jim James
"That session was interesting because we didn't know if we were going to make a record or not," says James, who also fronts the band. "We didn't really know what the future of the band held, so we just wanted to come in and play together." That set the tone for the sessions and the way the band approached them. "We came in with low expectations and low pressure and started knocking around ideas in an almost jazz-like way, where you just play the idea around and around and let it speak. It turned out we started doing song after song after song. It just flowed naturally."
The jams from those sessions plus another round in March 2020 form the nucleus of My Morning Jacket. Many of the songs were cobbled together from multiple takes, which meant some have detectable tempo changes and even include instrument changes mid-solo. That lends a feeling of raw energy to the album. "I don't really care if they're not exact," James says about the hazards of compiling various takes. "If it feels good, I don't mind that stuff."
Carl Broemel and Jim James, live and in color, doin' the double guitar thing they're known for. "We work together really harmoniously," says James.
Photo by Joshua Brasted
This loose approach also created the ideal conditions for some inadvertent dueling leads, like during the climax of "In Color." "It is very open-ended in terms of who's going to do what," Broemel says. "It's almost to the point where it's like, 'Why doesn't everyone just go for it?' Similar to a New Orleans band where it's like a fanfare and everyone is playing. We haven't perfected that, but that is our idea."
Papa's Got a Brand New Gibson
The sessions for My Morning Jacket were done with limited gear, since James insisted everyone bring only essentials. For Broemel, that meant the Silvertone U1, two Les Pauls, and two Duesenbergs, and for James, it was the plywood Tele, one acoustic, and a prototype Gibson Jim James ES-335.
Jim James' Gear
Jim James poses with his new Gibson ES-335 and one of his favorite guitar tools—his trusty capo. His signature model spots a thin neck profile that, in part, provides relief for his carpal tunnel syndrome.
Photo by Ken Settle
Guitars
Gibson Jim James ES-335
Reuben Cox Custom Plywood T-Style
Chris Fleming-Designed Fender Strat
Scott Baxendale Custom "Jimmy"
Gibson ES-335
Gibson Barney Kessel
Gibson Hummingbird
Gibson J-45
Strings & Picks

D'Addario Nickel Wound (.009–.042)
D'Addario Phosphor Bronze Acoustic Extra Light (.010–.047)
Dunlop .88 mm
Effects
Devi Ever USA Fuzz Monster

Boss Waza Craft BD-2W Blues Driver
Boss OC-2 Octave
Electro-Harmonix POG
Malekko Spring Chicken Reverb
EarthQuaker Devices Ghost Echo
Universal Audio Golden Reverberator
Universal Audio Astra Modulation Machine
Universal Audio Starlight Echo Station
Spaceman Orion
SoloDallas The Schaffer Boost
Amps
3 Monkeys Orangutan
3 Monkeys cab
Mesa/Boogie cab
James' new signature model is the result of a collaboration that took place over about five years. The guitarist explains that his goal was to create a guitar that didn't have fancy appointments—to make something that seemed "almost invisible," as if it were a part of the Gibson line for decades. To accomplish this, James chose to outfit his signature model with a '70s walnut finish, calibrated T-Type humbuckers, and Kluson Waffleback tuners. "I hope people who like me or like my music like the guitar," he shares. "I like the thought of somebody just seeing it in a guitar store and going, 'Whoa, that's really beautiful.' I wanted it to feel like a classic instrument that doesn't have a bunch of weird things on it. I think we've created a classic feeling instrument that plays really well. I've been playing it on these tour dates and I really love it."
One difference that players will find unique about the Jim James ES-335 is its slim neck profile. "I wanted it to have a thin neck, because I've got pretty bad carpal tunnel," he reveals. "During shows, my hands would go completely numb. They would turn into hamburger, and by the end of a tough song, I didn't know if I was going to make it through the next song."
"I like having an amp in a closet, and when you open the closet, it's hot and it smells like wax or whatever toxic shit is in these old amps." —Carl Broemel
Opting for a slim neck is just one of the ways James has adapted his rig to his carpal tunnel issues. He's also switched to lighter string gauges. "It's helped a lot," he says. "I broke strings a lot in the old days. Before I had a guitar tech, I had to use .011s so I would make it through the show. I went down to .010s for a long time. This tour, we went down to .009s, and it's been incredible—the ease of playing. I went to extra-light gauge on the acoustic, too. I also try to limber up and do stretches. I hope I don't have to have surgery. And I have braces I wear when I sleep."
Captains of the Capo
James often plays with a capo, which helps him reimagine the fretboard. He's a visual player who thinks in terms of shapes. In that regard, the capo is a powerful tool that enables him to find new sounds from familiar fingerings. But more than that, his visualizations impact the way he interprets a song.
Carl Broemel's Gear
Carl Broemel wields his Bigsby-equipped '88 Les Paul Standard.
Photo by Ken Settle
Guitars
1988 Gibson Les Paul Standard with Bigsby
Gibson Les Paul Junior
Duesenberg Starplayer TV
Duesenberg Caribou
Silvertone U1
GFI Ultra Pedal Steel
Scott Baxendale Conversion Harmony Roy Smeck Model
Strings & Picks

D'Addario Nickel Wound (.011–.049)
Dunlop .73 mm
Amps
1967 Fender Princeton Reverb

1950s Fender Tweed Deluxe
1968 Fender Vibrolux
Effects
Hudson Electronics Blackbird octave fuzz
Hudson Electronics Sidecar overdrive
Keeley Tone Workstation
Fulltone Tube Tape Echo
Empress Tape Delay
Moog MF Delay
EBow
"I think in terms of shapes and colors," he says, "and each fret represents a different color. When I put a capo on a different fret, it makes the song a different color for me. No capo, or open, I see as a white or clear color. First [fret] capo is yellow. Second capo is blue. Third capo is red. Fourth capo is orange. Fifth capo is purple. Sixth capo is pink. And I think that's as high as I got."
For Broemel, using a capo helps him take advantage of some of the instrument's characteristics—like open strings, unisons, and harmonics—especially in keys not generally considered open-string "guitar keys."
Rig Rundown - My Morning Jacket's Carl Broemel
Article and photos: https://bit.ly/MMJBroemelRRPremier Guitar's Perry Bean met with Carl Broemel when My Morning Jacket stopped in Nashville on their summer t...

"Our song 'Circuital,' for example, is in Bb," he says about the title track of their 2011 release. "You get no benefit from a standard-tuned guitar when the song is in Bb—you get nothing open. But that's what's so good about the guitar. You have all these bonus things that are special about the instrument. You have access to two or three versions of the same note. I like to use unisons, an open string with a fretted note, or an open string with a harmony, and play with that—play high on the neck but also use an open string. That stuff is interesting to me about the guitar. It has limitations, which I like, and if you use a capo, you can scoot those limitations to whatever key you want."
The Path of Least Resistance
When it comes to capturing their sounds, it's no surprise that Broemel preaches his love for old-school tones. "I like having an amp in a closet, and when you open the closet, it's hot and it smells like wax or whatever toxic shit is in these old amps," he says. "That's what I want. I need that. You pick up an acoustic guitar and it is this beautiful thing and it smells like wood." This provides Broemel with a more-visceral sonic experience. He adds, "I always feel like I need the sensation of touching the music. It's been hard with digital. When you were working with analog all the time, it really felt like every sound had a tactile feel. I am over that, but as far as guitar sounds, you've got to have a speaker. You have to have an amp. Maybe the tube is a little wonky. Maybe the fuzz pedal you found in a dusty box isn't working right, but it's the best."
"There are no rules or distinctions between who's doing lead or who's doing rhythm. It's like we both float in and out of all the different spaces." —Jim James
James and Broemel are no purists, and both embrace digital gear when it helps get the job done. Broemel concedes that, sometimes, it's just a more reliable method. "I took my Fulltone [Tube] Tape Echoes on the road for a while," he says. "But there was one Bonnaroo we were playing, and I pulled the top off and the tape had melted. It was too hot, and there was dust and moisture in the air. You can do it, but if you want your tape echo to work the entire show, maybe it has to live in an air-conditioned box." Broemel uses a tape-free Empress Tape Delay on tour these days.
When it comes to the band's gear, how they record, or how they divvy up their parts as a two-guitar outfit, My Morning Jacket embraces the path of least resistance and keep things loose and natural. It just seems to work. And keeps working. "It's pretty organic," James says. "Sometimes I'll have a thing that'll need to happen and I'll ask Carl to do a certain thing. But a lot of times we'll just play and let it speak. We work together really harmoniously. There are no rules or distinctions between who's doing lead or who's doing rhythm. It's like we both float in and out of all the different spaces. We have our own way of doing things."
My Morning Jacket – Regularly Scheduled Programming