Photo by Chuck Brueckmann
On the band's new album, Pawns & Kings, its creative leaders prove the virtues of deep songwriting, tube amp tones, PRS guitars, and hard work.
On top of having all the trappings of an epic rock band, Alter Bridge, who've just released a new album called Pawns & Kings, has the necessary talent and magnetism to back them up. Just look at the lineup: Their charismatic frontman, singer/guitarist Myles Kennedy, is considered among the best vocalists in modern rock; guitarist Mark Tremonti is not just heroic on the instrument, but virtuosic; and together, Brian Marshall's melodic bass playing and drummer Scott "Flip" Phillips' Bonham-like power generate megawattage.
Tremonti, Marshall, and Phillips are also founding members of Creed, one of the biggest rock bands of the past few decades. Kennedy is the singer for Slash's solo band. And, Kennedy and Tremonti have also been enjoying successful solo careers: Tremonti just released Tremonti Sings Frank Sinatra, recorded with Ol' Blue Eyes' surviving bandmembers and benefitting the National Down Syndrome Society.
Alter Bridge - Holiday (Official Video)
Clearly, Tremonti and Kennedy have their creative engines in high gear. "It's an addiction," Tremonti explains. "You write that song that makes your hair stand up, and you want to do it again. It's the same with anything creative, whether writing a song or book, or painting a picture. It is like a drug."

As Kennedy points out, the trick is balancing that addiction with the signature sound they've created for the past 20 years. "We're nearly two decades in, and we have a good understanding of what boxes to check and what our fan base wants to hear. It's that delicate dance of making sure that they're content and that we're also still pushing ourselves."
"I started as a guitar player. Lead, in particular, was my big passion growing up."—Myles Kennedy
For many fans, Alter Bridge's second release, Blackbird, defined the band's sound. It took everything they loved about the first record, One Day Remains, and made it bigger, darker, and more complex—epic, in a word. The title track clocks in at over 7 minutes long and pits Kennedy and Tremonti against each other in one of the best guitar duels in recent rock history. Since then, each Alter Bridge record has kept on this path, piling on more and more heavy, melodic elements. But there is a limit, and on Pawns & Kings, the band was ready to make a change.
"If you listen to some of the prior records, there were a lot of textures and elements weaving through," explains Kennedy. "The other day, I was reviewing one of the songs from [2016's] The Last Hero. I was listening on headphones and was like, 'I didn't even know that keyboard part was in there!' We pulled all that out of this record. 'Less is more' was the motto."
Tremonti adds, "We decided, 'Let's get back to our old way of doing things.' We want it to be more just the guys playing their instruments. No orchestration underneath. No pads. Just us. It gives it more depth, and everything else has more room to breathe."
Alter Bridge - Pawns & Kings (Official Video)
That choice worked out in their favor, and on Pawns & Kings, Alter Bridge's songwriting, musicianship, and crushing guitar tones are more in your face than ever. The band's longtime producer Michael "Elvis" Baskette—who has also worked with Creed, Mammoth WVH, Sevendust, and Slash—was crucial to the creative process.
"[Elvis is] such an important element," says Kennedy. "He's an incredible producer. He can get great tones, and he has a really great arrangement ability. More than anything, he understands the psychology of making records. That's so much of what this process is about."
Baskette, who's manned the board for Alter Bridge since Blackbird, knows exactly what the guys are capable of, and he had them dig deep. "I think it's our densest record by far," says Tremonti. "It's a lot to take in on first listen."

Kennedy adds that "we've integrated more of a demoing process, where each guy will go to his corner and spend time on the ideas that he feels strongest about before presenting them to the band." He names the new track "Sin After Sin" as an example of this recent dynamic. "It was this musical bed that Mark had, and then I came up with some lyrics, melodies, and whatnot."
"Usually, when it's the heavy, chunky stuff, I'll track that first, and then Myles will track a lot of his atmospheric, effected stuff." —Mark Tremonti
Although both musicians have a similar writing process, how their diverging styles meet creates the band's trademark sound. For Tremonti, a die-hard metalhead, it's about exercising those tendencies outside the band while opening the floodgates for Alter Bridge. "Usually, when I write for Tremonti [the name of his solo project], I try to put on my speed-metal hat. That's when I get to pull out all my childhood metal influences. I love that stuff, so it's always fun. Other than that, I like to write whatever comes out."
Kennedy tends to follow a more traditional singer-songwriter approach, as heard on Alter Bridge's acoustic staple, "Watch Over You," from Blackbird. But he's not afraid to branch out, even lacing his debut solo album, The Year of the Tiger, around gritty resonator-guitar blues. But this time, one song, "Holiday," with its old-school rock vibe, seemed like a step too far.
"I almost didn't even present it to the band," he admits. "I played the demo to our producer, and he's like, 'Oh, that's going on the record! It's got that swing and that swagger.' I'm glad he helped."
Mark Tremonti's Gear
Tremonti digs into one of his PRS signature guitars, which are made from mahogany with a flamed maple top, have a thin set neck, medium jumbo frets, and PRS Tremonti Humbuckers.
Photo by Chuck Brueckmann
Guitars
PRS Mark Tremonti Signature
PRS Custom Baritone
Martin acoustics
Taylor acoustics
Ramirez classical
Amps
PRS MT 100 Signature prototype
PRS MT 15 Signature
Dumble Overdrive Special
Cornford RK100
Mesa/Boogie Oversize 4x12s
Effects
Morley Mark Tremonti Wah
Ibanez TS808HW Handwired Tube Screamer
MXR Uni-Vibe Chorus/Vibrato
Boss OC-5 Octave
MXR Smart Gate Noise Gate
Picks and Strings
Dunlop Flow 1.3 mm
D'Addario (.011–.052)
The guitarists trade leads on tracks like "Dead Among the Living" and "Last Man Standing," and Tremonti says they take very different approaches to the stage and studio. "I was never one of those guys who likes to stay up late at night, break out a million pedals, and experiment with tones. So, usually, when it's the heavy, chunky stuff, I'll track that first, and then Myles will track a lot of his atmospheric, effected stuff."
With Tremonti and Kennedy at the top of their game as guitarists and vocalists, one constantly pushes the other, elevating the band. "Stay" stands out as an example, "because it's a major key, it's very anthemic, and you have Mark singing," relates Kennedy. "He was insecure about his vocal, and I remember telling him to stop that nonsense [laughs]. His voice is great, and because I'm more of a tenor, there's a nice blend there.
"I started as a guitar player," Kennedy continues. "Lead, in particular, was my big passion growing up. The only reason I ever started singing was that it was easier to sing [my own songs] once I started writing them. When Mark discovered that I played lead guitar, he always pushed it. It's the same nudging I did with him and his vocals."
For their latest album, Alter Bridge scrapped their usual textured approach for a stripped-down-but-strong framework. "We want it to be more just the guys playing their instruments," Tremonti declares.
"I know that everything I throw at Myles, he's capable of doing," Tremonti adds, "and he's going to fill a different sound. He's got a signature sound. It adds another layer for the band."
Guitar tone is a big deal in Alter Bridge. Tremonti was Paul Reed Smith's second signature artist and helps design every piece of gear that bears his name. Although his PRS Mark Tremonti Signature rarely leaves his hands, a different PRS delivered Pawns & Kings' heaviest moments. "I have a baritone that we used almost all the time," Tremonti says. "Anything tuned low is that guitar. When I brought it into the studio, Elvis was like, 'No shit! I used that when I recorded Limp Bizkit.' Then, I was doing a show with Limp Bizkit, and Wes [Borland, Limp Bizkit guitarist] came over. He's like, 'Is that what I think it is? Is that the baritone? Shit, that's a great guitar!'" Tremonti and PRS have also collaborated on the MT 15 amplifier. The lunchbox-style head is a favorite for its percussive high gain and clean channels. Pawns & Kings also offers the first hearing of the upcoming PRS MT 100, a 100-watt signature version that even dethroned Tremonti's beloved Mesa/Boogie Rectifiers for the sessions.
Myles Kennedy's Gear 
Myles Kennedy is a double threat: a great rock vocalist who can also shred like a maniac when called upon to do so.
Photo by Chuck Brueckmann
Guitars
PRS SC245
PRS Custom Singlecut
Amps
Diezel VH4
Diezel Herbert
Dumble Overdrive Special
Diezel 4x12
Effects
Custom Audio Electronics Wah

EHX Micro POG
Boss RV-6
Foxrox Octron3
Reeves Klon clone
Line 6 MM4 Modulation Modeler
Picks and Strings
Dunlop Ultex 1.14 mm
D'Addario (.011–.052)
"I just approved the final version," Tremonti says. "The clean channel, to me, is the ultimate clean channel. I pulled out all my Fender Twins, played through them one by one, and found my favorites. But when I played them back-to-back with the MT 100, I preferred the MT 100. The third channel is the overdrive channel, and it's badass. I wanted it to be all I'd ever want at my home, studio, and on tour. And I made the middle channel an overdriven Dumble-ish kind of thing."
Kennedy is also a PRS devotee, and has leaned on his trusty tobacco burst SC245 for years. While he did experiment with a Fender Telecaster for Alter Bridge's 2019 Walk the Sky album sessions and tour, he's replaced that instrument with another PRS. "There's this one-off PRS made me last year," he says. "It does a lot of the things I wanted it to do in the Tele realm. It's a black Singlecut, and that is what I played on 80 percent of this record."
"We decided, 'Let's get back to our old way of doing things.' No orchestration underneath. No pads. Just us." —Mark Tremonti
Kennedy is also passionate about his amps, and chose to go with Diezel Herberts and VH4s long ago. "It was really challenging to find a setup that worked with Mark's," he says. "There's a wide amount of frequencies being used. It was a matter of finding a nice middle ground that complemented what he did."

Kennedy and Tremonti remain unabashed high-powered-tube-amplifier fans. "Mark and I still want those tubes to be working," Kennedy says. "We're kind of old school in that sense. Our manager, I'm sure, would love us to switch to Kempers to save a ton of money. But we're kind of bullheaded. We'll keep flying the flag, man."
Rig Rundown - Alter Bridge's Mark Tremonti & Myles Kennedy
Tremonti also notes, "I did half of a tour with a Kemper at one point, just to try it out. I never found the right lead setting that made me comfortable. I always felt some digital weirdness in there. When I switched to my MT 100, I wouldn't go back. So, on the road, it's just the one MT 100 now."
All in all, Alter Bridge are still decidedly old-school in their business strategies: record, tour, work hard, repeat. "It was hard enough once people stopped buying physical copies of records, and then you add the way the world's changing," Kennedy says. "Being a musician … you got to work hard. But we're in Munich right now, and it's like, 'So far, so good.' It's kind of blowing our minds that people are showing up. It's been great!"
From left to right: Scott Phillips, Mark Tremonti, Myles Kennedy, and Brian Marshall make for a powerhouse collective that shows no sign of relenting in their epic delivery of hard rock.
Photo by Chuck Brueckmann
But does that kind of work ethic have a breaking point? "To be totally candid, there was a period when I was afraid that could happen," admits Kennedy. "I was like, 'You know what, I did three records back-to-back-to-back. I've got to shut this down for a little while and let the well refill'—which is weird for me. Usually, once a record's done, I'm already on to the next one."
Tremonti hasn't stopped long enough to think about it. "I remember watching an interview with Carl Verheyen," who was a member of Supertramp and has recorded with Dolly Parton, the Bee Gees, and a host of others. "He's like, 'I'm a professional guitar player. I don't go a handful of days a year without playing the guitar.' That struck me. Now, I try to make sure that when I'm gone from home, I'm working all the time. Every day I'm practicing for the next Sinatra shows. I've got two coming up after this tour, and I have another one in March. I'm trying to book as many as I can. I'm also writing a book, which is taking up most of my time at the moment. Then, I'm writing songs for whatever happens next, trying to stay ahead of things."
Alter Bridge Blackbird Live From Amsterdam
Photo by Han-Su Kim
Following a long road from Saskatchewan to California, this master builder lands in Corona, to painstakingly reproduce Jerry Garcia's "Alligator' and other gems.
Like everything in the Grateful Dead's orbit, each of Jerry Garcia's stage guitars has been pored over by Deadheads, with data on their usage rivalling baseball-stat-level analysis. Dedicated fans can hear the differences between each of these iconic instruments—not just because of their tones, but in the type of music and playing they inspired. So, it's only natural that each 6-string has its own subset of fans. Some love to hear and see Wolf and Tiger—custom instruments built by Doug Irwin, both of which have their own merch, including T-shirts, hats, and miniature replicas. And some prefer Garcia's deep-cut Travis Bean era. A large cadre of others prefer Alligator, the Stratocaster that Graham Nash gave to Garcia as the Dead embraced cleaner, country- and folk-inspired sounds.
Oddly enough, until now, some of the finer details about Alligator and its extensive modifications remained improbably unknown. A quick visual inspection will catch the brass control plate and unique bridge assembly, and maybe even the brass nut. The details of what lies inside, however, have been less reported. So, when Fender set out to create a Custom Shop Jerry Garcia Alligator Stratocaster, master builder Austin MacNutt took on the monumental task of analyzing the finest nuances of the original in order to painstakingly recreate each and every one.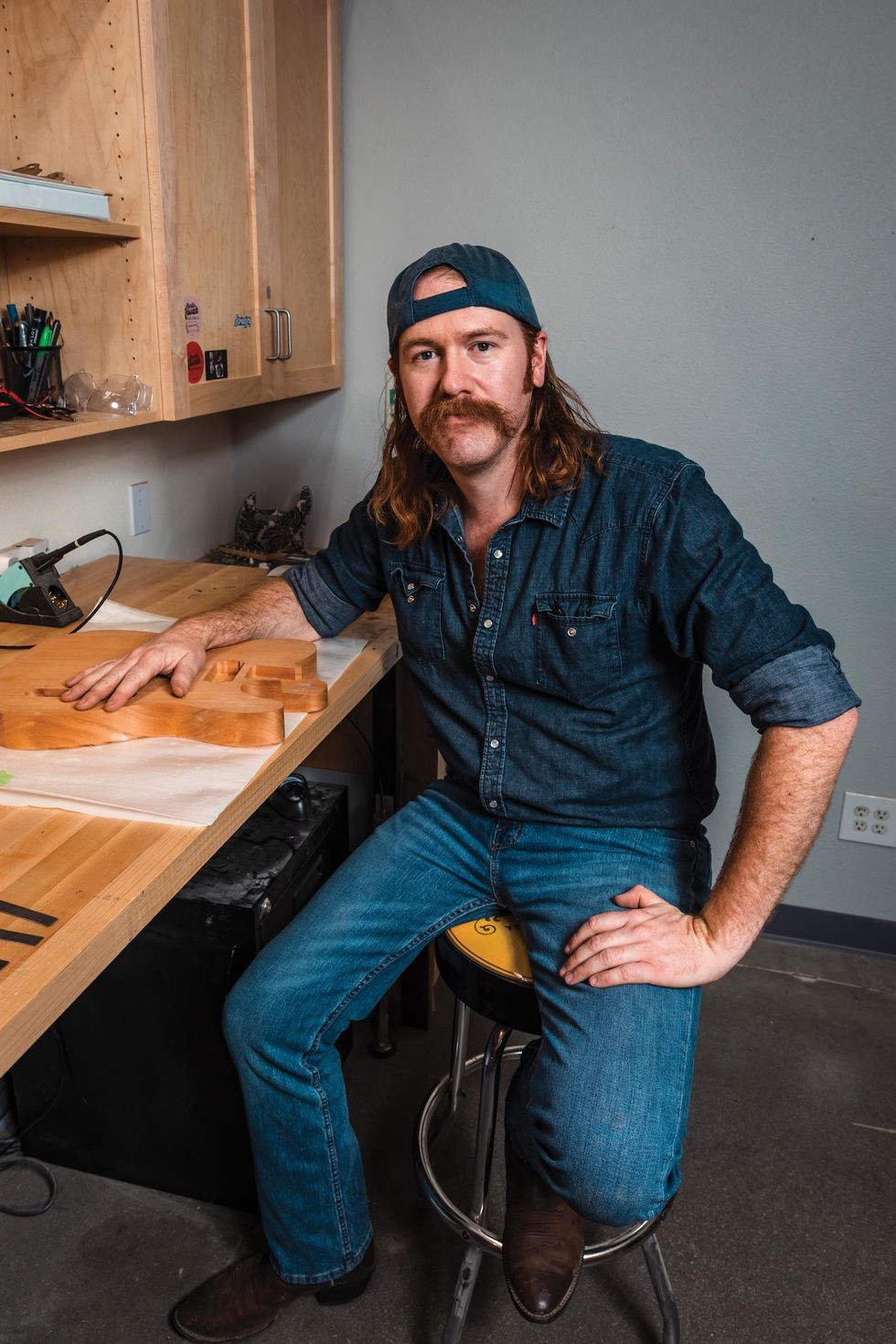 Master builder Austin MacNutt joined the Fender Custom Shop team in March 2022.
Photo by Han-Su Kim
When he took on the project, MacNutt was already familiar with Alligator and some of its unique attributes. "I've seen pictures of it," he says, "but not detailed shots. There's not a lot of great pictures of it from back in the day." MacNutt was given one day to spend with the guitar and collect all the necessary data. "That day when we brought it in," he recalls, "we opened it, and the room was just silent—everyone taking it in for a good minute or two before anyone even touched it. We pulled it out, put it on the table, and started taking it apart. To get to disassemble it is such an honor."
MacNutt knew he had his work cut out for him. "There's a lot of strange stuff on it," he says. "It's one of a kind, for sure. It was definitely a work in progress, like a test bed, where they're trying out different things." He took extensive notes and photos on everything from the guitar's boost circuit and the unique metal bar that serves as a string retainer, to more refined details, like the scalloping on the brass nut and unique hammer-pattern on the control plate. "I was writing down how thick this thing is, what size this screw is, how long is this screw," he explains. Surprisingly, when he disconnected the neck joint, MacNutt discovered that Alligator—believed to be a 1957 Strat—was actually assembled by ground-floor Fender employee Tadeo Gomez back in 1955.
"That day when we brought it in, we opened it, and the room was just silent—everyone taking it in for a good minute or two before anyone even touched it."
Over the course of a couple months, MacNutt set about creating a prototype for a limited edition run of instruments. When we talked in mid-November, the production of those guitars was under way, and MacNutt sat at his computer with a rack of six in-progress Alligator builds behind him. When MacNutt talks about the process, his face lights up. It's not lost on him that the Alligator model is a full-circle project with deep personal roots.
Growing up in a musical family in Saskatoon, Saskatchewan, both of MacNutt's parents played country music. His older brother is also a guitarist and helped Austin find his way to classic rock when he got started playing around the age of 11. While MacNutt's first guitar was a Hondo Paul Dean II, it wasn't the Loverboy guitarist's signature model that really inspired him. It was his dad's 1963 Fender Jaguar that was often laying around the house. He says he felt that the Jaguar was special even before he started playing.
MacNutt's first build was a Tele copy with a Jerry Garcia-style flourish. Here, he works on an actual Fender Telecaster.
Photo by Han-Su Kim
"My dad tinkered on his stuff a lot," he reminisces. "He worked in a music store. When I was real little, I have faint memories of being in the basement where all the parts are. It was always fascinating to me." Austin took to tinkering at a young age and, after high school, he decided to attend the Guitar Craft Academy in Hollywood.
During the program, he built his first guitar, a Telecaster-style instrument with some auspicious modifications. He explains, "The bottom horn was kind of like some of Jerry Garcia's Alembic builds, with the little thumb. Three P-90s, a wraparound bridge, the big Strat headstock on it, ebony build with no face dots. It was a lot of weird stuff. A lot of times, people's first guitars are filled with strange choices."
The folks at the Guitar Craft Academy must have noticed something special in Austin's work, because once he finished the program, they offered him a job. "Before, I was working at a grocery store, saving up money to go there, and I didn't know what I was gonna do next," he explains. "At the end of it—honestly, I wasn't even sure I was gonna stay in L.A.—they offered me a job."
The painstakingly detailed Custom Shop Jerry Garcia Alligator Stratocaster prototype.
Photo by Han-Su Kim
He found teaching to be a great experience. "It was a perfect opportunity," he says with a warm, appreciative tone. "Not only did I get to work there, I kind of got to continue my education by continuing to keep the rate at which I was doing all that stuff up." But that wasn't the only opportunity that came from working at the Academy.
"We brought Ron Thorn [of L.A.'s Thorn Custom Guitars] in for a day, and he'd go over inlay work—he's a master of inlay," he says of the esteemed luthier. The two hit it off and Thorn invited the up-and-comer to join him at his shop. Starting first as a part-time employee, MacNutt eventually moved on after five years of teaching to join Thorn Custom Guitars full time. In the small, dedicated shop, MacNutt gained loads of new experience. "I was resawing wood, fretting, truing boards, picking the wood, gluing body blanks, whatever needed to get done," he says. "I got to learn a lot of skills under the whole umbrella of guitar building."
But in 2018, Ron Thorn took a job at Fender and closed his shop. MacNutt moved on to Xotic and also began running his own shop, where he focused on repair work. Along the way, he stayed in touch with his old boss. And when there was a position available in the shop, Thorn gave him a call. "I jumped at the chance," MacNutt says.
"A lot of times, people's first guitars are filled with strange choices."
Last March, MacNutt joined Fender as a master builder and says there have been "whirlwind aspects of it, definitely diving in and just getting the lay of the land." It's not lost on him that, like many builders, his first build was a Telecaster copy, and now he gets to build the real thing. "The first one I put my signature on the back of the headstock," he says, "I had to sit and look at it for a little bit, taking it in."
By the time we spoke, about eight months later, MacNutt estimated he'd built about 100 Fenders. In the shop, he spends his days bouncing between various builds and says he gets to work on a nice variety of instruments. "It's a good mix between spec pieces—things I want to build—and something a customer or a dealer has ordered," he points out.
His favorite spec piece so far was a special one: a copy of his dad's '63 Jaguar. "I pitched it to a dealer, and they loved it," he enthuses, "and they wanted me to go ahead and do it. I had my dad take pictures and send them to me. Nobody else knows that guitar, but it was special to be able to do that." He adds that it was weird to play a copy of the guitar he's admired for his entire life. "There's a few paint chips on the back that I remember noticing when I was a kid. To see the paint chips on there, they're strange."
MacNutt and longtime Grateful Dead crewmember Steve Parish take a close look at the Alligator prototype.
Photo by Han-Su Kim
The Alligator project drew on the same inspired, detail-oriented skills. "When that opportunity came up, I knew the guitar," he exclaims. "Ron pitched it to me, and immediately, I was on board." While MacNutt was the expert on his dad's Jaguar, he turned to former Grateful Dead crew member Steve Parish—who made some of the guitar's modifications—to give his Alligator prototype an enthusiastic thumbs up (and there's a video to prove it).
Re-creating the iconic Alligator has a unique angle. "To see a vintage Strat like that heavily modified, you'd never see that now," he says, shaking his head. "But in the early '70s, it was just an old guitar—'Let's hack it up, let's customize it.'" And reproducing his reproduction is another endeavor. "Up until this point," he says, "I've been building different guitars, and I relic them however I want them to look. Whereas with these, I've got a template that I stick to. That's been a new experience. It's fun the whole way through."
Looking ahead, MacNutt sees a lot of builds in his future and is plotting out some new spec pieces. But he feels like the Alligator will loom large for quite some time. "I know that guitar pretty well at this point. I'll come across a picture of it on a random Instagram post now, and it's like, 'Hey, there it is!' It feels strangely like a part of me now."
Photo by Claire Marie Vogel
The breakout songwriter-guitarist revels in her truest self on Revealer, staying playful and curious through experimental tunings, a rubber-bridge guitar, and other tone toys, while keeping the essence of the song paramount—a treasured approach she gleaned from the influence of Joni Mitchell.
For Madison Cunningham, the greater good of the song always comes first. But while the song itself is always king for the Los Angeles-based singer/songwriter/guitarist, her tunes are rendered with striking features that can't help but draw the ear deeper. Whether you're snared by her poetry, her beautiful voice, her wonderful sense of melody and composition, or her dexterous and often unexpected guitar playing, Cunningham's songs tend to contain multitudes. She is the rare breed of artist who pens earworms with the kind of depth and intrigue that musos go crazy for. It's a magic trick that's earned her comparisons to the legendary Joni Mitchell (who Cunningham cites as a key influence), and it's also earned her four Grammy nominations and plenty of famous fans as a songwriter's songwriter.
With her highly anticipated third album, Revealer, Cunningham set out to discover who she truly is as an artist and songwriter beneath the layers she built up after a few turbulent years in the music business. The resulting collection of songs conveys a sense of honesty and authenticity that feels rare in the era of social media. Revealer cohesively blends sounds pulled from indie-rock living with chamber-pop arrangements, and Cunningham's folk-songwriting fundamentals are supercharged with killer guitar ideas. And while those refreshing riffs form the foundation of many of Revealer's songs, she contextualizes the guitar's place in her world and on Revealer in her own words.
Madison Cunningham - Hospital (Live Performance)
"This record was me trying to get back to my interest again," she explains. "I went through such a weird, barren creative time before it that I was like, 'God, what do I actually enjoy playing or writing?' My whole journey as a guitar player, from the moment I started playing to now, has been trying to find my voice and my home in it. It's such a versatile instrument and it's been established by so many incredible innovators. I'm always trying to find a new way into it that feels like me. My sense of who I am is always changing, so there was certainly a lot of energy spent trying to figure out where the guitar belonged on this record, as opposed to the last one, where I felt a little more sure about where I was going. On this one, I was kind of happily lost in trying to figure it out."
Cunningham admits that navigating the uncertainties made it a difficult record to make at times. However, the process yielded some incredibly cool guitar moments, including the album's opening track, "All I've Ever Known," a song that, Cunningham says, "feels very true to the way I view harmony and rhythm, overall." The song opens with a playful, melodic hammer-on lick that recalls the late Jeff Buckley's best work—a lick that Cunningham stumbled over at soundcheck during a dark period of a long tour and haunted her until she returned home.
"If someone's only take-away from my music is, 'Sick guitar tone, bro,' I would be bummed. That compliment is always just slightly offensive to me, because it means you didn't get anything from the song and the guitar stole the show."
"That song and 'Anywhere' reflect back the things that I love most in songwriting," she shares. "We were in the middle-of-nowhere Ohio, and it was literally nine below. We were cold and grumpy, and we were warming up onstage. I was just at the point where I'd toured so much that year that I was so tired of hearing the songs we were going to play that night, and that riff came out of nowhere. I just found it at soundcheck, and it made all sorts of sense in certain parts of the fretboard. My band and I jammed on it at soundcheck, and I have this voice memo of it that I took home with me. The first week that we were off tour, I just sat in my house and finished it. It all came out at once."
Another standout guitar moment on Revealer is the fuzzy, snaky, baritone-esque guitar line that underpins the single "Hospital." The riff opens the song and dances with Cunningham's soaring vocal line and a lovely string part. It's an idea that really shows off Cunningham's knack for penning intriguing and fun guitar parts that don't overshadow a song's spirit; it's simply a colorful character within the song. Cunningham describes the origins of "Hospital" as "a test to see if I could just write a simpler song with fewer chords and to not make it about the guitar." And the composition came about in a different order than usual. "The song itself did come first and then I figured out what the guitar needed to be after the basics were written," she says. "Usually for me, it's the reverse."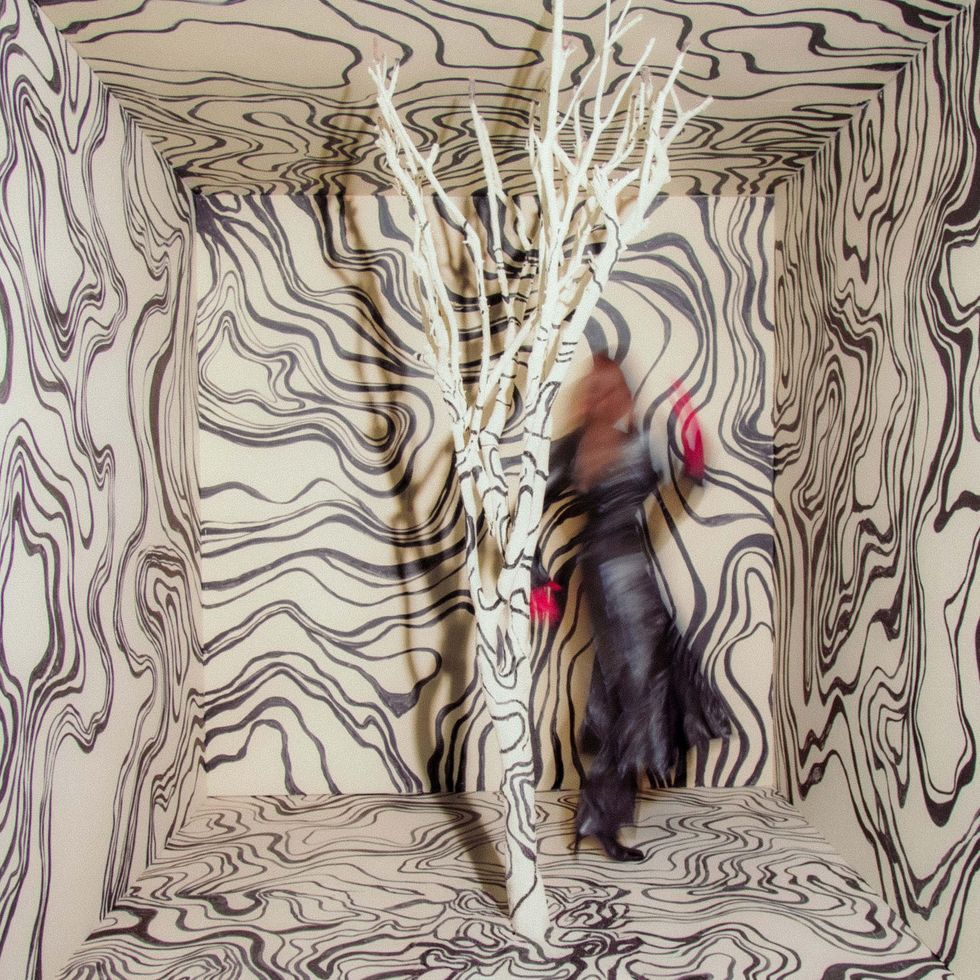 Writing her Grammy-nominated third album, Revealer, was an adventure in self-discovery for Madison Cunningham. Her creative team included producers Tyler Chester, Mike Elizondo, and Tucker Martine.
"Hospital" also provides a shining example of Cunningham's clever approach to shaping unique tones. The guitar part on the song might sound like a baritone, but it's actually a standard-scale guitar in standard tuning, pitch-shifted down to B standard with the help of a DigiTech Whammy pedal. Low tunings are a signature part of Cunningham's sound. She typically tunes her favorite Fender Jazzmaster down to C standard, but the "wacky tone and sound" the Whammy's pitch-shifter gave the riff won out over a guitar actually tuned down to B. "I found if I just tuned a guitar down to B, the weird thing I liked about the sound was gone," she explains. "I use that pedal live, too, but since my Jazzmaster is tuned to C standard live, I don't have to drop it as much with the Whammy."
Revealer's B-side boasts some of Cunningham's most adventurous playing, including the off-kilter, Eastern-sounding stabs that lace up "Collider Particles," and a proggy, finger-twister of a riff that punctuates "Your Hate Could Power a Train." She wrote the pair of tunes in the studio with co-producer Mike Elizondo. "It was like I opened up the toy chest for a minute when we wrote them," Cunningham shares. "There was so much of this record where I felt depressed and sad while making it, that these songs were some real bursts of joy for me. It felt like those songs on their own, without a body-of-work like the album, don't necessarily represent the whole of me, but they represent an important part of me. I wanted a playful, curious element to be really an important element of the B-side of the record, and they gave me exactly that."
Madison Cunningham's Gear
Madison Cunningham plays the Sinclair, in Cambridge, Massachusetts, in October 2022. Her Jazzmaster is a made-in-Mexico '60s reissue that she bought right off the wall at Guitar Center.
Photo by Tim Bugbee
Guitars
MIM Fender Jazzmaster reissue
1960s Silvertone acoustic with Old Style Guitar Shop rubber bridge
Amps (typically recorded in stereo pairs):
1967 Fender Princeton Reverb (modified to black-panel spec)
Early '60s Magnatone 670 Stereo
Mid-'60s Gibson Falcon
Effects
JHS Emperor

DigiTech Whammy
Maestro G-1 Rhythm N Sound Processor (vibrato on "Sunshine Over the Counter")
JHS Artificial Blonde Madison Cunningham Signature Vibrato
Strings & Picks
D'Addario Flatwound (.013–.056)
Dunlop Max-Grip 1.14 mm
For the Eastern-flavored guitar part on "Collider Particles," Cunningham's "toy chest" included one of the increasingly famous rubber-bridge guitars luthier Reuben Cox crafts at L.A.'s Old Style Guitar Shop, which was paired with a JHS pedal for a glitching effect. It's an example of Cunningham and Revealer's production team's (which included longtime foil Tyler Chester, as well as Mike Elizondo and Tucker Martine) shrewd ability to include heavily effected sounds without allowing them to consume the track.
"I went through such a weird, barren creative time before it that I was like, 'God, what do I actually enjoy playing or writing?'"
"The rubber bridge thing has been a distinctly Los Angeles sound, and the gospel of them is traveling, and it's becoming a more universally used and sought-after sound," says Cunningham. "They started to pop up around me and immediately sounded like an effect I liked and something I wanted to use. So, Tyler [Chester] lent me his during the pandemic and I just never gave it back. The rubber bridge is responsible for finishing a lot of the songs: "Who Are You Now" and "Anywhere" and "All I've Ever Known" … all those songs were kind of a result of that guitar. I couldn't speak more highly about it, and now that it's becoming a sound that people are using, I'm trying to find new ways to make it sound like something else, not just a rubber bridge. I still want to get the 'what is that?' effect, because I think that's its original intent, to make people tilt their heads a little bit and go, 'What the heck is happening with this?' It's the kind of guitar that has so much room to explore within it."
Cunningham borrowed this 1960s Silvertone acoustic with an Old Style Guitar Shop rubber bridge from her producer, Tyler Chester, and never gave it back. She wrote several Revealer tracks on this guitar
Photo by Noah Torralba
Though Cunningham found the rubber bridge to be the perfect tool to finish much of the album's songs, her trusty Jazzmaster did most of the heavy lifting. The guitar is a bone-stock made-in-Mexico '60s reissue that Cunningham plucked off the wall at Guitar Center, bonded with immediately, and never looked back. "I never made the conscious decision to be like, 'I'm a Jazzmaster girl now!' That particular guitar was the first one I ever played, and it was just immediately comfortable for me, and very versatile," Cunningham says of the sunburst offset. "And it immediately held all the deep tunings that I'm always tuning my guitars to. It was like, 'This is the sound that I hear in my dreams.' It became a staple for the last six years and I'm pretty married to this one because it's got my imprint now. It feels like home."
Another homebase for Cunningham, and font of inspiration, is Joni Mitchell, who returned to the stage this year for the first time in decades at the 2022 Newport Folk Festival. Cunningham reflects on the Canadian icon's gifts and influence on her own path as an artist.
"It immediately held all the deep tunings that I'm always tuning my guitars to. It was like, 'This is the sound that I hear in my dreams,'" says Cunningham of her Jazzmaster."
Photo by Tim Bugbee
"Joni's playfulness is her strength. She wasn't ever in the business of showing off before she was in the business of moving people, and those were firm priorities in her writing and performing. Those priorities stuck with me, and I'm very conscious as a guitar player to toe that line. There are moments to step out with it and to let it shine, but for me it's all about the song. Hearing her records early on left a huge mark on me, especially as a guitar player. I played in open tunings and understood guitar, and I knew the nuance and the complexities of what she was actually doing and that no one could replicate that—she invented her own tunings! But all of that was supporting this theme and propping up the main point of the song, and it's so powerful to be able to have her voice, her writing, and her guitar playing work together like they do. All three of those elements are always working so clearly for the same thing in her music. That is the most beautiful combination. I constantly strive for that, and I'm haunted by that way of thinking. If someone's only takeaway from my music is, 'Sick guitar tone, bro,' I would be bummed. That compliment is always just slightly offensive to me, because it means you didn't get anything from the song and the guitar stole the show. There are moments for big guitars, of course—balance is the key—but my priorities are the song first and everything else second.
"My whole journey as a guitar player, from the moment I started playing to now, has been trying to find my voice and my home in it."
"Making Revealer was an undeniably cathartic process for Cunningham, but it was also a learning experience. As one who is dedicated to her own songcraft, but a reverent student of songwriting in general, she's had time to analyze things now that the dust in Revealer's wake has settled a bit. When asked if she has any advice for fellow songwriters, Cunningham's clarity comes through in her answer:
"Don't let your curiosity for the process die out because it is a process. I had to remember during this record that you need to have a lack of preciousness, and that's not a lack of thoughtfulness, but it's preciousness. You need to be able to break the song down again if it needs it, but you have to be led by the nose of your curiosity, and that has to inspire your bravery to go back in again and build a song up all over again if it isn't quite there. And don't let the business side of everything weigh you down, because in the end, none of that really matters. Putting the process and what it takes to build a good song before any other decision is the most important thing to me now."
YouTube It