Photo by Ana Massard
These super-guitarists talk about originality, busting the patriarchy, supporting Jeff Beck, touring with Alice Cooper, Demi Lovato, and Michael Jackson, guitar education, their secret weapons, and … oh, how to be badass!
It's a fact: Women and minority artists have often been marginalized, unacknowledged, and even ripped off—both musically and financially. And while the industry has slowly gotten better about amplifying their significant contributions, white male artists have historically been heralded as the heroes and innovators. Even with all of the progress made in recent years, one niche where bias still seems the norm is "hired gun." The commonly used term "sideman" demonstrates the pervasiveness of male-dominated norms entrenched in our collective psyche. But there are exceptional sidewomen who have broken the glass ceiling with their primetime gigs. And among the most notable are Jennifer Batten and Nita Strauss.
Batten established herself as the lead guitarist for Michael Jackson's first solo world tour, in support of the album Bad. From 1987 to 1989, she was an integral part of Jackson's live shows, with her distinctive guitar style and charismatic stage presence. And her 6-string prowess during performances of hits like "Beat It" and "Dirty Diana" (the former featuring Eddie Van Halen's iconic solo on the record) displayed chops that easily rivaled her male contemporaries. Her work with Jeff Beck on his Who Else! album and subsequent tours further solidified her reputation as one of rock's most exceptional guitarists. Though decades removed from the bright lights and big stages of those two major gigs, Batten's career continues to thrive, and she remains an influential figure through the guitar clinics and workshops she conducts worldwide, as well as the solo albums she's released and continues to tour behind.
Strauss famously cut her teeth with the Iron Maidens, an all-female Iron Maiden tribute band, where she performed under the stage name "Mega Murray." In 2014, she became the touring guitarist for legendary shock-rocker Alice Cooper, replacing Orianthi, and her modern approach to shred remains the perfect foil to the more traditional classic-rock styles of her Cooper bandmates, Ryan Roxie and Tommy Henriksen. In 2018, she released her debut solo album, Controlled Chaos, which showcased her diverse range of playing styles and songwriting chops, and solidified her reputation as a formidable guitarist in the modern metal scene. In 2022, she was tapped as Demi Lovato's touring guitarist in support of Lovato's Holy Fvck, and just this summer Strauss released her second solo album, The Call of the Void, featuring David Draiman (Disturbed), Lzzy Hale (Halestorm), and Alissa White-Gluz (Arch Enemy), among others, as guest vocalists. During NFL football season, she has a standing gig at Los Angeles Rams home games—and a Super Bowl ring to prove it—and has also received several She Rocks awards, including "Best Guitarist" in 2018.
NITA STRAUSS - Victorious ft. Dorothy (Official Music Video)
Premier Guitar hosted a conversation with Batten and Strauss, and got some insight into their similar histories, their work to overcome the status quo, and why it might be best for aspiring guitarslingers to just "chill the fuck out."
You share strikingly similar career trajectories. Can you give PG readers the CliffsNotes versions of your respective backgrounds?
Jennifer Batten: I started playing when I was 8 years old and, fast forward, I saw an ad in Guitar Player magazine for GIT [now the Musicians Institute]. They had a weekend symposium, and I went up and participated—three really intense days—and understood about 1 percent of what the hell they were saying. I didn't even know a major 7th chord. In fact, one of the things they asked me to play was Gmaj7. And you know me, I know a G with a 7, first-position cowboy chord [laughs]. So, I got my ass whooped with that. By the time I got the Michael Jackson gig in '87, I was in five or six different bands, just trying to make it in Hollywood. I got out there and played with as many bands as I could, and said "yes" to every situation until I got an audition with Michael Jackson, and then it was like zoom. I almost got seasick making that big of a jump so fast. Once you play with the biggest pop star in the world, it's kind of like….
Where do you go from there?
Batten: Well, to Jeff Beck.
Nita Strauss: The biggest guitar star in the world. I've said ad nauseam that Jennifer is the one that blazed the trail for the rest of us to follow—you went through with the sword, cutting down the barricades. I took the tour at GIT three times. I could actually never afford to get in, but I grew up in L.A. playing clubs, playing in multiple different bands. I went straight from a metalcore tour in Europe, straight into Jermaine Jackson's band, straight into an Iron Maiden tribute band, all while doing my original thing, doing covers, doing solo shows, playing acoustic guitar with singers that needed accompanists—really anybody that would have me until I got picked up by Alice Cooper in 2014. And that was my introduction to the big leagues.
Batten: When I went to GIT, class of '79, I was the only female. And that really shocked me because I didn't expect that. I didn't realize it was such an odd career choice for a woman. Fifty-nine guys and me. Crazy.
Jennifer Batten's Gear
Batten has been involved in music education in the form of teaching, workshops, and instructional materials. One piece of wisdom she shares: "If you're going to be somebody that gets hired for different shows, it's so important to be humble and be aware of what they need, because they don't necessarily hire you to make you shine."
Photo by Ana Massard
Guitars
Suhr Modern Antique
Washburn Parallaxe PXM10
Amps & Effects
BluGuitar AMP1
BluGuitar NANOCAB & FATCAB
Line 6 HX Stomp XL Multi-effects Floor Processor
MeloAudio MIDI Commander
Amps & Strings, Picks, & Accessories
D'Addario NYXL (.008–.042)
Gravity 1.5 mm
Lock-It Guitar Straps
D'Addario XPND Pedalboard
ASI Audio 3DME in-ear monitors
Audix i5 Microphone with CabGrabber Mic Clamp
Were there female guitarists you could look to for inspiration or was it just the typical male guitar heroes of that era?
Batten: Yeah, it was all guys. I don't recall thinking, "Where are the women?" My ears just went to the music that I liked. Jeff Beck was on the radio, with Blow by Blow, and that was good enough for me. I didn't need another gender to look at.
Strauss: As a young kid getting into shred guitar, it really was a boy's club, and I was the same way. I didn't seek out a female guitar hero to be inspired by. I gravitated towards the players that I liked. I was into Steve Vai, Joe Satriani, Paul Gilbert, Marty Friedman, and Jason Becker. And then, when I first discovered Jennifer, it was like a kid finding a Barbie that looked like her for the first time—there was somebody like me doing it, and here she is on the biggest stage in the world with the biggest star in the world, and it's not a chick thing. She's playing circles around all these guys. She's not there because she's beautiful. She's not there because she's a great performer. She is all those things, but she's there because of the technique and the performance and just delivering night after night after night. And that was my biggest thing: If she can do it, I can do it too.
​Ready to shred! Strauss poses with her Ibanez Signature JIVAX2, and Batten with her steampunk-styled Washburn Parallaxe PXM10.
Photo by Ana Massard
Batten: When I joined Michael Jackson in 1987, I thought, "Now's the revolution." Wendy [Melvoin] & Lisa [Coleman] were already with Prince. And I thought, "Okay, a big change is happening." And then crickets for 10 or 15 years—it was nothing. It's almost like it took the Internet to get up to speed. Now I tell people, "Not a month goes by that I don't see some 7-year-old girl in Indonesia who could kick my ass [laughs]."
Strauss: And what's crazy, when I see these kids coming up hot on our heels, someone always tags me and says, "You better watch out. They're coming for you." And I'm like, "No, I applaud them. I lift them up. This is what we're here for. Women elevating women." There's no competition. I don't have a sense of competition with anybody else out there. I want to see us all succeed. A rising tide lifts all boats, and women succeeding in this industry is a win for everybody. This is an amazing time to do what we do.
Nita Strauss' Gear
This past summer, Strauss released her second solo album, The Call of the Void, featuring vocalists David Draiman (Disturbed), Lzzy Hale (Halestorm), and Alissa White-Gluz (Arch Enemy), among others.
Photo by Ana Massard
Guitars
Ibanez Signature JIVAX2
Ibanez Signature JIVA10
Custom Ibanez Signature JIVAJR
Amps & Effects
Boss GT-1000 Effects Processor
Kemper Profiler
Strings & Picks
D'Addario NYXLs (.010–.046)
Grover Allman .60 mm
Can you share how playing smaller venues on your own helps you continue to evolve as yourself, versus the big arena gigs?
Batten: The only place you really get satisfaction is when you're improving as a player. Nobody can take that away from you. Whether you're doing great, or not so great, as far as the worldview—are you famous this week? Every once in a while, I get people going, "I didn't know you were still playing." Well….
Strauss: Well, here I am.
Batten: Michael Jackson's been gone for quite a while, and I haven't played with Jeff Beck in 20 years. I'm doing my thing on my level and still putting in as many frequent flier miles as I ever did.
Strauss: The mark of a great hired gun, no matter who you're playing with, is that you maintain your own style, but you're always able to execute that person's vision. Whether I'm going out with Alice, or I'm going out with Demi, you can tell that it's me on stage, but I'm not going to play the same way that I would with my solo band.
Batten: If you're going to be somebody that gets hired for different shows, it's so important to be humble and be aware of what they need, because they don't necessarily hire you to make you shine. When I got the Jeff Beck gig, he was always going, "I should really give you 10 minutes on your own." And I said, "Hell no [laughs]."
Jennifer Batten - Whatever
Strauss: You have to strike out on your own, especially when the majority of what people know you as "so and so's guitar player." You really have to take that stand and say, "I'm not only someone's guitar player, I'm also my own identity. I have my own creativity. I have my own vision." The only time that you have to really flex and be creative is when you're doing your own thing. You're not executing anybody's vision but your own, so I think it's super valuable.
Do either of you take a different approach to the craft when playing with other guitar players?
Batten: Jeff [Beck] is one of those guys—jump and a net will appear. The first time I played with him, I'll never forget walking into the room expecting a keyboard player, because ever since the '70s, he had keyboards. And I thought, "Man, this is not going to cut it." All these songs that I grew up listening to, like "Cause We've Ended as Lovers," have these lush keyboard backgrounds. So, I took it upon myself to dive deep into guitar synthesizer because I thought those pads were necessary. Like we said before, you've got to realize what's needed. I was there to support.
Strauss: I love to play with Ryan [Roxie] and Tommy [Henriksen]. I think it just fills out the sound so much, and we've been playing together for so long that we mesh. We even have this brain-meld where our vibrato syncs up in a way that we don't plan. So, I think once you play with people for a while, you get sensitive to their tendencies. We don't even really go over parts before the tour anymore. When you play with people for a long time, you just get a good sense of what they're going to do.
​Both guitarists have worked high-profile, hired-gun gigs while maintaining their own solo careers. "The only place you really get satisfaction is when you're improving as a player," says Batten.
Photo by Ana Massard
How important is music education to both of you?
Batten: It's fun to show people stuff that you've learned. There's an energy that just creates momentum. I've done a ton of teaching since my early days, and granted, most of the students don't want to work, but when you get somebody that's really into it, the momentum really grows.
Strauss: Just throw them in the deep end of the pool and say, "Figure it out kid, I did [laughs]."
Batten: I give them too much information. I send them PDFs and videos and all this crap that's enough for six months of work. It's no wonder they don't come back every week [laughs].
Strauss: They're like, "This guitar shit looked like fun, but it's hard [laughs]." I taught myself how to play by watching DVDs, like Jennifer's, and I had all the REH instructional videos, all the Shrapnel albums. I learned modes from Frank Gambale's Modes: No More Mystery and Melodic Control by Marty Friedman. I don't teach one-to-one, but I do clinics. I have an online course called Rock Guitar Fundamentals. I've done my Guitar World and Premier Guitar columns [and interviews], and I think that the way that I teach is really understandable because I'm stupid and I didn't have anybody teach me [laughs]. I approach it from a very practical standpoint because I had to figure it out myself.
I know you each have creative outlets other than guitar. I'm curious about how that influences your music.
Batten: When I moved to Portland 20 years ago, I took stained glass classes, and I just went bonkers with it. But I moved on from doing glass art to steampunk art. One day I woke up and said, "Gears, I must work with gears," and I started making these fantasy airships from junk. It's a really fun place to be. When you get back to music, it's a lot fresher and energizing. If I can focus on visual arts, I find that a real charge because it's all the same muscle, it's all creativity. And I find one muscle helps the other, as the workout queen will tell you [laughs].
Strauss: The workout stuff and the Body Shred challenge [an eight-week fitness challenge created by Strauss] isn't as much of a creative outlet as a mental health outlet—the better you take care of the machine, the better the machine runs. And when I first started getting healthier and more involved in fitness, I lost some weight, I got sober, and people around me started asking, "What did you do?" I found myself writing Instagram captions and comments. When we created the Body Shred challenge, it was a way to get our community, the guitar and the rock and heavy metal community, more incentivized to get healthier and fit.
Strauss and Batten have outside passions that help fuel their creativity. Strauss does yoga and has her eight-week Body Shred challenge. Batten does steampunk-inspired art.
Photo by Ana Massard
Do either one of you have a secret weapon that isn't overtly obvious to the average listener or concertgoer that is essential for you when performing?
Batten: I'd say a tremolo. I mean, it should be called an "expression bar" more than a "whammy bar," but that's a must-have.
Strauss: Same answer. I've gotten to the point where I do a lot of my vibrato with the bar, as a different color tone. When you get up into a really high bend and you get the vibrato on the bar, it gives you a little extra oomph.
Batten: The bar lets you go sharp and flat as opposed to a finger vibrato that's only sharp. So, it's not as rounded-sounding. I love it.
Has traveling, whether by air or bus, affected your gear choices?
Batten: My gear is super simple at this point. I've been using a Line 6 HX Stomp XL. It's like I have 30 pedalboards that I can kick into at a moment's notice. Now, everything I need for sound is in my carry-on. It's a little heavy to carry, but at least I know, worst-case scenario, I have to borrow or rent a guitar and grab somebody's jacket, so I don't look like a hippie [laughs].
Strauss: My rig is so simple. I was a very early adopter of the multi-effect units, so my first pedal ever was a Zoom 505. Now, my touring rig is a Boss GT-1000 direct into the house. I have my tone super dialed into it, and I'm in the mindset of if it's not broken, I don't try to fix it. I'm not on a quest for tone unless my tone's not good. And I love my tone with that pedalboard. They make a palm size one, the GT-1000 Core, so I can throw that in any gig bag and travel all over the world.
Jennifer, do you have a favorite piece of advice that you would give a young guitar player that wants to follow in your footsteps? Asking for a friend [laughs].
Shredding with a smile—Nita Strauss on stage earlier this year.
Photo by Ana Massard
Batten: I remember the angst and the pressure I put on myself to "make it." And if the record doesn't do it, my life's over—that kind of bullshit. As long as you can plant a seed that the only thing that matters is getting better as a musician, things will happen as you put that energy out into the universe. I don't think you need to stress, as long as you're spending time with the instrument every day and playing with different people and doing a lot of listening. There's so much that you can't control. At the end of the day, if you're getting better, that's all that matters. I think the best compliment I've ever been given is if somebody comes up to me after a show and says it was inspiring. I go, "Man, that's the shit." Because when I go to a show, that's what I want to get out of it. So that's my advice. Chill the fuck out.
Strauss: Amen.
Photo by Nate Lemuel
The alt-rock landscape Katherine Paul creates on her latest release resonates with both her effects-laden guitar work and the feelings of kinship she has with the Earth.
The music of Black Belt Eagle Scout, helmed by Katherine "KP" Paul, is an expression of the heart, one that just so happens to be deeply entwined with Paul's indigenous roots. And on the band's latest release, The Land, The Water, The Sky, she's distilled her personal connection with nature, as well as that love she has for her ancestry, into a set of new atmospheric, lambent, alt-rock tracks, with a range of textures that embody that self-defined world.
The writing of this album, Paul's third full-length release, started as far back as 2020, when she moved back home to the Swinomish Indian Tribal Community in Skagit County, Washington, from where she'd been living in Portland, Oregon. (The Swinomish are a tribe of the Coast Salish indigenous peoples of the Pacific Northwest.) "I tend to write about time periods, and this record has a lot to do with the last couple years of moving from one place to another," says Paul. "Particularly, moving back home to where I was born and raised, and where my people have been since time immemorial. There's this theme of a journey—it was this journey of coming back home.
"When I was there, just being in my community, being within nature, I had this epiphany where I was like, 'This is where I'm meant to be. I'm meant to be here in this exact moment, in this exact place.' It kind of rejuvenated this awareness of how my mental health and how I live within this world is linked to that connection that I have to where I'm from, to my homeland."

"When I was there, just being in my community, being within nature, I had this epiphany where I was like, 'This is where I'm meant to be.'"
In some ways, The Land, The Water, The Sky feels like one amorphous, undulating, 47-minute song that carefully navigates and unwinds through different facets of Paul's personality. On "My Blood Runs Through This Land," the opening track, she introduces the album with distorted guitar whose grit is softened by a blanket of reverb. Later in the album, "Treeline" gives off echoes of Kurt Vile, with a slow, semi-psychedelic groove that pulses through the near-six-minute-long track, and, ironically, often inspires some upbeat dancing when it's performed live. For "Spaces," Paul invited her parents to contribute their voices: Her mother's seamlessly blends with her own, while her father's powerfully cuts through the mix with what she calls his "powwow voice."
Katherine Paul's Gear
Paul's main guitar is a white Ernie Ball Music Man St. Vincent Signature, equipped with three mini-humbuckers.
Photo by Daniel Olbrych/Hult Center
Guitars

Ernie Ball Music Man St. Vincent in Polaris White
Amps
1968 Fender Princeton Reverb Amp
Effects
Strymon Big Sky
Strymon Sunset Dual Overdrive
Strings and Picks

D'Addario NYXL Nickel Wound .010-.046 Regular Light
Ernie Ball Nylon Guitar Picks, .53 mm
The last song on the album, "Don't Give Up," realizes that link between her mental health and her relationship with the natural world. "You wanted a second chance at life / Well, you're alive," Paul almost whispers over gentle acoustic and electric strumming, before taking a resonant, lifting guitar solo and singing, with a soaring and declarative cry, "I don't give up," in the chorus. The song concludes with "The land, the water, the sky" in a mantra-esque repetition that makes up the last few lines of the album.
On her affinity for nature, Paul shares, "I don't think it's unique. Whether you're indigenous, and you have a connection to your homelands, or you're non-indigenous but yet you have some sort of connection to a place and this grounding feeling, I think it's important to recognize that. And within the song, what I'm trying to say is, the land, the water, the sky—those are all interconnected. They all are a part of my ancestry, and they're the reason why I'm here today. I'm trying to pay respect to that."

While Paul is earnest in her expression of how much she values her home community, she's also a fiercely independent person. As just a small example, she recorded all the full-band instrumentation on her first two albums, 2018's Mother of My Children and 2019's At the Party With My Brown Friends. Which is why she's made a bit of a statement (at the very least, to herself) by inviting other musicians in on the recording of The Land, The Water, The Sky.
She still did all of the guitars, drums, percussion, and "about half of the keys," but brought in bassist and touring bandmate Grace Bugbee, cellist Lori Goldston (who toured with Nirvana), multi-instrumentalist Takiaya Reed (of doom metal band Divide and Dissolve) to record saxophone, and vocalist/multi-instrumentalist Phil Elverum (Mount Eerie), who sang on "a little teeny part of one song."
One significant difference between this album and Paul's past works is that she invited in collaborators for the first time, including Takiaya Reed of Divide and Dissolve.
An integral role in the development of the album was played by Reed, who, beyond providing saxophone parts, was present with Paul every step of the way. "She was this really huge support system," says Paul. "Whereas, maybe in the past two records, I would have this idea and then I would immediately be like 'No I can't do that; I don't know if I can do that.' But when I brought it to Takiaya, she would just be like, 'Let's do it, let's try it, let's go for it. There was this really beautiful partnership in that we kind of locked together and were able to have ideas flourish and see where they went.
"One of the things that came for me in this record was that it's okay to feel vulnerable in your songwriting," Paul offers. "I wanted to step into that realm of vulnerability and feeling like, 'Okay, I'm having help, I'm working with people. Let's try it out. On my last two records, even though I feel very proud of them in that I played all the instruments myself, there was a little bit of stubbornness, like, 'I have to prove to myself that I can do this.' But I think that it's also important for me and my musicianship to feel out how it is to work with others, and how it is to let down your guard a little bit and be more open to creating and having input from other instruments."
Typically, Paul says, her songwriting begins with her guitar, her loop station, and the Apple Voice Memos app. She lays out the song's structure with one part, then uses the looper to figure out other guitar parts, gradually piecing together the song. "I'm just continuing to add these layers. But this is what it is in the guitar realm," she describes. This method set forth the process for the recording of The Land, The Water, The Sky, where she started with just guitar and then "painted over it" with other instrumentation.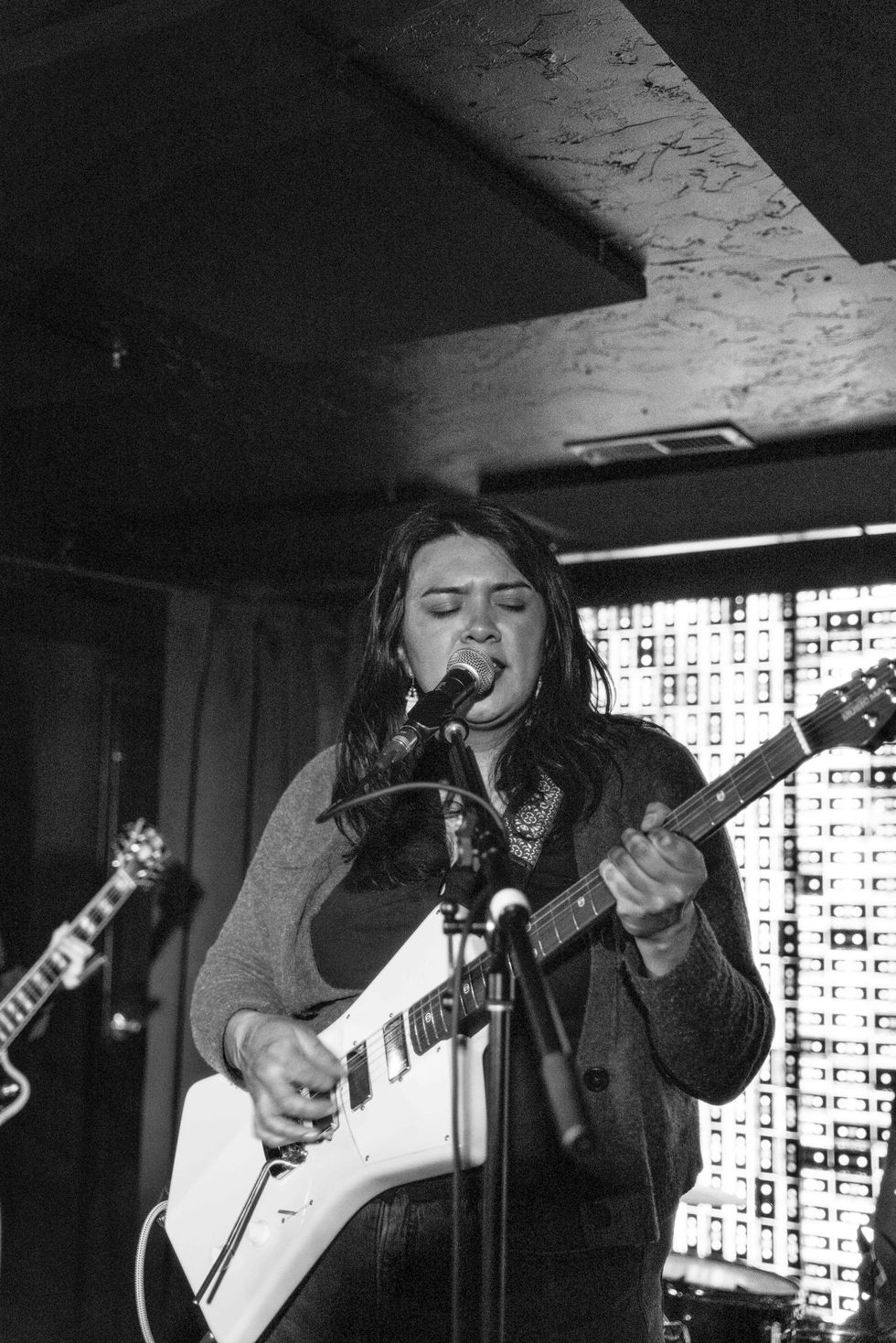 When coming up with guitar lines, Paul says that she tries to do what feels natural for the song, and also draws inspiration from the Tren Brothers, Jimi Hendrix, and Nirvana.
Photo by Ethan Alfaro
Her main axe is a white Ernie Ball Music Man St. Vincent Signature, which has an angular, sci-fi-looking body shape and three DiMarzio mini-humbuckers. She chose it after borrowing one, but in a black finish, from Fabi Reyna, founder and editor-in-chief of She Shreds Media. Paul's not too picky when it comes to pickups, and fell in love with the model for traits like its slim neck, ergonomic contour, and light weight.
Not unlike her approach to guitar, she keeps things pretty simple when it comes to effects—but only in terms of quantity. It takes a few seconds of listening to Black Belt Eagle Scout to tell that Paul is a fan of generously wet reverb. "We used the Strymon BigSky for pretty much everything," she says. "We used it for guitars, we used it on the bass, we used it on the keyboards. The only thing we didn't use it on was the vocals and the drums." She recorded with Reed's pedalboard—availing herself of a Strymon Sunset Dual Overdrive for the crunchier guitar sounds—and mostly went direct out of a '60s Fender Princeton Reverb.
"I want to work really hard so that I can carve paths for other people, so they don't have to work as hard as I have in order to fulfill their lives and their art and their music."
"I always have to have this warm sound with the guitar. It has to feel warm to me, and it has to have a little bit of vibrance to it, in terms of texture," says Paul. "I tend to write in the lower range, and it'll be warm and bass-y sounds."
She adds, "I really love fingerpicking and I love different patterns—making melodies that are intricate. That probably has to do with my love of Cat Power, and maybe more specifically the Tren Brothers [Australians guitarist Mick Turner and drummer Jim White, also two thirds of the Dirty Three], who played on her Moon Pix album. I remember listening to that and being like, I really love the way in which those guitar lines blend together kind of … like wind chimes. I'm really drawn to the way in which guitar lines interlock."
On The Land, The Water, The Sky, Paul used the Strymon BigSky reverb on almost every instrument, except for drums and vocals.
Photo by Nate Lemuel
While on the subject, her close familial relationships find their way back into the conversation: "I listen to very specific guitar music with my dad sometimes. We listen to Jimi Hendrix a lot. I also listen to Nirvana a lot, and there's a lot of guitar solos in Nirvana, too. I think I just was into that very dramatic way in which guitar solos can enter into a song."
Paul emphasizes the importance of Native American representation in music, which, to no fault of Native Americans, is unfortunately minimal. In Black Belt Eagle Scout's personally informed media image, it's clearly important to Paul to contribute to that representation, especially because of how it could inspire others, and how it could have changed her experience in the music industry had more Native American musicians been admitted before her. "I feel like it would be a lot easier for me to be farther along in my career," she says with a laugh. "There would be paths already drawn out, to see how to navigate the music industry.
"I mean it's one of those things where, yes, I'm Native American and it's who I am. But I'm in this system where there aren't really Native Americans with the opportunities that I have. So, I want to work really hard so I can carve paths for other people, so they don't have to work as hard as I have in order to fulfill their lives and their art and their music. Where you can point and say, Black Belt Eagle Scout, she has a record deal—I can have one too."
Black Belt Eagle Scout - Soft Stud (Live on KEXP)
Paul and her band create an atmospheric blanket of tones in their performance of "Soft Stud," off Black Belt Eagle Scout's Mother of My Children.
Photo by Shervin Lainez
During the pandemic lockdown, the guitarists and their Gov't Mule bandmates, cut two albums at once—one a "proper" Mule recording, called Peace…Like A River, and the other a set of mostly classic blues. Haynes and Louis talk about their 6-string partnership, how both albums came together, and the nature of their free-ranging live performances.
Having lived and breathed music nonstop since forming in 1994 as a side project to the Allman Brothers Band, Gov't Mule is an absolute giant in the jam band scene. Though the Covid lockdown slightly derailed the band's momentum, it also gave them an opportunity to channel their creative muses in different ways.
"During the whole lockdown I was writing more material than I had written in a very long time, 'cause I had all this time on my hands and we couldn't travel, and we couldn't tour," explains Grammy-winning frontman and guitarist Warren Haynes. By the time the lockdown ended, they had a backlog of many, many new songs. So, when it was time to get back to the studio, they went with a vengeance, simultaneously recording both the newly released Peace…Like A River, and an additional blues record, Heavy Load Blues, which came out in November 2021.
"We had been talking about making a blues record at some point in our career, but there were no immediate plans to do that," recalls Haynes. "So, the idea was brought up. And my response was, 'Well that would be a lot of fun, but I have all these new Gov't Mule songs that I would love to record, so maybe we could do two records at the same time.' Everybody loved that concept because we were all bored and going crazy not being able to perform. We found a studio with two side-by-side rooms."
The two rooms offered the perfect setup for this recording strategy. One room was smaller, with a low ceiling where the band set up a bunch of vintage amps and a vintage drum kit to play blues. The room next door was a big room with high ceilings, and there they put all of their normal Gov't Mule equipment. There was literally no overlap between the two setups. "We did this deliberately," says guitarist, keyboardist, and trumpeter Danny Louis. "We had the big live room where we would work all day long on the, for lack of a better term, proper Gov't Mule album. And at the end of the day, we would adjourn to the small area and do some blues tunes with the idea of releasing a Gov't Mule blues album, which was something that was discussed and in the works for a long time. So, we had different gear, different amps, different keyboards. I didn't use the same organ even—there was a different B3 [Hammond organ], and a lot more acoustic piano."
Warren Haynes' Gear
During the pandemic, frontman Warren Haynes led Gov't Mule through the simultaneous recording of a blues album and a "proper" Gov't Mule album, Peace…Like A River.
Photo by Ken Settle
Guitars
​Gibson Warren Haynes Les Paul
1959 Gibson Les Paul
Gibson Robby Krieger Signature Les Paul
Gibson Custom Shop ES-335
Gibson ES-335 with P-90s
Gibson Firebird (white with three pickups)
Gibson Firebird (brown with three pickups)
Gibson J-200
Gibson Hummingbird
Gibson Grace Potter Flying V
Epiphone Casino
Allen Woody's Gibson 12-string acoustic
Epiphone 12-String Acoustic
D'Angelico Excel
Whitfill Custom Guitars T-Style
Amps
​Homestead HS50
Diaz CD100
Vox AC30
Alessandro AZZ
Effects
Ernie Ball Volume Pedal
G-Lab Warren Haynes Wowee-Wah
Chandler DDL Delay
Korg DTR-1
Diaz Texas Ranger
Boss DD-5 Digital Delay
Hughes & Kettner Rotosphere
Klon Centaur
Emma Discumbobulator
Boss OC-2 Octave
G-Lab Reverb
Custom Audio Electronics Super Tremolo
D'Addario pedal tuner
Strings, Picks, and Cables
GHS Burnished Nickel Rockers (.010–.046 and .011–.050)
Dunlop Tortex .88 mm
Custom painted Dunlop 215 slides
D'Addario cables
The studio days were extremely packed. The band would go in around noon and start working on Peace…Like A River until around 9 p.m., then take a break and have a bite to eat. Then they would go into the little room next door and play blues for the rest of the night. "We did that every day for a few weeks," recalls Haynes.
For a "proper" Gov't Mule album, Peace…Like A River covers a lot of ground, stylistically speaking. "It goes into a lot of different directions but all under the heading of rock 'n' roll," says Haynes. There are shades of soul music, and even almost a dub influence on tracks like "The River Only Flows One Way." "Just Across The River" has a gospel vibe driven by guest vocalist Celisse Henderson, aka "Celisse." "I envisioned it having a female singer counter to my voice, and she sounds fantastic," says Haynes. "I've only recently become familiar with her over the last couple of years. I watched some videos and became a fan, and thought it would be cool to have her on the record. And then we wound up on this show together and we hung out, and it kind of led to this whole thing."
"Usually when I write a song, I'm not even thinking about whether it's a Gov't Mule song or an Allman Brothers song, or a song for a solo record, or a song for someone else."—Warren Haynes
On this new album, Gov't Mule continues their long-standing tradition of bringing in guests to lend their musicianship. The star-studded lineup includes Billy Bob Thornton and ZZ Top's Billy Gibbons, who appears on "Shake Our Way Out." Haynes says, "Gibbons' appearance brought it home. That song is definitely ZZ Top-influenced and that's the reason I reached out to Billy. Gov't Mule started out as a trio and obviously ZZ Top was one of our influences. We even covered 'Just Got Paid' in the beginning. We recorded it on what would have been our first record, which didn't come out 'til much later, called The Tel-Star Sessions. So, we've always been fans and we've toured together, and Billy and I have played together quite often, so it was just kind of a natural thing."
Many Gov't Mule songs seem tailor-made for the guests that appear on the album versions, but, surprisingly, the songs usually don't begin with them in mind. "Each situation is different, but normally it happens later. Usually when I write a song, I'm not even thinking about whether it's a Gov't Mule song or an Allman Brothers song, or a song for a solo record, or a song for someone else. I don't think about that until the song is finished, for the most part," explains Haynes. "And some songs can be interpreted a lot of different ways and some not as much, but it's usually after the fact that I think, 'Oh, so-and-so would sound great on this.'
While Haynes is the face of Gov't Mule, Danny Louis has been an integral part of the band since the early days. Louis' main instrument was originally trumpet, which he played as a pre-record-deal member of the Cars, as a member of pop band UB40, and in Joe Cocker's band. But in 1989, he was afflicted with Bell's palsy, which led to a change in instrument to keyboards. Through mutual friends, Louis met Haynes in 1992 and ended up playing keyboards on tour for Haynes' debut solo album, Tales of Ordinary Madness. Louis sat in with Gov't Mule throughout the years, and in 2001 he joined Gregg Allman's band, playing keyboards. Soon after, Louis officially joined Gov't Mule.
Danny Louis' Gear
Guitars
Gibson SG Special
Fender Stratocaster
Fender American Original Telecaster
Buddy Blaze Evanator Jr.
John Ingram Seneca (one-off prototype)
Amps
Two Fender Twin '65 reissues
Category 5 JB100
Marshall 1960B 4x12
Effects
Line 6 M13 Stompbox Modeler (for the Wurlitzer)
Assorted Line 6 DL4s, MM4s, and FM4s (for various keyboards)
Line 6 ToneCore Verbzilla reverb pedal (for B3 run through guitar amp)
Vox Wah for clavinet)
Dunlop HT-1 Heil Talk Box (for clavinet)
Strings and Picks
D'Addario NYXL1052 (.010–.052)
PickWorld medium celluloid white pearloid
"[Warren] called me and asked if there was some place he could come see me," Louis shares, recalling his first meeting with Haynes. "In those days, and for a long time, my gig was more as a composer, as opposed to being a player. I always had a studio and I was always doing writing for a living, so my playing would be in service of that. So, he asked if he could come by and see me play at some gig, and I said, 'The best thing to do is come over to the studio.'" Within minutes he had come over, and both Haynes and Louis were soon cracking up because it was otherworldly how well they clicked.
The collaborative process between the two depends on the composition and how well-developed it is. "If it's something that Warren comes in with that's up there in his head, I feel like my job, before I start to inject my own two cents, is to help bring that to life. And he'll tell me, 'I think you should play this,' and I never take that like he's being a dictator," explains Louis. "I just take it as embracing what's going on in his head, and at that point, once I've kind of got that, I don't feel shy about saying, 'Well how about this?' Or 'How about that?' if it occurs to me and if I think it will enhance what we're doing. And I think he's hoping that I will. I don't think it's written in stone in his head, either.
"In our case, well, in my particular case, if I play a particular song in one city, I suppose I should play it differently in the next city when we do it."—Danny Louis
"But sometimes it's a real picture that's already painted in his head, and I'm gonna help just make that happen because I'm digging it too," Louis continues. "The caveat in that is that I have limited capabilities on guitar and whatever I do bring to the table, it's different than what Warren would ever bring to the table—whether it's because I'm sloppy or because I have a different instrument tone, or because I can't play the kind of stuff that he can play. But then I'll figure out something that he might never figure out, by virtue of my limitations. Over the years, we've learned to trust that and turn me up, and it's a tremendous, tremendous joy for me."
The trust given to Louis opened the doors to him even getting some guitar features on Gov't Mule recordings. Louis says, "It's encouraged me to take it as far as I can take it using my role in the band. It's primarily rhythm guitar but I've also played a solo or two that actually stayed on the records. In 'Funny Little Tragedy,' which was off the Shout album, we were taking the basics and Warren was playing the baritone guitar and I was playing rhythm. We were looking at each other through glass—I remember I was in a separate room—and when the solo section came up, I figured the two of us were just going to play rhythm and then he would overdub the solo later. And he gave me this look and I was like, 'Really?' [laughs], as it was coming up, so I blew a solo and it happened to take, and we kept it. There's a happy accident factor that you could only legislate by being totally unprepared [laughs]. So, I probably specialize in that."
The live experience is the heart and soul of Gov't Mule. In fact, Gov't Mule has archived every single show since 2004 and sells them online. "There's a large part of our audience that prefers the live versions, and the whole jam band scene is kind of centered around that. There's a lot of music fans that prefer listening to live recordings and, even more so, prefer listening to live music, live performances," says Haynes. "We allow people to record the shows, to bring their microphones and their recording gear, and we have a special section set up for people that want to record. They trade the shows, trade the recordings…. We've been doing that since the inception of Gov't Mule in 1994. The thought being that it's kind of a no-lose situation; those people would prefer hearing, in some cases, their own recordings to your studio records or even maybe your live records, because it's part of their life; it's what they do. It's not like a bootleg situation where you're worried that it's going to cut into your record sales. It only enhances the overall picture."
Louis, pictured here to the right of bassist Jorgen Carlsson, says he was more of a composer than a player before he started collaborating with Haynes.
Photo by Joseph A. Rosen
Louis adds, "I kind of take that as a little bit of a challenge, because we try not to repeat in consecutive gigs and do the same show because a lot of folks come to multiple shows, especially if they're from cities that are close together. The Grateful Dead was probably at the forefront of trying to be creative with their setlist and did things differently from city to city. In our case, well, in my particular case, if I play a particular song in one city, I suppose I should play it differently in the next city when we do it. But I can do that sometimes by simply switching instruments, which is really cool for me. It's lovely to be able to approach a song differently. So, the download that we offer has something different in it, and I think everybody in the band probably does that."Mule songs are elastic and malleable. The recorded versions serve as a foundation and the live shows are the context where these songs organically evolve. "I think that this is my favorite studio album that we've ever done and I'm very proud of the way it turned out," says Haynes. "Having said that, these songs will grow onstage and we'll take them into different directions and different places on a nightly basis. Especially a year from now, it will be interesting to see where some of them have gone. You know, I'm more comfortable on stage playing live in front of an audience than I am in the studio, but I do love making studio records. It's just a bit more of a thought process and more challenging when you're performing live. On a good night, you're not thinking. You're just riding the wave."
Warren Haynes & Gov't Mule honor Jerry Garcia 8/9/2022 Portland, ME
There's a whole lotta Warren Haynes' guitar in this tribute to Jerry Garcia, onstage in Portland, Maine, last August, which segues into Howlin' Wolf's "Smokestack Lightnin'." This song selection is typical of a night with the Mule, who have a vast repertoire of classics, from Hendrix to Son House to Pink Floyd.