Photo by Michelle Shiers
The guitarist and meticulous gear nerd has played with the Black Eyed Peas since 1998. With his alt-rock duo Cairo Knife Fight, his years of tinkering have helped him forge a new sound.
George Pajon Jr. is pedal-obsessed. For him, time off means hiding out in his studio, working his way through every setting on every pedal he owns—and he owns a lot of pedals—logging each tone he thinks he may be able to use, and making careful notes in order to recall the sound later when needed. When he's working in the studio or in a rehearsal, he scrolls through his files, pulls up options to share with his many A-list collaborators, and looks for the tone that often makes the difference between a good-sounding track and a hit. He does know the difference, by the way, since he has a regular gig as the touring guitarist with the Black Eyed Peas, and also plays on their albums.
That obsession is also a big part of his writing process with Cairo Knife Fight, his duo with New Zealand-based drummer, vocalist, keyboardist, and kindred-tonal-spirit Nick Gaffaney. "When Nick and I decided we were going to start writing, I started stockpiling sounds," Pajon says. "I am lucky enough to own my own studio, so I hired an engineer to mic my whole rig and then literally nailed down those mics into the floor so they wouldn't be touched." As he experiments with pedals, he runs Pro Tools. "If I stumble on something I like, I scream in the mics, 'This sounds like a chorus,' or 'This sounds like a bridge.' I mark the session, put it into a notepad on my phone, write the number, and then describe what the sound says to me. There are 72 hours of that."
Once he has ideas and the skeleton of a Cairo Knife Fight song, he goes back to the cave and starts programming, which takes about one week per tune. He also does everything—each nuance, layer, or quirk—with the understanding that he has to be able to duplicate it onstage, and that also informs the design of his ever-evolving and ever-growing rig.
Cairo Knife Fight has been around since 2004, with two full-length albums and a handful of singles to their name. Since Pajon joined in 2015, they've released "Churn," a single which came out earlier this year. "The first songs we wrote, we will release in the coming years," he says. "We have 22 finished songs." On "Churn," Pajon's guitar burns with intermittent bursts of djent, thrashing rhythm parts, and incisive melodic lines, while decorated with impressively exact, pop-infused vocals by Gaffaney. His playing, at its most torqued, sounds like sonic flashcards quickly overturned in series—disparate tones tail one another, and yet each somehow seems to fit the tune at hand with surprising logic.
Pajon joined the Black Eyed Peas in 1998. It's his Dick Dale-style riffing and tone sculpting you hear on the pop outfit's hit, "Pump It."
Photo by Sterling Hampton
With Cairo Knife Fight, Pajon approaches arranging like a classical composer. His songs do often have verses and choruses that repeat themselves, but he always makes some kind of variation—be that a tonal shift, an additional riff, a harmony, or taking something out—in order to challenge the listener and keep the song moving. "When you listen to 'Churn' from beginning to end, the parts never repeat themselves," he says. "If you really listen to what the guitars are doing, there's no cut-and-paste on that song. When I record the guitar parts, it's a full take. When I double the parts, it's a full take. I believe that when you listen to a song it should be a ride. The beginning should take you to a different place by the time you get to the end. There's constant movement in the way I approach writing. That's why I have all those tools."
Given Pajon's passion and dedication to those tools, it's fortunate that he's also close with amp legend and tonal wizard Dave Friedman. "I sit with Dave and brainstorm," Pajon says. "I am really a tech nerd, so I create a PowerPoint spreadsheet with the pedals laid out and how I want the signal flow to be. Dave then tells me, 'There's no way we can do this, so we're going to have to invent something to create what you're trying to do.'"
Pajon's rig—the one he uses with Cairo Knife Fight—is already in its 17th iteration, and that doesn't include the refrigerator-sized unit he has that's loaded with more than 60 pedals (Friedman wired that up, too). For his work with the Black Eyed Peas, he uses a Fractal Axe-Fx amp modeler and effects processor, which he never stops tinkering with. Pajon is the son of Cuban immigrants and came of age as a guitarist in late-'80s Los Angeles. He hung out on the Sunset Strip when hair metal was the rage, and made the shift in the early '90s when hair abruptly became grunge. His first loves were Black Sabbath and Iron Maiden, but he discovered a broad range of artists and styles thanks to an open-minded uncle who turned him onto the great guitar-centric acts from the '60s and '70s, as well as artists like Marvin Gaye, Stevie Wonder, and many others.
With Kiwi drummer Nick Gaffaney, Pajon writes guitar and bass parts that he can perform live, loop, and trigger. The duo doesn't play to backing tracks—everything is done in the moment.
Photo by Michell Shiers
That deep listening exploration came in handy when he first met the Black Eyed Peas. He was with them in the studio for a one-off session, but that quickly morphed into what's now a 25-years-and-counting relationship.
"I first joined the Black Eyed Peas in October 1998," Pajon says. "Will [William James Adams, Jr., better known as will.i.am] asked me to come in and play guitar on a song. He was sampling a rock record, and I said 'Why are you sampling that?' He said, 'It's cool, why not?' I said, 'But you're going to give away all the publishing to that other band. Let me come up with a part that's similar to that.' He said, 'You can play stuff like this?' I essentially mimicked that style, and he threw away the sample. Then he was like, 'Do that again,' and he would give me directions, 'Change it here, change that chord there.' That was our relationship."
That versatility, as not just a player but a master of feels and tones, played a big part in creating "Pump It," one of the band's biggest hits. "We were in Japan on tour," Pajon says. "Will bought a bunch of CDs and he was listening to Dick Dale's 'Misirlou.' I was one of the first guys in the band who had a mobile recording studio—I had the first [Avid] MBOX. At the time I was signed to EMI as a writer, and I would write with different people all over the world. Will knew I had the studio with me, and we were on the bullet train, and he said, 'George! I need to use the Pro Tools.' I gave it to him. He samples that Dick Dale song and creates the song 'Pump It.'
"Fast forward, and we're finishing that record, Monkey Business, and during that time, it was common for the label to sync one of the songs with a movie or a TV show or a commercial as promotion for the new album. One of the songs they picked was 'Pump It.' They had to get clearance from Dick Dale, and he said 'no.' Will calls me and says, 'We have to rerecord Dick Dale's part.' I was like, 'You want me to recreate that?' I told him, 'Call Lon Cohen [of Lon Cohen Backline in L.A.], get the same guitar Dick played and the same amp from that time. I'll do the research.' We rented those amps and that guitar and I replayed the whole thing. It's not a sample. It came out so good. Will's ears are really fine-tuned and he got the EQ just right. But when you listen to that, it's me. It's not Dick Dale. We redid those parts for that commercial. In the end, what got released has all the parts that I created for the commercial."
Cairo Knife Fight sounds nothing like the Black Eyed Peas. It's heavy and layered, and sits somewhere between progressive metal and grunge. For Pajon, who tells tales of watching the Mars Volta every night with Fergie and members of Metallica while touring with them in Australia in the early 2000s, it's the perfect sound.
George Pajon Jr's Gear
Pajon has developed a sophisticated system for testing and cataloging new tones and sounds. He spends his days off playing his pedals on every setting possible, then makes a note of how each setting could be used in the future.
Photo by Michell Shiers
Guitars
Grosh Retro Classic with Evertune Bridge
Grosh Retro Classic Vintage TKnaggs Severn X with Floyd Rose
Fender Custom Shop Lush Closet Classic Telecaster with Evertune Bridge
PRS SC245 with Evertune Bridge
Amps
Friedman Dirty Shirley Mini
Friedman BE-100 Deluxe
Two Rock Custom Reverb Signature V3
3 Monkeys Orangutan
Custom Morgan GP 70R
Ronin Audio Research K7 GT4-P88
Form Factor Audio Bi 1000Di
Form Factor Audio 1B15L-8 cabinet
Pedalboard 1
Pigtronix Infinity 3
Devi Ever FX Ruiner
HexeFX reVOLVER DX
RJM Mastermind PBC/10 loop switcher
HexeFX VarioFree The Tone PA-1QB
Strymon TimeLine
G-Lab PB-1 power supply
Midiman Thru 1x4
Pedalboard 2
Strymon BigSky
Strymon Mobius
Pigtronix Infinity 3
Friedman Buxom Boost
Friedman Buffer Bay
Dirty Boy Pedals Fuzzy Boy
Red Panda Tensor
HexeFX reVOLVER IV
EarthQuaker Devices Arpanoid
ZVEX Fuzz Factory Vexter
Beetronics Swarm
Friedman Fuzz Fiend
CostaLab Booster Plus
Malekko Downer
Fortin Mini Zuul
EarthQuaker Devices Bit Commander
RJM Music Mini Effect Gizmo X
Strymon Zuma
Strymon Ojai
Bass Amps Pedalboard
JHS Little Black Amp Box
Voodoo Lab Control Switcher
Boss BB-1X Bass Driver
Electro-Harmonix B9
Disaster Area Designs DMC.micro
Chase Bliss Blooper
Darkglass Alpha Omega Ultra
Source Audio C4 Synth
RJM Music Mini Effect Gizmo X
Strymon Zuma
Strings & Picks
D'Addario, various gauges
V-Picks Nexus
Since the band is just a duo, loopers are essential when playing live. "On my current pedalboard, I have 10 loopers, if you count all the pedals that actually have a looping function. But I am only looping with three of them," he says.
Pajon also has a wall of amps, and a guitar tuned to A–D–G–C–E–A to cover the bass parts, which are run through a separate bass amp and pedalboard. "When I am writing a part, it has to be a layer that I can trigger later," explains Pajon. "It can't be a 10-bar layer or a long layer that plays through the whole song. It has to be something that only happens for a bar because I need to be able to trigger it live. We don't do anything to playback. Everything is done live. When we record, I do minimal overdubs to create more of a sonic landscape, but when I do those overdubs I am very conscious that I have to recreate that sound live, whether it's putting it in a looper or me actually playing it."
Pajon's attention to detail, dedication to finding the correct sound, and innate compositional sense—regardless of the genre or project he's working on—help explain his longevity in the industry and his ongoing working relationships with a variety of artists. His Grammy wins and other awards testify to those qualities.
"I am not a side guy with the band," he says about his longtime association with the Black Eyed Peas. "Those are my parts. The reason I've been in the band so long is I've been playing
my
parts this whole time, that I wrote, that I played on those records. I was in the studio with them creating this music. And that all started from my knowledge, from my uncle turning me on to a whole new flavor of styles."
The Violence of Action Live at Kingsize Soundlabs
At this live studio session with Cairo Knife Fight, watch Pajon's right foot as he almost constantly loops and triggers parts.
Rebecca and Megan Lovell channel the pent-up energy from nearly two years away from the stage into Blood Harmony, a true family affair that celebrates the spirit of sibling collaboration.
After 18 months of being sidelined from gigs, Larkin Poe aimed to funnel the juice they were missing from live shows into the sessions for their new album, Blood Harmony. "I think the process of making this record was one I'm most proud of," says Megan Lovell, the lap-steel playing half of the band's core sisterhood. "We both fought for what we believed in. Our live show is really energetic, and we wanted people to feel that on the record. We wanted the record to be more live."
For over a decade, Meghan and Rebecca Lovell have been cranking out albums full of soul-drenched blues-rock and sharing the stage with everyone from Bob Seger to Keith Urban to Willie Nelson to Billy Gibbons. With that level of co-sign by their heroes, it's no surprise that the duo are straight-up road dogs who often play over 200 shows a year.
Larkin Poe - Southern Comfort (Official Video)
"Our creative connection to our fans and to each other is through the joy of performance, the joy of music," mentions Rebecca. "The true pleasure that we as humans experience when we connect with one another through music—that is the connective tissue." Over this past summer Larkin Poe bolstered that connection by crisscrossing the country playing gigs with Jack White, Dave Matthews Band, and Jason Isbell while previewing tracks from Blood Harmony. One of those songs, "Summertime Sunset," began appearing on setlists as far back as 2018 while being road-tested and refined. "Over the years, we decided that the [original] chorus wasn't good enough, so we wrote a new chorus right before we went on stage opening for Bob Seeger." It's that element of fearlessness that shapes the sound. "We're writing from the perspective of what's gonna feel good a month from now. And you know, a song like 'Bolt Cutters and the Family Name' … it's just gonna be a hoedown," says Megan.
"I feel like in the studio I have an idea of what tone I want, but I have no words to describe it." — Megan Lovell
One of the main sonic differences the sisters wanted to explore on this album was to bring in a producer and set aside programmed drums for a more organic sound. Rebecca's husband, guitarslinger Tyler Bryant, was enlisted to co-produce. The band's traditional DIY ethos found Rebecca doing a lot of drum programming on the previous studio efforts, and the rest of the instruments split between the sisters. "Tyler had a lot of thoughts for how we could work with live drums on the album," says Megan. "We were unsure exactly how we wanted to incorporate live drums into the sound, but Tyler's been fleshing out his studio and recording his own stuff. And it sounded beautiful. So, we thought this is just a perfect marriage [laugh] of his talents and our talents."
Blood Harmony was truly a family affair, because both Rebecca's and Megan's husbands also got into the mix. Tyler Bryant (Rebecca's mate) came on to co-produce and Mike Seal (Megan's partner) added keyboards.
About half of Blood Harmony was recorded at Bryant's Nashville studio, dubbed The Lily Pad, with the rest recorded at frequent collaborator Roger Alan Nichols' studio. Although the vibe was a family affair, the duo didn't take a laid-back approach to capturing the fire of their live shows. "We did so much pre-production," describes Megan. "Rebecca and I sat and played these songs—just the two of us—ahead of recording because these songs should be good enough to stand on their own without a lot of fluffy production."
Drummers Kevin McGowan and Caleb Crosby were brought in, Megan's husband, Mike Seal, added B-3 and keyboards, while Bryant himself added a bit of programming, keyboards, and bass parts. Not surprisingly, the overall feel of Blood Harmony is celebratory, organic, and fun. Hearing real musicians on real instruments together is a hallmark of what was missing in the collective lives of so many players over the last few years.
"There wasn't a whole lot of piecing together or anything in the studio," remembers Megan. "It's really just play it through a couple of times and whichever one sounds the best—let's go with that." With a largely improvisational approach to her solos, Megan would often only do a take or two before landing on a keeper. The years spent on the bluegrass circuit playing Dobro and learning "every solo Jerry Douglas ever recorded" honed her chops. Plus, it made the transition to lap steel much easier, since she brought over the same open-G tuning (G–B–D–G–B–D) and developed a style that relied less on fast-paced riffs and fills and more on soaring, Duane Allman-inspired leads. One prime example is "Strike Gold," which is a raucous stomper that wouldn't sound out of place on a Black Keys album.
Megan Lovell's Gear
The Electro-Liege is built for comfort and speed, with a lightweight poplar body, Jason Lollar Horseshoe pickup, and a shape that was hand-drawn by Megan to emulate the same curves in the home-made body extension she uses for her Rickenbacker.
Lap Steels
1950s B6 Rickenbacker
Beard Electro-Liege
National
Amps
Fender Bassman
Fender Deluxe Reverb
Effects
Line 6 HX Effects
Rodenberg TB Drive
Dunlop Cry Baby Wah
Ernie Ball volume pedal
Strings & Accessories

Dunlop Zookies thumbpicks
The sisterly musical bond is undeniable, but with that—at least for Rebecca—comes the pressure of having to meet the expectations of having a family full of world-class guitar players. "Having so many great guitarists in our family and to have two of my favorite guitarists, Megan and Tyler, sit there and watch me play is such a mind game for me," says Rebecca. "There were moments where I was really struggling to not crumble under the pressure of getting in my own way." Rebecca describes her style more as a "loose cannon," to the point where she often surprises herself on stage when the inspiration hits. "And then it's the next solo, it's a little bit muggy out here, and my neck is a bit tacky on my guitar … I'm gonna bomb for sure [laughs], you know?"
The biggest development in Megan's setup was her new signature lap steel by Beard Guitars. Although the guitar has been in the works for a while, it didn't make the sessions for Blood Harmony but has been road-tested for about the last six months. Dubbed the Electro-Leige, it features a poplar body, a Lollar Horseshoe pickup, and a series of eye-catching pickguards. "Against Megan's will I have been calling her the slide queen for a long time," says Rebecca. "I've sorta forced the issue and now she's kinda stuck with it. So, she wanted to make a play on that, so liege is referring to the royalty angle."
"The true pleasure that we as humans experience when we connect with one another through music—that is the connective tissue." — Rebecca Lovell
The first thing you notice about the Electro-Liege is the wildly offset body that is based upon the homemade body extension that Megan uses with her Rickenbacker to allow her to comfortably stand while playing. She wanted to find a more lightweight solution for touring, so she started sketching out a shape and meticulously placed where she wanted the anodized pickguards to be. "Megan went into granular detail about this," remembers Rebecca. "It was really cool to see these little paper cutouts on cardboard of what it was gonna look like, and hats off to Paul Beard for really taking all of her information and going for it." The result looks like a futuristic cross between her Rickenbacker and a Dobro. "It was really cool that he had the trust to just take all of the measurements from my drawings and just make it," says Megan. "It's exactly what I wanted."
Rebecca's idea of a signature instrument would likely gravitate towards a Strat-style guitar, as she's often seen with a HSS setup. "I love humbuckers," says Rebecca. "Initially I wanted to be Elvis Costello and run around with a Jazzmaster, but I needed something a bit lighter weight and smaller profile." She mentioned lifting the idea of a humbucker-loaded Strat from Bryant. "It's so beefy and, having toured as a four piece for so many years, that extra chunk has been helpful."
Rebecca Lovell's Gear
"I always wanted to be a mini E.C.," says Rebecca Lovell. And her love for Elvis Costello spilled over into her choice of guitars—a Fender Jazzmaster—until she found her currently favored Strats.
Photo by Brad Elligood
Guitars
Fender Custom Shop Stratocaster
Fender Custom Shop Telecaster
1960 Gibson SG
Amps
Fender Deluxe Reverb
Tyler Ampworks JT-14
Effects
Beetronics Royal Jelly OD/fuzz
Line 6 HX Effects
Strymon Deco
Strymon Iridium
Rodenberg TB Drive
MXR Sugar Drive
Strings & Picks
Dunlop .60 mm picks
Ernie Ball .010 Slinkys
For the Blood Harmony sessions she centered around a pair of Fender Custom Shop instruments (a Strat and a Telecaster) along with a 1969 Gibson SG that was a gift from a dear friend. "I don't take that on the road because it's so delicate and in such good shape." As far as what other elements might compose her own namesake instrument, Rebecca is still on the hunt. "I'm a little bit curious about other options for me as a guitar player. I don't know that I've had that major aha moment of like, this is the thing, you know?"
Both Rebecca and Megan are card-carrying loyalists to classic Fender-style tones. Both relied on a cache of vintage Bassmans and Deluxe Reverbs, but one of the key elements of the duo's arsenal was a Tyler JT-14 which was a gift from Rebecca to her husband. (She admittedly wanted to get it solely based on the name, but was thankful that it sounded so good.) The JT-14 is a modern interpretation of a 15-watt black-panel design with 6V6 tubes and a deeply rich tremolo. On the road, the duo takes a more high-tech approach by stashing a Strymon Iridium Amp & IR Cab pedal on their boards. "When you roll up to a festival and you don't have eyes on what amp you're gonna get, being able to have a consistent option is a lifesaver," says Rebecca.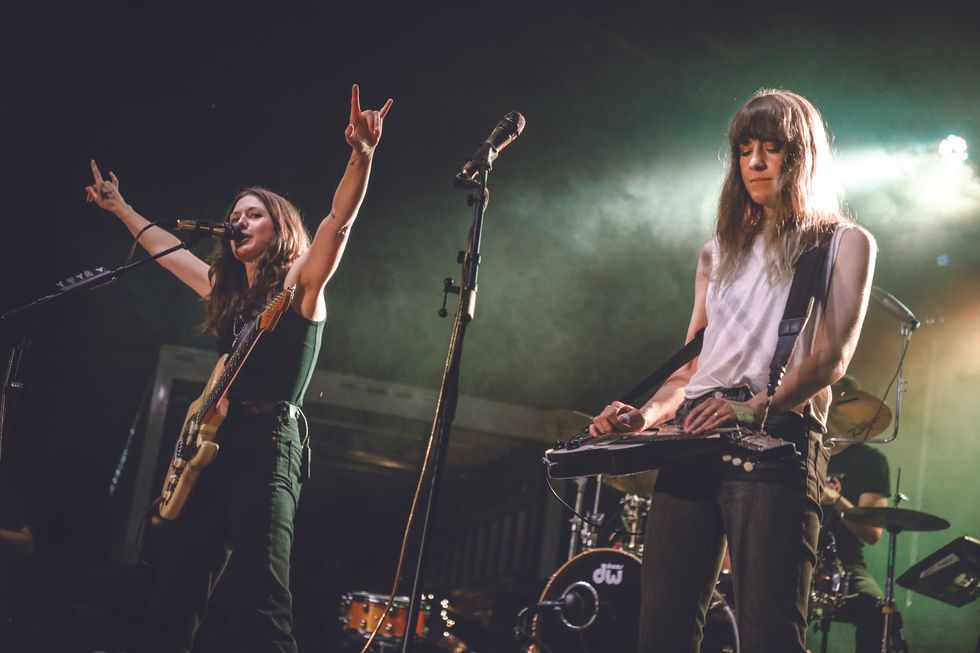 A Larkin Poe gig is equal parts house party and old-school blues throwdown. "We're writing from the perspective of what's gonna feel good a month from now," says Megan. "Because that's when we're gonna be out on the road, playing these songs for people."
Photo by Joseph A. Rosen
With very similar boards and a shared love for vintage Fender amps, how exactly do Megan and Rebecca carve their own sonic space? "I feel like in the studio I have an idea of what tone I want, but I have no words to describe it," says Megan. "I'm terrible about telling people what's wrong. I'm like, 'No, something is wrong. I don't like this.'"
"I love Megan's vocabulary when it comes to tone," says Rebecca. "She doesn't talk about mids, or bass, or frequencies. It's 'snottiness' or 'pinched-ness' or 'it's just a little blah. And the engineer's like, 'What?''' Maybe Megan's approach is best described by that variously attributed quote, "Talking about music is like dancing about architecture." Considering their styles, Megan often doesn't go for the thick lead tones, but rather prefers a tone centered around clarity and physicality. "I play in a higher register naturally to match with her, and we play a lot of octaves," she says. "It's been a puzzle that we've worked on throughout the years, but kind of just happens naturally."
As with any fruitful creative relationship, there are plenty of ups and downs. Larkin Poe have developed a methodology for creating music that builds upon their almost telepathic connection. But what element of being in a band with your sister do they have an irrational amount of confidence about?
"These songs should be good enough to stand on their own without a lot of fluffy production." — Megan Lovell
When posed this question, Rebecca wanted to answer first: "Our relationship is everything about this band. The way that we communicate, the way that we play together, the way that we facilitate one another's musicianship. It is the air that we breathe as a band, and everything revolves around our siblinghood. I think at the outset, when we decided to work with Tyler, we were like, 'What could go wrong? Like nothing could go wrong.' Which, I think we had our blinders on, because our relationship is so special and so unique. And as we all know, when you marry someone that is also a big energy.… I think in traipsing into making this album with another partner, with another significant relationship involved, it could have gone really bad. And I think we were very fortunate that it went really, really good. That there was sort of that glance in the rear view mirror of 'wow, and we didn't wreck the car."
And Megan's answer: "I have an immense amount of confidence in our self-production abilities. Every time Rebecca is very nervous to do it. I have all the confidence in the world that this is going to work. And look, normally when we get into it, it's harder than I would've thought. And so, it always ends up being somewhere in the middle, where I'm really happy that we did it and I'm happy that I have the confidence to say, 'let's do this!'"
Larkin Poe - Bad Spell - Live in Trieste - Italy
Photo by Ana Massard
She's climbed the mountain of shred, toured with Alice Cooper and Demi Lovato, topped a half-dozen charts with her solo debut, and earned a Super Bowl ring. Now, the Ibanez-toting barnstormer's poised for her next victory.
Defining "Hurricane" Nita Strauss is difficult. She's one of the most visible players out there, yet she's still underappreciated by the mainstream. As a solo artist, Strauss is the premier torchbearer for '80s-informed shred metal, but her music sounds modern, and her "day job" is as a first-call session and touring guitarist for the biggest names in pop and classic rock—from Demi Lovato to Alice Cooper. She also regularly tops lists of the best female guitarists, but the truth is she's simply one of the finest contemporary guitarists—period.
Embracing every opportunity and refusing to be pigeonholed, Strauss is proud of her music, regardless of style or who she makes it with. She also flies the flag for female rock 'n' rollers while calling out any limitations that might put her in a box.
"A really nice illustration is when Yvette Young and I had signature guitars come out the same year," Strauss says. "I played her guitar, and she played mine, for about 15 seconds, and we handed them back. We were like, 'We hate it.' [Laughs.] Her style is so vastly different from mine that her guitar was so uncomfortable for me to play. We're just so different. That [diversity] is what makes it great."

It's not that Strauss rejects labels. It's just that if she had her way, the rest of the world would drop the preconceived notions that come with them. Case in point, Strauss is the first woman to have her own signature Ibanez guitar, called the JIVA. She's incredibly proud of the honor. But it didn't happen because she's a woman—obviously. It happened because she's so damn good.
"I was always on that relentless pursuit for shred," the L.A. native says. "My family didn't have a lot of money, growing up, so I couldn't afford lessons or anything like that. I just absorbed whatever I could from listening to albums and watching instructional DVDs. But when I saw Steve Vai in Crossroads, that was my aha moment of, like, 'That's what I want to do.'"
"The first album was almost like a temper tantrum."
Strauss' style is still informed by the players on those DVDs. While a lot of modern rock and metal embraces 7- and 8-string guitars, jerking prog rhythms, and harmonic dissonance, she leans toward Malmsteen, Petrucci, Friedman, and Vai. "I think the reason why a band like Animals as Leaders was so groundbreaking is because they said, 'This is who we are, and this is what we write.' If I chased that [prog-metal] trend, I wouldn't be authentic. And I think you have to be authentic as a songwriter."
Which brings us to Strauss' first solo album. Controlled Chaos, released in 2018, clearly demonstrates her authenticity, which resonates with fans. The album was fueled by a Kickstarter campaign that aimed to raise $20,000 but reached an impressive $165,755. A full-on shred record, it brings to mind classics like Cacophony's Speed Metal Symphony, Jason Becker's Perpetual Burn, and Joe Satriani's Surfing with the Alien. She puts on a clinic in high-octane electric guitar heroics from beginning to end. And the rock world noticed. Controlled Chaos landed in the Top 10 of Billboard's new artist, indie label, hard music, rock, and internet charts, and hit No. 20 in top albums. The second single, "Mariana Trench," was chosen by the World Wrestling Federation as the theme for its NXT TakeOver: War Game 2018 livestream. Not bad for her first adventure into solo guitar music—one she never wanted to undertake in the first place.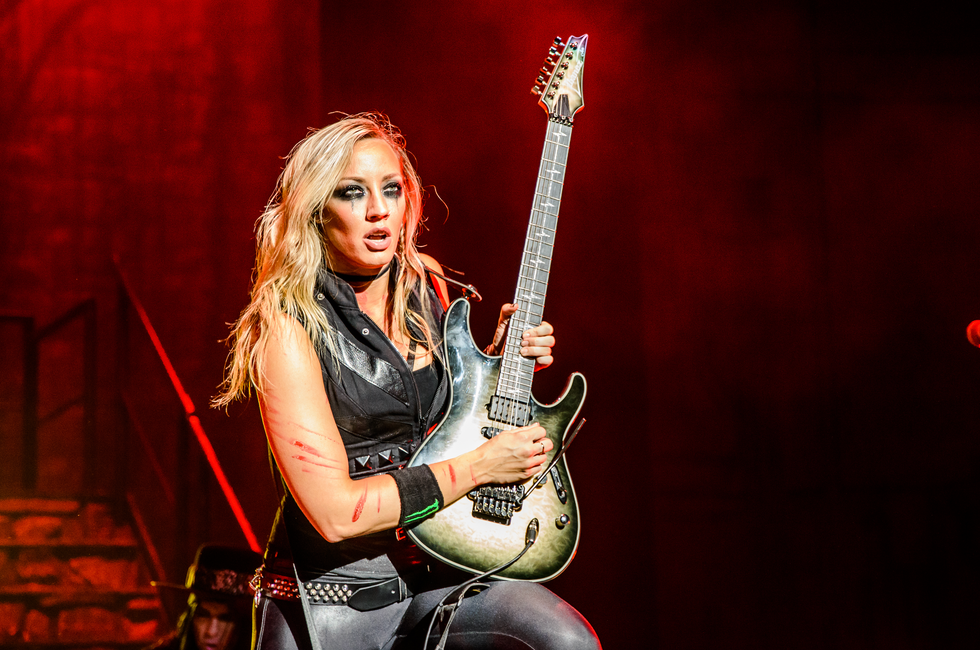 Nita Strauss has toured with Alice Cooper since 2014, but her first high-profile gig was with the Iron Maidens, a festival-level-touring Iron Maiden tribute band that she joined in 2010.
Photo by Annie Atlasman
But Jack Butler changed all that. "It was actually my hero, Steve Vai, that pushed me off the edge and into the deep end of the pool," Strauss says. "He asked me to contribute a song to a compilation album [2017's She Rocks, Vol. 1], and I agreed without having a song to contribute. I mean, I'm not going to say no! [Laughs.] I sat down at my kitchen table the next day, and I wrote 'Pandemonium,' which was my first solo single."
The song was a hit, with well over a million views on YouTube. Diving in headfirst, Strauss then knew exactly what a Nita Strauss solo album should sound like, and no one was going to get in her way. "The first album was almost like a temper tantrum," she laughs. "I had so much to say, and I didn't let anybody into my creative process. I produced it, and I recorded everything. Then, when it came out and was super well-received, that made me realize, 'Yes, I can do this.'"

"I was always on that relentless pursuit for shred."
It wasn't long before Strauss was planning her next record, due in early 2023. And this album will be different. She determined it would still feature plenty of technical playing and demonstrate her songwriting and production skills, but she'd supercharge it with some of the most well-known vocalists in the heavy-rock game.
So far, three singles have been released as teasers. In October 2021, Strauss turned loose "Dead Inside." Her guitars sound heavier, the song structure is catchier, and the intense playing is pushed over the top by the signature rasp of Disturbed's David Draiman. The tune made Strauss the first solo female artist to top the Active Rock radio chart and has more than 10 million streams on Spotify. Her instrumental banger "Summer Storm" was released in August 2022, followed by the even wilder aggro-shred diamond "The Wolf You Feed," featuring singer Alissa White-Gluz of Arch Enemy. In its first day on YouTube in October, "The Wolf You Feed" garnered 670,000 views and, as of this writing, has surpassed 2 million views.
Nita Strauss' Gear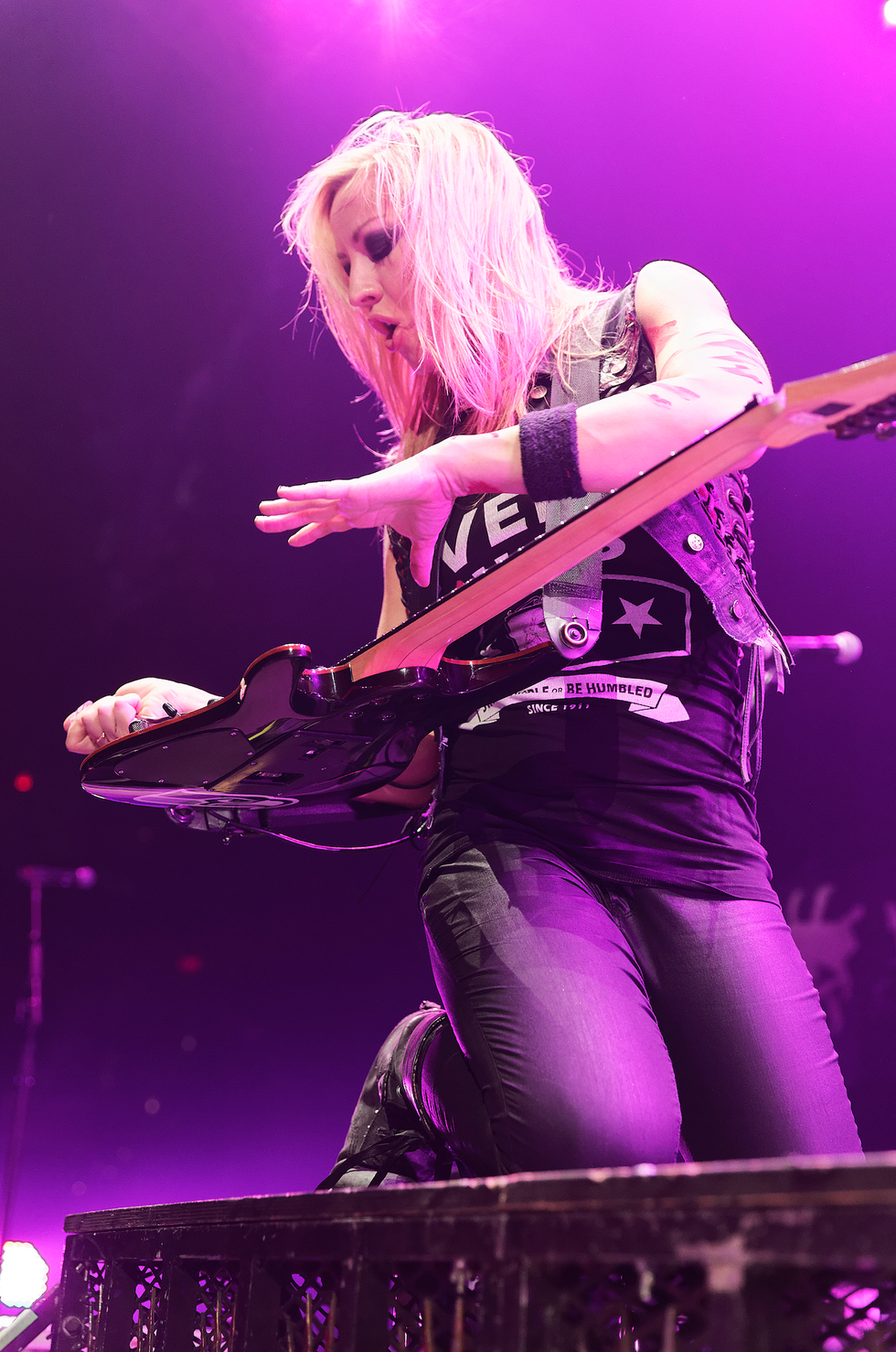 How sturdy are Strauss' workhorse Ibanez signature model JIVA guitars? Tough enough for whammy-bar levitation with feedback every night onstage.
Photo by Ken Settle
Guitars
Ibanez Signature JIVAX2
Ibanez Signature JIVA10
Custom Ibanez Signature JIVAJR
Amps & Effects
Boss GT-1000 Effects Processor
Kemper Profiler
Strings & Picks
D'Addario NYXLs (.010–.046)
Grover Allman .60 mm
But Strauss admitted that writing for vocalists isn't as easy as her instrumental work. Making things even more challenging was that she had no idea who would end up singing on the new tracks. She was, as she puts it, "writing for a style of vocalist. It was a huge challenge for me. I had to take into account a singer's vocal range, style, lyrical content, and what rhymes with what. But there was only one song, I think, where it was actually that singer [I imagined] that ended up on the track. For most songs that I would write, I'd go, 'I'd like someone like this singer or that singer.'"
If you're wondering who the other vocalists on her upcoming album are, you're not alone. So far, Strauss has played the details extremely close to the vest. What she will discuss is the gear she used throughout.
Rig Rundown - Nita Strauss
"Live, for my solo band, I use a BOSS GT-1000 pedalboard," she says. "But for my session work, it's my Kempers, and the majority of the record is the same tones you hear onstage with the Kemper. Funny enough, it's modeled from my previous processor, which is a Rocktron Prophesy. It's not modeled from any amp in particular. It's just pinched, pulled, massaged, and tweaked to be my own tone. When I switched over to Kemper, I couldn't find anything I liked as much, so I hooked up the modeling software and modeled my processor. And it's my signature Ibanez JIVAs across the board—all the gigs, all the time."
Although she's currently on tour with Demi Lovato, Strauss still considers herself part of Alice Cooper's band. She joined the troupe of the veteran rocker, who gave her the nickname Hurricane Nita, in 2014.
Photo by Annie Atlasman
With the new record being done for quite some time and two successful singles already released, you might wonder, "Where's the album?" Strauss says she is so busy with other projects that it'll have to wait a while more. On top of her hectic solo career, she remains an active member of the Alice Cooper band, a spot she's held since Orianthi's departure in 2014. Sonically, she's the perfect fit, and her stunning performances led Cooper to give her the nickname "Hurricane." While Orianthi brought her fabulous blues/classic rock approach, Strauss' style sounds custom-built for Cooper's '80s, '90s, and current catalog. She's such a fixture of the band that fans were stunned when she recently stepped out of Cooper's tour to hit the road with pop mega-star Demi Lovato. (Meanwhile, guitarist Kane Roberts has returned to Cooper's band.) Those fans, of course, quickly took to social media to voice their opinions.
How could a shred-metal hero go pop? "Easy," says Strauss. "Demi is an absolute powerhouse of a vocalist and a performer. And I'm not gate-keeping rock like a lot of these people are. Demi had it made. She had everything she ever wanted as a pop star. She had no reason to go back to her original love of rock and heavy music unless she really wanted to. And, honestly, it's a rock show, and a rock show is a rock show. I'm using my same guitars, my same rig.
"Demi is an absolute powerhouse of a vocalist and a performer. And I'm not gate-keeping rock like a lot of these people are."
"When I got this opportunity, I went to Alice and talked to him face-to-face. I said, 'I have this opportunity and I'd really like to do it, but it would conflict with our fall tour. What do you think?' He said, 'Go, I'm so excited for you. Take a break and if you want to come back, come back.' And that was it. There was no I quit, I'm out, I'm finished. In my mind, I'm not any more or less a part of the band than I ever was."

Lovato is touring with an all-female band that also includes bass player Leanne Bowes, keyboardist Danielle McGinley, and drummer Brittany Bowman. Strauss sees it as an opportunity to bring great rock to a new audience. "There are so many people to inspire at any show," Strauss says. "Maybe one person every single night will look at Britt, or look at me, or Leanne, or Demi and go, 'I want to do that! I went to a Demi Lovato show, and now I want to get a guitar for Christmas instead of a video game console.' That's what it's all about."
How Nita Strauss Gets Huge Tones with No Amp
Strauss knows what she's talking about. She remembers when she was the one watching her guitar heroes rocking millions of fans. "Jennifer Batten was a big one! Seeing a girl standing up there with the big boys, in the big gig, playing the Super Bowl, playing the biggest stage in the world, that was a big inspiration for me. She's the best!" (Batten played with Michael Jackson as part of 1993's Super Bowl XXVII halftime show.)
Fascinatingly, as the Los Angeles Rams' official in-house guitarist—not the most common position in a football franchise—Strauss also regularly displays her prowess in the NFL. And she has a Super Bowl ring to prove it. But how does she balance a solo career, playing with classic rock royalty, sharing the stage with the biggest names in pop, and still be there for every snap of the football?
"It's definitely been challenging trying to keep everything straight in my head," she admits. "But I love playing guitar as much as anyone going home from their jobs and picking up their guitars and playing. It is exhausting, but it doesn't feel like work."
Nita Strauss performs "The Show Must Go On": The 2019 She Rocks Awards