Witness how the self-proclaimed World's Best American Band values pragmatic workhorses over rock 'n' roll excess.
Tired of pretentious music? Are you looking to just have fun and rock out? The good-time, make-you-move-and-groove medicine you're after is what White Reaper dispenses.
The band's core was formed in 2012 when Louisville high schoolers Tony Esposito (guitar/vocals) and Nick Wilkerson (drums) started jamming as a duo. Then Nick recruited his twin brother Sam (bass) and Esposito added friend Ryan Hater (keys). And the fearsome foursome released their rowdy, ripping 2015 debut, White Reaper Does It Again, on Polyvinyl Records.
Carrying forward their blend of lo-fi garage rock and pop-punk hooks, the quartet added second guitarist Hunter Thompson in 2016, before recording 2017's (tongue-in-cheek) The World's Best American Band. The glee blossomed with shinier, poppier melodies that soared over harmonized guitars—think crossing Cheap Trick with Thin Lizzy.
The World's Best American Band graduated them to major label Elektra, where they earned studio time with producer Jay Joyce (Cage the Elephant, Halestorm, Eric Church, Carrie Underwood, Emmylou Harris). With Joyce providing a slicker, tighter sound, the quintet unveiled an even catchier package that employs the sheen of peak Cars and early Maroon 5 in danceable tracks like "Might Be Right" and "Eggplant." (The former earned them a No. 1 slot on the Billboard Alternative Songs chart.) But rock purists still got to stomp and howl with the hard drivin' "Headwind" and redlining "Raw."
Hours before their headlining gig at Nashville's Exit/In, White Reaper's Esposito and Thompson checked in with
PG
to talk tone. The guitar duo showed us how the rigors of the road have impacted their touring gear decisions and why COVID-19 handcuffed one of them to the digital life.
[Brought to you by D'Addario XPND Pedalboard: https://www.daddario.com/XPNDRR]
Come Fly With V
It's said rock 'n' roll is a young person's game. And while the garage-rocking gentleman of White Reaper have no plans of slowing down any time soon, guitarist/vocalist Tony Esposito already knows the importance of a strong back. The combination of lumbar-compressing Les Pauls and thin leather straps resulted in soreness and welts that have forced Tony to keep his Lesters at home.
Above is the first of his lighter Gibsons: a 2000 Flying V he bought on his birthday in 2015. During the Rundown, he refers to it as the School of Rock guitar, since fictional student Zack Mooneyham played one in the film. Aside from Esposito's sweat, skin, and some dust, this guitar is completely stock.
This V stays in E-flat-standard tuning and rides the stage with either a custom set of Augustine Spectras (.011–.052) or Ernie Ball 2226 Burly Slinkys (same gauge).
Light as a Feather and Ready To Rock
Not wanting to show favoritism, Esposito is quick to note that this 2000s Gibson ES-335 isn't a backup. He's actually used it the most since playing live shows again, because the fly-date-heavy schedule worried him about the angular fragility of the V. He even revamped his amp and pedalboard setup to mesh better with the 335 (more on that in a minute).
Who You Calling Runt?!
Vox have been a big part of White Reaper's DNA, and both Esposito and guitarist Hunter Thompson (not from Louisville and no relation to Dr. Gonzo) have used them live and in the studio for years. "I loved the reliability of the AC30s, but I was using more pedals (than now) to essentially turn it into a plexi," says Esposito. "I had a compressor, Tube Screamer, and EQ pedal that were always on, but when I switched to the Friedman Runt 50 it was already that thing."
While touring with the Struts he noticed how much
guitarist (and Rig Rundown alumnus) Adam Slack
loved his Friedman Small Box 50, so he did some research and landed on the 50W, EL34-glowing Runt. The Runt 50 hits a stock Fender Super-Sonic 60 2x12 extension cab that has its original Celestion Vintage 30s.
Dials for Dimebag
Passing time in the van by listening to Pantera's Cowboys from Hell, Esposito wondered how Darrell "Dimebag" Abbott set his Randall for the nasty breakdown during "Domination." He lucked out and found an old '90s Guitar Magazine article displaying Dimebag's Randall settings. He's since loosely adopted those for his own live tone, as seen here.
Simplifying Esposito's Stomp Station
With less purposes for pedals, Tony Esposito's pedalboard has shrunk. Basically, he has the Way Huge Green Rhino MkIV for additional drive, and a Boss DD-5 Digital Delay and Jacques Meistersinger chorus for spacier sounds and occasional leads. The pair of Boss pedals—an NS-2 Noise Suppressor and GE-7 Equalizer—are in place to squelch any unwanted feedback from the 335 and to supplement any anemic backline amps he encounters on fly dates. Everything comes to life via a Voodoo Lab Pedal Power 2 Plus.
This Baldwin Baby Bison Burns
When White Reaper started, guitarist Hunter Thompson toured the world with this 1965 Baldwin Baby Bison. He stumbled across the guitar on Reverb.com and, after some homework revealed it was a choice instrument for Jeff "Skunk" Baxter when recording with Steely Dan, pulled the trigger.
His favorite part of this peculiar 6-string is its Burns Tri-Sonic pickups (
similar to the ones in Brian May's Red Special
). They're stacked single-coils. Additionally, Thompson enjoys how the "tone" knob acts more like a presence control that "blends in the bottom pickup, allowing you to make the guitar's sound really gain-y or really clean." To take things to another level of weird, Thompson added a Roland GK-2A Divided Guitar MIDI pickup to have fun at home.
Can I Interest You in a Strat, Sir?
Aside from the aforementioned Bison, Thompson normally rocks Les Pauls or Teles. However, he recently scored this lightly worn Nash S-63. For its speaking voice, he opted for the Lollar Sixty-Four single-coils. And you'd think the tonal differences would throw off Thompson a bit, but he said the biggest transition to a 3-pickup guitar is being careful to not rake the middle single-coil with his hand and/or pick. This S-63 stays in E-flat-standard tuning, but Thompson goes with a lighter set of D'Addario NYXLs (.010–.046) and hits the strings with Dunlop Tortex Flow .73 mm picks.
Ready for Your Profiler?
White Reaper was in the middle of a U.S. tour supporting 2019's You Deserve Love when COVID-19 struck and the world shut down. The band's gear went with the Kentuckians back to Louisville, but Thompson retreated to his home in Austin. For the first few months, he hunkered down in the Lone Star State with his one electric and some crappy desktop sims. Longing to play proper electric and be creative, he ordered a Kemper Profiler. Its diverse sounds and intuitive interface prompted Hunter to play guitar more than ever. Everything he needs is backed up on a thumb drive and his entire rig fits in a laptop bag.
"When it came to touring again, the use of the Profiler was a practical decision," admits Thompson. "It's not the coolest rock 'n' roll decision [laughs], but until someone else is setting up my gear, I'll probably be taking the Profiler." And most of his profiles are built off a Divided by 13 model that's brighter than Tony's and sits a bit higher in the mix.
Caution: Cab at Work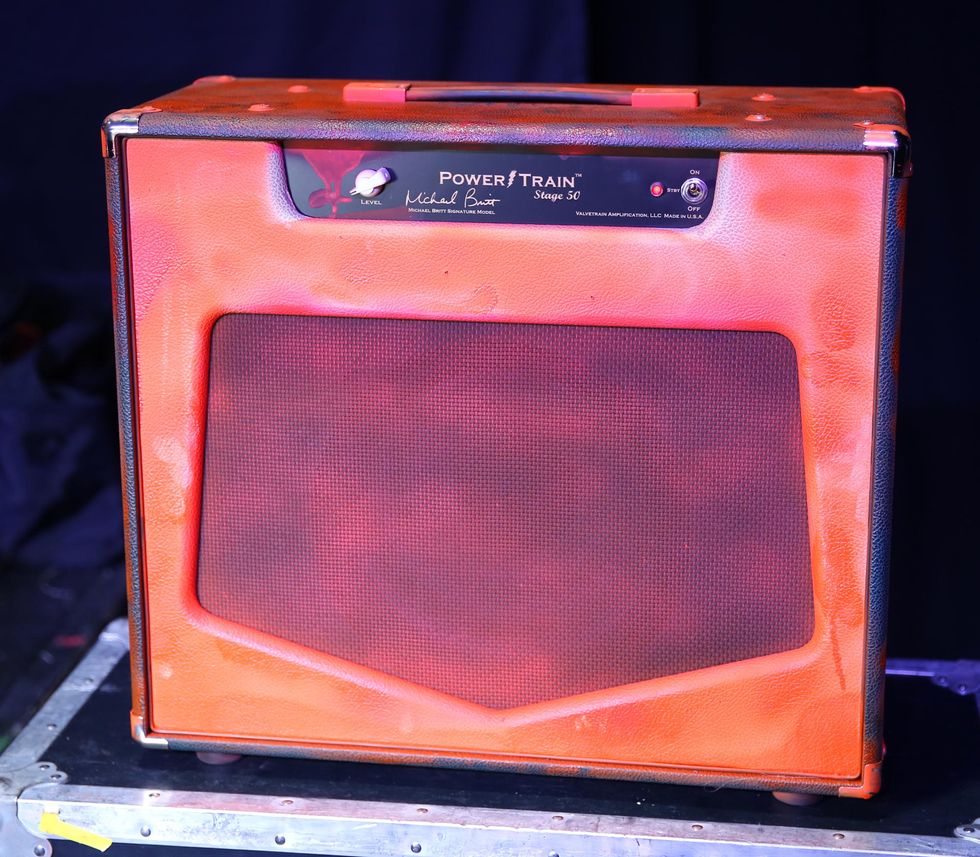 Thompson does run a direct line to FOH, but he also craves stage volume, so he splits the Profiler into this ValveTrain PowerTrain Stage 50—an all-tube (6L6GC) powered monitor designed to work with digital modelers. It has a flat EQ, a single level knob, and comes stock with an Eminence Legend EM12.