A groovy triple-pickup solidbody from Holland, by a company responsible for equipping countless aspiring rockers in 1960s Europe.
From the country known more for tulips and windmills than 6 strings, Egmond deserves some recognition for the company's significant contribution to the guitar universe. Their electrics from the 1960s provided myriad European guitar players with a solid and affordable gateway to rock 'n' roll.
The story of Egmond follows an arc similar to many instrument manufacturers, in that the company first started out as a music store. Uilke Egmond seemed to have a good thing going selling imported instruments at Musica, in Valkenswaard, Netherlands. After WWII came to a close, however, his three sons joined the family business and began in-house instrument production. Soon manufacturing numbers grew, and after several factory upgrades and moves, Egmond became one of the largest guitar companies in all of Europe. George Harrison and Brian May both started on Egmond acoustics. And the company's electrics found their way into the hands of plenty of well-known guitar and bass players. Even Sir Paul McCartney.
When I say microphonic, I mean that you can literally talk into these pickups and hear your voice loud and clear through an amp.
By the mid '60s, Egmond's electric guitars were flooding the European market, but just sort of trickling into the American scene. It's a shame for those of us in the U.S., because the guitars featured some interesting flair and details, such as pearloid overlays, textured vinyl coverings, and heavily nickel-plated metal parts. They were built rather well and seem to survive the years better than most counterparts.
The Sorkin Music Company in New York City was importing the full line of Egmond guitars by 1965. Looking at the catalog from that year is a true blast from the past. Like other manufacturers of the era, Egmond guitars sported some cool model names, such as Typhoon, Tempest, and Thunder (Photo 1).

Photo 2
The triple-pickup EG 3 Thunder—our star this month—housed "Powertone" pickups (Photo 2), which were pretty much standard fare for the Egmond lineup. Powertone was an apt title because they are hot little numbers that measure in the 8k range. I have to tell you they are the most microphonic pickups I have ever experienced. And when I say microphonic, I mean you can literally talk into the pickups and hear your voice loud and clear through an amp. I'm always attracted to guitars and pickups that fight with me, but these were definitely tough ones to wrangle!
The guitar has a 7-way selector switch that has some interesting preset tone combinations, but for the most part, they pretty much suck the tone out of the guitar. Right below it is a trio of on/off slider switches for the pickups. The EG 3's "Vibratone" tremolo is a great unit and works as well as a Jazzmaster's, but the bridge on the model floats on the pickguard and is only held down with string tension. Kind of an odd combination, but, hey, you can make it fly.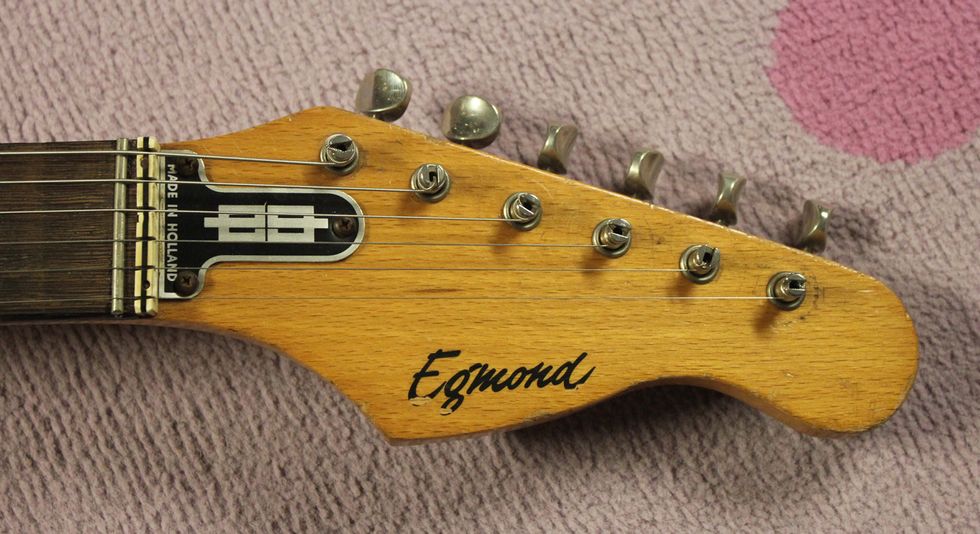 Photo 3
Our featured Thunder—aka the "Airline 3" model, in some markets—has what was called a "shaded" finish, specifically "glossy golden shaded darkbrown." I really like the finish on this model because it wears beautifully with steady play. And the bodies also breathe much better than their vinyl-covered counterparts. I often find myself wishing that today's builders regularly used a simpler finish technique like this, rather than the candy-coat poly finishes we see so often.
As the '60s wore on, the Egmond lineup remained relatively unchanged outside of some different finish options, although I did notice that their retail prices went down. For instance, a vinyl-covered Egmond 3V had been retailing for $135 in the '60s, but by 1970, the very same model sold for $85.
Overall, these fun, mid-'60s electrics can still be had at a relatively affordable price and give players some interesting options when it comes to tone. Heck, you could buy one just to use the pickups as some sort of cool, lo-fi microphone!
See and listen to this 1968 Egmond EG 3 Thunder (aka Airstream 3) demoed by Mike Dugan. Be sure to hang in for the "Truckin' " play along.