Ten top-notch cradles for your guitar and bass collection.
Is one guitar enough for you? Didn't think so. At home, onstage, or in the studio, you need to have your favorites at the ready. We've corralled some options that securely group your instruments for quick changes, but don't demand much stage or van real estate.
HERCULES GS432B
This stand features a trio of "Auto Grip System" yokes, folding backrests, and specially formulated foam at all contact points. Optional carry bag available for easy transport.
$69 street
herculesstands.com
KÖNIG & MEYER Guardian 5
This stand holds five instruments securely while saving space and providing an easy overview of your axes. Sub-divided support arms with integrated pick holders leave the strings untouched.
$239 street
km-america.com
D&A GUITAR GEAR HYDRA
This ultra-stable stand with a lifetime guarantee features the patented "Headlock" gravity-activated hanger system and a six-point base that can maintain stability at up to 30 degrees of tilt.
$199 street
heydna.com
ON-STAGE STANDS GS7561
The wide, stable bass of this foldable stand can support five instruments in single file, supported by a padded yoke and base.
$57 street
on-stage.com
GATOR FRAMEWORKS GFW-GTR-3000
This three-instrument stand accommodates acoustic and electric guitars. It features heavy-duty steel construction, rubber padding, durable neck restraints, and removable red safety trim on its feet.
$29 street
gatorcases.com
STAGG MUSIC SG-A008/5 BK
This A-frame stand supports up to five instruments in any combination, folds for easy transport and storage, and is extremely strong thanks to its square tubing.
$81 street
staggmusic.com
FENDER 7-Guitar Case Stand
This seven-axe stand looks like a traditional case, but transforms into a stage-worthy rack for up to seven electric guitars. It's available with a vinyl or tweed exterior and boasts a plush interior in either black or red.
$319 street
fender.com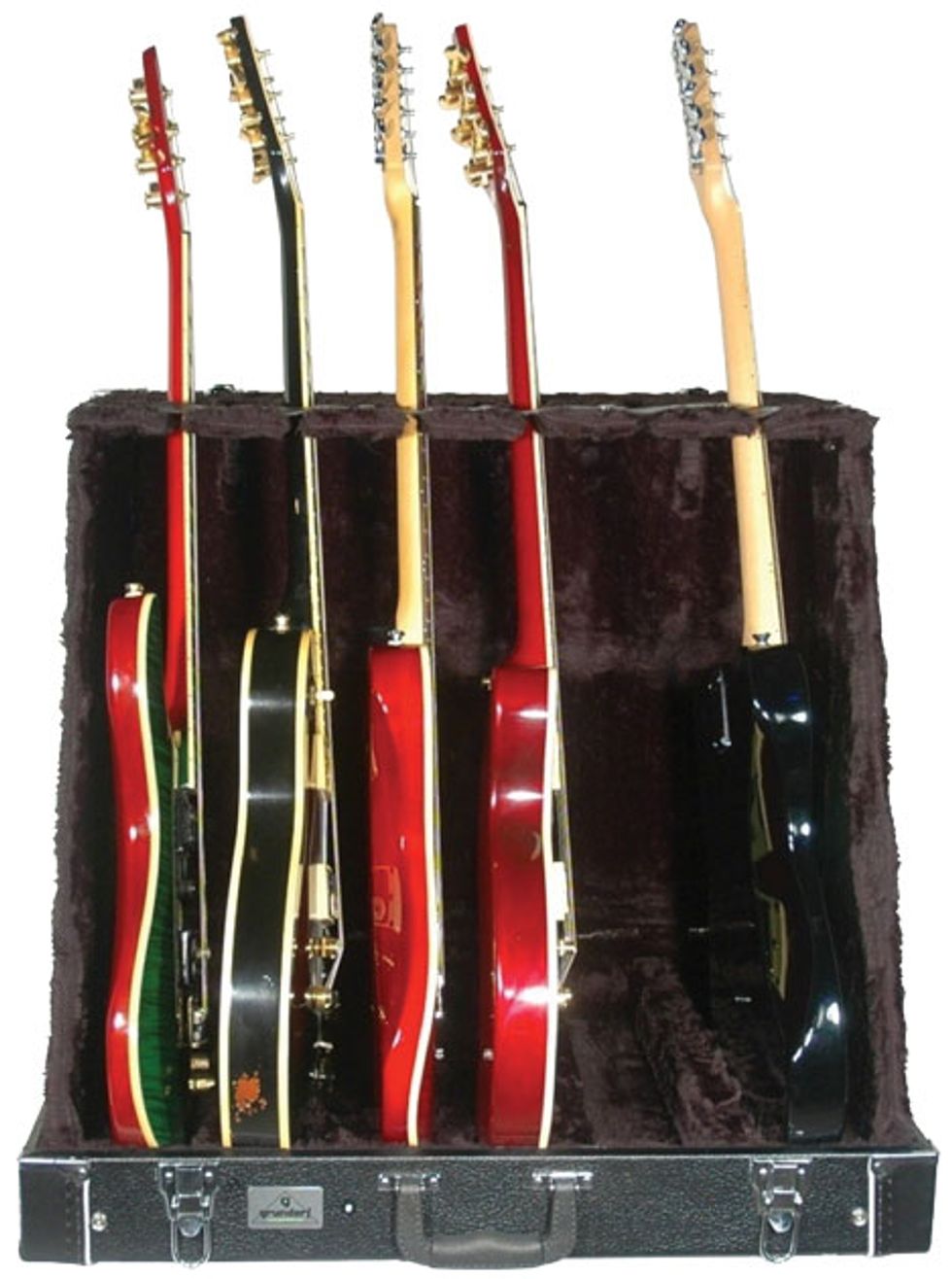 GRUNDORF G-GSC
This plush-lined case-style stand is compact and easy to transport, yet holds up to six guitars when opened. It features a black-vinyl exterior, leather straps with snaps to secure each instrument, and adjustable spacers for a custom fit.
$249 street
grundorf.com
ULTIMATE SUPPORT JS-HG103
This triple hanging-style stand features heavy-duty powder-coated tubing, protective rubber at all contact points, and safety gates to secure headstocks.
$30 street
ultimatesupport.com
HAMILTON STANDS KB5500G
This rack features five rubber "hands" acting as neck rests, which can be moved to accommodate instruments of varying depths. The cradle rails can be narrowed and the neck rest lowered to safely stow smaller instruments.
$109 street
hamiltonstands.com