Ever wonder how a manufacturer and an artist collaborate on a signature model? Here's the story of the Keeley Super AT MOD Overdrive.
In the world of guitar gear, artist signature products are a time-honored tradition. When the chemistry works just right, they're as potent and attention-grabbing as a well-struck power chord.
But if you've ever wondered how an artist and manufacturer actually work together on a product, the new Keeley Electronics Super AT MOD overdrive provides a striking case study in the mind-meld process.

While the new Super AT MOD looks like a classic 3-knob overdrive, the mode toggle is the pedal's secret sauce, and the AT setting adds a particularly shimmering quality to the harmonically rich overdrive.
The versatile pedal is the latest creative partnership between ace guitarist Andy Timmons (known for his solo work and touring/recording with Danger Danger, Olivia Newton-John, Kip Winger, and many more) and Robert Keeley, a pioneer and leading presence in the realm of guitar effects.
In a collaboration spanning more than three years, Timmons and Keeley have become great friends, mutual provocateurs, and culinary kindred spirits. (More on that later.) They began working together in early 2020, when Timmons and Keeley teamed up on the wildly successful HALO dual echo pedal.
"We spent more than a year-and-a-half really fine-tuning that pedal," says Timmons. "It was a wonderful collaboration. We couldn't have imagined how it would resonate with so many people." Keeley adds with a laugh "I have found that my customers like what Andy's ears like. It resonates so much with our customers that the Halo has become 25 percent of our business. Andy's ears are really golden."
Buoyed by the HALO collaboration, in late 2022 the creative process resumed in a new direction: a signature overdrive. In conceiving the new Super AT MOD overdrive, Timmons knew exactly what he was looking for: a flexible, highly responsive overdrive that can beef up a guitar's tone but also offers an option to achieve high-end clarity and shimmer.
The initial inspiration for the Super AT MOD came from Timmons' love of a classic Keeley mod for the Boss BD-2. "The modded BD-2 goes from clean to mid-gain, and it's very responsive to touch," Timmons notes. "But I was always reaching for this crystalline, glassy gain with just a little bite. So, with the new pedal we have two modes: a 'phat mode' which alludes to Robert's original modded circuit, and then there's the AT 'modded modded' side."
Keeley Electronics Super AT Mod Overdrive - Video Demo Review with Robert Keeley and Andy Timmons
Sometimes Less Is More
Keeley took a different angle in designing the Super AT MOD. In contrast to his normal modus operandiof boosting certain frequencies, this pedal's "modded modded" AT Mode is based on a subtractive method for sculpting the pedal's tone.
"The original phat mod was designed to push up the bridge pickup of a Strat or Tele and give it a bit more girth," Keeley explains. "But Andy pointed out that if we carve away some of the frequencies, his guitar will stand out more. Andy was approaching this from the opposite direction, playing with a pickup that's much more akin to a humbucker, with a bigger dynamic range, so it doesn't need that push on the low- and mid-bass."
During the development and testing phase, Timmons relied primarily on his main guitar–his Ibanez ATZ100 signature model with three humbucking pickups–and his beloved Mesa/Boogie Lonestar 2x12 combo. But the final version of the pedal offers an expansive versatility that makes it a fine companion for just about any rig.

"I'm lucky to find these cohorts in tone. We enjoy the process and hopefully that comes through in the final product."
That flexibility is due, in large part, to the aforementioned tone-shaping method that Timmons encouraged Keeley to employ. "To me, the subtractive approach is a great way to arrive at a better tone," Keeley says. "You can take away some of the excess and it leaves you with something more natural. With that in mind, the AT mode changes the tone control and what it allows to pass through. It takes out some of the bass tones, so it clears up that range and makes humbuckers less bloated. We also added a little bit of sparkle—some high frequency response from letting the natural stuff go through.
"We also tried to get a more tube-like sound, with the diodes and asymmetrical clipping," Keeley adds. "The Super AT MOD gives Andy that nice chimey top end and that tube-amp-type growl and distortion because it uses JFET transistors. They're the closest thing we have to tubes."
Creativity and Camaraderie
The Timmons/Keeley partnership is a testament to technology—and to a friendship that blossomed during the long, sometimes grueling playing/listening sessions that punctuated the development process.
Timmons is based in McKinney, Texas, about a three-hour drive from Keeley headquarters in Oklahoma City, Oklahoma. That proximity allowed for frequent visits to the Keeley shop and made it easier for Timmons and the Keeley team to work together on the successive HALO and AT MOD prototypes. "You've really got to be able to be in a room together and feel what's happening," Timmons says. "Because we were all in the same room, we were able to go beyond what we had ever envisioned. That's the blessing of them being just a few hours away."
"The initial inspiration for the Super AT MOD came from Timmons' love of a classic Keeley mod for the Boss BD-2."
A key member of the creative team was Aaron Pierce, artist relations guru at Keeley Electronics. Pierce was deeply involved in the Timmons/Keeley collaboration right from the beginning, and he helped jump-start the process of designing the Super AT MOD.
"During the two years that we were working on the HALO," says Pierce, "we were always talking with Andy about what he was looking for in an overdrive. So, we were working on ideas for at least a few months before getting Andy back into the process. We had learned a lot about his preferences during the HALO development."
Timmons greatly appreciates what Pierce brought to the undertaking. "I can't stress enough: Aaron was really the third side in the triangle. It was so important to have his ears in the room. Even if I couldn't articulate to Robert what I was hearing, Aaron was able to do it, because he could hear it and put it into words in a way that Robert could act on. Aaron was the perfect translator between Robert's methodology and what I was going for."
The HALO design journey took two full years, but thankfully the AT MOD's development was relatively brisk—perhaps three or four months, and three visits from Timmons. On each visit, Keeley would offer hospitality by cooking for the crew. Keeley is well known among his friends as a fantastic cook.
"It took more than three sessions—probably about six meals together," Keeley says as all three burst into laughter. "The food really does stand out," adds Timmons. "We didn't lose any weight during the sessions."
Ultimately, the Super AT MOD benefited greatly from the spirit of friendship and shared passion. "I was able to be really demanding because they were willing to go down the path with me," says a grateful Timmons. "Their willingness to be open and do things differently was the key. I'm lucky to find these cohorts in tone. We enjoy the process and hopefully that comes through in the final product."
Lasting Impact for All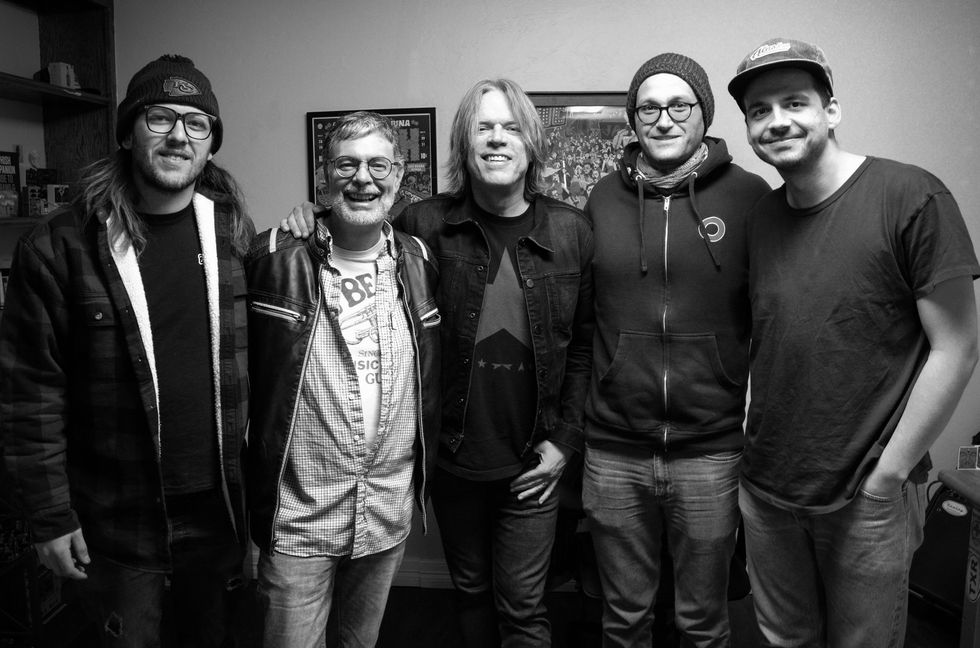 Just don't call them late for supper! The Keeley creative team assembles in Oklahoma City in February 2020 (left to right): Craighton Hale, Robert Keeley, Andy Timmons, Aaron Tackett, and Aaron Pierce.
Asked if the collaboration with Timmons has opened a new approach for future designs, Keeley answers emphatically: "Most certainly. I'm going to use the subtractive process and implement that design philosophy on future pedals. That's one of the reasons it's so rewarding working with Andy: developing more and more chops to get nuanced sounds."
Pierce agrees: "Working with Andy makes us better on the engineering front and the manufacturing front. Every time we collaborate with him it pushes us on our technology, and we discover things that we never would've found without him."
At the end of the process—and a bunch of great meals with the Keeley team—Timmons is thrilled with the results: the Super AT MOD overdrive delivers the tone and versatility he sought. "I haven't had a pedal feel like this before. It has such a natural thing about it. The dynamic range just coming from the fingers is incredible. It's the delicate, mild gain that I've been seeking for a long time. But if I want to crank it up, it has incredibly powerful full-on gain."
You can hear Timmons putting the pedal to great use on his brand-new series of singles under the title Bitter Suites: The Outlier Nocturne. Beginning with the first one, "Here Lies The Heart," the ongoing solo series features Timmons' playing in a spacious, dynamic setting, inspired by the Super AT MOD's tonal range. "That AT mode is what I needed. Since that pedal was created, I've gotten the next two tracks because this was the sound I was waiting for." Timmons attests.
To learn more about the Super AT MOD pedal and Keeley Electronics, visit robertkeeley.com.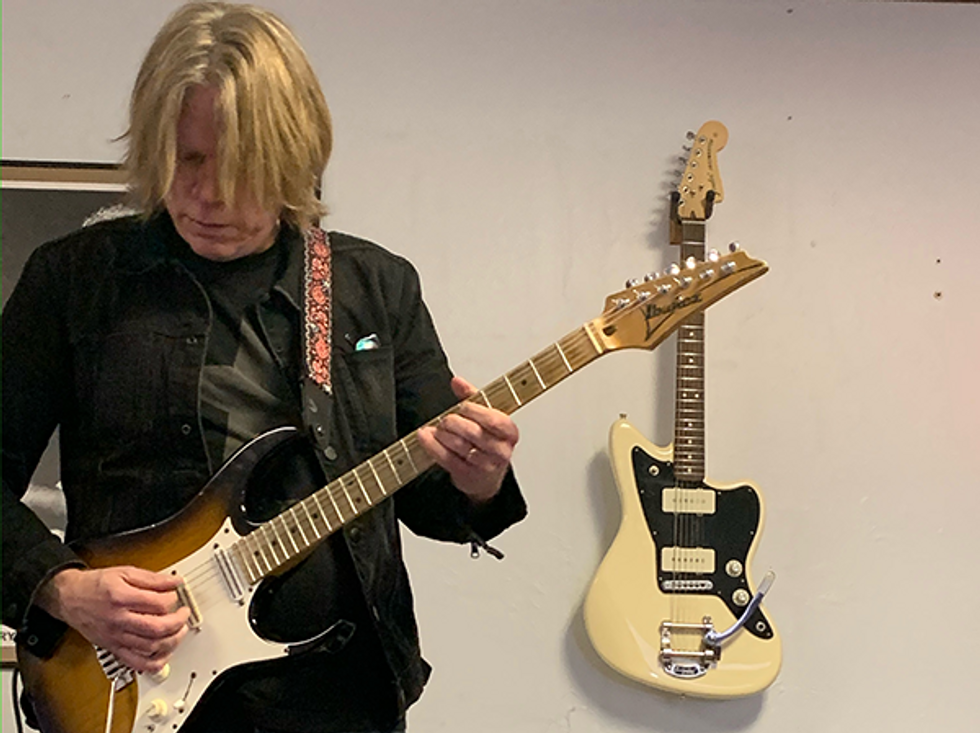 Timmons tests a prototype of the AT MOD with one of his Ibanez ATZ100 signature model guitars and a Mesa/Boogie Lonestar 2x12 combo at Keeley headquarters in Oklahoma City.