Never kit-built a stompbox? It's easy—if you let pro pedal maker Alex Guaraldi of CopperSound be your guide. Here, he takes you on a step-by-step tour as he assembles a Build Your Own Clone Classic Delay.
For this DIY adventure, we're going to be walking through the steps of building the Classic Delay pedal from Build Your Own Clone (BYOC), a company that has been a big player in the pedal-kit game for quite a while. This is a little more complicated than building a fuzz or overdrive, so I'm going to explain the process with great detail. Let's get started.
Tools You'll Need for This Project
Soldering Iron

Solder
#2 Phillips screwdriver
Wire strippers
8 mm (5/16") nut driver/wrench
10 mm (25/64") nut driver/wrench
1/2" nut driver/wrench
14 mm (9/16") wrench
Flush cutters
Small needle-nosed pliers
Third hands
These tools are available via a variety of suppliers, including StewMac, Allparts, and Amazon.
​Step 1: Review the Instructions
The kit as it arrives (Photo 2).
Each BYOC kit comes with a detailed set of instructions in the form of a PDF that can easily be printed out. The Classic Delay's instructions can be found at https://www.byocelectronics.com/classicdelayinstructions.pdf. They are 32 pages long, and I suggest following their steps as you read this article. Here, I will refer to specific page numbers that correspond with the steps. I've also taken photos to coincide with the steps. Within the instructions, we find a table of contents, pictures of the fully assembled pedal, a list of parts included, and step-by-step instructions from internal population and soldering to external assembly. With any kit, always read the instructions carefully before you start building.
​Step 2: PCB set-up
Photo 3
A lot of pedal builders use PCB jigs that are specifically designed to hold several printed circuit boards so that they can be easily populated and soldered. These jigs are great tools. However, they're not something a casual DIY enthusiast will often have. Essentially, all we really need to do is elevate the PCB off of the working surface so that the leads of the components can pass through the bottom side of the PCB. This is most helpful with components that can be soldered from the top side of the PCB. "Third hands" or "helping hands" (Photo 3) are a good tool for this job. So, what can we do to elevate the PCB if we don't have access to third hands? Simply turn the enclosure upside down and place the PCB perpendicular (Photo 4). This will elevate the PCB enough to allow the component leads to easily pass through.
Photo 4
Step 3: Populating Resistors and Diodes (instructions page 9)
Photo 5
When populating PC boards, we typically like to work lowest to tallest in regards to the seating. Seating is how far above the PC board the component rests. Resistors and diodes sit pretty low to the PC board, so populating them first makes sense.
Resistors:
Remove the resistor from the paper ribbon, bend the leads
(Photo 5)
, and place them through the corresponding pads
(Photo 6)
as directed. (A pad, by the way, is the term for the designated surface area of a component's electric contact point.) A good practice is to populate all resistors of the same value before moving on to the next value. Populate all 1k resistors, then all 10k resistors, and so on.
Photo 6
Reading resistor color bands can be confusing, so don't forget the reference guide on page 7 of the instructions. Here, you will find a detailed breakdown of each value and its corresponding 5-band reading (i.e. 1k = brown/black/black/brown/brown). Once all the resistors are placed, we can go on to the diode.
Diode:
Next, we need to place the diode. Just like resistors, remove the diode from the paper ribbon, bend the leads, and place them through the corresponding pads. Diodes are polarized and need to be oriented a certain way
(Photo 7)
. Be sure to match the diode to the outline on the PCB, as shown on page 10 of the instructions.
Photo 7
Step 4: Solder Resistors and Diode
Photo 8
Fire up the soldering iron! Once the iron is up to temperature (650 to 750 degrees Fahrenheit, depending on how fast you work), it's time to get to work. Resistors and diodes can easily be soldered from the top side. So no need to flip the PCB over. Place the solder tip to the pad and feed the end of the tip a bit of solder. What we're looking for here is solder that covers the entire pad, encapsulates the lead, and has a nice shine to it. Think of it like a shiny Hershey's Kiss shape (Photo 8). Repeat this step for every part. If you're new to soldering, you should consult our concise guide to soldering, online or in PG's October 2015 issue.

Soldering tip: Shut the iron off between population steps. Use a small, tabletop fan to blow the solder fumes away during soldering steps. Quick tutorial videos on YouTube are also of benefit here, for builders new to soldering.

Step 5: Trim the Leads
Photo 9
Next, place the PCB upside down to expose the leads (Photo 9). Using flush cutters, trim the excess leads (Photo 10).
Photo 10
Step 6: Soldering IC Sockets (page 11)
Photo 11
Place the 8-pin and 16-pin IC sockets into the corresponding pads on the top side of the PCB. We need to solder the IC socket pins from the bottom side. This means flipping the PCB over without having the IC sockets fall out. For this, I like to use a small piece of foam (Photo 11).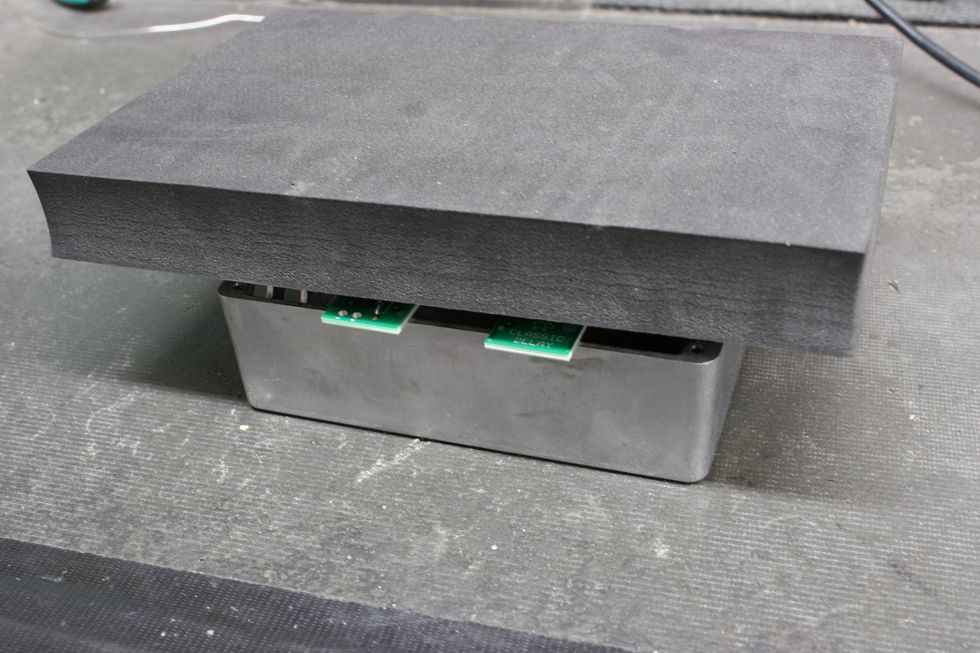 Photo 12
I place the foam on top of the PCB (Photo 12), then flip the foam and PCB simultaneously so the foam is below the PCB and the bottom side of the PCB is facing up (Photo 13).
Photo 13
For this soldering step, we'll want to solder ONLY 1 pad and then flip the board over to ensure that the IC sockets are sitting flush. If the IC sockets are not flush, go back to the bottom side and reflow that solder pad while pressing the PCB downward and keeping it parallel to the work surface. Solder the remaining pads (Photo 14).
Photo 14
Step 7: Soldering the Voltage Regulator (page 12)
Photo 15
Place the voltage regulator into the three corresponding pads, while keeping mindful of the orientation. The flat side needs to match the outline on the PCB. Now, we're ready to solder. This can be done from either side. Flush-cut the excess lead and we're done here (Photo 15).
Step 8: Soldering the Trim Pot (page 13)
Photo 16
Place the trim pot (Photo 16) into its corresponding pads. For the trim pot provided, I found it easiest to solder the two exposed legs from the top side (Photo 17) and then the remaining leg from the bottom side.
Photo 17
Step 9: Soldering Ceramic and Film Caps (page 14)
Photo 18
Place all ceramic (pill-shaped) and film (red) caps into their respective locations. Again, use page 7 of the instructions as a reference for identifying the correct capacitors (i.e. 100n film cap, which may say "104" or ".1" or "u1" on the body). We'll need to solder the pads from the bottom side. So, once again, the piece-of-foam trick can be your friend here. Flush-cut the excess lead and we're done (Photo 18).
Tip: An alternate method would be to bend the leads away from each other so they stay in place when the PCB is flipped over (Photo 19).
Photo 19
Step 10: Soldering Electrolytic Caps (page 15)
Photo 20
Let's do the same thing here as we just did in Step 9. One thing to note is that electrolytic capacitors are polarized and need to be populated in the correct orientation. This is denoted on both the PCB and the component itself. On the PCB, the positive pad is denoted by the square pad. On the electrolytic capacitor, the positive lead is the longer leg. Additionally, the negative lead of the cap also corresponds to the white strip on the body (Photo 20).
So, let's go ahead and populate the caps and solder them with either the foam trick or by bending the leads. Flush-cut the excess lead and we're done
(Photo 21)
.
Photo 21
Step 11: Battery Snap and Hook-Up Wire
Photo 22
This DIY kit offers a battery option for those that feel so inclined. (See page 17 of the instructions.) For this step, we'll need to connect the battery snap to the PCB. Before soldering, we'll want to first feed the two wires through the holes directly below the solder pads. These holes act as strain relief for the battery snap and have + and - signs next to them (Photo 22). Then, simply solder the red wire to the positive (+) pad and the black wire to the negative (-) pad (Photo 23).
Photo 23
Next, we need to cut and strip the included wire (page 18). We need four 2.5" pieces of wire, and one 1.5" piece (Photo 24).
Photo 24
Place the 2.5" wires into the top side of the solder pads for in, out, and the two courtesy grounds—all handily marked. Then, solder from the bottom side. Do the same for the 1.5" wire going to the ring pad (Photo 25).
Tip: If painting the enclosure is desired, this is the last chance you'll have to do it. After this, there will be components mounted to the chassis.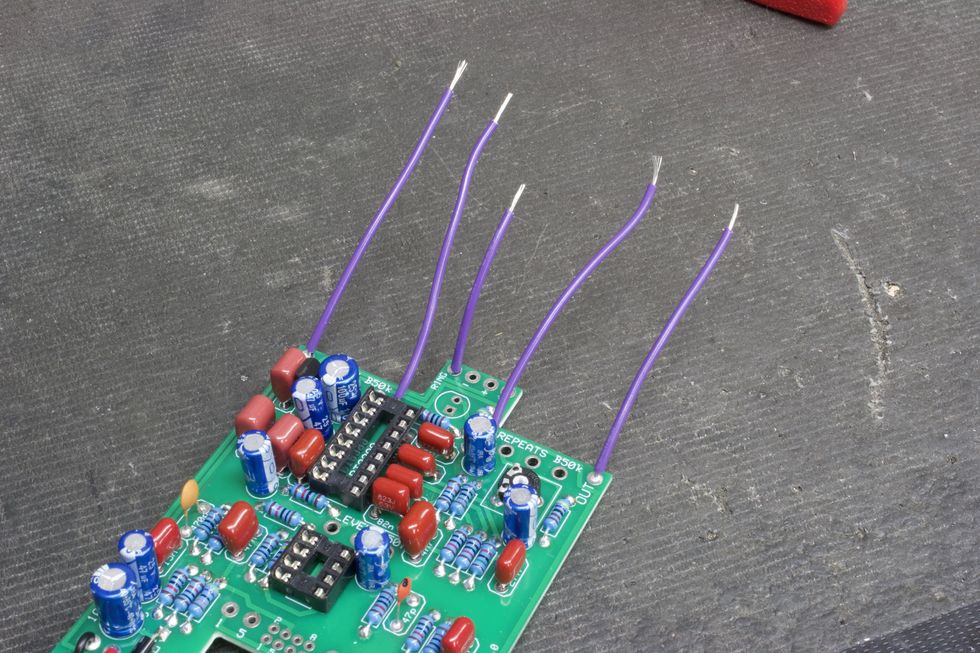 Photo 25
Step 12: Install DC Jack (page 19)
Photo 26
Place the DC jack into the large hole on the back heel of the enclosure and tighten the nut using a 14 mm (9/16") wrench (Photo 26).
Step 13: Potentiometers and Status LED (pages 20 and 21)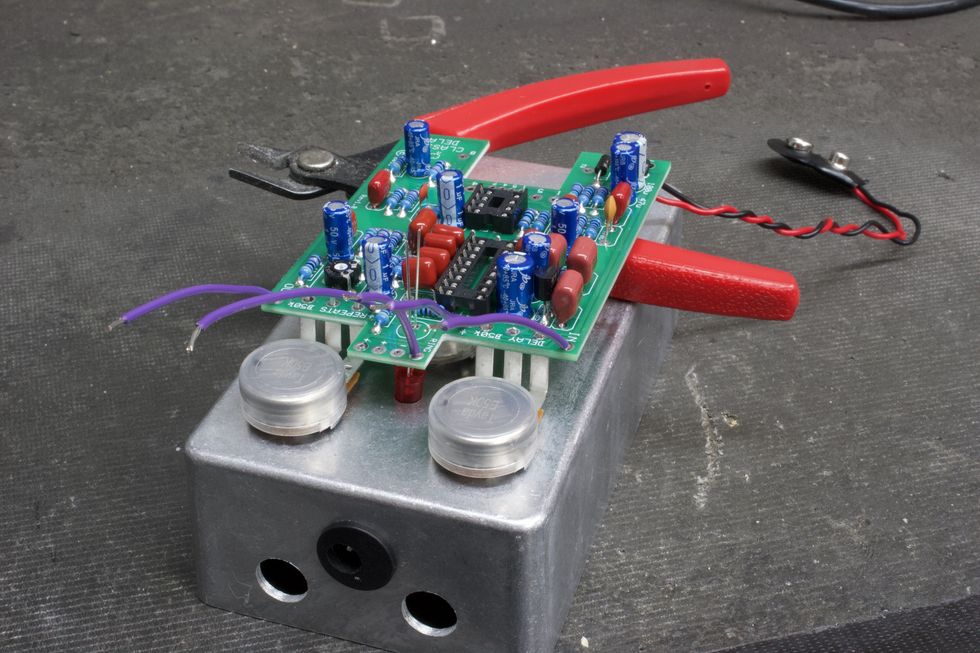 Photo 27
The included instructions for this next part have you mate the PCB to the inside of the enclosure. This will help line up the pots and LED. However, afterwards it will make soldering the remaining wire more difficult. Here's a trick we can do that gives us the benefits of using the enclosure to help with pot alignment without needing to take the PCB out afterwards to solder the remaining wires. What we'll want to do is simply use the face of the enclosure to hold the pots and set the LED height. Additionally, we can use the flush cutters to help balance the PCB (Photo 27). Be sure to have the long lead of the LED mate with the square pad, then solder away!
Step 14: Final Hook-Up Wire
Photo 28
My steps continue to vary slightly from the instructions throughout the rest of the build, so you might want to do a side-by-side comparison. Let's finish the wire for the DC jack next. Cut and strip three 1.5" pieces. These need to be placed into the three power pads at the top of the PCB marked -, +, + , as in Photo 28.
Photo 29
Next, cut and strip five more 1.5" pieces. Place these in the footswitch pads at the bottom of the PCB marked 1, 2, 5, 7, 8 as shown in Photo 29.
Photo 30
Last wire! Cut one 1.5" piece. Only for this one, strip half an inch off of one side (Photo 30). Place the short-stripped side into the footswitch pad labeled 4.
Step 15: Footswitch prep
Photo 31
For the footswitch, we need to jump lugs 3 and 6. To do this, we'll use the remaining wire. Place the footswitch into the correct hole on the face of the enclosure. Then, cut a 1" piece of wire and strip half of it. Feed the exposed wire through lug 3 and into lug 6 and then solder both (Photo 31). Cut the excess wire.
Step 16: Insert the IC
Photo 32
Now, we're ready to insert the integrated circuits into their respective sockets. These need to be placed in the correct way, and there are two ways to identify them. Pin 1 is the top left leg of the IC—which is the rectangular black object in Photo 32. These legs are marked with a small dot in the top left corner or the upside of the IC is marked with a debossed half circle.
Step 17: Mounting and Final Soldering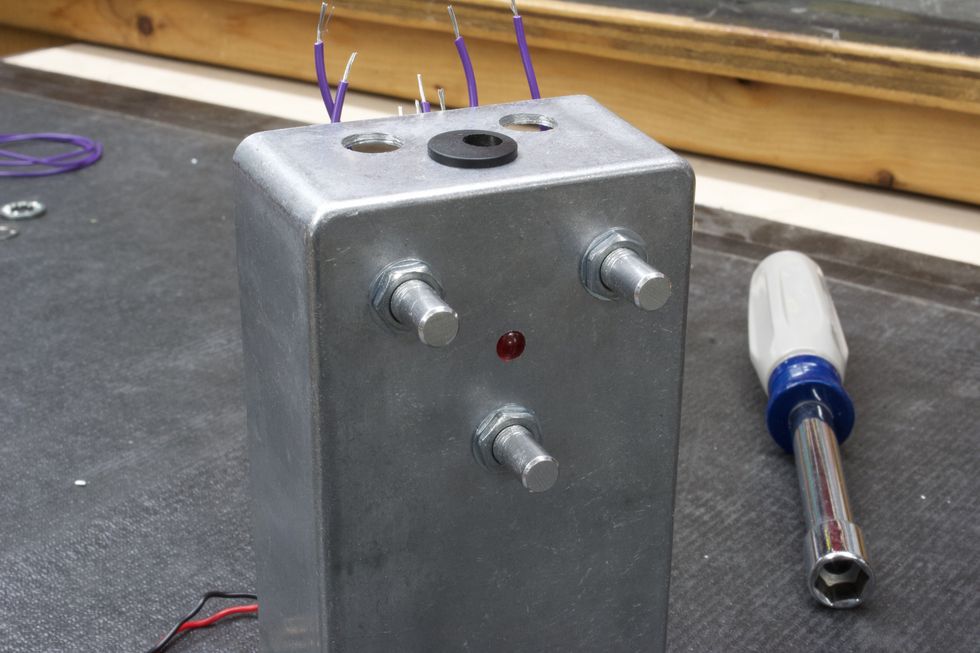 Photo 33
PCB: Now for the real fun! We're ready to start inserting chassis-mounted components. Let's start with the populated PCB. Place the PCB with the three pots lining up with the drilled holes, place the pot washers on the shafts, and then tighten the pot nuts using a 10 mm (25/64") nut driver/wrench, for the results in Photo 33.
Photo 34
Footswitch: Now that the PCB is securely tightened, let's go ahead and do the same for the footswitch. Remove all hardware from the footswitch bushing except for one nut and the lock washer (Photo 34).
Photo 35
Feed the footswitch through the footswitch hole, making sure that the footswitch has the two poles that we soldered together facing the bottom left (Photo 35).
Photo 36
Next, place the plastic washer onto the bushing (optional), and tighten the hex nut with a 14 mm (9/16") wrench (Photo 36).
Photo 37
Lets go ahead and solder the footswitch wires to their respective footswitch poles (Photo 37). See the instructions' page 26 for pole-numbering reference.
Tip: Solder from the top row down—i.e. 1, 4, 7, then 2, 5, 8.
Another tip:
Remember that the wire for pole 4 also connects to pole 9.
Step 18: DC Jack
Photo 38
Next, we'll need to solder the three wires that go to the DC jack, as explained in page 22 of the instructions. Start with the middle wire, since it sits the lowest and will be easier to get at without the other two wires in the way (Photo 38).
Step 19: Audio Jacks
Photo 39
The last chassis-mounted components are the two audio jacks. Let's do the stereo input jack first. Go to page 24 of the instructions to see how these jacks are oriented. The lock washer goes on the bushing first, then gets placed into the hole to the left of the DC jack. Then, place the washer onto the bushing and tighten the hex nut with a 1/2" nut driver/wrench.
Follow the same steps for the mono output jack. And then, it's the final soldering step: Solder the wires to the appropriate lugs on the audio jacks
(Photo 39)
, as on instructions page 28. Then, finally, place the knobs on, tighten them down, and we're done!
Stompboxtober is back for 2023! Enter here for your chance to win a Hotone Ampero Mini! Hurry, enter by tomorrow at 11 AM central for your chance to win!
Hotone Ampero Mini
Ampero Mini is the smallest guy in our Ampero family so far, offering you uncompromised Ampero sound in an ultra compact aluminum case.

✪ Ultra compact amp modeler & effects processor
✪ Powerful dual-core DSP platform ensure Ampero-grade tone quality
✪ CDCM & F.I.R.E. modeling system ensures high end tonal expressiveness and realistic playing experience
✪ 24-bit signal processing, 112dB S/N ratio
✪ Iconic touch screen operation and straight-forward UI for intuitive control
✪ Editable effect chain
✪ USB-C port for firmware upgrading, loading/editing/managing effects/IRs via free Mac/PC software or for use as an USB audio interface
✪ Up to 9 simultaneous effect modules
✪ Selected effects from stunning Ampero effects library including: -100+ CDCM HD & F.I.R.E. based amp, cab, legendary pedal models -Next-gen mic position and microphone type simulations -Selected Hotone original effects (drive/dynamic/filter/mod/delay/reverb models and more)
✪ User custom IR loader with 3rd party IR support
✪ Specially designed input jack for both electric and acoustic instruments
✪ 198 presets
✪ Ampero-style acoustic effects and patches
✪ Built-in drum machine with 100 patterns
✪ Built-in looper with max. 100 seconds recording time ✪ Authentic stereo output processing ✪ External controller jack for connecting external footswitches/pedals ✪ Customizable main display modes and theme colors and UI language
✪ Road-ready, light-weight aluminum casing
✪ 9V DC power supply
Dimensions:134mm (W) × 120mm (D) × 49mm (H)
Weight: 529g
Hotone
Here we go again! Last month we brought you part one of your guitar cohorts' boards from around the world. Time to dig in for part two.
Premier Guitar'sannual feature gives readers the chance to show off their pedalboards. There are so many ways of thinking when it comes to wiring up your effects—that's the fun of it! In this round we've got a tribute to Eddie Van Halen, a pandemic board from Amsterdam, a maximalist stomper with 17 pedals, a curly cord "board," and much more. Go forth to discover new pedals, and stomp on!


Aaron Costello: A Waylon Button
I live in Portland, Oregon. When I built this board, the goal was to get a clear, natural, amp-like sound, with multiple gain stages. Lots of trial and error (which was fun), and, after laboring over decisions that are of absolutely no consequence to productive society, here's what I came up with.
1. Ernie Ball VP Jr.
Basic as it gets. I use it to quiet the rig when I play with acoustic instruments and am also trying to get the hang of pedal-steel bends. Still have some work to do there!
2. Boss TU-3
The standard.
3. Greer Amps Lightspeed
This thing is killer. With a single-coil guitar, I use it to push the Nobels ODR-Mini and get a little more gain without losing clarity. Typically, I use it for a raunchy rhythm sound. With a humbucker guitar, I usually shut the Nobels off and use it by itself.
4. Nobels ODR-Mini
This is my favorite pedal and the heart of the board. It's very much like an amp. With a single-coil guitar, I use it for my clean sound and it's always on. I really dig the edge-of-breakup thing.
5. J. Rockett Audio Archer
I like this behind the Nobels and use it to get a "singing," higher-gain lead tone. Again, it retains the clarity at higher gain but still sounds like an amp.
6. MXR Phase 90
I literally call this the "Waylon Button."
7. J. Rockett Audio Josh Smith Dual Trem
I don't use it a ton but sometimes it's the perfect thing to add color. Sometimes I'll use it with the Greer and then fade it in and out with the volume pedal. It lets me mimic an organ pad and is kind of fun.
8. EHX Memory Toy Mini
This is my second favorite pedal. I use it for a slapback sound and it's almost always on.
9. Mr. Black Super Swell Reverb
My main amps are a 1975 Princeton Reverb and a 1978 Vibrolux Reverb, so I usually like the amp reverb. I do have a couple of amps in my home studio that don't have reverb, so I use this with those. It also sounds great on bass!
10. Voodoo Labs Pedal Power 4x4
This is under the board and does the job. Thanks for reading!
Bert Harris: My Curly "Board"
Here's my pedalboard … I prefer to plug straight in and get all my tone from the amp itself. Nothing cooler than Clapton with a white curly cord plugged directly into a Fender Dual Showman at The Rolling Stones Rock and Roll Circus! I love the thought of showing up with a guitar, amp, pick, and curly cord!
Admittedly, I'm kinda lazy and plugging in a bunch of stuff is a beating to me … although I have been using an Xotic EP Booster lately, but it's battery powered. Hope your day is a wonderful one!
Brian Schwager: Short and Sweet
Hello, I play in multiple bands in Des Moines, Iowa. Here's what I got goin' on my pedalboard:
British Pedal Company Zonk Machine
TC Electronic PolyTune 3 Mini
Ceriatone Centura
Greer Amps Lightspeed
Danelectro BillionaireBig Spender Spinning Speaker
Boss (XTS Custom Mods) GE-7 Equalizer
JHS Pedals Lucky Cat Delay
Strymon Flint
Lehle P-Split (under the raiser, top right)
Drew Smith: Three is the Magic Number
I love these reader pedalboards: I hope you feature my board! I'm in a psychedelic punk-blues duo called Phantom Ocean, based out of New England. We're heavily indebted to alternative music from the '80s, '90s, and early 2000s, and because there's only two of us, my wife on drums and me on guitar, I keep my rig pretty tight. I need a few solid guitar tones and tend not to dip into too much modulation. To that end, my board right now only has three pedals: tuner, dirt, and delay.
For a tuner, I've got a Snark because it's economical and does the job right. For dirt, I've got a Chicago Stompworks Mr. Vermin, their version of a Pro Co RAT, and it's the best RAT I've ever tried. The first time I plugged into this thing, I finally understood why the RAT is so beloved by so many guitarists whose ears I respect. It really covers such a broad swathe of tones, from overdrive to straight-up fuzz. And then the TC Electronic Flashback is my favorite delay. I've never had one fail on me, you can get such a variety of sounds, and the TonePrint feature is always there to craft something really wild.
I round the board out with an XVive U2 wireless system, because I hate accidentally dragging cables across my board and freedom of movement onstage is a joy (even if I spend half the set near the mic anyway). I also use one of (Premier Guitar Senior Editor) Ted Drozdowski's Rocky Mountain signature slides for my slide-guitar work.


Ernie Santella: Does-It-All Board
I built this pedalboard for my classic-rock cover band Wasted on the Young, out in Colorado. We cover everything from Bonnie Raitt to Stevie Ray Vaughan to ZZ Top to Maroon 5. So, I had to have a pedalboard that would fit just about anything our band needed to play. I think I achieved that. I have it all right underfoot at all times. I'm old-school and wanted to stay analog for the input side and then just a little digital on the effects loop side to keep the size down and give me the most bang for the space. I used a few mini pedals, but only if they sounded as good as their larger brethren.
I run my guitars (Heritage H-150, RS Guitarworks T-Style and S-Style, PRS Custom 24) with a single wireless. The Boss WL-50 is nice and clear-sounding with long battery life. Best part is, it auto-mutes when you unplug it, allowing for faster, noiseless guitar swaps.

The board is a Temple Duo 24, which is a great size and not too gnarly to carry. The wireless goes into the Dunlop Cry Baby Junior Wah (a classic-sounding wah with a slightly smaller size), then into the Korg Pitchblack, which is a nice and bright LED tuner, even outdoors. The tuner feeds the Xotic SP Compressor for some clean spank when needed. Next are three pedals for different levels of boost. Depending on the amp setting, the three boosts work differently. The Emerson EM-Drive is great for a quick Marshall-in-a-Box crunch tone. The Bogner Wessex is my over-the-top overdrive that has a nice compression to it. Lastly, the Wampler Tumnus is a Klon killer and is great for adding clean lead boost to anything, just by adding level and not too much gain.

I run that into a Hughes & Kettner GrandMeister 36 head. The amp is all analog, but digitally controlled by MIDI. So, technically, you have 128 amp presets. I use a cheap ActitioN 8-button MIDI controller I found on Reverb for amp presets. From spanky clean to OMG gain. It's like having an 8-channel amp! I can just step through 8 levels of gain in increments.

The effects loop of the amp feeds the Way Huge Smalls Blue Hippo set to the Joe Bonamassa-approved chorus setting that gives a killer rotary-speaker tone. Then, into the Line 6 M9 for chorus, tremolo, flange, and spring reverb for the many different tunes we play. Lastly, the clock for keeping us on schedule during a gig. We've been known to jam out and forget the set schedule! Hope you like it!
Fernando Diaz: Clean, Mean Maximalist
Greetings! Here is the current iteration of my pedalboard. It's powered by a Strymon Zuma, and two Strymon Ojai expansion kits.
The chain is as follows:
Dunlop 535Q Cry Baby Multi-Wah
Basic Audio Scarab Deluxe
King Tone Octaland Mini
Spaceman Sputnik III
TC Electronic PolyTune 3 Mini
Paul Cochrane Timmy
Ibanez TS9 Tube Screamer (with Alchemy Audio mod)
Browne Amplification Protein
Barber Electronics Gain Changer SR
Hudson Electronics Broadcast
Land Devices HP-2
Greer Amps Supa Cobra
Keeley Katana Boost
Walrus Audio Julia V1
Dreadbox Komorebi
JHS Pedals Panther Cub V2
Neunaber Immerse Reverberator Mk II
Jelle Veirman: Booze Protected
This is the gear I use almost daily, playing a wide range of genres in different cover bands, from classic rock to contemporary music. I had to figure out a way to get the most out of my Stratocaster and Les Paul through one compact system and protect my gear against drunk people and their booze.
This is my rack configuration:
Electro-Harmonix LPB-1 Linear Booster, Ibanez TS9 (overdrive for the Strat), Boss SD-1 (overdrive for the Les Paul), Joyo Clean Glass preamp, DOD FX40B Equalizer, Rockman Sustainor (Strat crunch and leads), Rockman Distortion Generator (Les Paul crunch and leads), Rocktron Patchmate Loop 8, Rocktron MIDI Mate, Electro-Harmonix Expression Pedal, Dunlop Cry Baby Wah, TC Electronic G-Major effects processor, Alesis DEQ 2-channel Equalizer (pre- and post-Rockman EQ), and a Mooer Macro Power Supply. Going into the effects return (power amp) of my Fender Hot Rod Deluxe III.
JR Emmett: String Monkey
This is my humble submission for your Reader Pedalboard feature. This is my personal board, which serves as a demonstrator to my clients of what can be done with a pedalboard to make it convenient and versatile as well as supporting my own practice and performance needs. When I'm not playing guitar, I'm a one-man shop (String Monkey Technical Services) providing guitar repair and custom fabrication services to the North Texas music community.
Signal chain:
Wireless or cable -> Boss TU-2 -> General Guitar Gadgets Stratoblaster -> Boss BD-2 Blues Driver -> Dunlop 535Q Multi-Wah -> amp input
Amp FX send -> MXR Phase 95 -> Boss CE-5 Chorus -> Boss LS-2 (mixes signals from two Boss DD-3 Digital Delays run in parallel) -> Boss TR-2 Tremolo -> amp FX return

Other Features:
Pedaltrain Novo 24 board
Truetone 1 SPOT Pro CS7 Power Supply
Built-in mic stand holder (upper right, repurposed flagpole mount)
String Monkey patch bay with color-coded loom for easy signal hookup
String Monkey repackaged amp-channel switcher (original was too big)
String Monkey acrylic wah baseplate with mechanical clamp to Pedaltrain rails
Talent DI Box with cabinet simulator and patch cables for direct to PA connection
Soldered interconnect using Mogami bulk cable and Switchcraft phono plugs
Keith Paul: Bass Board
Hello PG! I just wanted to share my bass pedalboard that I use in my band Dumb Waiter, from Richmond, Virginia. Keep up the great content, I love the Rig Rundowns! Stay well.
Signal Chain:
TC Electronic PolyTune Mini
Boss OC-2 Octave
Meris Enzo with preset switch
Electro-Harmonix Ravish Sitar
Nunez Amps Annex Bass Channel
Fuzzrocious The Demon
DOD Gunslinger
MXR M85 Bass Distortion
Boss CE-2W Chorus
Boss DD-3 Digital Delay
MXR M300 Reverb
Marco Fumagalli: Pandemic Pedalboard
I am from Italy and living in Amsterdam, Netherlands. This is my pedalboard during the first wave of lockdown in 2020. I used to play in bands, but now I do it for my own pleasure. Playing the guitar and shaping the sound of it is a way for me to escape and relax. I don't really play a specific type of music, but my root is blues.
Pictured: Electro-Harmonix Stereo Memory Man, Fulltone Mini Deja'Vibe, Klon KTR, Fulltone Octafuzz, Dunlop Cry Baby Mini Wah, two Gibson SGs, and a '97 Fender Voodoo Strat from the greatly missed Mr. Soren Venema of the legendary Palm Guitars shop in Amsterdam.
Raghav Govindarajan: Nerding Out

I'm a huge fan of the Premier Guitar platform. My boss at the music school I work at and I frequently nerd out over the Rig Rundowns, so thank you for that! Figured I'd toss my pedalboard up. I have decided to update it since this photo, but my new pedals won't be in until next week most likely.
The pedal chain from right to left is:
DigiTech Drop
Wampler Ego Compressor V2
Dr. Scientist The Elements Distortion (Gold Bar Edition)
Wampler Pantheon Overdrive
Boss EQ-200 Graphic Equalizer
Swindler Effects The Gulf Chorus V2
Strymon Iridium
Source Audio Collider Delay+Reverb
The output of the Wampler Ego goes into input A of the EQ-200, and output A goes into the Elements. The output of the Pantheon goes into the input B of the EQ-200, and output B goes into the Iridium. This lets me shape my sound pre- and post-gain.
Thanks for letting me nerd out about my board for a few minutes! And thank you for all that you do for the guitar community and musicians. Rig Rundowns really are the best part of my week/month and I love discovering new artists and players from it. It's like the guitar player's NPR Tiny Desk!
Robby Hovie: Going North
Greetings from Northern Michigan! Here's my rig for my work in the band Levitator. Thanks!
In order:
Modtone MT-PT1 Chromatic Tuner
Electro-Harmonix Ravish Sitar
Boss FB-2 Feedbacker/Booster
Keeley Fuzz Bender
JHS Pedals SuperBolt V1
JHS Pedals Honey Comb Deluxe
Dunlop Cry Baby Wah
Moog MF-105 MoogerFooger MIDI MuRF
MXR Carbon Copy Deluxe
Boss RV-5 Digital Reverb
Sebastian DiPietro: The Full Package
Here is a picture of my pedalboard, along with my amp and guitars, to give a complete view of my rig.
Pedalboard:
Xotic XW-1 Wah -> DigiTech Whammy V -> Analog Man Bi-CompROSSor Rev5 -> Electro-Harmonix POG2 -> Analog Man King of Tone -> Analog Man Sun Face BC109B -> GFI System Synesthesia -> Empress Effects Echosystem -> Empress Effects Reverb -> Electro-Harmonix 22500 Dual Stereo Looper -> Amp or Strymon Iridium
Guitars and Amp:
Guild S70
Guild S300D
Booya! Amplifiers 27-watt combo with a Celestion G12H-75 Creamback
Cables:


Caulfield Cables (light blue guitar/amp cables)
Audioblast Cables (patch cables)
Steve Gorospe: All Styles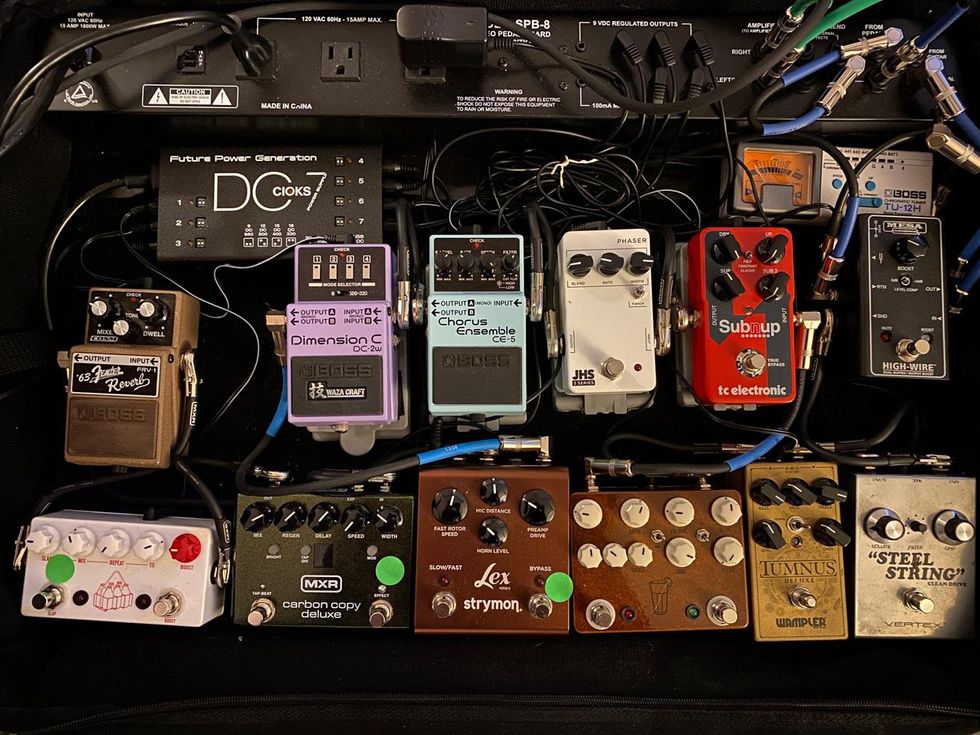 I play in the American Music Company Band covering songs from the 1940s to the early 1970s, with most of the focus on 1950s rock 'n' roll and 1960s R&B and soul. But that also includes blues and some old-school country. I spent my teen years through the 1980s, so '70s guitar rock and '80s stadium rock are a huge part of my musical life. I built a pedalboard that works for me to cover all these styles and material.
Pedals in series in the order below:
Vertex Steel String
Wampler Tumnus
JHS Pedals Sweet Tea V3
TC Electronic Sub N Up Octaver
JHS Pedals Series 3 Phaser
Boss CE-5 Chorus Ensemble
Boss DC-2W Dimension C Waza Craft
Strymon Lex Rotary
MXR Carbon Copy Deluxe
JHS Pedals The Milkman
Boss FRV-1 '63 Fender Reverb
Mesa/Boogie High-Wire Dual Buffer (input and output)
Boss TU-12H High-Range Chromatic Tuner (hooked to the tuner output of the Mesa High-Wire)
Thomas Madera: Tribute to Eddie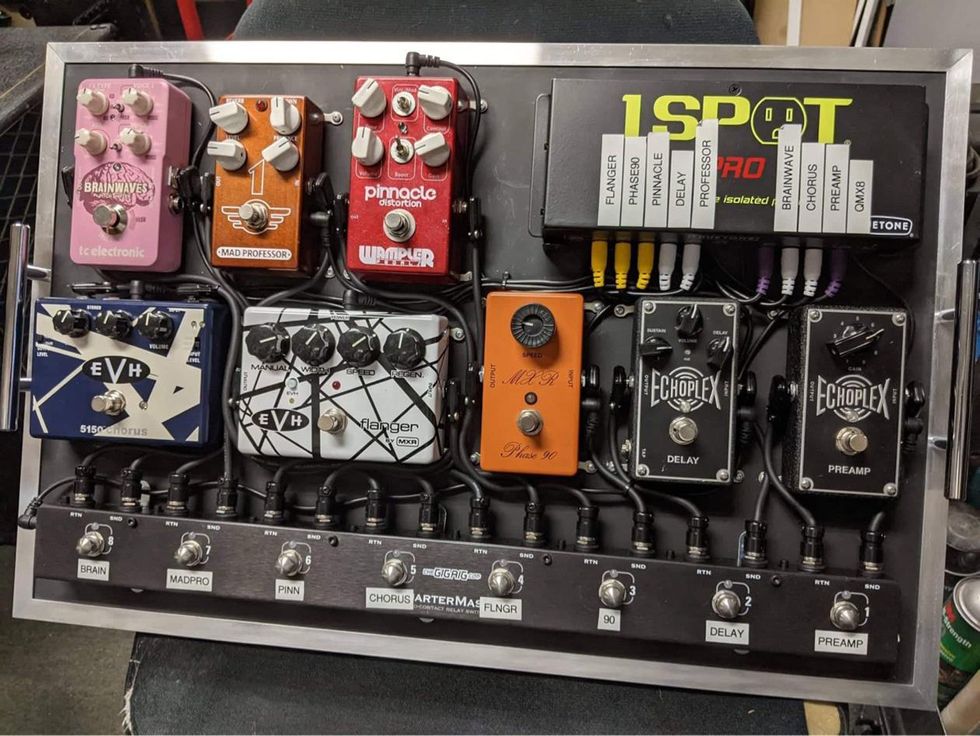 I'm a guitarist in Las Vegas, Nevada. My stompbox setup is mostly a tribute to Eddie Van Halen, but this board is great for tons of rock/metal tones, lead or rhythm. It includes: an Echoplex EP101 Preamp, Echoplex EP103 Delay, a reissue MXR Script Phase 90, MXR EVH117 Flanger, MXR EVH 5150 Chorus, Wampler Pinnacle Distortion, Mad Professor 1 Distortion/Reverb, and a TC Electronic Brainwaves Pitch Shifter. Everything is routed into a GigRig Quartermaster QMX 8 switcher and powered by a Truetone 1 SPOT Pro CS12.
The entire world of 'verb—from traditional to extreme—really does lie at your fingertips. Here's how to access it.
This article is for recording guitarists eager to make the most of reverb plug-ins. We'll explore the various reverb types, decode the controls you're likely to encounter, and conclude with some suggestions for cool and creative reverb effects.
This is not a buyer's guide, though you'll hear many different products. Our focus is common reverb plug-in parameters and how to use them. Nearly all modern DAWs come with good-sounding reverbs. You can also add superb third-party plug-ins. But there are also plenty of free and budget-priced reverbs—just google "free reverb plug-in."
Reverb = delay. Reverb is merely a delay effect. Sounds traveling through air eventually encounter surfaces. Some sound bounces off these surfaces, producing a complex network of echoes, made even more complex when the initial reflections bounce off secondary surfaces.
The controls on reverb plug-ins define how the software mimics this process. Function names can be confusing, but remember, everything relates to acoustic phenomena that you already understand intuitively. For example:
The space's size. (The further a sound travels before hitting a surface, the slower the echoes arrive.)
The hardness of the reflective surfaces. (The harder the material, the louder, brighter, and more plentiful the echoes.
The relative angles of the reflective surfaces. (A square room sounds different than a round one, which sounds different than a trapezoidal one.)
The presence of other objects. (Soft surfaces like carpets, cushions, and acoustic foam diminish the reverb, usually affecting some frequencies more than others.)
The listener's location. (The further an ear or microphone from the sound source, the more reverberation is perceived.)
Understanding Reverb Types
By definition, all reverb plug-ins are digital. Most are either algorithmic or convolution-based. Algorithmic reverbs employ delay, feedback, and filters to mimic sounds bouncing around in space. Convolution reverb (also called impulse response or IR reverb) creates "snapshots" of actual sonic spaces and audio devices. In convolution, developers amplify a test tone in the targeted space (or through a target piece of audio gear) and record the results. The software compares the new recording to the dry test tone, and then it applies corresponding adjustments to any audio, making it sound as if it was recorded in the modeled space or through the modeled gear. (That's how the speaker simulations work in most amp modelers.) Algorithmic and convolution reverbs often perform the same tasks, just via different methods.
But when we make musical choices, we rarely think, "This should be algorithmic and that should be convolution." We're usually trying to evoke a particular sound: a place, an old analog device, a freaky sound not found in nature. So, let's take a whirlwind tour of reverb history, with thoughts about obtaining those sounds via plug-ins.
A Haul-Ass Reverb History
Real spaces. Before the 20th century the only reverbs were actual acoustic environments: caves, castles, temples, tombs. It wasn't till the 18th century that people began constructing spaces specifically for their sonic properties—the roots of the modern concert hall.
Convolution reverbs excel at conjuring specific places. Most IR reverbs include libraries of such sounds. Some evoke iconic spaces and famed studios. IRs can also mimic small spaces, like a closet or compact car.
Clip 1 — A Guitarist's Guide to Reverb Plug-ins by premierguitar
In Clip 1, you hear the same acoustic guitar snippet through IRs captured inside the Great Pyramid of Giza, the isolation block at Alcatraz prison, Chartres cathedral, and the interior of a VW Beetle, all using Audio Ease's Altiverb library. (For demo purposes, reverb is applied rather heavily in all audio examples.)
Echo chambers were the earliest form of artificial reverb, though they aren't all that artificial. The chamber is usually a room with hard, reflective surfaces. A loudspeaker in the chamber amplifies dry recordings, and a distant microphone records the results. It's still "real reverb," only it can be added and controlled independently from the original recording. This process evolved during the 1930s and '40s. The first popular recording to use the effect was 1947's "Peg o' My Heart" by the Harmonicats, produced by audio genius Bill Putnam.
PEG O' MY HEART ~ The Harmonicats (1947)
During a recent recording session at Hollywood's Sunset Sound, I shot Video 1 in the famed Studio A echo chamber, thanks to house engineer George Janho. You've heard this very room countless times. The Doors and Van Halen made most of their records here. You also hear this reverb on "Whole Lotta Love," the vocal tracks on the Stones' "Gimme Shelter," Prince's 1999 and Purple Rain, and countless other famous recordings.
Sunset Sound Chamber
Echo chambers are well represented in most IR reverb libraries. Most algorithmic reverbs do chambers as well, replicating the general effect without modeling a particular space. You can even find plug-ins dedicated to a specific chamber, like Universal Audio's Capitol Chambers, which models the Hollywood chamber famously used by Frank Sinatra.
Spring reverbs. These were the first truly artificial reverbs. They initially appeared in pre-WWII Hammond organs, and by 1960 or so they had migrated to guitar amps. Fender wasn't the first company to make reverb-equipped amps, but their early-'60s reverb units still define the effect for many guitarists.
The reverb effect is produced by routing the dry signal through actual springs, with a microphone capturing the clangorous results and blending them with the original tone. Springs generally sound splashy, trashy, and lo-fi, often in glorious ways. It's an anarchic sound, best captured in a plug-in via IRs. Most of the spring reverb sounds in guitar modelers are IR-based. Meanwhile, reverb stompboxes—usually algorithmic—mimic the sound with varying degrees of success.
Plate reverb appeared in the late 1950s, initially in the Elektromesstechnik EMT-140, which remains a sonic gold standard. Plate reverb works similarly to spring reverb, but a massive metal sheet replaces the springs. It's generally a smooth, sensuous sound relative to a spring.
Clip 2 — A Guitarist's Guide to Reverb Plug-ins by premierguitar
In Clip 2, you hear the same acoustic guitar snippet through impulse responses of a Fender spring reverb unit and a vintage EMT-140 plate.
There are countless plate clones among today's reverb plug-ins. Some are convolutions based on analog gear. But algorithmic reverbs also excel at faux-plate sounds. In fact, one of the initial goals of early digital reverb was to replace cumbersome mechanical plates. Speaking of which.…
Digital reverb (the algorithmic kind) arrived in 1976 via the EMT-250, also from Elektromesstechnik. Lexicon and AMS produced popular rivals. They focused largely on mimicking rooms, chambers, and plates. Sound quality has improved over the decades thanks to increased processing power and clever programming.
Today you can get far "better" algorithmic reverb from plug-ins. But ironically, those primitive digital 'verbs are trendy again in pop production. You can find precise clones of retro-digital hardware in plug-in form.
Convolution reverb debuted at the end of the century, popularized by Sony's DRE S777 unit. Convolution reverbs often have fewer controls than their algorithmic cousins because most of the process is baked into the impulse response.
Most convolution reverbs have similar sound quality. The free ones can sound as good as the pricy ones. Higher prices are often based on the size and quality of the included IR libraries. Google free reverb impulse responses for gratis goodies.
Recent wrinkles. There are always interesting new reverb developments. For example, Things — Texture from AudioThings and Silo from Unfiltered Audio are anarchic granular reverbs that loop and manipulate tiny slices of the reverb signal to create otherworldly effects ranging from the brutal to the beautiful.
Clip 3 — A Guitarist's Guide to Reverb Plug-ins by premierguitar
Clip 3 includes several granular reverb examples.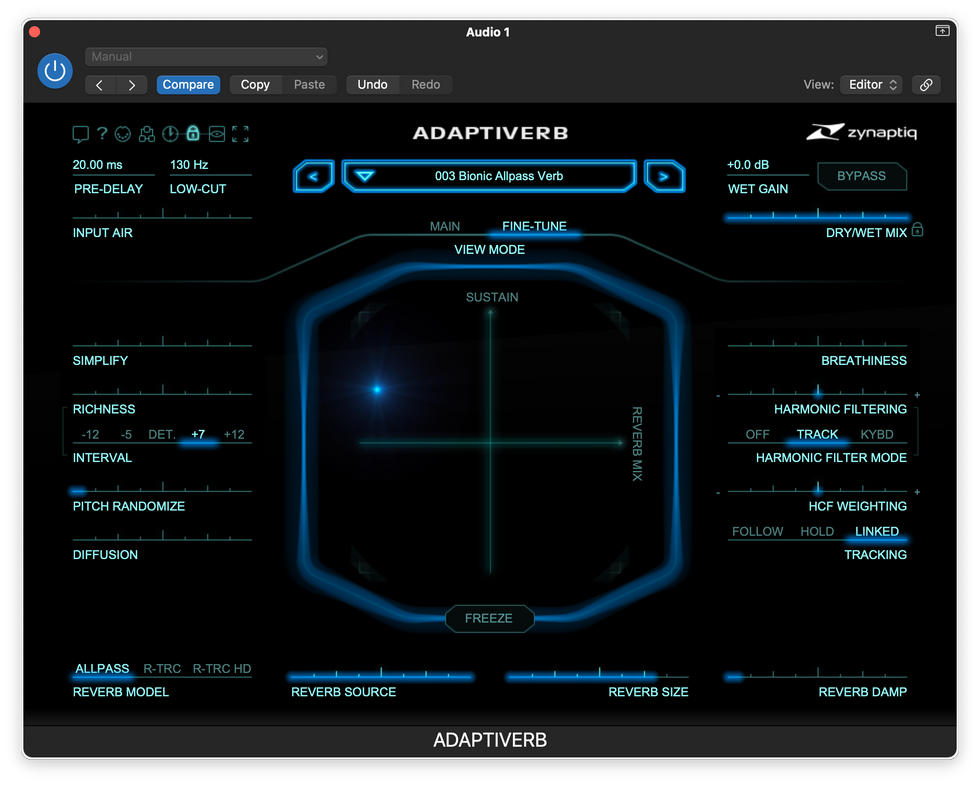 Image 2: Zynaptiq's innovative Adaptiverb generates reverb via pitch-tracking oscillators rather than delays and feedback loops.
Some newer reverbs employ artificial intelligence to modify the effect in real time based on the audio input. iZotope's Neoverb automatically filters out frequencies that can muddy your mix or add unwanted artifacts. And Zynaptiq's Adaptiverb generates reverb in a novel way: Instead of echoing the dry signal, it employs pitch-tracking oscillators that generate reverb tails based on the dry signal. It, too, excels at radical reverbs suitable for sound design.
Clip 4 — A Guitarist's Guide to Reverb Plug-ins by premierguitar
Clip 4 demonstrates a few of its possibilities.
Common Reverb Plug-in Controls
The knob names on a reverb plug-in can get confusing, but remember that they control variables that you already understand intuitively. Also, not all controls are equally important. The most essential ones are the wet/dry balance and the reverb decay time (how long it continues to sound). By all means learn the subtler functions, but don't be surprised if you use them only rarely.
Video 2 walks you through most of the controls you're likely to encounter on an algorithmic reverb plug-in. I used ChromaVerb from Apple's Logic Pro DAW for the demo, but you'll encounter similar parameters on most algorithmic reverb plug-ins.
Digital Reverb Walkthrough
Creative Reverb Ideas
Spring things. The single reverb knob on vintage amps is simply a wet/dry blend control. Some spring reverbs add a dwell control to set the amount of reverb input. Higher settings mean louder, longer reverberation.
But in the digital realm, you can deploy old-fashioned spring reverb in newfangled ways. For example:
Pan the dry signal and spring sound apart for a broad stereo effect. (Traditional spring reverb is strictly mono.)
Add predelay, inserting space between the dry and wet signals. (If the plug-in has no predelay control, just add the effect to an effect bus with a 100 percent wet, no-feedback delay upstream.)
Route a guitar signal to two different spring reverb sounds, panned apart.
Assign the reverb to an effect send, add a compressor to the effect channel, and then sidechain the compressor to the dry guitar sound. That way, the reverb is ducked when the guitar is loud, but swells to full volume during quiet passages.
Apply digital modulation to the wet signal for detuned or pulsating effects.
Clip 5 — A Guitarist's Guide to Reverb Plug-ins by premierguitar
Clip 5 starts with a straightforward spring sound before demonstrating the above options in order.
Fender-style reverb is so ubiquitous that simply using less familiar spring sounds can be startling.
Clip 6 — A Guitarist's Guide to Reverb Plug-ins by premierguitar
Clip 6 is a smorgasbord of relatively obscure spring sounds from AudioThing's Springs and Amp Designer, Logic Pro's amp modeler.
Finally, it can be exciting to use springs on tracks that don't usually get processed that way. For example, spring reverb is often considered too quirky and lo-fi to use on acoustic guitar or vocals.
Clip 7 — A Guitarist's Guide to Reverb Plug-ins by premierguitar
But Clip 7 shows how attractive springs can sound on voice and acoustic. (You hear the dry sounds first.)
Unclean plates. In contrast to a spring's lo-fi clank, simulated plate reverb is smooth and warm. Even if your track already has spring reverb, you might apply some plate 'verb to integrate it into a mix.
One creative avenue is deploying smooth plate reverb in relatively lo-fi ways. For example:
Try placing the reverb before an amp modeler on a track to mimic a reverb stompbox. That way, the reverb is colored by both amp and speaker.
Imagine a guitar amp with a huge metal plate inside instead of springs. If your amp modeler lets you use pure amp sounds without speaker modeling and vice-versa, try sandwiching a plate sound between two instances of amp modeler on the same track. Turn off the speaker sound on the first amp sim and use only the speaker sound on the second one. This way, only the speaker colors the reverb.
Plate reverb also sounds great panned separately from the dry sound.
Clip 8 — A Guitarist's Guide to Reverb Plug-ins by premierguitar
Clip 8 starts with a conventional plate sound before demoing the above ideas.
Liquid reverb. Reverb plug-ins have one big advantage over hardware: Everything can be automated within your DAW.
Automated Reverb
In Video 3 I've written automation for both the decay time and reverb damping for an evolving effect that would have been difficult on hardware.
Oh, the places you'll go. Convolution reverbs usually have fewer controls than their algorithmic cousins. You might do no more than adjust the wet/dry or fine-tune the decay time. But IR reverbs don't have to be "plug and play"—especially if you create your own reverbs. It's a surprisingly simple process. (Some IR reverbs, like Altiverb and Logic Pro's Space Designer, come with an app to generate the needed signals and process the recordings for use.)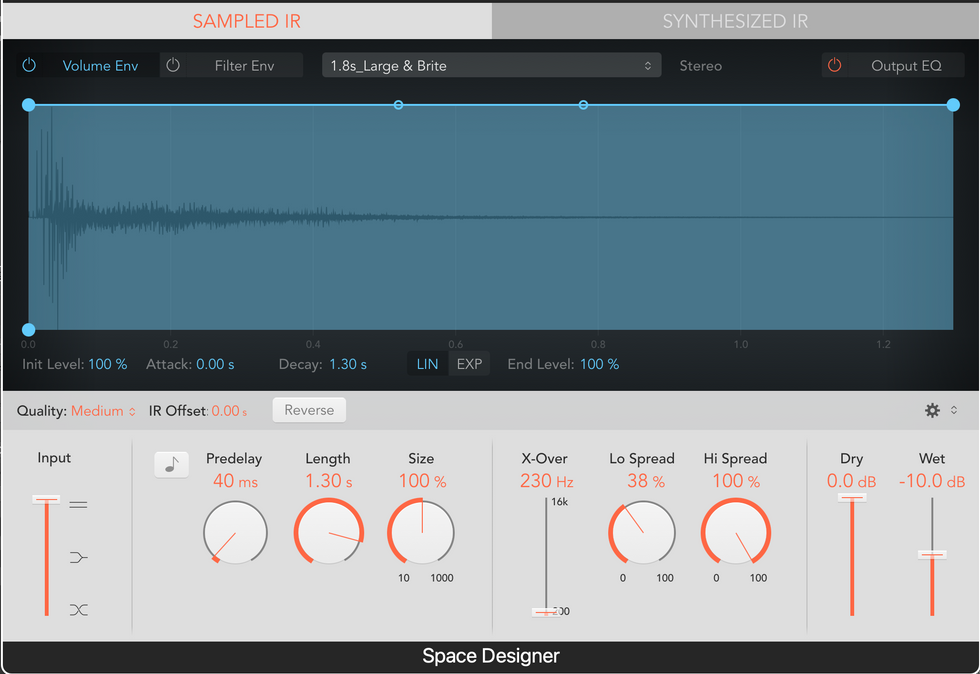 Image 3: You can get cool, if unpredictable, results by dropping random audio files into an impulse response reverb like Logic Pro's Space Designer.
Theoretically, you need a hi-fi PA system to amplify the needed tones in the target space, and good microphones to capture the results. But not always! I've captured cool IRs in my travels with nothing more than an iPhone and a spring-loaded clipboard in lieu of the traditional starter pistol. I've even obtained decent results by clacking a couple of stones together.
Clip 9 — A Guitarist's Guide to Reverb Plug-ins by premierguitar
Clip 9 includes quick and dirty IRs that I captured in a Neolithic cave painting site in France, a thousand-year-old ancient Anasazi ball court in Arizona, an ancient Greek stone quarry, a 19th-century limestone kiln in Death Valley, and the inside of an acoustic guitar.
You can also get interesting, if unpredictable, results loading random audio files into the IR reverb.
Clip 10 — A Guitarist's Guide to Reverb Plug-ins by premierguitar
Clip 10 features a dry guitar snippet, followed by bizarre reverb effects generated by drum loops, synth tones, and noises.
New sounds, new spaces. Using reverb plug-ins can be incredibly simple. Often it's just a matter of scrolling through factory presets, or making basic balance and decay time adjustments. You can also use them in endlessly creative ways. Whatever your goals, I hope this article helps you find exactly the sounds you seek.
Yes, there's a lot of value variance, but there's an upside, too.
In your guitar pedal dealings, you may have heard the phrase "component tolerances." Nearly every component in a pedal is marked with a value, and ideally every component in your pedal would be that exact value, not one bit more and not one bit less. So, every 1k-ohm resistor would be exactly 1.0000000000000k ohm and every 10 µF capacitor would be exactly 10.0000000000000 µF. In this supernatural circuit situation, every pedal would sound identical. There would be no deviations from each component's intended value, and there would be no deviations from the effect's intended sound (all other things being equal). Unfortunately, we cannot hope to achieve this sort of metric perfection in the real world. While perfection may not ever be attained, it is also not often required, and all the circuits we interact with day in and day out can tolerate some sort of variation in their components' value.
Your pedal's designer specifies every component value in a design to result in a particular timbre or function and needs to know how much each component employed might vary from that specified value. When manufacturers make parts, they specify the nominal value and a particular tolerance value. Often, this tolerance is specified as a percentage of the nominal value. So, a 10-percent tolerance in a 1k-ohm resistor could be anywhere from 900 ohms and 1100 ohms. The higher the tolerance figure, the more variation you can expect in the value of a given component.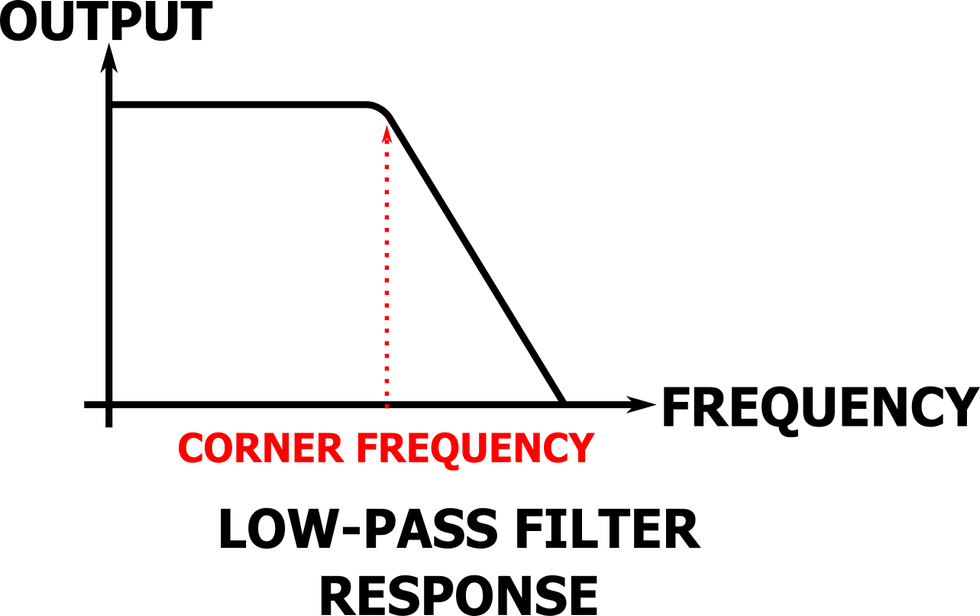 Fig. 2
While more variation may seem like strictly bad news at first blush, it does have some benefits—principally, cost. The machines and processes required to make a one-percent resistor are cheaper and faster than those required to make a resistor of arbitrarily higher precision. Consequently, a run-of-the-mill one-percent tolerance resistor may cost five cents while its 0.005-percent laser-trimmed counterpart costs $12. If vintage pedal prices are starting to make you queasy, know that it could be much worse. Demand plays a major role in cost as well, as it is pretty rare that you need a 0.005-percent resistor.
So, what difference does tolerance make and how do we know when we need to splurge for the caviar components? Without getting too far into the mathematical weeds, here's a couple examples. Take Fig. 1, where a very simple resistor/capacitor low-pass filter is shown. This filter's corner frequency [Fig. 2] is determined by the value of the resistor and capacitor, and that frequency has a certain sensitivity to variations of those values. [Note: The corner frequency is also known as the cut-off frequency—frequencies above this point will be attenuated by the low-pass filter.] In this particular circuit, if we wiggle the capacitance value by 10 percent, the corner frequency will move by approximately 10 percent.

Fig. 3
The corner frequency of the inductor/capacitor low-pass filter in Fig. 3 has a different sensitivity to changes in the value of the capacitor. If we increase the value of the capacitor by 10 percent, the corner frequency of the filter moves by approximately five percent. So, we can say that the corner frequency of the Fig. 3 circuit is less sensitive to changes in the capacitance than the Fig. 1 circuit. If you want to build circuits that are more forgiving of changes in component values, you can make some design decisions that will help!
You can also quantify what difference component variation will make in the context of your particular application. Let's assume we're employing the circuit in Fig. 1 as a pedal power supply filter. Let's set resistance at 470 ohms and capacitance at 220 µF. We know we're primarily wanting to filter 60 Hz hum from our power line, and at this nominal value of R (resistance) and C (capacitance), we can attenuate 60 Hz by approximately 32 dB. If we choose a 20-percent capacitor, in the worst case, our C drops 20 percent to 176 µF and we only reduce that 60 Hz noise by 30 dB. In practice, that difference of 2 dB probably won't result in a dramatic difference in performance. This tolerance to higher tolerance parts is one of the reasons why we see 20-percent capacitors in big power supplies. When bigger is better, some amount of overkill can make variations in value a non-issue, practically.
Whether you're bending your own circuits or just trying to figure out why you can't find a backup that's quite as good as your No. 1 dirtbox, you might consider how the imperfections in those little devices inside our devices add up to make something special.