Free your microphone placement and gain structure, and your EQ and compression will follow.
Hello everyone, and welcome back to another Dojo! In the last two columns, I've focused on bus mixing techniques to get your recordings more on point—and I hope that was helpful. This time, I'd like to place focus in the other direction and give you three tips to capture your best recorded tones yet.
In my experience, the best way to get great recordings begins with getting in tune with your inner ear and the tones you are hearing in your head. This understanding will act as a catalyst for the first important tip: choice and placement of microphones. As simple as this is, we run the risk of listening with our eyes instead of our ears, because we are creatures of habit. How many times have you placed the same mic in the same place on the same amp (or same place at the guitar, for acoustic players)? Did you really explore the possibilities, or was this the best solution at the time and now it has become ingrained? Maybe it's time to re-think the process and try something new?
Regular Dojo readers are already familiar with the three most common microphones used in recording: condenser, ribbon, and dynamic. Regardless of what mics you have, use your ears and listen to the source you want to record. For example, listen not only to where the amp sounds the best at the speaker, but also in the room. For acoustic guitar, placing the mics near the 14th fret in addition to other locations can yield a wide variety of tones. If you are recording by yourself, make several different short recordings and document the mic placement for each, listen, and then make decisions. The idea here is that you want to get the sound you're looking for without using any EQ. In short, if you don't like the sound you're getting, move the mics until you do!
Once the decision has been made, the second tip for making better recordings is to pay careful attention to your gain structure (aka recording level) and give yourself plenty of headroom. The best way to do this is to set the recording track's fader in your DAW to unity (zero), and then adjust your preamp's gain level until the signal meters between -15 and -5 for most DAWs (check your specific DAW to find out which VU metering type you are using). If you're somewhere in this range, you'll have good signal-to-noise ratio and ample headroom for loud passages, like when you kick in the overdrive channel for the chorus and solo sections.
A scenario like Fig. 1 has bad news written all over it. The track faders are pushed near the top of their range and the master bus has already peaked. This can happen quicker than you think if you didn't set your input levels properly to begin with. If you find yourself in this predicament, you'll need to recalibrate your gain structure for every track for the entire mix. Ouch!
The final tip is focused on signal processing and preserving the efforts of the first two tips. Once your tracking is completed, don't be too quick to start adding copious amounts of EQ and compression. The reason for steps one and two was to mitigate the need for EQ and preserve the natural dynamic range of your tracks. Now, when you need to use EQ and compression, you can use it with subtlety and not out of necessity to fix a poorly recorded track.
As always, if you have any questions you can reach me at recordingdojo@premierguitar.com, and I also want to invite you to checkout my new single "Christian Graffiti" on your favorite music platform to hear all of these tips in action. Until next time, namaste.
Christian Graffiti
Provided to YouTube by DistroKidChristian Graffiti · Bryan ClarkChristian Graffiti℗ Rainfeather RecordsReleased on: 2022-09-30Auto-generated by YouTube.



Comprehending one of the studio's most important but mysterious tools—with metaphorical cocktails!
[Originally published 6/8/2020]
Welcome to Recording Dojo—PG's new monthly column pertaining to recording and engineering, with guitarists in mind. Think of this column as your place to develop better audio-recording skills, experiment with new techniques and gear and, most importantly, mindsets. So bring your best self forward and your willingness to learn … the dojo is now open.
1. TKARR
Let's begin our training with compression: a confusing topic for guitarists as players and as engineers wanting to make their recordings more professional. Compression has five core parameters: threshold, knee, attack, ratio, and release—or TKARR. I'm going to explain this metaphorically, as if you are at a major event, say, the Grammys, and you've just won. You've condensed a lifetime of "I'd like to thank" into 15 seconds, and you've been regally whisked offstage by an anonymous beauty in a ball gown.
2. Threshold
The next thing you're instructed to do is leave backstage, go through the giant ballroom (where a band is playing and people are partying), and go to the press room for photo ops and post-win interviews. You walk down the long hallway towards the ballroom door, where a burly 6'8" doorman stands behind velvet ropes. The doorman is the threshold and the velvet ropes are the knee.
3. Knee
In order for you to get into the ballroom, the doorman has to let you in. As you arrive at the door, he takes his hands off the ropes (hard knee), crosses his arms, coldly stares at you, and says, "What are doing here? This is for Grammy winners only." Ouch! He doesn't recognize you. He only listens to Siberian reggae bands. High threshold. So high that you can't pass though. Conversely, if, as you approach, he gently unfastens the ropes (soft knee), says "I'm a huge fan," and moves aside without you having to break stride, you have crossed the threshold and are now inside the ballroom. This is a well-set threshold, only allowing in those who are authorized. Or perhaps, as you arrive at the ballroom entrance, you notice that the doorman has passed out, the ropes have long been knocked over (no knee), and anyone can enter. Low threshold.
4. Attack
As soon as you enter the ballroom, within a millisecond, a waiter comes up to you: "Champagne? The press room is on the other side of the ballroom." That's quick attack. You notice there's a string quartet playing Haydn's Op. 76, and the volume is comfortably loud (low ratio, somewhere between 1.5:1 to 4:1). Almost as soon as you enter the ballroom, you've got your libation and move directly to the press room—quick release. You arrive at the press room with your wits about you, ready to talk about your big win.
Or, upon entering the ballroom, you mill around in the crowded room looking for directions and you're in the middle of the ballroom before a waiter comes up to you and shouts: "Drink? Press room is over there." That's medium attack. The band is an '80s cover band and the volume is rather loud for the room (medium ratio, 5:1 to 9.5:1). You eventually find your way to the press room and arrive slightly stunned, but ready.
Another version: Upon entering the ballroom, you're immediately lost in a sea of people, shouting for directions and hopelessly trying to be heard above the Mötorhead tribute band. Your ears are ringing. Time passes, and you somehow find the press room door and a waiter shoves a drink in your hand just before you leave the ballroom. Slow attack. You arrive, dazed and confused, in the press room (high ratio, 10:1 and above).
These simple scenarios should help you understand the parameters of compression. It's very important you know that all of these scenarios are equally and musically valid, and by no means exhaustive. Want that "When the Levee Breaks" drum sound? Low threshold, high ratio, quick attack/release. Want your acoustic to sound natural and dynamic? High to medium threshold, medium attack/release, medium to low ratio. Remember, the focus of this article is to explain the five parameters of compression (TKARR). Based on their highly varied and different designs, not all compressors give you access to every parameter. So, this will be our subject next month!
Blackbird Studio ace Bryan Clark breaks down the versatile studio technique and provides some advice on how to avoid phasing issues.
How cutting tracks in reverse, then reversing those reversed tracks, will add zing to your mixes.
Hello and welcome to another Dojo! Since this issue is dedicated to all things acoustic, I thought I'd share a fun technique that I call "harmonic clouds." It involves learning a section of your song backwards, recording it, reversing the new recording, and placing it back in the appropriate spot (or not!). I usually do this with acoustic guitars, but it can be applied with equal aplomb to electrics and can supercharge your creativity. Tighten up! The Dojo is now open.
We are all familiar with the sound of reverse delay. On the surface, you might be thinking, "I can do this already." But you'd be missing out. The "harmonic clouds" technique offers many more possibilities and much more control than recording a guitar part with a reverse delay effect. In short, this technique is inspired more by the process and sounds of double tracking than using delays.
This initial track is the closest thing to a simple reverse delay but it's not—because it is an entirely different performance, and all those subtle timing and timbral differences are there in all their glory.
By the mid-'60s, it was standard practice for the Beatles to sing all their lead vocals (and some background vocals) twice to thicken up their voices. The resulting deviations from each individual track heard together offered a slight, natural, chorusing effect as well as charming variations in timing of words, dynamics, and timbre. The net result was that the vocals stood out more on the final recordings.
However, it was time consuming. John Lennon, in particular, was always asking for a way to have the sound of "double tracking" without actually having to track the vocal twice. EMI's brilliant studio engineer Ken Townsend devised an ingenious way of splitting the signal from just after the recording head on a Studer J37 tape machine (at 15 ips) and routing it through both recording and playback heads of the EMI BTR2 tape machine (at 30 ips), the sound from the BTR2 would then be heard at almost the same time as the sound from the Studer's playback head [Fig. 1] With a little more help from a Levell oscillator, Townsend could varispeed the BTR2 machine with greater control (see my March 2022 article about varispeed). Thus, ADT (artificial double tracking) was born, and, FYI, Waves makes the Reel ADT plug-in ($29 street) as part of their Abbey Road Collection. But I'm going to take you a bit further than that, because we're going to create new tracks that will increasingly differ from the original! Plus, you can always apply ADT to the new tracks later.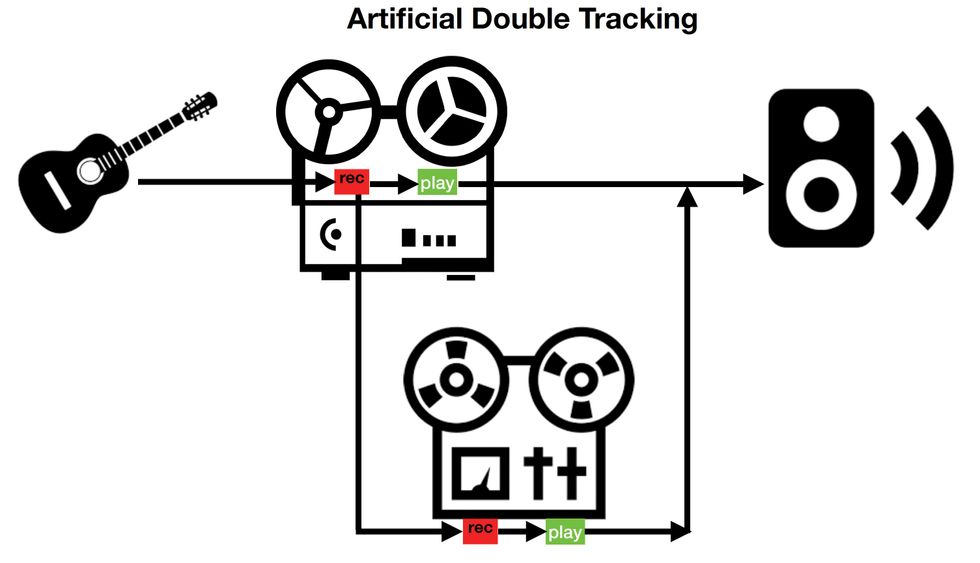 Fig. 1
Let's get started. Here are the three basic steps:
Step 1 - Learn the Progression Backwards
Take the chords from a particular section of your song (perhaps the chorus or the bridge) and learn the progression backwards, including the rhythms as well. For this example, I was working on the bridge section of a song I wrote on my album that will be released this fall called Jacob's Well. The way I do this is by writing a chart, then reversing the order and playing it until it feels natural.
Step 2 - Create a New Track
Create a new track and then record the "new" rhythm guitar part you just learned by muting all the other tracks and playing along with the click track.
Step 3 - Reverse the Track
Reverse the track you just recorded and listen to it. Before you unmute all the other tracks and listen to how it sounds, you may have to align it a bit depending on when you stopped recording. Feel free to experiment and play around with aligning the new track in different places rhythmically and listen to how it changes the section. This initial track is the closest thing to a simple reverse delay but it's not—because it is an entirely different performance, and all those subtle timing and timbral differences are there in all their glory.
Step 4 - Explore Your Own Music
Now we're ready to have some real fun. Create some new tracks and repeat steps one though three, but each time play the same reversed passage in different parts of the guitar (i.e., you can change the tuning, use a capo, use only power chords, add effects, etc). As the versions pile in and you get used to the process, I think you'll be really surprised by the results. Who knows, you might even start trying this with all kinds of instruments! Just remember to always serve the song and stay true to the emotional content you want to use these tracks to achieve. Most often for me, less is more.
Until next month, blessings, and keep sharing your gifts with the world. Namaste.