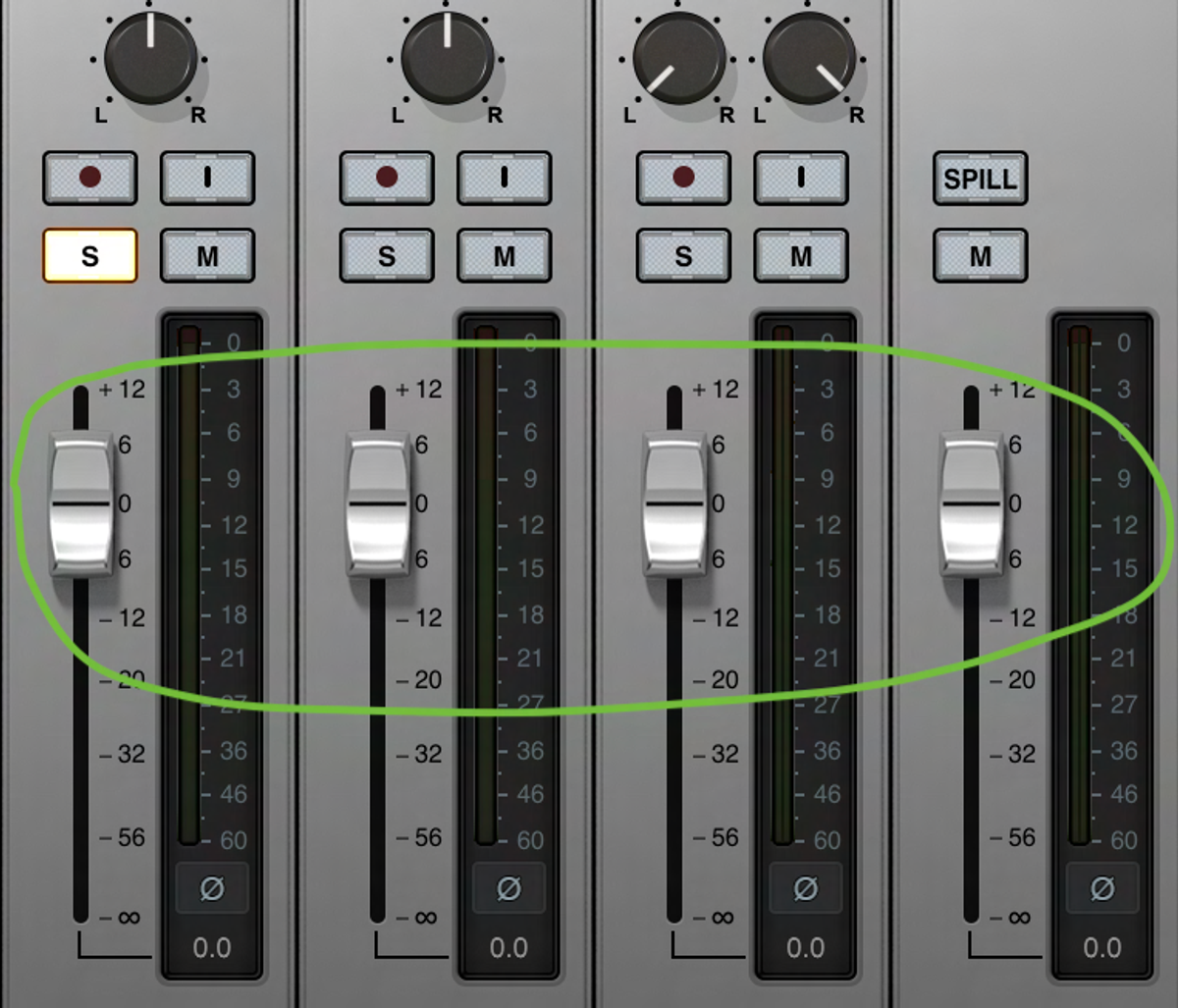 Respecting dynamics and artists' intentions, along with a knowledge of the core sounds of various genres, will propel your journey on the path to enlightenment.
Hello and welcome to another Dojo installment. This month, I'll share three simple secrets for getting better and more consistent mixes. In the ever-changing world of mixing music, engineers are constantly having to refine their chops while still being acutely aware of current trends, past traditions, managing expectations of artists—all while adding and refining their own contribution to recordings.
---
Regardless of musical genre, I'm often asked, "How do I make my mixes better?" I usually respond with "it depends." Mixing isn't math, there is no theorem or equation that will give you a precise approach. It's about emotion. Your job when you're mixing is to bring final focus and attention to fluid, emotional moments by guiding the listener on a highly curated journey. How can we even begin to approach this abstract goal? Tighten up your belts, the Dojo is now open.
Let's assume you already have an intimate knowledge of what the vision is for the song or album. This is a crucial step! It's one that I spend a great deal of time developing. I passionately feel that artists and bands deserve a mixer who is completely committed to their vision, and can add deep, meaningful contributions to their recordings while still being an objective voice that can bring an extra bit of magic to the project. Don't start mixing until you've done your homework and really understand the profound level of sacrifice that artists go through to make their music. You should feel the honor and responsibility that is involved as well.
Your job when you're mixing is to bring final focus and attention to fluid, emotional moments by guiding the listener on a highly curated journey.
Now here are those three secrets for better mixes:
1. Who's on Bottom?
My main goal is to get to the emotional core of the song as soon as possible. On first listen, I'm not worried about "is the hi hat too loud?" I bring the faders up to unity, as seen in Fig. 1, and just listen.

On the next listen, I get basic levels and determine which instruments are important in which sections. Quickly, I address the genre and determine "who's on bottom." There are usually two choices: bass (or synths or low-tuned, 8-string guitars) or the kick drum. Musical genres have certain expectations. For example, hip-hop and rap typically reserve the bottom end of the frequency spectrum for kicks and tuned 808 tones, while heavy rock usually wants the guitars in the bottom with just the attack of the kick drum above for articulation. Your understanding of this and the artist's tolerance for how far they're willing to push these expectations will help you decide. This doesn't mean the values can't switch based on certain sections of the song. I do this quite a bit, but overall, there should a clear winner and a clear approach.
2. Less Is More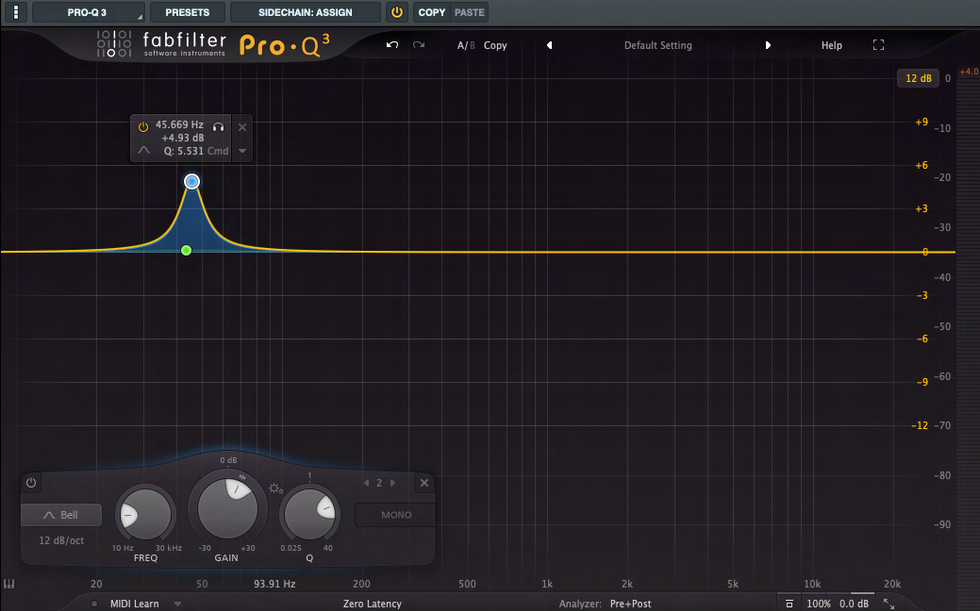 Fig. 2
When using EQ, employ it to cut problem frequencies. Far too often, folks boost frequencies of what they want to hear rather than going in and notching out problem areas. That results in everything getting louder and the problem areas don't go away. Does the kick drum have a ring to it? Go find that frequency by sweeping a gained-up, narrow Q point across the frequency spectrum [Fig. 2] until you find the ring—and then cut it!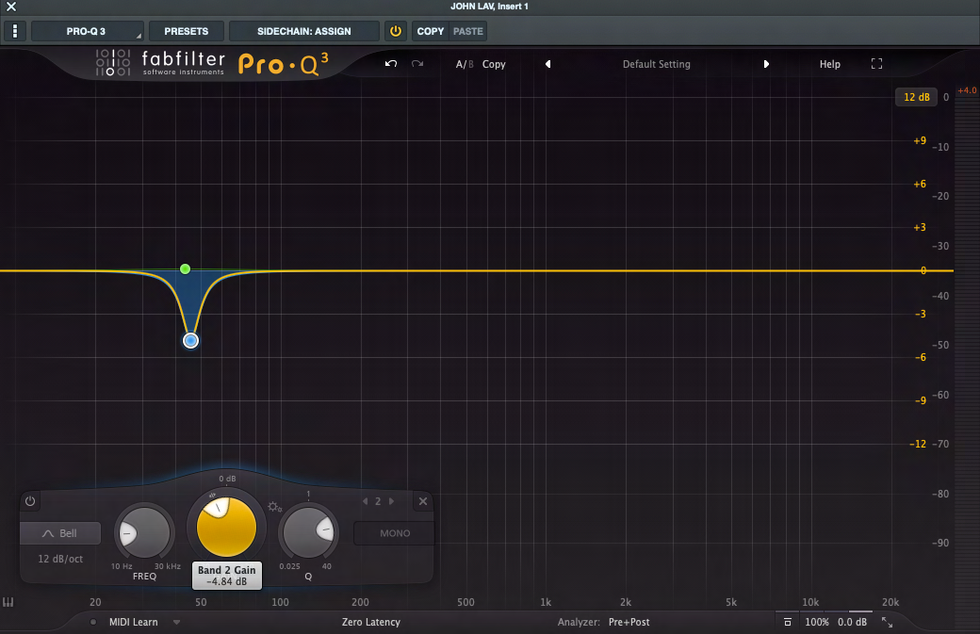 Fig. 3
The same can be done for shrill guitars, bass-heavy percussion, muddy keys, and particular notes of the vocal that really jump out and sound strident. Remember to boost with a narrow Q, sweep, isolate, and cut [Fig. 3].
3. Beware the Buzz Cut
Don't overdo compression. Most of the time when I use compression, I'm getting anywhere from 2 to 10 dB of gain reduction. Anything over that, and I need to have a valid reason why (squashing a drum kit, pinning a background vocal or synth, etc.). Try to preserve as much dynamic range in your mix as possible and your audience will be able to climb in the mix more, and their ears won't be fatigued.

Fig. 4
Take a look at a classic 2000s loudness war mix in Fig. 4. See how the music has a "buzz cut?" There's hardly any dynamic range. Everything is loud!
Fig. 5
Now look at Fig. 5. This a classic heavy metal song, and look the dynamic range.
FYI, Apple Music, Spotify, and others are really rewarding mixes with greater dynamic range, and if their algorithms determine your mix sports a buzz cut, they will lower your loudness level anyway, thus foiling your dastardly plan to win the louder-is-better contest.
Blessings and, until next time, namaste.
Looking for more great gear for the guitar player in your life (yourself included!)? Check out this year's Holiday Gear Finds!
Created in collaboration with legendary guitarist George Lynch of Dokken and Lynch Mob fame, the Mr.Scary Mod adds an adjustable tube gain stage and an onboard Deep control, which together are designed to enable an amp to have increased sustain while still retaining note definition and dynamics.
LegendaryTones, LLC today announced production availability of its new Mr. Scary Mod, a 100% pure tube module designed to instantly and easily expand the capabilities of many classic amplifiers with additional gain and tone shaping. Created in collaboration with legendary guitarist George Lynch of Dokken and Lynch Mob fame, the Mr.Scary Mod adds an adjustable tube gain stage and an onboard Deep control, which together are designed to enable an amp to have increased sustain while still retaining note definition and dynamics.
Originally released as the Lynch Mod in February 2021, the updated Mr. Scary Mod features the same core circuit as the Lynch Mod but is now equipped with a revised tube mix combo per George's preference as well as a facelift in a newly redesigned electro-galvanized steel enclosure. As with the Lynch Mod, each run will be limited and the first run in Pumpkin Orange with Black hardware is limited to just 150 pieces worldwide.
​The Mr. Scary Mod adds an adjustable tube gain stage on top of the cathode follower position, keeping note definition and articulation while further increasing sustain. Each Mr. Scary mod is meticulously built by hand in the USA, one at a time, and tuned using high-grade components. Equipped with a single ECC81 (12AT7) in the first position and ECC83 (12AX7) in the second, the Mr. Scary Mod can clean up beautifully when rolling down your guitar's volume, and still adds scorching gain when you roll it back up. This is a gain stage that's been tuned and approved by the ears of the maestro George Lynch himself.
"The Mr. Scary Mod excels with dynamics and is incredibly touch-responsive, allowing me to shift from playing clear, lightly compressed cleans to full-out aggressive sustain and distortion –and control it all simply by varying my guitar's volume control and picking," said GeorgeLynch. "In many ways, it's an old-school approach, but it's also so much more natural and expressive in addition to being musically fulfilling when you can play both the guitar and amp dynamically together this way."
The Mr. Scary Mod installs in minutes, is safe and effective to use, and requires no special tools or re-biasing of the amplifier. Simply insert the module into the cathode follower preamp position of compatible amplifiers (includes Marshall 2203/2204/1959/1987 circuits) and

immediately get the benefit of enjoying a hot-rodded amp that delivers all the pure harmonic character that comes with an added pure tube gain stage. The handmade in the USA Mr. Scary Mod is now available to order for $319.
For more information, please visit legendarytones.com.
October Audio has miniaturized their NVMBR Gain pedal to create two mini versions of this beautifully organic-sounding circuit – including an always-on gain device.
The NVMBR Gain is a nonlinear amp that transitions gracefully from clean boost to overdriven tones. Volume increases from just over unity to about 10db before soft-clipping drive appears for another 5db of boost. Its extraordinary ease of use is matched by outstanding versatility: you can use it as a clean boost, push a stubborn amp into overdrive or create a just-breaking-up sound at any amp volume.

October Audio's new family of mini NVMBR Gain pedals includes a switchable version that allows you to bypass the effect: one option features brand logo pedal graphics, while the other sports a fun "Witch Finger" graphic with a Davies knob as the"fingernail".
The second version in the new lineup is an always-on device featuring the Witch Finger graphic and Davies knob, with the same NVMBR Gain circuit that lies at the core of the switchable version.
Features:
Knob controls gain and clipping simultaneously
Stunning silver hammertone finish
Switchable versions are true-bypass, available with classic or witch finger graphics
Authentic Davies knobs, including the "fingernail"
9V center negative power supply required
Dimensions: 3.63 x 1.50 x 1.88 in​
Witch Finger (always on NVMBR Gain) demo
​All October Audio pedals are assembled in Richmond, VA, and available for purchase directly through the online shop. Street price is $109 for NVMBR Gain footswitch versions and $89 for the always-on device.
For more information, please visit octoberaudio.com.