Your favorite stomps are real-time, tactile sound processors. Plug them in and expand your DAW's options.
Welcome to another Dojo. This time I want to help supercharge your creative process by advocating for a hybrid approach to effects processing. Specifically, I want you to embrace using stomp pedals as real-time, tactile effects processors and combine them with your favorite DAW effects and plugins.
You should be deeply familiar with how to insert plugins directly on your DAW tracks' aux sends (for serial processing with modulation and time-based effects, like reverbs and delays) or aux buses (for parallel processing, like compressors). But what about guitar pedals? Yes, they're typically used in live performance settings and get a lot of abuse on the stage and studio floor, but with the explosion of modern, programmable, MIDI-capable pedals on the market and their ever-increasing processing power, "lowly" stompboxes are long overdue to be elevated to the same level as rack effects and kept within arm's reach on your mixing desk.
Pedals can add analog warmth, hands-on control, and modularity, are easy on your computer's RAM and CPU resources, are always OS compliant, and retain their value.
Turning Knobs vs. Mouse-Clicking 
When it comes to tracking and mixing, turning knobs on a physical, controllable surface, such as a pedal, mixing console, or MIDI controller, can provide a more tactile and intuitive way to make adjustments to your sound, compared to using a mouse to click and drag on virtual knobs and sliders within your DAW. Let's face it, in the heat of a session this can be tedious—especially if you run out of trackpad or mousepad space while recording or mixing.
But what about exploring some hybrid approaches that take advantage of both formats? After all, plugins provide flexibility, precision, consistency, automation, portability (nothing to lug around), cost-effectiveness (cheaper than outboard gear), and compatibility (the same plugins can work on multiple DAWs). Pedals can add analog warmth, hands-on control, and modularity, are easy on your computer's RAM and CPU resources, are always OS compliant, and retain their value (how much are original Klons going for now?!). They can also help you achieve a unique and personalized sound that can be difficult to replicate with digital plugins and their stock presets. Many modern foot pedals can also handle both line level and instrument level inputs.
Builders—Strymon, Eventide, Boss, EarthQuaker, Empress, Meris, Chase Bliss, and many more—have a wide range of pedals that are MIDI capable and, quite frankly, have processing power that far surpasses many classic rack effects units.
So, I'd like to offer some creative ways to use pedals, in addition to your regular plugins, in your next session or mix:
To start, duplicate the track(s) you want to process with your effects pedal(s) in your DAW and route the output of those tracks to one or two of your line outputs on your interface. Depending on the pedals in question, you may have options for mono in and out, mono in/stereo out, or stereo in and out. Connect all relevant cables and connect the output of the last pedal to the input of your interface. If your incoming signal is low, switch from line to mic on your interface for each input.
Next, in your DAW, create one mono or one stereo track, depending upon how you are going to return the processed signal from your interface and record-enable the track(s). Now you're ready to record new, processed material (from one pedal or your entire pedal board!) in real-time and take advantage of every parameter on each pedal.
You can now use your pedals to adjust distortion levels, reverb, and delay times in real-time (with all the glorious artifacts, glitches, and smears), as well as adjust tremolo rates and chorus depths on the fly. Get creative! Take chances and invite any and all happy accidents!
One particular approach I love is throwing loop pedals into this equation, after all the other pedals, for some wild, abstract processing. My signal flow usually goes from overdrive to mod-based effects (chorus, phaser, tremolo) to time-based effects (delays and reverbs) followed by a looper. At present, my favorite looper pedal for this by far is Habit by Chase Bliss ($399 street). It has three minutes of loop time and can take user-definable snippets of your loop, play them back asynchronously, feed that back into the loop itself, and record all modifications as well (and this is just scratching the surface). Highly recommended!
Combine this "out-of-the-box" technique along with your normal "in-the-box" workflow and you should be creating some pretty amazing sounds. Let me know if you find a cool approach! I'll share it in the Dojo channel.
Until next time, blessings, and continue to share your gifts with the world. It matters, and you matter!
How cutting tracks in reverse, then reversing those reversed tracks, will add zing to your mixes.
Hello and welcome to another Dojo! Since this issue is dedicated to all things acoustic, I thought I'd share a fun technique that I call "harmonic clouds." It involves learning a section of your song backwards, recording it, reversing the new recording, and placing it back in the appropriate spot (or not!). I usually do this with acoustic guitars, but it can be applied with equal aplomb to electrics and can supercharge your creativity. Tighten up! The Dojo is now open.
We are all familiar with the sound of reverse delay. On the surface, you might be thinking, "I can do this already." But you'd be missing out. The "harmonic clouds" technique offers many more possibilities and much more control than recording a guitar part with a reverse delay effect. In short, this technique is inspired more by the process and sounds of double tracking than using delays.
This initial track is the closest thing to a simple reverse delay but it's not—because it is an entirely different performance, and all those subtle timing and timbral differences are there in all their glory.
By the mid-'60s, it was standard practice for the Beatles to sing all their lead vocals (and some background vocals) twice to thicken up their voices. The resulting deviations from each individual track heard together offered a slight, natural, chorusing effect as well as charming variations in timing of words, dynamics, and timbre. The net result was that the vocals stood out more on the final recordings.
However, it was time consuming. John Lennon, in particular, was always asking for a way to have the sound of "double tracking" without actually having to track the vocal twice. EMI's brilliant studio engineer Ken Townsend devised an ingenious way of splitting the signal from just after the recording head on a Studer J37 tape machine (at 15 ips) and routing it through both recording and playback heads of the EMI BTR2 tape machine (at 30 ips), the sound from the BTR2 would then be heard at almost the same time as the sound from the Studer's playback head [Fig. 1] With a little more help from a Levell oscillator, Townsend could varispeed the BTR2 machine with greater control (see my March 2022 article about varispeed). Thus, ADT (artificial double tracking) was born, and, FYI, Waves makes the Reel ADT plug-in ($29 street) as part of their Abbey Road Collection. But I'm going to take you a bit further than that, because we're going to create new tracks that will increasingly differ from the original! Plus, you can always apply ADT to the new tracks later.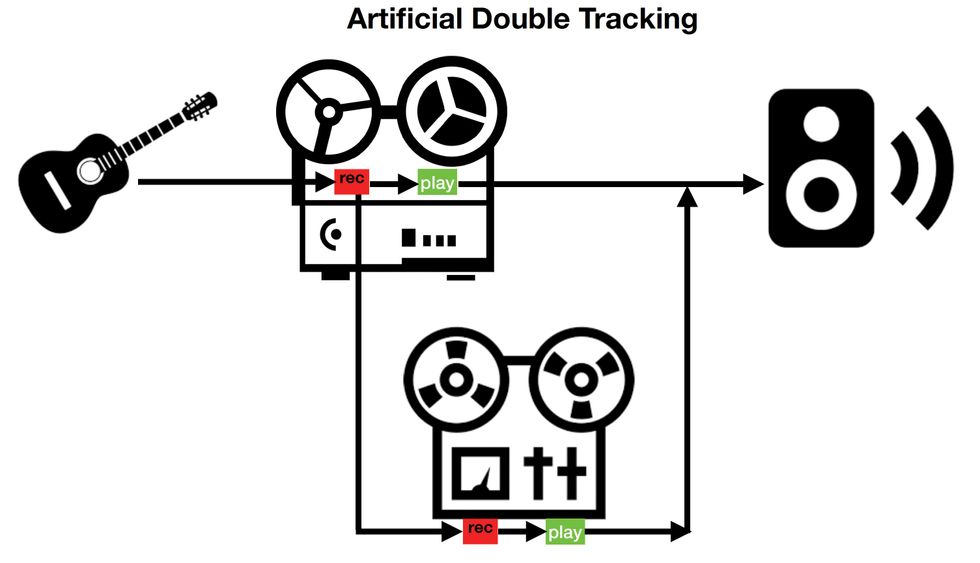 Fig. 1
Let's get started. Here are the three basic steps:
Step 1 - Learn the Progression Backwards
Take the chords from a particular section of your song (perhaps the chorus or the bridge) and learn the progression backwards, including the rhythms as well. For this example, I was working on the bridge section of a song I wrote on my album that will be released this fall called Jacob's Well. The way I do this is by writing a chart, then reversing the order and playing it until it feels natural.
Step 2 - Create a New Track
Create a new track and then record the "new" rhythm guitar part you just learned by muting all the other tracks and playing along with the click track.
Step 3 - Reverse the Track
Reverse the track you just recorded and listen to it. Before you unmute all the other tracks and listen to how it sounds, you may have to align it a bit depending on when you stopped recording. Feel free to experiment and play around with aligning the new track in different places rhythmically and listen to how it changes the section. This initial track is the closest thing to a simple reverse delay but it's not—because it is an entirely different performance, and all those subtle timing and timbral differences are there in all their glory.
Step 4 - Explore Your Own Music
Now we're ready to have some real fun. Create some new tracks and repeat steps one though three, but each time play the same reversed passage in different parts of the guitar (i.e., you can change the tuning, use a capo, use only power chords, add effects, etc). As the versions pile in and you get used to the process, I think you'll be really surprised by the results. Who knows, you might even start trying this with all kinds of instruments! Just remember to always serve the song and stay true to the emotional content you want to use these tracks to achieve. Most often for me, less is more.
Until next month, blessings, and keep sharing your gifts with the world. Namaste.
This well-established, simple technique opens up a new world of sonic possibilities.
[Originally published February 14, 2022]
Welcome to another Dojo! This time I'm going to show you how to reamp your guitar and explore some creative ways you can re-amps other tracks as well (soft synths, vocals, drums, etc.). In my earlier column "Why Guitarists Shouldn't Diss DIs," I mentioned the benefits of using a DI for creative recording. If you have a DI box, dust it off! You'll need it when I show you how to get more out of your DI-recorded guitar and bass tracks by reamping them into your pedals and amps to capture new perspectives and even add some new reverberant spaces. Tighten up your belts, the Dojo is now open.

To begin, you're going to need a reamp box such as the Radial JCR Studio Reamper ($229 street) and most likely a TRS-to-male XLR cable (like the Asterope Pro Studio Series TRS to XLRs, $55 street). I like passive re-amp boxes because they don't require external power and are easy to move around. Some would argue that passive models loose signal strength, which is true, but how many boost/overdrive pedals do we guitarists have? At least one, right? Put one after the reamp box and before your amp. Boom. Problem solved, and you can drive your amp even harder. Otherwise, you're going to shell out more dinero for active reamp boxes, which isn't really necessary, and I like the inherent lo-fi nature of this process.
Reamping is a two-part endeavor. The first part involves using a DI box to record the guitar directly into your DAW. If you're unsure how to do this, I recommend going online and reading my Dojo article mentioned above. It's very easy and straightforward. The second part involves routing the DI-recorded guitar track out of your DAW and into your reamp pedal. Depending on your interface, you might need the TRS-to-male XLR cable previously mentioned.
Fig. 1
Look at Fig. 1 and do the following: Plug the XLR end of the cable from your audio interface's out into the input of your reamp box. Now use your regular guitar cable and connect the output of your reamp box to the input of your amp. Place a microphone in front of your guitar amp, plug that into your interface, and record-enable that track. When you hit playback, the DI track will play back through your amp, and you will be recording the amp. You're now re-amping! You can make new recordings each time you change amp settings or mic positions.
Fig. 2
For even more craziness, check out Fig. 2. You can add any (and all) pedals (even entire pedalboards) into the signal chain. Get creative. But wait, there's more!
You can also route any track's output in your DAW to your reamp box and really start going berserk. Try your lead vocal, the background vocals, keys, and drums (especially drum machines) and listen to how it sounds. Reamping also gives you the ability to manually tweak pedal knobs and make dynamic parts that are really changing as the track plays. Try playing with the times and feedback amount of your delays. Fun!
Finally, depending on how much you are driving your amp, you could keep it clean, move the mic further away from the speaker, and start capturing more of the sound of your room. I like to do this on drum machines. It puts them in a real space. Specifically, your space. No reverb plug-in can get that! As always, I invite you to come by my website to hear and see these concepts in action. Until next time, namaste.