Black Belt Eagle Scout: Of the Land, from the Heart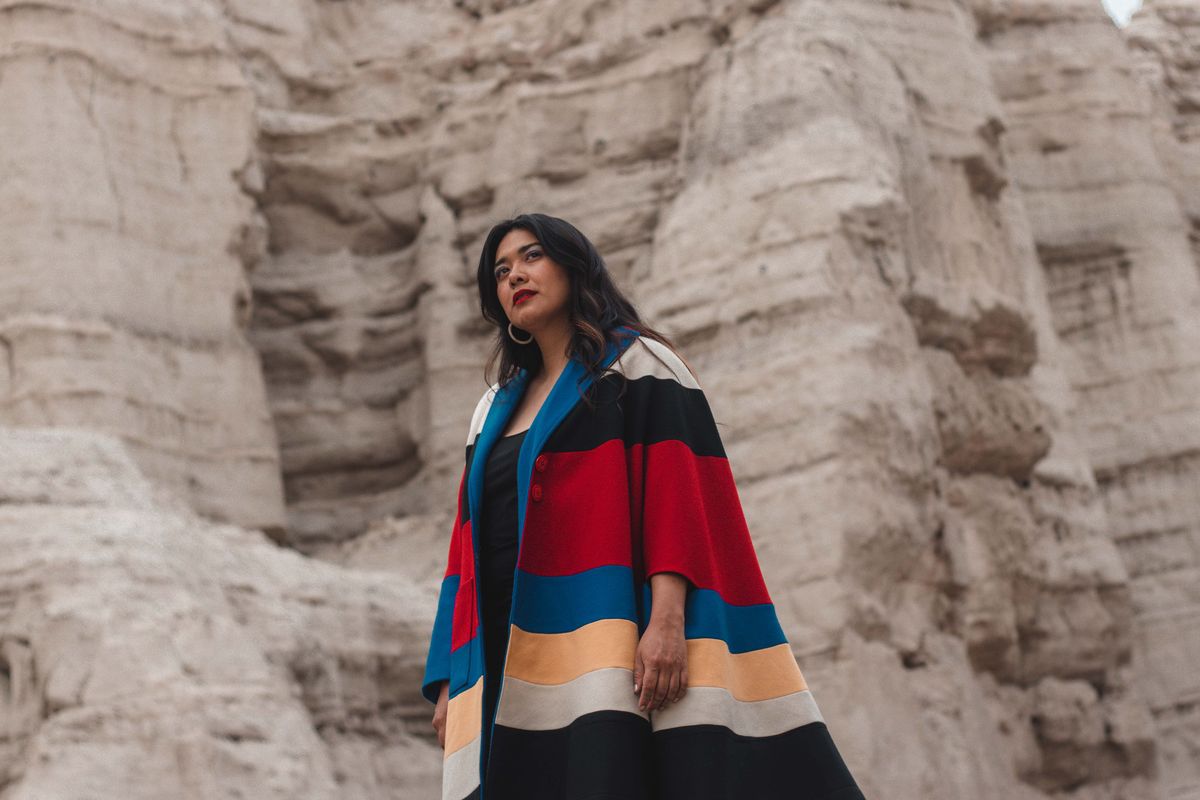 Photo by Nate Lemuel
The alt-rock landscape Katherine Paul creates on her latest release resonates with both her effects-laden guitar work and the feelings of kinship she has with the Earth.
The music of Black Belt Eagle Scout, helmed by Katherine "KP" Paul, is an expression of the heart, one that just so happens to be deeply entwined with Paul's indigenous roots. And on the band's latest release, The Land, The Water, The Sky, she's distilled her personal connection with nature, as well as that love she has for her ancestry, into a set of new atmospheric, lambent, alt-rock tracks, with a range of textures that embody that self-defined world.
---
The writing of this album, Paul's third full-length release, started as far back as 2020, when she moved back home to the Swinomish Indian Tribal Community in Skagit County, Washington, from where she'd been living in Portland, Oregon. (The Swinomish are a tribe of the Coast Salish indigenous peoples of the Pacific Northwest.) "I tend to write about time periods, and this record has a lot to do with the last couple years of moving from one place to another," says Paul. "Particularly, moving back home to where I was born and raised, and where my people have been since time immemorial. There's this theme of a journey—it was this journey of coming back home.
"When I was there, just being in my community, being within nature, I had this epiphany where I was like, 'This is where I'm meant to be. I'm meant to be here in this exact moment, in this exact place.' It kind of rejuvenated this awareness of how my mental health and how I live within this world is linked to that connection that I have to where I'm from, to my homeland."

"When I was there, just being in my community, being within nature, I had this epiphany where I was like, 'This is where I'm meant to be.'"
In some ways, The Land, The Water, The Sky feels like one amorphous, undulating, 47-minute song that carefully navigates and unwinds through different facets of Paul's personality. On "My Blood Runs Through This Land," the opening track, she introduces the album with distorted guitar whose grit is softened by a blanket of reverb. Later in the album, "Treeline" gives off echoes of Kurt Vile, with a slow, semi-psychedelic groove that pulses through the near-six-minute-long track, and, ironically, often inspires some upbeat dancing when it's performed live. For "Spaces," Paul invited her parents to contribute their voices: Her mother's seamlessly blends with her own, while her father's powerfully cuts through the mix with what she calls his "powwow voice."
Katherine Paul's Gear
Paul's main guitar is a white Ernie Ball Music Man St. Vincent Signature, equipped with three mini-humbuckers.
Photo by Daniel Olbrych/Hult Center
Guitars

Ernie Ball Music Man St. Vincent in Polaris White
Amps
1968 Fender Princeton Reverb Amp
Effects
Strymon Big Sky
Strymon Sunset Dual Overdrive
Strings and Picks

D'Addario NYXL Nickel Wound .010-.046 Regular Light
Ernie Ball Nylon Guitar Picks, .53 mm
The last song on the album, "Don't Give Up," realizes that link between her mental health and her relationship with the natural world. "You wanted a second chance at life / Well, you're alive," Paul almost whispers over gentle acoustic and electric strumming, before taking a resonant, lifting guitar solo and singing, with a soaring and declarative cry, "I don't give up," in the chorus. The song concludes with "The land, the water, the sky" in a mantra-esque repetition that makes up the last few lines of the album.
On her affinity for nature, Paul shares, "I don't think it's unique. Whether you're indigenous, and you have a connection to your homelands, or you're non-indigenous but yet you have some sort of connection to a place and this grounding feeling, I think it's important to recognize that. And within the song, what I'm trying to say is, the land, the water, the sky—those are all interconnected. They all are a part of my ancestry, and they're the reason why I'm here today. I'm trying to pay respect to that."

While Paul is earnest in her expression of how much she values her home community, she's also a fiercely independent person. As just a small example, she recorded all the full-band instrumentation on her first two albums, 2018's Mother of My Children and 2019's At the Party With My Brown Friends. Which is why she's made a bit of a statement (at the very least, to herself) by inviting other musicians in on the recording of The Land, The Water, The Sky.
She still did all of the guitars, drums, percussion, and "about half of the keys," but brought in bassist and touring bandmate Grace Bugbee, cellist Lori Goldston (who toured with Nirvana), multi-instrumentalist Takiaya Reed (of doom metal band Divide and Dissolve) to record saxophone, and vocalist/multi-instrumentalist Phil Elverum (Mount Eerie), who sang on "a little teeny part of one song."
One significant difference between this album and Paul's past works is that she invited in collaborators for the first time, including Takiaya Reed of Divide and Dissolve.
An integral role in the development of the album was played by Reed, who, beyond providing saxophone parts, was present with Paul every step of the way. "She was this really huge support system," says Paul. "Whereas, maybe in the past two records, I would have this idea and then I would immediately be like 'No I can't do that; I don't know if I can do that.' But when I brought it to Takiaya, she would just be like, 'Let's do it, let's try it, let's go for it. There was this really beautiful partnership in that we kind of locked together and were able to have ideas flourish and see where they went.
"One of the things that came for me in this record was that it's okay to feel vulnerable in your songwriting," Paul offers. "I wanted to step into that realm of vulnerability and feeling like, 'Okay, I'm having help, I'm working with people. Let's try it out. On my last two records, even though I feel very proud of them in that I played all the instruments myself, there was a little bit of stubbornness, like, 'I have to prove to myself that I can do this.' But I think that it's also important for me and my musicianship to feel out how it is to work with others, and how it is to let down your guard a little bit and be more open to creating and having input from other instruments."
Typically, Paul says, her songwriting begins with her guitar, her loop station, and the Apple Voice Memos app. She lays out the song's structure with one part, then uses the looper to figure out other guitar parts, gradually piecing together the song. "I'm just continuing to add these layers. But this is what it is in the guitar realm," she describes. This method set forth the process for the recording of The Land, The Water, The Sky, where she started with just guitar and then "painted over it" with other instrumentation.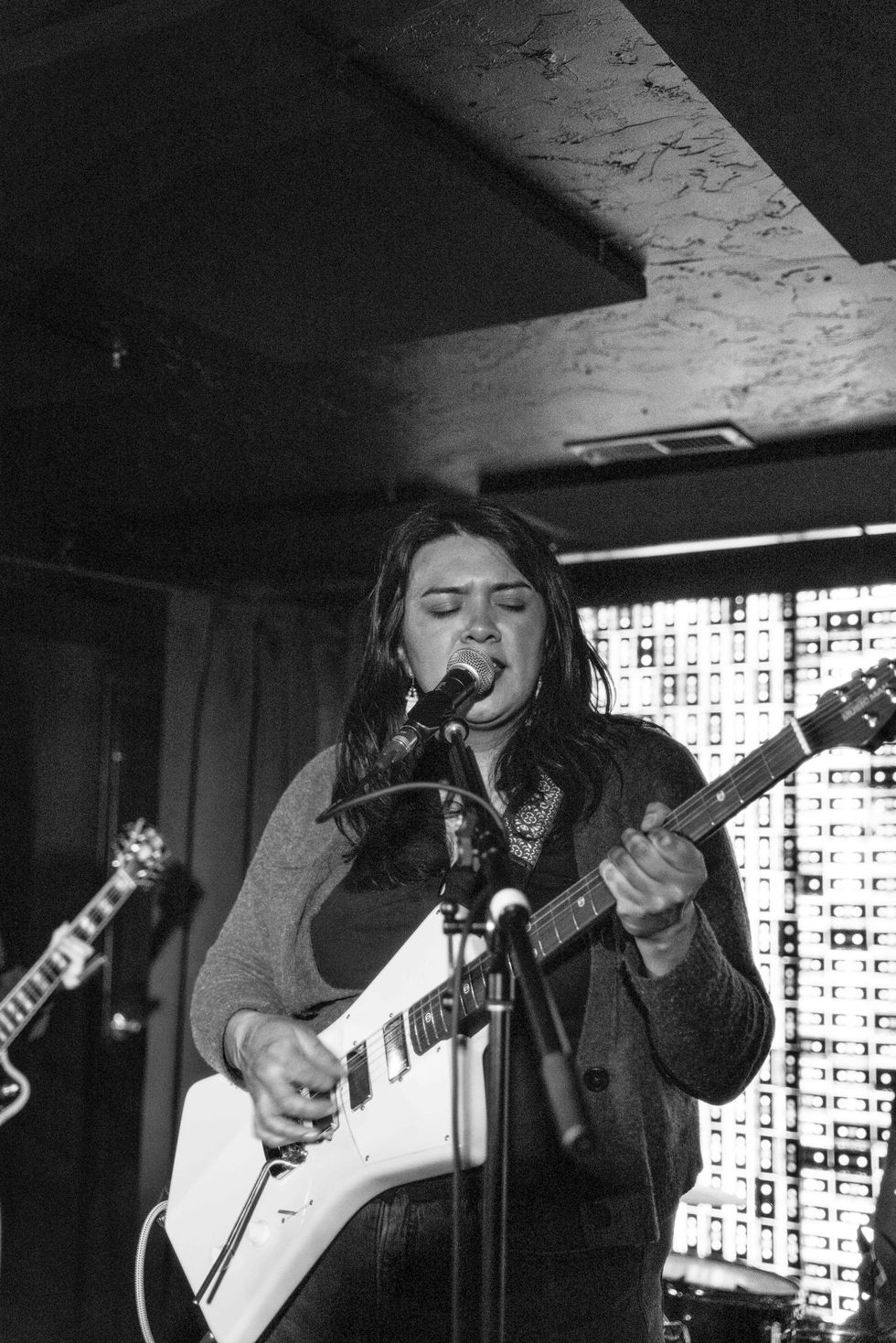 When coming up with guitar lines, Paul says that she tries to do what feels natural for the song, and also draws inspiration from the Tren Brothers, Jimi Hendrix, and Nirvana.
Photo by Ethan Alfaro
Her main axe is a white Ernie Ball Music Man St. Vincent Signature, which has an angular, sci-fi-looking body shape and three DiMarzio mini-humbuckers. She chose it after borrowing one, but in a black finish, from Fabi Reyna, founder and editor-in-chief of She Shreds Media. Paul's not too picky when it comes to pickups, and fell in love with the model for traits like its slim neck, ergonomic contour, and light weight.
Not unlike her approach to guitar, she keeps things pretty simple when it comes to effects—but only in terms of quantity. It takes a few seconds of listening to Black Belt Eagle Scout to tell that Paul is a fan of generously wet reverb. "We used the Strymon BigSky for pretty much everything," she says. "We used it for guitars, we used it on the bass, we used it on the keyboards. The only thing we didn't use it on was the vocals and the drums." She recorded with Reed's pedalboard—availing herself of a Strymon Sunset Dual Overdrive for the crunchier guitar sounds—and mostly went direct out of a '60s Fender Princeton Reverb.
"I want to work really hard so that I can carve paths for other people, so they don't have to work as hard as I have in order to fulfill their lives and their art and their music."
"I always have to have this warm sound with the guitar. It has to feel warm to me, and it has to have a little bit of vibrance to it, in terms of texture," says Paul. "I tend to write in the lower range, and it'll be warm and bass-y sounds."
She adds, "I really love fingerpicking and I love different patterns—making melodies that are intricate. That probably has to do with my love of Cat Power, and maybe more specifically the Tren Brothers [Australians guitarist Mick Turner and drummer Jim White, also two thirds of the Dirty Three], who played on her Moon Pix album. I remember listening to that and being like, I really love the way in which those guitar lines blend together kind of … like wind chimes. I'm really drawn to the way in which guitar lines interlock."
On The Land, The Water, The Sky, Paul used the Strymon BigSky reverb on almost every instrument, except for drums and vocals.
Photo by Nate Lemuel
While on the subject, her close familial relationships find their way back into the conversation: "I listen to very specific guitar music with my dad sometimes. We listen to Jimi Hendrix a lot. I also listen to Nirvana a lot, and there's a lot of guitar solos in Nirvana, too. I think I just was into that very dramatic way in which guitar solos can enter into a song."
Paul emphasizes the importance of Native American representation in music, which, to no fault of Native Americans, is unfortunately minimal. In Black Belt Eagle Scout's personally informed media image, it's clearly important to Paul to contribute to that representation, especially because of how it could inspire others, and how it could have changed her experience in the music industry had more Native American musicians been admitted before her. "I feel like it would be a lot easier for me to be farther along in my career," she says with a laugh. "There would be paths already drawn out, to see how to navigate the music industry.
"I mean it's one of those things where, yes, I'm Native American and it's who I am. But I'm in this system where there aren't really Native Americans with the opportunities that I have. So, I want to work really hard so I can carve paths for other people, so they don't have to work as hard as I have in order to fulfill their lives and their art and their music. Where you can point and say, Black Belt Eagle Scout, she has a record deal—I can have one too."
Black Belt Eagle Scout - Soft Stud (Live on KEXP)
Paul and her band create an atmospheric blanket of tones in their performance of "Soft Stud," off Black Belt Eagle Scout's Mother of My Children.
From Your Site Articles
Related Articles Around the Web