Free your microphone placement and gain structure, and your EQ and compression will follow.
Hello everyone, and welcome back to another Dojo! In the last two columns, I've focused on bus mixing techniques to get your recordings more on point—and I hope that was helpful. This time, I'd like to place focus in the other direction and give you three tips to capture your best recorded tones yet.
In my experience, the best way to get great recordings begins with getting in tune with your inner ear and the tones you are hearing in your head. This understanding will act as a catalyst for the first important tip: choice and placement of microphones. As simple as this is, we run the risk of listening with our eyes instead of our ears, because we are creatures of habit. How many times have you placed the same mic in the same place on the same amp (or same place at the guitar, for acoustic players)? Did you really explore the possibilities, or was this the best solution at the time and now it has become ingrained? Maybe it's time to re-think the process and try something new?
Regular Dojo readers are already familiar with the three most common microphones used in recording: condenser, ribbon, and dynamic. Regardless of what mics you have, use your ears and listen to the source you want to record. For example, listen not only to where the amp sounds the best at the speaker, but also in the room. For acoustic guitar, placing the mics near the 14th fret in addition to other locations can yield a wide variety of tones. If you are recording by yourself, make several different short recordings and document the mic placement for each, listen, and then make decisions. The idea here is that you want to get the sound you're looking for without using any EQ. In short, if you don't like the sound you're getting, move the mics until you do!
Once the decision has been made, the second tip for making better recordings is to pay careful attention to your gain structure (aka recording level) and give yourself plenty of headroom. The best way to do this is to set the recording track's fader in your DAW to unity (zero), and then adjust your preamp's gain level until the signal meters between -15 and -5 for most DAWs (check your specific DAW to find out which VU metering type you are using). If you're somewhere in this range, you'll have good signal-to-noise ratio and ample headroom for loud passages, like when you kick in the overdrive channel for the chorus and solo sections.
A scenario like Fig. 1 has bad news written all over it. The track faders are pushed near the top of their range and the master bus has already peaked. This can happen quicker than you think if you didn't set your input levels properly to begin with. If you find yourself in this predicament, you'll need to recalibrate your gain structure for every track for the entire mix. Ouch!
The final tip is focused on signal processing and preserving the efforts of the first two tips. Once your tracking is completed, don't be too quick to start adding copious amounts of EQ and compression. The reason for steps one and two was to mitigate the need for EQ and preserve the natural dynamic range of your tracks. Now, when you need to use EQ and compression, you can use it with subtlety and not out of necessity to fix a poorly recorded track.
As always, if you have any questions you can reach me at recordingdojo@premierguitar.com, and I also want to invite you to checkout my new single "Christian Graffiti" on your favorite music platform to hear all of these tips in action. Until next time, namaste.
Christian Graffiti
Provided to YouTube by DistroKidChristian Graffiti · Bryan ClarkChristian Graffiti℗ Rainfeather RecordsReleased on: 2022-09-30Auto-generated by YouTube.



A really quick, really dirty intro to equalization.
This month's topic is EQ. I'd say we're opening a can of worms, except it's more like opening a shipping container stuffed with 10,000 worm cans.
It's tough to talk about—let alone teach—EQ techniques, because almost nothing is true 100 percent of the time. Take the common sentiment that the less EQ you use, the better: Yeah, that's good advice in most cases—adding overstated EQ tends to make tracks sound artificial and/or harsh. But what if "artificial" and "harsh" are the best expressive choice?

What about all those great '60s guitars mixed with blistering high-end EQ? (Beatles and Byrds spring to mind.) Or parts engineered to sound as small and claustrophobic as possible? (Think Pink Floyd or PJ Harvey.) Or the eerie, not-found-in-nature equalization used by Nine Inch Nails and other noisemakers? There are countless exceptions to the so-called rules.
So instead of dealing in rules, we'll talk options. We'll cover some common EQ techniques, and then venture into more radical scenarios. But first, here's the quickest and dirtiest intro to EQ principles ever. (If you know this stuff already, you might want to bail now and tune in next month, when we get into some interesting case studies.)
Good news for old guitarists with bad ears: You can have severe hearing loss and still perceive the entire frequency range of an electric guitar.
Basic EQ lingo.
To gain a thorough understanding of EQ, Google "equalization" (or "equalisation" if you're a Brit), the word from which the letters "EQ" are plucked. To gain a superficial understanding that can get you through most situations, read on!
Equalization means adjusting specific frequencies within a sound—adding or subtracting treble or bass, or emphasizing/deemphasizing specific frequencies in the middle.

We measure musical frequency—how high-pitched or low-pitched a sound is—in Hertz (Hz). The hearing range of a healthy young person is approximately 20 Hz to 20,000 Hz (20 kHz). If you're middle-aged, a Motörhead roadie, or both, your upper limit is probably much lower.
Most musical sounds contain many individual frequencies. The lowest-pitched frequency is called the fundamental. The fundamental of a standard-tuned low E string, for example, is approximately 82 Hz, but there are other frequencies—overtones—that ring out far above the fundamental. If you filter that 82 Hz fundamental from a recording of that low E, the sound gets thin and tinny, but doesn't vanish.
If you transpose a note up an octave, the frequency of its fundamental doubles. Drop it an octave, and the frequency is halved. Example: The 440 Hz tone we tune to is the same pitch as the A at the 5th fret of your 1st string. The A at the second fret of the G string is 220 Hz. The open A string is 110 Hz. And a bassist's open A is 55 Hz, below the guitar's range. The fundamental of your high E string at the 17th fret is 880 Hz.
Good news for old guitarists with bad ears: The frequency range of an amplified electric guitar extends from somewhere around 80 (depending on how you tune your low string) to somewhere around 4.5 kHz—typical guitar speakers simply don't transmit higher frequencies. You can have severe hearing loss and still perceive the entire frequency range of an electric guitar. The range of an acoustic guitar extends much higher, however.
Loudness (or amplitude, to use the more science-y term) is measured in decibels (dB). Gently rustling leaves might measure 20 dB, while a jet takeoff can reach 150 dB. The threshold of pain is approximately 130 dB. The loudest rock concerts on record exceed it. In mixing, most EQ adjustments are of only several dB, though they sometimes reach ±20 dB or more.
Bandwidth refers to the breadth or narrowness of the affected frequency range. Most guitar and amp tone controls have relatively wide bandwidths. Narrow bandwidths are sometimes called notches. Bandwidth is also called "Q."
Filtering is the process of removing particular frequencies. A low-pass filter (LPF) cuts highs, letting lows pass through for a darker sound. A high-pass filter (HPF) does the opposite, cutting lows. A band-pass filter affects a particular "slice" of frequencies. The width of the slice varies according to the filter's—wait for it—bandwidth.
An EQ tool that lets you select the target frequency and its bandwidth is said to be parametric. If you can select the frequency, but not the bandwidth (as on many active bass guitar tone controls), we call it quasi-parametric.
​Take the EQuiz!
After reading the above, do real-life EQ utterances like these make sense?
"My guitar sounds a little dark—can you give me +2 dB at 2.5k?"
"Yow! I get howling feedback when I step near the monitor. Can you notch out a little 1k?"
"The bass player just went into anaphylactic shock! If I drop my low E to A, and you pump up that 50 Hz, maybe no one will notice."
Cool. Now you can talk EQ like a pro.
​EQ in your tone chain.
Where do the EQ stages in your guitar's tone chain fit into the picture? Standard guitar tone controls are low-pass filters. Same with most distortion pedals that have a single tone control. The nature of amp tone controls varies from model to model, but a high-pass bass control, a low-pass treble control, and a band-pass mid control is a typical arrangement. Many electric basses employ quasi-parametric midrange controls, with separate boost/cut and frequency-select controls.
In other words, the EQ controls on guitars, effects, and amps are wide-bandwidth filters that produce broad effects. In the recording/mixing realm, the tools tend to be more subtle and complex. If your guitar's tone knobs are butcher knives, studio EQ tools are scalpels.
Let's sharpen our scalpels.
A typical EQ plug-in.
The recording guitarist can choose from a vast array of hardware and software equalizers. But for all their variation, most provide the same basic functionality. I use the EQ plug-in from Apple's Logic Pro as my example here (Photo 1), but you'll find similar features on many equalizers.
This particular plug-in is an 8-band EQ, which means it offers eight independently adjustable filters, though you seldom need that many. Note the three rows of numbers below each color-coded band. The top one is the active frequency in Hz. The middle is the amount of boost or cut in dB. And the lowest number represents bandwidth.
Let's check out the effect they have on the sound of a distorted guitar track. Ex. 1 has no EQ — it's the sound from the amp as heard by the mic.
In Ex. 2, I've activated the leftmost band, a high-pass filter that chops everything below a specific frequency.
Photo 2
Here, set to 150 Hz (Photo 2), it thins out the sound in a big way.
Photo 3
The rightmost band is a low-pass filter that works the opposite way. Set to cut everything above 1.1 kHz (Photo 3), it makes the guitar sound dark and dull.
Recording Guitarist: ABCs of EQ -- Audio 3 by premierguitar
Listen to Recording Guitarist: ABCs of EQ -- Audio 3 by premierguitar #np on #SoundCloud

Bands 2 and 7 are shelving filters. They too affect everything above or below a particular frequency, but they can boost levels as well as cut them.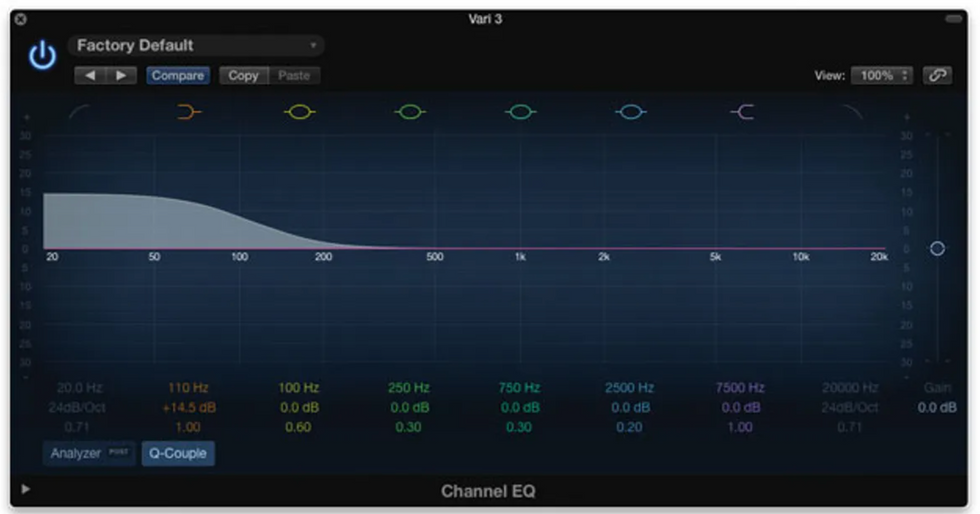 Photo 4
Cranking the lows as in Photo 4 creates a rumbling, bottom-heavy sound.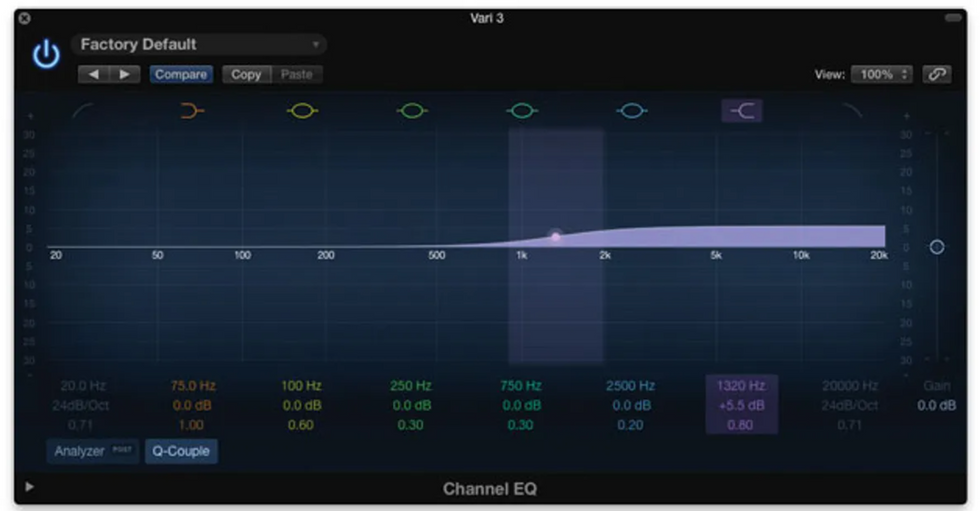 Photo 5
A high-shelving filter (Photo 5) is often used to broadly brighten a guitar track.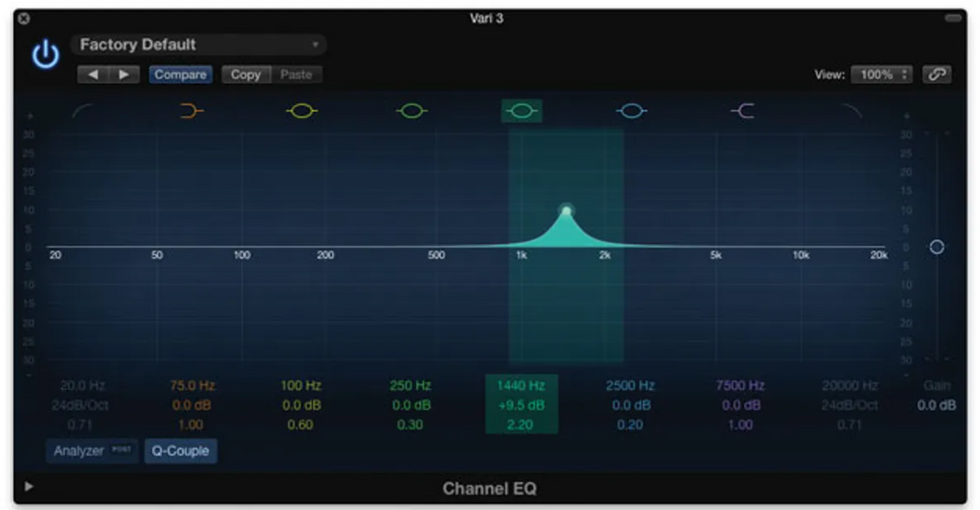 Photo 6
The middle four bands are the most powerful. These fully parametric EQ bands can cut or boost any audible frequency at any bandwidth. Set to a narrow bandwidth (Photo 6), they can add a honking, wah-like resonance.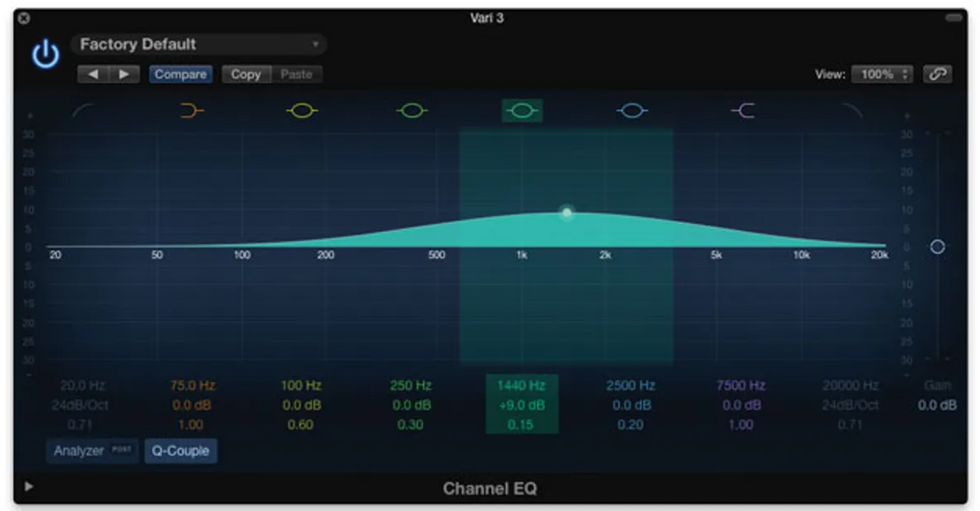 Photo 7
Set to a wider bandwidth (Photo 7), it brightens a much larger swath of sound.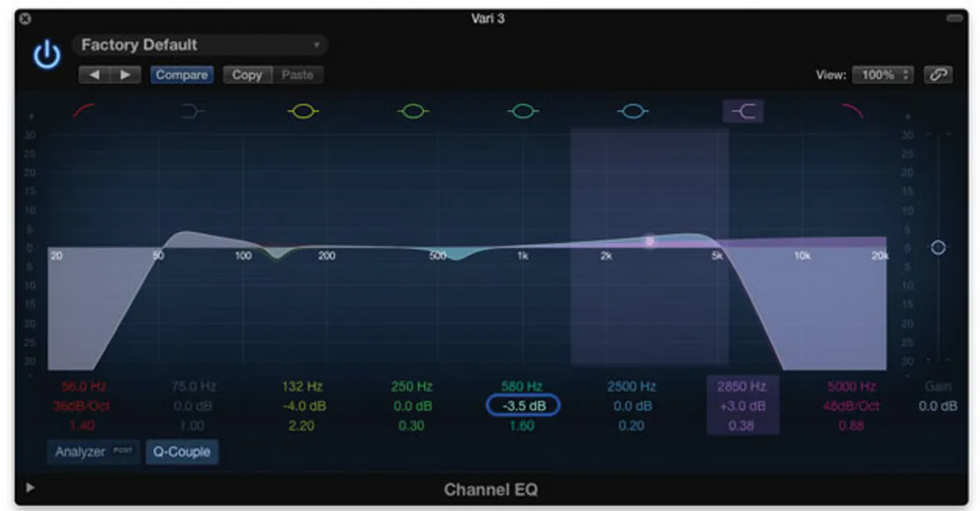 Photo 8
Finally, I've combined multiple EQ bands for a fairly typical crunch-guitar EQ adjustment (Photo 8).
Recording Guitarist: ABCs of EQ -- Audio 8 by premierguitar
Listen to Recording Guitarist: ABCs of EQ -- Audio 8 by premierguitar #np on #SoundCloud
Which sounds best?
Heard in isolation, probably the first example, with no EQ. But guitar tracks seldom exist in isolation. The "right" setting always depends on the context. And that's where we'll pick up the thread next month, when we look at real-life EQ adjustments in real-life studio contexts.
[Updated 1/11/22]
Compared to traditional speaker simulators, IRs offer much greater realism and depth.
I find the evolution of rock guitar tone to be a fascinating subject. A '59 Fender Bassman cranked up through its internal 4x10" speaker configuration sounds nothing like a Mesa Dual Rectifier through its oversized, closed-back 4x12" cabinet with Celestion Vintage 30s. And the speakers and speaker cabinet are a huge part of the equation—if you were to run the Mesa Recto into the Bassman speakers, you'd get a completely different tone, but one that leans in the classic Bassman direction.
The same thing goes for Vox tones—try running almost any amp into an open back 2x12" with Celestion Blues and you'll instantly see just how much of that classic Vox character is actually coming from the cabinet.
It's not always easy to do this kind of research. A lot of these differences become more apparent at volume, and cranking tube amps is just not an option for many guitarists. Assembling a large speaker cabinet collection is even more impractical. But because of these factors, guitarists have long been using speaker simulation devices to simulate the characteristic sound of different cabinets. Devices such as the Palmer PDI-09 apply a filter or EQ curve that mimics the sound of a guitar speaker to the full range output coming off your amp speaker out. This processed signal can then be sent to a PA or recording setup. Devices like this can work well, but you are usually stuck with one or two preset EQ curves, and the filter doesn't replicate many of the complex factors that come into play when mic'ing a speaker—the thump of the cabinet, the airiness, or early reflections.
Recently, a whole new technology has surfaced called Impulse Responses (IRs). The first time I encountered Impulse Responses was in reading about Altiverb, the popular convolution reverb plug in. In lay terms, Altiverb gives you the power to sample any acoustic space you can think of, load it as an IR into the plug in, and voila, you have the characteristic reverb of say, the Sydney Opera House available to you in your DAW. But IRs are not just used for reverbs. You can effectively capture the sonic fingerprint of just about anything you can pass a sound through using IR technology—like a mic'd speaker cabinet.
Compared to traditional speaker simulators, I find that IRs offer much greater realism and depth. When you apply an IR to a line out signal from your amp, you are not just applying a preset EQ curve to your amp's signal, you are essentially applying the distinct sonic characteristics of a certain speaker, cabinet, mic, mic preamp, and any early reflections that also make it into the mic during the recording process. There are libraries of IRs available to you at your fingertips, an almost endless variety of cabinet and mic'ing combinations. You can mix and match and blend virtual cabinets to your heart's content. And when you land on a sound you really like, it's easy to store that sound within your DAW, so you can call it up again later.
Of course, you can't just plug a line out from your tube amp into your recording console or computer interface. Tube amps need to see a load (either a speaker or a dummy load of some sort). And you'll need a good DAW and a convolution plug in that allows you to load IRs as well. To help us get a handle on what IRs mean for us guitarists, and how we can use them both live and in the studio, I've asked Mike Grabinski from Red Wirez Impulse Responses a number of questions.

Thanks for being a part of this, Mike! First off, what is an impulse Response, and how can guitarists incorporate them into their rigs?
Technically, an Impulse Response, or IR for short, refers to a system's output when presented with a very short input signal called an impulse. Basically, you can send any device or chain of devices a specially crafted audio signal and the system will spit out a digital picture of its linear characteristics. For speaker cabs, that means frequency and phase response, phase cancellation between multiple speakers, edge reflections, and other audible signatures wrapped up in the gnarly, old pieces of wood, paper, and glue that guitarists find so endearing. IRs will not capture non-linear stuff like distortion and compression.
When you're capturing an IR from a speaker cab, by necessity you are also sampling your D/A converter, power amp, the mic, mic preamp, your A/D converter, the cables you're using, and the room you are in. Basically, everything that comes in contact with the impulse as it makes it round-trip from your DAW and back again. So, it's important to use high quality gear and have a good recording environment. There's really no cheating physics.
Once you've captured a speaker cabinet IR, you process the signal coming from your amp by convolving it with the IR, imprinting the signal with the sound of your speaker cabinet. There are quite a few plug-ins and a few devices these days that will do the convolution part.
What are the benefits of using impulse Responses versus traditional mic'ing of speaker cabinets? IRs give you access to gear and acoustic spaces that might be too expensive or otherwise unattainable. The ability to run totally silent can be a real plus, too. Especially when cranking even a 30-watt amp can make your ears bleed, your dog run for the hills, or make your neighbors call the SWAT team.
IRs are a boon in a live situation, as well. Because you are essentially going straight from your rig into the house system, a setup using IRs is mostly immune to bleed and feedback from other instruments. You have more control over your tone. You are no longer at the mercy of the overworked sound guy, who would probably love to spend 10 minutes finding just the right mic position, but just doesn't have the time. And because you are eliminating a lot of the variables from the process, you can more easily reproduce your tone from venue to venue.
In your opinion, how close does an impulse response come to replicating the tone and overall coloration that that the typical cabinet/mic/mic preamp chain creates?
Early on I did double blind tests to convince myself it was worth the effort and expense to sample all these cabs. When levels are matched and you are comparing an IR and a mic in exactly the same position it is very hard to hear any difference at all. With dynamic mics, at least, I can sometimes pick out the IR, because a mic like the SM57 exhibits some distortion and I know what to listen for, and more importantly I actually know one of them is a real mic and one is an IR. With condenser mics, which are generally more linear, they sound pretty much identical. If you gave someone a recording and didn't tell them you were using IRs, they would never know, or even think to ask.
What's the best way to get your guitar amp signal into an Impulse Response that's loaded up in a typical computer host?Well, if making noise is an option, the best way, in my opinion, is to tap your amp's speaker out with a DI that can handle the power and then pass the signal through to a real speaker. That way, you are capturing preamp and power tube distortion and your amp still gets a reactive load. You don't really care what the speaker sounds like because you are going to be using IRs for the tone. You can shove it in a closet in the basement and as long as it can move some air, it's shouldn't negatively impact the DI signal. Some amps have the DI function built into the amp. Some even tap the signal coming from the power tubes, so a separate DI is not always necessary.
If you have to run silent, then you need a dummy load to take the place of the speaker, otherwise you can damage your amp's output transformer. There are lots of attenuators that also function as dummy loads out there. It is important to understand that your tube amp will probably react differently to a dummy load and you may find that your tone is missing the low-end bump and upper-mid rise you are accustomed to when using a speaker.
There can be several reasons for this, but one major factor is that speakers do not present a uniform load to your amp. If you look at a typical guitar speaker's impedance curve, which is a plot of the speaker's impedance across the frequency spectrum, you will see a big low-end bump and a steady upper-mid rise. This can also be described as a midrange scoop, depending on your perspective.
The load, or impedance, measured in ohms, will differ based on the frequency of the your amp's output. Solid-state amps have low output impedance, so their power output is not jerked around very much by the speaker's varying load. Tube amps have relatively high output impedance and as a result they deliver more power as the impedance of the speaker rises. And for a typical guitar speaker, that means you hear more bass and upper-mids.
Because a lot of dummy loads and attenuators present a uniform load to the amp, your amp's output will remain constant across the frequency spectrum. If you're accustomed to a low-end bump and upper-mid rise, you will probably hear this as the dreaded attenuator tone suck. To alleviate tone suck, you can use EQ. An alternative would be to use the sampled impedance curve of a real speaker to adjust the highs and lows in an authentic way.
What equipment does a musician need in order to use Impulse Responses with amplifiers, both live and in the recording studio?
You need a load for your amp, either a speaker or dummy load and a DI capable of tapping the speaker out of your amp. You also need a means to convolve the IR with your amps' output. In the studio, you can use a convolution plug-in. There are quite a few, including our own mixIR2 (wink, wink, nudge, nudge).
Live, the options are fewer and generally more expensive because you need a reliable device with enough horsepower to do the convolution with minimal latency. Not an easy task on a stage.
Let's look at that for a minute. It's relatively easy to load an IR into a host on a computer in the studio, but what about boxes that allow you to do this easily live, in a road-worthy portable package? Say, with a built in load for your amp, and with multiple memory locations for IRs so you can load them up and take them to the gig? What's out there now, and do you see a market for more boxes like this down the road?
There aren't too many that I know of. There's the Fractal Audio Axe-Fx and Axe-Fx II, the Torpedo VB-101, and apparently you can load IRs into the Digitech GSP 1101 with some unofficial firmware mods. It is my understanding that the GSP 1101 truncates the IRs to 128 samples, which would limit your low and low-mid resolution. I suppose you could rig up a laptop, but I'm not sure how reliable and road-worthy that would be.
There seems to be increasing interest in these kinds of devices, so I'm sure more will pop up in the future.
Right. Also, we should mention, the Axe-FX and the GSP 1101 won't provide a load for a tube amp but they do work great as hosts for IRs. I use the Axe FX this way live. Anything else you'd like to share?
San Dimas High School Football rules!
[Updated 12/12/21]