Building a home studio? Here's a recommended array of basic microphones and a DI box that covers the basics.
If you're building a home studio, you're obviously going to need microphones. But you don't need to spend thousands on mics to begin recording demos and even albums. Here are five essential microphones and one direct box, which all add up to under $1,000.
You may already know there are three main types of microphones: dynamic, condenser, and ribbon. Dynamic, or moving coil, mics are the least expensive, but also the most rugged. They handle loud sound sources like drums and guitar amps with ease. You've seen these mics many times, because most mics used in live performance are dynamic, but they also get heavy use in the studio.
Shure SM57 and SM58 dynamic mics set the industry standard. The SM58 ($99 street) is widely used for vocals onstage but also works well on guitar cabinets, snare drums, and toms. The SM57 ($99 street) is a similar dynamic mic aimed at recording instruments more than vocals, since it lacks the 58's ball grille, which is designed to reduce vocal plosives. I've heard very good recordings of acoustic guitar made with an SM57. In fact, you can track any instrument with one of these workhorse microphones and come up with a good sounding final product. Buy each of these very versatile recording tools.
Shure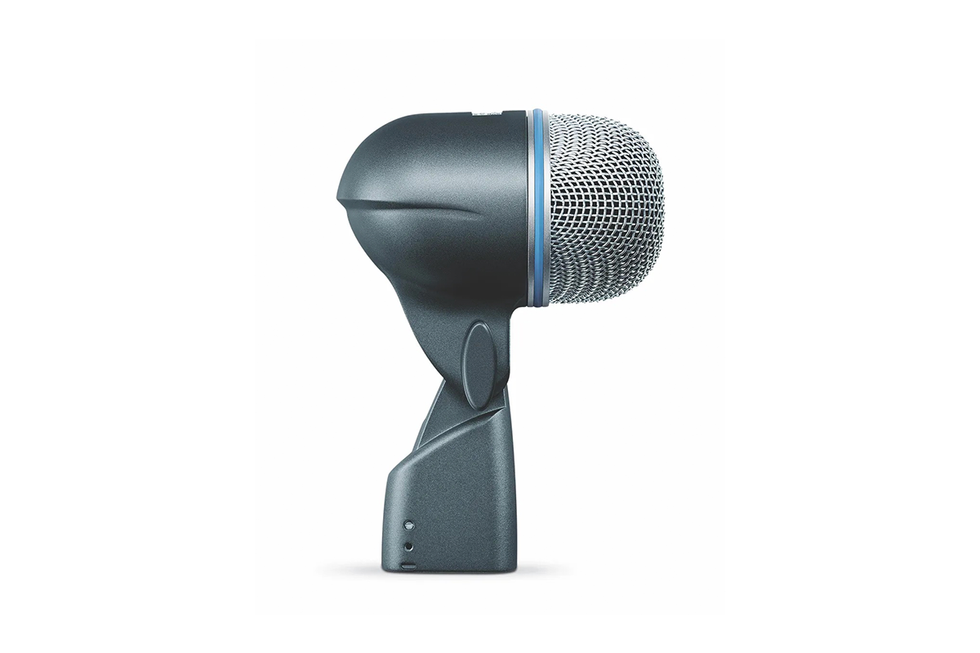 Another Shure product, the Beta 52A ($199 street), is a specialty mic made to capture kick drums, emphasizing low frequencies. You need one of these, too. The Beta 52A is supercardioid, which means it has a tighter pickup angle and offers good side rejection. This mic is also useful on bass cabinets, tuba, or trombone, and sounds good on floor toms, too.
Shure
Condenser microphones are often the most expensive, although they range from $89 to $8,499. Condensers are the most sensitive to dynamics and can also handle loud sound sources. They are used on many instruments—especially for vocals and acoustic instruments, and as drum overheads. Most vocalists prefer a condenser mic in the studio because these mics capture nuanced performances. They often have multiple pickup patterns (omnidirectional, unidirectional, and bidirectional or figure eight), which can be helpful. Condenser microphones need a low-voltage power source, called phantom power, to operate. But the good news is phantom power is found on almost every mixing console and on every interface. Just remember to turn it on when using a condenser.
You don't need to spend thousands on mics to begin recording demos and even albums.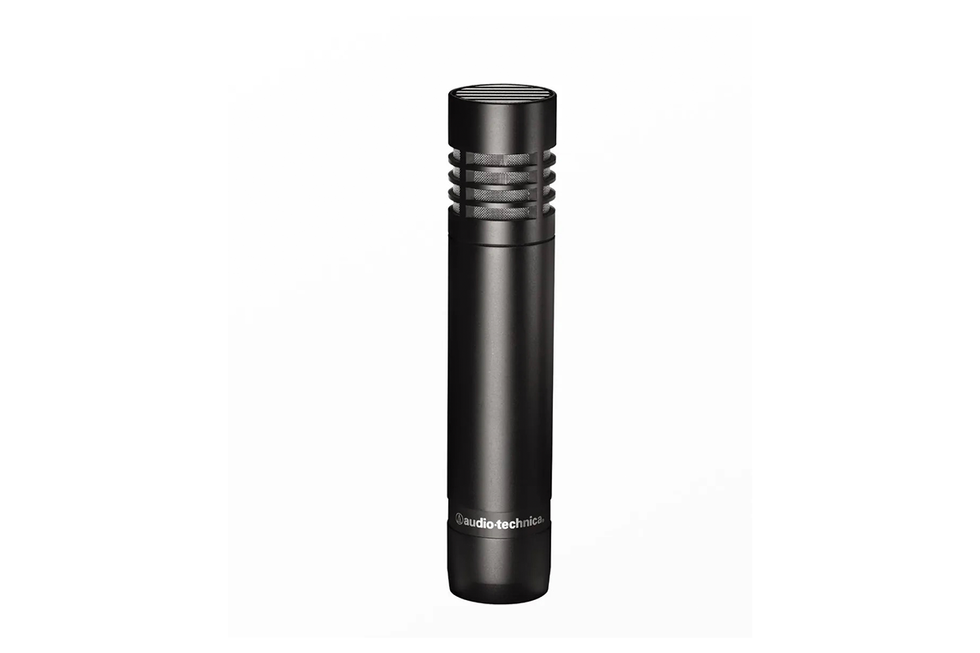 A great starter condenser is the Audio-Technica AT2021 ($89 street). This small diaphragm mic is excellent for acoustic instruments, including guitar. They also work well as drum overheads. Audio-Technica makes some other high-quality, affordable condenser mics, too. I recommend buying two AT2021s. Then, you'll have two drum overhead mics that will also sound great recording various acoustic instruments.
Audio-Technica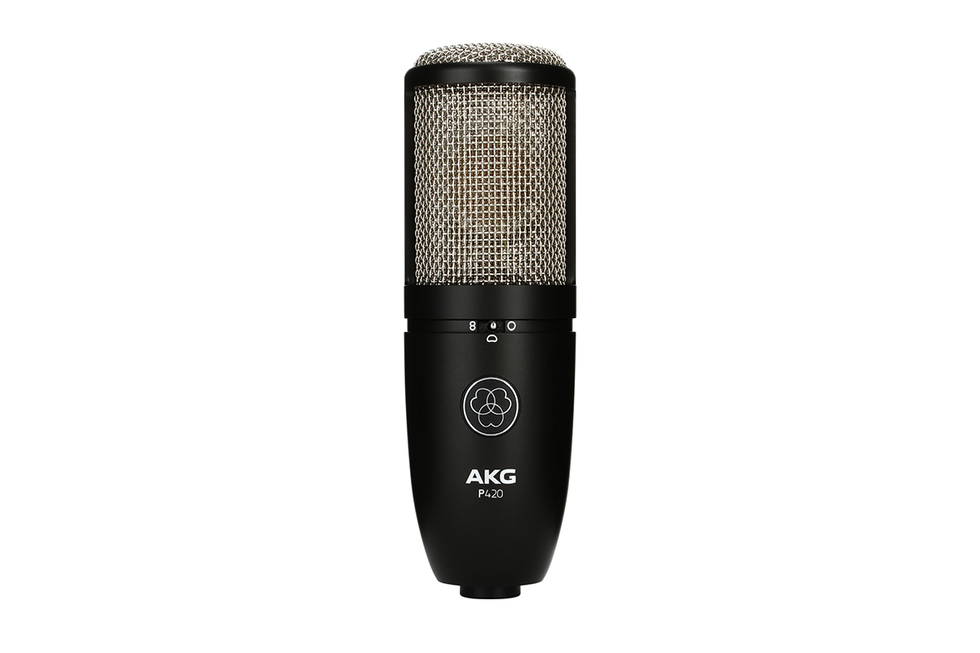 A large-diaphragm condenser mic is what most singers prefer in the studio, for its sensitivity to the nuances of vocal performances. They are also used on acoustic instruments, including horns, upright bass, and piano. The AKG P420 ($229 street) is an excellent vocal microphone that can be set for all three pickup patterns. And the omnidirectional pickup pattern can be useful when recording an entire ensemble or vocal group.
AKG
If you've played a gig on acoustic guitar, you already know what a direct box, or DI, does. In the studio, DIs are used to record high-output instruments such as keyboards or bass without distorting. It's always good to have one on hand. Radial makes high-quality DIs, and I recommend the Radial ProDI 1 ($129 street) for its simplicity and efficiency.
Radial
Our total cost for these six mics and direct box is $933. Not bad for a basic, easy-to-find home studio mic selection that'll get you started. And remember, when you're ready, there's a myriad of other manufacturers and mics out there to explore. To say nothing of plugins and hardware.
PS: Ribbon mics are the most fragile. They are often used for specific voices or instruments like brass and woodwinds, or a string section, and they are not as versatile as the other mic types. But ribbon mics do have a nice low frequency bump, and the word "warm" is often used to describe their sound. Because they are not as versatile as dynamic and condenser microphones, ribbon mics can always be added to your collection after you get the basics covered.
Comprehending one of the studio's most important but mysterious tools—with metaphorical cocktails!
[Originally published 6/8/2020]
Welcome to Recording Dojo—PG's new monthly column pertaining to recording and engineering, with guitarists in mind. Think of this column as your place to develop better audio-recording skills, experiment with new techniques and gear and, most importantly, mindsets. So bring your best self forward and your willingness to learn … the dojo is now open.
1. TKARR
Let's begin our training with compression: a confusing topic for guitarists as players and as engineers wanting to make their recordings more professional. Compression has five core parameters: threshold, knee, attack, ratio, and release—or TKARR. I'm going to explain this metaphorically, as if you are at a major event, say, the Grammys, and you've just won. You've condensed a lifetime of "I'd like to thank" into 15 seconds, and you've been regally whisked offstage by an anonymous beauty in a ball gown.
2. Threshold
The next thing you're instructed to do is leave backstage, go through the giant ballroom (where a band is playing and people are partying), and go to the press room for photo ops and post-win interviews. You walk down the long hallway towards the ballroom door, where a burly 6'8" doorman stands behind velvet ropes. The doorman is the threshold and the velvet ropes are the knee.
3. Knee
In order for you to get into the ballroom, the doorman has to let you in. As you arrive at the door, he takes his hands off the ropes (hard knee), crosses his arms, coldly stares at you, and says, "What are doing here? This is for Grammy winners only." Ouch! He doesn't recognize you. He only listens to Siberian reggae bands. High threshold. So high that you can't pass though. Conversely, if, as you approach, he gently unfastens the ropes (soft knee), says "I'm a huge fan," and moves aside without you having to break stride, you have crossed the threshold and are now inside the ballroom. This is a well-set threshold, only allowing in those who are authorized. Or perhaps, as you arrive at the ballroom entrance, you notice that the doorman has passed out, the ropes have long been knocked over (no knee), and anyone can enter. Low threshold.
4. Attack
As soon as you enter the ballroom, within a millisecond, a waiter comes up to you: "Champagne? The press room is on the other side of the ballroom." That's quick attack. You notice there's a string quartet playing Haydn's Op. 76, and the volume is comfortably loud (low ratio, somewhere between 1.5:1 to 4:1). Almost as soon as you enter the ballroom, you've got your libation and move directly to the press room—quick release. You arrive at the press room with your wits about you, ready to talk about your big win.
Or, upon entering the ballroom, you mill around in the crowded room looking for directions and you're in the middle of the ballroom before a waiter comes up to you and shouts: "Drink? Press room is over there." That's medium attack. The band is an '80s cover band and the volume is rather loud for the room (medium ratio, 5:1 to 9.5:1). You eventually find your way to the press room and arrive slightly stunned, but ready.
Another version: Upon entering the ballroom, you're immediately lost in a sea of people, shouting for directions and hopelessly trying to be heard above the Mötorhead tribute band. Your ears are ringing. Time passes, and you somehow find the press room door and a waiter shoves a drink in your hand just before you leave the ballroom. Slow attack. You arrive, dazed and confused, in the press room (high ratio, 10:1 and above).
These simple scenarios should help you understand the parameters of compression. It's very important you know that all of these scenarios are equally and musically valid, and by no means exhaustive. Want that "When the Levee Breaks" drum sound? Low threshold, high ratio, quick attack/release. Want your acoustic to sound natural and dynamic? High to medium threshold, medium attack/release, medium to low ratio. Remember, the focus of this article is to explain the five parameters of compression (TKARR). Based on their highly varied and different designs, not all compressors give you access to every parameter. So, this will be our subject next month!
A reverb tip from the playbook of legendary engineer Al Schmitt.
Hi everyone, and welcome to another Dojo. This time, I want to focus on the creative possibilities of using multiple reverb buses to spice up your tracks and mixes.
The first time I heard of this concept (many years ago) was through the legendary engineer Al Schmitt, who recorded Duke Ellington, Elvis Presley, Jefferson Airplane, George Benson, Toto, Steely Dan, Vince Gill, and Michael Jackson, to name a few. He also mixed well over 150 gold and platinum records. When he talked, people listened. Especially me. A couple of years ago, I was fortunate enough to spend four days filming him while he engineered and mixed an album from start to finish at Blackbird. Whenever he was waiting for some gear to get set up, or the band to arrive, I would express my deep appreciation for the records he engineered/produced and ask him questions. This article is based on part of one of those conversations. So, tighten up your belts. The Dojo is now open.
You may be asking yourself what benefits using multiple reverbs can bring, and wouldn't everything just get washed out? Let me first describe how to set up multiple 'verbs in your DAW and then we will look at how to use them. Let's start with my emulation of how Al would have used the five reverb chambers at RCA Hollywood studios when he was recording.
"I like doing this with instruments that may have a fair amount of delay on them, but still need to feel like they are affecting the reverb space within the mix."
In your DAW, create five different aux buses. You can make them mono or stereo buses, depending on your computer's processing power. Instantiate one reverb on each bus. I recommend UAD's Capitol Chambers, Waves' Abbey Road Reverb Plates, FabFilter's Pro-R, Valhalla DSP's Plate, or similar choices. There are many great, quality reverbs out there. Regardless of what you have, I'd encourage you to experiment with different types of reverbs and settings. This can give each bus a different character and lead to some creative mixing decisions. Have a look at Fig. 1.
Next, pan them as follows: 'verb 1–hard left, 'verb 2–half-left, 'verb 3–center, 'verb 4–half-right, and 'verb 5–hard right [Fig.2]. You can also vary the reverb time if you wish, but I suggest that if it's based on a real space (like the Abbey Road or Capitol chambers), leave the reverb time alone to maximize the sonic footprint of each of those spaces. Also, keep the dimension (the shape of the room) the same. If it's a pure digital 'verb, I will tweak to taste depending on what I want the reverb's role to be in the mix. Usually this is the center 'verb for me.
Fig. 2
Now take a listen to your mix and locate where your instruments/vocals are panned in the stereo field. For those instruments and tracks that lie on the left side, route a send to reverbs 1 and/or 2. For those that are on the right, send them to reverbs 4 and 5, and route and assign everything else that you may want reverb on to reverb 3.
Adjust your send levels for each track and listen to how transparent the reverb starts to become. What I find is that the placement of the tracks in the stereo field remains consistent and focused instead of getting smeared into both channels with brute force from the same reverb.
If you want an A/B comparison, set up another reverb aux bus (reverb 6) and change all your reverb-assigned tracks' outputs to this new reverb and listen to the difference. What do you notice?
Finally, by having different reverbs panned through the stereo field you can easily do things like have a hard-left instrument's reverb come back hard right by assigning it to 'verb 5. I like doing this with instruments that may have a fair amount of delay on them, but still need to feel like they are affecting the reverb space within the mix.I hope this gives you some inspiration and deepens your understanding of reverb.
Until next month, keep experimenting! Namaste.
Three steps to exploring the wonders of tempo shifting.
Hello and welcome back to another Dojo. This time I'm going to be talking about the joy of using varispeed in your tracking productions to give your music a different timbral shift and open you up to some very creative possibilities.
Varispeed is essentially a way of controlling pitch by adjusting playback speed. In pre-digital days, turntables and tape machines used different speeds for both recording and playback. Turntables had three speeds: 78, 45, and 33 1/3 rpm, and pro tape machines had three standard choices for starters: 7 1/2, 15, and 30 ips. In essence, if you record a fast passage at a slow speed, once it's played back at normal or standard speed the pitch and tempo will go up. We've all heard the chipmunk effect—high pitched, helium-tinged vocals achieved by recording at a slow speed and playing back at normal speed. But there are more interesting and subtle ways to use varispeed.
My three favorite examples are Les Paul's "Caravan" (on 1950's The New Sound), the piano solo played by George Martin on the Beatles' "In My Life" (Rubber Soul), and the Beatles' "Rain," the B-side of "Paperback Writer" (which is my favorite single the Fab Four released). The first two examples use varispeed on various tracks within a normal-speed mix. With "Rain," however, the entire mix was shifted down in pitch (and tempo) after it was recorded at a faster tape speed! It was also the first Beatles song to feature reversed vocals, which occur at the end. For fun, try singing along with this song and you'll feel like you're in audio quicksand. It's almost impossible to match Lennon's words exactly because all your consonances will have to be slower than normal.
With old school varispeed, pitch and speed (transients and tempo) are tied together.
I want to make a distinction here: It's important to know the difference between time stretching (changing the duration or speed of an audio signal without affecting its pitch) and pitch shifting (changing the pitch without affecting the speed). With old school varispeed, pitch and speed (transients and tempo) are tied together. This means the transients, formants, and overtones of all recorded material (an instrument, a vocal, or even a mix) are shifted. Which leads to an intriguingly unnatural sound, not possible in the real world. How can we do this in our DAW? For starters, make sure your DAW of choice has a varispeed function or setting. I'm going to show you how I do this in Universal Audio's LUNA (which is free with an interface hardware purchase).
We need to do some prep work to start. Let's assume you are recording a guitar/vocal at 100 bpm in the key of E (try singing and playing a 16th note palm-muted rhythm part on your guitar). Now, do the same thing again, but make a "varispeed" version of it by speeding the tempo up and playing/recording it in a new key. You can compare the differences when done. That should help your ears adjust to the concept.
Before you begin, calculate the transposition to tempo ratio. I use a great app on my phone called musicMath ($5.99 street) to do this. For this example, to transpose up a minor third (from E to G) the new tempo is 118.92 bpm [Fig.1].
Next, change the tempo in your DAW to 118.92 bpm, and then play/sing it again in the key of G (up a minor third) [Fig.2]. If you're not sure where the chords are in the new key, use a capo at the 3rd fret and play the same chords you've been playing. Personally, I like playing without a capo because the voicings are different and the sound will be as well. More fun!
Now, render/bounce the new performance and import it back into your DAW session. Next—following the cue of "Rain"—enable the varispeed function in your DAW [Fig.3] and change the tempo to 100 bpm. If you look at what I've circled, you'll see that the mode is set to "tempo" and the warp is set to "varispeed." Your particular DAW may be different, so make sure your speed/tempo and pitch are linked. Otherwise, when you slow the tempo back down to 100 bpm, the recording will still be in the key of G, but slower. As usual, I invite you to come to bryanclarkmusic.com to watch this technique in action. Have fun and try this on everything! Until next month, namaste.