Compare notes with Nashville producer-engineer Mike Purcell, who runs down the essentials of a pro-level home-studio mic collection.
A well-rounded mic closet could take a lifetime to build. I'm constantly trying different things, but there's always a core set of mics I come back to because they're reliable and provide good results. Many of these mics work on a wide range of instruments. By knowing my mics, I can make a choice that's going to enhance the sound of an instrument—especially guitar.
In this story, I've listed several options for each mic type covering a range of prices from low to high. A higher cost usually indicates that the quality of components and workmanship are better, leading to a more consistent product. Lower cost generally means quality control isn't as strict and that mics may differ more from their published specs.
You've probably heard this before, but the three main types of mics are dynamic (or moving coil), condenser (or capacitor), and ribbon mics. Let's work our way through each category.
​Dynamic Mics
Dynamic mics are composed of a voice coil suspended in a magnet. Incoming sound moves the voice coil within the magnetic field and a current is created. This is passed through a transformer to step up the voltage, and then sent to a mic preamp.
Dynamic mics are the mainstay of live sound because of their durability and ability to be used on loud sound sources without overloading. These are desirable characteristics in the studio when we've got to place mics close to a flailing drummer or mike up a Marshall Super Lead 100 full stack.
​Dynamic mics exhibit the following characteristics:
They are less sensitive to transients and high frequencies (7k and up.) They capture these frequencies, but at a lower level than a condenser.
They color the sound in the midrange between 3-5k, adding a slight bump in this area.
On loud sound sources, they exhibit a type of mild compression or soft clipping, useful on amps, drums, and vocals.
They are cardioid, or unidirectional, and are the most sensitive in the front with maximum rejection off the back. (There are divisions of cardioid: hyper, super, etc. In all cases, they are most sensitive at the front, with rejection off the back or sides.)
They exhibit a proximity effect. As directional mics are placed closer to a sound source, they pick up more low end, 100 Hz and below. Dynamic mics are designed to use the proximity effect, so as they move farther from a sound source, they will sound thinner.
"Dynamic mics are the mainstay of live sound because of their durability and ability to be used on loud sound sources without overloading."
Even though dynamics all exhibit these same general characteristics, each mic will color the sound differently. Some dynamic mics work better on drums. They have an increased low-frequency response, a dip in the lower mids, and a bump in the presence range—essentially an EQ curve that sounds good on bass drums and toms. Others may have a more pronounced bump in the upper mids, making them a great choice for guitar amplifiers. While dynamic mics are typically used for the close miking of drums and guitar amplifiers, they are also well-suited to some vocalists.
A well-rounded mic closet in a home studio that cuts four- or five-piece bands would have at least 8 to 10 dynamics. Modern production dynamic mics top out around $600, and most are under $250.
​Dynamics mics to consider:
Shure SM57 ($99 street): The most common mic in the world. It's cheap, incredibly durable, and sonically consistent from mic to mic. It can take the highest sound pressure level (SPL) you can throw at it and work on any instrument in a pinch. It's often used for snare drums or guitar amps. Many of Tom Petty's vocals were recorded with an SM57.
Shure SM58 ($99 street): The big brother to the SM57. It has a built-in pop filter/windscreen and a slightly different low-end response. There are hundreds of cheap knockoffs of the Shure SM57 and SM58. Stick with the originals and you'll be much happier over the long run.
Sennheiser e 609 ($99 street): An inexpensive supercardioid mic. The supercardioid pattern indicates it is much more directional than a cardioid. This can be useful when miking a snare drum, to reject sound off the sides of the mic. The e 609 also has a slightly less harsh frequency response, so can be useful on edgy or bright guitars.
Shure Beta 52A ($199 street), Audix D6 ($199 street), AKG D112 ($229 street): These are a newer generation of dynamic mics that are designed for bass drums. Plus, they work well on toms—although Audix also makes the D4 and D2, which are tailored towards smaller drum frequencies (rack tom, floor tom). And they work well on bass amplifiers.
Sennheiser MD 421-II ($399 street): Excellent kick and tom microphone. The frequency response of the 421 works well on drums. It's also commonly used on guitar amps and vocals.
Shure SM7B ($399 street): Another variation using the SM57/58 diaphragm, this mic has electronics that allow you to tailor its frequency response. The SM7 is often used in broadcast and is a go-to choice for vocals by rap and metal artists.
Side note: Many manufacturers offer a drum-mic package—a great solution if you're starting out. These usually include several dynamics for the close mics and a few condensers for the overheads and/or hi-hat. Plus, these mics can also be used for recording other instruments.
​Here are a few examples of drum packages:
Audix FP7 ($399 street): A seven-piece mic kit, with five dynamics and two condensers. Audix also offers larger drum packages.
Avantone PRO CDMK-8 ($899 street): This eight-piece kit includes five dynamics and three condensers.
AKG Drum Set Premium ($2,329 street): Another eight-piece set, with five dynamics and three condensers.
Condenser Mics
Condenser mics consist of a thin, charged diaphragm suspended over a metal plate. As sounds strikes the diaphragm, it moves and causes electrons to flow through the plate. This signal is amplified by internal electronics and passed through a transformer or field-effect transistor (FET) and is sent to a mic preamp.

​Condenser mics exhibit these characteristics:
They are active devices that require a power source, most commonly provided by +48V Phantom Power.
Some are capable of multiple polar pickup patterns: cardioid, omnidirectional, figure eight, and everything in between.
They may include a passive attenuation device (PAD), a switchable attenuator that prevents overload when the mic is used on loud sound sources.
They may include a switchable high-pass filter (HPF), used to roll off unwanted low-end frequencies.
They are the most sensitive mics, making them ideal for recording quiet instruments.
They have the widest frequency response and are good at capturing frequencies across the audible spectrum.
They color sound less than other mics and are good when you want to accurately capture the timbre of an instrument.
Because of their sensitivity and wide frequency response, condenser mics are used for drum overheads and ambience, acoustic stringed instruments, piano, ensembles, amplifiers, and vocals. They can also work well for drum close mics but wouldn't withstand a hit from a drumstick like a dynamic would.
Condenser mics are divided into two categories: small diaphragm condensers (SDC) and large diaphragm condensers (LDC). SDCs have a diaphragm of less than 1" and tend to be more responsive to transients and high frequencies. Their off-axis response is also more even.
LDCs have a 1" or greater diaphragm. They sound fuller, but off-axis mic response can be uneven. LDCs, because of their overall size, can be harder to position in tight miking situations.
"Because of their sensitivity and wide frequency response, condenser mics are used for drum overheads and ambience, acoustic stringed instruments, piano, ensembles, amplifiers, and vocals."
Matched microphone sets require that the frequency response and sensitivity of the two microphones are very similar. This allows them to record a balanced stereo image. So, a well-rounded mic closet will have a matched set of SDCs and LDCs, and a few assorted condensers for other purposes.
​SDCs to consider:
Rode NT5 ($219 single/$429 pair street): Rode is an Australian manufacturer that makes quality products at affordable prices. I've been impressed with all their equipment, and the NT5 is no exception.
Shure SM81 ($399 street): A good, durable utility mic. Inexpensive. Not as open sounding as other SDCs. I use these for snare bottoms and hi-hats. They have a PAD and HPF.
Warm Audio WA84 ($399 single/$749 pair street): Warm Audio is a relative newcomer to the pro audio world. They've been making reproductions of classic gear and offering them at lower prices. In general, I've been impressed with the quality of their products. These PAD-equipped mics are their version of the KM-184, at half the cost.
AKG C451 B ($639 single/$1,395 pair street): Very responsive to transients and can take high SPL. These PAD and HPF mics yield an edgier sound. I love these on mandolin or banjo.
Miktek C5 ($699 /$1,399 pair street): These mics include a switchable omni capsule, allowing for cardioid and omnidirectional use for spaced pair miking.
Neumann KM184 ($849 single/$1,595 pair street): Smooth sounding all-around mic with an articulate and defined high-frequency response. One of my favorite go-to mics when I need a stereo recording of an instrument.
​LDCs to consider:
With LDCs, manufacturers have families of mics that use the same basic components, but the higher-end mics will offer pattern selection or other features. Within the family, the sound will be similar. Examples are the AKG C214 and C414, and the Shure KSM32 and KSM44.

Rode NT1000 ($329 street): I am a huge fan of Rode, and the NT1000 routinely beats out more expensive mics for vocals. This cardioid mic is solidly built and big sounding without harshness..
AKG C214 ($465 street): The little brother to the AKG C414, this cardioid-only example with a PAD and HPF exhibits the same general frequency response, but it doesn't have all the features of the 414.
Audio Technica AT4033A ($399 street): One of my favorite inexpensive mics, the 4033 has a pleasant defined midrange and clarity that brings instruments through the mix. These may not be good when trying to capture extended low frequencies. Audio-Technica calls this cardioid mic a medium-diaphragm condenser.
Miktek C1 and C7e ($599 and $899 street): Miktek is a Nashville-based manufacturer that has developed a line of mics that perform far outside their price class. The C1 has a PAD, HPF, and is cardioid only, while the C7e is multipattern.
Neumann TLM 103 ($1,195 street): The TLM 103 is a smaller footprint package that utilizes Neumann's classic U 87 capsule and transformer-less circuitry at a more affordable price. These sound great on vocals and acoustic stringed instruments, if you're looking for a bigger sound.
AKG C414 ($1,279 street): The 414 is another industry standard found in many studios. Based on the classic AKG CK12 capsule, the 414 has a wide frequency response. It is bright and present and can sound amazing on some singers and overly bright on others. It works well on pianos and acoustic guitars where you need a sheen on them.
Neumann U 87 Ai ($3,695 street): The U 87 is a flagship standard that you can find in almost any studio. Multipattern select, HPF and PAD equipped, it's got a fat low end, smooth high frequencies without harshness, and a thick, musical midrange. An incredibly flexible mic with excellent fidelity, it's got a price tag to match its functionality. I've used these on toms for a huge sound, but you have to really trust the drummer if you're putting this mic in range of their sticks
​Ribbon Mics
Ribbon mics function by suspending a very thin conductive metal strip between two magnets. Sound waves strike the metal strip, causing it to vibrate. The vibration in the magnetic field creates a current in the magnets. This is sent through a transformer, and then the signal is sent to a mic preamp.
"Never run +48V phantom power to a ribbon mic. While most modern ribbons are phantom safe, it can destroy vintage ribbon mics."
A good mic closet should have several ribbon mics, and possibly more depending on the style of production. Ribbon mics have seen a resurgence over the past 20 years and there is a wide variety available, ranging from $200 to $1,500 and more. Ribbons are used on guitar amps, as drum overhead or room mics, and on horns, acoustic guitars, percussion, and vocals.
Ribbon mics exhibit these characteristics:
The thin ribbon allows them to be very sensitive to transients.
They color the sound. They are warm sounding and add character.
They are the least sensitive type of mic and ill-suited for quiet sound sources.
They're very fragile. A puff of wind (or the air coming out of a kick drum) can damage the mic.
They are bi-directional/figure eight. They pick up sound from the front and back of the mic at the same level. Exceptions exist, like the Beyerdynamic M 160.
Caution: Never run +48V phantom power to a ribbon mic. While most modern ribbons are phantom safe, it can destroy vintage ribbon mics. (Once again, there are exceptions. Active ribbon mics, like the AEA N22 Nuvo, exist. These do have internal amplification similar to a condenser and require phantom power.)
​Ribbon mics to consider:
Pinnacle Microphones Fat Top ($229/$519 pair street): The Fat Top is a current iteration of the original Cascade Fat Head. I've used Fat Heads for years. They're wonderful on guitar amps and percussion.
Stager SR-66/SR-2N ($699/$649 street): Stager Microphones is a small boutique operation in Nashville. They use neodymium magnets in these models, for increased magnetism in a lighter package. The transformers are hand-wound and designed to get the best transfer of sound from ribbon to mic preamp. The SR-66 is a long-ribbon package, offering a flatter frequency response. The SR-2N is a midrange-forward short-ribbon design.
Coles Electroacoustics 4038 ($1,485 street): The Coles 4038 is designed by the British Broadcasting Corporation in the 1950s and the tech specs have never changed. A lot of work went into engineering this mic. It has a flat frequency response up to 15k and is very responsive to transients.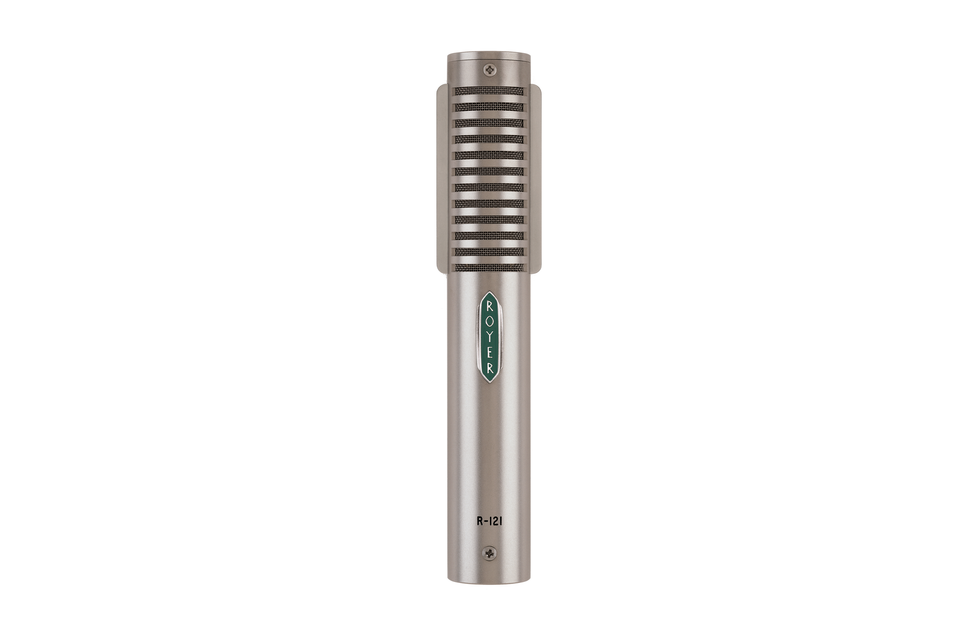 Royer R-121 ($1,499 street): Royer Labs is one of the best-known manufacturers of ribbon mics. They've pioneered innovations in ribbon mic technology that allow them to be used on very loud sound sources without damage to the microphone. The R-121 is one of the most popular mics in existence and exhibits all the classic characteristics of a ribbon mic.
​What about tube microphones?
Tube mics are a subset of condenser mics. Up until the 1960s, condensers used a tube for the amplification of the low-level diaphragm signal. Tubes sound nice, but have a lot of issues: heat, high power requirements, and they can suffer from microphonics. In the '60s, a solid-state replacement for the tube was created: the FET, or field effect transistor. The FET emulates tube characteristics and has two benefits: smaller size and reduced power requirements. The first solid-state condenser mic designs used the same circuit except for the FET substitution, but they sounded different, crisper. They had lost the tube character.
Tube mics are revered for their warmth, wide frequency response, and pleasing sound. They are most commonly used for vocals, but I've used them for every instrument. There's a robust market for inexpensive tube mic modification. Sometimes it's as easy as swapping a tube, while others do capsule and component level changes. These mods can greatly enhance the sound of an inexpensive tube mic. A good mic closet should have at least one curated tube mic. They start at about $499 and can range upwards of $30,000.
Some manufacturers with tube mics in the below-$1,000 price range include Avantone, Warm Audio, Golden Age, and Lauten Audio. My recommendation is to audition several and find the one that will have the broadest application for your recording situation. They won't sound exactly like their pricier counterparts, but they'll give you a flavor in your mic closet that's only possible with a tube microphone.
​Tube mics to consider:
Mojave MA-300SN ($1,399): Mojave was created by David Royer of Royer Labs. They use quality components for mics that meet exacting standards. The 300SN is a tube large-diaphragm condenser mic. It features a continuously variable pattern select, which ranges from omni to figure eight. The MA300SN has a warm low end with an open top.
Miktek CV4 ($1,699 street): Miktek's line of hand-built mics includes this large diaphragm condenser with nine polar patterns. I've used these on vocals and stringed instruments with great success.
Peluso 22 47 SE ($2,149 street): Peluso Microphone Lab is a boutique company that hand builds each mic. The 22 47 is a reproduction of the venerable Neumann U 47. The 22 47 is a great choice for vocals and acoustic instruments, and I find myself using less EQ when recording with this mic. Their interpretations of other classic mics are also available.
Photo by Nick Sonsini
Telefunken ELA M 251 (repro: $10,996/vintage: $25,000-plus street): Around 3,700 units of the original 251 were manufactured from 1960 to '65, but a modern reproduction is available. It has an open top end without harshness, a smooth, rich midrange, and low-end warmth with punchiness. It's an excellent vocal mic and excels on harmonically rich instruments.
​Now, Go Forth and Record
You've got to start somewhere when building your mic closet. If you're not tracking full bands, I'd recommend starting with a couple dynamics (like the SM57) and a set of LDCs. With these mics, you'll be able to cover basic overdub sessions. From there, borrow mics from friends, explore the world of ribbon and tube mic sounds, and discover what works best for your home studio.
What About DIs?
Direct boxes, or DIs, are an integral part of any studio. They are used to connect (Hi-Z) instruments with low-impedance (Lo-Z) microphone preamps. Hi-Z devices, such as guitars and basses, have 1/4" outputs. The DI provides a 1/4" input to connect to your guitar and an XLR output which connects to a preamp. DIs also have a 1/4" output jack. This is used to pass the signal through the DI and connect to an amplifier. Often, a bass or guitar is recorded to two tracks—one signal from the DI and the other from an amplifier.
There are two types of DIs: passive and active. Passive devices have of an internal transformer that changes the impedance of the signal. Active DIs require a power source for their internal electronics and will have less signal degradation than a passive device. A good home studio should have at least one active DI and two passive DIs.
Modern DAW interfaces usually have built-in Hi-Z inputs via 1/4" jacks that allow you to connect directly to your interface. These negate the need for a DI.
Here are several DI boxes to consider:
Radial StageBug S-B2 ($89 street): Radial is well known for their technology in direct box design. This is a passive DI with a small footprint.
Radial Pro48 ($129 street): These active devices are full-range DIs with a bandwidth of 20 Hz to 20k.
Rupert Neve Designs RNDI-1($299 street): Like most Neve designs, this active device is engineered for the highest fidelity audio and sounds great.
Digital Modeling Mics
Digital microphone modeling systems are a relatively new development. They combine a specially designed microphone with modeling software that allows you to record audio that sounds as if you had used a different microphone. The software models a variety of classic or vintage mics. The two frontrunners in this new tech are the Slate Digital VMS Virtual Microphone System and Universal Audio's Sphere L22 Microphone Modeling System (which was developed in conjunction with Townsend Labs).
They use a sonically transparent microphone designed to interface with their modeling software. The signal is passed from the mic through a neutral mic pre (one that doesn't color the sound too much) to your DAW input. The plugin is applied to the audio and an output mic model is selected. The result sounds as if it had been recorded with the selected mic.
Slate and UA accomplish this by testing and measuring a microphone's behavior and mapping that behavior out in software. The software knows the characteristics of the recording mic and processes the audio, applying the differences to the signal. The recorded signal now sounds as if it was recorded with a $20,000 Neumann U 67 (or whichever mic you've selected).
The benefit of these systems is that it is non-destructive. Just like amp modeling plugins, there is a dry sound recorded in your DAW, and the processing is applied with a plugin. You have the ability to modify it throughout the recording process, finding the sound that works with your final production.
These systems offer a huge range of sounds and offer mic selections that would not be available in your average home studio. And each system offers a selection of recognized mic models with an established track record.
​The lowdown:
• Slate Digital VMS Virtual Microphone System (mic and software $499 street): This system's ML-2 is a small diaphragm mic. Once recorded, sound is processed via the VMS plugin (compatible with AAX, VST2, VST3, and AU formats). The VMS software includes 13 mic models, ranging from the AKG C12 to the Shure SM7B. Two add-on mic bundles are available for purchase from Slate: Blackbird Mics ($199 street), featuring five mics from Nashville's Blackbird Studio, and Classic Tubes ($299 street), featuring five modeled mics.

• Universal Audio Sphere L22 Microphone Modeling System ($1,199 to $1,499 street): UA's Sphere L22 was developed in conjunction with Townsend Labs. The Sphere software works the same as VMS, tuned for the provided mic and offering 34 output mic models.
The Sphere system uses a dual-capsule mic. This allows the software to take the signal from both capsules and create a 3D sonic picture of the modeled microphone. In theory, this should offer off-axis behavior similar to the originals. The mic can use both capsules to create a stereo recording, too.
The software is available in UAD, AAX, VST2, VST3, and AU formats. It offers more tweakable parameters than the VMS. So, if you're a knob twister and like to fine-tune your sounds, the Sphere is a good choice. The additional controls come with a higher price tag.
The effects guru puts two historic pedals—the TS808 and the Nobels ODR-1—inside a single box, with a fresh circuit design that allows for four variations on their revered voices.
At first glance, Keeley Electronics' new Noble Screamer seems like a guitarist's dream version of a Reese's Peanut Butter Cup. This enticing morsel tastefully pairs two classic overdrive flavors, the timeless (and ubiquitous) Ibanez TS808 Tube Screamer and the best-kept-secret Nobels ODR-1.
The two circuits lurk side-by-side beneath the Noble Screamer's sleek hood, ready for action. But there's more: Keeley Electronics' founder and designer Robert Keeley provides a nifty additional twist for creating your own sonic mashups. With the Noble Screamer pedal you can link the Tube Screamer-like overdrive section—a masterpiece of soft-clipping aural bliss—with the ODR-1's thumping sonic flavors. Or conversely, you can deploy the ODR-1's hard-clipping drive with the Tube Screamer's famously midrange-forward tone circuit. Voila! Suddenly you have four pedals in one.
Beyond providing some pretty darn sweet guitar tones, the Noble Screamer also embodies a few bigger and more profound themes. It shows increased emphasis on made-in-the-USA manufacturing, a trend that extends far beyond music gear. It offers additional options for buffering and true bypass as standard equipment on a guitar pedal—highly useful even for guitarists who remain stubbornly technology averse. And it aims to reinvent a key product line from an iconic company. But let's start at the beginning…
Nailing the Right Shade of Green
"Pairing the ODR and Tube Screamer isn't just about the green color, but it sure helped," laughs Robert Keeley. "There is a rhyme and reason why I chose those two pedals for the Noble Screamer. I had never done any mods or anything based on the ODR-1, but the idea for the pedal came from this: Wouldn't it be fun to combine two green pedals? And what if I could allow you to hear what makes each pedal unique, and borrow from one to the other? I was able to choose between the Tube Screamer tone control or the ODR tone control, and do the same thing with their clipping sections. So, I built both circuits in there, so people could mix-and-match and hear what makes each pedal unique."
Keeley Electronics Noble Screamer Overdrive and Boost - Tech Demo
Keeley knew he would face heavy scrutiny in tackling the ODR-inspired circuit. Introduced in 1992, the Nobels ODR-1 has attained near-mythic status in the Nashville scene, spurred by the advocacy of session veteran Tom Bukovac. Almost singlehandedly, Bukovac—fondly known as "Uncle Larry" to his online followers—helped popularize the original ODR-1 among his Nashville friends and collaborators. And over the years, many of Nashville's heaviest hitters have made the pedal an essential part of their arsenal.
Tom Bukovac x Keeley Electronics - Noble Screamer vs Vintage ODR-1 vs Vintage TS808
"There's a constituency in Nashville, Brentwood, and Franklin that really loves this pedal," Keeley notes. "They're all friends and they're damn near family, and this pedal works so well with their music. So, one of our goals became winning over that Nashville crowd. We carefully compared this to some great examples of 808s and ODRs—using audio analyzers, too—and then we took it to Nashville and asked veteran players to compare it to the original units."
The Noble Screamer passed the audition. After A/B'ing it with an original ODR-1, Nashville session and stage ace Guthrie Trapp acknowledged "we're sitting here and can hardly tell the difference. And to not have to spend $1,500 or $2,000 on a pedal…," he added, shaking his head. And even Bukovac himself says, "They sound pretty similar. The guitar tone sounds great."
Guthrie Trapp x Keeley Electronics - Noble Screamer vs Vintage ODR-1 vs Vintage TS808
Adding a Few Twists
Plenty of players will be hooked by the authentic sound of the Noble Screamer's two iconic overdrives. But for many guitarists, the real fun begins when you experiment with tone/overdrive mashups, combining a Tube Screamer with an ODR tone circuit, and vice versa. "The Noble Screamer's ODR tone control is a spectrum control," Keeley notes, "and it moves up the bass and the treble at the same time. The Tube Screamer is a simple low-pass filter that helps create the midrange hump. They make a fun combination and they allow you to get some unique sounds."
L.A.-based guitarist Brett Papa lauds the approach: "It's really interesting to see how it nails both of those classic tones. But for me, the hybrid is the coolest thing about that pedal, because it really is the best of both worlds. Some pedals are so temperamental circuit-wise, but it doesn't really matter with this pedal, because wherever your amp is at, you can dial in a great sound."

The stompbox also offers unusual flexibility in its switching and buffering capabilities. It utilizes the buffer that Keeley perfected with his earlier Halo pedal (designed with guitarist Andy Timmons). In the Noble Screamer, the player can easily select true-bypass or buffered bypass: Simply step on the on/off switch for two seconds and it'll toggle between the two settings.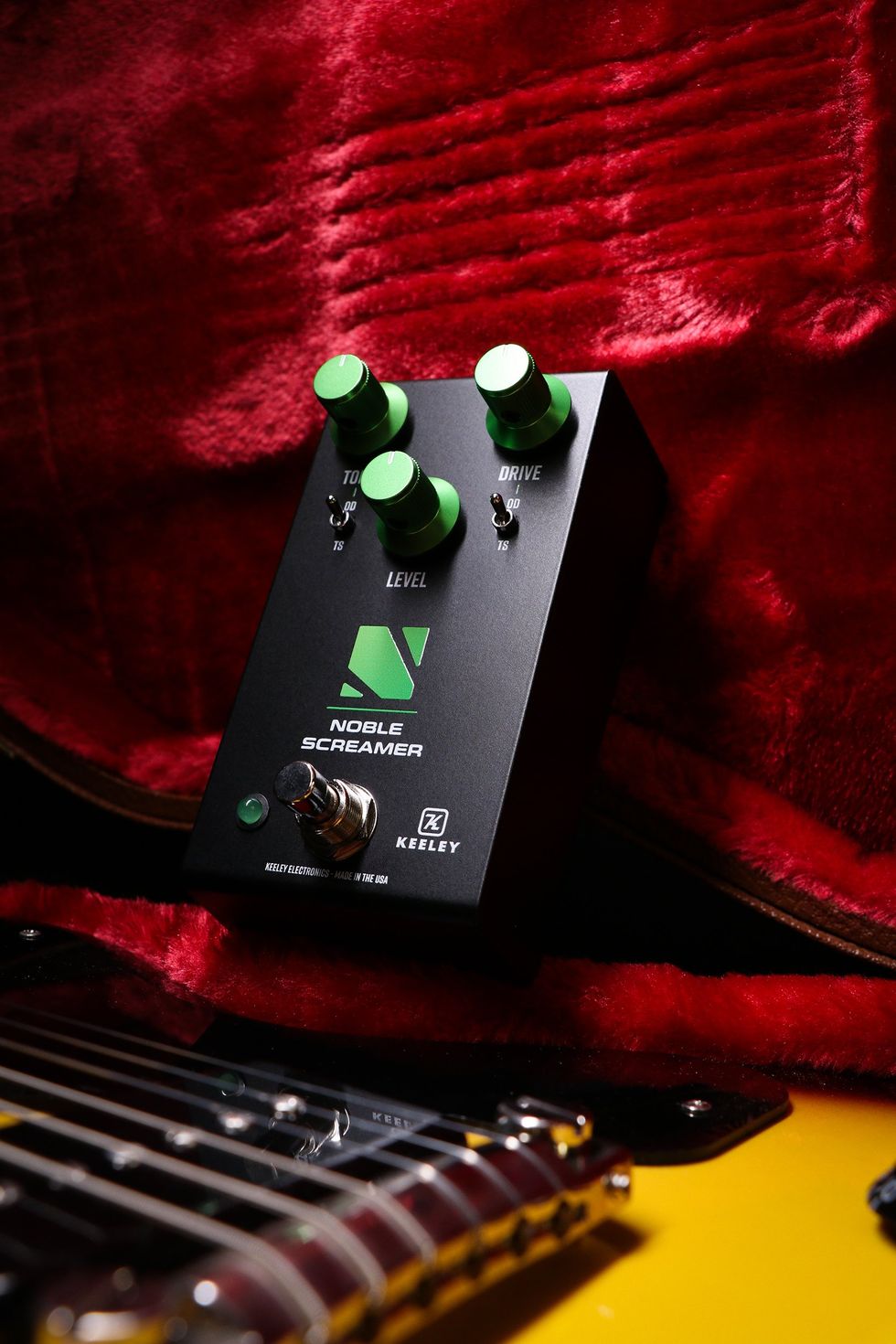 "This pedal's switching also makes it unique," says Keeley. "For years I had been carrying around the quote that Bill Finnegan put on his KTR pedal, which has a switch where you can choose true bypass or buffered. He printed 'almost always better' on the setting when you switch on the buffer. I think it's really valuable to have noiseless switching like the old Boss and Ibanez pedals. True bypass is great in a few cases, but the inevitability of it making a clicking sound can be a problem, so that's why we're offering buffered bypass, too."
Taking Control and Upping the Ante
Beyond its sonic characteristics, the Noble Screamer underscores important investments, production advancements and design choices from a company reshaping itself and preparing for its next chapter. The Noble Screamer is the first pedal to take advantage of Keeley's new Oklahoma City factory and its expanded production capabilities. The most visible sign is the pedal's newly designed heavy-duty aluminum case. The streamlined, rugged enclosure is built in-house following a large investment in specialized equipment. "Making my own folded aluminum enclosure is a brand new capability," Keeley explains. "I wanted to stop buying aluminum enclosures from China and start making my own. That way I can control the process and get exactly the type of enclosures that I want. To take full advantage of the enclosures, we also increased our capacity for circuit board manufacturing, and that was another big investment. We got another printer, powder coating booth, and oven. I doubled everything in the whole shop and invested in the future. Other manufacturers who are like-minded can do more manufacturing in the U.S. It's pretty cool to see so much manufacturing coming back to the States."
Keeley Factory Drone Video
Keeley chose to design a pedal that combines battle-worthy toughness and understated elegance. The Noble Screamer enclosure boasts a slightly slanted top—an homage to old-school classic pedals—but with a modern look and premium knobs. "The knobs and the subtle graphics speak really loudly on that slanted enclosure," he says. It's built like a tank—albeit a rather stylish one.
Was it a difficult decision to go with a standard-sized pedal when mini pedals have seen increasing popularity? Keeley is adamant. "At a time when a lot of people are cutting back on spending, I'm going against the trend and choosing to put out our boldest, most innovative ideas and give people a reason to spend their money on them," he declares. "I think I can control the costs. The Noble Screamer is the exact same size as comparable pedals. There's a definite trend toward small pedalboards with pedals that can fulfill one sound. Mini pedals are great and I plan on keeping them as an entry point for our product line. I don't see any reason why I can't fold aluminum for my own mini pedals at some point. But in the meantime, when we're releasing our next generation of pedals, I'm going to focus on this new platform. I want this new line to redefine our product line and what we're capable of. We've had success with compressors and reverbs and delays. This new line is hopefully going to redefine our drives."
The Noble Screamer heralds a new direction for Keeley Electronics, and guitarists can look forward to more exciting mashups in the future. After all, the Reese's Peanut Butter Cup turned out to be an enduring classic. So, you can expect plenty more ear candy from Keeley in years ahead.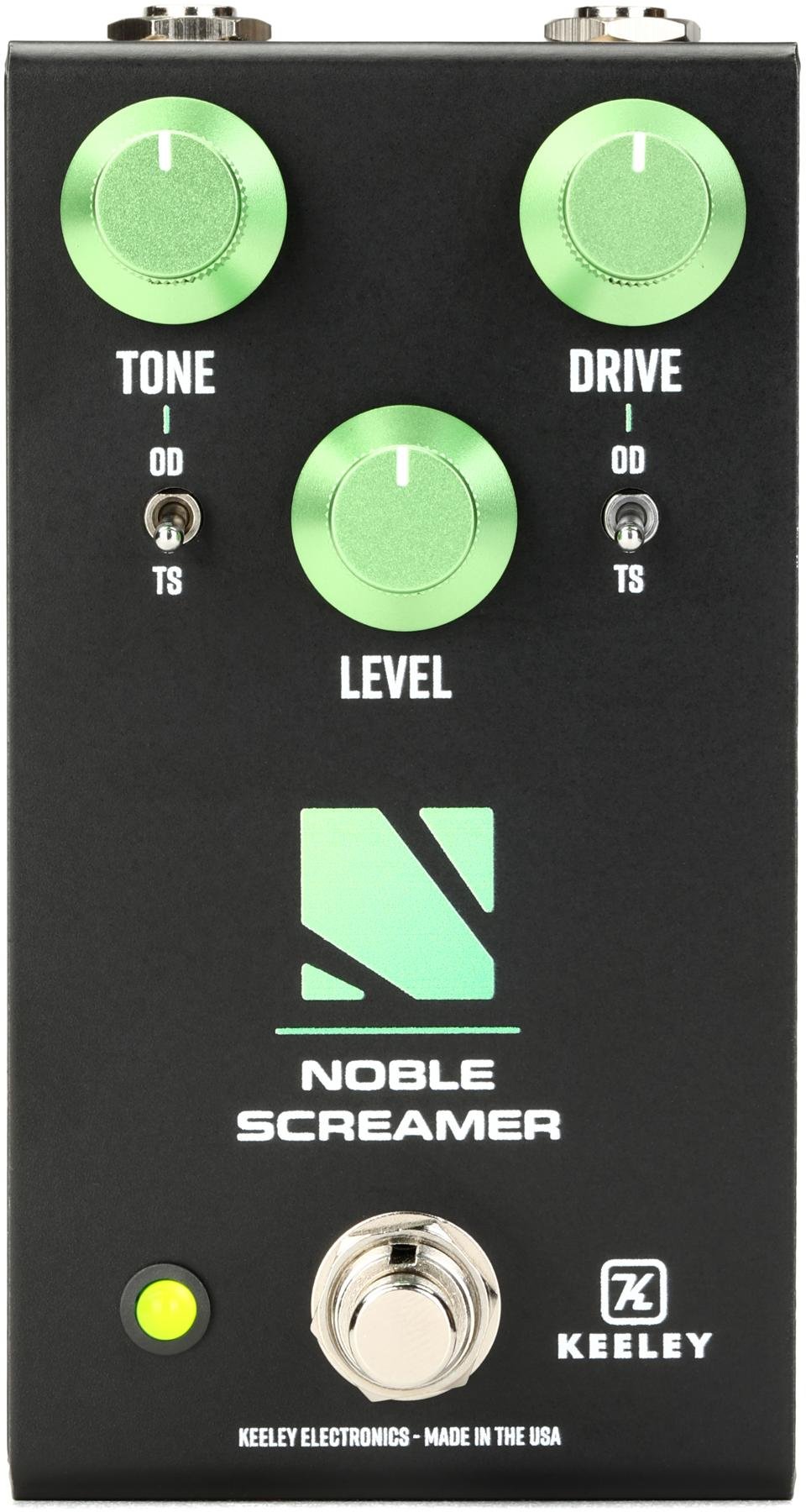 Noble Screamer Overdrive
Keeley
The digital-recording outfit's latest features a Rupert Neve-designed preamp, a Z-Tone impedance-adapting circuit for transforming your guitar's voice from single-coil-like to humbucker-esque (or vice versa), and Amp Out jack, and a host of free software, including AmpliTube 4 Deluxe.

AXE I/O SOLO
AXE I/O SOLO is a premium 2-in /3-out USB audio interface designed specifically for guitarists. A custom Z-TONE guitar input offers active/passive pickup switch, PURE and JFET channels and adjustable input impedance for ground-breaking tone shaping, and a dedicated Hi-Z Amp Out makes re-amping a breeze. And a PURE mic preamp with phantom power, 24-bit, 192 kHz converters and wide, flat frequency response ensure the most pristine sound for any type of recording. All this plus a massive software bundle make AXE I/O SOLO an amazing solution for the recording guitarist.

An all-new subscription & perpetual plugin platform that is host to a collection of amplifiers, pedals, cabinets, and multi-effects.
Nashville, TN, (September 9, 2020) -- After the extremely successful release of STL ToneHub earlier in the year, featuring preset packs from some of the biggest names in the industry including David Bendeth, Howard Benson, John Feldmann, Will Putney and Kris Crummett to name a few, STL Tones announces the official availability of an all-new subscription & perpetual plugin platform that is host to an incredible collection of amplifiers, pedals, cabinets, and multi-effects. STL Tones is also offering the individual models from within AmpHub to be purchased outright.
AmpHub consists of a Stomp section with 6 pedals, a robust collection of 12 Amplifiers, extensive Multi-Effects module, Dual 3D Cabinet Mixer, with 9 different cabinet choices, and numerous microphone options per each cabinet.
STL AmpHub is available now for $10 per month.
For more information:
STL Tones
You've got your guitar tone nailed, now you gotta figure out a way to get it into your preferred DAW....
Interfaces are the beating heart of our home-recording efforts, and they continue to get better, smaller, and easier to use—opening the doors to songcrafters of all abilities and experience. Here, with a wide range of prices, are 10 varied interface options, all of which can take your tunes to the next level.