In our 13th year of the popular video series, we cataloged setups of a guitar god, Nashville session ace, audaciously charming Brit rockers, a slide master, and heavy-music-producing icon. Find out who topped this year's list!
Chris Kies
There's no doubt ZZ Top trademarked Texas boogie. And over 30 years later, the Sword furthered the Lonestar shuffle's legacy by darkening it.
---
Chris Kies
Ariel Posen entered as a sideman. His scintillating work with the Bros. Landreth made him a guitarist's guitarist. He's since stepped out on his own to show he's more than just shadowy specialist.
---
Chris Kies
If you've thought to yourself, "this is the most vicious-sounding record I've heard," chances are Kurt Ballou's fingerprints are on it. Since officially starting in 1995 inside his parents' garage and eventually opening GodCity Studio's doors in 2003 (in "Witch City" Salem, MA, no less), Ballou has chiseled out granite tones for bands like Every Time I Die, High on Fire, Torche, Cave In, Old Man Gloom, American Nightmare, and Kvelertak. ("He brings a lot to the table, and he's been pretty important in terms of how our sound got formed," Kverlertak's Vidar Landa in a PG interview on working with Ballou.) Oh, and we can forget his genre-shaping band Converge, that he's played guitar in since 1990, co-produced since 2001's hardcore pillar Jane Doe and been the console captain since 2006's No Heroes.
---
John Bohlinger
He's played with Santana, Stevie Wonder, and a host of other greats, and his lessons and demos on YouTube have garnered more than 15-million views—so there's a good chance you already know this Nashville-based guitarist.
---
John Bohlinger
Lzzy Hale and Joe Hottinger of the Grammy-winning rock band Halestorm recently took a break from rehearsals for their 2021 tour to talk rigs with Premier Guitar's John Bohlinger.
---
Chris Kies
The 2000s were an odd period for music sales. The decade was a tale of polar opposites. Songs and albums never exchanged hands faster (thanks to file-sharing services like Napster and LimeWire), and thus the industry's sales plummeted.
During the aughts, one of the few acts growing through the free-streaming floodwaters, were the dark, theatrical rockers My Chemical Romance who melded punk, post-hardcore, indie, and glam. Singer Gerard Way started the band in late 2001 after the 9/11 attacks. He recruited drummer Matt Pelissier (replaced by Bob Bryar in 2004), lead guitarist Ray Toro, his brother Mikey Way for bass, and in early 2002 Frank Iero joined.
---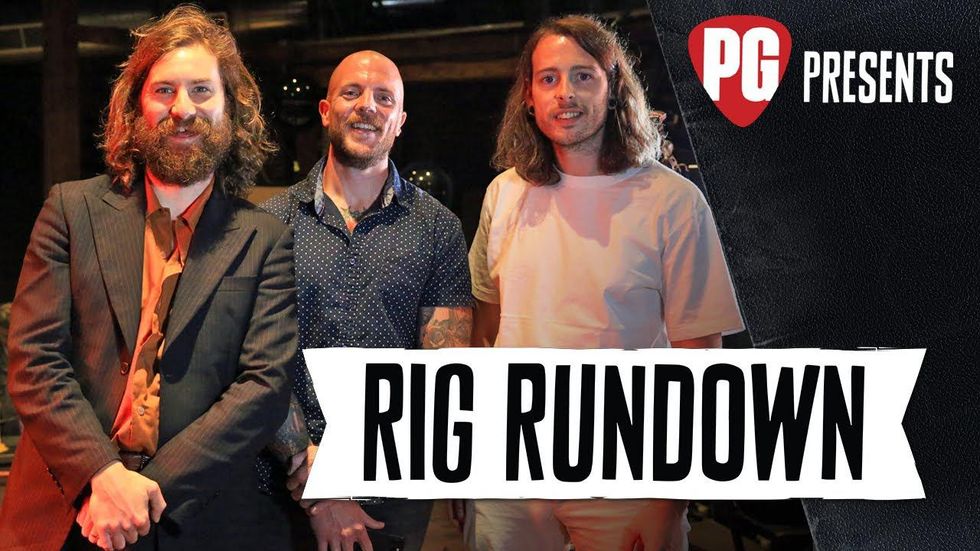 Chris Kies
Do you hear that thunder? That's the sound of strength in numbers. Specifically, it's the sound of four 100-watt stacks. (Actually, one is a 200-watt bass tube head.) IDLES' guitarists Mark Bowen and Lee Kiernan finally have the firepower to match their fury. (Original members singer/lyricist Joe Talbot, drummer Jon Beavis, and bassist Adam Devonshire fill out the band. Kiernan took over for guitarist Andy Stewart after 2015 EP Meat was released.)
---
John Bohlinger
It's impossible to overstate Brent Mason's impact on country and, arguably, even rock guitar. Over the course of his more-than-35-year career, Mason has perfected a tone that's inspired an untold number of players, and there's even a Tele mod that bears his name. He's also a highly respected and successful producer and solo artist, a member of the Musicians Hall of Fame, has won the Academy of Country Music's Guitarist of the Year award 12 times, and there's a Grammy on his mantle.
---
John Bohlinger
At age 76, Eric Clapton remains a major presence in guitar. He's touring again rather than simply resting on nearly six decades of laurels, and with Slowhand's blessing, Dan Dearnley—the legend's tech for a dozen years—showed us his boss' setup before a September 21 concert at Nashville's Bridgestone Arena. Three Signature Strats, Martins, and not much else. Dig in!
---
John Bohlinger
Few rock bands have made a bigger splash over the past five years than Greta Van Fleet. Since their first full-length, From the Fires, won a Grammy for Best Rock Album, Jake and Sam Kiszka have constantly dug deeper to expand their band's sonic scope. GVF's latest, The Battle at Garden's Gate, is packed with deep, nuanced sounds that all need to be created live by a classic rock-trio lineup with an amazing singer.
---