The death-metal nomad welcomes us into his converted-cargo-trailer home/studio to detail his extended-range rumblers and mobile recording setup.
Facing a mandatory shelter-in-place ordinance to limit the spread of COVID-19, PG enacted a hybrid approach to filming and producing Rig Rundowns. This is the 20th video in that format, and we stand behind the final product.
On the heels of releasing Enterprise Earth's Foundation of Bones EP, Mangold virtually welcomed PG's Chris Kies into his converted cargo trailer where he lives and records. (During the filming he was parked at the foothills of Rio Grande Gorge near the Sangre de Cristo Foothills in Taos, NM.) The vagabond guitarist opens up about creating pulverizing rhythms on 7- and 8-string beasts and using 21st century tech to create anywhere and everywhere he and his dog Jiro may roam.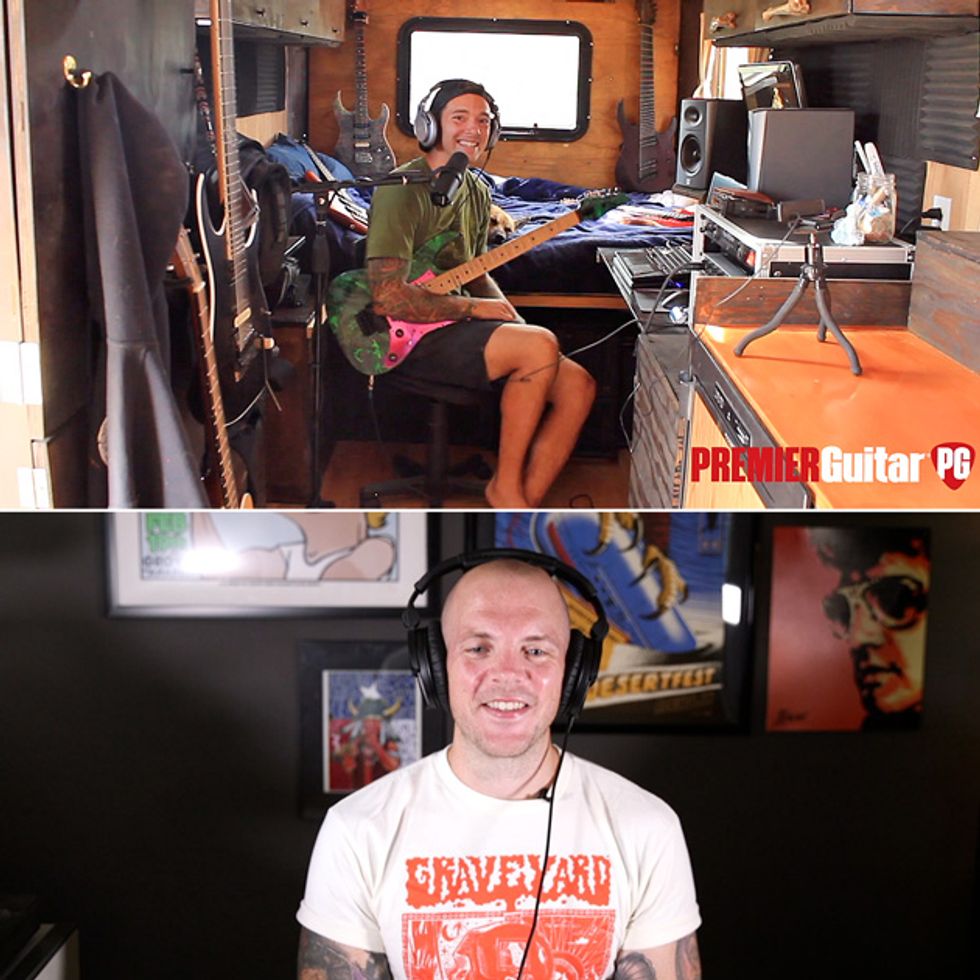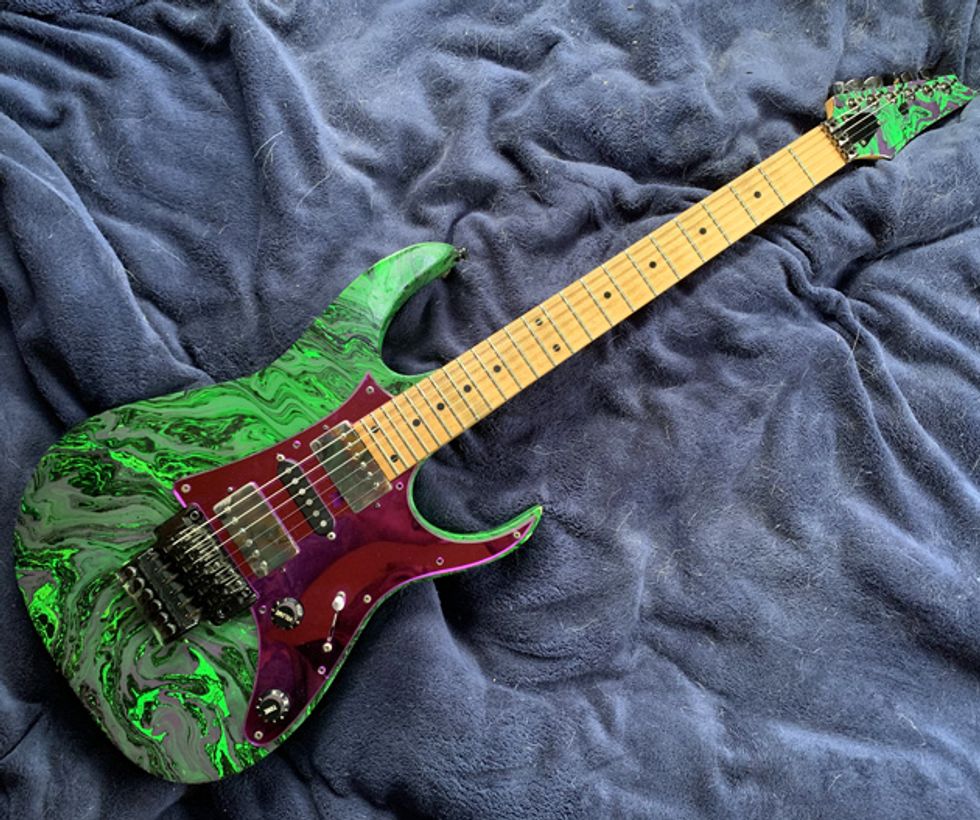 Almost a decade ago, Gabe was surfing eBay and his inner '80s shredder came out when he stumbled across a loud neon purple 1991 Ibanez RG550. He bought the radical guitar and it soon became a staple of his arsenal. The band he was in was filming a music video and he wanted to celebrate the guitar's awesomeness by spinning it around his head via the strap. Unbeknownst to him, the strap lock wasn't on the same page and the guitar went sailing. The body split in half and the guitar was shelved until he bought a 1987 RG550 body off eBay. To make the mashup more his own, he attempted to give it a Steve Vai-inspired "Multi Swirl" paint job seen on the icon's JEMs. The original pickups have been swapped out for Bare Knuckles—Nailbomb humbuckers and a Trilogy Suite single-coil in the middle position. Because Enterprise Earth tunes down so low this 6-string doesn't see much action in that group (aside from some recorded solos), but it does come out to play in his other bands, Delusions of Grandeur and The Harvest of Colour. He's been using a droney C minor tuning a lot (C–G–C–G–C–Eb).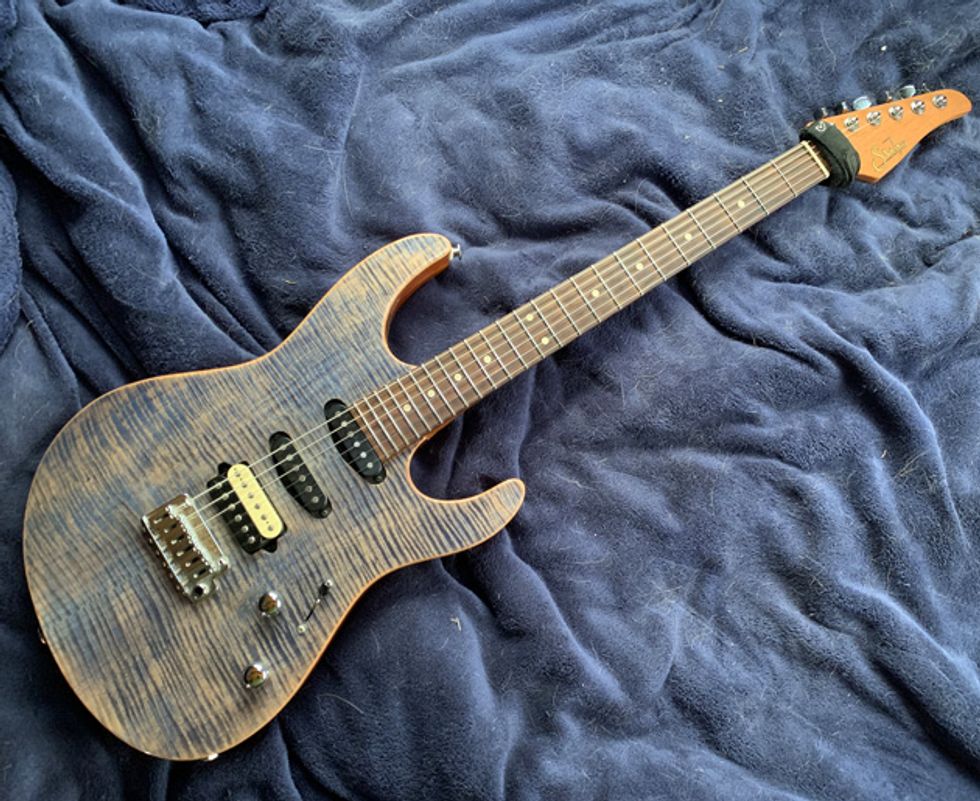 His other main 6-string is this early 2010s Suhr Modern that also sees studio time for soloing with Enterprise Earth and his less-aggressive bands Delusions of Grandeur and The Harvest of Colour. A big reason he continues to bond with this instrument is because "its tone is clear, crisp, and slices right through a mix."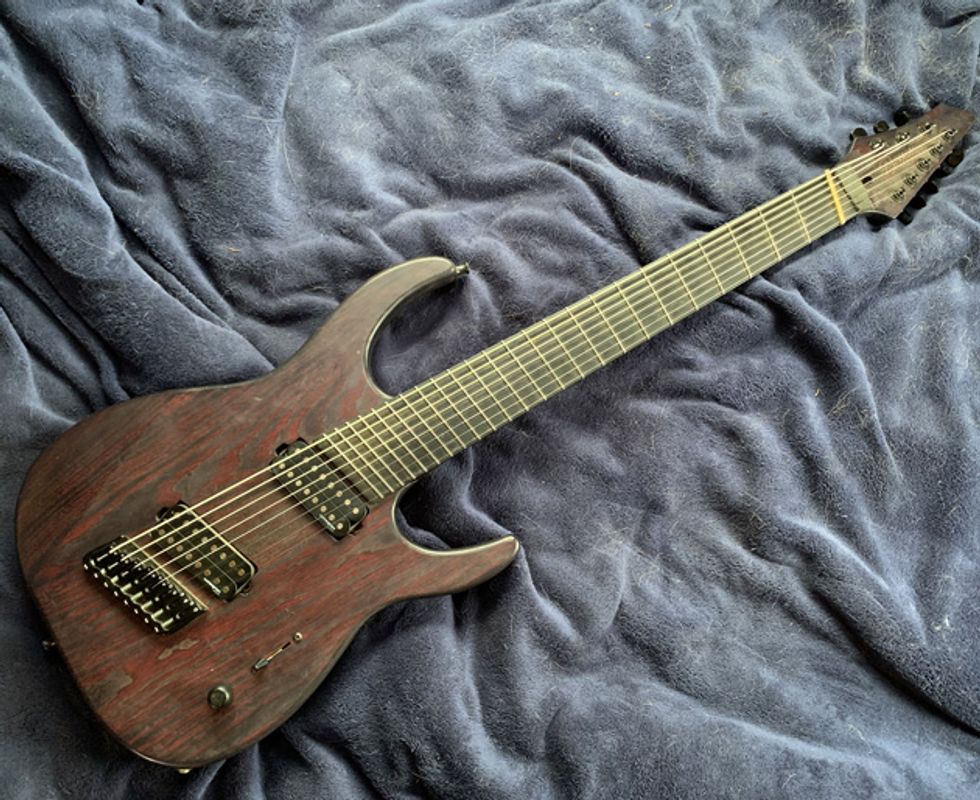 Here is one of his extended-range monsters—a custom made Dalbello Undici Modern 8-string that features a swamp ash body, Lundgren M8 humbuckers, and a multi-scale neck that goes from 26.75" to 28.25". It takes D'Addario NYXL (.009–.046) guitar set with an additional .066 and .094 strings. He often tunes in double drop-D (D–A–D–G–C–F–A–D).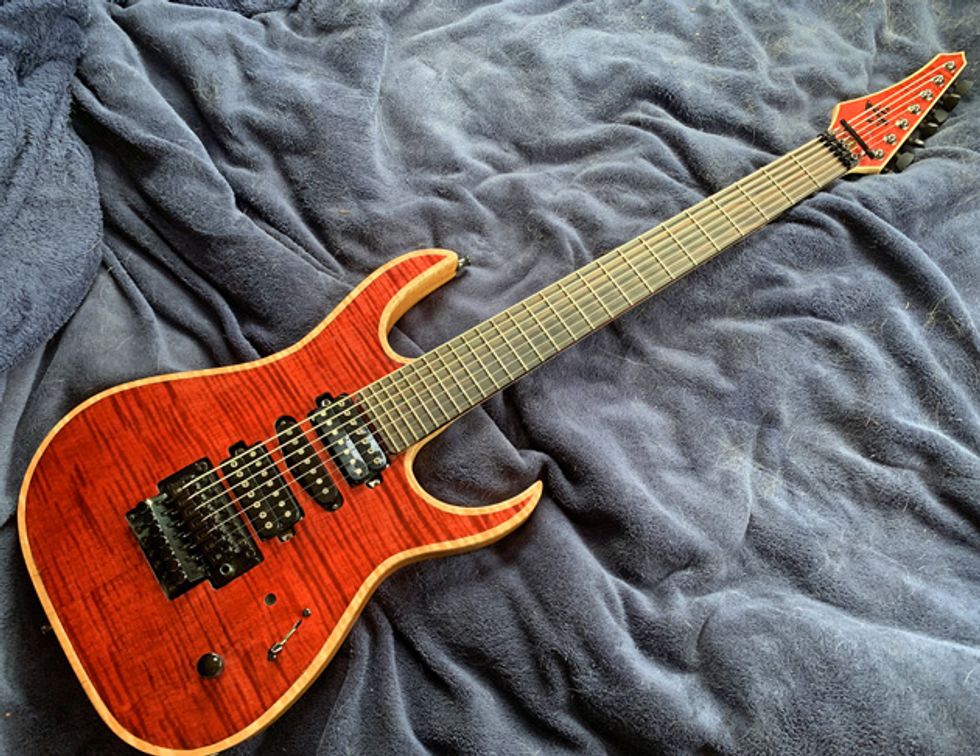 Above you see a custom Strictly 7 String Cobra that has a 7-piece maple-walnut neck, ash body capped with a flame maple top, and an ebony fretboard. This is his backup 7-string for the road and typically is tuned to drop B.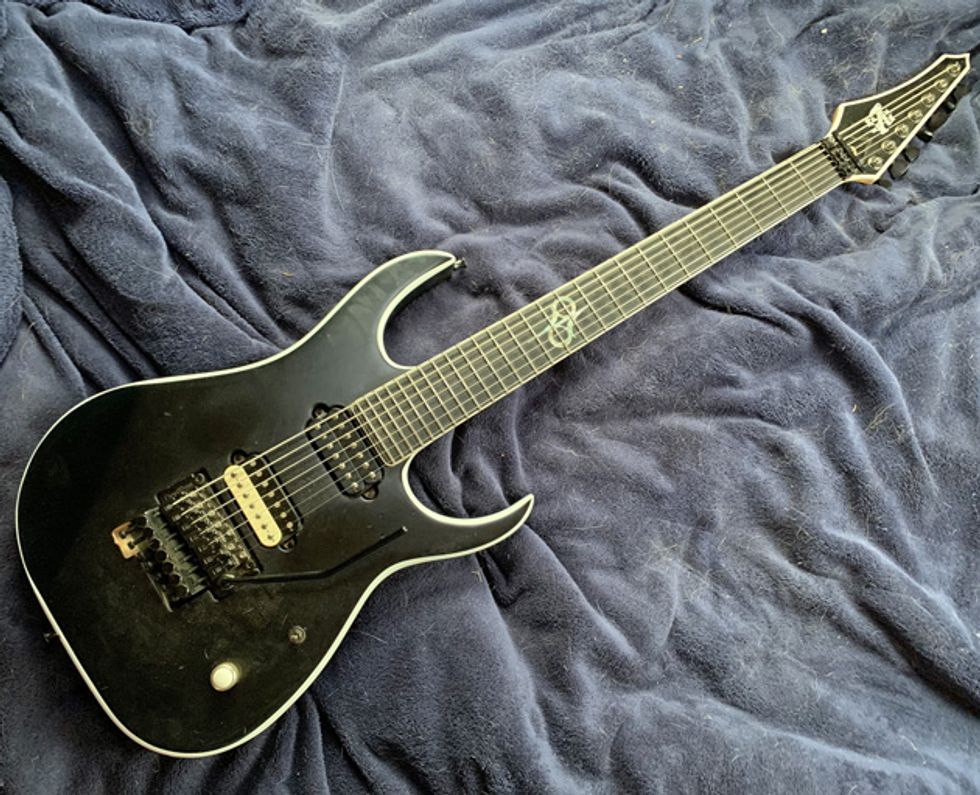 This is nearly identical recipe to the red-and-black Strictly 7 Cobra in the previous slide, but it was built earlier in 2012 and is an example of their killer work that Mangold refers to "that's when they were making the best extended-range instruments." He really appreciates the craftsmanship and overall comfortability thanks to its teardrop D-profile neck that's ergonomic and fast. It has a set of Bare Knuckle 'buckers—Nailbomb in the bridge and Aftermath in the neck.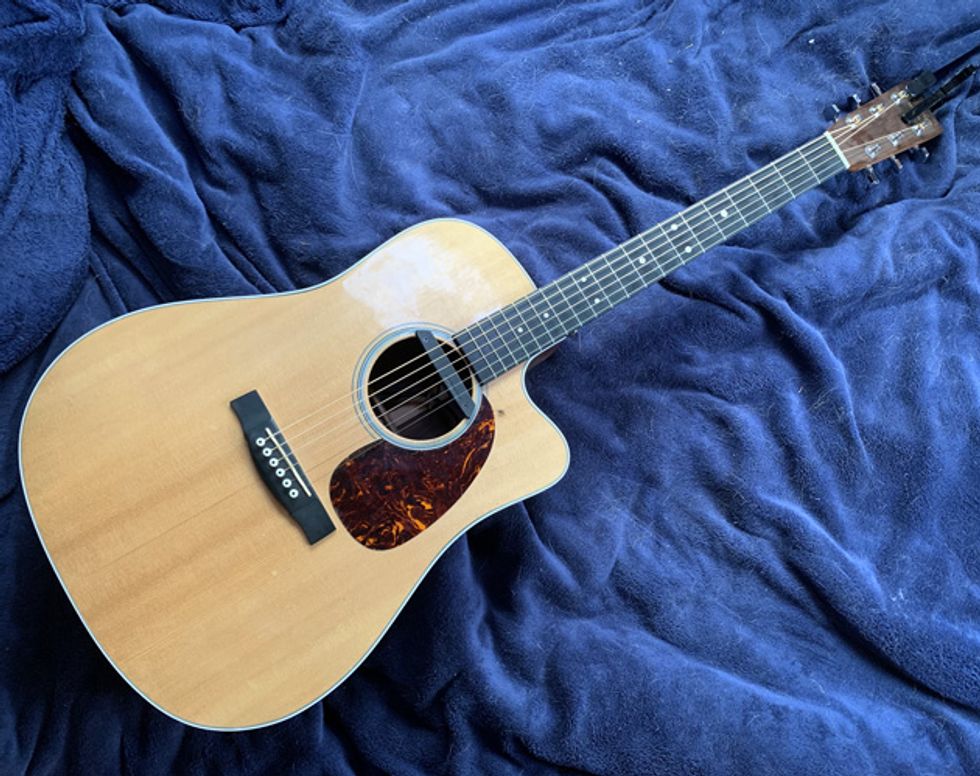 While his converted cargo trailer allows him to record anywhere, anytime, there are times where Mangold truly goes off the grid and jams in the wilderness. To perform those solo endeavors (and for acoustic moods while recording), he trusts nothing but this Martin DCPA4. (Check out his Instagram account to see what majestic backdrop he plays in front of next.)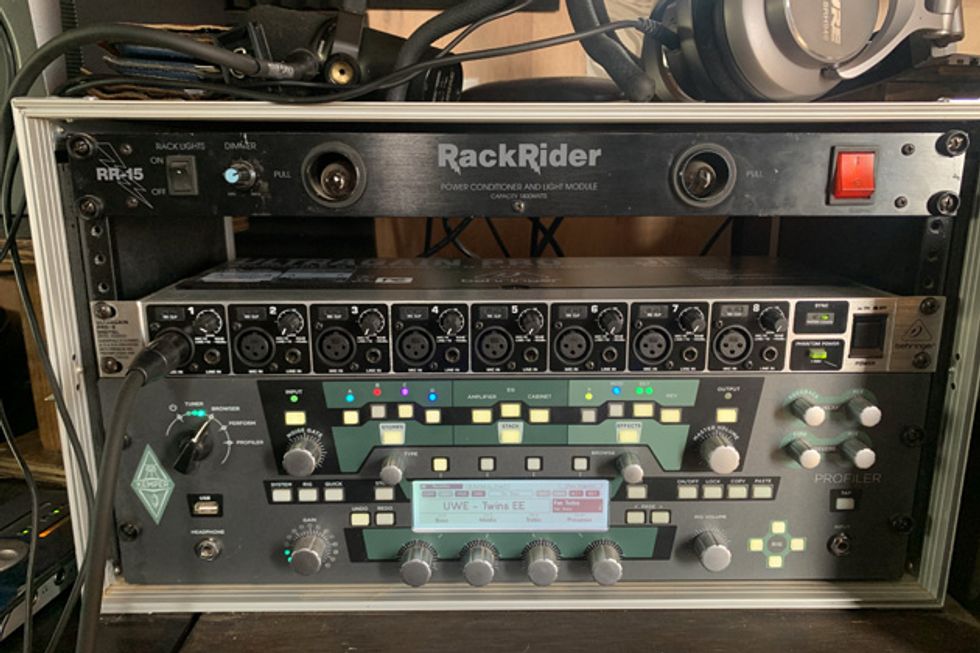 Whether it's writing, recording, or even onstage performing, Gabe relies on a Kemper Profiler for his tone.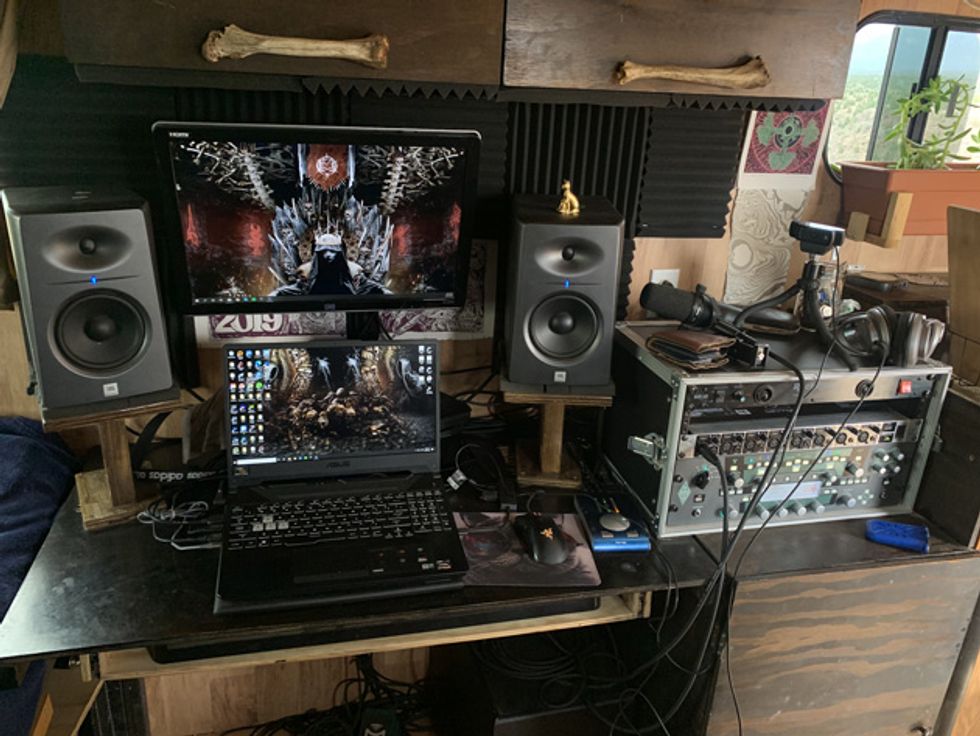 For Enterprise Earth's brand-new EP, Foundation of Bones, Mangold used this setup to track all of the guitar tones.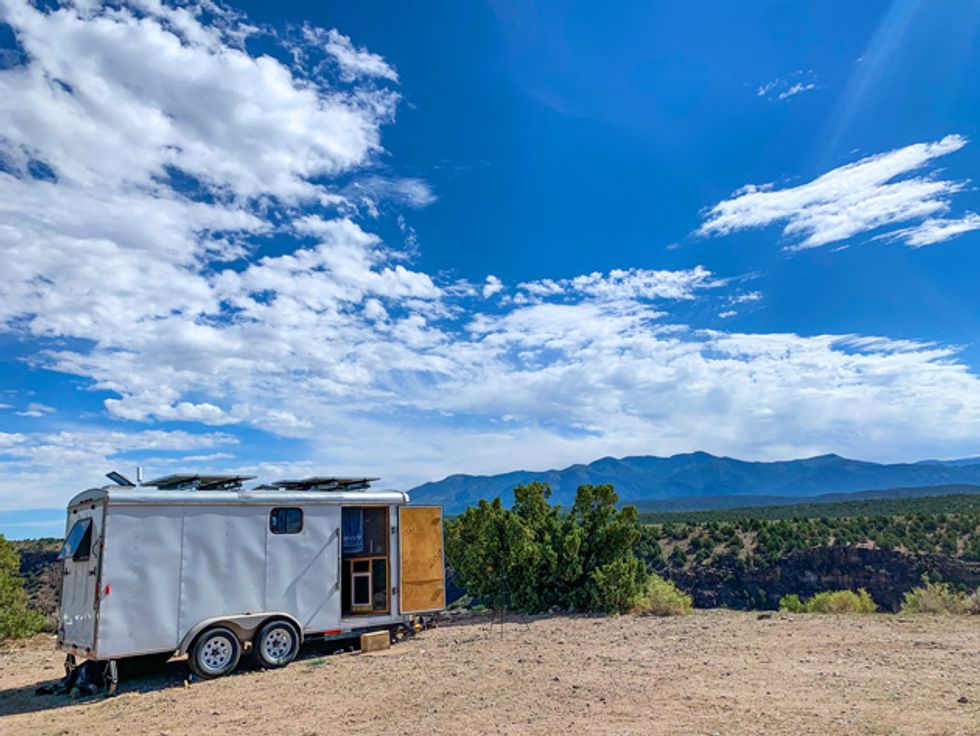 Here's Mangold's world … all fit into this 16'x9' renovated cargo trailer.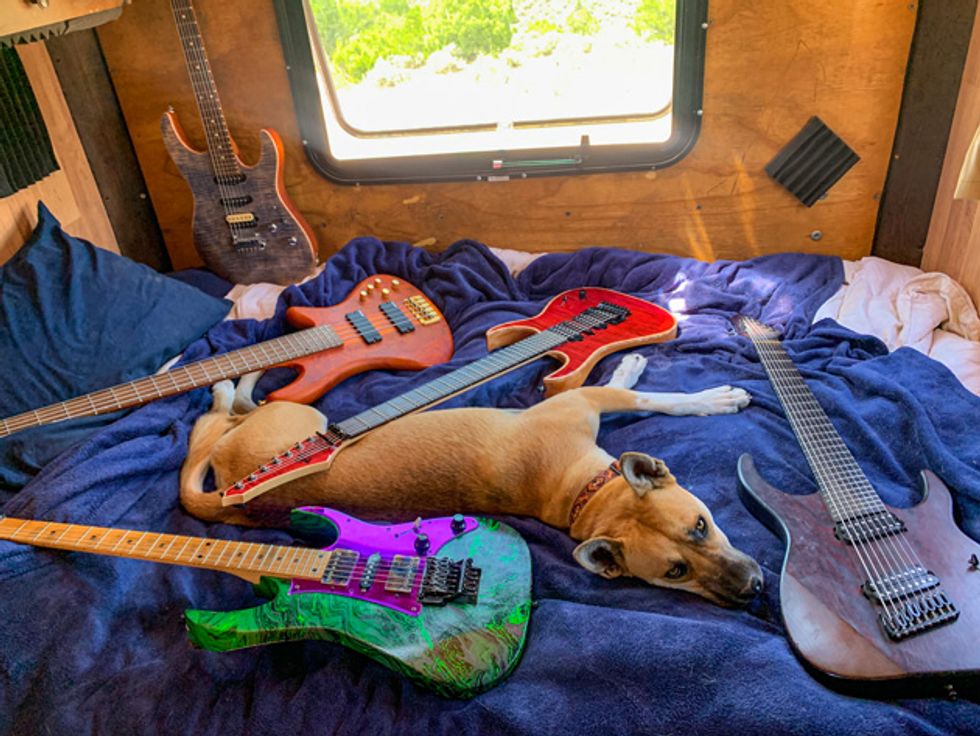 And we'd be remised if we didn't share this wonderful shot of all Gabe's guitars and his travel companion Jiro.