The atmospheric shred instrumentalist shows us his unusual mix of modern gear and not one but two killer vintage axes.
Facing a mandatory shelter-in-place ordinance to limit the spread of COVID-19, PG enacted a hybrid approach to filming and producing Rig Rundowns. This is the 30th video in that format.
Sammy Boller has been playing guitar most of his life. He played in high school orchestra and even attended University of Michigan's School of Music, Theatre & Dance. In 2012, his life forever changed when he won Guitar Center's "Master Satriani" competition. (Watch his submission for "Satch Boogie" here.)
Catapulting off that success, the next year Boller joined Detroit rockers Citizen Zero. The band released their 2016 debut LP, State of Mind, and its lead single "Go (Let Me Save You)" climbed to #17 on Billboard's mainstream rock chart. Two years later Boller left Citizen Zero to carve his own musical path. And earlier in 2020, his instrumental power trio released their debut album, Kingdom of the Sun, that snakes between Sunset shred and post-rock melodies.
When asked about his musical evolution, Boller reflects: "I grew up wanting to be Eddie Van Halen and Randy Rhoads, but over time I've found my own dark and aggressive style. These days, my dream as a musician is to make people feel as connected to the cosmos as I feel when I play the guitar. I'd love nothing more than that."
Guitarist Sammy Boller virtually welcomed PG's Perry Bean into Detroit's Rust Belt Studios where Alice Cooper, John Fogerty, Bob Seger, and Greta Van Fleet have all recorded. In this Rig Rundown, the finger-tapping guitarist opens up about finding his Excalibur instrument, discovering the Friedman BE-100 and never looking back, and he showcases the core personalities awakened by his pedalboard.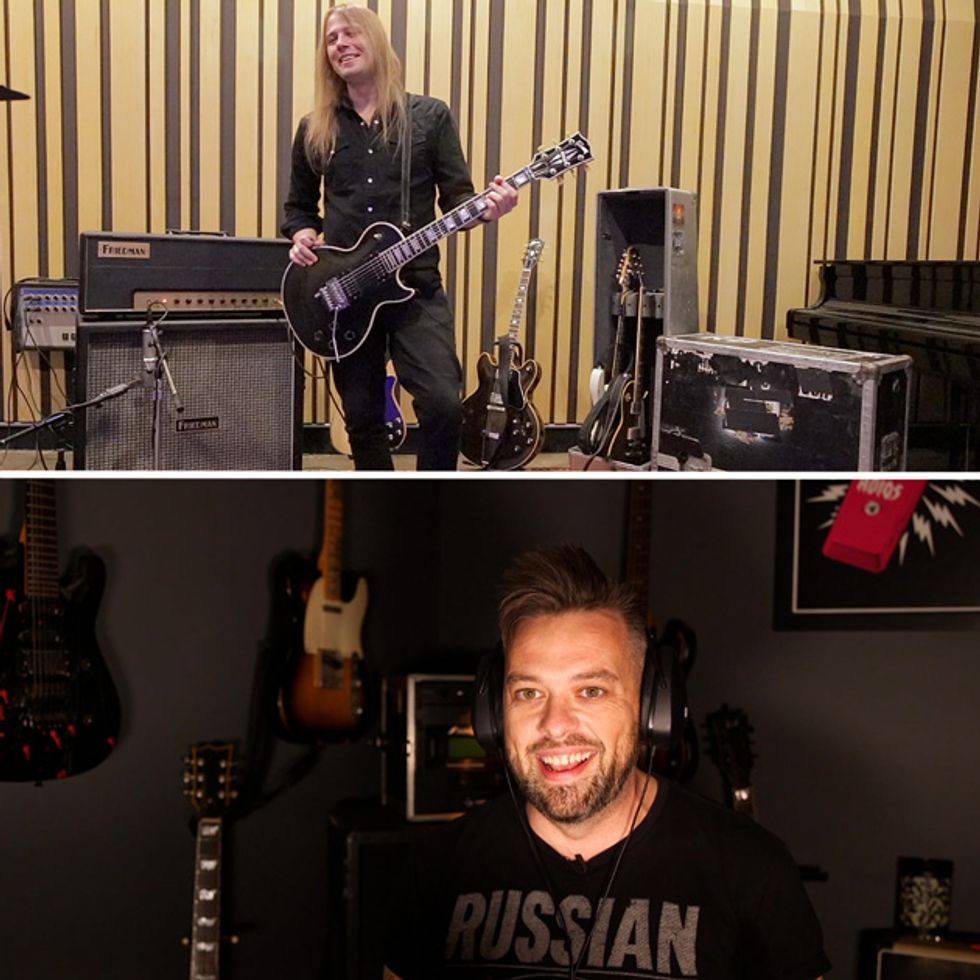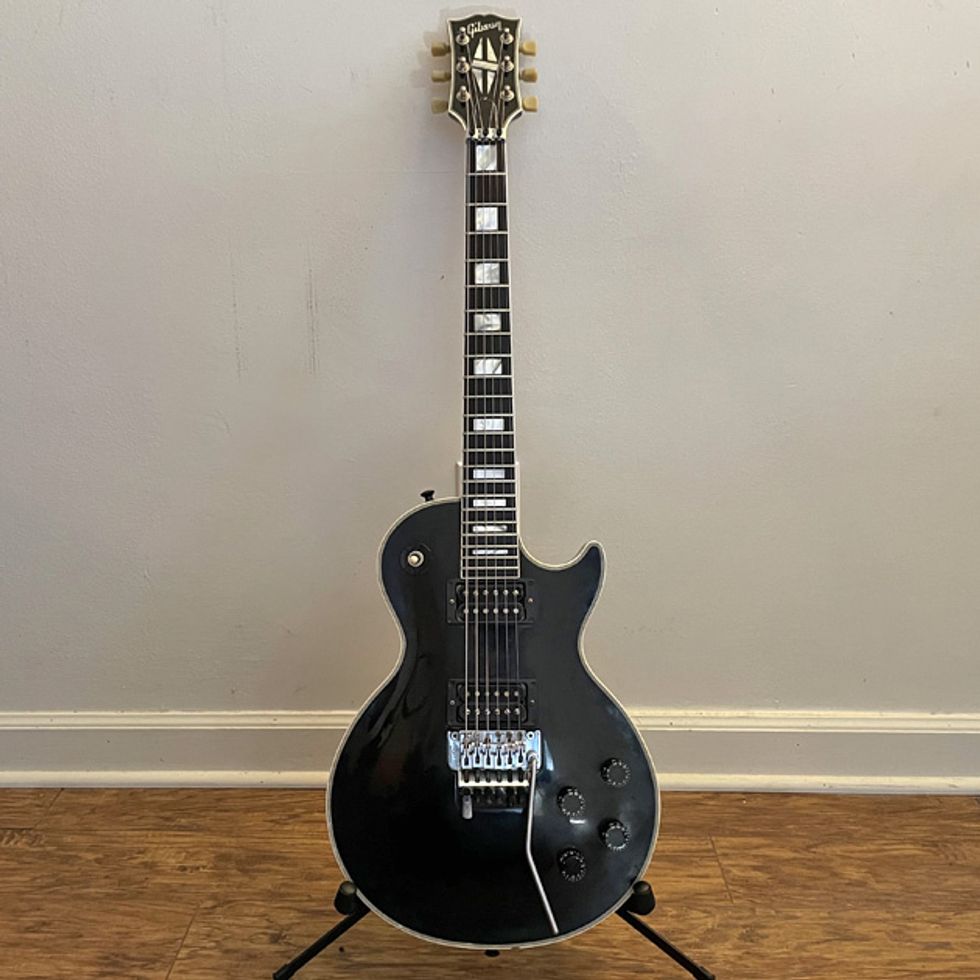 Sammy Boller scored this Gibson Les Paul Axcess Custom—his main cruiser since he was 20—on an eBay safari. It's completely stock to him except he flipped the pickups for a set of Motor City Pickups with a HotHead (bridge) and Afwayu (neck). Both pickups are coil-tapped so when Boller needs a different tone for tapping or less aggression, it's there with a pull of a knob. His previous band, Citizen Zero, often performed in drop-D tuning, so he added an EVH D-Tuna to his Floyd Rose. For his solo stuff, he typically plays a half-step down and always uses Elixir strings. (On the top side of his Les Paul, he etched "Soul of the World.")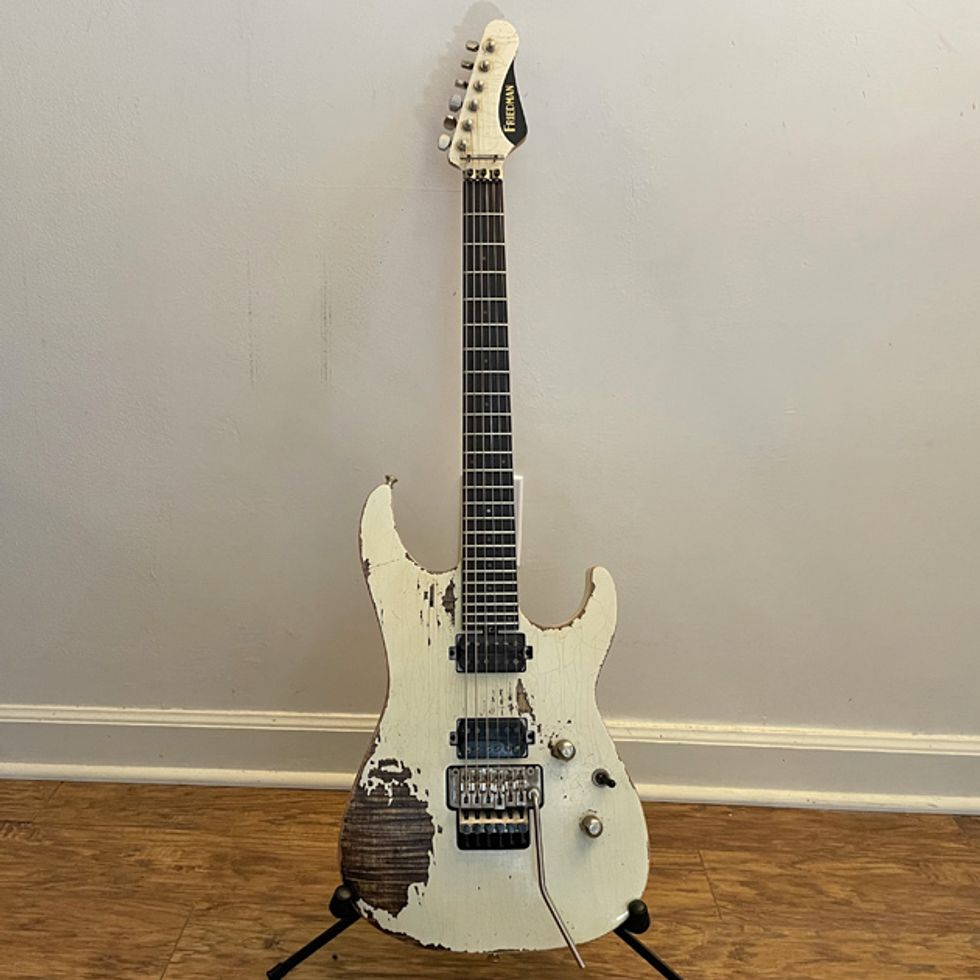 A badass backup for the Axcess is this Friedman NoHo 24 that Boller fell in love with at NAMM. Not a fan of "new" guitars, Boller had the Friedman team take the pristine, flame-maple-topped NoHo and gave it the company's "vintage" touch seen on other models in their lineup. The "super strat" still has its original Friedman Triple-D humbuckers.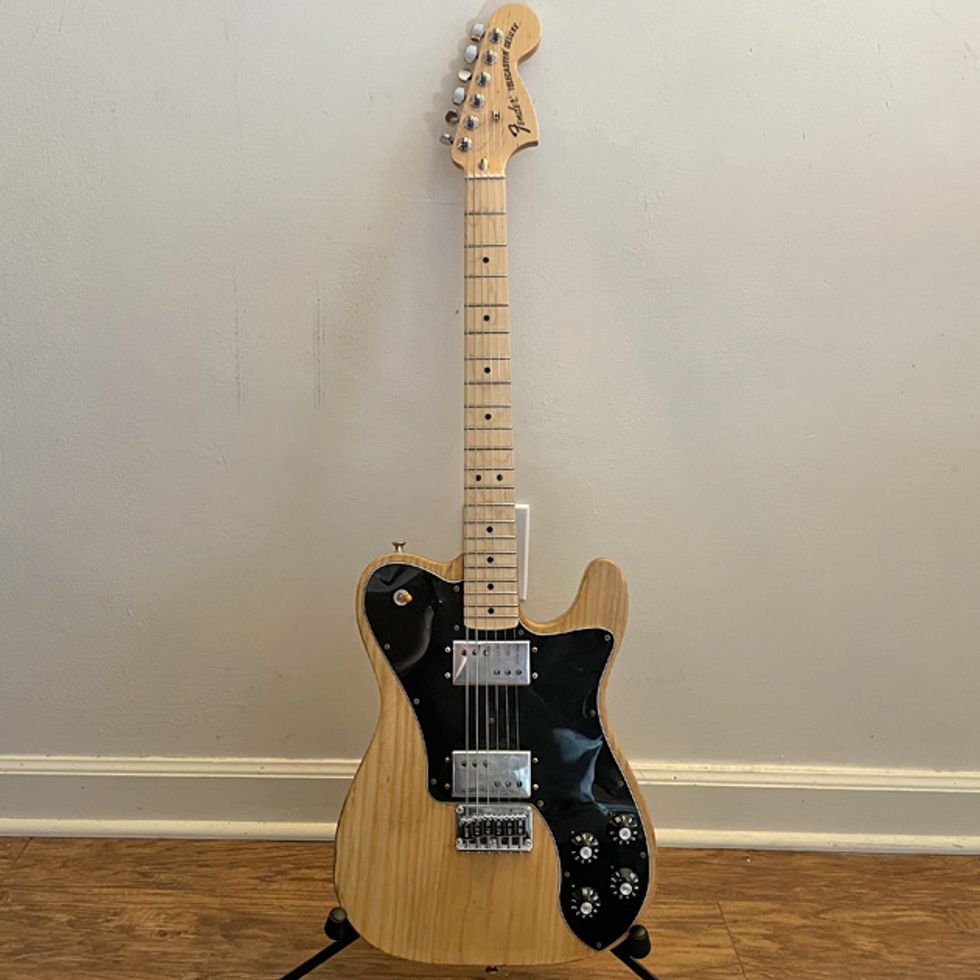 Boller's parents were part of a traveling show band that played residencies in Las Vegas and Atlantic City. The former guitarist of the ensemble sent a message to Sammy over quarantine and offered to sell him the guitar that he played alongside Boller's parents. It was a total no-brainer, and now this 1975 Tele Deluxe is one of his studio pets. Boller stated that the Seth Lover-designed Wide Range humbuckers make it an amazing recording guitar. He said the lower-powered pickups pair well with a high-gain amp.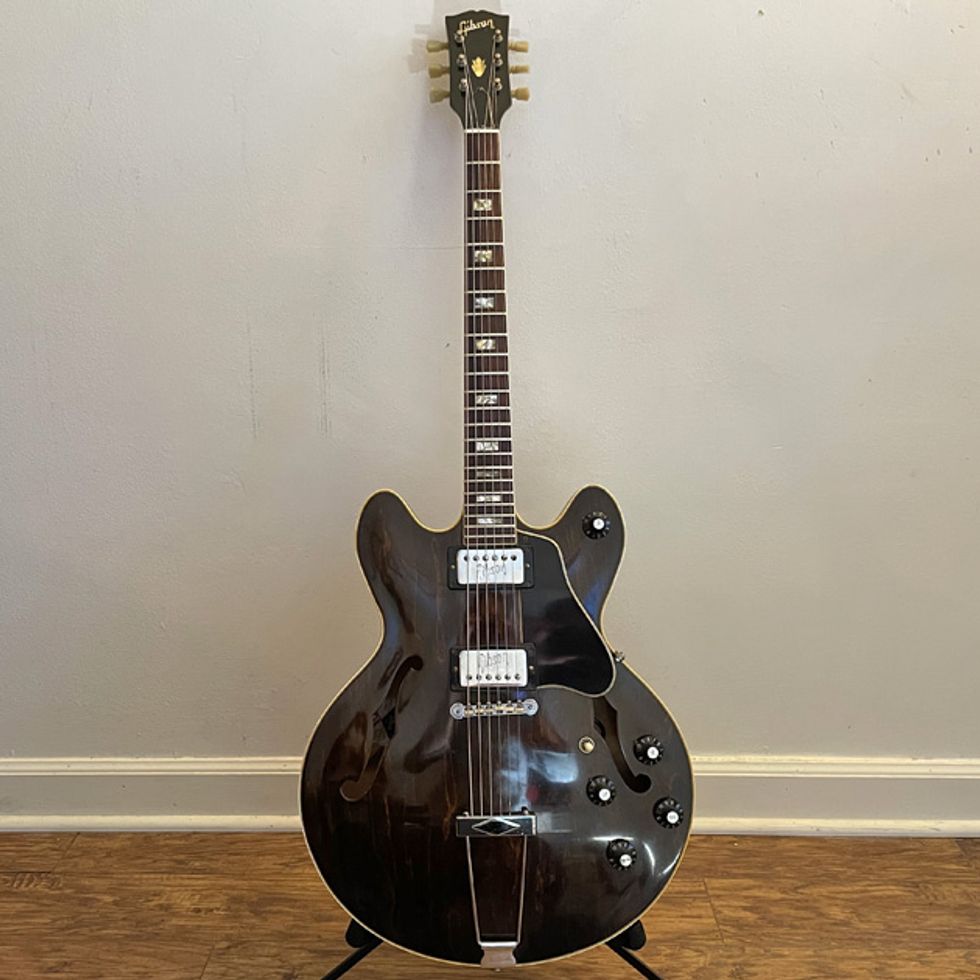 Another studio weapon is this 1971 Gibson ES-150 DC. Boller and his orchestra teacher bonded over Van Halen and when he graduated high school, the instructor eventually gifted this gem to him.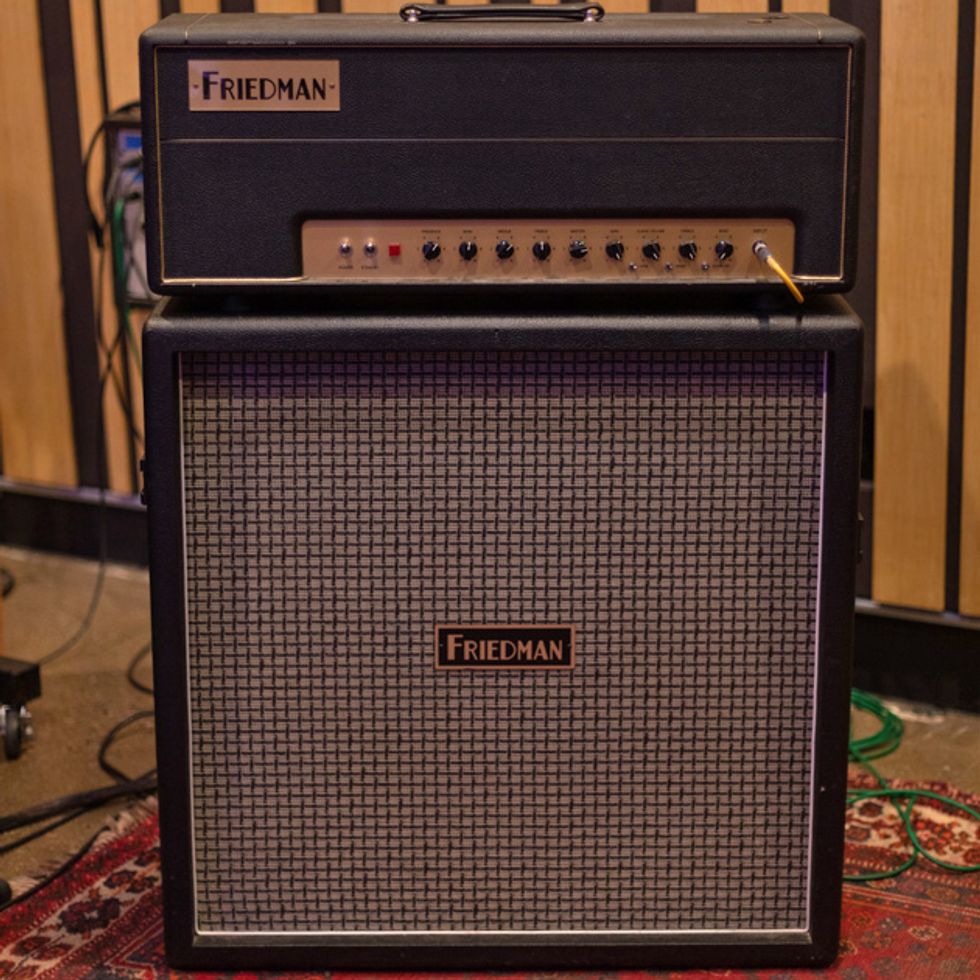 "I think I tried every amp out there," jokes Boller. "But as soon as I plugged into one of these, I was like, 'I'm done!' The Friedman BE-100 has been his go-to amp for over five years. The amp's lively, supercharged plexi tone matched with modern appointments (three channels, effects loop, toggles for voice, bright, and cln-be-hbe) makes it a Swiss Army knife for Boller. Underneath the head, is a checkered Friedman 4x12 loaded with Celestion Vintage 30s and Creamback 25s.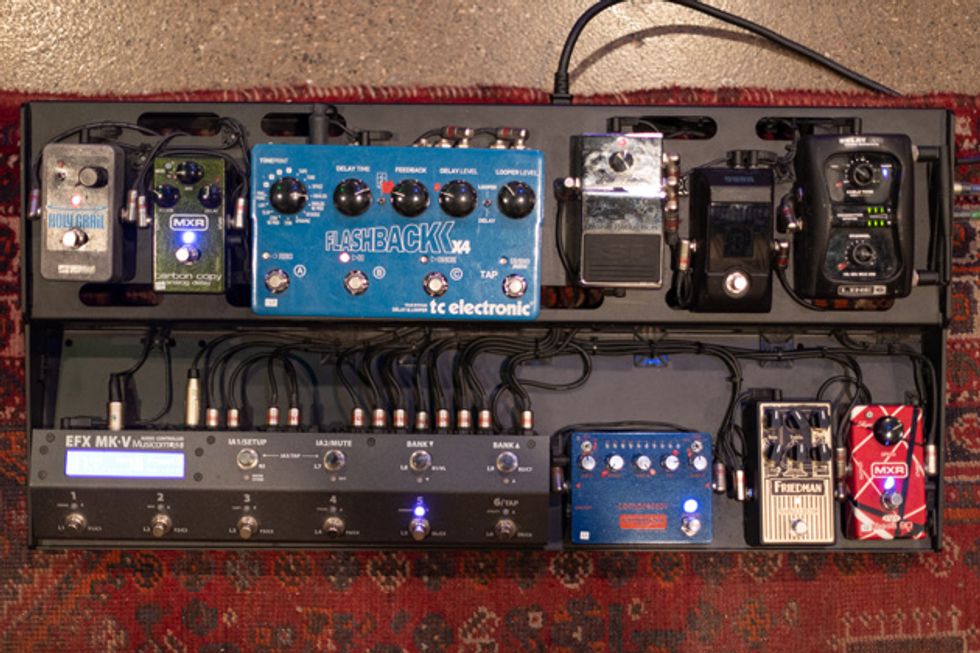 This is a professional pedalboard. But Boller's stomp situation wasn't always so clean. At one point, he was using duct tape to keep things together. Friend and rig builder to the stars, Dave Friedman, intervened and helped level-up his board. In front of the Musicomlab EFX MK-V Audio Controller, Boller has routed his Line 6 Relay G50 Wireless Receiver (live), Korg Pitchblack Tuner, MXR EVH Phase 90, Friedman Smallbox, Empress Compressor (to lift up his clean tapping parts), and ISP Technologies Decimator II G-String that actually has two signals before and in the effects loop. The three pedals in the BE-100's effects loop are an Electro-Harmonix Holy Grail, MXR Carbon Copy, and a TC Electronic Flashback X4.