Jim Weider talks recording at Allire Studios
Every guitar player would love to get a hot band into a studio and record a live record. But to actually do so takes an incredible investment in time, effort, organization and, of course, money. That said, legendary Tele player Jim Weider did just that with his latest release, Pulse. Recently, I caught up with him to ask about how the whole thing went down.

"We did the record over the course of three days at Allaire Studios in Shokan, N.Y.", Weider said." It was myself, along with Mitch Stein on guitar, Rodney Holmes on drums and Steve Lucas on 6-string bass. Engineer John Holbrook [Natalie Merchant, B.B. King, Brian Setzer] was invaluable on this project, and really made us all comfortable."

As for the studio, Weider added, "Allaire is an amazing studio, but we had to get towed up to the top of the mountain the first night of the session because it was in the middle of a blizzard. We were one of the last sessions there before the placed closed for good."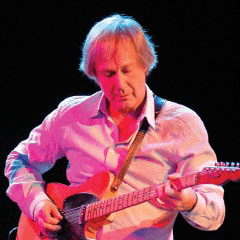 Jim Weider
Weider, aside from being a touring solo artist, took over for Robbie Robertson in The Band in 1985, and still plays the occasional show with them. A native of Woodstock, N.Y., Weider has also recorded and performed with the likes of Los Lobos, Taj Mahal, Hot Tuna, Keith Richards and Mavis Staples.
On the approach he used on his latest release, Weider said he was trying to capture the spirit of a well-rehearsed band playing together live, all in the same room.
"We'd been hitting most of these tunes together on the road, so they were really ready to go when we got in the studio," he said. "We were all in the same room, and John Holbrook had worked ahead of time with Rodney Holmes to get the drum sounds and baffle them off. I had a 4x12 Marshall with my signature Fargen JW-40 head, and I just put my pedals on the floor [King of Tone, Analogman, wah pedal, T-Rex replica delay], as did Mitch [Stein]. Our amps and speaker cabs were in different rooms. It was just us in there with our instruments and the drums. We recorded with cans [headphones], which I usually don't like, but we had a good sound and I was really comfortable because we had been playing so much together."
Weider continued, "Everything was live, leads and all. We just cut a few passes of each, and said, 'ok, that track feels good.' Actually, we took only around three passes of each song before moving on, so we didn't burn out the feel. On some songs we did use a click to play to so it was in time—but Rodney [Holmes] is such a monster that he plays relaxed even when using one. I actually didn't listen to it, I just felt the groove. The reason we did it that way was that if a solo or a section was better on one take, need be, we could slide it in."
Weider, who played mostly his '52 Fender Tele and a Gibson Sonoma acoustic, noted that there are a few overdubbed guitars on the record, but that everything else is live.
"I just wanted the record to have a real natural feel, and really show what the band sounds like live," he said. "It was great because there is no better way to get that feel and not belabor over the overdubs."
Engineer John Holbrook recorded direct into Pro Tools through a Neve console. For Weider's classic tone he used a Royer 121 and a Shure SM-57 on the Marshall, as well as on Stein's setup. The bass had a combination DI and a mic'd up cabinet for extra punch.
Holbrook, who also did Weider's last studio record at Clubhouse Studios in Rhinebeck, N.Y., mixed Pulse at his well-appointed home studio. Consisting primarily of a Pro Tools HD system with Lynx Aurora converters, it also features an SPL MixDream 2384, which is a 16x2 analog summing mixer with 16 balanced inserts. This let Holbrook mix Weider's project as a hybrid, combining the digital aspects of Pro Tools with the analog punch of all his outboard gear.
"I loved recording like this. It really is an amazing way to work," Weider said. "The last step was mastering it at Airshow Mastering in Boulder, Colo., with Dave Glasser. Overall, this is the record I've always wanted to do; get into a great studio with a great band, great engineer and just do it live. It was a great experience to go into the studio in the middle of a blizzard and come out three days later with record."
For more information on Weider and his music, visit
jimweider.com
and iTunes.
Rich Tozzoli
Rich is a producer, engineer and mixer who has worked with artists ranging from Al DiMeola to David Bowie . A life-long guitarist, he's also the auther of Pro Tools Surround Sound Mixing and composes for such networks as Discovery Channel, Nickelodeon and National Geographic.