Photo by Tim Bugbee
The modern twisted-blues-rock hero and his long-jamming power trio, Earthless, take cues from vintage Japanese psych and folklore to tell the epic musical story of Night Parade of One Hundred Demons.
There's no lack of instrumental, improv-based guitar music being made these days, but few bands in that niche exude the muscular power, cosmic intrigue, and impressive blues-rock bite of San Diego-based power trio Earthless. The band's records undulate through melodies and hypnotic grooves that are fresh yet familiar, and breathe new life into many of the rock guitar tropes that have inspired so many players to fall in love with the instrument.
Since forming in the early 2000s, Earthless' psychedelic-tinged explorations have channeled the energy and fire that made the first wave of English blues-rock such potent stuff, with the same captivating vitality as Cream, Hendrix, and Peter Green-era Fleetwood Mac. At the core of the band's sound is Isaiah Mitchell, a full-fledged guitar hero whose undeniable chops and creativity are matched only by his penchant for conjuring the kinds of killer tones many of us have spent small fortunes chasing. Bolstered by groove guru Mike Eginton on bass and powerhouse drummer Mario Rubalcaba (Rocket from the Crypt, OFF!, Hot Snakes), Earthless is the ideal vehicle for Mitchell's unfiltered, incendiary playing. Outside of the band, his work includes the coveted lead guitar slot in the Black Crowes—a gig he landed during the group's unexpected 2019 revival and perhaps the ultimate testament to his ascending status as one of today's absolute finest blues-rock players.
Earthless from left: bassist Mike Eginton, drummer Mario Rubalcaba, and guitarist Isaiah Mitchell.
Photo by Marta Estellés Martín
While Mitchell's commitments with the Crowes have sadly been consistently stymied by complications from the pandemic, Earthless have recently returned to the recorded form with a sprawling, hour-long instrumental adventure: Night Parade of One Hundred Demons. The sinister subject is the musical translation of a story pulled from Japanese folklore about a chaotic night in which the supernatural world collides with our own and a cavalcade of demons runs rampant through the streets of Japan. While the record is entirely instrumental, it's the band's first to feature a specific sonic story concept—and it's one of the most musically intense releases in their discography.
Mitchell explains the album's unexpected direction: "There's a darker vibe to it. It could be some frustrations from the pandemic, but we're pretty light, happy people for the most part. It's just the music that came out." The concept came from the band's bassist. "Mike and his son are really into Japanese folklore and art," Mitchell explains, "so he brought in the idea of calling it Night Parade of One Hundred Demons and explained the story, and it just made perfect sense with the music we had been writing. Then we were like, 'Well let's actually tell that story!'
Night Parade Of One Hundred Demons, Pt. 1
"When we started writing, we noticed that the music was reminiscent of Japanese bands that we loved, like Flower Travellin' Band, Blues Creation, and Shinki Chen. We just ran with that sound," explains Mitchell. Those esoteric hard-rock and proto-metal groups that came out of Japan in the late '60s and early '70s filtered Western heavy rock through a uniquely Japanese lens, making for music that was fundamentally familiar sounding yet totally exotic, relative to the British and American bands that influenced it. For Mitchell, no one does heavy guitar music quite like the Japanese, and the concept of the album "opened up the possibility of really getting inside of a Japanese scale approach" and guided his note choices in a new direction.
Mitchell says the recording experience "was a fun challenge to try to pay homage to that music" and explains, "a lot of what was going on in my mind—if we can talk in intervals—was like root, flat second, minor third, flat sixes—all of these weird combos that aren't in your blues scale or your Mixolydian or Dorian things, but more Locrian in nature. It's a totally different thing." He adds that he was inspired by traditional Japanese music and instruments like the koto as well.
Night Parade opens with a positively lush six-minute guitar intro that Mitchell says is meant to paint the picture of a Japanese village at sunset. It's an idyllic, tranquil scene that's conveyed through passages of delicate, Hendrix-informed clean-toned guitar work. "We paint this pretty picture and then … boom, all hell breaks loose and these demons show up!" Mitchell explains. "The idea was to have more of a direction with it, trying to tell a specific story and putting the music to that story. Nothing else we've done has ever had any greater meaning or specific subject attached to it, so this was totally different and was a lot of fun."
"I try to go into each improvisational section or solo by telling myself, 'Here's this moment that is for you. Be very present in it and mean what you're doing!'"
The arrival of the demons from the Japanese legend is marked by a churning, turbulent, and downright evil-sounding riff fest that puts all of Mitchell's gifts on full display. On the latter half of "Night Parade of One Hundred Demons, Pt. 1," his guitar work bridges the chasm between Clapton's sense of melody and feel and the extreme intensity and hellish string-bending and whammy-bar theatrics of Slayer. Across the album's three long tracks, the band still has a foot firmly in the blues-rock world, but there's fuzzed-out mayhem, searing proto-metal lead work, and an element of adventure and danger that is sorely missing from much of today's improv-based rock 'n' roll.
Dramatic trem-bar moves haven't been a calling card for Mitchell in the past, but they're an important facet of Night Parade's sonic storytelling. Mitchell explains that aggressive whammy-bar techniques were something he'd avoided in the past, opting to block the bridge of his battered main Strat for years because he could never get the stock trem system to stay in tune. However, for the new record, he says, "We wanted to evoke a feeling, a mood, a sensation—and that required overbearing whammy bar! Totally Jeff Hanneman or Neil Young trying to break his strings at the end of a set, just freaking out! It's perfect for making a song sound like hell and murder and death and chaos. It's frantic and it's anxious and paranoid and a mood of terror."
Mitchell credits his friend Phil Manley (Trans Am, The Fucking Champs), who recorded the band's From the Ages album, with changing his attitude. "[He] turned me on to Callaham Guitars, and I got a whole new trem system for my Strat from them. I just slapped that thing on and had it floating a little bit, and all of a sudden I was throwing bigger Hendrix dives into my playing and it wouldn't go out of tune. I was amazed." He adds that "it's like having a totally new guitar. The thing with Earthless is I'm not going to be able to retune in the middle of an hour-long song. You're fucking out to sea swimming and there's no stopping."
Isaiah Mitchell, wielding his go-to Strat, tweaks his Echoplex as Earthless jams.
Photo by Marta Estellés Martín
Night Parade was tracked to tape and a key part of its charm and immediacy is its organic production aesthetic. While the album tells a tale of the spirit world, it still sounds like three humans in a room attempting to blast their way into the void. There's 60-cycle hum in the clean parts, there's the obvious sound of air hitting mics, and Mitchell confirms that amps and speakers were indeed harmed in its creation. "We wanted to keep it as real as possible," he says, "but we also wanted to make it sound great and not deliberately mess it up, but also not over-polish it."
Rig Rundown - Earthless
As a player who's spent the lion's share of his career in improvised music, Mitchell knows how to pull something out of nothing with his guitar. "I try to go into each improvisational section or solo by telling myself, 'Here's this moment that is for you, be very present in it, and mean what you're doing!'" he says. "I don't want to just shoot notes here and there. I want to really try to play off what everyone else is doing and listen."
TIDBIT: The concept for Night Parade of One Hundred Demons was inspired by a story that bassist Mike Eginton and his son found in a book of traditional Japanese ghost tales.
It's no surprise that his inspiration comes from the classics: "What really got me into that approach was listening to Live Cream and Hendrix just taking off forever, really feeling what guys like Clapton and Hendrix, or even Neil Young, had in their phrasing. It's like they're breathing, you know? There's an intention in everything they played. They're trying to convey something. They want to make you feel something, and it's just very tasteful and about presence in the moment. That's the best place to come from when you're improvising. Building and trying to tell an interesting story melodically—that's my approach. Tasteful phrasing is about not laying all your cards on the table right away or blowing it all up right out the gate—build it, build tension!"
Mitchell's dedication to his craft as a player and tone-shaper naturally helped him land his high-profile spot with the brothers Robinson in the revived Black Crowes, and he's still drinking the experience in. "I was a fan growing up and watched their music videos on MTV, so it's a really surreal experience," he ruminates. "I've been friends with Chris [Robinson, Black Crowes frontman] for maybe 10 years now, but it's so cool to be brought into the fold and to play with people that love music like they do. The whole band is fantastic and getting to hear Rich [Robinson, Black Crowes guitarist] and Chris together is a sound and it's powerful. It's a wonderful experience musically and getting to play those songs that I grew up with—and being able to put my stamp on it and still honor the song—is important to me."
"We paint this pretty picture and then … boom, all hell breaks loose and these demons show up!"
He approaches his position in the Black Crowes with the same level of care he brings to his own band. "The fans are used to a certain thing," he explains, "and you can do too much to bring yourself into it. I don't think that's always the right choice." Contrary to Earthless, which is built around his own creative instincts, Mitchell points out that in such a classic, established band, it's of utmost importance to know "where and when to be yourself." And while Earthless calls for a more maximal, up-front guitar sound, playing in the Black Crowes alongside another guitarist and keyboardist is "a totally different way of filling musical space. I love being in different places and playing different roles and trying to be as selfless as possible for the sake of what the music needs."
As both the longtime lead voice in Earthless and now the guitarist in the Black Crowes, Mitchell has risen from unsung underground guitar hero status into the mainstream. It's a position he revels in, but he brings respect for the history of the band's guitar chair. "My favorite part about the Crowes growing up is that the songs were fantastic," he says, exclaiming, "but I really fucking loved Marc Ford's playing. He was one of my dudes, growing up!"
The Gear Behind Isaiah Mitchell's Heroic Tone
Mitchell performs with Earthless in Berkeley, California, at the Cornerstone on February 20, 2022.
Photo by Samuel Cuevas-Coria
Guitars
'50s-style Fender Stratocaster
Gibson Custom Shop 1956 Les Paul Goldtop reissue
Prisma Guitars custom build (made from recycled skateboard decks)
Ian Anderson T-Style
Amps
1971 100-watt Marshall Super Lead
1979 Marshall 2203 JMP
1968/1969 Fender Super Reverb
Vox AC15 head
Orange Custom Shop 50 head
Satellite Amps 2x12
Orange vertical open-back 2x12 with Celestion Creambacks
Effects
Strymon Flint

Make Sounds Loudly Klon clone
Make Sounds Loudly Tone Bender clone
Make Sounds Loudly Night Witch
Carlin compressor/distortion clone
'90s Fender brown-panel Reverb unit
Tym Guitars Seaweed Isaiah Mitchell Signature Fuzz
Maestro Echoplex EP-3
Dunlop Cry Baby
Vox wah
Xotic EP Boost
Strings & Picks
Dunlop (.010-.046)
Dunlop .88 mm Tortex
Mitchell has some of the best tones in rock 'n' roll. On Night Parade of One Hundred Demons, he kept things relatively simple and turned to some classic pieces.
For a clean tone, Mitchell relied upon a Fender Super Reverb from '68 or '69, which he sometimes mixed with a Vox AC15 head played through a Satellite Amplifiers 2x12 cab, paired with an Xotic Effects EP boost. He embraced his rig's natural hum: "That tone just sounds so good and there's something about hearing that hum that feels organic, and it doesn't take away anything from the music for me. If you listen to Stevie Ray Vaughan's 'Little Wing,' you can hear his amps humming. It's organic and I think there's something beautiful in keeping the recording what it is. You're getting this beautiful tone and hearing that hum is a piece of that tone."
To create the record's burly-but-dynamic distorted sounds—the "full-blown stuff," as Mitchell calls it—he used his primary 1971 100-watt Marshall Super Lead until it released the magic smoke that all tube amps run on and was placed on the injured list. "It sounded fantastic until it blew up!" the guitarist exclaims. "I'm not sure what happened, but luckily the transformers were fine." He borrowed a friend's '79 JMP 2203 as a replacement. He also occasionally used an Orange Custom Shop 50 through an Orange 2x12 vertical open-back cab loaded with Celestion Creambacks.
For guitars, a thrashed but beloved Fender Strat (with its new Callaham trem and the '50s style deep-V neck it came with) that Mitchell bought from a friend's father as a teenager did the heavy lifting. That guitar now sports a set of signature Stratocaster pickups Mitchell concocted with Australian builder Mick Brierley. While Mitchell says the process of arriving at the desired sound involved many prototype sets with too many different spec recipes to recall, he says the pickups they ultimately arrived at are "dialed-in to have a lot more midrange than most Strat sets and are very clear, clean up nicely, and add a lot of warmth to the sound."
"We wanted to evoke a feeling, a mood, a sensation, and that required overbearing whammy bar!"
Backing up the Strat was a recent '56 Gibson Custom Shop Les Paul Goldtop reissue loaded with P-90s, which Mitchell used for the album's beefier riffs. For some of the cleaner sounds, the guitarist also employed a custom build from Prisma Guitars that was made from recycled skateboard decks.
Mitchell shaped his tone with a stash of effects that included a tried-and-true Echoplex EP-3, a standard Vox wah, a Cry Baby wah, a crew of overdrives and fuzzes by Make Sounds Loudly, Mitchell's signature Tym Effects Seaweed fuzz—based on a Triangle Big Muff circuit—and a reissue of a little-known compressor made by Carlin in the '60s. "Reine Fiske of Dungen is probably the top dude for me right now. He's an amazing guitar player and his tone is just impeccable. I was reading interviews with him, and he spoke about the Carlin compressor, so I got a remake of one of those. That's a really cool pedal that's noisy and kind of shitty, but in a vintage way that isn't trying to clean up a bunch of stuff, and you can overdrive it like a fuzz."
To represent the sound of demons "swirling around each other," as he puts it, on "Night Parade of One Hundred Demons, Pt. 2," "I used a Leslie cab to be the sound of one of the demons and then the regular guitar rig to represent the human. Creating a different personality with the Leslie was a fun way to get there."
EARTHLESS Los Angeles, CA. 2-25-2022
Photo by Emanuela Bonetti
The Italian maestro talks about the spiritual inspiration he draws from his Basque roots, as well as channeling his endless guitar-tinkering passions into his latest musical project, Buñuel.
Italian guitarist and sonic adventurer Xabier Iriondo has an affinity for the Basque term, metak—which literally means, "pile"—and he often incorporates it into the names of his various projects. His custom-built experimental guitar is the Mahai Metak (or "table pile"). Some of his unconventional musical collaborations also include the term, as in PhonoMetak and PhonoMetak Labs. And Sound Metak was the name of the eclectic shop he ran for about a decade in the early 2000s, which sold everything from boutique guitar pedals to shoes. (Check out his Instagram profile, which, in addition to pictures of his amazing collection of guitars, pedals, and vintage amps, is also a showcase for his impeccable taste in footwear).
"I am half Basque," Iriondo says. "And these words—like "mahai" and "metak"—come from the Basque language. A metak is when you take the grass that you're cutting, and you make a mountain of this grass in the garden. In the past, you gave this metak to the cows." Another traditional Basque practice and type of metak involves shredding and drying corn stalks to use as fodder over the long, cold winter months. So, a metak is a pile of collected things that are preserved for an extended period. In Iriondo's view, this serves as an analogy for something deeper. "I love this idea, because you can put everything inside the metak," he says. "It's like a collection of your emotions. For example, with my shop, Sound Metak, I sold different kinds of things—from old gramophones and vinyl shellac records to fuzz pedals and jukeboxes and guitars and amplifiers—it was a lot of different things. Metak for me is an idea, and my instrument, the Mahai Metak, is the same thing. It's an energy from my fantasy, which is everything I can put out from my mind."
Buñuel is a noise-rock quartet named after the legendary Spanish filmmaker, Luis Buñuel. The band formed was formed in 2016 by (from left to right) bassist Andrea Lombardini, drummer Francesco Valente, American vocalist Eugene S. Robinson, and guitarist Xabier Iriondo.
Conceptually, metak also helps to explain Iriondo's musical diversity. Born in Milan, he started playing the guitar at 17, and became something of an Italian celebrity as part of the alternative band Afterhours, with whom he's been a member since 1992 (except for hiatus throughout most of the aughts). But Afterhours is about as mainstream as Xabier gets. He's also made incredible noise with myriad projects, like his recordings and performances with Can's Damo Suzuki (Damo Suzuki's Network), collaborations with the cream of Europe's avant-garde (?Alos, Pleiadees), numerous solo projects, and the list goes on and on.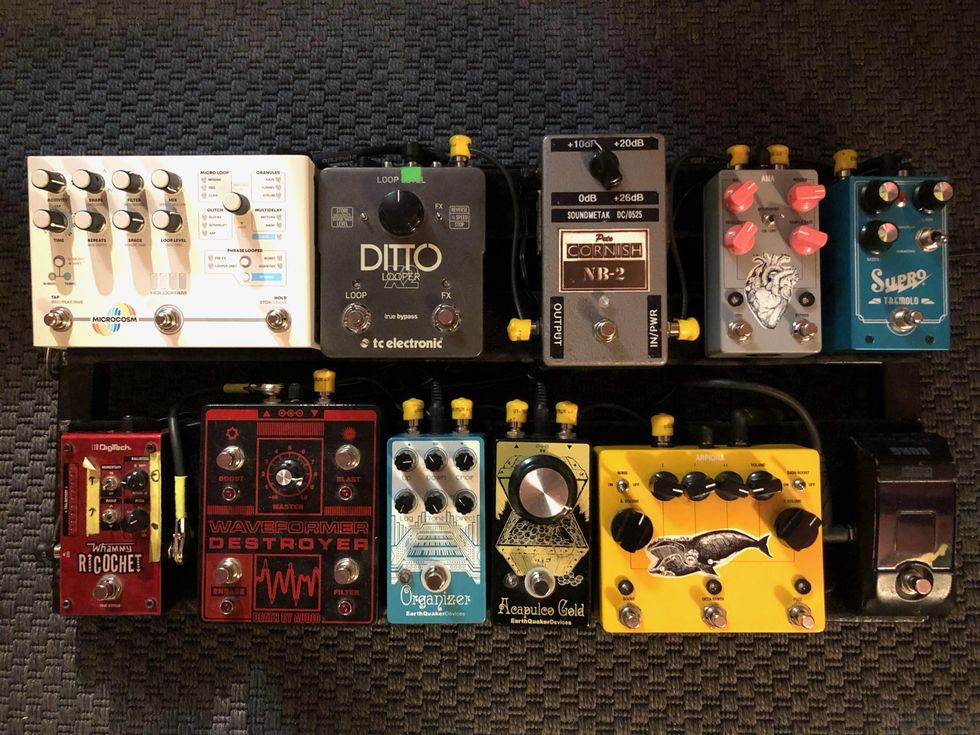 Xabier Iriondo's pedalboard: "When you're using some of these destruction pedals on the loud and heavy stuff, the guitar isn't so important. You destroy everything with these kinds of pedals."
His most recent outing is the abrasive, apocalyptic, noise-rock quartet Buñuel. Named after the legendary Spanish filmmaker Luis Buñuel, the band first came together in 2016 and mixes the talents of a trio of Italian musicians—Iriondo, bassist Andrea Lombardini, and drummer Francesco Valente—plus American vocalist Eugene S. Robinson. Their new release, Killers Like Us, is awash in fuzz and rages between brain-crushing, metal-tinged cuts like "A Prison of Measured Time" and "When God Used a Rope" to slow, doomy dirges like "Hornets" and "When We Talk," as well as moments of unstructured, free improvisation interspersed throughout the record.
BUNUEL - When God Used A Rope (official video)
"We are three Italian musicians," Iriondo says about Buñuel's genesis. "We were a little bit famous here in Italy, and we decided to choose an international singer. We wrote to Eugene Robinson, and he accepted our idea. For our first record, the three of us recorded 10 songs in a studio in Italy. We sent them to Eugene in San Francisco, he sang on them, and then sent the tracks back to us. We did that again for this record." Not only were the vocals recorded separate from the rest of the band, but Robinson didn't even get a chance to rehearse with them. The first time the band played together as a quartet was onstage in front of an audience. "We didn't rehearse with Eugene—we rehearsed ourselves—and we met with him the first day of the first gig. That's how it started."
Despite Iriondo's years of experience with group improvisation, that was not the approach he took with Buñuel. You'd think improv would be helpful when stepping onstage raw with an unrehearsed new singer. Rather, the band's vibe is through-composed songs that are played the same way—except for planned sections set aside for improvisation—night after night.
"When I want to take a solo, I adjust the Cornish directly with my foot. I open up the volume, and then I arrive in the cosmos."
"We play the songs like they are on the album," says Iriondo. "Although we do have some parts, or structures, that can change. For example, on our first tour, we wrote our 10 songs, and that's all we had. At the end of the show, the audience asked for more. I said, 'Okay, let's start with an improv,' and that improv we used on those gigs from the first tour became a song on the second album ["The Sanction" o 2018'sThe Easy Way Out]. We composed each day, each gig, and the song transformed and arrived at the end of the tour."
When recording Buñuel, Iriondo harnesses that live feel by taking a minimalist approach to overdubs. Aside from an odd guitar solo or two, the instruments are recorded live, with the band members standing together and looking at each other. "I also play pop rock with other bands, and overdubbing is okay for that kind of music, but the wildness of this project gains a lot when we're all playing together in the same room," he says.
For both of Buñuel's albums, including the new Killers Like Us, the three Italian core band members recorded the songs in Italy and sent them to vocalist Eugene Robinson in San Francisco. Robinson sang over the music and then sent the tracks back to Italy.
"In the past, in the '90s, I used the VHT head system that people talked about," he says about the now-rebranded Fryette Pittbull Ultra-Lead. "I bought the second one that arrived in Italy in 1994. But in the last 20-to-25 years, I started using theHiwatt DR103, and I think that's my sound. When I plugged in for the first time, I said, 'What the hell is this?' I can go from high-frequency, crystal-like sounds to really deep grunge sounds with a lot of low frequencies. In general, with Buñuel and also Afterhours, I use the Hiwatt, and then also another amp, a 300-watt SWR California Blonde, which is a transistor amp. I have the headroom also in the clean sounds, but when I engage all my fuzzes and boosters, the gain is incredible, and it's still in front of you all the time."
"I love this idea, because you can put everything inside the metak. It's like a collection of your emotions."
Iriondo's tone is wild, too. Considering how mangled, heavy, and distorted his sound gets, it's interesting how he crafts his tone almost exclusively with pedals, which he uses to drive his amps. He owns more than 20 heads and cabs, and his preference is classic British amps like Hiwatt, Orange, Carlsbro, and Simms Watt—he has a few of each in assorted colors—that have a lot of headroom. He feels those work best with his high-gain pedals.
Xabier Iriondo's Gear
Xabier Iriondo's custom-built "Mahai Metak" is a 10-string short-scale table guitar. Six of the strings are tuned to D in different octaves and act as drones. The other four are G, G, F, and A. It has pickups on both ends, plus an onboard oscillator and distortion unit, and controls for volume and tone. "I play it with Chinese sticks, and I create rhythms and special sounds with steel wool—that stuff you use in America to wash your dishes. It sounds great."
Photo courtesy of Xabier Iriondo
Guitars
Two custom Billy Boy Guitars made by Fabio Ghiribelli (a white model and a purple model used with Buñuel, with a TV Jones pickup in the neck position and a '52 Tele pickup in the bridge)

NukeTown Venusian IX Signature 9-string
Loic Le Page (Mahai Metak Guitar)
James Trussart Red Star Steelcaster
Amps
Hiwatt DR504 stack
Hiwatt DR103 head and 4x12 cab (1970)
Vox AC30TB (1992 reissue)
Orange OR120 head with 4x12 cab (1969)
Orange bass cabinet with 18" speaker (1970)
Simms Watts AP100 Mk2 (1972)
Marshall 1959 SLP Purple Limited Edition (1994)
300-watt SWR California Blonde
Effects
Hologram Microcosm Granular Looper

TC Electronic Ditto X2
Pete Cornish NB-2
AC Noises AMA (reverb w/ oscillator + bit crusher)
Supro Tremolo
DigiTech Whammy Ricochet
Death By Audio Waveformer Destroyer
EarthQuaker Devices Organizer
EarthQuaker Devices Acapulco Gold
AC Noises Arpiona Xabier Iriondo signature
Korg PB-03 Pitchblack
Strings & Picks
D'Addario .010–.052
Dunlop Tortex Purple 1 mm
Iriondo has a seemingly endless collection of pedals, too, although his go-to is his signature octave-synth-fuzz-boost Arpiona, made by Italian builders AC Noises. The pedal starts with a gated fuzz circuit inspired by Death By Audio's Harmonic Transformer, followed by a sub-octave bass synth, more fuzz, and a boost. He uses that in conjunction with an EarthQuaker Devices Acapulco Gold, and a Pete Cornish NB-2 boost that's always engaged. "When I want to take a solo," he says, "I adjust the Cornish directly with my foot. I open up the volume, and then I arrive in the cosmos."
Afterhours - Spreca una vita
Iriondo is also no purist. If an analog circuit will get him the sound he wants, great, but he's just as happy using a digital device. "I use everything that can give me satisfaction," he says. "Why not?"
Why not, indeed. He also gets that satisfaction from his guitars. "About 80 percent of my choice in guitars is the feel, and 20 percent is the sound," he says. "When you're using some of these destruction pedals on the loud and heavy stuff, the guitar isn'tso important. You destroy everything with these kinds of pedals. They completely destroy your clean sound. Although when I play pop-rock music, I change my guitars a lot."
Xabier Iriondo bought his James Trussart Red Star Steelcaster directly from the luthier at his L.A. home in 2012. It features a metal front and back perforation body, maple neck, rosewood fretboard, and two Arcane Inc. pickups.
Photo by Alberto Mori
But that feel is elusive, which may explain Iriondo's vast collection of instruments. He has vintage guitars he doesn't mod at all, but in general he's an itinerant tinkerer. He usually swaps out pickups, even on his less expensive guitars, and has a significant number of custom-built guitars as well. "I'm not only a collector, I'm a professional, which means guitars are my life," he says. "I want to have tools that work well with me. In the last few years, I've had the opportunity to have my dream guitars that I ask luthiers to build for me with my specific specifications. The principal guitar that I used on the Buñuel project is made by Billy Boy Guitars. It has an incredible tremolo, and it's a light guitar. All the sounds you hear on Buñuel are made with that guitar."
Perhaps Iriondo's most unique instrument is his custom-built Mahai Metak. It's a 10-string, short-scale table guitar. Six of the strings are tuned to D in different octaves and act as drones. The other four are G, G, F, and A. The instrument has pickups on both ends—near the bridge as well as near the nut—plus an onboard oscillator and distortion unit, and controls for volume and tone. He plays it with an assortment of items, including marbles, roach clips, and steel wool. "I play it with Chinese sticks," he says, "and I create rhythms and special sounds with steel wool—that stuff you use in America to wash your dishes. It sounds great. I use it with the loopers and reverbs and it creates these noisy and bizarre sounds, as well as melodic sounds that create a nice texture."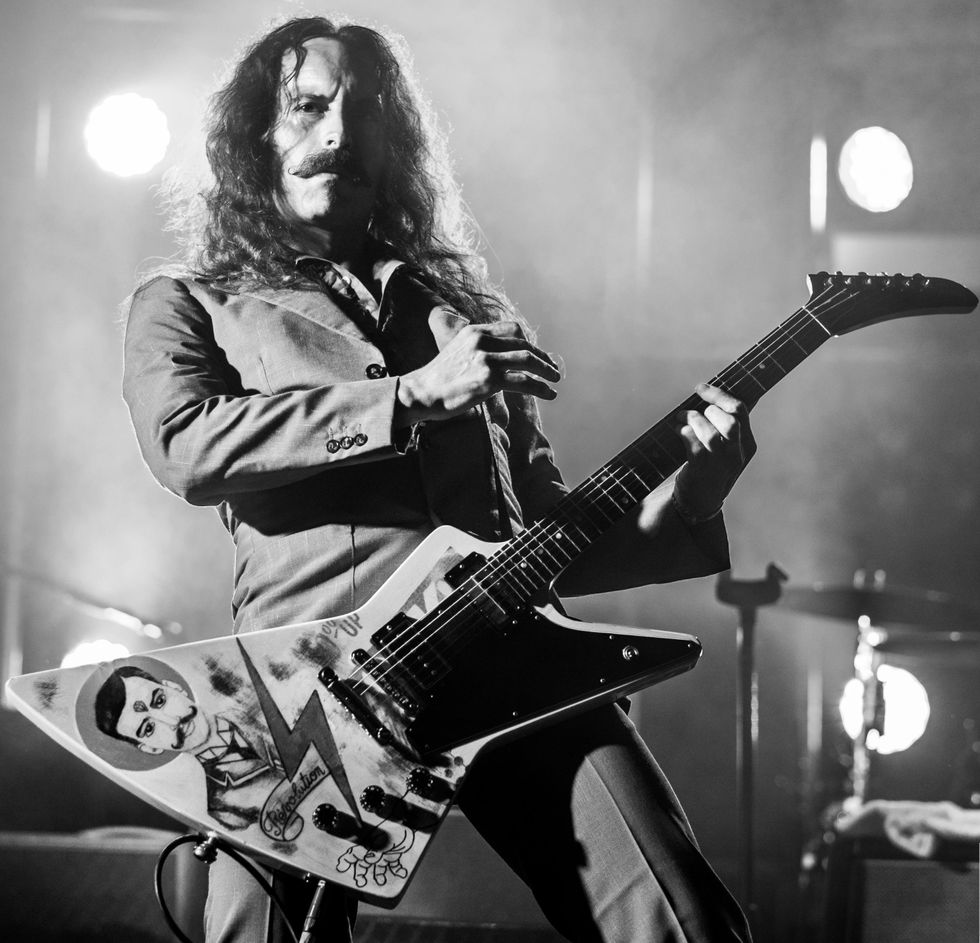 Iriondo's Gibson "Elettra" Explorer was handpainted by Valentina Chiappini
Photo by Matteo Pieroni
It's that openness and wonder, as exemplified by Iriondo's voracious appetite for gear, as well as his embrace of disparate genres and styles, that are the ingredients that make up his metak. Call it his esoteric pile of ideas, which gives him permission to explore the endless energies of his imagination. He'll conjure up sounds that are heavy and dark—or playful and light—and almost always fun, and, maybe, even a little mischievous.
And isn't that, ultimately, the ideal?
YouTube It