Zoom releases the first digital recorder with 16-track playback and 8-track recording
Hauppauge, NY
(June 28, 2009) -- Zoom is pleased to announce the release of their newest creation the R16--the first digital recorder with 16-track playback and 8-track simultaneous recording with Secure Digital (SD) memory.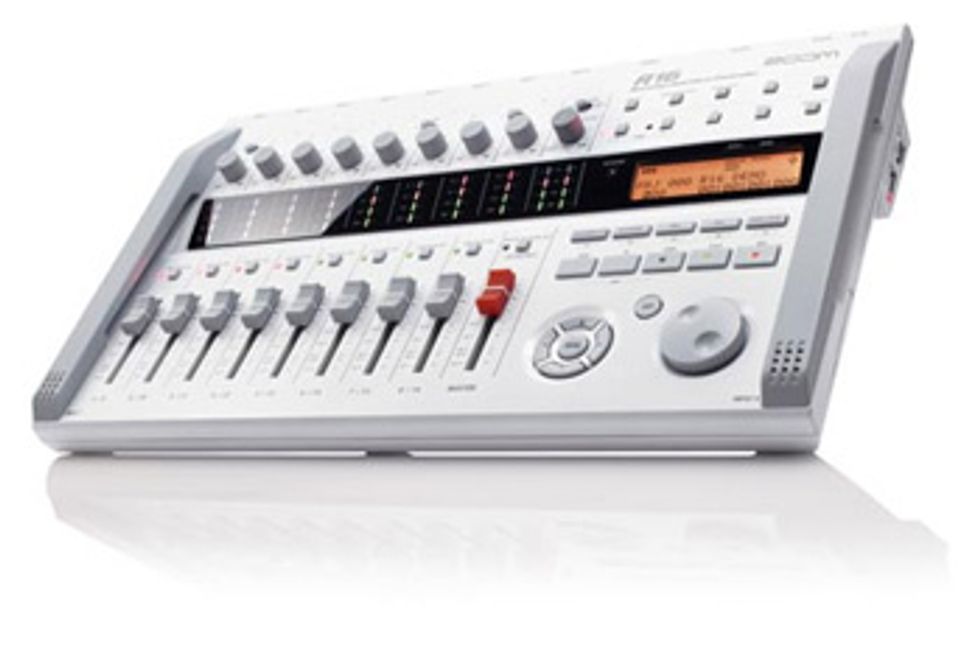 The R16 is three production tools in one device: a multi-track recorder, an audio interface and a control surface, designed to help provide studio-quality recordings. Additionally, the R16 runs on only 6 AA batteries, excellent for multi-track portability.
With the R16, recording artists, songwriters, sound engineers and film sound professionals alike can record up to 32 GBs on an SD card. The SD recording makes file transferring easy, and it also makes the R16 significantly lighter. SD recording also avoids the pitfalls of a potential crashing hard drive because it allows for up to 100 track hours of recording using all 16 tracks.
Specs:
• Digital recorder with 16-track playback and 8-track simultaneous recording utilizing Secure Digital (SD) memory
• 16/24-bit/44.1kHz linear PCM recording in WAV format
• Built-in stereo condenser microphones
• Included 1GB SD card and with support for up to 32GB SDHC
• Allows for simultaneous recording on up to 8 tracks
• Battery operation for remote recording
• USB power for audio interface and control surface operation
• 8 mic inputs / 2 outputs (8 x 2)
• 8 combination XLR-1/4-inch inputs
• High-definition 24-bit/96kHz recording capability using digital audio software
• 100+ built-in studio effects coming from advanced DSP which can additionally be used as outboard effects
• Hi-Z input for direct connection of guitar or bass
• Included preamp with phantom power on two channels
• Mackie control emulation via USB for popular DAW software including Cubase, Logic, Digital Performer and more
• Amazing guitar amp and effects models
• Professional quality mastering effects including multi-band compressor, normalizer and more
• Operates as USB storage device for quick data transfer
• Connect two R16s via USB for synchronized operation and 16 tracks of simultaneous recording
• Undo/Redo functions
• Comes with Steinberg Cubase LE 4
• Supports Windows XP/Vista, Mac operating systems
For more info, visit
samsontech.com
.