From simple to complex, analog to digital, these feedback-busting boxes can make your next unplugged gig a bit easier.
Acoustic amplification can be a tricky dragon to tame. This collection of DIs ranges from entry level and affordable to road-tough, pro-level designs with an eye-boggling amount of features.
ZOOM AC-3 Acoustic Creator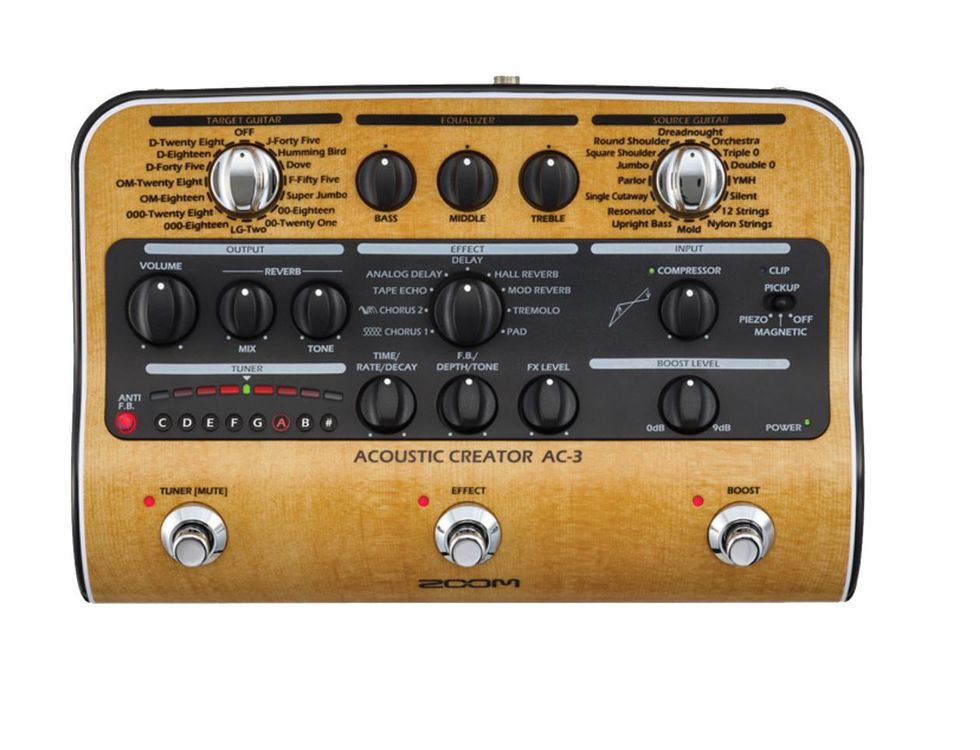 This acoustic-focused DI adds a bit of digital-modeling mojo to help shape the sound of your guitar to one of 15 target models. Also in the mix are a handful of useful modulation effects, compression, and a boost.
$299 street
zoomcorp.com
Audio Sprockets Tone Dexter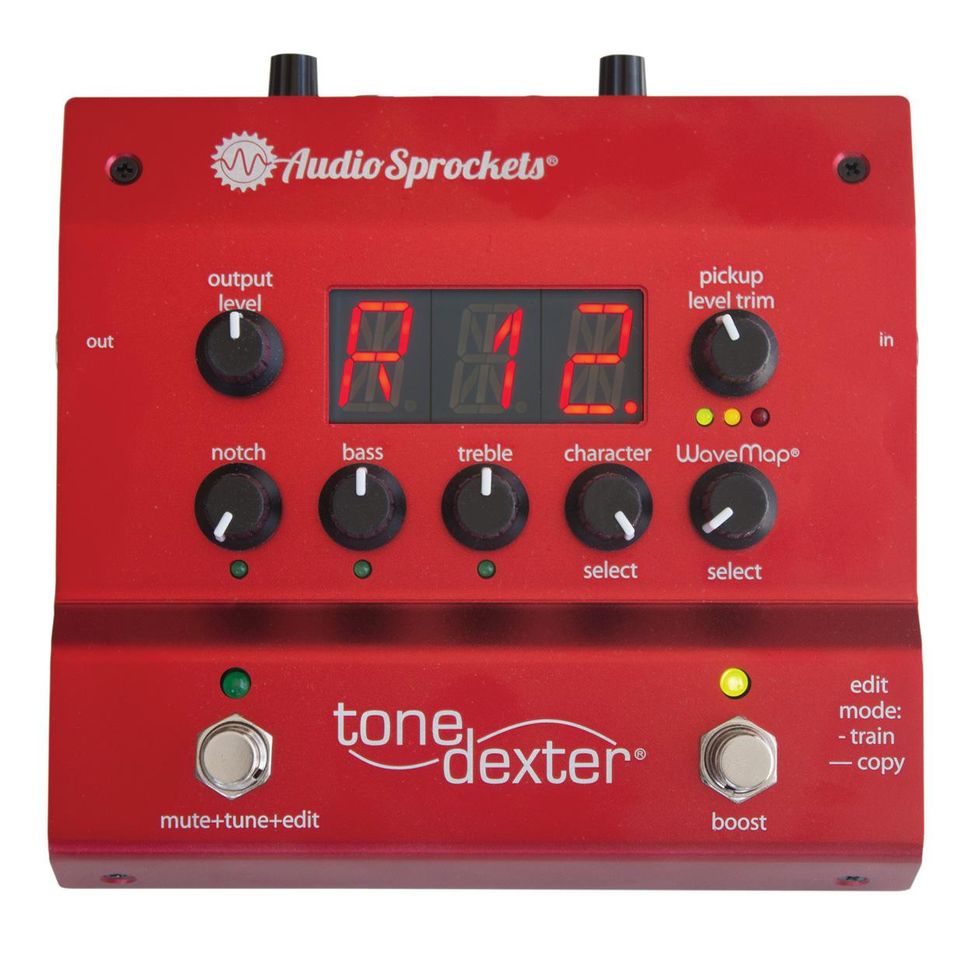 Rather than just plugging in and dialing some knobs, you train this inventive DI by miking up your guitar and allowing the unit to learn about any missing aural info. Once the wave map is saved, you can pull it up on the gig.
$399 street
audiosprockets.com
Mesa/Boogie Rosette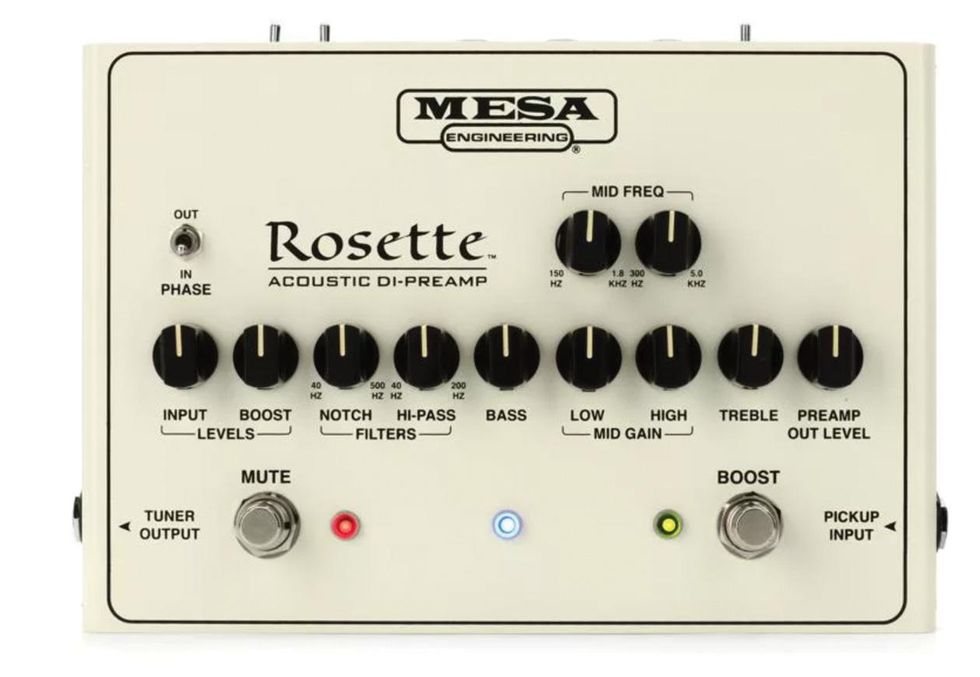 The focus is on massaging those pesky frequencies with a sweepable midrange control, a 4-band EQ, and a powerful filter section. Dual outputs and an effects loop round out this acoustic picker's playground.
$379 street
mesaboogie.com
Tech 21 Acoustic Fly Rig
Building upon the company's line of slim multi-effects units, this version comes with a special notch-filter equipped SansAmp, reverb, compressor, XLR output, and much more.
$299 street
tech21nyc.com
Radial AC-Driver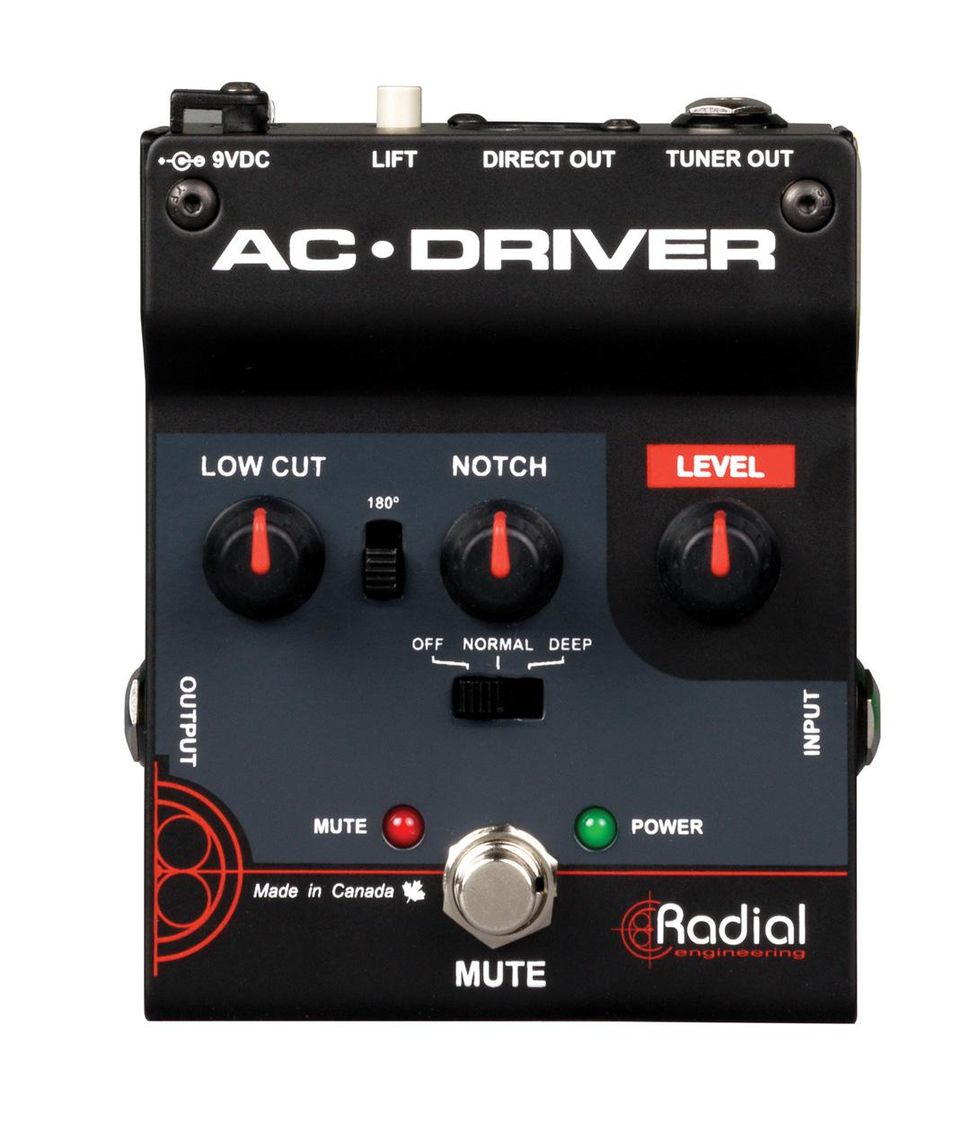 This compact preamp only delivers the most essential features for acoustic instruments, with streamlined EQ controls, a tuner out, and a customizable notch filter—making this high-quality circuit a pedalboard space saver.
$149 street
radialeng.com
L.R. Baggs VoicePrint DI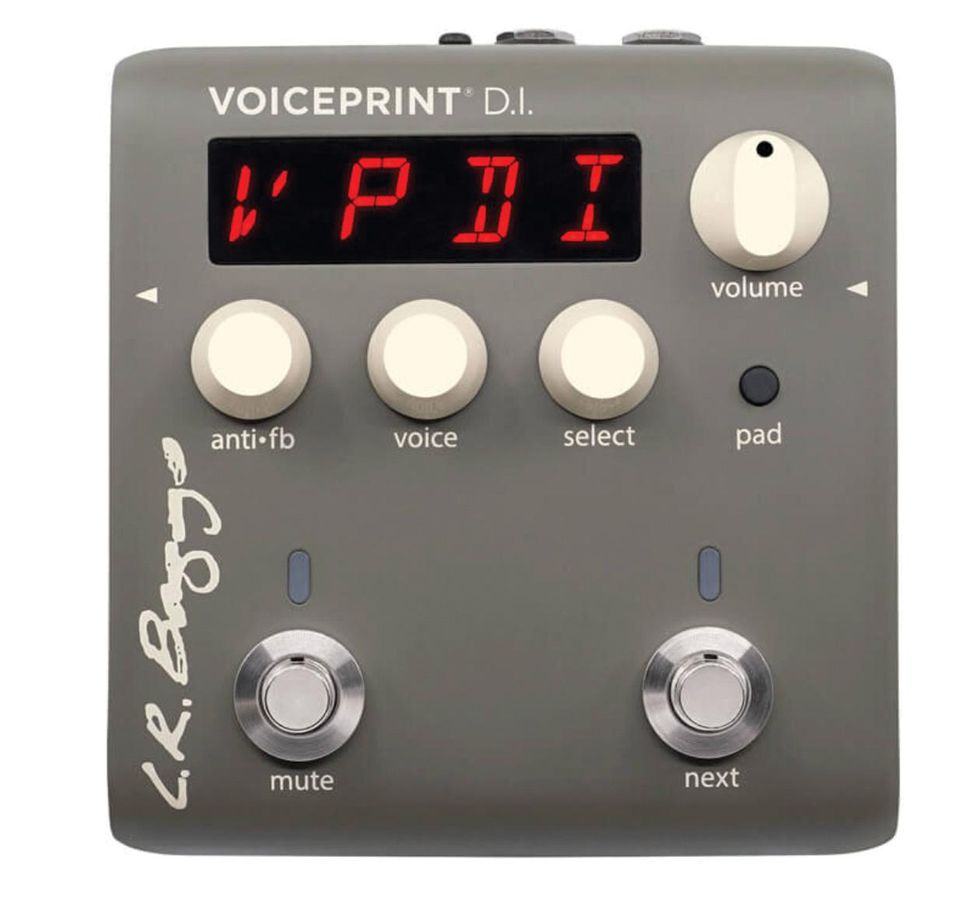 This tech-heavy stomp uses the power of your phone to leverage a custom impulse response to improve your tone. With a few strums and taps, the Voiceprint learns all it needs to know about your guitar and what frequencies it needs.
$399 street
lrbaggs.com
Fishman ToneDEQ
This pro-level DI also adds a handful of modulation effects into the mix, including reverb, delay, tremolo, and flanger, for your more cosmic acoustic adventures.
$319 street
fishman.com
Boss AD-10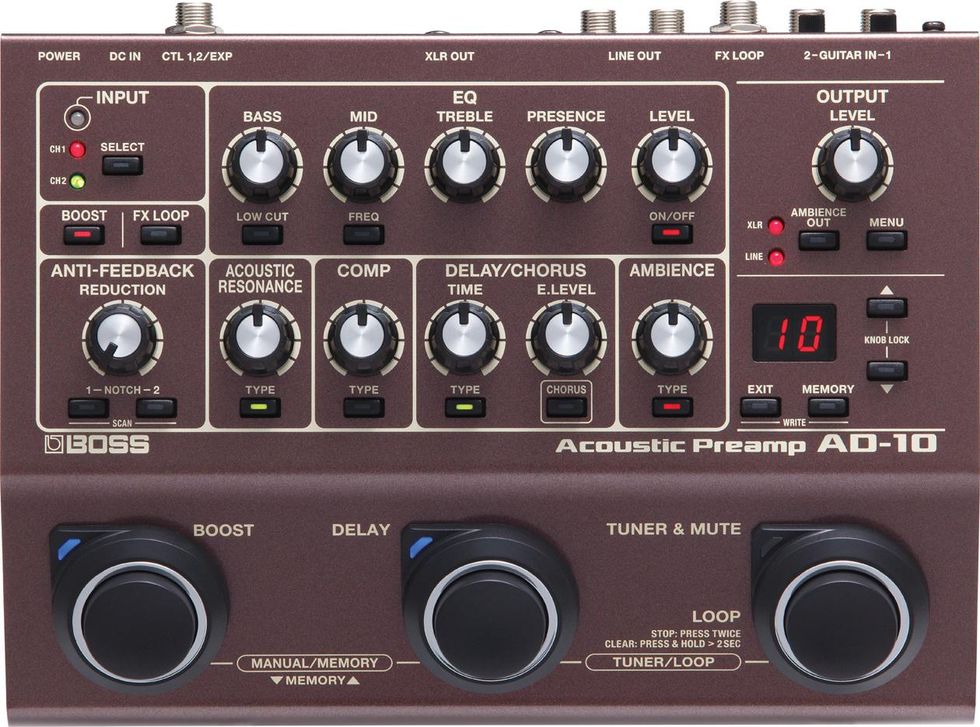 If you only can pack one pedal for the gig, the AD-10 offers a wealth of features for the solo singer/songwriter, including an 80-second looper to cop those Ed Sheeran vibes. Dual inputs, stereo outputs, and an effects loop make Boss' flagship acoustic stomp hard to beat.
$359 street
boss.info
BBE Acoustimax
A medium-sized mothership that offers all the essential EQ controls that acoustic pickers value. Bonus features include tuner out, effects loop and line out, plus an XLR output.
$169 street
bbesound.com
Grace Design Felix2
This sleek all-in-one preamp is a dream machine for those who need minute control of every wave of their tone. The latest iteration sports variable phase control, more EQ, and a built-in headphone amp for easy practicing.
$1,075 street
gracedesign.com
The PZ-Pro is a dynamite workhorse that can surely make gigging easier.
Extremely road-worthy. Dynamite range of features.
Lacking individual channel outputs.
5
5
4.5
4
Radial's latest iteration of their PZ-Pro is a dynamite workhorse that can make your acoustic instruments sound better and your rig more streamlined. In simple terms, it's a 2-channel preamp with a built-in effects loop, switchable boost, and independent EQ controls that could easily function as a grab-and-go setup or the centerpiece of an expansive pedalboard. Radial's reputation for rock-solid construction and road-worthy gear is well known, and the PZ-Pro carries that torch admirably. When you pick it up, it just feels like it can handle life on the road, and at $499 it should.
Recorded direct with a Cordoba Acero through a Focusrite Scarlet 2i4 interface into Logic.
I plugged in my Cordoba Acero and fed it to a Fishman SA330 PA system. The PZ-Pro's preamps are top notch and gave me plenty of clarity and headroom for nearly any amplified situation. The real magic was the PZ-Pro's versatility. Immediately, I thought of how using an external mic in channel 2 (bonus: it has phantom power!) along with a direct line could give FOH plenty of sonic material to work with. And if you're a utility player who needs to cover mando, acoustic, banjo, dobro, or any combination thereof, setting up individual EQ levels and roping in a few external stomps is a breeze. Plus, the added blend knob ensures that your external effects won't overpower your fundamental tone. That's an often-requested feature for acoustic pickers. One minor quibble is I wish each channel had its own XLR output and the pre/post EQ was a switchable feature.
Kudos to Radial for not overloading a unit like this with flashy, unnecessary bells and whistles and focusing more on real-world applications. The PZ-Pro is exactly that: a pro-level tool that puts more weight and thought behind the essential elements of acoustic amplification.
Test Gear
Cordoba Acero & Fishman SA330