This reader's onset health issues prevented him from building his guitar alongside his luthier friend, but in the end, his friend's guidance helped produce the perfect headstockless guitar.
This guitar began a year ago as a concept to make a guitar with a luthier friend who was going to be moving away. So, I had a time constraint. He and I would frequently go mountain biking, design and build biking trails, and played in a band together—until, eight years ago, I started to have chronic health problems, which forced me to quit all of those activities.
A collaboration at my friend's well-equipped workshop was nixed immediately, mainly due to my health, but also because his free time became limited, since his schedule was occupied with his full-time job and his project of building a house. As a result, the teamwork/consulting was going to have to take place via email.

My friend started me off with a very nice neck-blank sandwich of walnut and maple (from a tree that fell across one of our mountain-bike trails—bonus!) and a severely warped neck that was the donor for the fretboard and truss rod.
Ready for some headless hammer-ons.
I planned to copy a Traveler Ultra-Light Edge, which has an ingeniously designed tuning configuration and two-layer plywood body. But, by the time I finished carving the neck, I had decided that I would not be happy with a guitar body as small as the Traveler. I needed something more shapely and comfortable. The Ovation Breadwinner/Deacon shape won over a Klein Headless or Abasi Larada, both close runners-up.
The body took much longer to make than I anticipated. The in-body tuner arrangement is ideal for CNC fabrication, but it required a lot of planning and skill to make by hand. The body consists of two ¾″-thick pieces of plywood, so it was very convenient to chamber the insides before gluing them together. I mixed my own wipe-on polyurethane and added artist oil paint for a translucent tint. The finish was delayed by a month of frustration with inferior solvents due to new state VOC (Volatile Organic Compound) laws. My health limits my driving to only a few miles at a time, so I had to wait a couple of weeks until an anonymous helper could do a "moonshiner run" to a neighboring state for the good stuff (cue "Red Barchetta," or more like "Blue Honda Fit!").
"The body is lightweight, resonant, well-balanced, and very comfortable in both casual and classical playing positions."
The circuit consists of a volume pot with a treble-bleed filter and a flush-mounted toggle switch for selecting single-, series-, or parallel-coils. The bare aluminum pieces (string-anchor headpiece, humbucker surround, string-roller mounts, and engine-turned neck plate and cavity covers) were made by hand using aluminum scraps. The volume knob is aluminum and zebra wood.
I am very happy with the result. The body is lightweight, resonant, well-balanced, and very comfortable in both casual and classical playing positions. It sounds great, and I love the translucent red color that accentuates the plywood contours. Although I didn't get to make sawdust with my friend, he gave me plenty of advice during the process, and the neck is made from materials that he contributed, so I consider that a success.
Submit your guitar story at premierguitar.com/reader-guitar-of-the-month
If your story is chosen, you'll also receive a $100 virtual gift card from Allparts, the industry's leading supplier of guitar and bass parts! All entrants will receive a 20-percent-off coupon to allparts.com.
Please note that the coupon cannot be combined with other promotions.
A guitarist pulled into Nazareth for some Indian rosewood and then hunted for hardware to customize his Ibanez Musician.
Bertha started out as a 1980 Ibanez Musician with the 5-piece neck-through series. After figuring out what I wanted, I went to my friend and luthier, Tim Huenke of Superior Guitars (Washington, Pennsylvania), and we put her together. He did the work; I did the scavenger hunt for the parts.
We stripped out the body and most of the parts, then shaved down the body area (including the neck-through part) by 1/8". Being in the Philly area at the time, I was literally able to "pull into Nazareth" and get a book-matched Indian rosewood back set from the 1833 Shop to overlay the top.
The original fretboard was replaced with a triple-bound ebony board with 24 medium-jumbo, stainless-steel frets and, of course, banjo-style inlays. There was enough rosewood left to also redo the headstock overlay. The top was then given a "bathtub" route for the pickups and the rear switch cover was re-routed for a 9V battery box.
All the mechanical parts are either lacquered brass or gold-plated. Starting with Dunlop strap locks and an Electrosocket jack, I found a top-load Aria tailpiece with locking studs feeding a harmonica Tune-o-matic bridge sitting on the original stainless-steel sustain block, also with locking studs. A brass pickup surround was mounted along with a brass "flatworm" switch cover. The knobs are Tele-style, and the nut is an original bone/brass nut. The tuners are top-lock Grover 18:1 Rotomatics with imperial buttons.
The electronics start with a stereo jack (to turn on the preamp when plugged in) with three DiMarzio Super 2 pickups, three knob push-pull pots (for coil cuts), and a 5-way selector switch. The fourth knob control (pull-push) turns on the variable 0-20 db preamp. The three remaining switches are for phase reverse, series/parallel switching (when the middle pickup is on), and a switch that overrides the main selector to give a choice of bridge/neck, all three pickups, or the standard 5-way selector.
This has been my main axe for the last 15 years, and obviously you know who my favorite guitarist was.
As we approach Halloween, the power of the skull only increases! A Seattle guitarist makes a guitar for his everyday macabre needs.
"It is not my intention to be fulsome, but I confess that I covet your skull."
—Sir Arthur Conan Doyle, The Hound of the Baskervilles
Greetings to all my fellow guitar brethren! My name is Cary and I'm a guitar addict. I was bitten and smitten with the "guitar bug" as a kid, and the fascination has remained constant, even getting stronger over time.
Like many, I found I couldn't stop tinkering about with gear and guitars, trying to personalize and tweak them to my satisfaction. So, in dreaming up my next project (my wife would say scheming up), I thought about various finishes and patterns that might be fun. What could be more iconic and rock 'n' roll than the ubiquitous image of the skull? I thought of the classic hot rod and motorcycle painting technique of using lace as a template. Why not try it on a guitar body? If only there was a lace material with skulls as the main theme. Luckily, it turns out there is! I set out to give it a go.
"If only there was a lace material with skulls as the main theme. Luckily, it turns out there is! I set out to give it a go."
An old basswood 2003 Squire '51 body was my victim. I drilled it to make it string-through, stripped the original finish and rattle-canned on a good coat of primer, and finished in white. Doing first the front (no guts, no glory), then the back, I sprayed black through the lace to create a glorious pattern of skulls. I sealed the pattern in with 20-plus coats of wipe-on poly.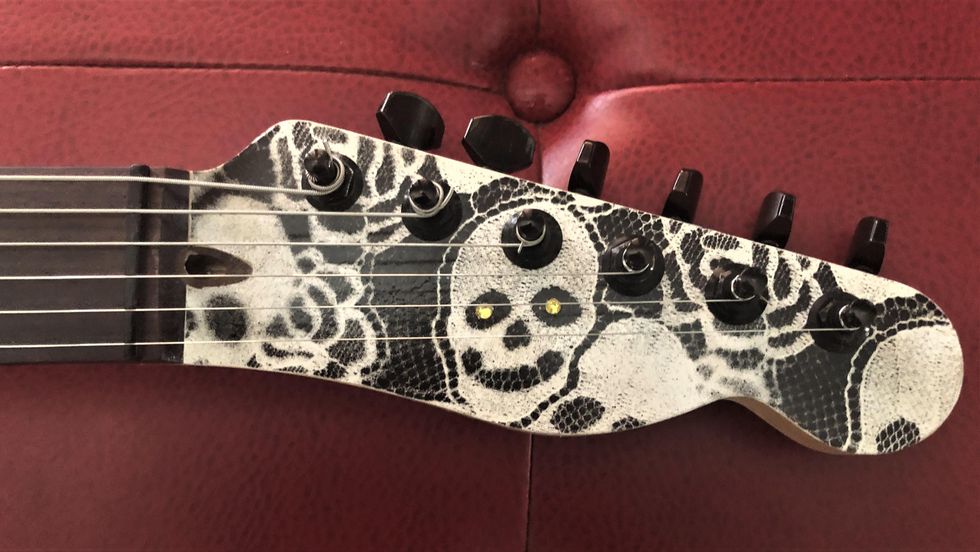 I added a custom Warmoth Tele neck with rosewood fretboard, boatneck carve, 6100 nickel frets, and finished it with wipe-on poly. Doug Shepherd, at Doug's Custom Neck Plates out of Texas, designed a skull neck plate for me. While waiting for various parts to arrive, I decided the skulls would look sinister if they had eyeballs. I inlaid yellow 3 mm crystal rhinestones into each socket so the guitar could stare down its audience. I selected a skull-approved DiMarzio Super Distortion for the bridge and a Duncan Hot Stack for the neck and kept it simple with a 3-way switch and volume. It sounds downright "skullduggerous" played through a TC Electronic Fangs into a cranked Quilter Aviator Mach 3. My neighbors seem to love it!
While this could be viewed as a Halloween guitar, I think of it more as a skull guitar for your everyday skull guitar needs. As we approach October, the power of the skull only increases!
Rock on all! I will keep an eye out for you. In guitars we trust.