An undersung rhythmic vibe enhancer gets a compact and capable reissue.
Unique, inspiring, and fun effect. Stereo functions open up lots of potential. Works well with other effects.
Compact footprint makes it hard to access some essential functions. Can be confusing to learn.
5
3.5
3.5
5
One of my favorite gear discoveries in recent years is the original Boss Slicer SL-20. A friend hipped me to its wild percussive magic and what I call "big vibe." When the first dual-pedal version came out as part of the company's 20 series, I was under the impression it was a fancy tremolo. That might be the closest classic guitar effect, but the Slicer lives in its own world: The effect chops a signal into preset rhythmic patterns and applies filters and pitch shifters to create everything from propulsive grooves and melodies to glitchy, warbled tones.
Lead parts played in the single and dual settings with the tempo cranked and a lower attack setting evoke a broken-Leslie kind of sound, especially in 3D modes.
The Slicer is a unique effect that's more in line with what you might find on synths and drum machines than a pedalboard. That, plus an original production run that lasted just a few years, has made it kind of a deep-cut, sleeper favorite. What a surprise, then, that Boss is reissuing the effect in their standard—and much more compact—enclosure.. Even better, the new SL-2 features deeper functionality. So, does it live up to the hype surrounding the original?
Clip 1 – High attack and duty settings, single type.
Clip 2 – High attack and low duty settings, full wet, harmonic type.
Clip 3 – Low attack and high duty settings, tremolo type.
Clip 4 –High attack and low duty, various tempo settings, sfx type.
Clip 5 – Example of how the Slicer can fit into a track. Recorded with two guitars (each with various other effects) each with different Slicer modes (rhythm is stereo, lead is mono).
Deep Functionality, Limited Space
The SL-2 fits a lot of functionality in very little space. It would be impressive just to squeeze all the features of the much larger original unit into the new one. Yet the SL-2's 88 preset rhythms exceed the original's 50, and they can be swapped out via USB with Boss' Tone Studio app. Two stacked knobs cover balance (mix) and tempo as well as attack and duty (sample length). Another single-function knob selects effect type. These include options for a single signal-slicing path, dual signal-slicing paths, tremolo, a harmonic mode (pitch modulated rhythmic patterns), and an SFX mode (multiple effects on each pattern). Another knob selects 11 possible variations on each effect. The Slicer also features dual-jack stereo ins and outs, a MIDI input for syncing with external devices, and an expression/footswitch input.
That extensive list still doesn't cover all the Slicer's functions. And to access the rest, things get trickier. Using the pedal's stereo functionality is critical to making the most of the effect, but to access those seven settings, you may need to keep the manual nearby. For example, if you turn the first four knobs to the right, the type knob to the eighth position, and power up while holding down the footswitch, you can use the variation knob to choose a corresponding stereo setting. Sound confusing? It can be. And there are several of those footswitch tricks to master. Another example: you can set the output volume can range from -7 dB to a very hot 20 dB, which is helpful. But as I learned the hard way, you can easily set the too hot, and it can only be adjusted by holding down the footswitch and turning the tempo knob, which gives you no visual reference for the setting. You'll also do a lot of footswitch tapping to access tap-tempo settings.
Flying Blind Is Fun
The best way to understand what the Slicer is capable of is to try everything. It's not particularly intuitive, and it can feel hard to discern differences in some sounds. But there's some method to the madness. Starting with the relatively straightforward single setting—which chops the signal without additional effects—and trying each variation explains a lot. But there's no comprehensive list of what effects or rhythms each setting will feature, so you're flying blind when you work through the variation and type knobs. This led to lots of fun discoveries, though. And I rarely failed to find a pattern that inspired something new in my playing.
Plugging into a stereo rig opens up the Slicer's capabilities. There are seven stereo settings: fixed (both amps get the same signal), efx/dir (wet/dry), random, ping-pong, auto (which pans across the stereo field), 3D cross, and 3D rotation. The two 3D settings are the most psychedelic, creating the illusion of a forward/backward kind of movement as sounds pan across the field. Any of these settings can change the feel and impact of a pattern or setting, so there's a lot of room for experimentation.
Inspiration Machine
With such a wide range of capabilities, the Slicer is an inspiration machine, and it can be used in a lot of ways. For the most part, I found myself playing sparsely and letting the Slicer do most of the work, especially when using delay or reverb.
Each effect type offers a wide range of fun. Using harmonic and tremolo effects with slow to medium tempos creates lots of ambient space. Using the ping-pong stereo setting, sometimes feels like multiple guitars. Lead parts played in the single and dual settings with the tempo cranked and a lower attack setting evokes a broken-Leslie kind of sound, especially in 3D modes. But for recording, I preferred this kind of sound in mono, where I captured more direct, glitchy sounds.
The Verdict
The Slicer is a fun effect, and if you're into exploring ambient ideas, glitchy rhythms, minimalism, or any other kinds of sounds with room for movement, you'll probably find sounds you love. You also might find new ideas to refresh your playing, like I did, which I think is the ultimate reward. The many pedal and knob combinations that you'll need to remember in order to access key features can make the SL-2 confusing. I'd prefer the larger footprint of the original with the added functionality of the new model. But at $169, there's not much room for complaint. The SL-2 is a powerful, creative effect that delivers.
Boss
We use a refrigerator and the hot summer sun to see if this pedal's Active Bias Monitor makes it one of the coolest germanium fuzzes on the market.
Jaw-dropping array of germanium-flavored fuzz and drive tones, recallable more consistently than perhaps any other germanium fuzz on the market. Robust build.
5
5
5
5
In a world where new fuzz pedals seem like an endless train of Big Muff, Fuzz Face, or Tone Bender wannabes, the germanium transistor-driven Silktone Fuzz instantly stands out. Cool logo and skirted flying-saucer knobs aside, what really draws the eye is the three-digit LED readout. At a glance, you might assume this indicates some sort of programmability—a digital task not normally associated with stellar fuzz. That's not the case.
But why, exactly, are those LEDs constantly shifting? If you're any sort of fuzz-o-phile, you know how finnicky vintage-style germanium units like those on classic Hendrix, Gilmour, Page, and Beck recordings can be. Getting consistent tones from the best germianum fuzz specimens can be a crapshoot. That's because temperature has a dramatic effect on the stability of the current and voltage drawn in a germanium circuit. In electro-speak, this is called transistor bias.
Numbers Cruncher/Mercury Muncher
Perhaps the coolest (pun intended) of the Silktone Fuzz's three extremely cool features is the near-miraculous way it enables its two germanium transistors to deal with temperature woes. While all transistor-driven fuzzes have at least one bias point, they're usually only tweakable via tiny internal trimpots. But the Silktone's bias is controlled by a handy full-sized knob up top, right next to the even handier patent-pending Active Bias Monitor readout. This means, for any of the many killer tones available, you can document—to two decimal points—the transistors' bias measurement and then adjust to compensate for mayhem wrought by Mother Nature or a cranked air conditioner.
It's not often one gets to employ a refrigerator and a hot summer day to test a guitar pedal, but that's how I went about assessing the reliability of the Silktone Fuzz's bias control and monitor. First, I recorded a reference tone with my Tele, Vibrolux Reverb, and a Royer R-121 ribbon mic in my 66-degree basement studio, photographing the knob positions and LED readout (which read 6.00 with bias at noon) for accuracy. Then I placed the Fuzz on a front-porch rocker in the 84-degree sunlight for 10 minutes, brought the warmed-up stomp back to the studio, and noted that the same bias-knob position now measured 8.25 and the tones sounded much more gated and jagged. Dialing bias counterclockwise to roughly 8 o'clock and comparing to my recording, I got the reading back to essentially the same reference tone and bias reading. I had the same experience in reverse after a 10-minute chill session in the fridge.
You Said Three Cool Things…
To nix another finnicky aspect of vintage-style fuzzes, the Silktone also has a pickup-simulator/debuffer at the beginning of the circuit that enables it to sidestep issues related to placement in a signal chain. Go ahead, put it before or after your wah or overdrive—it sounds the same. Further, the cleanup knob works in tandem with the debuffer to facilitate the range of scrumptious in-between boost and distortion tones that a good germanium stomp can yield with guitar-volume tweaks—only you don't have to do anything but stomp to get there. Volume, meanwhile, works dynamically with fuzz and cleanup to let you go from deliciously grainy fuzz to thick, Muff-esque doom tones, to myriad shades of skanky, toothy, stabbing, or sqwonky boost/overdrive.
Saying anything is the "ultimate" anything can make you seem like either a novice or an ass-kissing eager beaver, but ... damn, man—the Silktone Fuzz is really cool.
Adding to the fun, there's also a 2-way toggle for "classic" or meatier, more harmonically saturated "raw" bias modes. The bias control also acts as a potent tone/responsiveness control in its own right. Although the circuit design was inspired by the Fuzz Face and nearly identical Tone Bender MkI.5, setting bias near minimum can impart lo-fi, Velcro-esque stickiness—anywhere from thick, Fuzz Factory-like sounds to bee-in-a-can Fuzzrite tones. At other settings, bias tends to yield airier, more open-feeling tones, and past noon they're more rotund. Near maximum, you get a palette of "strangled-fuzz" vibes.
The Verdict
Saying anything is the "ultimate" anything can make you seem like either a novice or an ass-kissing eager beaver, but … damn, man—the Silktone Fuzz is really cool. I don't own a single guitar pedal with a digital readout, as they kinda give me the heebie-jeebies. But here it makes tons of sense, especially if you're a germanium fan who gets around. But, even if your board never leaves your studio, this control scheme serves up so much ear candy, from traditional to offensive, that you might find yourself wanting three or four Silktones in a row for instant access to a horde of progressively aggro sounds. Huge, huge kudos, guys!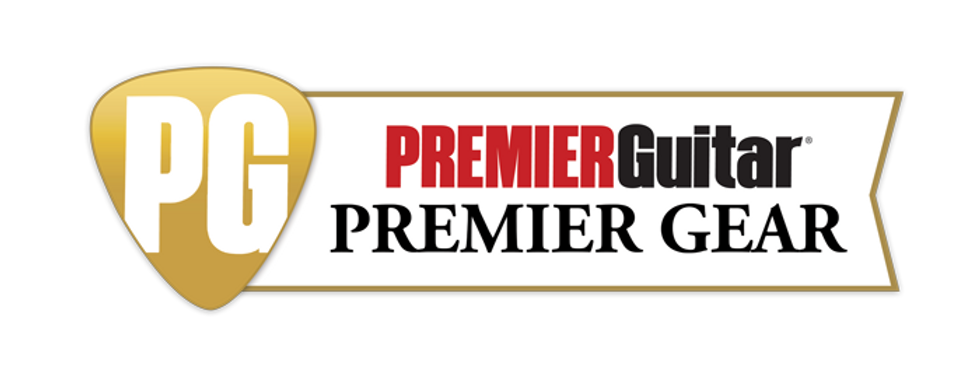 An impressive taste of what lurks in the King's chambers for players on a budget.
Thick, smooth boost and overdrive tones that don't obscure guitar and amplifier voices. Highly dynamic and touch sensitive. Crazily versatile. Great value.
Distortion voice can feel significantly less dynamic and more compressed.
4.5
4.5
4.5
5
The first time I understood the magic of Analog Man's King of Tone was in a casual conversation with Luther Dickinson. Luther is a warm, enthusiastic guy who can light up talking about a tree, a drum machine, or an old car. But even Luther waxed a little extra rhapsodically when he talked about the King of Tone—and this was from a guy that, given his druthers, would probably, quite happily, never use a boost or overdrive pedal at all.
Luther is far from the only player to be moved by the King of Tone and its little brother, the Prince of Tone. Both pedals often show up among professional players' stomp arrays. But as just about any dedicated reader knows, the waiting list for either pedal is almost as legendary as the devices themselves. So, the fact that the Analog Man himself, Mike Piera, teamed up with MXR and their own resident genius, Jeorge Tripps, to distill the essence and functionality of the Analog Man's Prince of Tone into a mini pedal will be very sweet news to a lot of impatient Prince-customers-in-waiting.
Heir to the Throne
The original King of Tone is built around a really excellent overdrive and boost that are controlled independently and can be reconfigured so the boost drives the overdrive and vice versa. MXR's Duke of Tone mimics the more streamlined layout of the Analog Man's Prince of Tone. Like that pedal, it can be switched between overdrive, boost, and distortion modes, and features volume, tone, and drive controls. And like the Prince of Tone, it also features an internal pot for boosting or cutting treble. The only real differences between the control layouts is that the Duke of Tone lacks two DIP switches that, on the Prince of Tone, offer the option for a low-mid frequency lift and a little extra compression and crunch..
Inside, the Duke of Tone provides more than a few hints of Mike Piera's stickler-for-quality influence. A lot of mini pedals I see—for reasons related to economy of space and cost—look churned out by robots bought at a Star Wars-style used-droid auction. The Duke of Tone reveals no such signs of cutting corners. The through-hole-board construction is flawless, and the circuit is built around a 4580D op amp, just as you would find in the King of Tone. Some pedal scientists argue the significance of differences between op amps. Many, however—Mike Piera among them—insist there are real, audible differences. Personally, I'm inclined to defer to the Analog Man. And whether the 4580D here is a primary driver of the Duke of Tone's personality or a smaller part of the sum, there is no arguing that the whole sounds pretty awesome.
Three Flavors of Smooth, Delicious Chocolate
The first King of Tone pedal originated in a tone chase that began with a broken TS808 Tube Screamer and detoured through a Marshall Bluesbreaker pedal before arriving—via many significant mutations—at its final destination. So, it is not a surprise, perhaps, that in some ways the overdrive mode in the Duke of Tone sounds a little like an aerated TS circuit: scooped in the middle, softened in the high harmonics where the sizzle lives, and allowed to breathe to the point of sounding discernibly more dimensional. The Duke's overdrive can handle a lot more treble without becoming strident, which gives you plenty of room to explore picking nuance—an attribute that shines in all three of the Duke of Tone's drive modes. It also means guitar-volume-attenuated tones feel much livelier and more detailed, which translates to more touch dynamics. In a purely tactile sense, the Duke of Tone just plain feels more awake than a TS and more akin to a Klon, a circuit that shares a similar sense of dynamic range. While unmistakably rich, big chords from the Duke of Tone still sound a touch grindy and narrow compared to the meaty, full-frequency bellow of a good Klon-style circuit. But I found the Duke's chord tones no less appealing—just different.
The Duke's boost mode is easily my favorite of the three voices. It is almost certainly the loudest. But it is also the most nuanced and the most responsive to dynamics, whether from guitar volume attenuation or variation in touch and picking intensity. On the latter count, the boost is often revelatory. The variations in texture and volume you can achieve by way of touch intensity—indeed, just with a change of attitude—is beautiful stuff. And I suspect much of the original King of Tone's legend was made here. Klon fans, particularly those who utilize that pedal's capacity for touch sensitivity, will find much to love in this mode. But there is something special about the way this boost operates at advanced volume, drive, and tone settings. It's thick, massive, and, yes, transparent. But it also feels exceptionally electric and alive. Situated on either the up- or down-river side of another overdrive, it can make your same old OD tone into something mammoth and nuanced. Downstream from a fuzz, it's positively deadly.
The distortion mode may be the voice that appeals least to folks inclined to chase a King or Prince of Tone to the ends of the Earth. At many settings it sounds like a more compressed and less complex version of the overdrive, with more gain. At others, though, there's more than a trace of organic and almost Marshall-like tonalities. And guitar volume reductions can yield cool, sparkling semi-clean sounds.
The Verdict
I had the good fortune to receive the Duke of Tone in time for a show that required moving between very soft-and-quiet and searing Neil Young-style lead sounds. What impressed me was how much of that dynamism I was able to achieve with just my fingers, guitar volume, and the Duke of Tone. This is a pedal with few shortcomings. Overdrive and distortion sounds can seem slightly compressed compared to certain overdrives and boosts—a good Klon-style pedal for example. Then again, the boost voice offers just as much meat and oxygen as those pedals at many levels, and the touch response is every bit as good. At 149 bucks, the Duke of Tone is a real value and the very picture of boost and overdrive versatility. Given the price and quality, I wouldn't be at all surprised if it ends up with wait lists of its own.
MXR Duke of Tone Demo | First Look