Great tones in all settings. Practical design, High quality.
Recombined tones may not be better than the originals to some ears.
4.5
5
5
4.5
Robert Keeley marries the best of two beloved green machines in one smart box.
The Keeley Noble Screamer handsomely combines many attributes of Ibanez Tube Screamer- and Nobels ODR-1-style circuits. Neither of those iconic green machines need much introduction. Both aesthetically and sonically, the Tube Screamer is one of the most recognizable pedals in the effects pantheon, and the ODR-1's anecdotal honorifics ("The secret weapon of Nashville session players!") and concretized list of evangelists (Guthrie Trapp! Tom Bukovac!) are practically part of the pedal's name. But through the use of switchable clipping and tone control profiles, the compact, clever Noble Screamer makes it possible to blend and switch between flavors from both green giants.
Greening Out
The Noble Screamer's style is minimalist and striking. It marks the debut of Keeley's new sloped aluminum housing, which looks great and feels sturdy. The Grinch-green brushed aluminum knobs look bold and easy to read against the black enclosure too. Like the TS and ODR-1, the all-analog Noble Screamer features knobs for volume, gain, and tone. But the Noble Screamer has toggles under the latter two pots that alter their respective functions considerably. Flipping the switch under the gain knob to TS mode engages soft-clipping diodes. Switching the toggle below the tone knob to TS-mode gives the user control of a low-pass filter. In OD modes, the circuit switches to hard-clipping diodes, and the tone controls sweeps from flat EQ to boosted bass and treble in the fashion of the ODR-1's "spectrum" control. This simple switching scheme yields a lot of different flavors. The pedal can also move between buffered and true bypass switching by pressing and holding the footswitch. It's a smart, flexible, and practical feature.
Mix and Match
The Noble Screamer sounds delightful across the board. With both toggles in TS mode and all knobs at noon, you get soft grit with great note definition and a tight midrange focus. And while TS pedals are famous for sweet low-gain tones, all-Screamer settings beckon you to max the drive control and unlock the circuit's smooth, singing distortion. Adding output volume at these settings brings a touch more width, and the low-pass filter moves easily between spiky and silky.
Flicking the switches to OD mode with identical settings brings a very noticeable volume boost and more pronounced bass response and fullness. Compared to the TS settings, you'll either find it a touch dark, or pleasantly alive, depending on your taste. The hard-clipping diodes make OD mode a much nastier proposition, and you can easily push the pedal to thick distortion. I preferred keeping the tone and gain around 1 o'clock, and the volume between noon and 3 o'clock, depending on how loud and rude I wanted to get. The tone control's sweep is impressively useful in its OD "spectrum" guise as well. You can access a lot of high-end clarity, and it doesn't overdo the ODR-1's signature low-end thunder. In low-gain settings, the OD mode is predictably large sounding. But the best low-gain/boost sounds might be those that blend the soft clipping of TS mode with the OD tone section. These tones are especially smooth, broad, and clear.
I don't know that mixing and matching the circuits is necessarily
better
than each on its own, but it certainly offers a different palate of sounds. With the tone set for OD and the drive in TS you can stretch the bass and treble capabilities of the TS's gentler, more targeted overdrive bite. Reverse the switches and you'll get the TS's more focused mid-range punch with harsher, heavier distortion. For my tastes, the OD tone/TS drive combo was the most pleasing. It's big and punchy without ever getting harsh, and the boost from the OD tone circuit makes the TS drive a bit more commanding.
The Verdict
While you could conceivably get a Tube Screamer and ODR-1 for the same price as the Noble Screamer, the high-quality, USA-built Keeley is a more flexible solution that takes up half the space. True, the overdrive sounds here are largely familiar. But the Noble Screamer is a smarter, cooler, and more versatile way to access and reshape those bedrock tones.
The Best 2-in-1 Overdrive? Keeley Noble Screamer Demo | First Look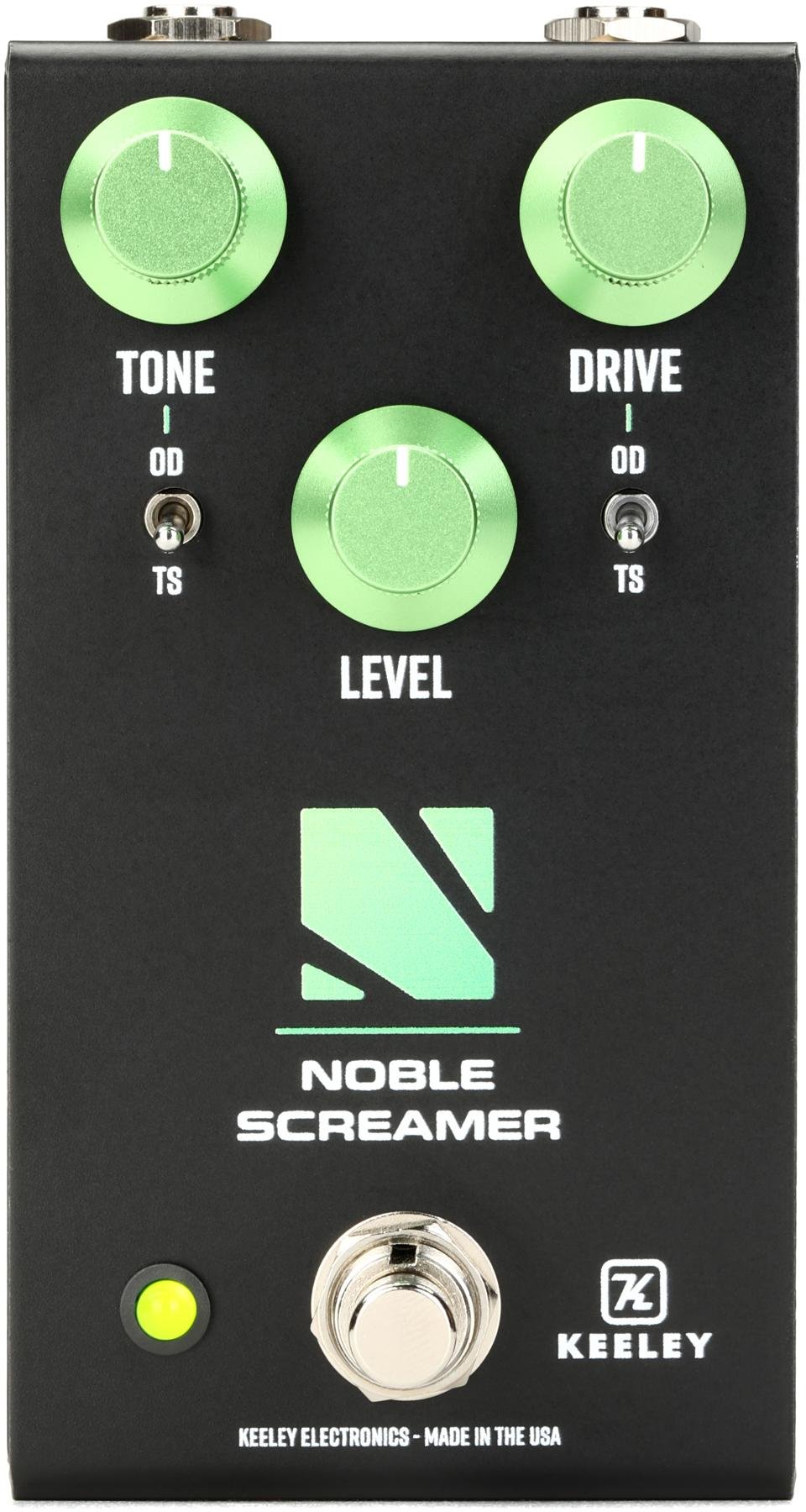 Keeley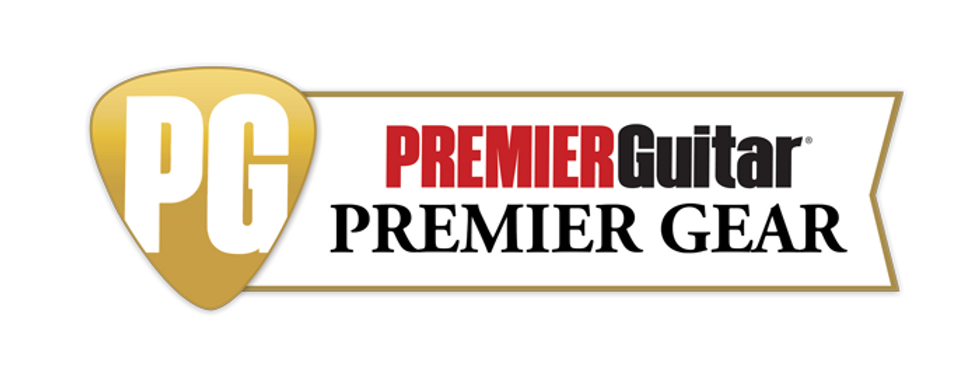 Pretty sounds live alongside freakish modulations in a phaser, flanger, and filter combo with super-impressive range.
Fantastic range of phase, flange, and filter tones that span conventional and radical sounds. Cool, practical, and functional trip switch. Beautiful design.
Some tones tend toward metallic, which might put off classicists.
5
4.5
4
4.5
Somehow I sense that the Death By Audio team would appreciate that I wrote the review for their new Disturbance on the day I got a root canal. Dental drills whirring, bright lights, and flying spittle—this is the stuff of many DBA products. Yet the ominously named Disturbance—which manages to be a phaser, flanger, auto wah, and a sort of cocked-wah filter all in one—is actually capable of sounds that fall squarely in the category of beautiful. And like almost all DBA effects, it's also capable of radical and jarring tones. Its ability to span these extremes is the Disturbance's strength.
Silver Surfer Slides Away
The Disturbance is, even by DBA's lofty standards, a cool convergence of industrial and graphic design. The gleaming silver enclosure guarantees you won't mistake it for anything else on the floor. The control array is clear and functional, too, which is important for a pedal with such nuance and pretty-to-mangled sonic range. All told, it's a rather simple layout. A small 3-way toggle switches between fazer, flanger, and filter settings. The three knobs along the top of the pedal are familiar and intuitive, but also take practice to understand entirely. Grasping their interrelationships is key to unlocking the whole of the Disturbance's secrets.
The tensity control is a bidirectional intensity control. At noon, the modulation waveforms sound most fluid and even. As you turn it through its negative range, the output takes on an increasingly more metallic tone, and at maximum negative settings the waves peak with a trebly, whistling tonality. Yet, as you move back toward the middle, you'll find some of the pedal's clearest and most shimmering phase and flange voices, with hot, trebly peaks that elevate the modulation sound in a mix. You can even extract some great '80s-vintage, chorus-like tones in this range at the right rate. To the clockwise side of center, the tensity control yields more vocal modulation voices and more low-mid emphasis that lends a bubble-gum chewiness to the modulation. There are even rich, Leslie-style tones lurking here at faster modulation speeds. At peak levels you can get wailing siren-like sounds from the flange mode, as well as peaky, hollowed-out phase tones.
The center point knob changes the polarity and center point of the LFO wave. Interestingly, it can be very subtle in many applications, and its effects are best understood by messing with it in filter mode. At the furthest counterclockwise setting, you'll hear a distinct blunting of the transient note, tapering to a clearer tone. At the clockwise extreme you hear a clearer transient that swells into a more phasey tonality. At extreme tensity settings, the center point control has a more profound effect—emphasizing more trebly or bassier elements of the LFO cycle. The width control is, save for the self-explanatory speed control, the most straightforward function. It governs the LFO's range. At minimum settings you get little sense of modulation at all. But as you turn clockwise the waveforms get thicker and more aqueous. At maximum levels it will negate the effects of the center point control entirely.
Trip It Up and Trip Out
One or the coolest features on the Disturbance is the trip footswitch. It freezes the phase, flange, or filter cycle, adding punctuation in an arrangement or helping bring a solo to a head. When using wild, more intense flange or phase settings, it can be a great way to duck out of a super-swirly section without losing any weird essence, as you might by switching to a completely dry tone. Freezing the precise point of an LFO cycle takes practice—not unlike using a looper. But the more I used it, the more I got hooked. And it's a great way to extend the Disturbance's practical capabilities.
The Verdict
Like any DBA pedal, the Disturbance is designed to leave its mark in a musical situation. So, though many settings here border on conventional, they may not satisfy classicists seeking canonical modulation tones. If you're among this crowd, you may want to consider the tone score on a sliding scale. But I savored and bathed in the breadth of mellow to wild tones here. And I expect that to many players that relish the unexpected or crave sounds that make a statement, the Disturbance's range of tones will be thrilling. That said, you don't need to be a deviant or weirdo to find a wealth of inspiration in Disturbance. For musicians of just about any alignment, this is a pedal that will prompt invention. And while the $250 price is a touch high, it's not much to pay for a pedal that can offer unique phaser, flanger, auto wah, and filter tones—particularly when you consider DBA's build quality and generous break-it-and-we'll-fix-it guarantee. Restless modulation fiends take note—the Disturbance is a treasure trove of satisfying swirl and many other wobblingly nasty surprises.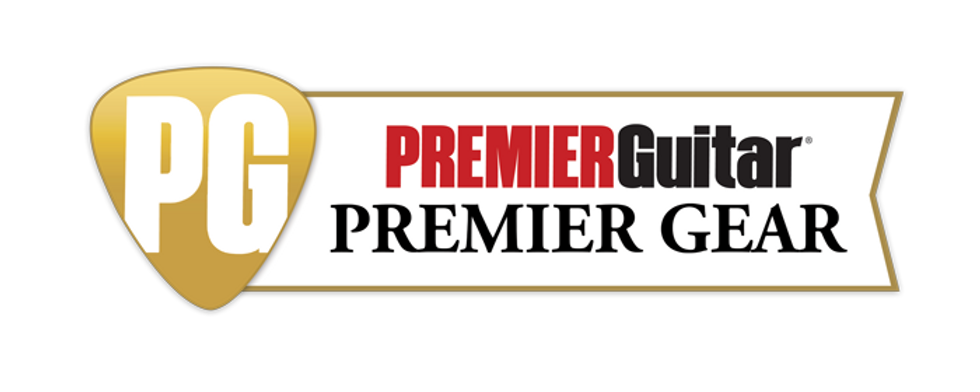 High-end playability distinguishes an entry-level Taylor that shines, for less than 800 bucks.
Crazy playability that matches much more expensive instruments. Excellent fit and finish. Super comfortable.
Midrange can dominate in strumming situations. Expression System 2 electronics highlight midrange emphasis.
4.5
5
4
5
There's nothing new about Taylor building great, affordable guitars. Even instruments like the modest GS Mini always feel inviting and capable of inspired musical moments. The build-quality in these Tecate, Mexico-constructed guitars always impresses, too. But taking a spin with the new 112ce-S suggests that Taylor has reached another level of balance to go with their sense of affordable guitar craft.

The most substantial change in the newest addition to Taylor's entry-level 100 Series is the introduction of a layered sapele back and sides, which pair nicely with solid, matte Sitka spruce tops to generate a warm, bright personality. But that combination seems to achieve a sort of ideal in the form of the 112ce-S grand concert, which manages to sparkle sonically, but also feel incredibly comfortable and impeccably playable in ways that you see in much more expensive instruments.
Made to Cradle
Regardless of your tone aspirations, it's impossible to argue the comfort of cradling a grand concert body. Generally speaking, a grand concert is about the size of a classical body shape (which has a few centuries of refinement behind it), and it won't feel entirely alien to a player who's spent most of their time on the electric side of the fence. Nor will it threaten to dislocate your shoulder after a couple of hours the way a dreadnought can if you're of smaller stature. And the way it fits more naturally against the body lends itself to more nuanced playing techniques. The 112ce-S seems to multiply all these benefits. And, at times, it genuinely feels like an extension of your own body.
The pleasure of holding the 112ce-S is enhanced even more by the excellent playability of the instrument. We've grown used to experiencing unsurpassable playability on Taylor's high-end instruments—most notably that magic blend of low action and freedom from fret buzz that facilitates fast and easy fretting and navigation over the length of the fretboard. The 112ce-S couldn't live much more squarely in that sweet spot. Intonation on our review guitar is dead on. And, remarkably, the Taylor traveled from our video team in a sweltering hot Nashville to cool, foggy Northern California and arrived almost perfectly in tune. I'm not sure exactly what Taylor does to make these instruments so stable. My tour of the company's California plant some years back showcased a combination of CNC manufacturing and careful hands-on touches that yielded very high-quality instruments. My guess is that the Tecate plant is using the very same construction techniques to excellent effect.
Evidence of careful craftsmanship is easy to see elsewhere. Apart from a trace of errant glue spread around the kerfing, the guitar looked perfect on the inside. Outside, the guitar is pretty much flawless. The 3-piece maple neck, in particular, is a gem. It's capped with an ebony fretboard, and its lovely profile—almost a cross between a C and an oval—fills the hand and feels substantial without feeling too bulky. Expressive moves like finger vibrato feel natural and easy. And like the rest of the guitar, the neck feels conceived to eliminate playing fatigue. In concert with the low action, it makes playing for hours a breeze. The classy looking Venetian cutaway has its benefits, too. It's easy to play a lead right up the 19th fret and hear that top note ring clear, true, and free of buzz.
The Middle Ground
Grand concert bodies, in general, have benefits beyond comfort. In my experience, they tend to record exceptionally well, especially when mahogany is in the mix. They aren't too bossy or boomy. They shimmer when recording rhythm parts, and they are even and detailed when tracking fingerstyle. The 112ce-S is capable of all these same feats, but it really excels in the fingerstyle realm. The guitar's midrange leanings give the 3rd, 4th, and 5th strings a snappy reaction to a soft touch. The top two strings ring with a warm and chimey glow around pronounced transients. And the bottom string blooms with overtones that surround a round and robust transient attack. It's a beautifully balanced instrument in this setting. It awakens and enlivens chord melodies that move up and down the length of the neck. It feels just as balanced and alive in capo'd settings, and requires little to no retuning as you move a capo around the neck. In stage performance terms, these attributes make the 122ce-S something of a fingerstylist's dream.
Strumming is less flattered by the Taylor's midrange-forward voice, though it is certainly far from brash or unpleasant. The same pretty bass response that you hear in fingerstyle settings remains evident when you take a flatpick to the 112ce-S. But the strong midrange that makes the 112ce-S feel so alive in soft fingerstyle situations does become an especially strong flavor if you hit the strings hard. The guitar sounds much prettier when you use a lighter touch and a thin flatpick. Played this way, it's easy to hear how the 112ce-S would shine amid stacked rhythm parts on a recording or when tracking alternate, overdubbed chord voicings with a capo. Strummers with a heavy hand, or for whom that style is a foundation of their playing, may want to look elsewhere. But if strumming is just a part of your songwriting vocabulary, the 112ce-S may fit perfectly into your mixed approach.
The Verdict
For just under 800 bucks, the Taylor 112ce-S is, in most respects, a steal. And while it's effectively an entry-level Taylor, I would have no qualms about touring or recording with this thoughtfully executed grand concert. The Expression System 2 electronics make it good-to-go for gigging, even though they benefit from careful EQ from the onboard controls or a pedal to eliminate boxiness. However you put the 112ce-S to work, though, it's a surefire pleasure—particularly when you consider the impressive value it represents.
Taylor's Best Under $800?! The Taylor 112ce-S Grand Concert Demo | First Look