These inventive riffs might make your next blues jam a bit more exciting.
Chops:
Intermediate
Theory:
Intermediate
Lesson Overview:
• Understand how to add extensions to dominant chord shapes.
• Learn riffs in the style of Stevie Ray Vaughan and Brian Setzer.
• Develop a better sense of swing by playing Freddie Green-style rhythm guitar.
Click here to download a printable PDF of this lesson's notation.
A 12-bar blues is one of the most universally understood chord progressions amongst musicians, no matter the instrument or a player's ability and preferred genre. I'd be willing to bet if you sat down with a musician you've never played with before, you'd soon start jamming on a blues. I dare say as guitarists we all have go-to blues licks at our disposal and are comfortable taking a solo when the time comes. However, our options for playing a supportive, rhythmic role may be more limited. Let's do something about that, shall we? In this lesson, we'll look at eight different 12-bar rhythm styles that you can expand on or alter to fit nearly any situation.
Ex. 1 is a take on the classic Stevie Ray Vaughan "Pride and Joy" riff. You might have played this in the key of E, which allows access to the open 1st and 2nd strings to keep the riff chugging along. However, this example is in the key of G, so I've inserted a rhythmic "chuck" between the single notes to get that infectious shuffle feel. Also, if you mute the string adjacent to each single note, you can strum both the fretted note and muted string. The resulting "thwack" adds fire to the riff.
Ex. 2 is similar to a riff I heard on the '60s classic, "Shakin' All Over." The key to getting this riff grooving is the muted 16th-notes on the "and" of beat 1. I like to think of this pattern as almost mimicking the bounce of a drummer's stick on a ride cymbal. Alternatively, you could remove the 16th-notes and just double the root note at the beginning of each measure. Whatever takes your fancy! As with a lot of these progressions and riffs, you can experiment by playing them straight or swung at various tempos.
There's no way we can talk about comping through a blues without mentioning Freddie Green. His four-to-the-measure comping was a revelation, and if you haven't checked out how swinging Count Basie's band was with Green, take a minute to watch the video below.
Everything you need to hear—and feel—about Freddie Green's swinging style is here in this clip. At about 1:16 you can see some close-ups of Freddie grooving away. How about that action?
Ex. 3 is a stripped-down Freddie Green-style comping pattern. We're primarily targeting the 3 and 7 of each chord, then adding momentum by moving voices up or down to push into the next chord. This is a useful comping style for big-band playing, as the root notes are handled by the bass player and the upper structures of the chords are supplied by a powerful horn section. It's a great way to outline the harmony while staying out of the way of the other instruments.
As an alternative to the minimal big-band playing style of the previous offering, Ex. 4 would be useful in a duo setting with a vocalist or other instrumentalist. The fingering takes a bit of trial and error: You'll want to make sure the fingers you're using to fret the walking bass line keep your remaining fingers free to grip the chord shapes. But trust me, the results are very rewarding. A general rule for walking bass patterns is to start with a root note on beat 1, use beats 2 and 3 to create momentum or outline the harmony, and then on beat 4 hit a chromatic note above or below the subsequent root note.
The last example on the jazzier end of the spectrum, Ex. 5 is in more of a straight-ahead jazz-blues context with a Brian Setzer-style chordal run up to the IV chord in measure 4. We're using different voicings to bring out a countermelody on the top of our chord grips. If you play it with enough conviction, you could even use this as part of a solo interspersed with single-note lines or double-stops. Once again, I encourage you to play around with your own variations here, especially the turnaround in measures 11 and 12.
There's a wealth of different techniques you can pick up from Brian Setzer's performance of "Beautiful Blues." Check out how he moves from a rather simple boogie-woogie pattern into some Chet Atkins-style fingerpicking.
Stepping away from jazz, Ex. 6 is a country-inspired riff in the key of A. As the only progression in this lesson that's not in G, this key allows us to use those comfortable open power-chord shapes and frees us up to slide into the 3 and b7 of each chord. I opted to go for a V–I turnaround that starts in measure 9 and includes a nice octave walk-up in measure 12 to get us back to the I chord.
Ex. 7 is a little riff that isn't too far from what Robben Ford or Matt Schofield might play. Over the I, IV, and V chords, we grab the root, 3, and 6 of each chord and slide that three-note unit down a whole-step to get the b7, 9, and 5. Use this horn-inspired move to add color and sophistication to your progressions.
Our final progression is definitely on the funky side. Ex. 8 uses a riff similar to Rose Royce's "Car Wash" and works great over a funky 12-bar form. We're playing the 3 and b7, yet approaching this tritone from a half-step below and sliding into it. Between each chord, we're filling in with some muted notes for color. This is a personal preference, but I'd suggest avoiding any excessive "waka chaka" 16ths between the chord slides. I feel this groove works better with the space. Another personal tip: If you play in a Top 40-type band for a living, this progression is a great way to spice up "Mustang Sally." Have fun and see you in another lesson! PG
Singer/songwriter Keaton Simons shows you five easy ways to breathe new life into your chord progressions.
As a songwriter, I like to start simple and build from there. Some of my favorite songs to play (including many of my own) only have a few chords. These techniques will help to make things more compelling without over-complicating the basic framework of the piece. Having said that, it's fine to geek out and compose music that isn't simple! There is plenty of room for simple, complex, and everything in between. I'm always looking for ways to keep it interesting and increase my options while enriching my harmonic landscape.
Let's take a simple and common set of chord changes like the VIm–IV–I–V progression. In the key of G major those basic chords are E minor, C, G, and D. These are the same chord changes (in a different key) that I use in my song "Beautiful Pain," as you can see in Fig. 1. Nothing too groundbreaking here, but let's look at five different ways to make them more interesting.
1. Extensions<
When you see a chord like E7#11b13, do your eyes cross? Have no fear, it's really not as complicated as it looks (or sounds). First, you have the root—in this case, E—and then you have the quality (major, minor, dominant, etc.). So far, so good. Now is where most people get lost. The numbers after the quality (#11, b13) indicate the extensions and alterations. These are non-diatonic notes that can add color, depth, and sophistication to a chord. They also open up more opportunities for voice-leading and finding common tones between chords. For example, if we take the vanilla C chord shown in Fig. 1 and add a D, we now have a Cadd9 chord. Simple, right?
Now, let's look at the first chord in the progression, a basic Em shape. Let's start by changing the first chord from Em to Em7 (E–G–B–D). Now, the 7 isn't normally considered an extension, but it does create a common tone (D) between the first two chords. Because both the G and D major chords also contain the common tone, it can smooth out the transition between chord changes while creating layers of harmony (Fig. 2).
If you want to get even more colorful you can do something like Fig. 3. For example, by making the Em7 into an Em9 (E–G–F#–B), the C into a Cadd9#11 (C–E–G–D–F#), the G into a Gmaj7 (G–B–D–F#), and the D into a Dadd9 (D–F#–A–E)–you can really take it out there.
2. Suspensions
You can suspend the tonality of a chord by replacing the 3 with either the 2 or 4. This creates a gentle, almost ethereal dissonance that can really bring some flavor to your changes. For example, by making the D into a Dsus4 (D–G–A), you now have a common tone—G (Fig. 4). This is another subtle way to enhance your changes. Although similar to the effect of a chord extension, I think you'll find that the differences make understanding both approaches more than worthwhile.
3. Inversions
By rearranging the order of notes, you can bring out different sides (I think of them as personalities) of a chord. When you have a song that consists of the same three or four chords over and over again, you'll want to keep it interesting, and this is a great way to do it. Let's make the D chord into a first-inversion shape (otherwise known as a D/F# or D with an F# in the bass). In this context, you can really alter the personality of that chord and therefore the entire set of changes (Fig. 5). This is an idea I really think about when composing my own songs.
4. Voicings
There are several different places on the neck where you can "voice" the same chord. The transformation in this case is almost mystical because you are playing roughly the same notes, but when it's in a different position on the neck they can sound quite different. For example, by playing Em9 with the root on the 7th fret of the 5th string, you can increase the cool factor while breaking yourself out of the open position box (Fig. 6).
5. Substitutions
You can also substitute a chord for another chord that shares one or more common tones. Check this out: Try substituting an Am7 (A–C–E–G) for the C chord. You can really create a departure from the repetitive (Fig. 7). As you can see, both chords contain the notes C, E, and G. I use this technique more when I'm composing because the change is more pronounced.

Keaton Simons
Bluesy singer/songwriter Keaton Simons is truly what the Los Angeles Times terms "a triple threat." He captivates audiences with an authentic voice, compelling and soul-baring songs, and a command of both acoustic and electric guitars in every genre. Keaton's new album
Beautiful Pain
is out now on Best Revenge Records. For more information, visit
keatonsimons.com
.
Move past the typical "James Brown" chord shapes by incorporating stacked fourths, 7#9, and 7sus4 shapes to breath new life into your rhythm playing.
When we think of funk guitar, certain chord voicings come immediately to mind: A barred minor 7 (like Em7 on the 7th fret), a one-finger barred minor 7 (like Am7 on the 5th fret), a "James Brown" 9th chord, and a "Jimi Hendrix" 7#9 chord. These bread-and-butter workhorses of funk rhythm guitar sound great, but they can get boring fast if you're limited to them. So let's expand our horizons with other, less typical chord voicings that work great in funk and R&B—or in pretty much any musical context.
In this lesson, we'll mainly confine ourselves to the oh-so-friendly key of E Dorian (E–F#–G–A–B–C#–D). To start, let's get going with diatonic chord scales—in other words, we want to only use notes from the scale. In the first four examples, I play a low E and let it ring in order to ground ourselves with the key center and be able to hear the chords better in context. First, get comfortable with Fig. 1, which is just moving 2nd-inversion triads (5, root, 3) up the neck.
In
Fig. 2
, we add a note to the chord that's a fourth below the 5 of the chord, and play a chord melody. Adding the fourth below introduces a bit of tension and dissonance, and makes the chord tonality a bit more ambiguous. This chord could be called an "add 2 chord" or could be written as a slash chord, like G/A, or even a "sus 4 add 9 chord." Whatever you call it or how you think of it, the important thing is to get used to the fingerings and musical flavor.
Fig. 3 and Fig. 4 are riffs based on this chord voicing. Fig. 5 picks up the tempo, adds some scratching funk rhythm guitar and alternates between Em7 tonality and A7 (the IV chord in E Dorian). You can also easily adapt this chord structure to the middle four strings, so be sure to explore and make up your own riffs. Hint: These voicings sound great and more pianistic played fingerstyle.
What about the 7#9 "Jimi" chord? Well, we can play this chord, or notes from it, all over the fretboard and we don't need to confine ourselves to the typical position—especially if there's a bass player hitting the root note. Fig. 6 shows the common position E7#9, followed by nine different variations. There are others too, and some of these can be played on other strings in other positions, while still retaining the same note structure.
Fig. 7 and Fig. 8 take a few of these E7#9 variants and employ them in some funk riffs. Note the extra scratched and muted strings, and listen for the slides into chords. The aim is to get comfortable with all of them, and get familiar with the particular flavor of each voicing (clustery or open or dense?) and be able to call them up when you think they'd work well.
Stacked-fourth chord voicings have a very open sound, since the lack of a 3 provides a "modern" sound with an ambiguous key center. Fig. 9 takes a stacked fourth voicing up the scale, again in E Dorian with the low E ringing to provide context.
An even more open sound can be had with a 7sus4 voicing. Again, we start by working through the voicings going up the scale, as shown in Fig. 10. Chord-scales are a great way to get familiar with different voicings and get your hands used to the chord shapes moving around within a key. Try chord scales both ascending and descending, in addition to moving in thirds, fourths, or any other pattern you can think of.
Fig. 11 employs the 7sus4 voicing in a jazzy R&B-style riff. We use a similar feel in Fig. 12, but use the stacked-fourth voicing concept. We combine both open-style voicings in Fig. 13.
We can also make our voicings denser by having the lower two notes be only a minor second or major second apart. Fig. 14 runs the chord scale up with this tight voicing. You can think of the voicing as a rootless 9 chord with the 9th degree of the scale (or 2nd degree, if you like) on the bottom. Or you could think of it as a 7th chord with the 7 on the bottom—or a mixture of both. So the chord-scale could become Em9–A7–Bm7–A9–Dmaj7–Em7–F#m7–Em9. Because there are only three notes in the voicing, it's certainly open to interpretation—and wide open for music making. Fig. 15 uses three-note voicings in a riff that starts off with a typical Em7 barre chord voicing, so we get a nice mix of a stock funk chord with chimey cluster chords.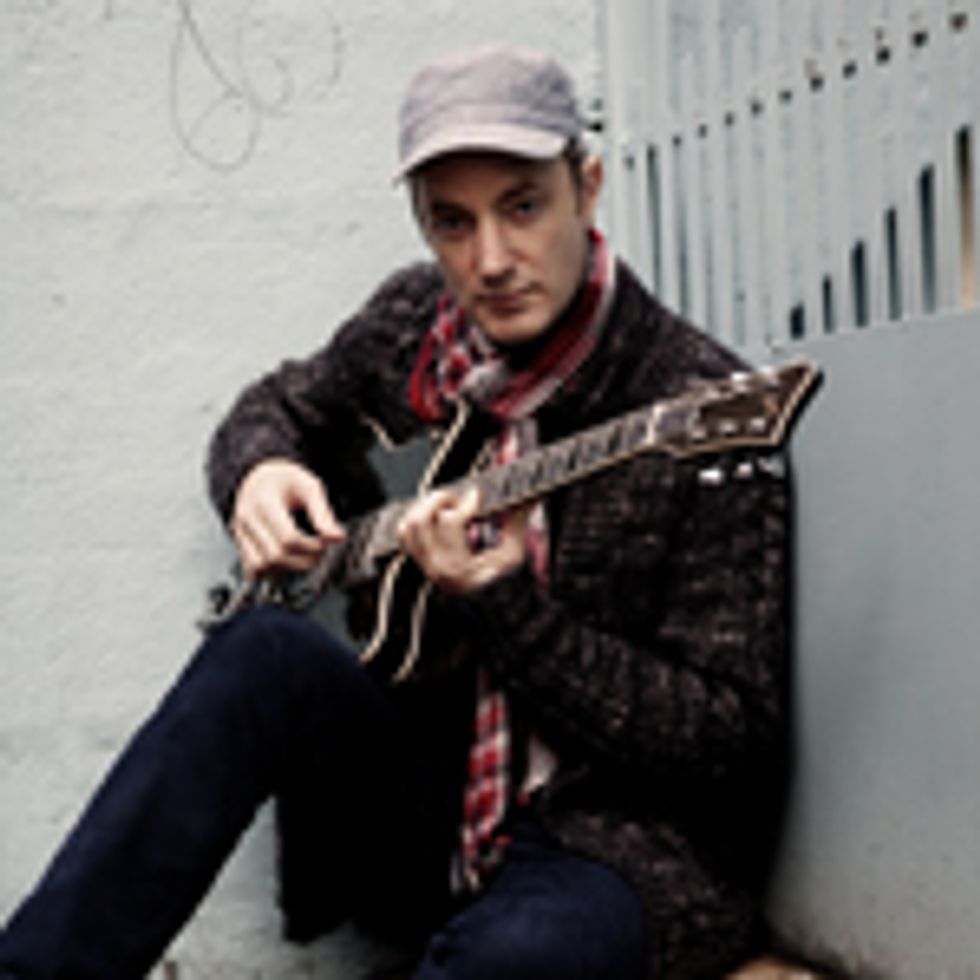 Avi Bortnick
Avi Bortnick plays rhythm guitar and electronics in the John Scofield Band, and is the creator of the Time Guru metronome iOS/Android app. He lives and gigs in the New York area, performing with Jim Weider's Project Percolator, Rene Lopez, Jihae, Bunga Bunga Party and others. He can be reached at
AviBortnick.net
or on
Facebook
.