Our columnist recounts what he's learned about getting the sound of a projection cone to an audience, and his ultimate solution: two mounted mics and his faithful Super Reverb.
In my July 2022 column, "Acoustic Guitars and Fender Amps," I talked about using acoustic 6-strings with classic black-panel amps—particularly the bigger models with wide EQ possibilities. This month, let's take it a step further and talk about Fender amps and resonator guitars. I will share what I have discovered by experimenting with various microphones, pedals, and more.
In a resonator, the metal cone underneath the front plate functions as a base for the bridge saddle and vibrates like a loudspeaker to project sound. Because of the instrument's directional character and ease of feeding back, resonator guitars are difficult to use in live bands with loud stage volume. The goal is to get enough volume resonator onstage and in the room without feedback. Since it's an important part of the instrument's character, it's necessary to capture some of that metal-cone voice within an overall balanced guitar tone that sits well in the mix. And you need to be able to achieve this in a way simple enough to reproduce the same tone night after night, and focus on your music, not technical problems.
The easiest way to mic a resonator guitar is to place a microphone on a stand about a foot in front of the guitar and run the signal into the mixer. But this pure acoustic route only works well in low volume situations—due to feedback—and requires you to play sitting down or standing still.
"Because of the instrument's directional character and ease of feeding back, resonator guitars are difficult to use in live bands with loud stage volume."
You can also use the type of clip-on microphone (often used for violin) made by Neumann and DPA, among others, to make you mobile, but if you get too close to the monitors or mains, feedback ensues. I recommend the microphones that come with a preamp and volume dial, to give you the most control. If you use one of these, point the mic directly toward the metal cone. Finding a nice tone will require some experimentation.
Another option is a piezo pickup. Some newer resonator guitars come with factory-installed piezos. It's not very difficult to install a passive piezo yourself. You need to file and sand the bridge piece, detach the metal cone for wiring and soldering work, and, finally, drill a hole in the guitar where the jack plug goes in through the strap button. Getting the string tension correct over the entire length of the bridge saddle is the key to success. Lately, I have used hard oak as bridge material, which creates a smooth and mellow tone with bronze strings.
The author's resonator "kit."
Piezo pickups are less prone to feedback than acoustic microphones, so they are better for high-volume stage scenarios. But piezo pickups alone will not fully capture the tone of the resonator cone, so if you're looking for more of that, add an acoustic clip-on microphone. That's what I do. Both the piezo and the clip-on go to my Fender Super Reverb, and I use the normal channel for the feedback-sensitive acoustic microphone while the piezo goes to the vibrato channel with reverb. For dirty tones, I sometimes use an overdrive pedal for the piezo pickup. There are independent EQ and volume settings on both channels.
The third and last microphone technique I have experimented with is a humbucker. I bought one from 12 Bar Blues Pickups that is only 6 mm tall and built specifically for resonators. It fits nicely under the strings with enough clearance. The advantage with a passive magnetic pickup is obviously the simplicity. The installation process is easy if you simply tape or glue the pickup to your guitar and let the wire run externally on top of your resonator's body. The kit I bought contains a small volume and tone box with jack input, and requires no battery. The result is, essentially, a hollow-body electric guitar suited for pedals and regular amps. It is also more resistant to feedback than both piezo and acoustic microphones. When I want to add some of the "bluegrass" flavor of the resonator cone, I add the acoustic microphone as mentioned earlier.
One drawback with conventional magnetic pickup technology is that bronze strings have a lower output, since bronze is less responsive to magnetic fields than nickel. I have kept the bronze strings on my resonators because of the great tone. To get even output on the bass strings, the bridge height measures a little higher on the bass side than the treble side.
So, there we have several different techniques for capturing modern resonator guitar tones, including a few options with guitar amps. Now, go experiment!
An introduction to Fender's classic amp heads of the '60s and '70s.
Fender's black-panel piggyback amps are not as widely known as the combos that every guitar player on this planet has either seen, heard, or played. They have lost appeal in a time when practicality and economy are guiding amp selection for most of us. Thanks to PA and monitor solutions, we no longer need big, powerful amps to fill rooms and stages. But, as we know, tone and size are related. So, let's look back at the great Fender piggybacks, from an era before the world needed to be so efficient and compact.
Fender introduced their piggyback amps in the blonde era, in 1960. Before that, during the tweed era, there were only combo amps. The piggybacks were designed to be loud, clean, and have lots of punchy bass from closed cabinets with 12" or 15" speakers. Most have solid-state rectifiers with no sag, and either two or four 6L6GC power tubes producing typically between 50 and 85 watts. They have massive power and output transformers, keeping things firm at high volumes and compatible for use with bass guitars. An exception to all the above is the smaller Tremolux amp, which we'll come back to.

A higher speaker impedance reduces the clean headroom, which is sometimes useful.
An advantage of using separate speaker cabinets is the flexibility to vary tone and volume by pairing amps to the cabinets they were designed for or to any other cabinet, as long as you stay within the safe impedance range: between -50 percent and +100 percent of the amp's rating. There is a huge difference in tone and volume playing a 4-ohm Bandmaster through a small and light cabinet with a modest, vintage-style 10" speaker at 8 ohms versus a closed-back 4x12 at 8 ohms with loud Celestion speakers. Or you may use a bass guitar with a single 15" bass-style cabinet. I encourage you to experiment and learn how to pick the right pairing for the right job. A rule of thumb is to match the amp and cabinet impedance, for the most possible wattage and volume. A higher speaker impedance reduces the clean headroom, which is sometimes useful.
Now, let's discuss the black-panel Tremolux—the only small piggyback amp. It has a normal channel, a vibrato channel, a GZ34 tube rectifier, two 6L6GCs, and lighter transformers, and was originally designed for a 2x10 closed-speaker cabinet. This amp produces a modest 35 watts and breaks up much earlier than its bigger brothers. It is sought by Fender players looking for natural tube distortion.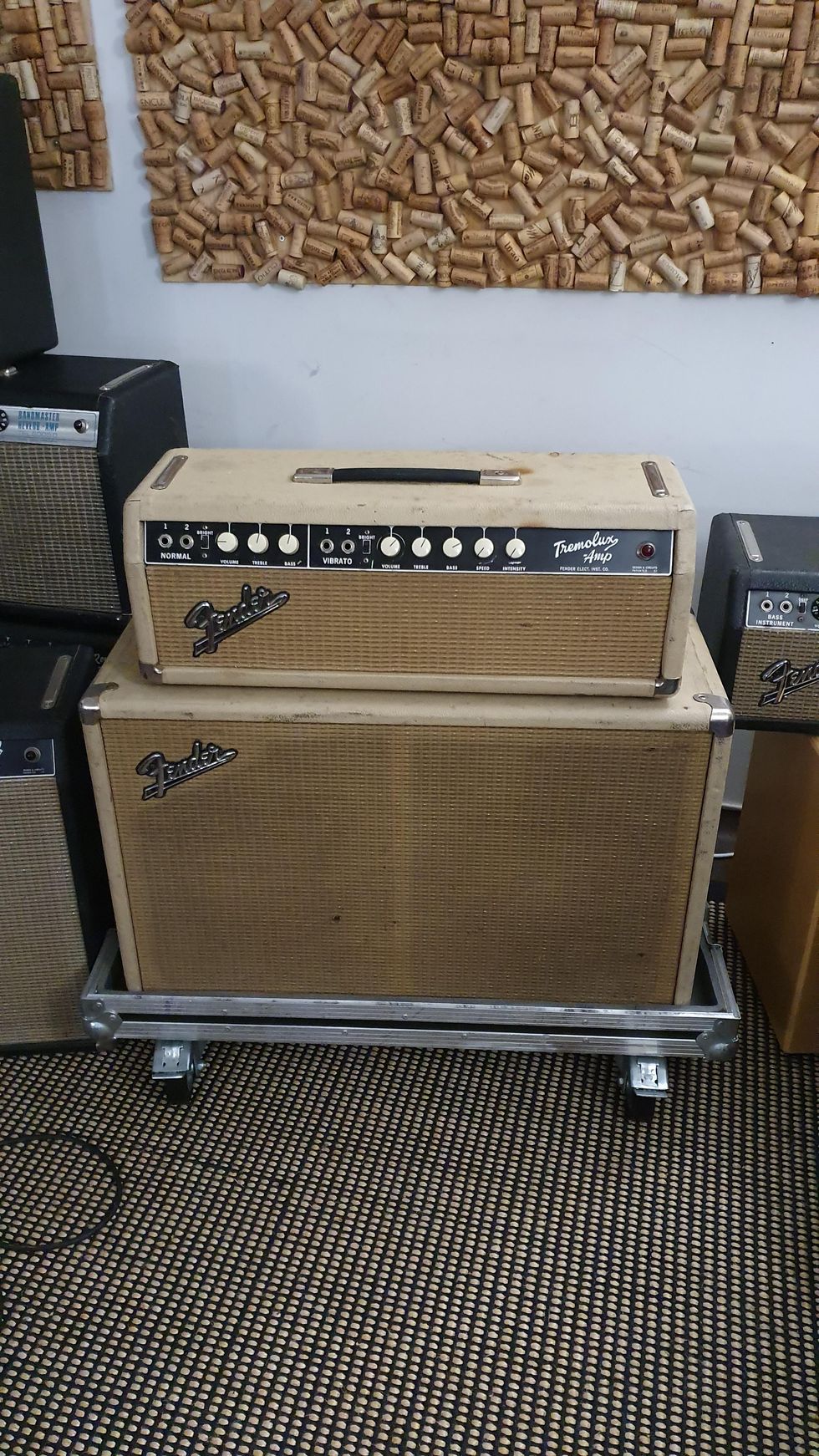 The Tremolux—a tiny, low-powered titan of the Fender head family—is sought by players desiring more tube-driven breakup.
Moving up the scale, the black-panel Bassman and Bandmaster amps may look similar, but their innards are not. Both are dual-channel amps powered by 6L6GC tubes and diode rectifiers, built for driving 2x12 speaker cabinets. The main differences are that the Bandmaster has tremolo and a smaller, 40-watt-output 125A6A transformer (same as the Vibrolux Reverb). The AB763-circuit Bandmaster's two channels—"Vibrato" and "Normal"—have similar preamp circuits and sound alike. The main difference is that the Bandmaster has tremolo. The circuit design and tone stacks relate very much to the Deluxe, Vibrolux, Super, and Pro combos, with typical sparkling, clean, and scooped black-panel sound.
The black-panel Bassman AB165 is different than other black-panel amps. At low volumes, black-panel Fenders sound clean, but when turned up, the Bassman distorts more because of an extra preamp-tube stage. Its tone is also slightly bigger and firmer than the Bandmaster, because of its larger output transformer. The Bassman's "Bass" channel is voiced for bass guitar, with a deep switch, while the normal channel is voiced for guitar, but without vibrato. I find the black-panel and silver-panel 50-watt Bassman to be a great bass amp, with articulate and strong lower mids that fit well in a band context.

Both the Bandmaster and Bassman continued in the silver-panel era, but with changes. The Bassman's power was first increased to 100 watts with four 6L6GC power tubes. A 70-watt version became available in the late '70s. In 1968, the Bandmaster Reverb was introduced, with a 5U4GB rectifier tube and a smaller 125A6A output transformer (same as the Vibrolux Reverb), both resulting in more sag and reduced clean headroom. The cabinet height grew a few inches to fit the reverb tank. The 4-ohm Bandmaster Reverb is one great, versatile tone platform with reverb, vibrato, and rich EQ possibilities, useful with all kinds of guitars, pedals, and speaker cabinets. If you own a silver-panel Bandmaster Reverb, you might consider getting an amp tech to revert the bias circuit back to black-panel specs, for better bias control.
Finally, the most powerful black-panel piggyback amps are the Showman and Dual Showman, with four 6L6GCs producing 85 watts. They came with single or dual 15" JBL speakers and large output transformers wanting 8- or 4-ohm loads, respectively. Be aware that some Dual Showman amps actually have a 4-ohm output transformer, and sometimes the faceplate says only "Showman." It's also worth echoing that Fender added reverb to the silver-panel version, to create the Dual Showman Reverb. And now, you know the basics of Fender's piggyback gems.
Let's take a look under this iconic amp's hood and learn about its tonal quirks, easy mods, and more.
Fender's Princeton Reverb is an iconic tube amp that has been in production for almost 60 years. Intended to be a student and practice amp, the Princeton became widely popular among both professional and amateur players. Its strength lies in its simplicity and light weight, and in this column, I'll share my insights on how to get great tone from this model.
The Princeton was introduced in 1964, in the black-panel era of Fender, as a single-channel combo powered by two 6V6 tubes, producing 12 watts. It came loaded with either a 10" Jensen or Oxford speaker, inside a small 9 1/2"x16"x20" cabinet. The amp weighs only 27 1/2 pounds and can easily be carried in one arm with a guitar case in the other. The controls consist of volume, treble, bass, reverb, and tremolo speed and intensity. Its design changed slightly during the silver-panel era, in 1968, and then remained consistent until 1981, when Paul Rivera came along and introduced the Princeton Reverb II, a great but different amp that was produced until 1986.
Princetons sounded very consistent through the '60s and '70s. In 2008, Fender reissued a printed-circuit-board-based Princeton that also cosmetically and tone-wise stayed close to the original. It, too, became very popular, and in 2013, Fender added a '68 Custom Princeton Reverb with the vintage-correct, transition-era aluminum frame. It has a small twist in the circuit design that sounds wilder, with more break-up, which is not vintage-correct but is popular and relevant.
Since I started watching vintage Fender amp prices around 1998, Princeton Reverbs have cost more than Super Reverbs and Twin Reverbs. The most sought-after '64 to '67 models, with Jensen speakers, often cost $3,500. More affordable push/pull boost models from 1978/'79 go for $700 to $800. If you install a good speaker in a push/pull version, you will almost have a black-panel Princeton Reverb in terms of sound.

Unlike most other Fender amps, the Princeton survived the silver-panel era without major changes.
Now, let's look at the differences and similarities between the Princeton and other vintage dual-channel Fenders from the AB763 circuit family. They all share the same tone stack, preamp design, and use push/pull class-AB power amps with negative feedback. These similarities explain why Fender's black-panel and silver-panel amps sound very much alike. There are some differences, though. For example, the Princeton sounds smoother than the Deluxe Reverb's vibrato channel, because the Princeton does not have the 47 pF bright cap. That allows many players to easily find a sweet tone in the Princeton, which pairs well with various guitars and takes pedals splendidly, too.
Another of the Princeton Reverb's departures from Fender's other AB763 amps is bias-based tremolo, versus optical tremolo. Bias-based tremolo is capable of a deeper sweep, since it almost turns the power tubes off by changing their bias level while in use—but only if the bias is set correctly. A too-hot bias will weaken the tremolo. It's also fun to experiment with the tremolo's character by varying GZ34 or 5U4GB rectifier tubes, or changing out the 6V6 power tubes.
All class-AB amps have phase inverters whose purpose is to duplicate and invert the original signal into two separate signal chains that are fed into each of the two (or four) power tubes. In the Princeton, there's a budget-level phase inverter based on only one-half of a 12AX7 tube, compared to a full-current-strong 12AT7 in other AB763 amps. This results in more phase-inverter distortion—particularly noticeable as loose and farty bass notes. This also explains why the Princeton Reverb has only 12 watts of power compared to the Deluxe Reverb's 22-watt output, although both use 6V6 power tubes. So when the Princeton is cranked, it tends to sound a bit browner than the Deluxe Reverb, with more breakup in the lower frequencies and a mid-focused tone. But at lower, clean volumes it still delivers a more typical scooped AB763 sound.
I like to keep Princetons stock for practice and home use, because I want early break-up. Those who use a Princeton onstage and need more clean headroom may consider installing a 12" speaker. This mod is really simple and there's no need to expand the speaker hole in the baffle. You only need to drill new screw holes and make sure the speaker frame does not collide with the output transformer or reverb tank. Most speakers, except those with the biggest ceramic magnets, like the EVM12L or Eminence Swamp Thang, will fit. Another easy mod is to insert a Deluxe Reverb output transformer. This will firm things up even more. Finally, installing a 25k mid pot (or switch) on the back is a must-have mod for all Fender amps lacking a mid-control pot. That'll fatten this literal lightweight up!